Choosing the right electronic signature solution can be tricky. There are many options available, and each one has its strengths and weaknesses. This guide compares two of the most popular solutions: Zoho Sign and DocuSign. We'll look at how they work, their pricing models, and their feature sets.
Introducing Zoho Sign vs. DocuSign
Zoho Sign and DocuSign are two of the most popular electronic signature tools on the market. Let's take a closer look at what they have to offer.
Zoho Sign Overview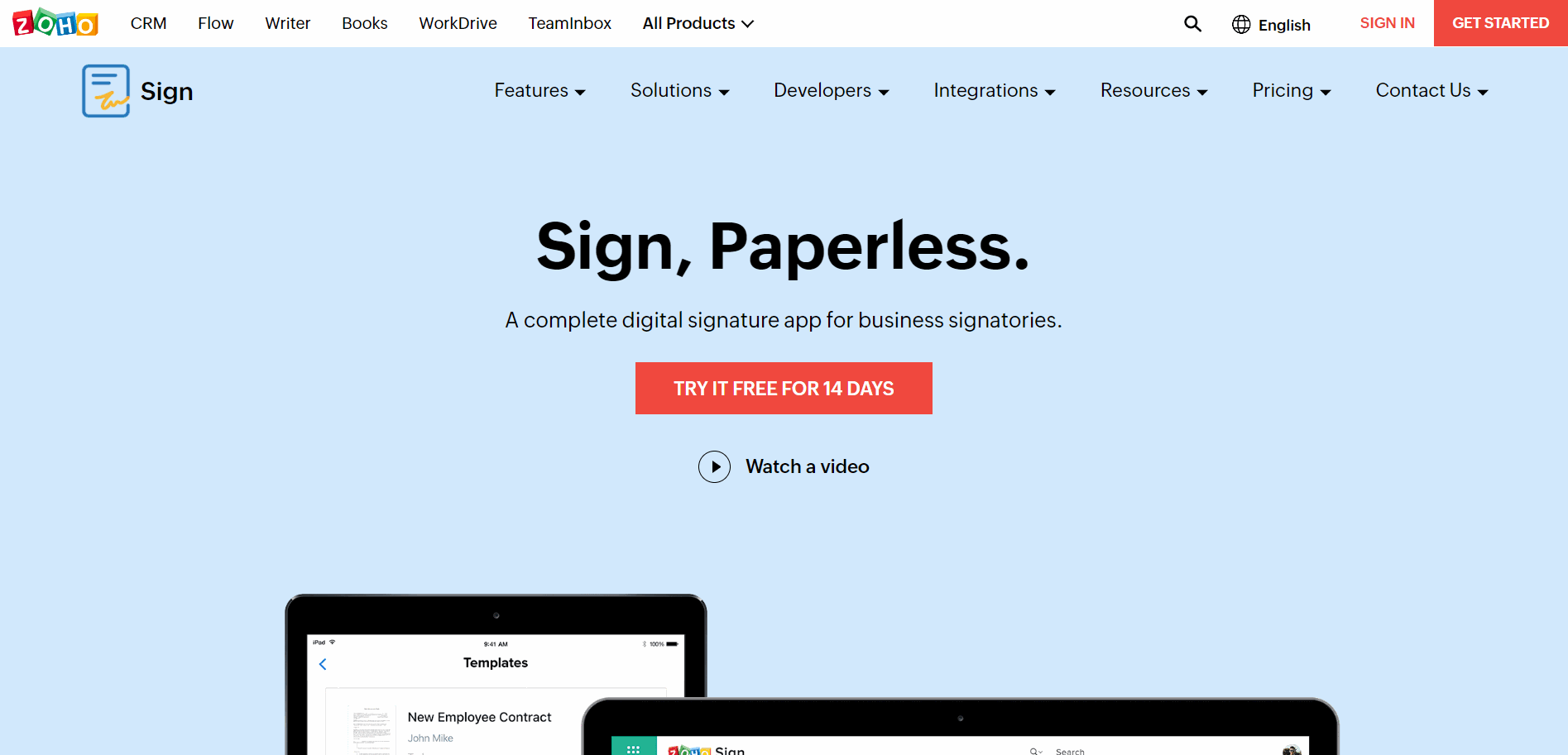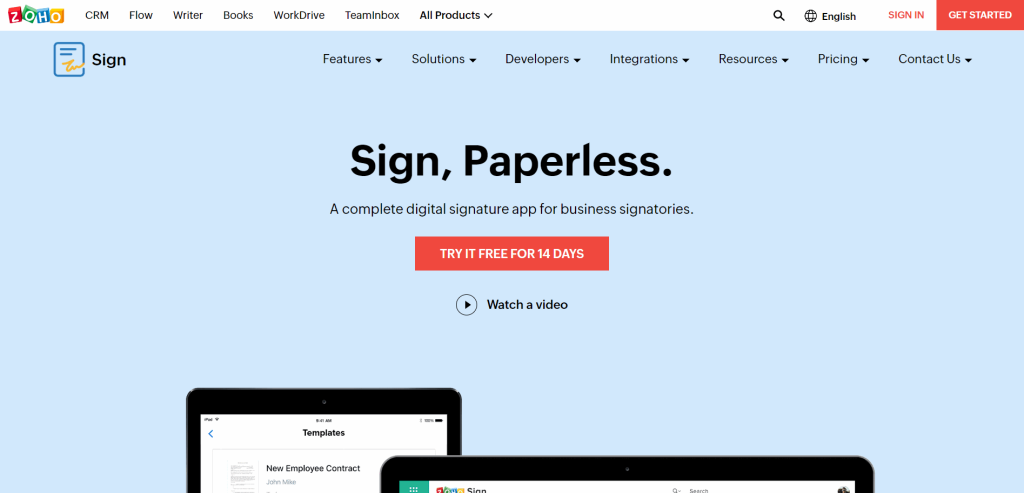 Zoho Sign is a comprehensive eSignature solution that helps businesses streamline their document signing processes. With Zoho, users can upload documents from their computer or cloud storage service and invite others to sign the document electronically. Zoho Sign offers a wide range of features to make the document signing process easy and efficient. In addition, Zoho integrates with various popular business applications, making it an ideal solution for businesses of all sizes.
DocuSign Overview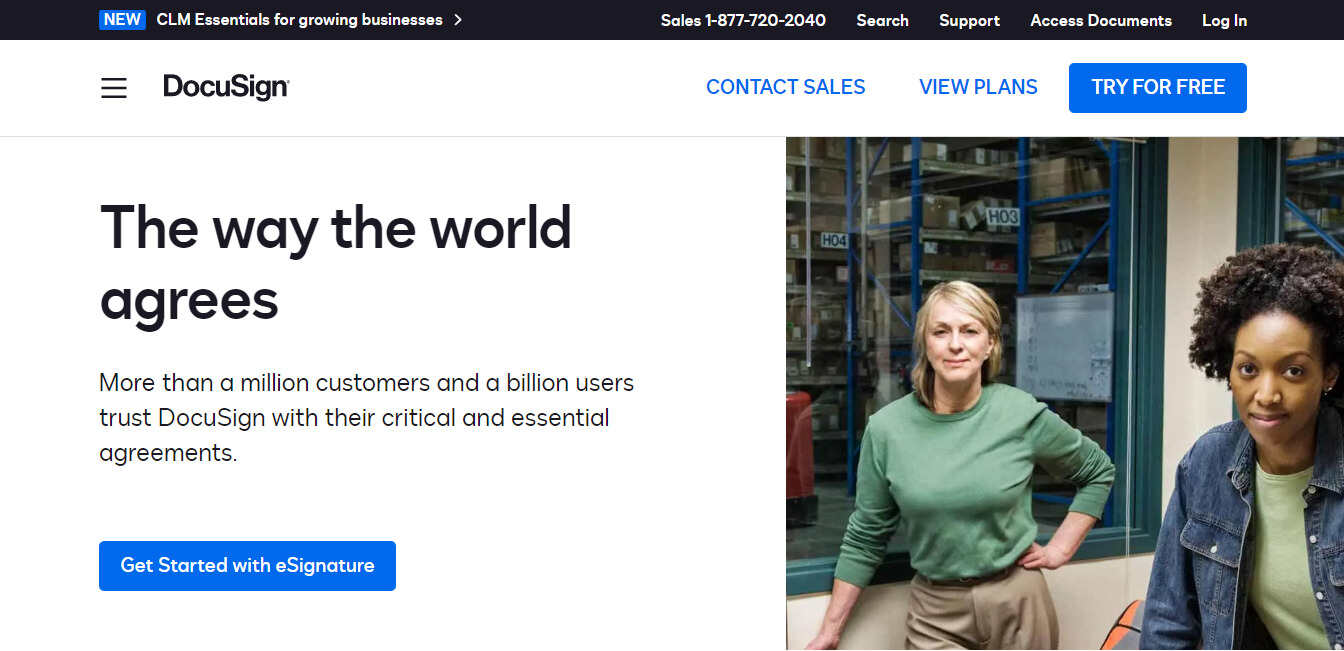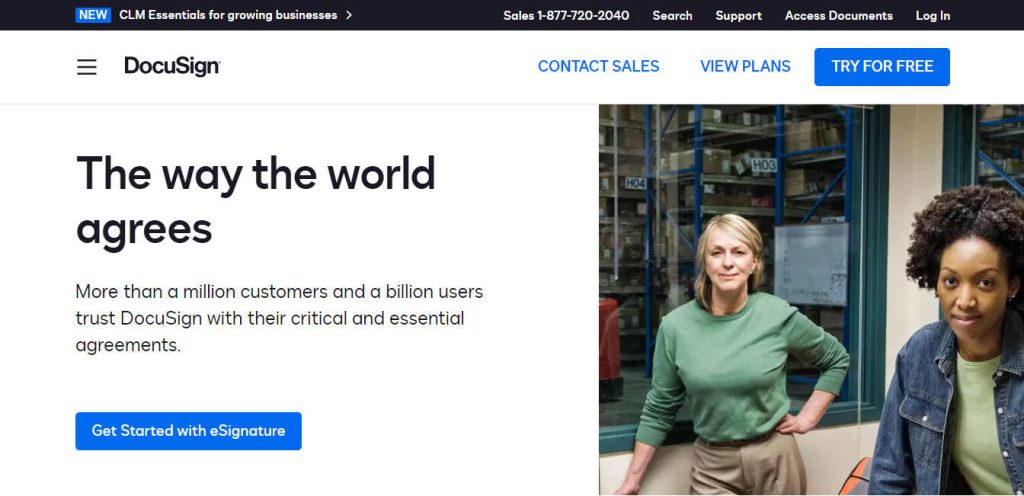 DocuSign is a leading electronic signature solution that enables individuals and businesses to sign, send, and manage documents digitally. The DocuSign platform is easy to use, secure, and legally binding. With DocuSign, users can upload signatures from their computer or mobile device, add electronic signatures, and send the document for others to sign electronically.
Zoho Sign vs. DocuSign: Comparison Guide
Zoho Sign and DocuSign have a lot to offer, but which is right for your team? In this comparison guide, we'll look at each platform's pros and cons so you can make an informed decision.
1. Key Features
Zoho Sign and DocuSign offer a similar set of features, but there are a few key functions highlighted by each platform.
Zoho Sign Features
Zoho Sign is a comprehensive eSignature solution that offers a variety of features to streamline the signing process. With Zoho, you can create custom signing workflows to fit your specific needs. Recipient authentication via email and SMS helps ensure that only authorized users can access documents. Bulk signing and sending allow you to easily sign and send large numbers of documents.
DocuSign Features
At its core, DocuSign is a document management and electronic signing platform that helps businesses and individuals streamline their workflows. One of the key features of DocuSign is its document templates. With DocuSign, users can create reusable templates for frequently used documents, such as contracts or NDAs. This saves time and ensures that all documents are consistent. Plus, with integrations for popular tools like Dropbox, Google Drive, and more, DocuSign fits seamlessly into most workflows.
2. Integrations
DocuSign offers over 400 cloud-based integrations across a wide range of productivity tools. While Zoho offers fewer integrations, the ones they do offer are robust and can streamline your operations. Both platforms offer native integrations with popular Microsoft and Google Suite tools.
Zoho Sign Integrations
Zoho Sign integrations include:
Zoho Apps (Zoho Docs, Zoho Mail, Zoho CRM, Zoho Writer, Zoho Recruit, and more)
Microsoft 365
Google Workspace
Dropbox
Hubspot
Zapier
DocuSign Integrations
Notable DocuSign integrations include:
Zoom
Google
Oracle
Apple
SAP
Workday
3. Ease of Use
DocuSign and Zoho Sign score well on usability, with Zoho performing slightly better when it comes to how easy it is to set up. That means a smaller learning curve for your organization. Both platforms are generally considered easy to use to meet your electronic signature objectives.
Zoho Sign Usability
Zoho Sign is a fast, easy and secure way to send and sign documents. With just a few clicks, you can electronically sign and return documents without printing or faxing them. And because all signing takes place online, you can do it anywhere, anytime. Zoho is also free to use, so there's no need to worry about hidden costs or subscription fees. Zoho is an efficient way to get documents signed and returned quickly, whether you're sending a sales contract, lease agreement, or any other document.
DocuSign Usability
DocuSign is designed to be simple and easy to use. The interface is clean and uncluttered, and users can complete tasks with just a few clicks. The service is also highly scalable, so businesses of all sizes can use it. Perhaps most importantly, DocuSign is constantly improving its usability, making it an increasingly valuable tool for businesses.
4. Security Features
As enterprise tools, Zoho Sign and DocuSign offer best-in-class security features to meet your safety requirements. DocuSign edges out Zoho regarding security, offering a robust set of protocols to ensure your legally binding signatures are safe and secure.
Zoho Sign Security
As the security of digital documents becomes increasingly important, Zoho is committed to providing its users with the highest level of protection. Zoho uses public key infrastructure (PKI) to digitally sign PDFs and documents, ensuring they cannot be altered without detection. In addition, all data transmitted through Zoho Sign is encrypted using SSL/TLS, the industry standard for secure communications.
DocuSign Security
DocuSign maintains a robust security infrastructure, including multiple data centers certified by ISO 27001 and audited by SOC. Its business continuity planning and disaster recovery testing is conducted annually, ensuring that the platform is always prepared for potential threats. In addition, DocuSign has multi-factor authentication for all users, encrypts all data with AES 256-bit encryption, and protects against malware and DDoS attacks.
5. Use Cases
Zoho and DocuSign have a variety of use cases in a wide range of industries. From legal and HR to project management and operations, these platforms offer tools to streamline eSignature processes.
Zoho Sign Use Cases
One common use case for Zoho is for HR managers who need to manage a high volume of onboarding and employee documents. The ability to track the status of each document allows users to streamline HR processes and ensure that all documents and PDFs are signed promptly.
DocuSign Use Cases
In the construction industry, obtaining a signed change order is critical. Clients can request minor changes or make a sudden U-turn on what was previously agreed upon, and these changes can have a big impact on a project's scope, schedule, and budget. DocuSign's eSignatures make the process easy. The software allows companies to send out change orders soon after changes are requested, helping to avoid project holdups.
6. Plans & Pricing
Unlike DocuSign, Zoho offers a free tier with up to five documents per month. DocuSign plans are more expensive overall, with the highest level priced at $40 per user per month compared with Zoho Sign's $22 per user per month.
Zoho Sign Plans
Zoho Sign has four pricing plans: Free, Standard, Professional, and Enterprise. The free plan is perfect for individuals who only occasionally need to sign and send documents. The Standard plan at $10 per user per month is best for small businesses that need to sign and manage documents online and includes 25 documents per user per month.
DocuSign Plans
DocuSign has a flexible pricing structure that allows businesses to choose the plan that best suits their needs. The Basic plan starts at $10 per user per month and includes access to the iPhone and Android mobile app. Both plans are billed annually with a steep discount for a yearly commitment, and both include a free trial.
7. User Reviews
Overall, both Zoho and DocuSign are well-reviewed platforms. There are key differences in what users like and want to see improved.
Zoho Sign Reviews
Zoho Sign users love how easy it is to create signatures and send documents to be signed. They also find the integrations with other Zoho apps very helpful. However, some usability limitations regarding the audit trail could be improved. Overall, the platform is a great option if you're looking for an easy-to-use digital signature solution.
DocuSign Reviews
DocuSign users love how quickly and easily they can create and send documents for signatures, and they appreciate the robust security features. DocuSign's online webinars, documentation videos, and other resources have helped users navigate the platform. However, some users have pointed out limitations with customer support, noting that it can be difficult to get in touch with a live person when you need help.
DocuSign vs. Zoho Sign: Which Should You Choose?
While Zoho and DocuSign are similar, their inherent features make one more suitable than the other depending on how the software will be used.
Zoho Sign: Best For Scaling Teams Using Zoho Apps
One of the key benefits of Zoho Sign is its native integration with other Zoho applications. This makes it an ideal solution for teams who need an eSignature solution but want to avoid using multiple disparate applications. The tight integration between the platform and other Zoho apps like Zoho Forms and Zoho People helps streamline workflows and improve efficiency. In addition, Zoho offers several features designed to scale with businesses as they grow.
DocuSign: Best For Large Enterprise Teams
DocuSign is a robust, feature-rich eSignature solution well suited for large enterprise teams. The platform offers many features, including document management, workflow automation, and advanced security protocols. These features make DocuSign an ideal choice for organizations that need to manage a large number of documents and signatures.
Top Alternative: Signaturely
The business world runs on contracts. As a result, having a reliable way to create and sign digital contracts is essential for any business. While Zoho Sign and DocuSign are great options, Signaturely can also be an effective choice for your company.
There are a few key reasons why a business might choose Signaturely over Zoho or DocuSign. First, Signaturely offers a robust free tier that includes all the basic features most companies need. Second, it provides similar features to Zoho and DocuSign but is generally easier to navigate. Finally, Signaturely's customer service is known for being responsive and helpful, which can be a major deciding factor when choosing a digital signature service.
FAQs
Below are a few frequently asked questions about DocuSign vs. Zoho Sign.
Is Zoho Sign better than DocuSign?
Zoho Sign is easier to set up and use, while DocuSign has a more robust feature set and security features. Ultimately, the best platform for you will depend on your specific needs.
Does DocuSign work with Zoho?
Zoho has an integration with DocuSign that enables users to send and track documents for signatures directly from their Zoho account.
What You Need to Remember About Zoho Sign vs. DocuSign
DocuSign and Zoho Sign have many of the same features, but there are some key differences you should be aware of before choosing one over the other. Zoho is more affordable, while DocuSign has more features. If you need to sign many documents or want extra features like multiple recipients, template sharing, and branding, then DocuSign may be a better choice. However, Zoho is your best option if affordability is a top priority.