In today's digital world, physical signatures are less and less common. Because so much of what we do happens online, it's important to be able to quickly and securely sign digital documents. eSignatures, also known as digital or online signatures, allow you to do just that, and we're here to help you create your own eSignature in just a few steps.
What is an eSignature?
An eSignature is simply a digital version of your handwritten signature that replaces the process of physically signing a document. Digital signatures serve the same purpose as their handwritten counterparts. Whether you're signing a legal document or a piece of digital art, an eSignature is a valid, legally-binding signature that you can use for all your digital documents.
eSignatures are legally recognized by dozens of countries worldwide; no matter where you're doing business, chances are you'll be able to use digital signatures for your important documents. 
In addition to being legally recognized globally, eSignatures are instant, meaning you don't have to wait for documents to be mailed, signed, and returned. This not only saves time, but also translates into lower costs; you'll save money on both printing and expensive shipping fees.
How to Set Up an eSignature in 5 Minutes
With Signaturely, setting up an eSignature has never been easier. While there are multiple ways to create an eSignature, their software simplifies the process with you in mind, and is designed to be the easiest and fastest digital signature tool available. Here's how you can set up an eSiganture in 5 minutes on Signaturely, a free document signing app.
Step 1: Open Signaturely.com and Create a Free Account
The first step in creating an eSignature is to set up your free Signaturely account. That's right— you can set up an account and start digitally signing documents for free. Signing up takes no time at all. Simply enter your name and email address, and create a password. 
To make the process even easier, you can sign up for Signaturely with your Google account in seconds. This allows you to connect your account to your eSignature and keep your information centralized through Google. Once you've signed up, you can immediately start signing documents and get instant access to Signaturely's full lineup of features. They offer three pricing options that are transparent and easy to understand.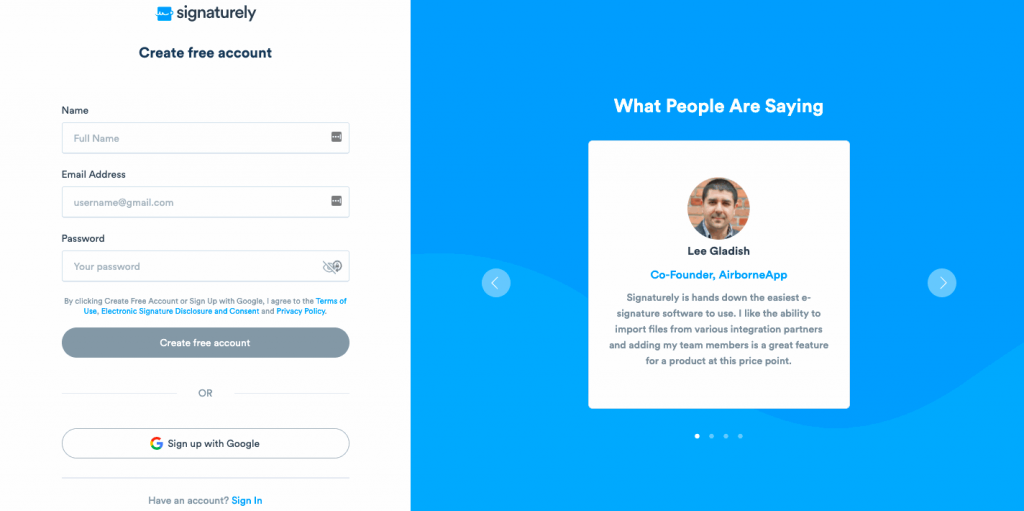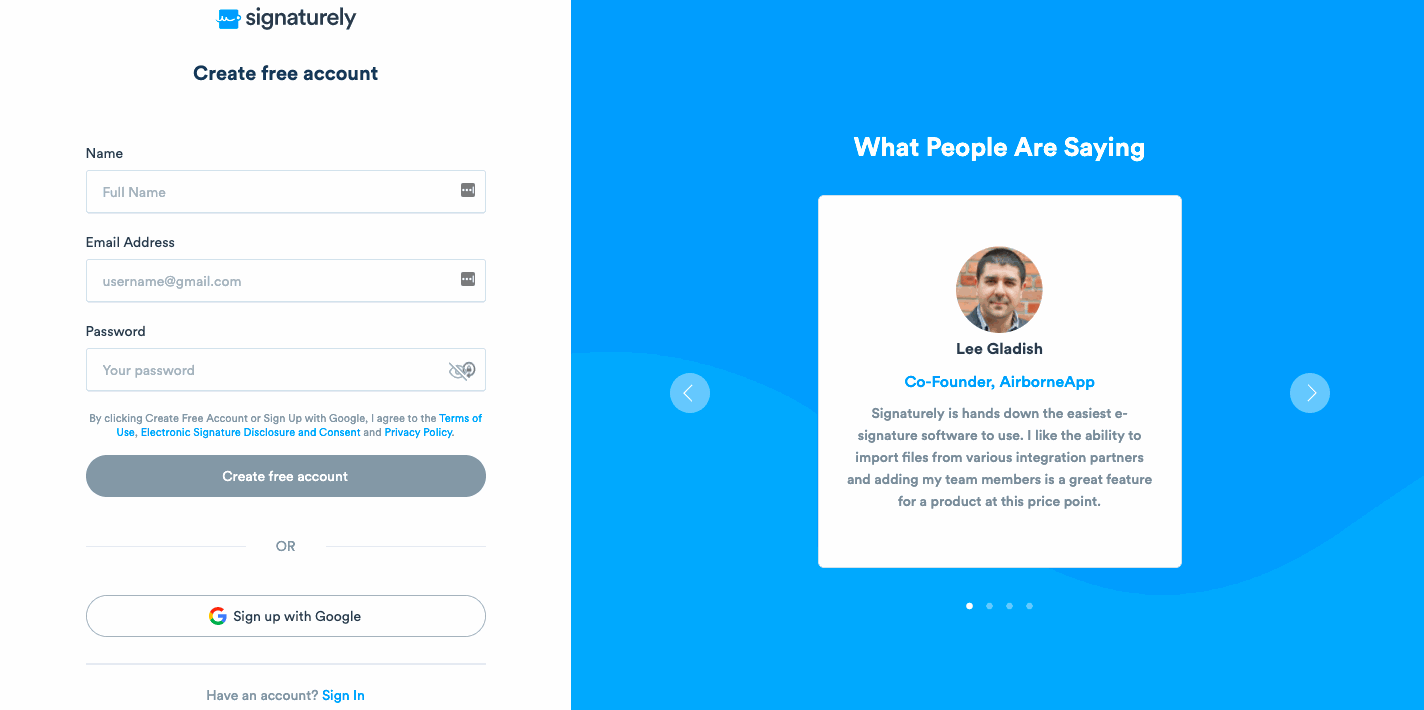 Step 2: Type, Draw or Upload Your Signature
After you sign up for your free Signaturely account, you'll be able to type, draw, or upload your signature to use on all of your digital documents. 
The signing page on Signaturely allows you to easily type your signature. You can select from a variety of available fonts, from basic lettering to styles that mimic live handwriting. With just a few keystrokes, you can create your own customized eSignature.
If you'd prefer to have a signature with a handwritten touch, the platform will allow you to draw your signature digitally using a phone or tablet. You can then save the image to use over and over again on your digital documents.
If you prefer to have your exact handwritten signature in a digital format, the system will allow you to upload an image of your signature. Simply sign a piece of paper, scan it or take a photo, and upload it to Signaturely.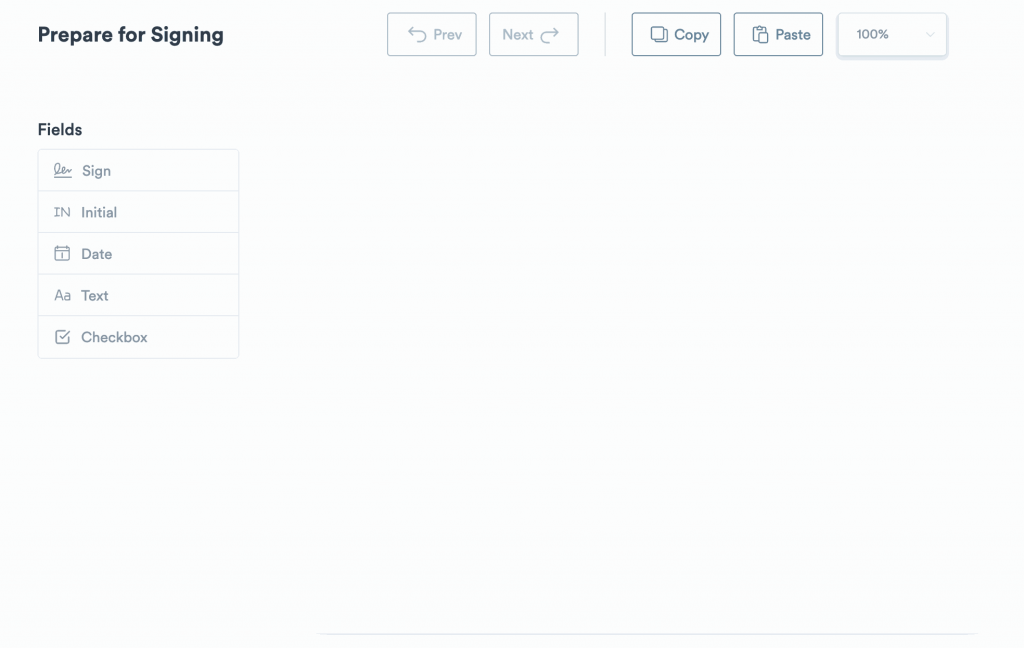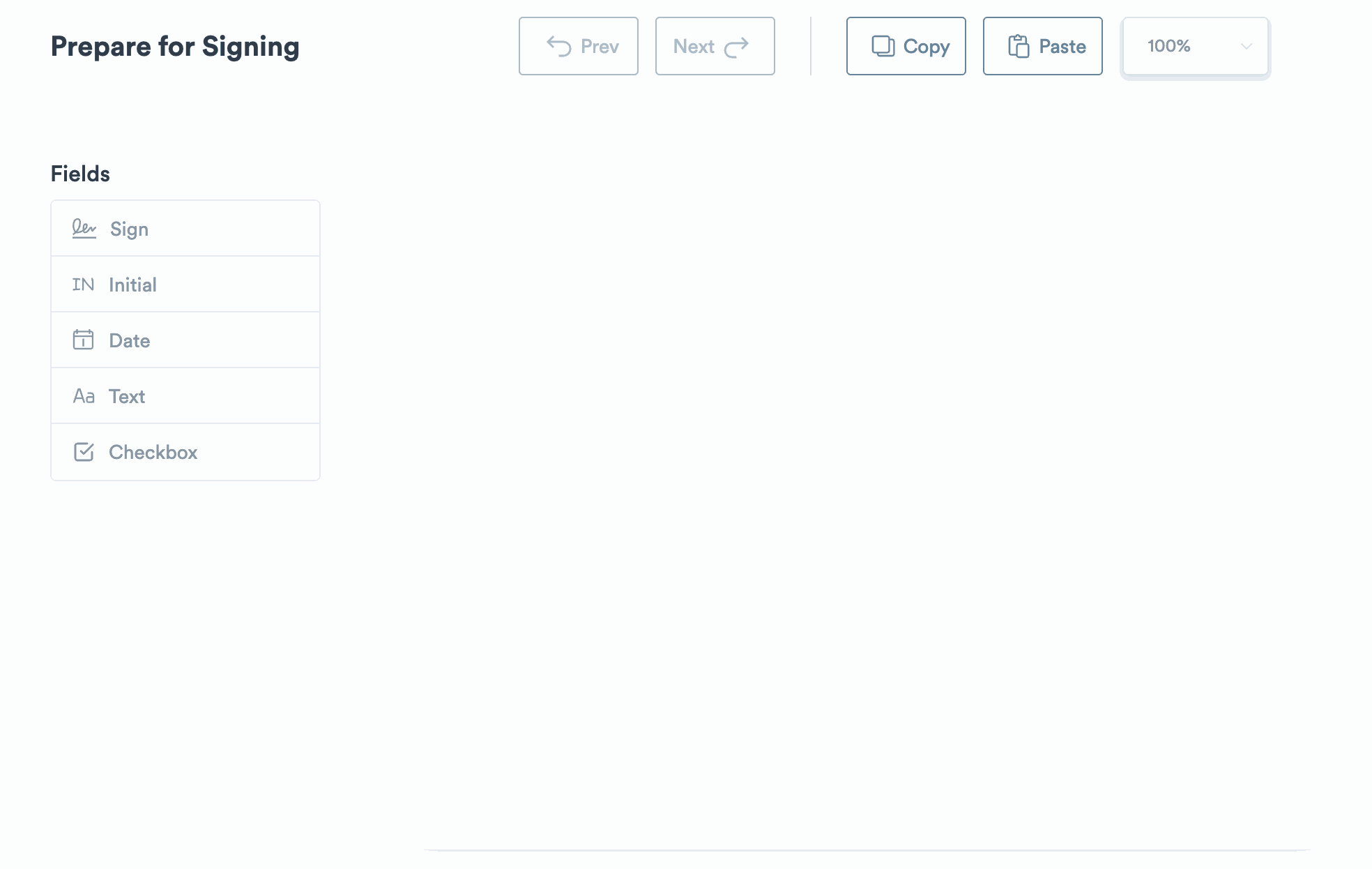 Step 3: Using Your Signature on Documents
With your new digital signature created, it's time to start adding it to your digital documents. Signaturely makes the digital signing process virtually seamless. Their system's intuitive guided signing feature clearly indicates where you or someone on your team needs to sign. All you have to do is click the signature field and your new eSignature will be added.
Sending documents for others to sign is an extremely simple process on the Signaturely platform; it was designed with collaboration in mind. You can create documents and send them to members of your team or any other signees.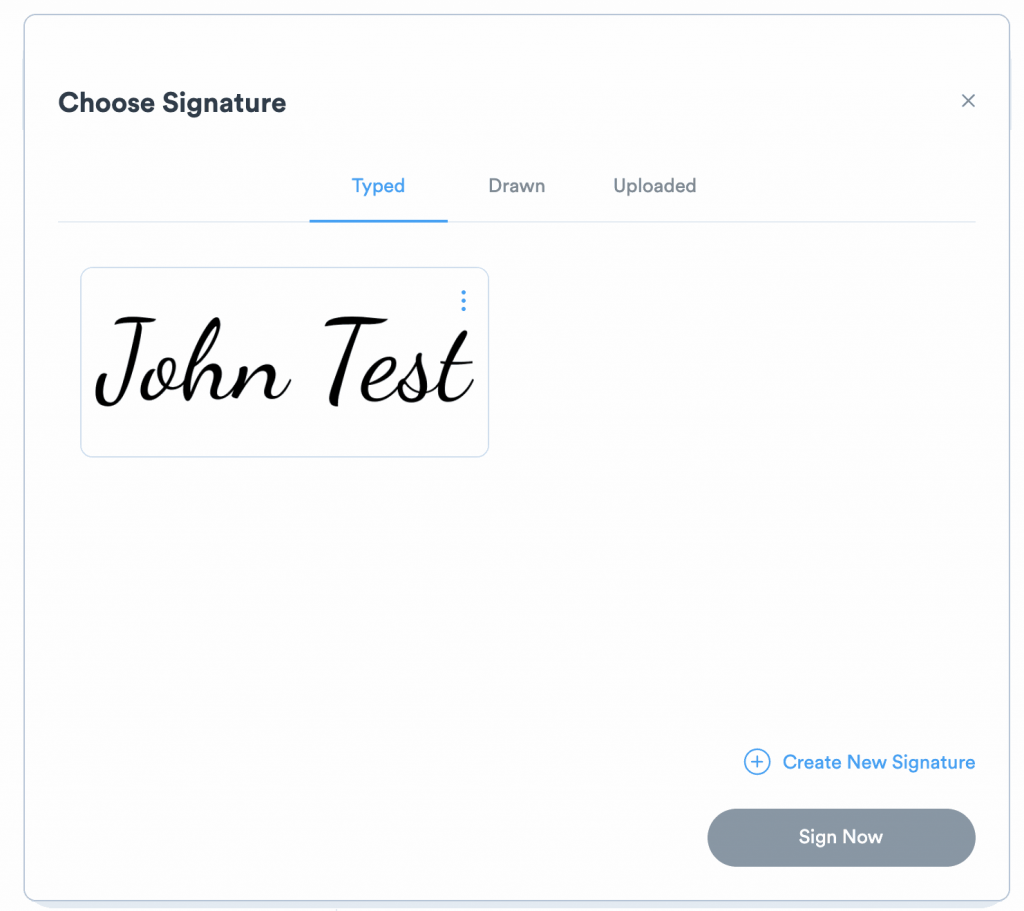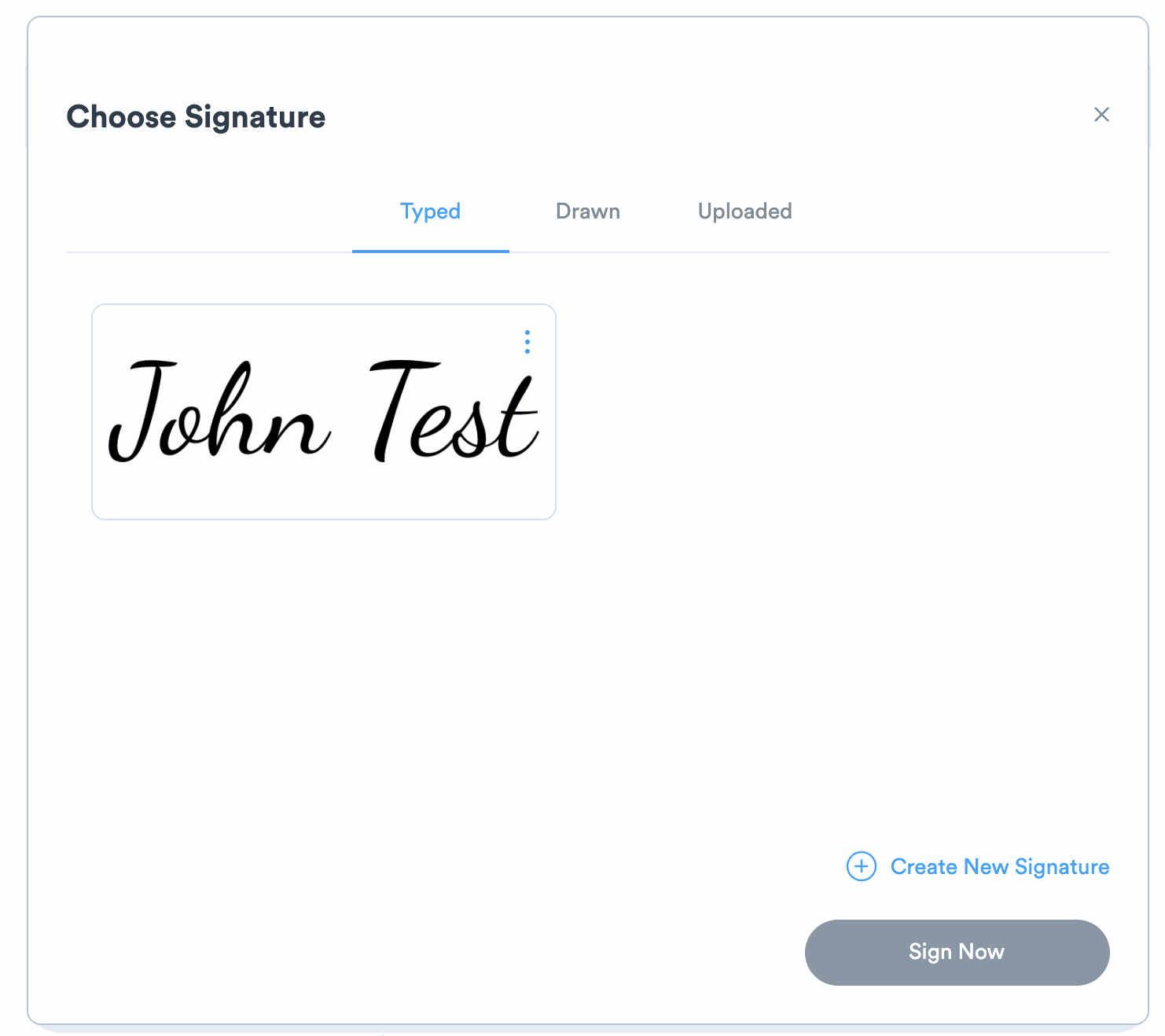 Benefits of Using an Electronic Signature
eSignatures are very simple to set up and use. Whether for business documents or personal items, there are several advantages of using an electronic signature.
Here's why you should start utilizing electronic signatures today:
Secure and legally binding – Electronic signatures are recognized by dozens of countries around the world, and the Signaturely platform is a safe, secure way to digitally sign all of your documents
Cost savings – You can save money on paper and printing costs. No more bulk paper purchases, expensive shipping fees, and costly printer repairs.
Improve efficiency – The Signaturely platform allows you to send your documents for review and collect signatures in just a few clicks. Instead of waiting on a physical document to be shipped, signed, and returned, you can have all of your digital documents signed in mere minutes.
Click to sign – Once you create your electronic signature, you can sign your documents with just one click.
FAQs About How to Set Up an eSignature
Here are some common FAQs regarding how to set up an eSignature.
How can I set up my signature?
Setting up an eSignature is easier than ever with Signaturely. Simply sign up for a free account, use the available tools to create your signature, and start using it on all of your digital documents.
As a reminder, you can type, draw, or even upload your handwritten signature to Signaturely. Signing your documents is a breeze; it only takes one click. You can also send your documents to others via the Signaturely platform for seamless collaboration.
How can I put my signature on a Word document?
While it's possible to add your signature to a Word document using other means, Signaturely makes the digital signature process much easier. Without Signaturely, you'll need to upload an image of your signature and add it directly to the document. Check out our full guide on adding your signature to Word.
How do I create a personal eSignature?
Creating a personal eSignature is simple. Just sign up for a free Signaturely account, type, draw, or upload your signature, and apply your signature to documents. You can use your digital signature for personal records as well!
What You Need to Remember About Setting Up an eSignature
Setting up an eSignature is a simple process that will save you both time and money when signing documents. Whether for personal or business purposes, Signaturely has just what you need to start using digital signatures today!