As PandaDoc's popularity increases, more and more competitors are popping up on the market. These platforms help streamline your sales cycle through efficient contract management and easy-to-use electronic signatures. While PandaDoc offers a great product, it makes sense to explore your options before making a purchase. This post will compare fifteen PandaDoc alternatives and competitors. We'll cover everything from pricing to features, so you can decide which product is right for you and your team.
15 Best PandaDoc Alternatives & Competitors
With so many options available regarding contract management software, it can be difficult to figure out which solution best suits your business. PandaDoc is a popular document creation and management tool, but many other excellent alternatives exist.
We've outlined the best PandaDoc alternatives below.
1. Signaturely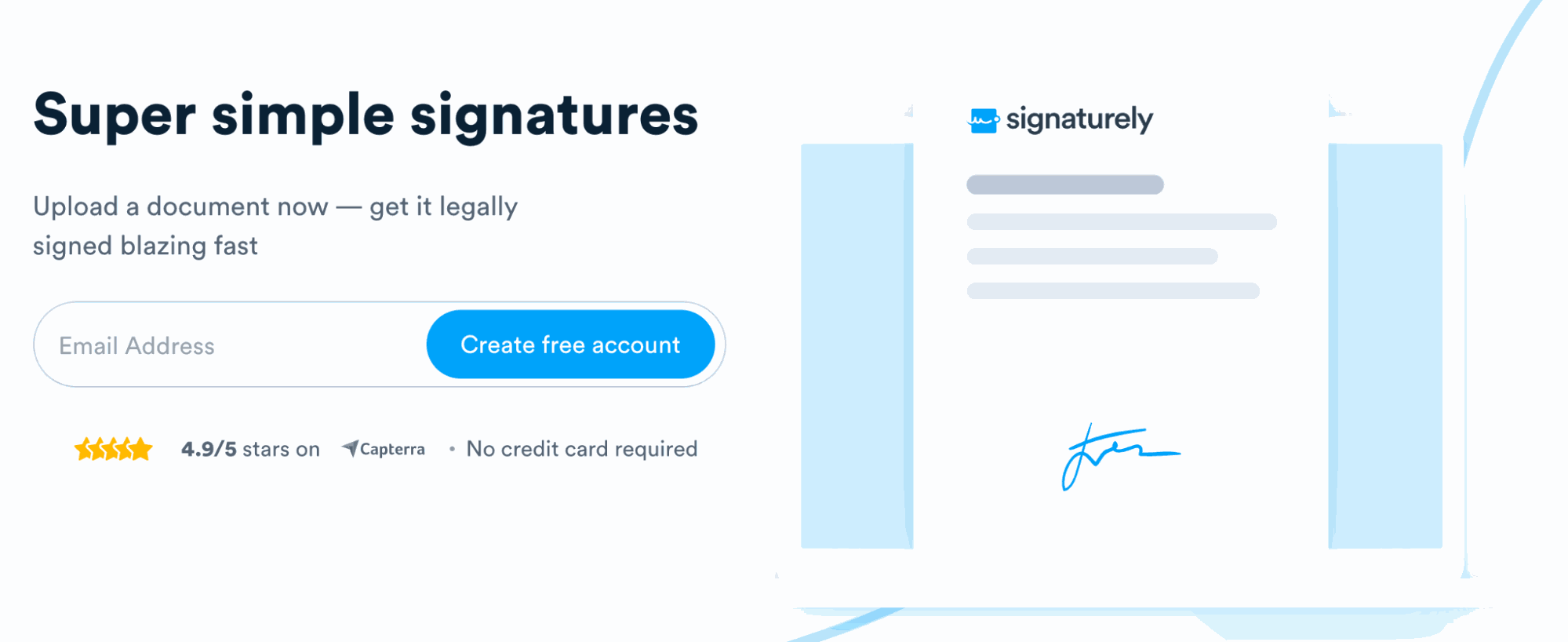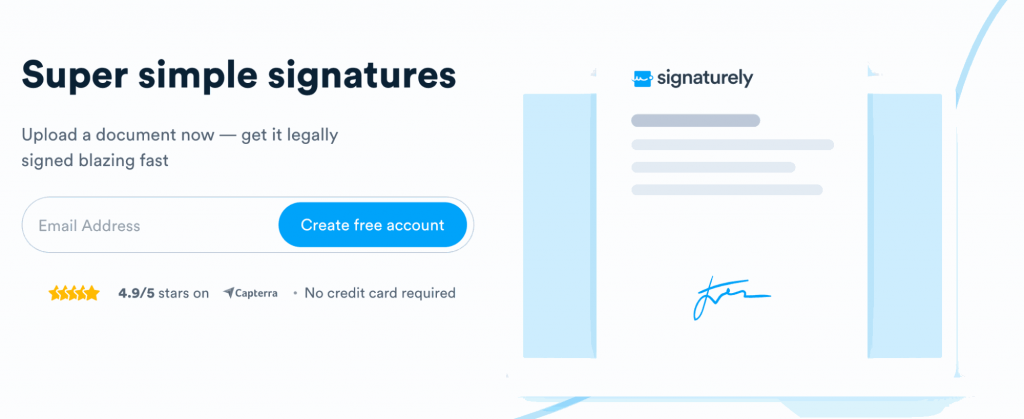 Signaturely is a robust tool that makes it easier to sign your documents. The app is designed to save time by eliminating the need for paper documents and allowing you to create your own reusable templates. Signaturely offers best-in-class legal validation, ensuring that your documents are legally binding. The platform also makes it easy to track your documents' status and see whether they've been signed.
Signaturely offers a free plan and Personal plans with unlimited signature requests starting at $20 per user per month (billed annually).
Key Features:
Audit log and history
Team management
Custom business branding
Notifications and reminders to streamline your workflow
Integrations with top productivity tools
Integrations:
OneDrive
Google Drive
DropBox
Box
2. SignNow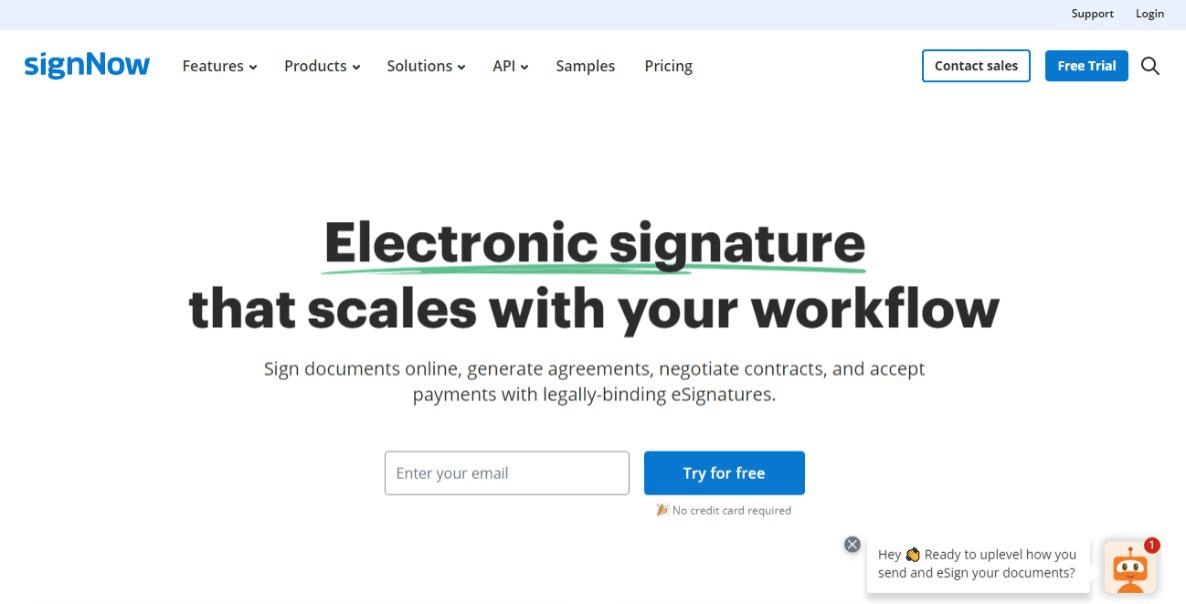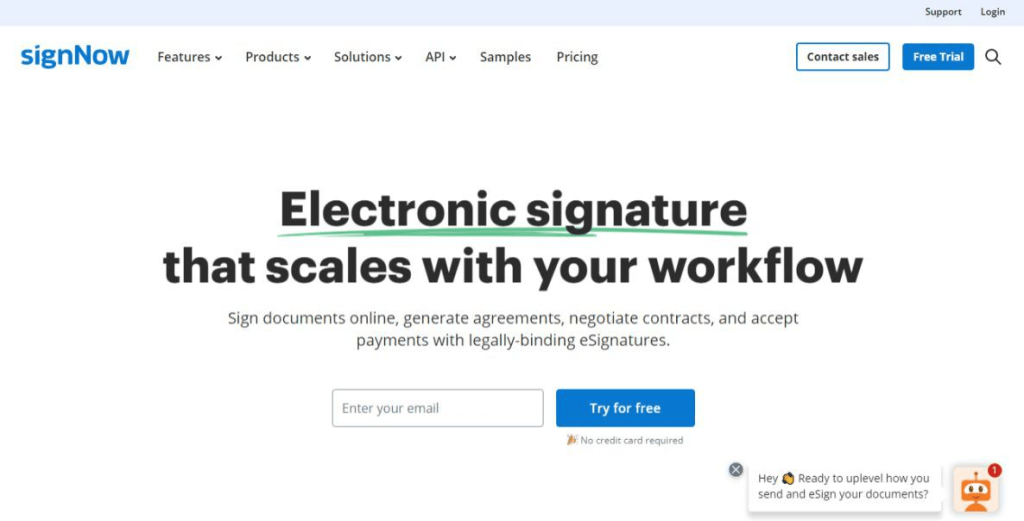 SignNow is a powerful document signing solution that helps businesses save time and improve efficiency. With SignNow, you can access unlimited reusable templates, customize your company's branding, and send documents in bulk. These features make SignNow a powerful tool for any business looking to streamline its document signing process.
Unlike PandaDoc, SignNow offers an email reminders feature, which can greatly help sales teams looking to speed up their signature processes. PandaDoc also boasts the ability to track engagement and manage invoice history. Both PandaDoc and SignNow offer audit trails and CRM capabilities, which make them easy to link to your existing workflows.
SignNow's plans are more affordable than PandaDoc's, starting at $8 per user per month. SignNow's most popular plan, Business Premium, starts at $15 per user per month (billed annually) and supports bulk sending and custom logos. The service doesn't offer a free tier.
Key Features:
Access to mobile app
In-person signature capabilities
Customizable branding
Smart fields
HIPAA compliance at the enterprise level
Integrations:
CRM/ERP integration
Microsoft 365
Salesforce
Google Workspace
Zapier
Bonus: Check the best SignNow alternatives.
3. DocuSign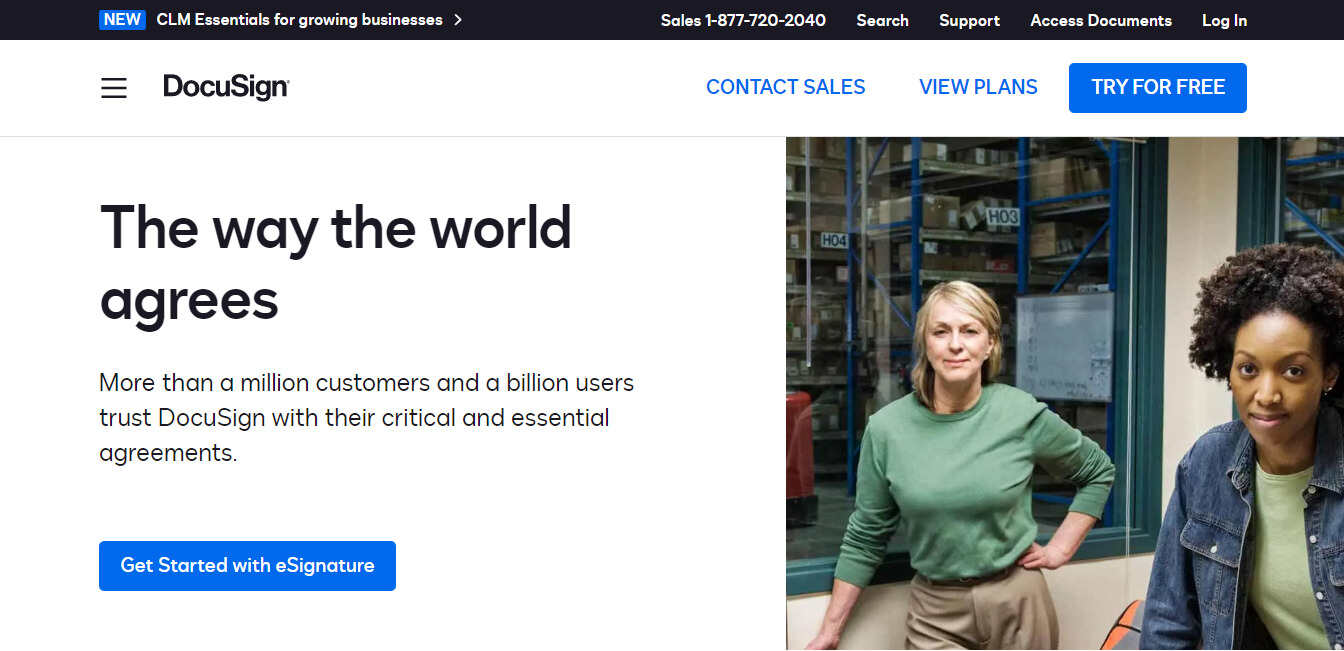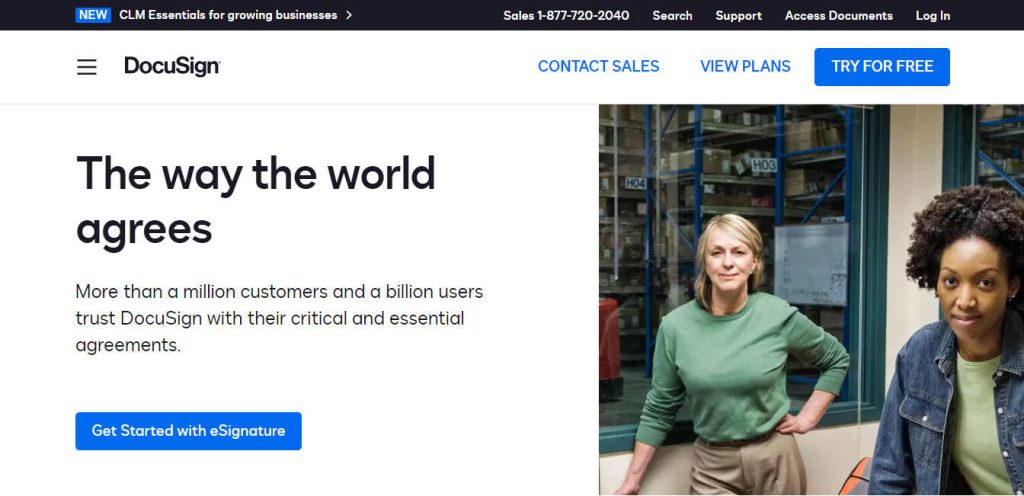 People rely on DocuSign to accelerate business processes and simplify contract management. With DocuSign, you can quickly and securely complete transactions online. The platform also displays the real-time status of each agreement. DocuSign provides many integrations with popular business applications, making it easy to get started with digital signatures.
Compared to PandaDoc, DocuSign offers more file management and recovery options. It also provides a more robust process and workflow automation feature. Conversely, PandaDoc offers presentation tools and performance metrics, which are limited in DocuSign's software.
DocuSign and PandaDoc offer a similar pricing model, with monthly subscription plans that increase in price as more features are added. DocuSign's pricing for their Personal plan starts at $10 per user per month (billed annually). There's a steep difference in price when purchasing annual instead of month-to-month plans.
Key Features:
Real-time audit trail
Payment collection
Collaborative templates
Signature flow automation
Integrations:
Dropbox
Box
Microsoft 365
Zoom
Evernote
Here's a full comparison between PandaDoc and DocuSign.
4. HelloSign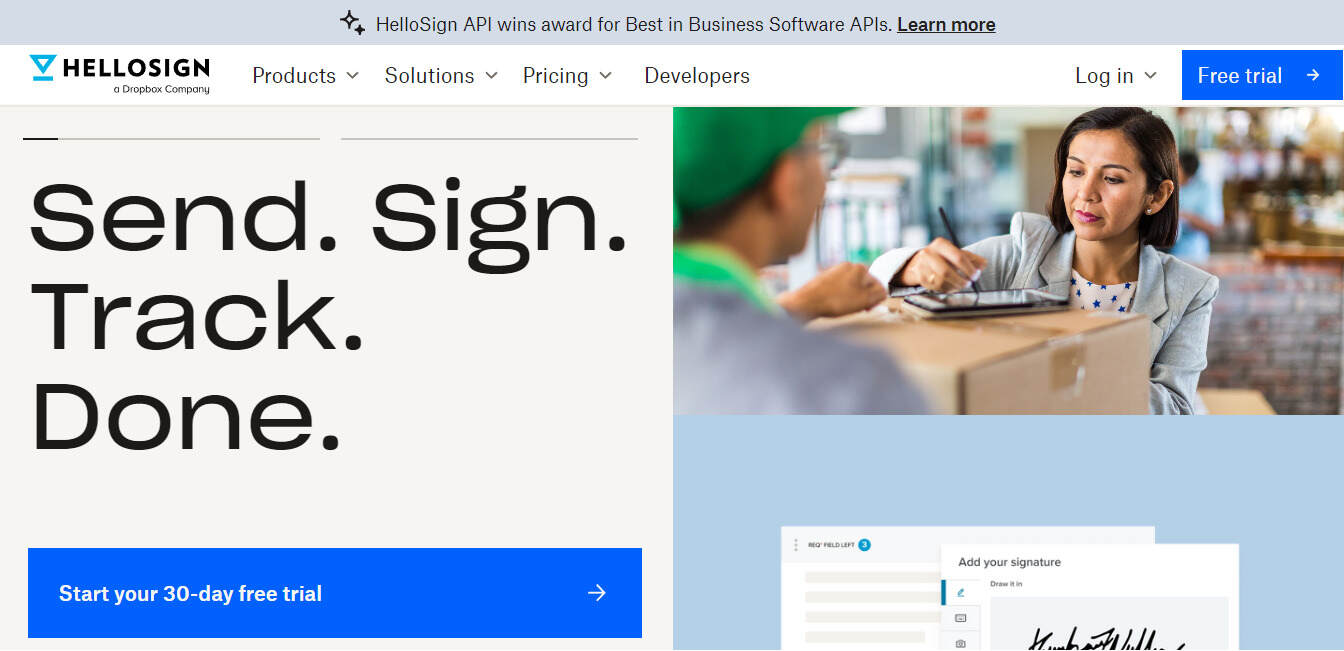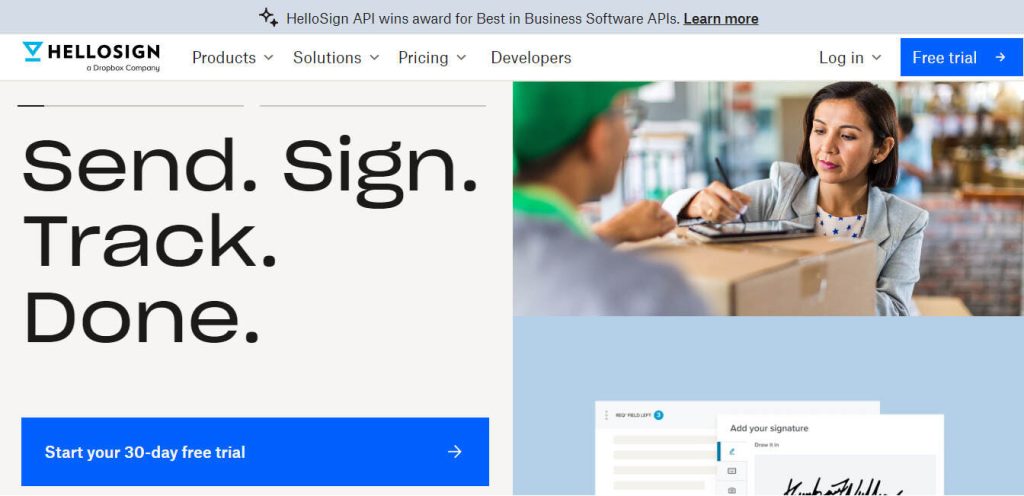 With HelloSign, you can create and send secure digital documents with ease. HelloSign's tamper-proof document feature ensures the validity of your contract or agreement. In addition, HelloSign offers cutting-edge security protocols, including 256-bit encryption and SOC II compliance. This makes the platform an attractive option for companies seeking to maximize security. Unlike PandaDoc, HelloSign doesn't offer billing, contact management, or customizable reports.
Pricing starts at $15 per month (billed annually) and includes one user, access to the mobile app, integrations, and unlimited signature requests. The Standard Plan starts at $25 per user per month and allows up to five users. It also gives signers the ability to add attachments.
Key Features:
Admin controls
Advanced document tracking
Automated reminders
Audit trails
HelloSign API
Integrations:
DropBox (HelloSign is made by DropBox and is a native integration)
HubSpot
Microsoft Word
Google Drive
HelloSign and DocuSign are often compared as they're considered some of the best options available. Check out our HelloSign vs. PandaDoc article.
5. SignEasy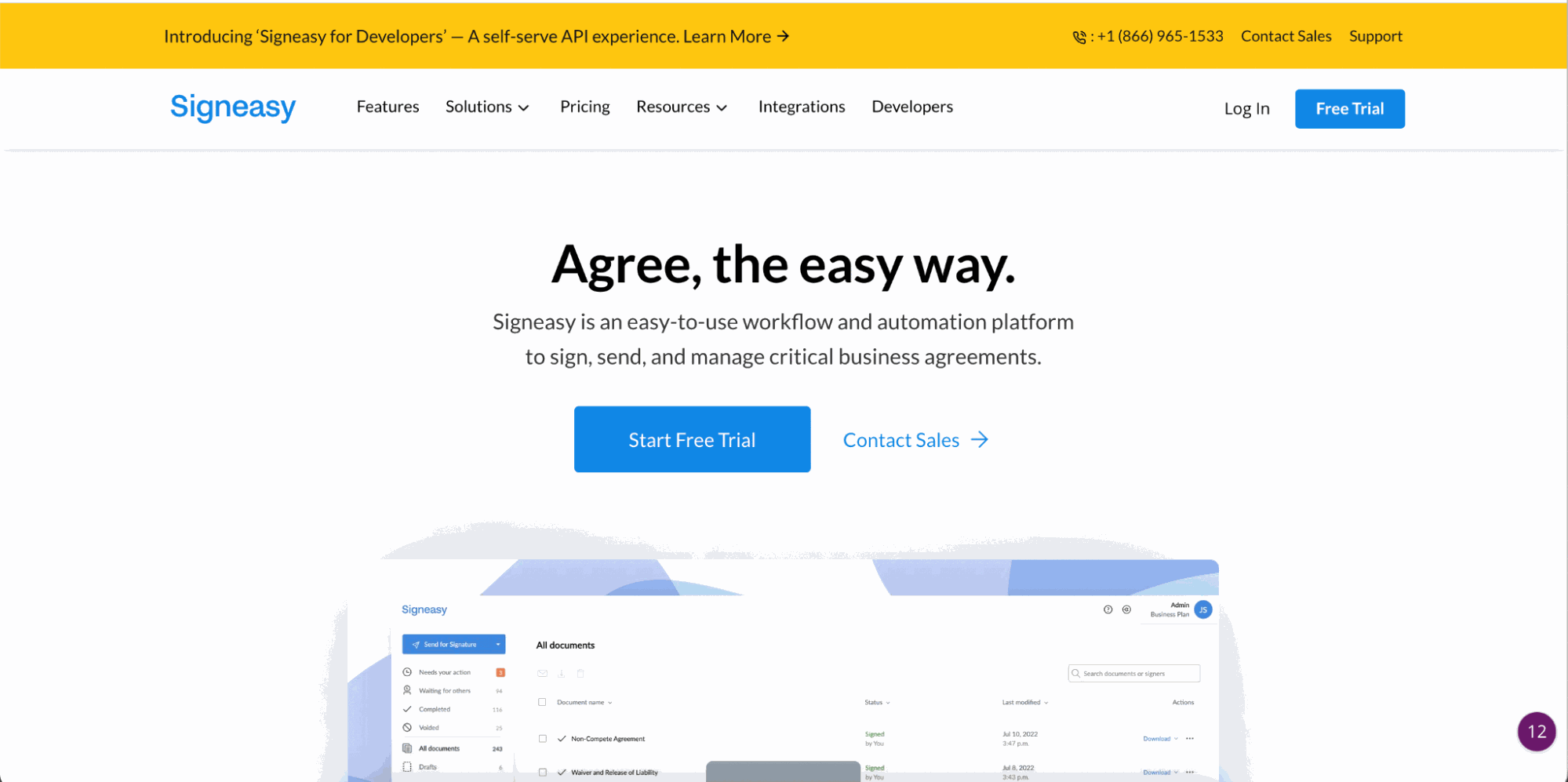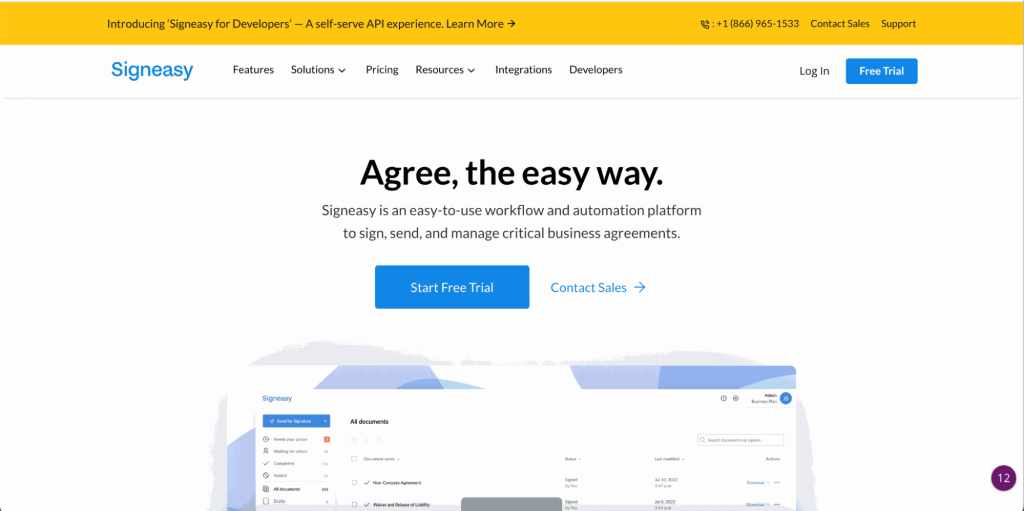 SignEasy is a cloud-based digital signature platform that helps businesses automate their signature processes. The platform can be used across various industries, including healthcare, finance, legal, and real estate. SignEasy makes it simple for businesses to collect signatures from their customers and clients, reducing the need for paper documents and saving time.
Whereas PandaDoc offers support for billing processes and document automation, SignEasy emphasizes performance and ease of use. Both platforms provide activity-tracking systems for signature workflows and document analytics to track statistics on your company's processes.
Pricing for SignEasy starts at $10 per user per month (billed annually) in its Essentials Plan, which includes the ability to send five documents for signatures per month. The platform's Business plan, starting at $30 per user per month (billed annually) provides a dedicated customer support manager and templates and Outlook integrations.
Key Features:
Tools for streamlining documents
Legally binding signatures
Import from cloud documents
Support for 24 languages
Offline signing
Integrations:
Microsoft Teams
Zapier
Google Workspace
Salesforce
6. Zoho Sign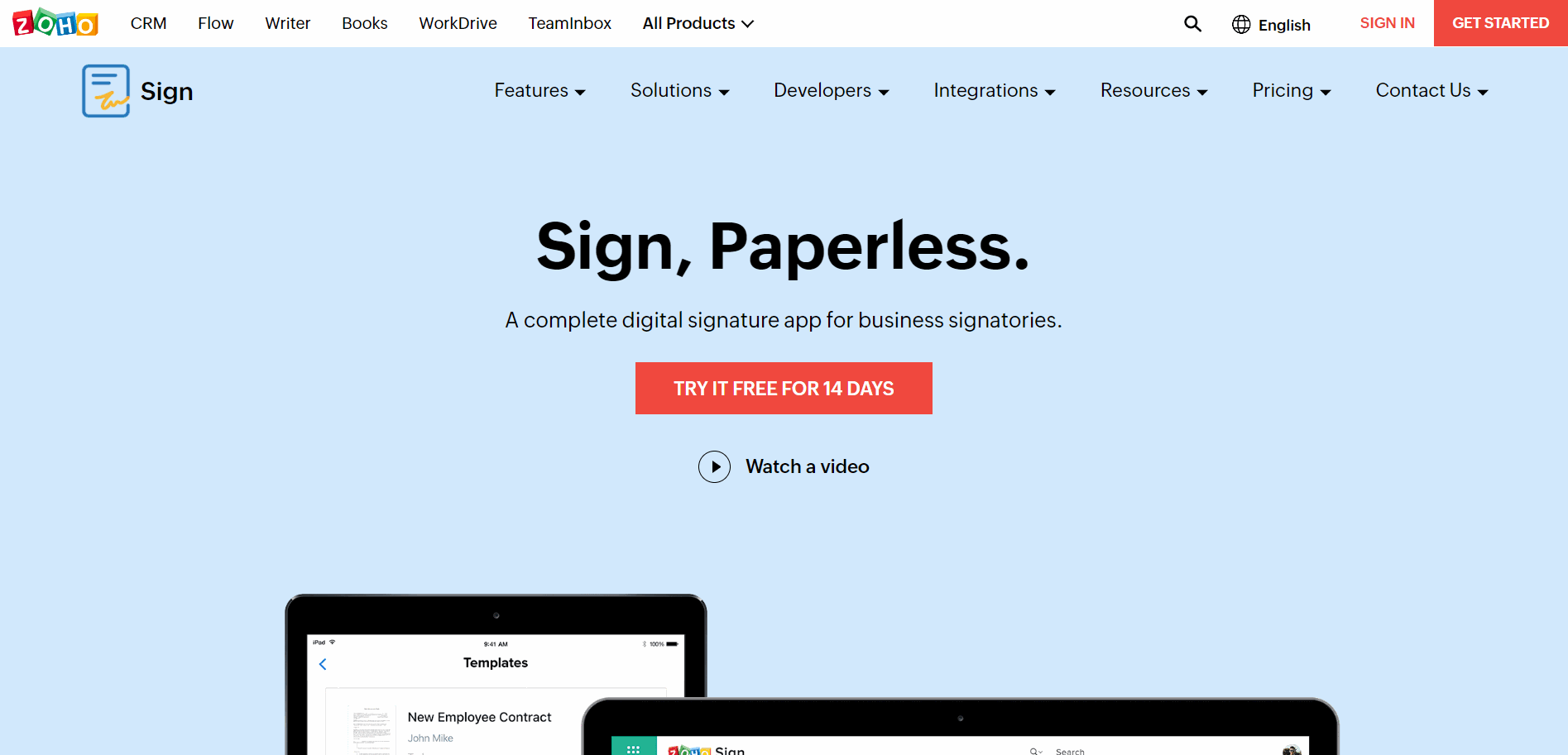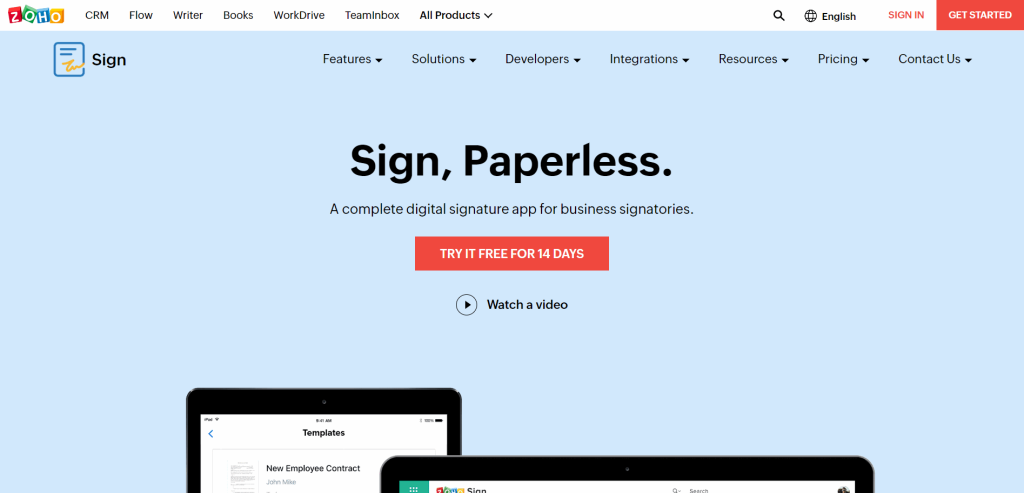 Zoho Sign and PandaDoc are easy to use and allow users to create custom signature fields. However, there are some key differences between the two programs. Zoho Sign doesn't offer the ability to manage billing and invoicing, while PandaDoc does. Regarding security, both programs use 256-bit SSL encryption to protect documents, but Zoho Sign also offers an optional two-factor authentication feature.
Zoho Sign and PandaDoc include a free tier and a 14-day free trial of their more comprehensive plans. Zoho Sign's paid plans start at $10 per user per month, billed annually, and include 25 documents per user per month, SMS recipient authentication, and priority technical support.
Key Features:
Recipient authentication
Native integrations with Zoho apps
Audit trail tracking
API and webhooks
Mobile and Desktop apps
Integrations:
Zoho apps: CRM, Desk, Inventory, and more
Google Workspace
Hubspot
Microsoft 365
Zapier
7. HoneyBook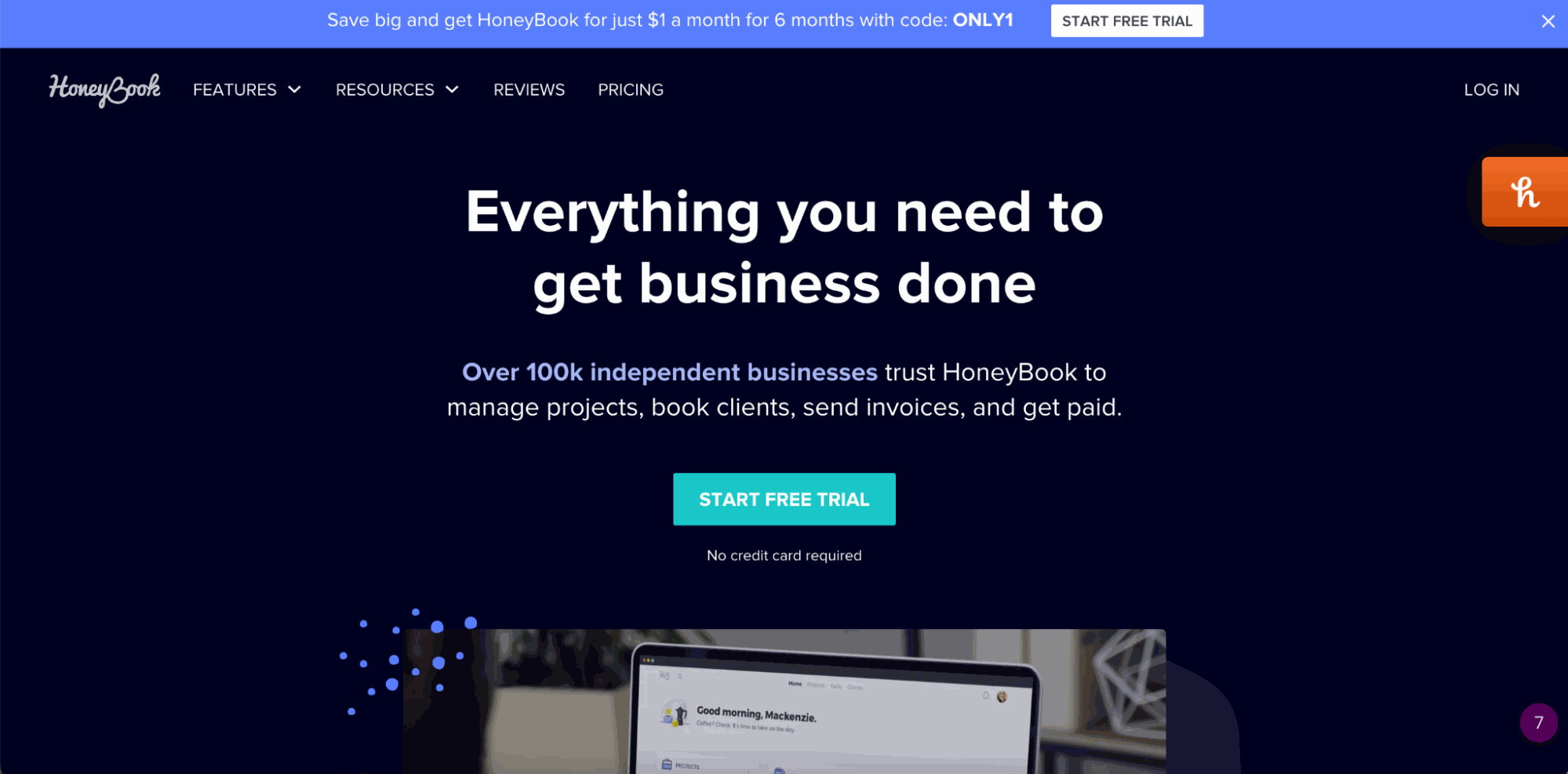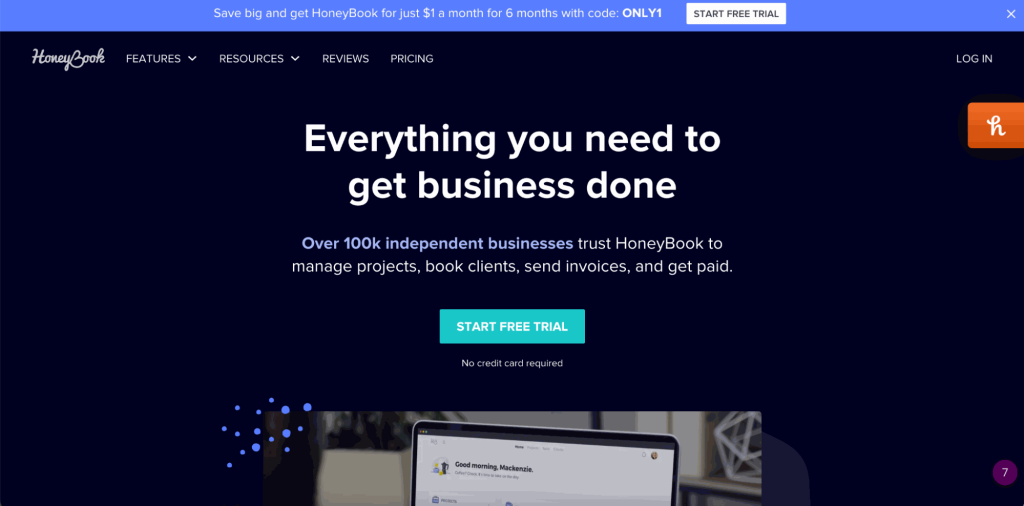 Like PandaDoc, Honeybook offers tools to help businesses streamline their operations. However, there are some key differences: Honeybook is an all-in-one tool that centralizes contracts, while PandaDoc relies more heavily on integrations to create an ideal workflow.
HoneyBook and PandaDoc offer a free trial, but only PandaDoc has a free tier. HoneyBook's straightforward pricing includes Unlimited Monthly at $39 per month or Unlimited Annual at $390 per year. Both plans include online invoices, payment reminders, and a client portal. 
Key Features:
Automation for contract processes
Account migration
Mobile app
Payment reminders
Central dashboard for sales proposals and documents
Integrations:
Dropbox
Google Workspace
WooCommerce
Stripe
Zapier
8. Adobe Sign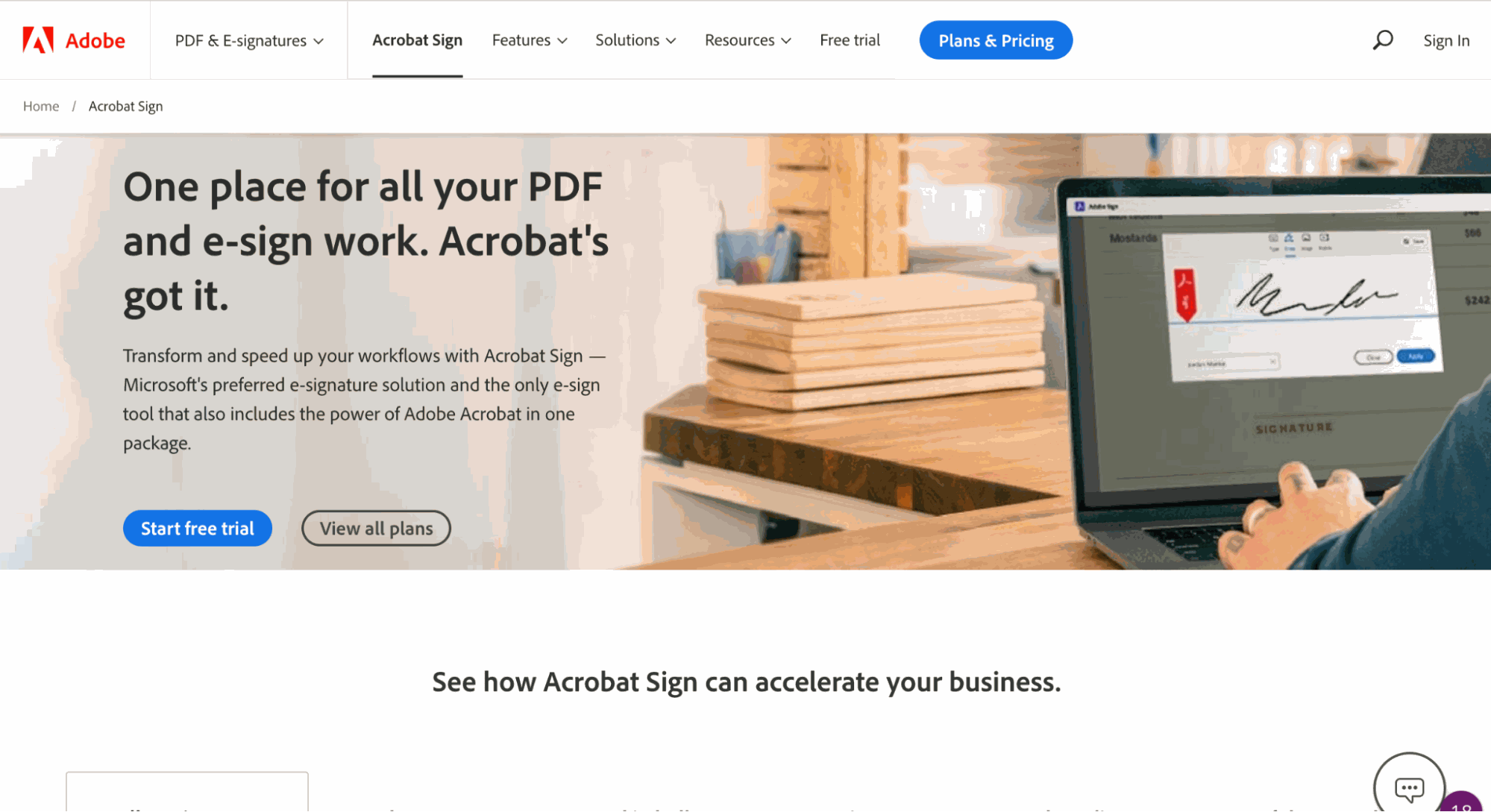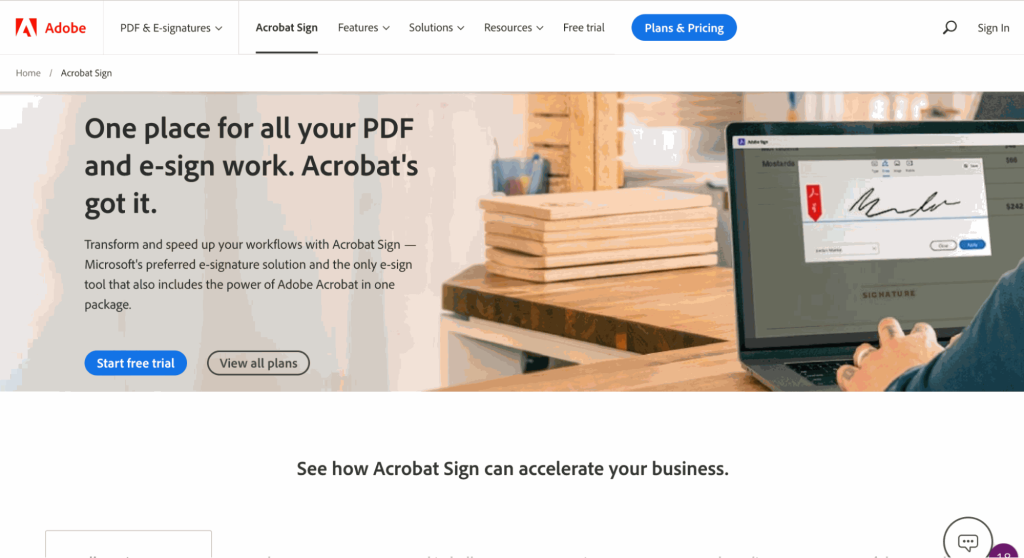 Adobe Sign is a cloud-based solution that allows users to electronically sign and return legal documents from anywhere, on any device. The platform integrates with popular document management and workflow solutions, making adding electronic signatures to existing workflows easy. Like PandaDoc, the platform is highly secure, with 256-bit encryption and automatic document expiration.
Whereas PandaDoc lacks compliance management, Adobe Sign makes compliance a priority. On the other hand, PandaDoc has more robust tools for email management and document analytics, which can help you track key processes.
Unlike PandaDoc, Adobe Sign does not offer a free tier. The platform does, however, offer a free trial period. Individual plans start at $12.99 per month (paid annually), and team plans cost $22.19 per user per month.
Key Features:
Custom languages
24/7 product support
Reusable templates
Bulk sending
Password-protection
Integrations:
Salesforce
Workday
ServiceNow
APIs
Check out our PandaDoc vs. Adobe Sign comparison.
9. GetAccept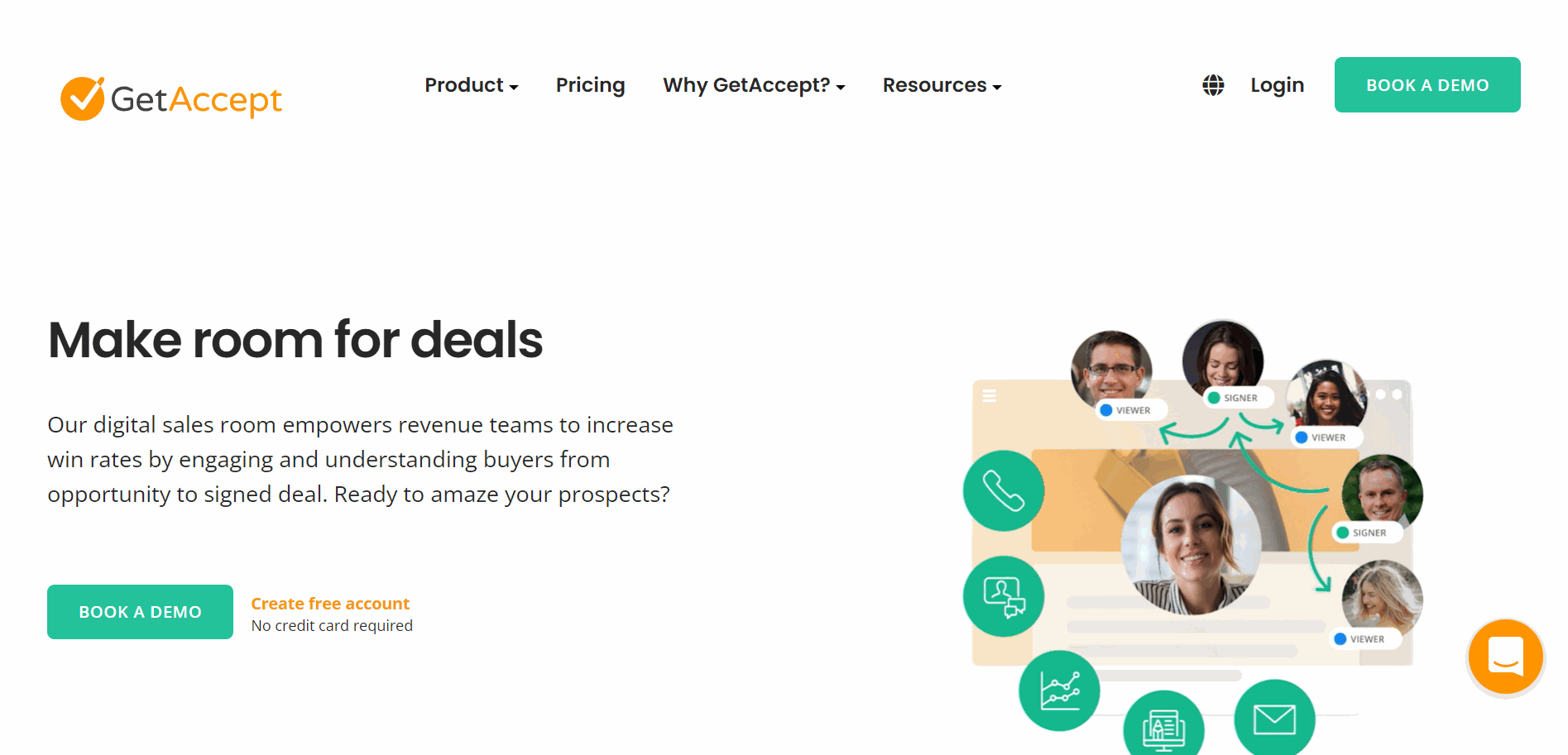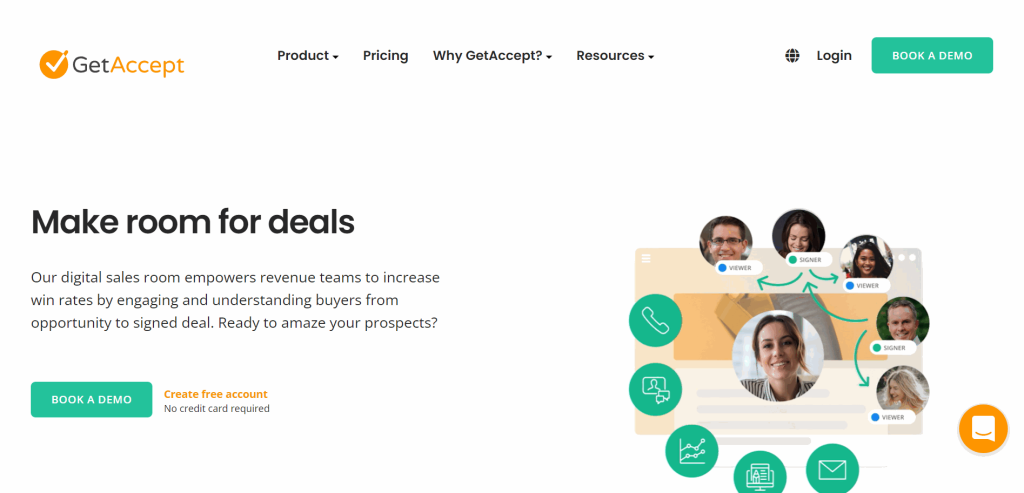 GetAccept is a sales enablement tool that helps sales teams create, track, and eSign contracts and other documents. GetAccept is similar to PandaDoc; however, the former provides unique features, such as managing sales collateral and automated SMS reminders.
Like PandaDoc, GetAccept offers a free trial. The GetAccept trial includes three send-outs, unlimited signatures, and access to a robust content library.
Key Features:
Add video recordings to reach outs
Smart templates
Custom branding
Recipient uploads
Sales dashboard
Integrations:
Hubspot
Some Chrome extensions
Zapier
Salesforce
Other payment integrations
10. OneSpan
OneSpan Sign (formerly E-SignLive by OneSpan) is a cloud-based document signing software that offers similar features to PandaDoc. However, OneSpan Sign is more expensive and has fewer integrations. OneSpan Sign's essential features include allowing users to sign documents electronically, signer verification, and creating signature workflows. Unlike PandaDoc, the platform offers an advanced signing option that allows users to draw their signature with a mouse or trackpad. In addition, OneSpan Sign has an audit trail feature that shows when a document was signed and by whom. While both services offer eSignature capabilities, OneSpan Sign is typically used by larger companies with more complex signature needs.
OneSpan Sign's pricing starts at $20 per user per month (billed annually), which includes the ability to use unlimited templates, access iOS, and Android apps, and verify your signer's identity via SMS.
Key Features:
Virtual room live assistance
Email and Q&A authentication
Audit trail
Bulk sending
Flexible deployment (SaaS or on-prem)
Integrations:
Salesforce
Sharepoint
Workday
11. DigiSigner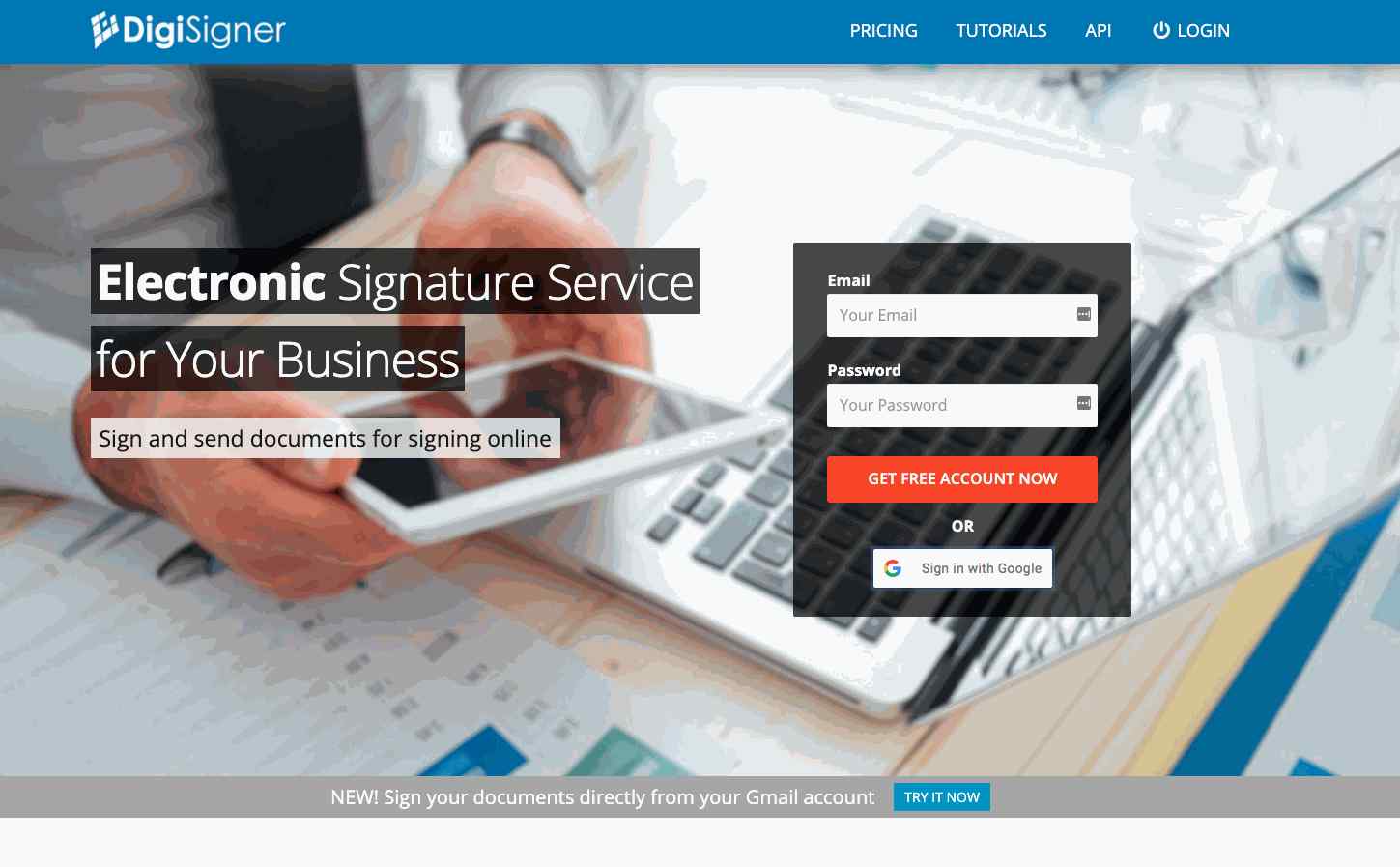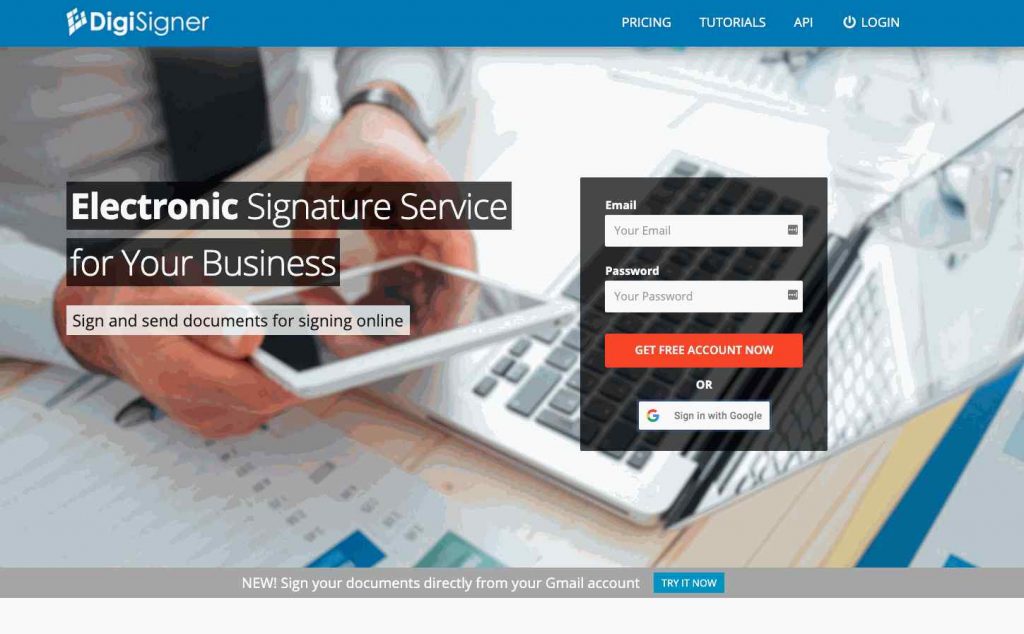 DigiSigner is a user-friendly software that allows people to sign documents electronically. DigiSigner's core functionality is similar to PandaDoc's. However, it does not have the array features that PandaDoc offers. For example, PandaDoc offers approval workflows and document automation, while DigiSigner does not. PandaDoc also provides a more robust integrations to support your existing workflows.
Like PandaDoc, DigiSigner offers a free plan with an allowance of three documents per month. Its Team plan is priced at $40 per month and includes sales team management tools.
Key Features:
Integrations:
12. SignWell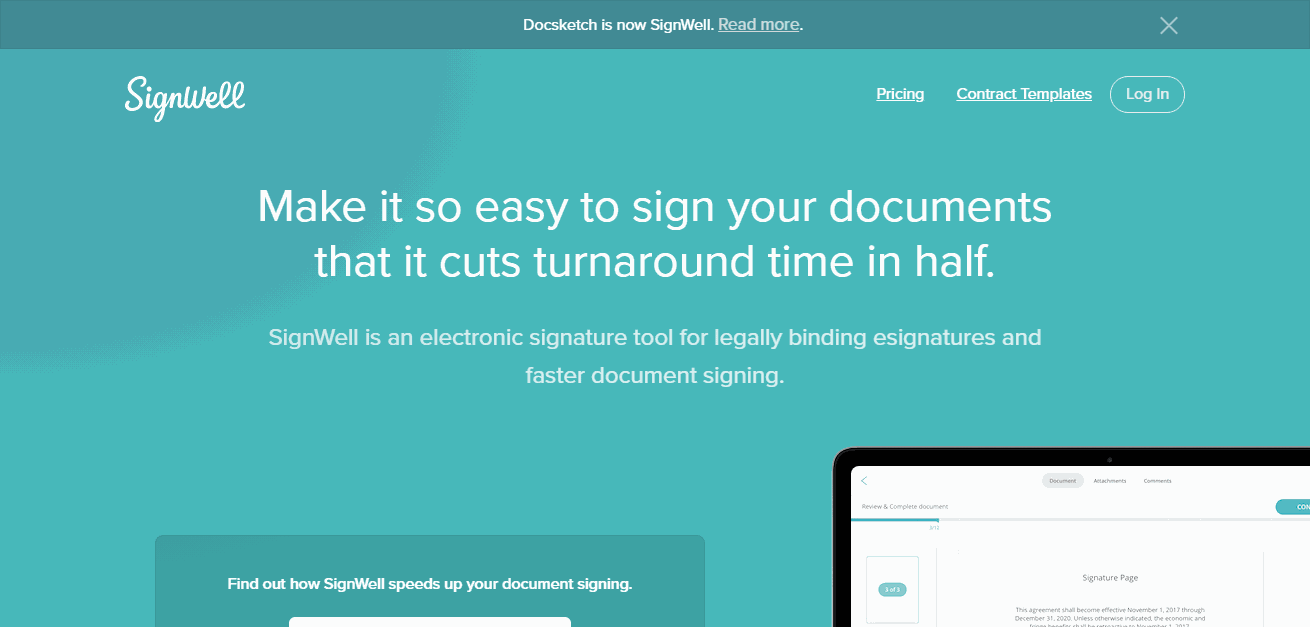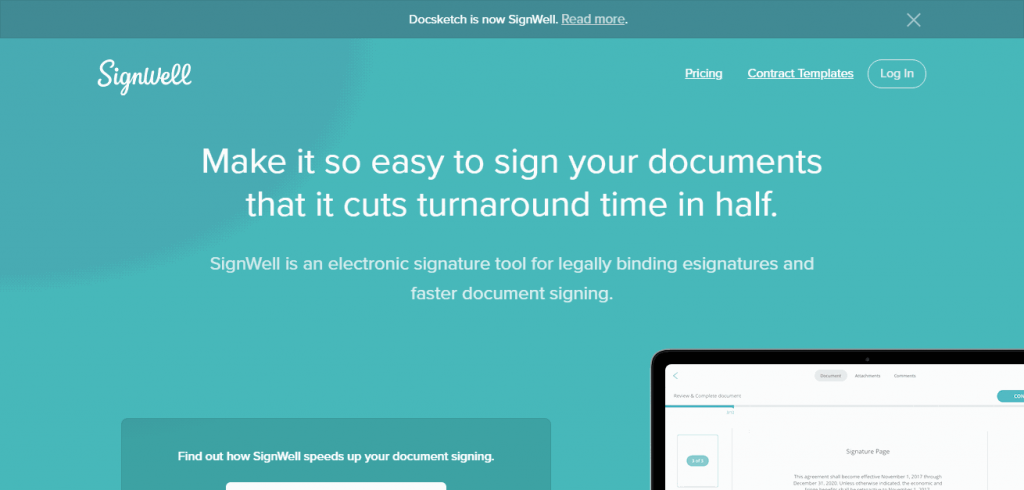 SignWell is an electronic signature software that enables users to add legally binding signatures to documents. The platform emphasizes security with HIPAA and GDPR compliance, whereas PandaDoc focuses on ease of use. Like PandaDoc, SignWell offers a free plan for one sender and three monthly documents. However, SignWell's paid plans are more affordable than PandaDoc's, making it a good option for small businesses. SignWell also offers a wide range of features, including signature verification, approval workflows, reminders, and notifications.
Key Features:
Reusable templates
Detailed audit trail
Automated form fields
Approval workflows
Data validation
Integrations:
13. EverSign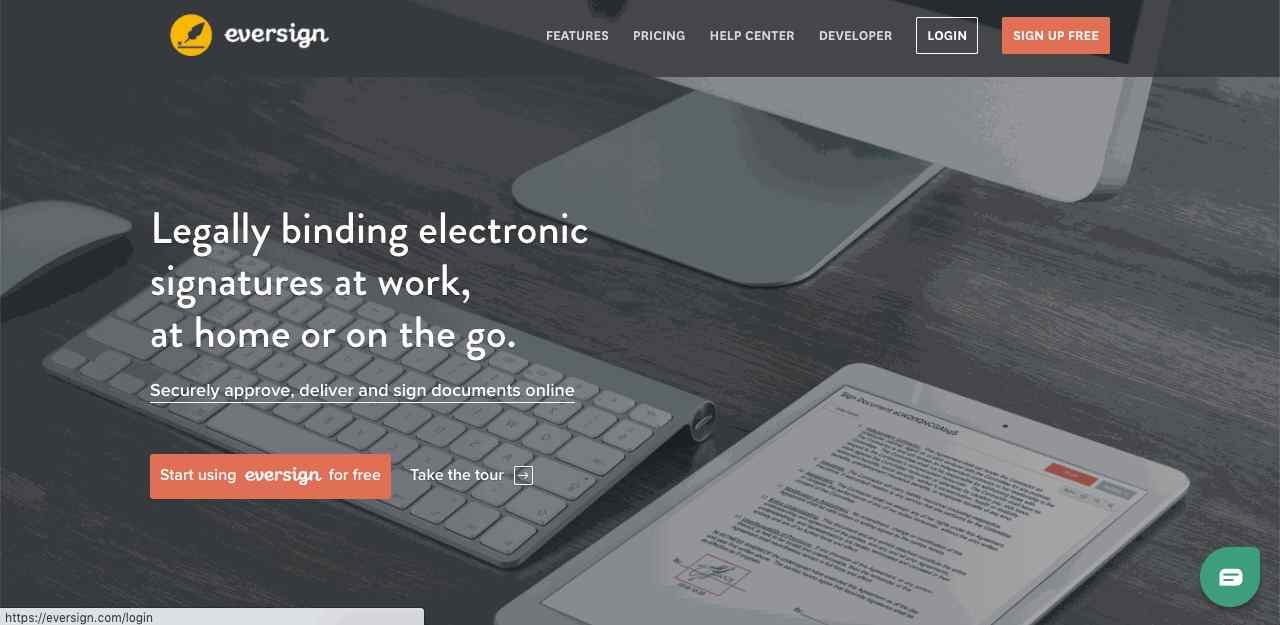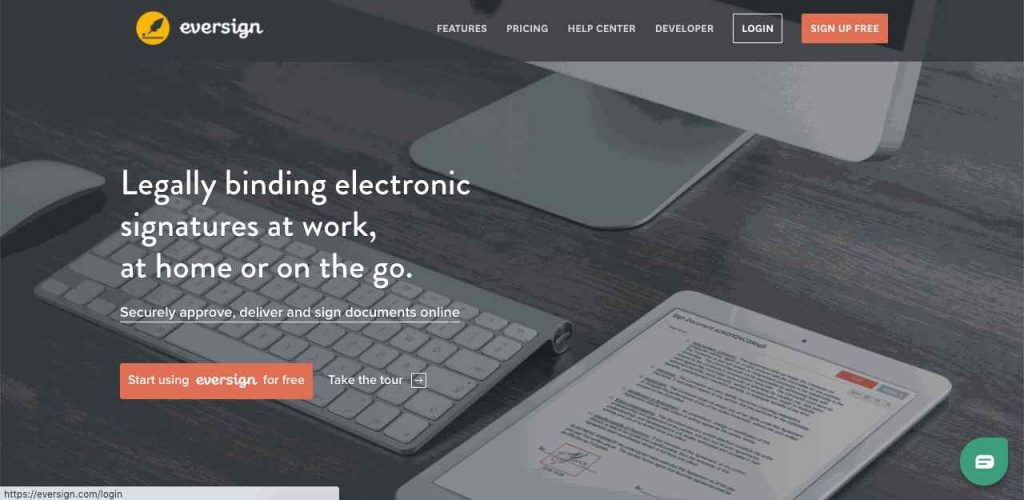 EverSign enables users to sign legally binding documents online. This electronic signature software is convenient for individuals and businesses as it offers a fast and secure way to sign documents. While EverSign and PandaDoc allow users to sign documents electronically, PandaDoc offers more features than EverSign, such as the ability to track records. EverSign's plans are generally more affordable than PandaDoc's. For example, the Professional plan starts at $39.99 per month and includes unlimited documents, ten templates, and up to five sales team members.
Key Features:
Secure audit trail
Team management tools
Secure document storage
Customizable templates
Support for multiple business signing
Integrations:
DropBox
Evernote
OneDrive
Google Drive
Chrome
14. PDFFiller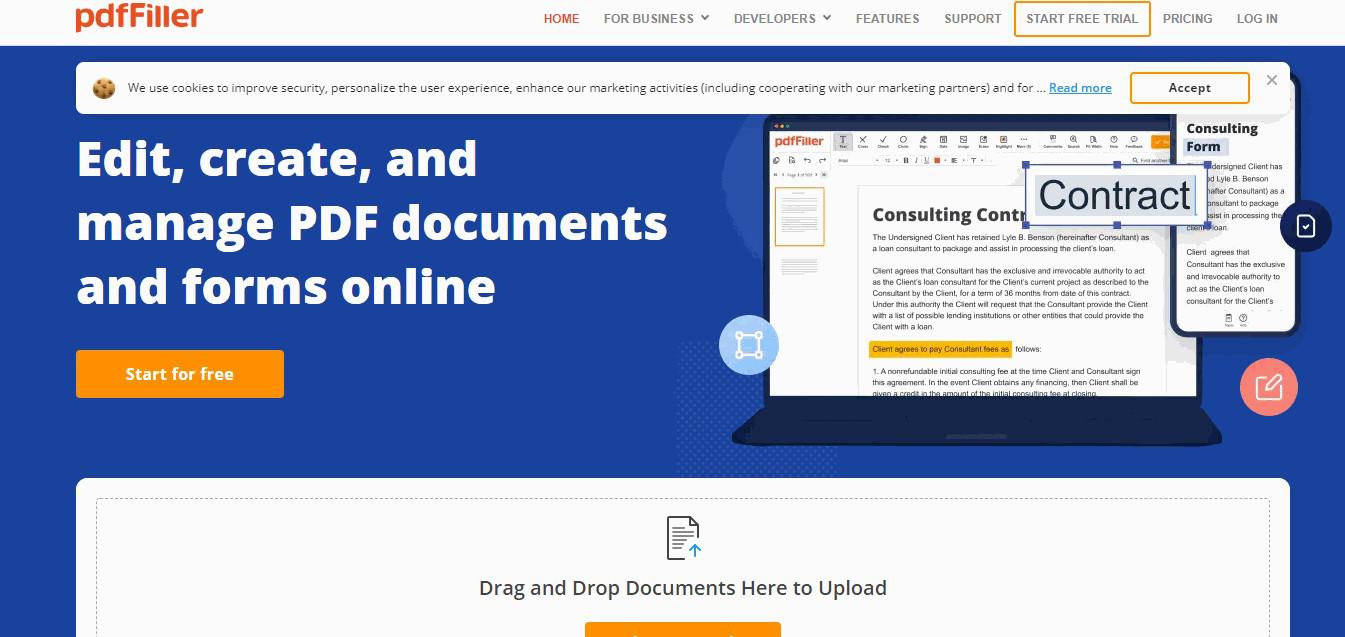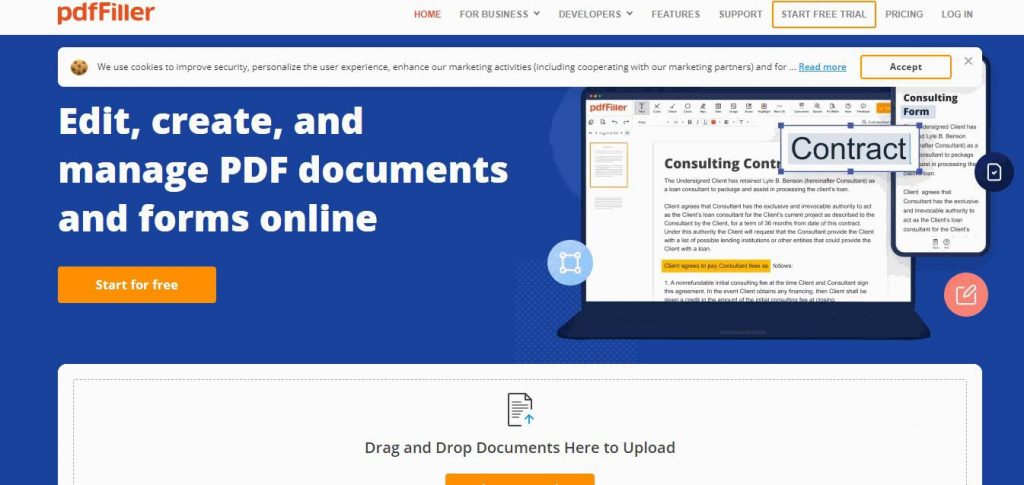 pdfFiller is an online PDF manager that helps you convert, edit and save your PDFs and forms. It offers a variety of features to make working with PDFs easier, including collaboration tools, support for creating a digital signature in PDF, and the ability to build fillable form fields. pdfFiller also makes it simple to share PDFs with others, whether you're sending them for a signature or just for review. And if you ever need to access your PDFs offline, you can do so with the pdfFiller app for iOS and Android.
Both pdfFiller and PandaDoc serve a wide range of customers, from freelancers to sales teams at large enterprises. However, PandaDoc boasts a more robust feature set, including customizable reports, document automation, and invoice management, while pdfFiller emphasizes PDF reading and management.
Unlike PandaDoc's free tier, pdfFiller plans start at $10 per month (billed annually). This tier allows you to edit basic documents and provides access to 24-hour customer support. Premium plans include reusable templates, data export, and instant chat customer support starting at $15 per month. All plans come with a 30-day free trial.
Key Features:
Edit PDF documents stored in the cloud
Approve signatures on the go
Automate business interactions
Access to an online library of legal forms
Integrations:
Google Drive
One Drive
Box
DropBox
15. SignRequest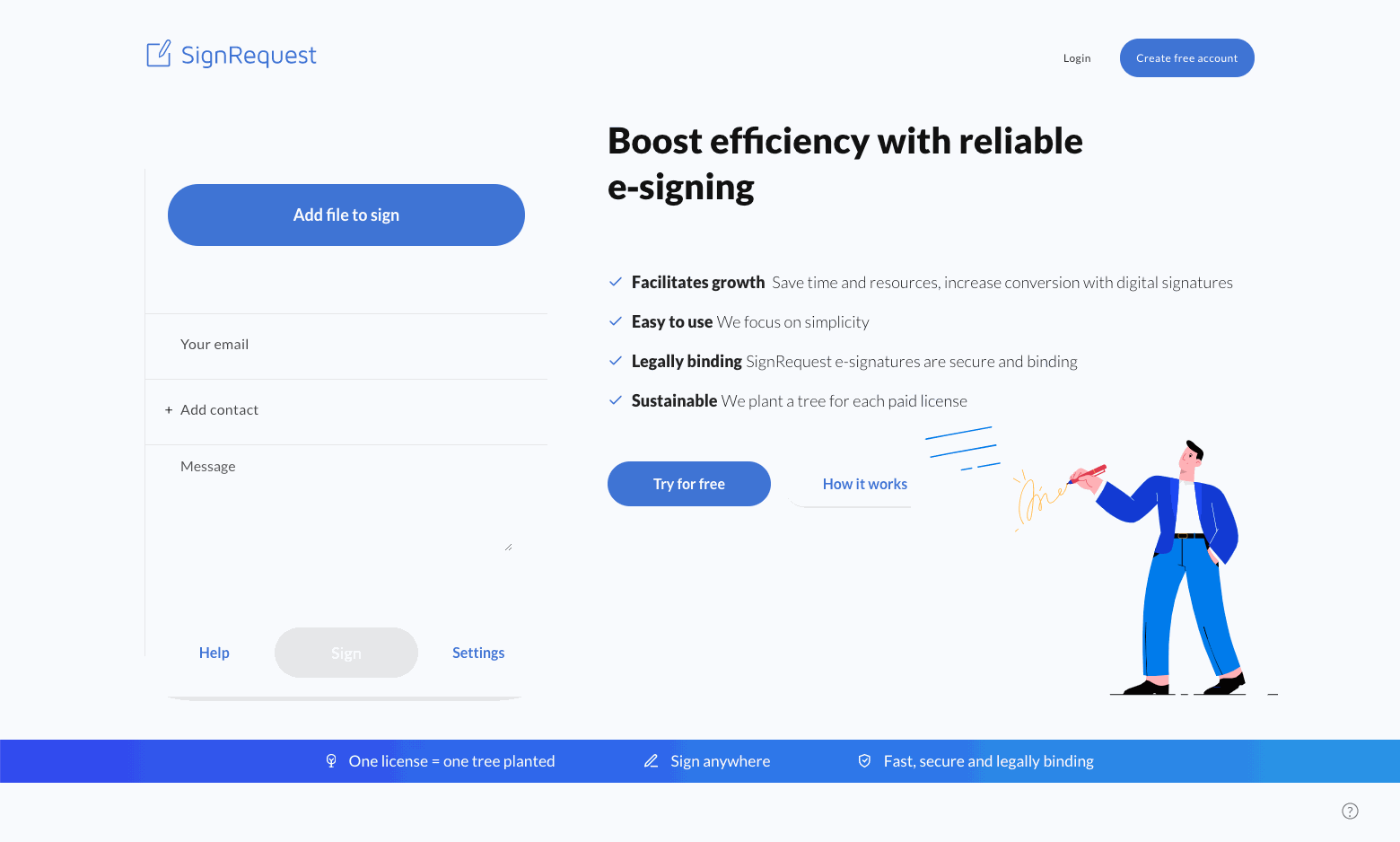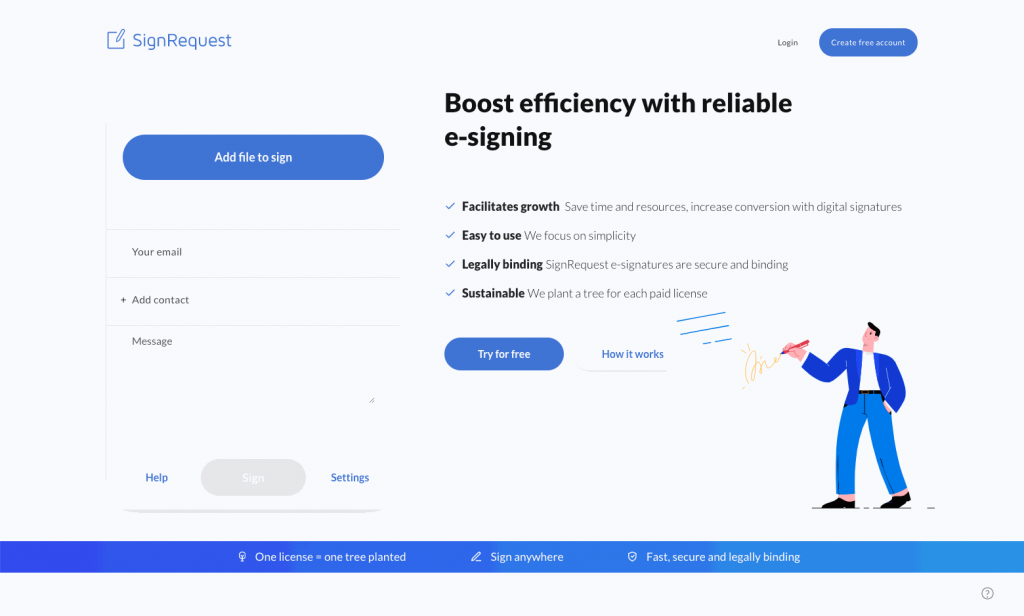 SignRequest is an online document signing service that offers a convenient and efficient way to create digital signatures. In many ways, it compares favorably to PandaDoc. Both services offer many features, including uploading documents, adding signers, tracking document status, etc. One key difference is that PandaDoc offers a free plan, while SignRequest does not. SignRequest Professional plan starts at $9 per user per month and includes five templates and custom branding.
Key Features:
Support for 17 languages
Custom landing pages
SMS verification
Email support
Custom branding
Integrations:
Zapier
Slack
Microsoft
Google Apps
How to Choose the Best PandaDoc Alternative for Your Business
Picking the right document signing tool for your business can be tricky. There are many factors to consider when searching for software that fits your needs and budget. Here are some things to keep in mind when you're shopping for an eSignature tool:
Ease of Use
No one wants to spend hours figuring out how to use a new tool. When comparing eSignature tools, read online reviews and see what other small business owners say about each software's usability. Some platforms are more intuitive than others. Choose one that won't require much time and energy to learn.
Mobile Capabilities
Chances are that you and your team are rarely in the same place at once, which is why finding an eSignature tool with mobile capabilities is essential. Look for a platform with an app that can be downloaded onto phones and tablets so that documents can be signed on the go. This ensures you'll still be able to get signatures quickly and easily, even when you're out of the office.
Plans & Pricing
Of course, the cost is an important factor when choosing any software for your business. Be sure to compare plans and pricing from different providers before deciding. Some platforms offer free plans for small businesses, while others charge monthly or annual fees for their basic plans. Be sure to read the fine print to understand exactly what you're getting and the costs involved.
FAQs
Here are a few frequently asked questions about PandaDoc alternatives:
Which is better, PandaDoc or DocuSign?
Both platforms offer a variety of features to meet the needs of businesses of all sizes. However, some key differences may make one platform a better fit for your sales team. For example, PandaDoc is more affordable and easy to use, while DocuSign offers a more robust feature set. Ultimately, the best platform for your business can be determined based on which features your company needs most.
Who are PandaDoc's competitors?
PandaDoc is a well-known name in the digital document space, but many other platforms offer similar solutions. One of PandaDoc's biggest competitors is HelloSign. Another favorite is Signaturely, which makes it easy for you and your sales team to sign documents and send them out to collect signatures from others.
Can I use PandaDoc for free?
PandaDoc offers a free tier that includes unlimited signatures, document uploads, and payments. This makes it an ideal choice for small businesses or individuals who need a simple way to create and manage documents.
What You Need to Remember About PandaDoc's Competitors
It can be tough to determine which tool is best for your business, but with a little research and some careful consideration, you should be able to find the perfect solution. We've shared 15 of the best PandaDoc alternatives in this post. Take your time evaluating each tool to see which option is best for you and your team.