Electronic signature software is becoming a standard for businesses of all sizes. This software allows you to get signatures from customers, partners, and others quickly and efficiently. It's no wonder many companies are looking for the best electronic signature software to use in their operations. If you're one of those businesses exploring your options, you're in luck. We've compiled a list of the 10 top SignNow alternatives on the market. Each solution has unique features and benefits, so read through our comparison to find the right one.
Top 10 SignNow Alternatives to Use in 2022
Whether you're looking for a more advanced e-signature solution or are just exploring your options, this list of top digital signature software will help get you started.
1. Signaturely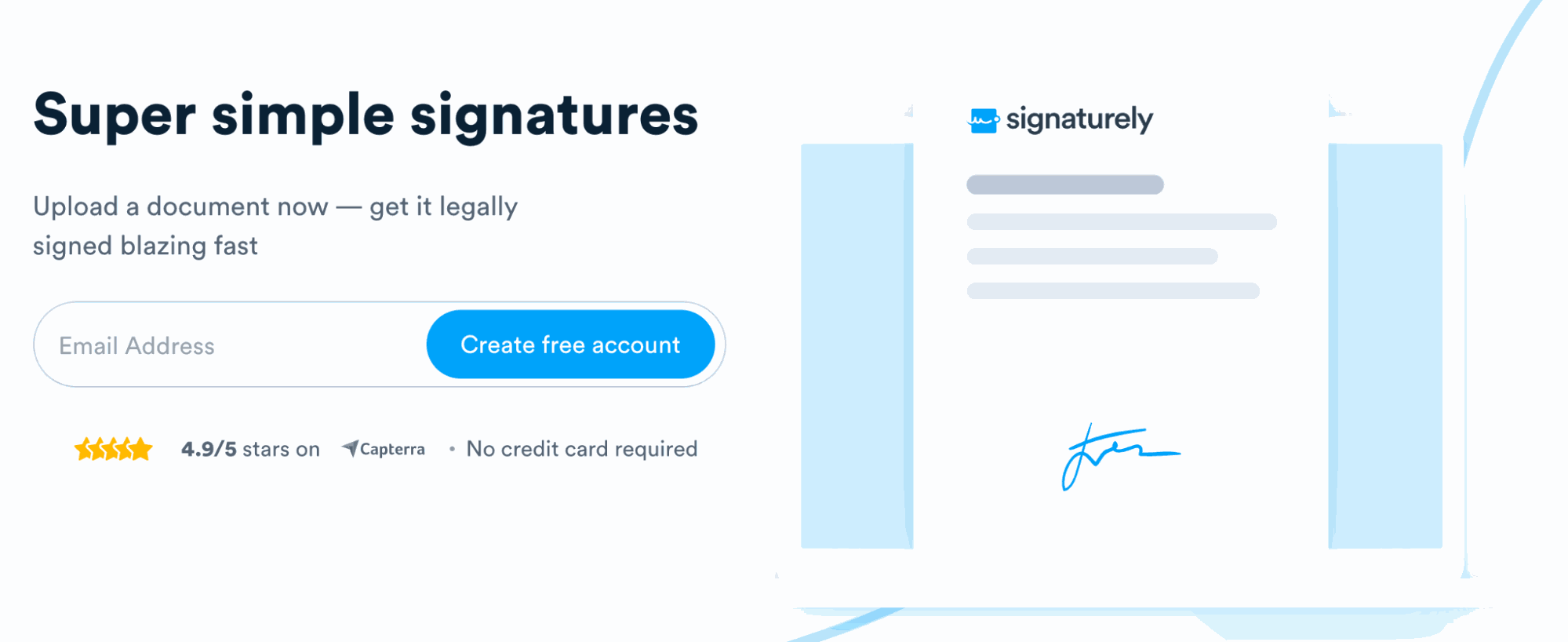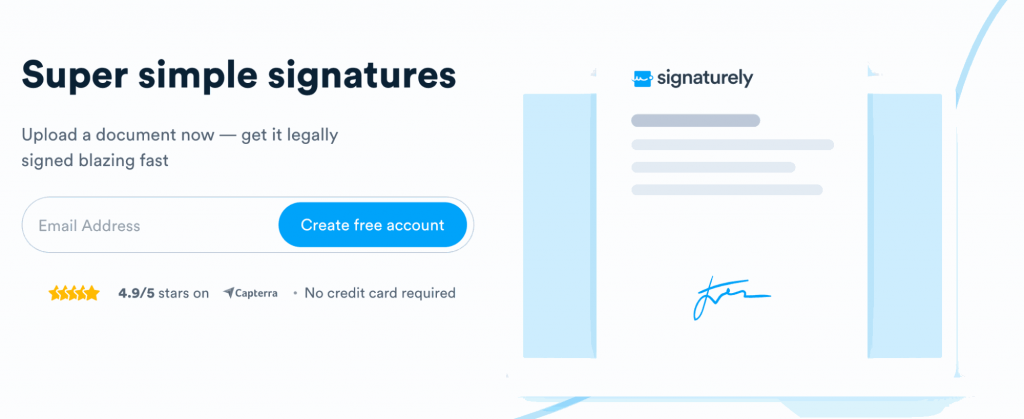 Signaturely is a digital signature platform that makes it easy for businesses to sign documents and collaborate. With Signaturely, companies can upload documents and invite others to sign them online. The platform provides a secure and legally binding way to sign documents and offers a simple user interface that makes it easy to get started. Signaturely also has features that make it easier to manage online document signing, such as tracking who has signed a document and when. Overall, Signaturely is an efficient and convenient way for businesses to handle document signing.
Compared to SignNow, Signaturely offers more robust customer support. Both platforms offer a similar feature set, but SignNow supports an ADP integration. Signaturely plans start at $16 per month (billed annually) and include access to unlimited signature requests and integrations with top productivity tools.
Key Features:
Audit log and history
Automated signature reminders
Team management
Custom branding
Integrations:
2. Adobe Sign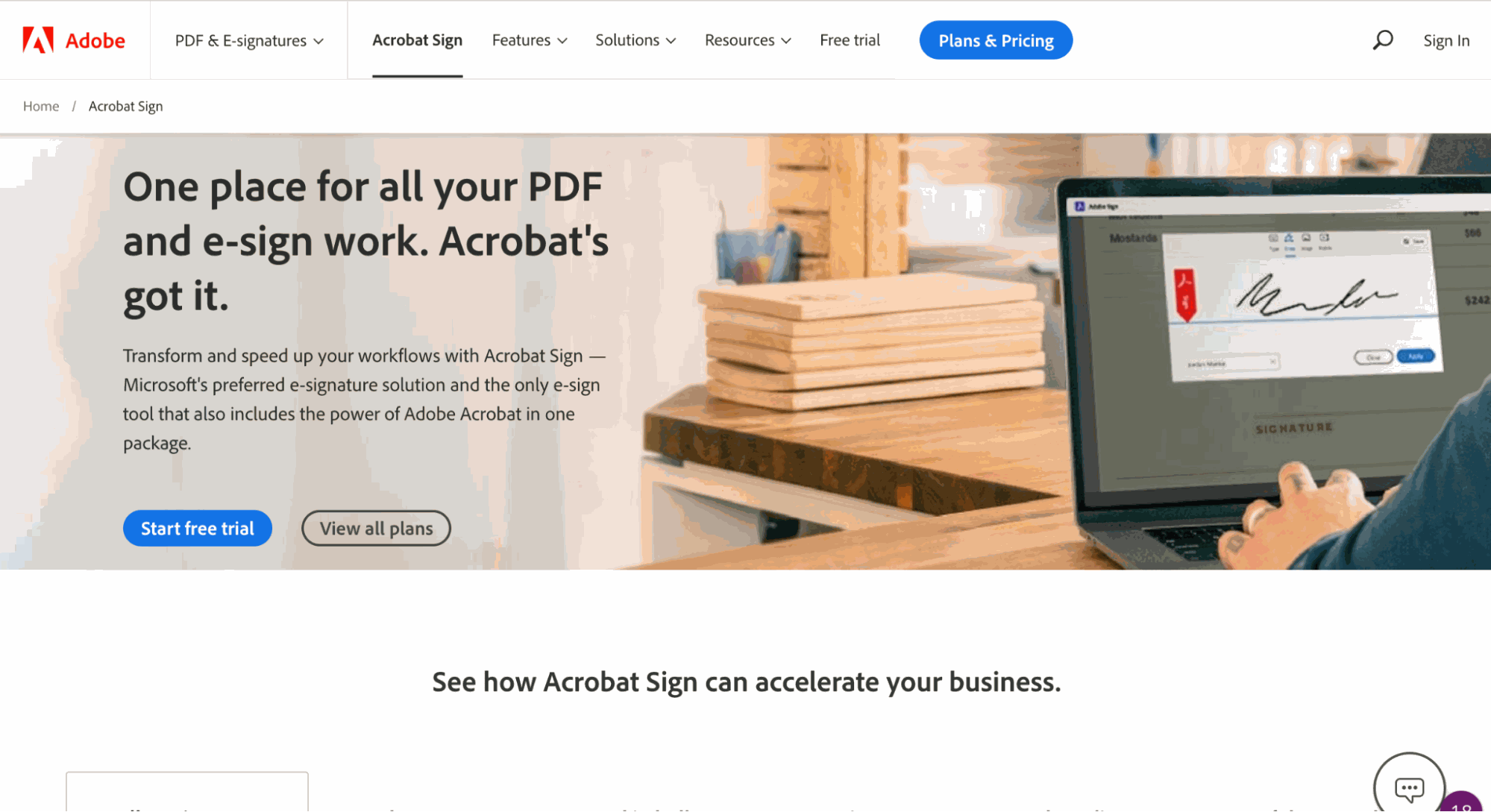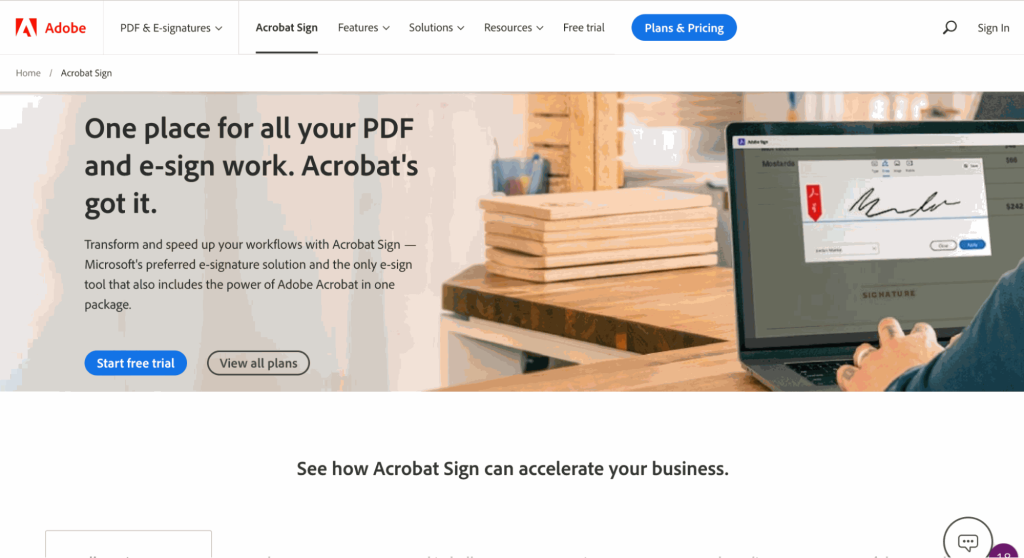 Adobe Sign is a cloud-based electronic signature tool that allows users to sign PDF documents electronically (without printing). The platform is part of the Adobe Document Cloud, which integrates with other Adobe products like Acrobat DC and Adobe Creative Cloud. The platform's key features include tracking document status, setting reminders, and adding form fields to PDF documents.
Like Adobe Sign, SignNow allows users to sign documents and integrate with other software platforms electronically. However, SignNow has over 40 integrations compared to Adobe Sign's 13. SignNow also has more than 25 million fillable forms in its library compared to Adobe Sign's 5. Both Business plans are priced at $15 per user per month.
Key Features:
Custom languages
Reusable templates
Password-protection documents
Integrations:
3. PandaDoc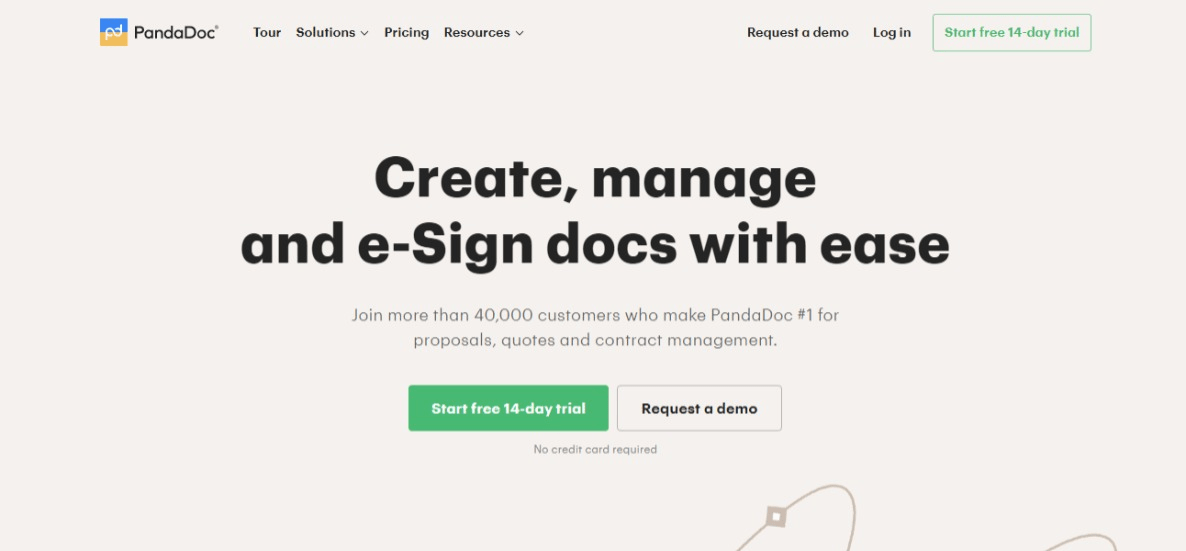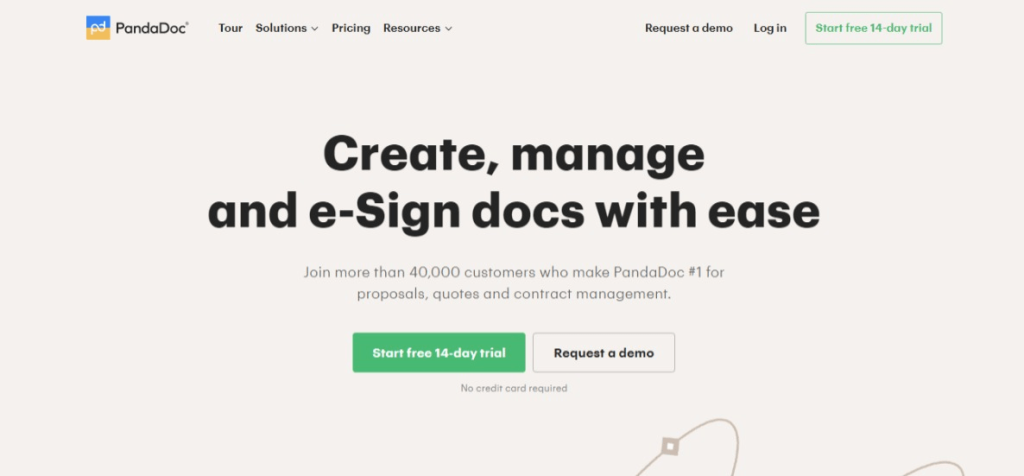 PandaDoc is a document automation software that helps businesses streamline their sales and contract processes. With PandaDoc, users can create, send, track, and e-sign documents in one place. In addition, PandaDoc integrates with several popular CRMs and business applications, making it a versatile tool for businesses of all sizes.
One key feature of PandaDoc is its pricing model, a significant advantage over SignNow, which does not have a free or low-cost plan. PandaDoc's Basic plan starts at $19 per user per month. Another advantage of PandaDoc over SignNow is that it offers document sharing and document groups. In addition, both platforms provide API integration.
Key Features:
Built-in document templates
Mobile access
Real-time document tracking
Integrations:
4. Zoho Sign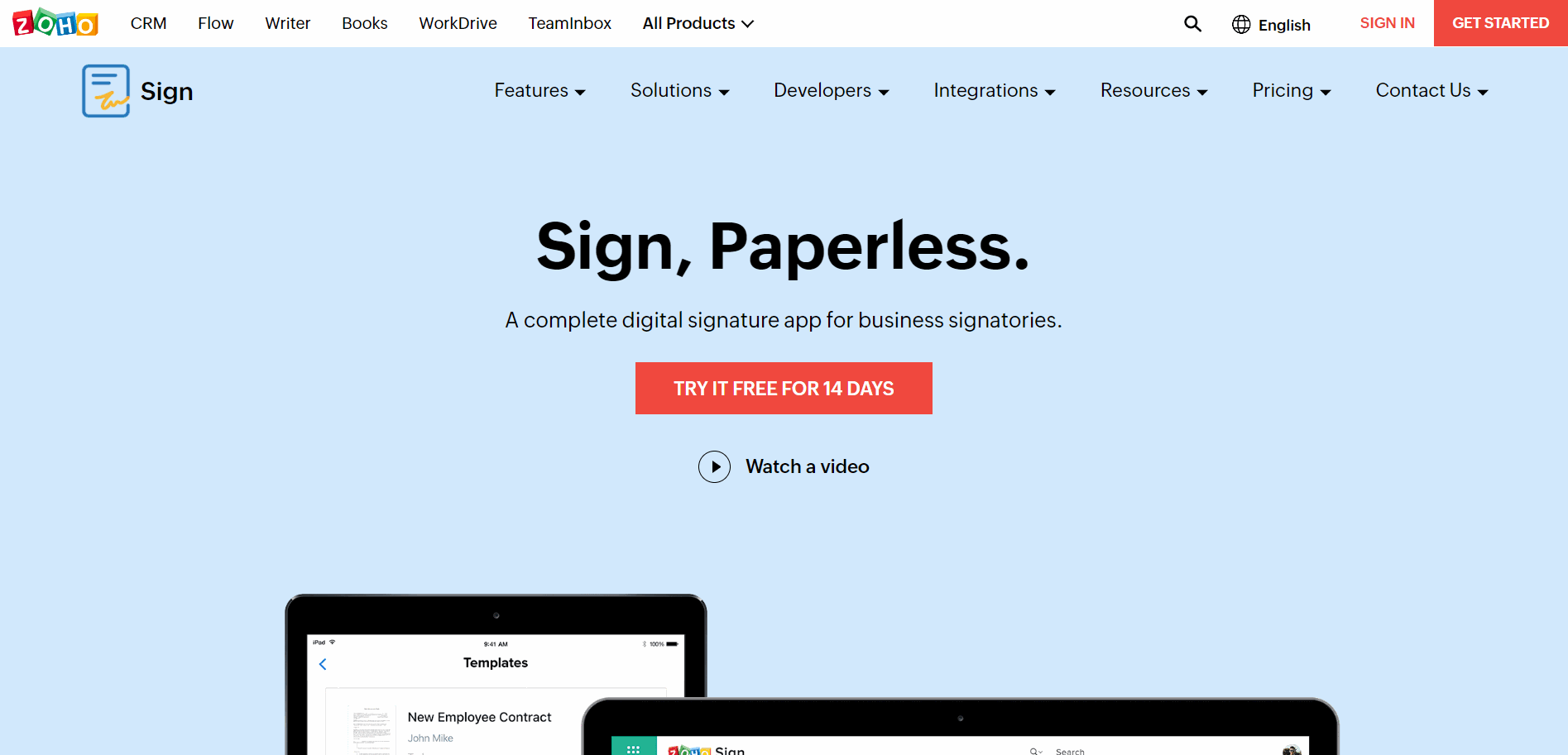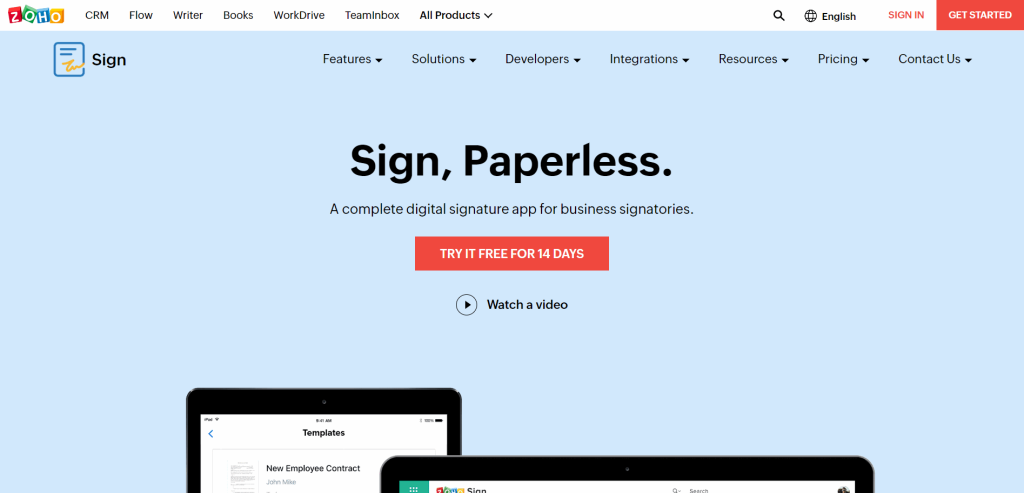 Zoho Sign is a powerful electronic signature solution offering various features to streamline your business processes. The audit trail provides a complete record of all signature activity, while teams allow users to manage signature requests and approvals easily.
Zoho Sign and SignNow are digital signature software platforms allowing businesses to collect signatures electronically. Both platforms have their unique features and pricing plans. SignNow has over 25 million fillable forms, while Zoho Sign does not. In addition, Zoho Sign has mainly integrations into Zoho apps, while SignNow users can choose from over 40 integrations. SignNow also allows businesses to collect payments with signatures, a feature lacking in ZohoSign.
Both platforms offer a free trial period. SignNow's paid plans start at $10 per user per month, while Zoho Sign's paid plans start at $8 per user per month (billed annually).
Key Features:
SMS authentication
Automatic cloud backup
Bulk sending
Integrations:
Zoho Apps
Hubspot
Pipedrive
5. SignRequest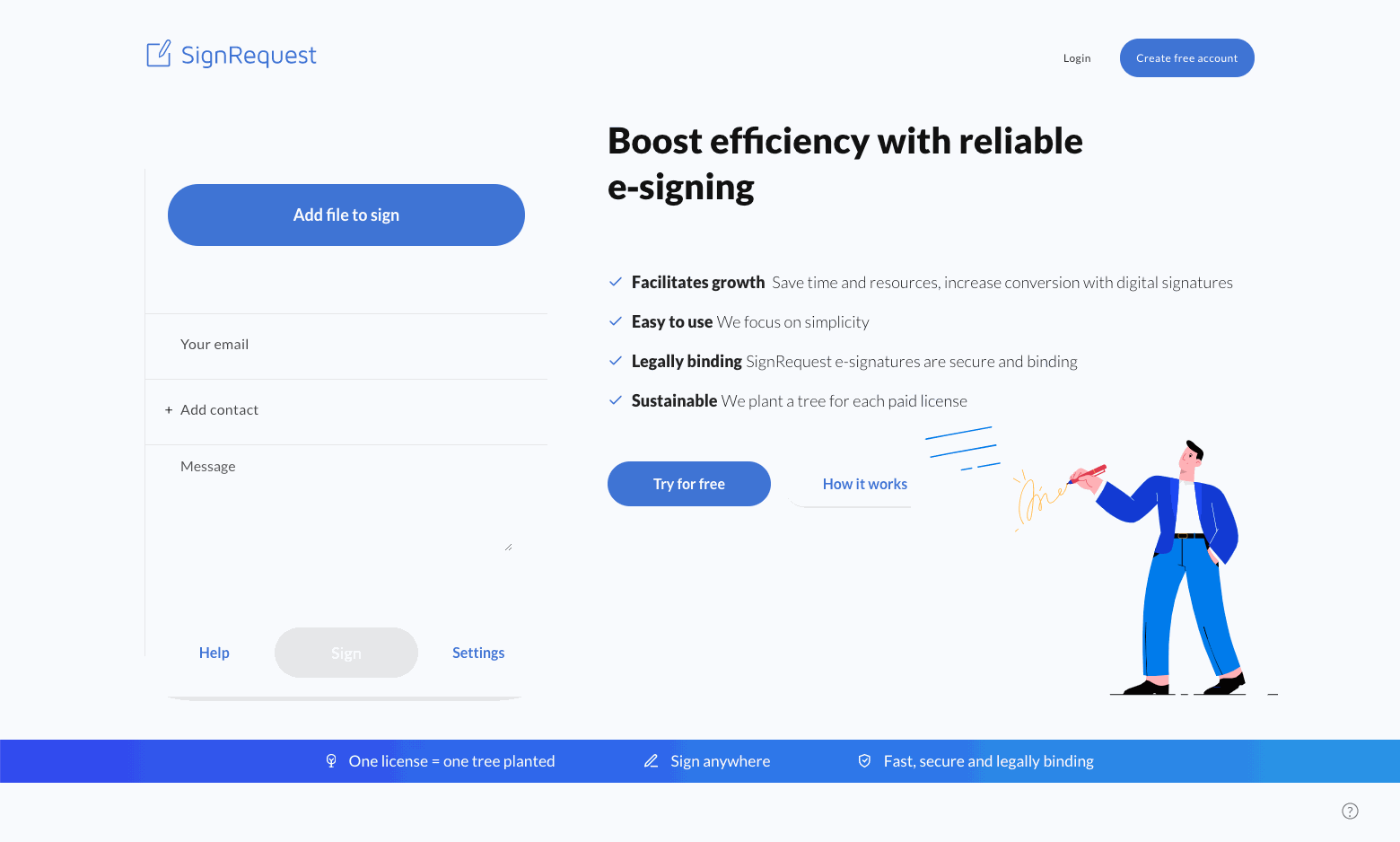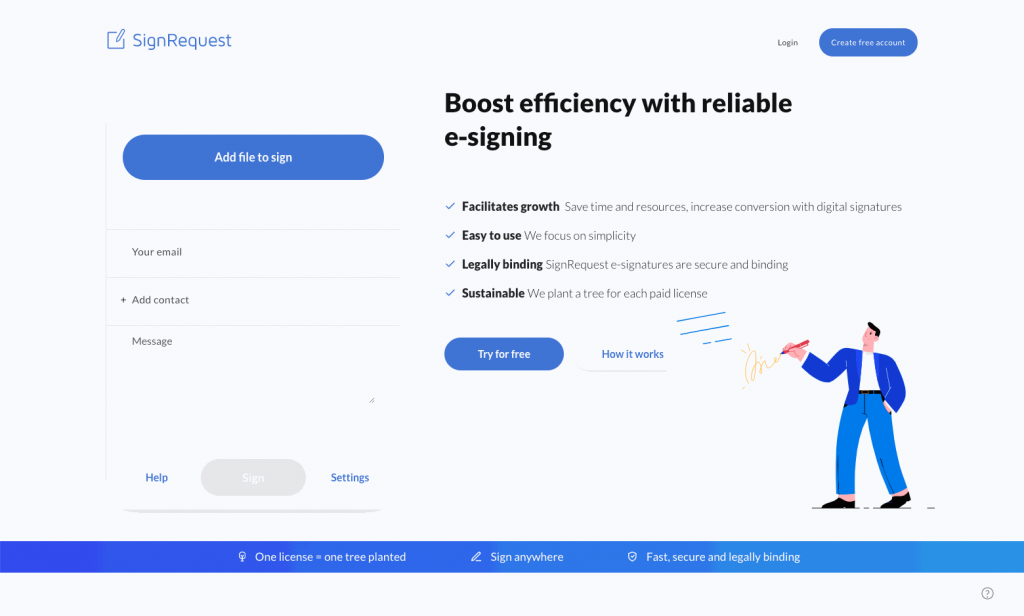 SignRequest is a digital signature platform that allows businesses to add custom branding and support for over 17 languages. With SignRequest, companies can streamline the contract signing process, saving time and money. SignRequest also offers email support so businesses can get help with any questions or issues.
Unlike SignNow, SignRequest does not have a document library and field validation features. Both platforms have API integration and access to custom branding. 
SignRequest comes in two plans: Professional at $9 per user per month and Business at $15 per user per month. Both come with a free trial.
Key Features:
Public signing link
Customize the order of signing
Automated notifications about document status
Integrations:
6. DocuSign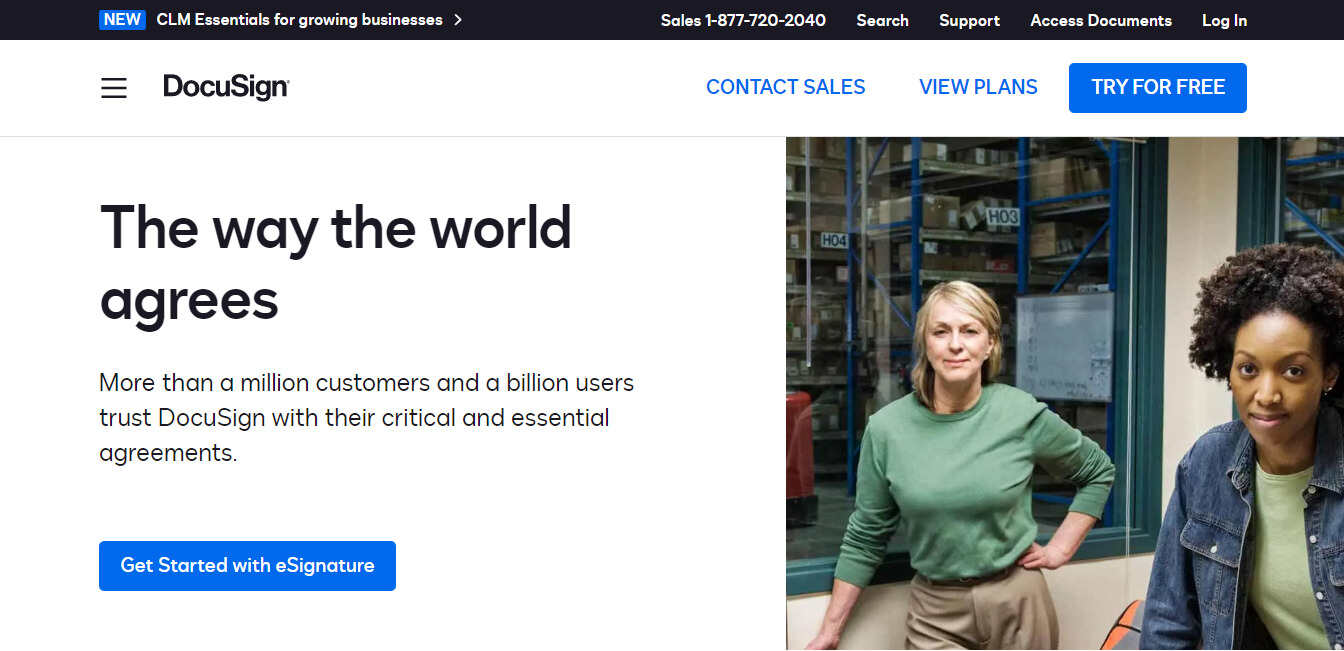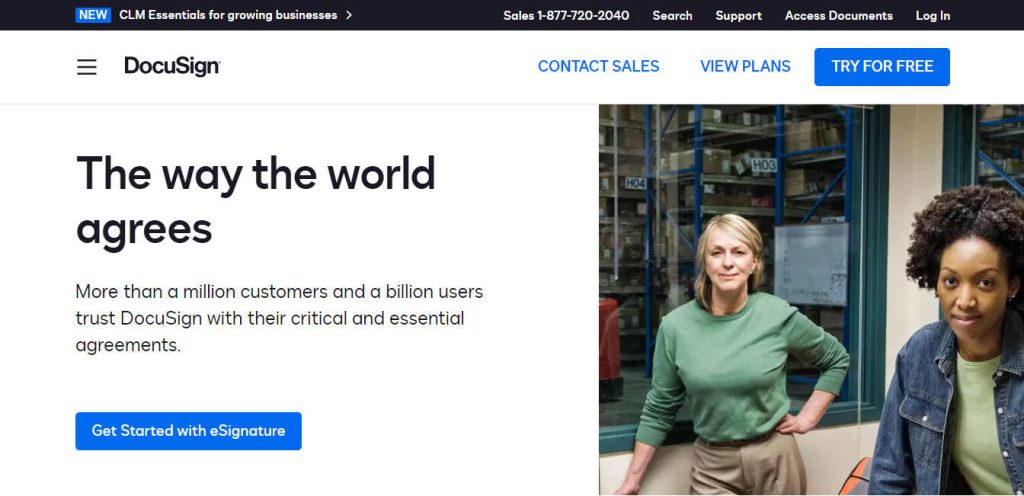 DocuSign is a cloud-based electronic signature software that enables users to upload, sign and manage documents online. The software is designed to work with many document types, including contracts, NDAs, legal forms, and more. DocuSign also offers a range of features to help streamline the document signing process, including automatic form-filling, real-time tracking, and e-signing from mobile devices. In addition, DocuSign integrates with popular business applications such as Salesforce, Google Drive, and Microsoft Office 365.
When choosing a document signing solution for your business, it's important to consider price and features. DocuSign is a well-established provider with pricing that starts at $10 per user per month. While this may be slightly higher than some competitors, it's important to consider the reliability that DocuSign offers. On the flip side, SignNow provides unlimited templates and signings at the basic plan, making it a good choice for businesses that have high-volume document signing needs. 
Key Features:
Conditional fields in documents
Unlimited templates
Custom branding
Integrations:
7. HelloSign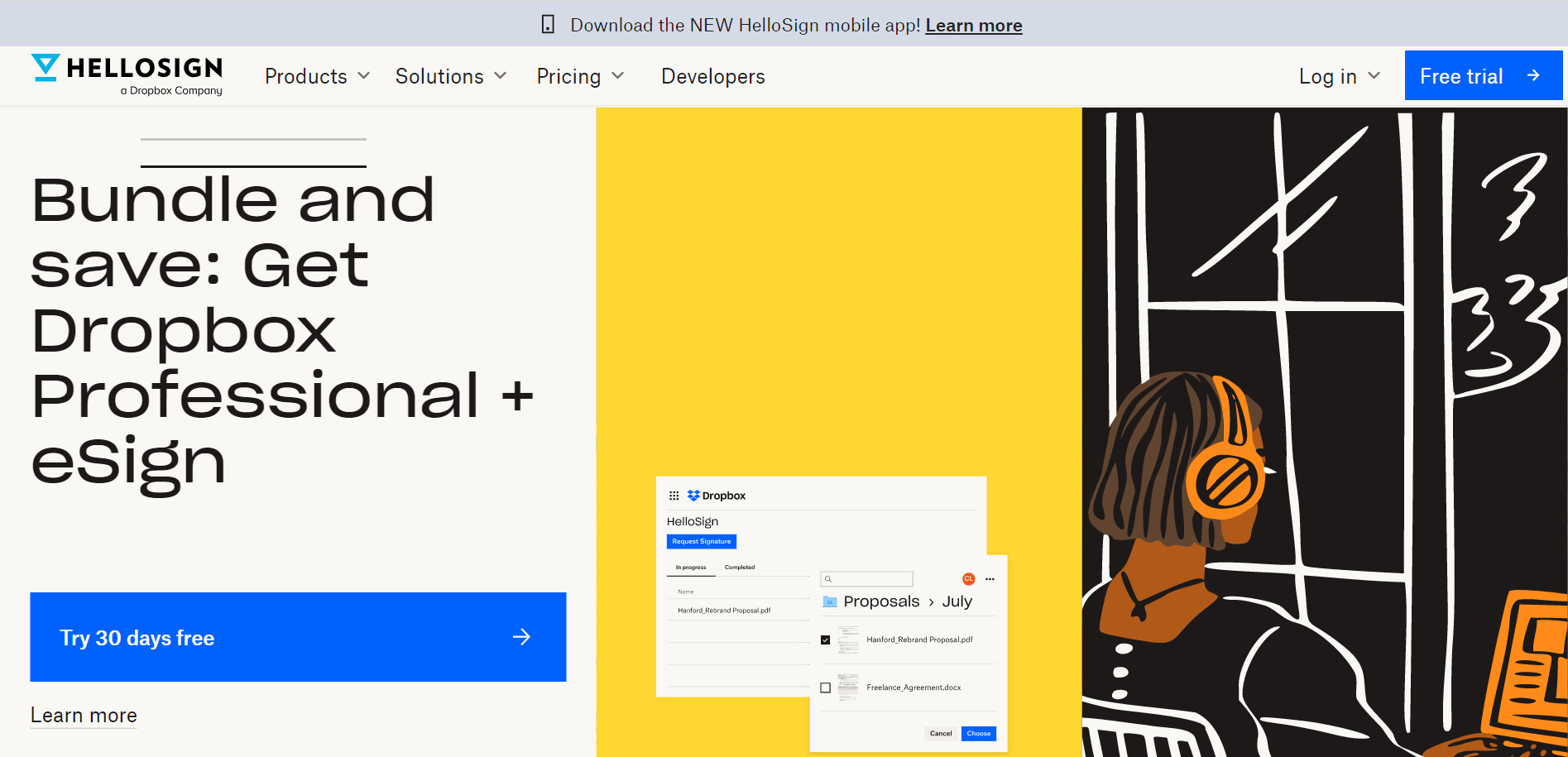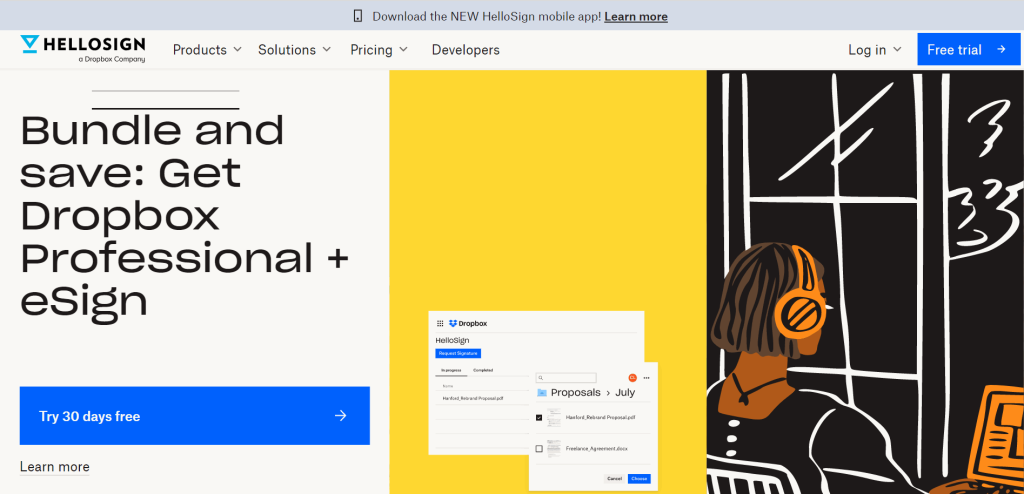 HelloSign is an e-signature platform that lets users digitally sign and send documents. HelloSign can be used for personal or business purposes, offering various features to suit individual and organizational needs. HelloSign also has template libraries for common document types, such as NDAs, contracts, and tax forms. 
In addition, users can create custom templates for their specific needs.
Compared to SignNow, HelloSign lacks bulk signing and the ability to collect payments with signatures. Besides those differences, both platforms offer similar features, making them a compelling purchase for growing teams.
Key Features:
Advanced threat protection
Team management
Document merging
Integrations:
8. Nitro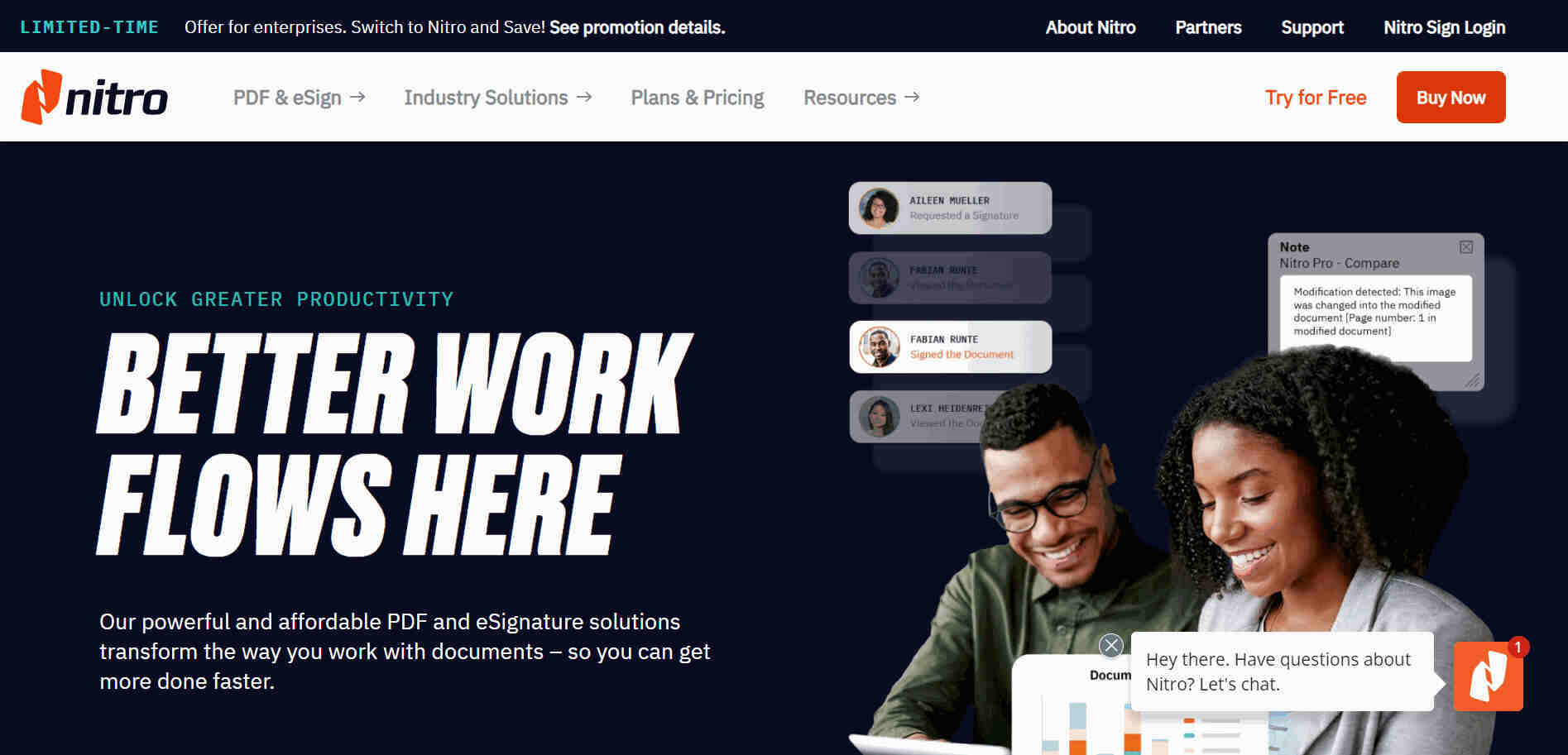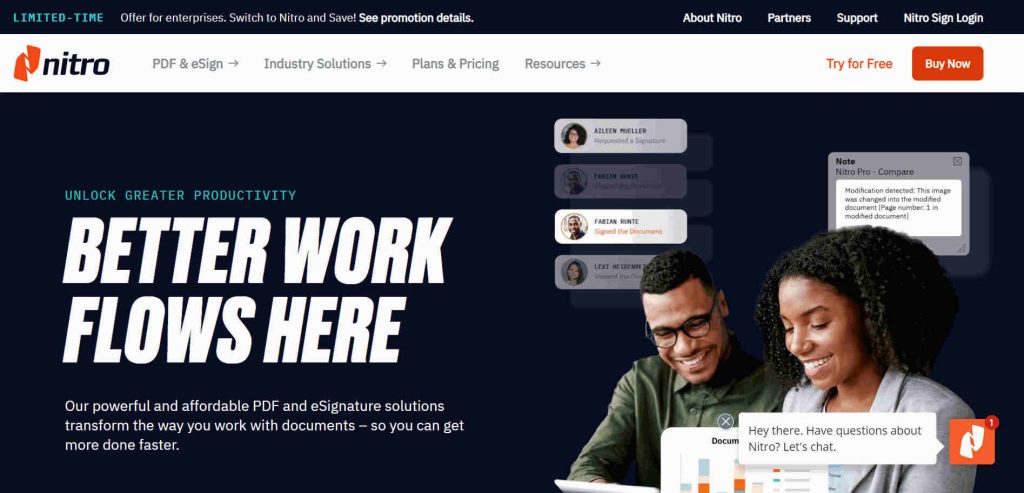 Nitro e-signature software is a powerful and convenient tool for businesses of all sizes. The software allows users to create unlimited signatures, storing them in the cloud for easy access. Nitro e-signature software also integrates with popular cloud storage platforms.
SignNow and Nitro offer similar features, including creating and editing documents, adding images and signatures, and sharing files. However, some critical differences between the two may influence your decision. For instance, Nitro doesn't include payment collection as part of its feature set, whereas SignNow does. Similarly, SignNow offers slightly more customization options than Nitro.
Key Features:
Access to templates
Expiring documents
Document Library
Integrations:
Google Drive
Salesforce
SAP
9. DigiSigner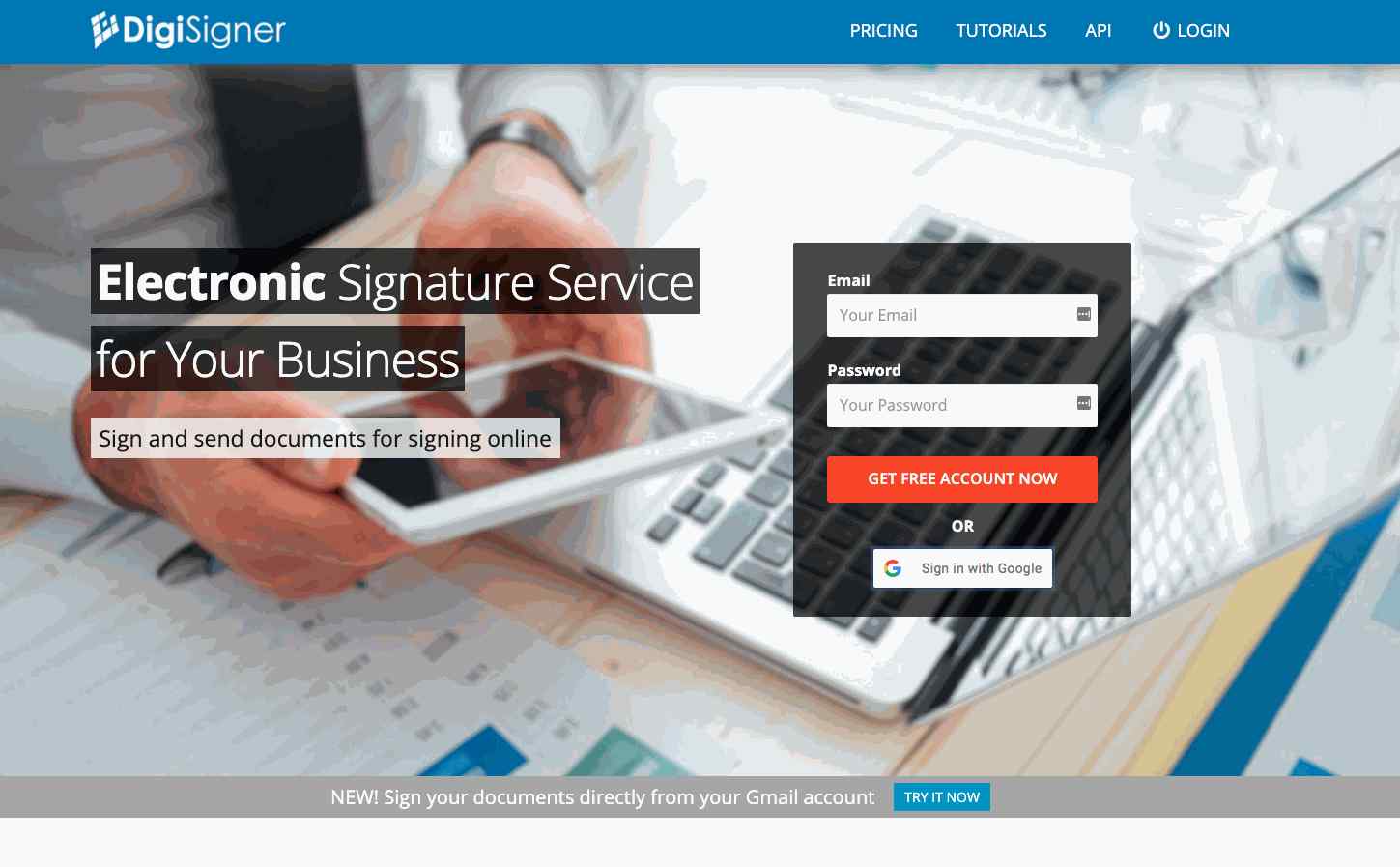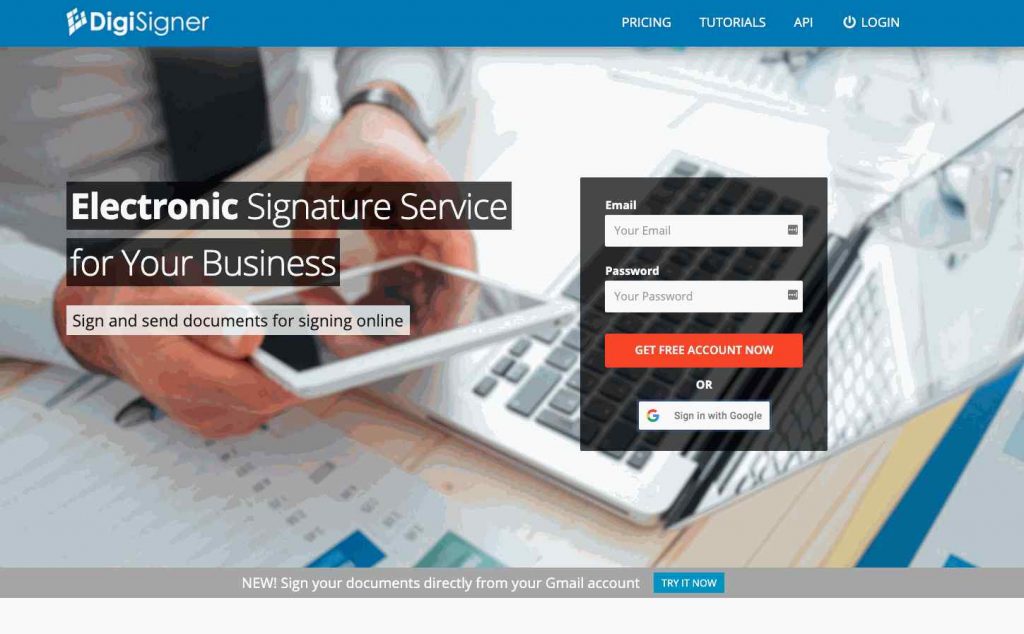 DigiSigner is a user-friendly eSignature solution that offers a wide range of applications for both real estate and small businesses. The platform is simple to use, with many features that make it easy to create, manage, and upload digital signatures. Real estate professionals can use DigiSigner to streamline the entire process of contract signing. In addition, DigiSigner offers a free plan, making it easy to try out the platform with limited features before committing to a paid subscription. 
A few key differences between DigiSigner and SignNow are worth mentioning. DigiSigner doesn't include the ability to merge documents and reusable templates on mobile, whereas SignNow does. Mobile features can be a big advantage for users who need to work with documents on the go. Additionally, SignNow provides a broader range of integrations than DigiSigner.
Pricing for DigiSigner starts at $12 per month (billed annually) and includes a free trial.
Key Features:
Multiple signers
Customize signing order
Camera signature capture
Integrations:
10. SignEasy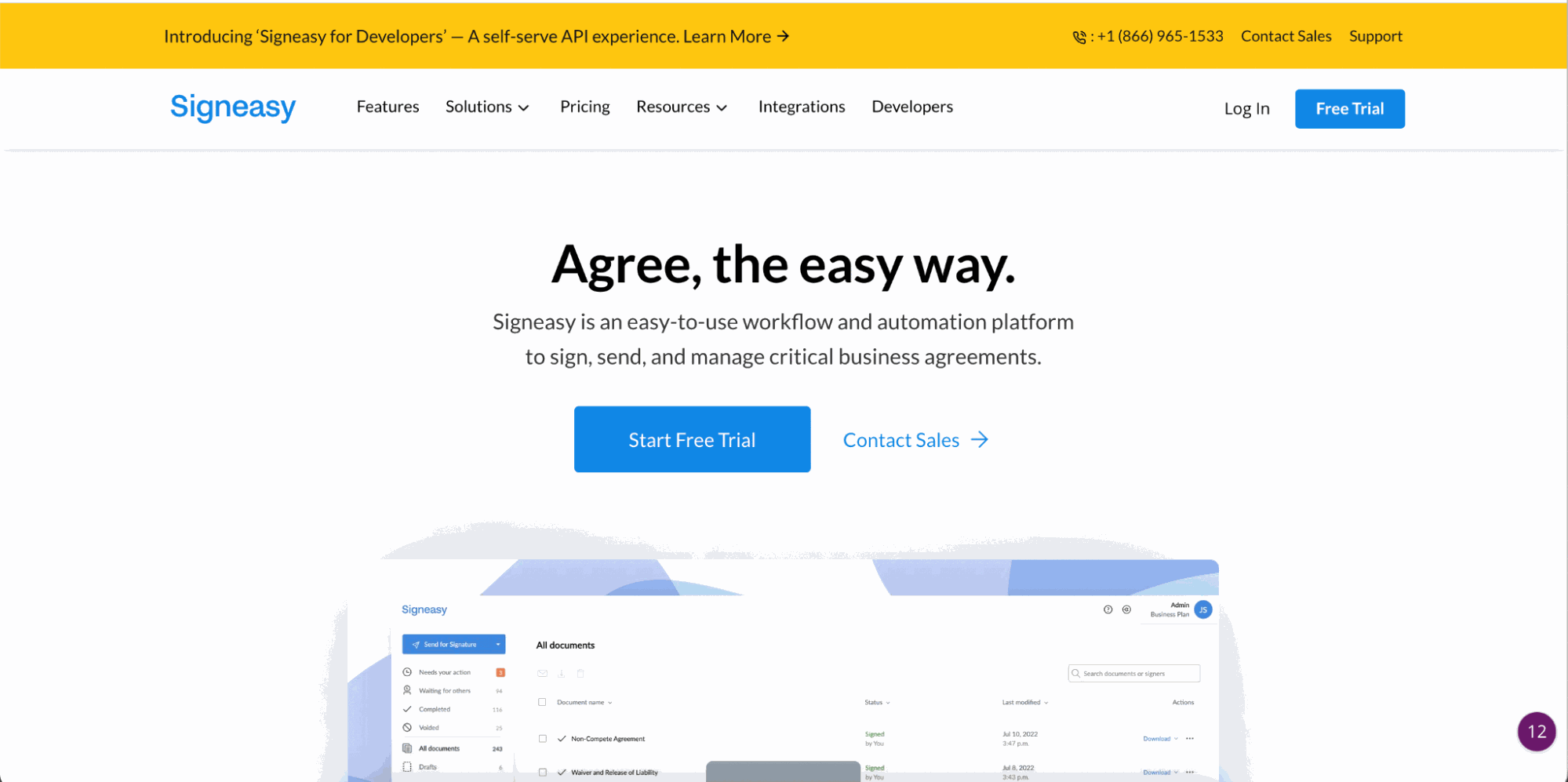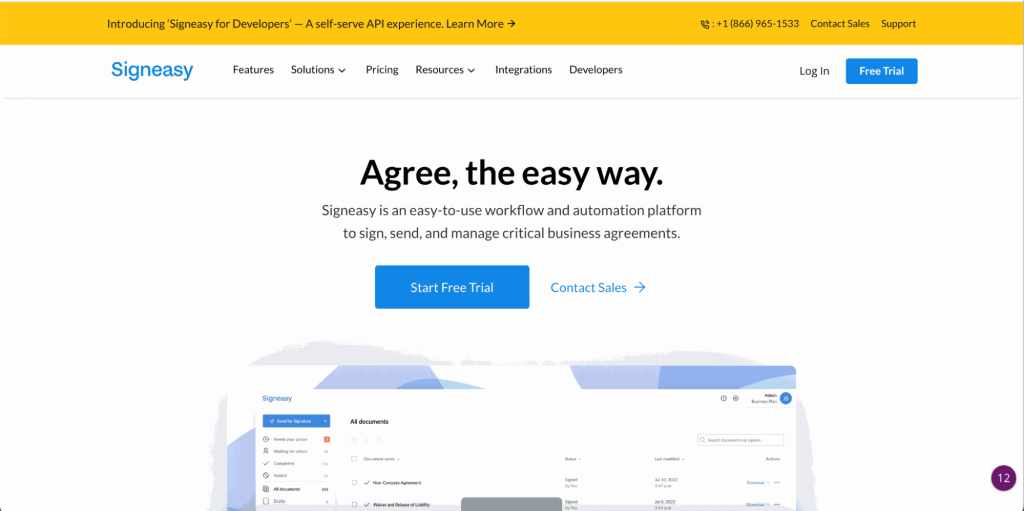 SignNow and SignEasy offer similar features, such as uploading and signing documents electronically. However, there are some key differences between the two services. SignEasy doesn't allow you to merge multiple documents into a single file, which can be a drawback if you must sign numerous documents simultaneously. In addition, SignEasy's pricing structure starts at $10 per user per month, whereas SignNow begins at $8 per month (billed annually). However, SignEasy does offer a free trial period, so you can try out the service before committing to it. 
Key Features:
Pre-fill the document with text
Reusable templates
User management dashboard
Integrations:
How to Choose the best SignNow alternative For Your Business
With so many electronic signature tools on the market, choosing one for your business can be challenging. There are a few key considerations to keep in mind that will help narrow down your options and choose the best tool for your needs. These considerations include intended use, mobile capabilities, and budget. Let's take a closer look at each one.
Intended Use
Intended use is the first consideration. Why do you need an electronic signature tool? Are you looking for a way to sign documents electronically? Do you need a tool that can also handle document creation and storage but also integrates with other software programs you use? Knowing how you intend to use the tool will help you choose one that has the features you need.
For example, if you're only looking for a way to sign documents electronically, you don't need a tool with all the bells and whistles. A simple, straightforward program that lets you upload documents and add signatures will suffice. On the other hand, if you need a tool that does more than just creating electronic signatures—such as document creation and storage—you'll want to choose a more feature-rich option. 
Mobile Capabilities
In today's world, it's important to access documents and sign them electronically from anywhere as operations become more accessible. Choosing a tool with robust mobile capabilities is essential. Look for a tool with a dedicated mobile app optimized for mobile browsers. Mobile capabilities will ensure you can access your documents and sign them electronically, no matter where you are.
Budget
Electronic signature tools can range in price from free to several hundred dollars per month. When choosing a platform, it's important to consider how much it will cost upfront and any ongoing costs (such as monthly fees). You'll also want to assess whether the features offered to justify the cost. For example, some tools have document creation and storage in addition to electronic signatures, while others only provide electronic signatures. If you only need electronic signatures, then there's no point in paying for features you won't use. 
SignNow Alternative FAQs
There are a few frequently asked questions about SignNow alternatives.
Is SignNow better than DocuSign?
While SignNow and DocuSign are popular choices for electronic signature software, there are some key differences between the platforms. SignNow is typically more user-friendly and affordable, while DocuSign is known for its extensive feature set and integrations.
How can I get SignNow for free?
SignNow offers a free trial of all its plans, so you can try out the features and see which one is right for you.
Is SignNow legally binding?
SignNow is a legally binding e-signature platform. To meet the requirements of the ESIGN act, the platform uses industry-standard security measures to protect your documents and data.
What You Need to Remember About SignNow Alternatives/Competitors
As businesses increasingly move online, the need for efficient and secure digital signatures has never been greater. While there are many e-signature tools on the market, it's important to evaluate each one carefully to ensure that it meets your business's needs. SignNow is a popular choice for many companies, but it's important to review other options that might fit your needs better.