When it comes to eSignature tools, all software isn't created equal. HelloSign is a widely used tool that Dropbox recently acquired. While HelloSign is a popular program, evaluating different options is important to find the best fit for your needs. There's no one-size-fits-all answer when it comes to eSignature tools. You can ensure you choose the right tool for your business by evaluating your needs. This article explores the best HelloSign alternatives to help you achieve your goals.
15 HelloSign Alternatives & Competitors to Use Instead
You're in luck if you're looking for online signature software to help your business grow. HelloSign is just one of many great options on the market. We've listed 15 HelloSign alternatives to consider. Each tool has unique features that may better fit your company.
1. Signaturely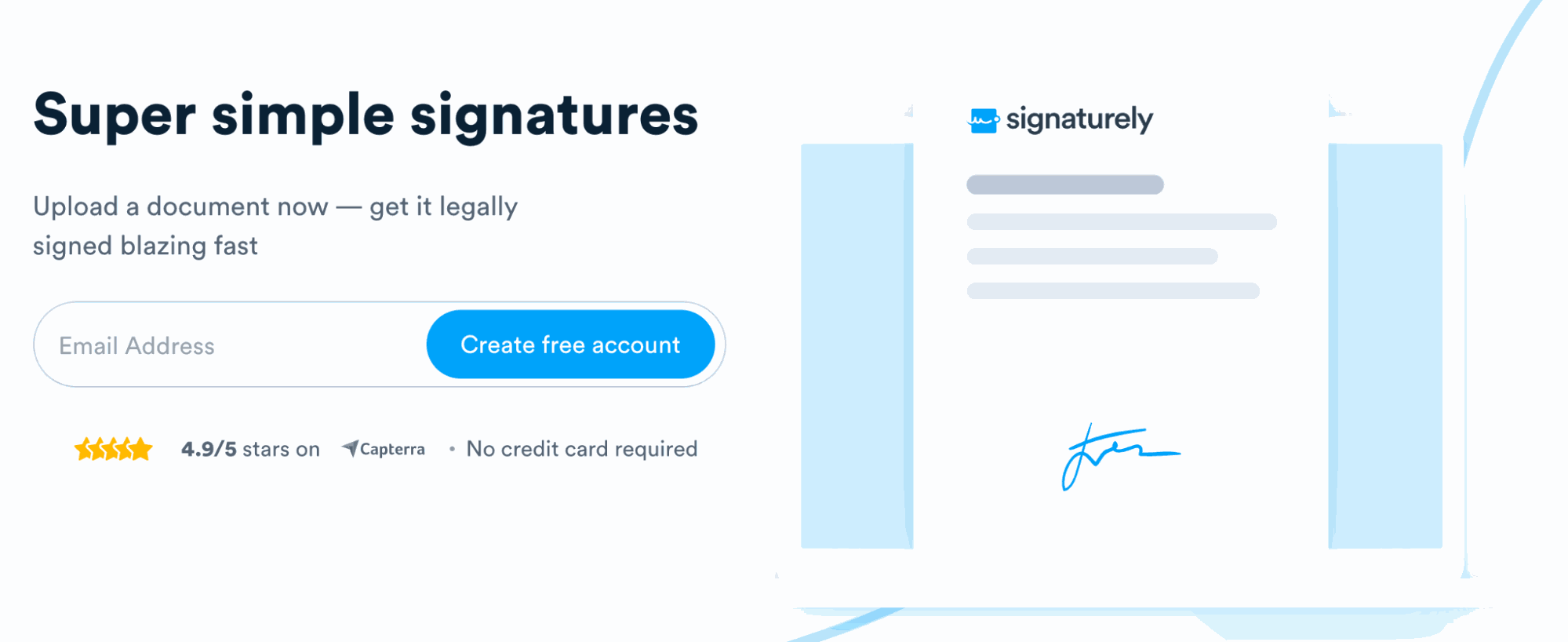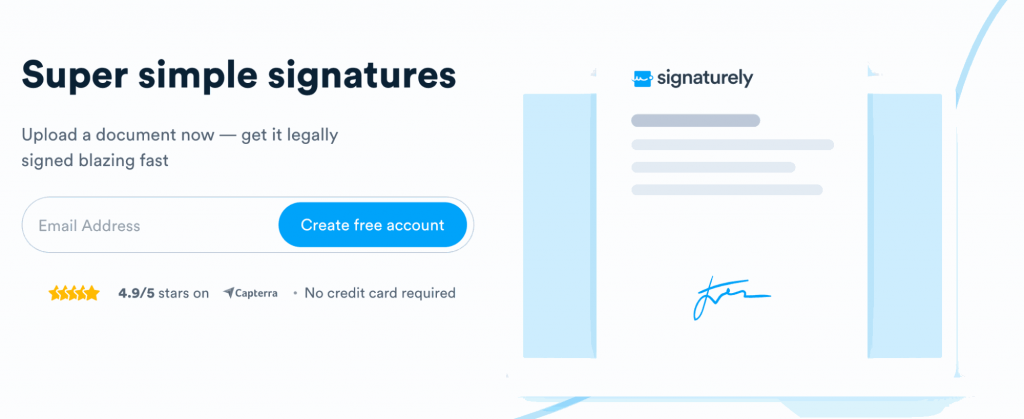 Signaturely is a leading eSignature platform that helps businesses securely sign documents online. Its simple platform enables businesses to create, manage, and track document signing processes. Signaturely is a secure and reliable solution that offers businesses a range of features, including document management, collaboration tools, and uploading electronic signatures. The platform complies with all major industry standards, making it a great choice for businesses of all sizes. Ultimately, Signaturely is an affordable and flexible solution that helps businesses streamline their document signing processes.
HelloSign and Signaturely's basic plans start at a similar price point: $15 and $16 per user per month (billed annually). These plans include unlimited signing and access to integrations. However, Signaturely offers a free tier that includes templates and up to three signature requests per month, making it easy for you to try out the platform or use it for basic eSignature needs. In addition, Signaturely supports multiple languages—a feature you won't find on HelloSign.
Key Features:
Audit log and history
An easy-to-use platform for signing
Custom business branding
Integrations:
Google Drive
Dropbox
Box
One Drive
Pros:
A top performer in ease of use
Robust integrations that streamline workflows
Affordable pricing with significant value
Responsive customer service team
Cons:
Lacks SMTP for sending emails
2. SignNow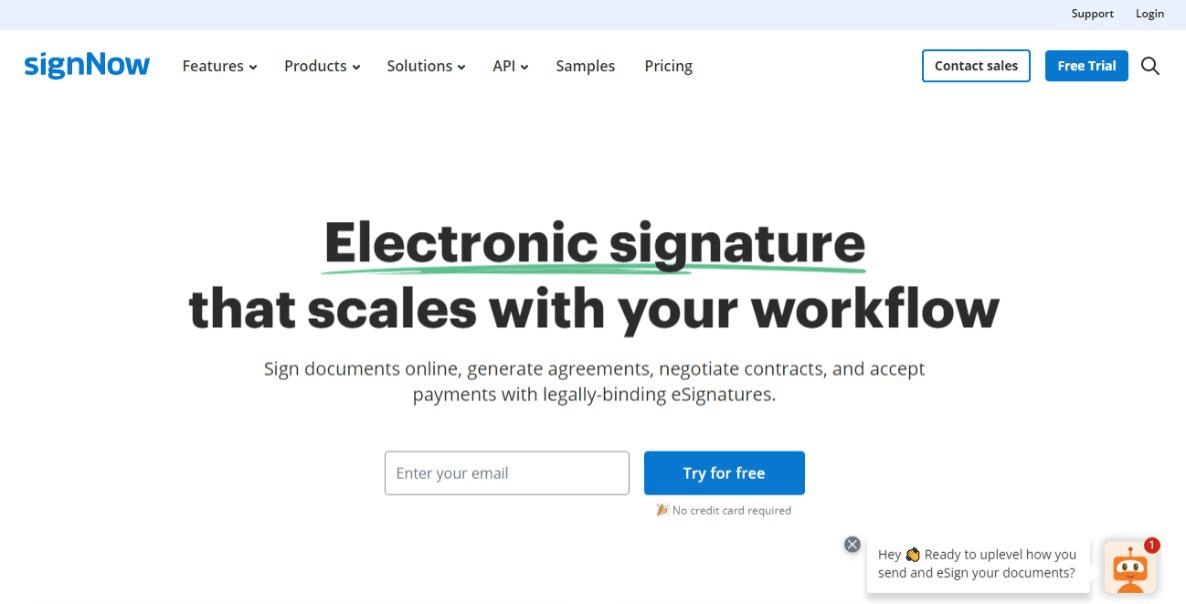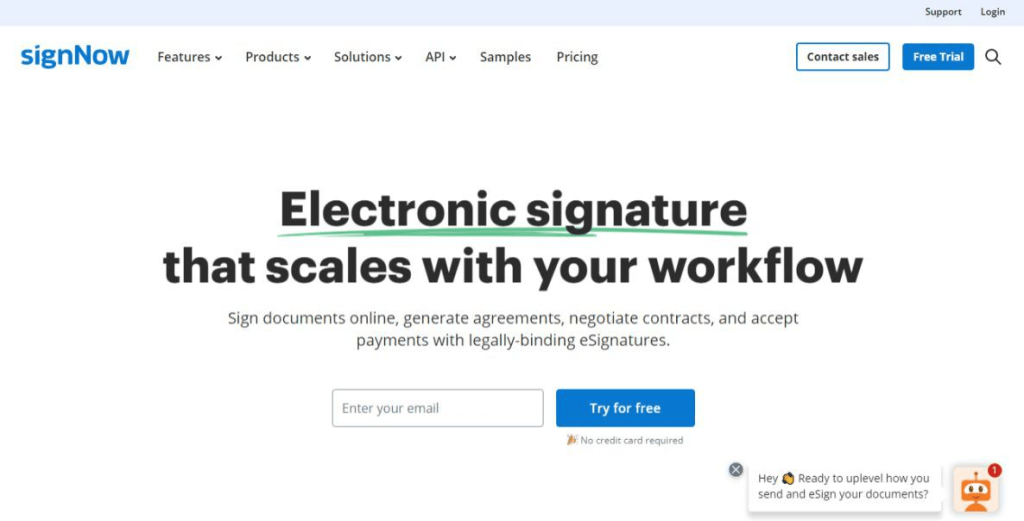 SignNow is a versatile and user-friendly document automation software that helps businesses streamline their document workflow. With SignNow, companies can send documents for signature in bulk, automate document workflows with conditional signing, and ensure HIPAA compliance at the enterprise level. SignNow makes it easy to get documents signed quickly and securely, enabling businesses to enhance their legal operations. SignNow and HelloSign are built for many users, from freelancers to large enterprises. However, SignNow offers more robust CRM and capabilities for managing signatures than HelloSign. On the other hand, HelloSign provides SSL-level security and document status tracking—features lacking in SignNow's solution.
The SignNow Business plan is priced at $8 per user per month (billed annually) and includes sending documents for signatures and cloud storage. Its airSlate Business Cloud plan starts at $50 per user per month (billed annually) and includes SSO, integration support, and advanced signer authentication. SignNow offers four plans to choose from. Each presents a flexible suite of solutions for different use cases.
Key Features:
Ability to add custom logos
Advanced threat protection
Easily sign documents
Integrations:
Pros:
Easy to navigate for users without a technical background
Reusable templates
Affordable pricing plans
Cons:
Occasional performance issues
Limited customer service
Signatories can't add comments or other notes to documents
We also analyzed some SignNow competitors in the past.
3. Zoho Sign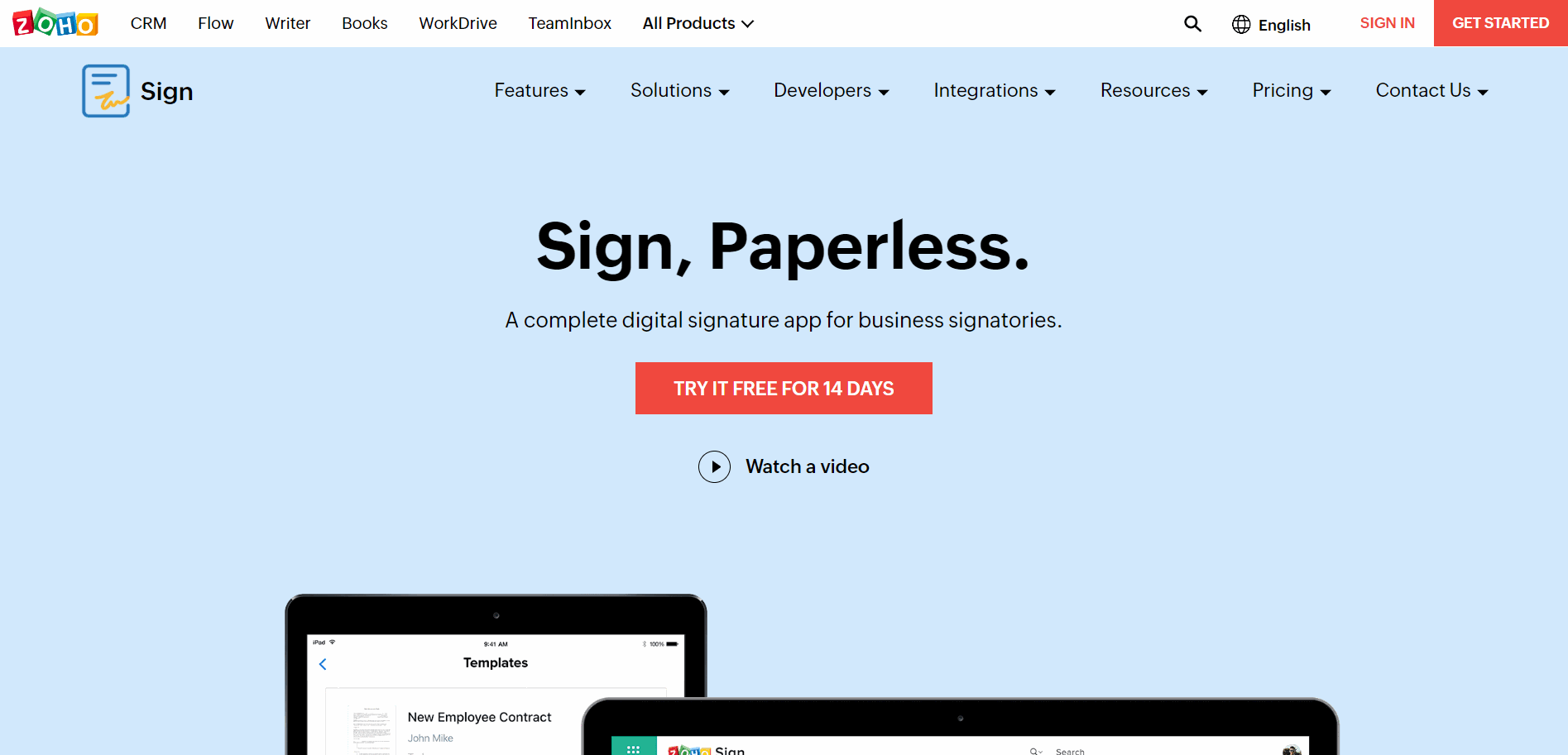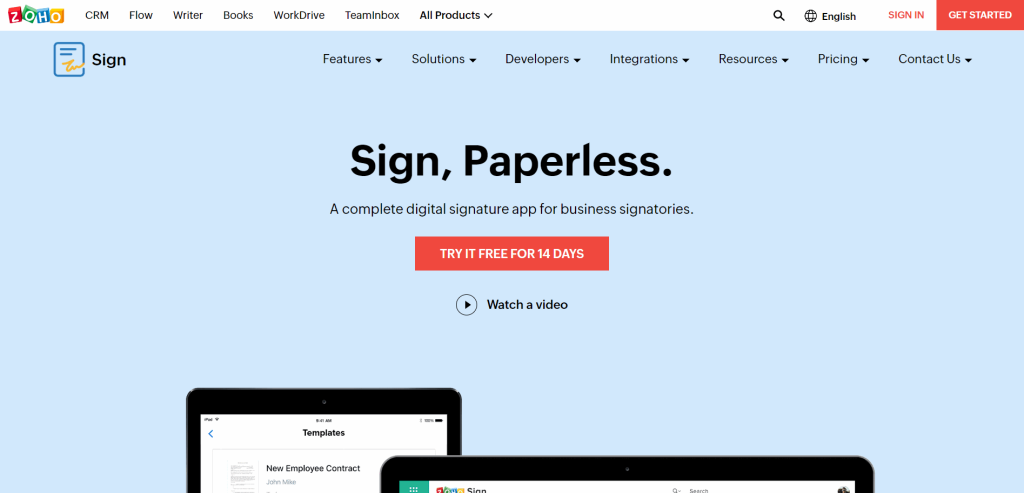 HelloSign alternative Zoho Sign is an electronic signature software that helps businesses easily collect signatures from others. The service is free for individual users, and there's no limit to the number of signatures that can be managed. The software integrates with other Zoho products, such as Zoho Docs and Zoho CRM, making it simple to obtain signatures from customers or business partners.
Both Zoho Sign and HelloSign offer legally binding signatures with advanced authentication. One key difference is that Zoho Sign provides a free tier with access to up to five documents per month, signing workflows, and integration with Zoho apps and third-party tools. Zoho Sign's most popular tier is the Enterprise plan, which starts at $22 per user per month (billed annually). This advanced plan includes payment checkout, Blockchain timestamping, and bulk signing capabilities.
Key Features:
Template sharing for teams
Email aliases
Integrations with a suite of Zoho apps
Integrations:
Zoho Apps (CRM, Books, etc.)
Microsoft 365
Google Workspace
Pros:
Multi-language support
Advanced integration with Zoho apps
Audit trail for certifying completion of documents
Cons:
Doesn't offer in-person signing
Limitations with audit trail usability
API pricing is separate
4. DigiSigner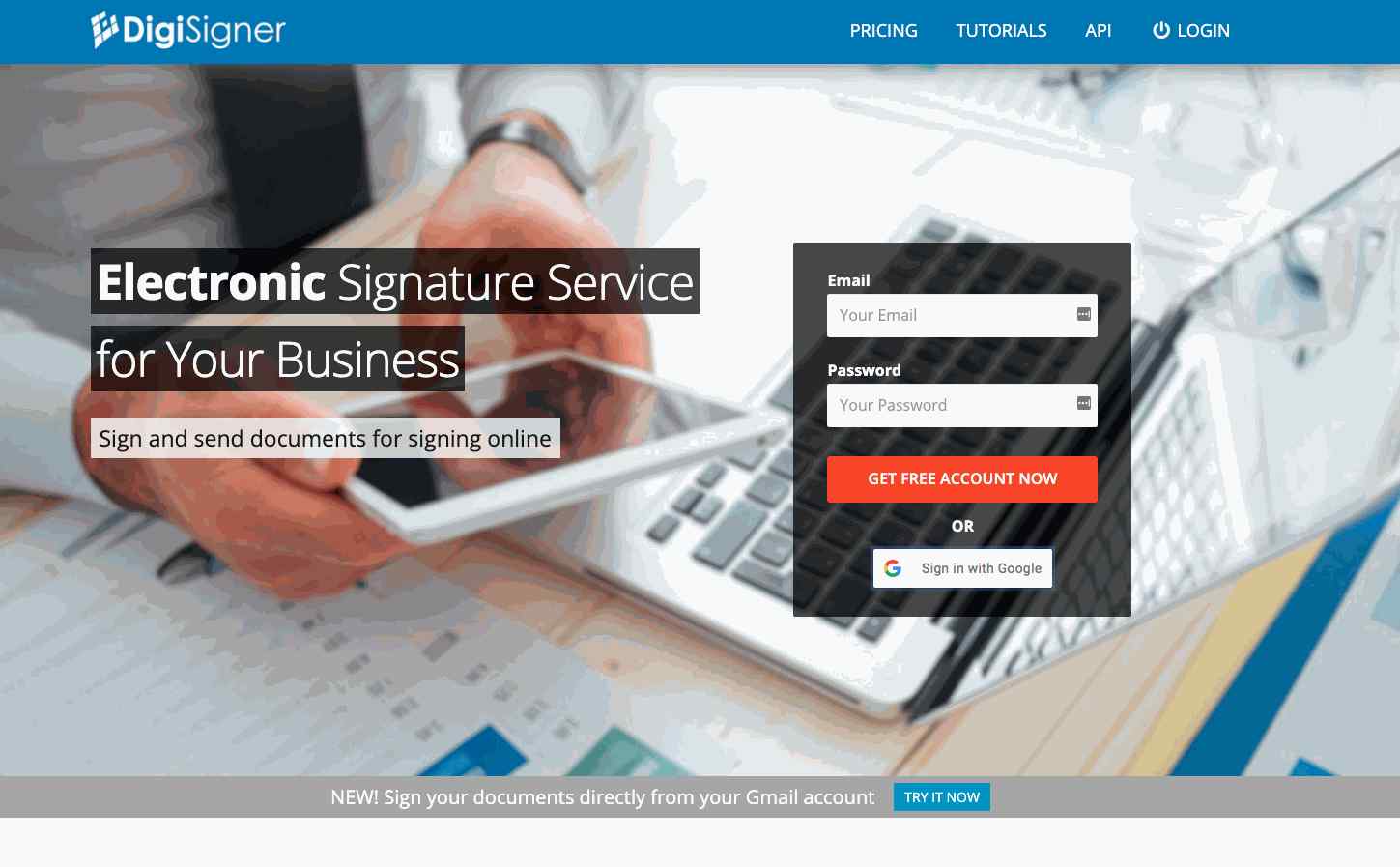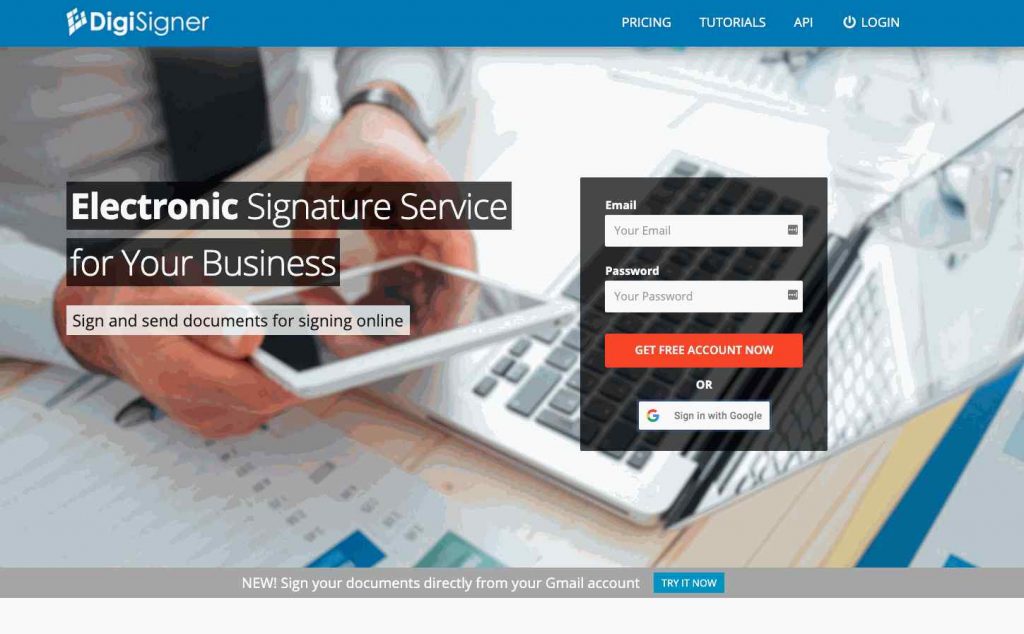 DigiSigner is a top HelloSign alternative that allows users to add legally binding signatures to documents. This software uses SSL encryption to protect documents; all signatures are stored securely on the company's servers. In addition to traditional typed signatures, DigiSigner also allows users to create handwritten signatures. This can be useful when signing documents that require a more personal touch, such as thank-you notes or customized communication. Overall, DigiSigner is a convenient and secure way to ensure that all your documents are properly signed for any occasion.
DigiSigner and HelloSign offer similar features, but HelloSign takes it a step further with capabilities such as signer attachments, certifications, and multiple language support. Overall, HelloSign is a more comprehensive platform and is priced accordingly. DigiSigner and HelloSign offer a free trial, but only DigiSigner provides an entirely free tier. This plan includes up to three documents per month and multiple senders. Its paid plans start at $12 per month (billed annually) and have advanced capabilities like team features, templates, and branding. 
Key Features:
Signing links
Team collaboration tools
Custom branding
Integrations:
Pros:
Affordable pricing plans
Small learning curve
Easy customization
Cons:
Limited native integrations
Some confusing navigation elements
A few issues with the platform's  audit trail
DigiSigner has some great competitors, as we have detailed before.
5. DocuSign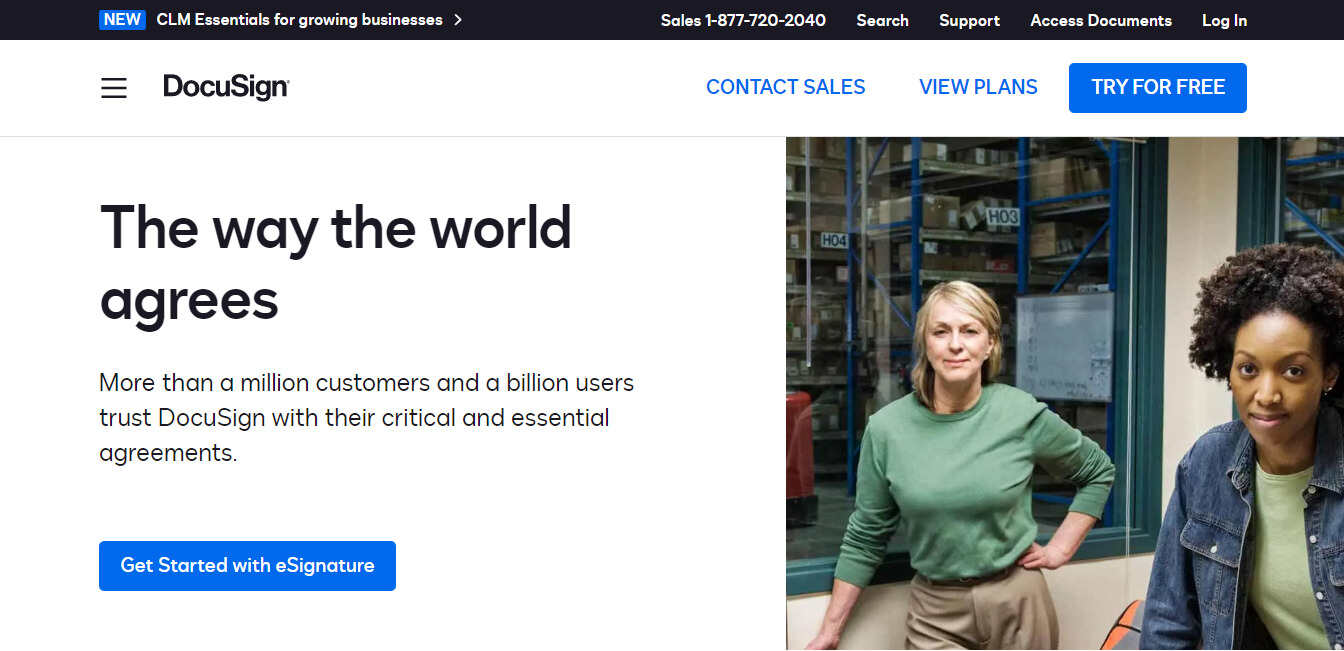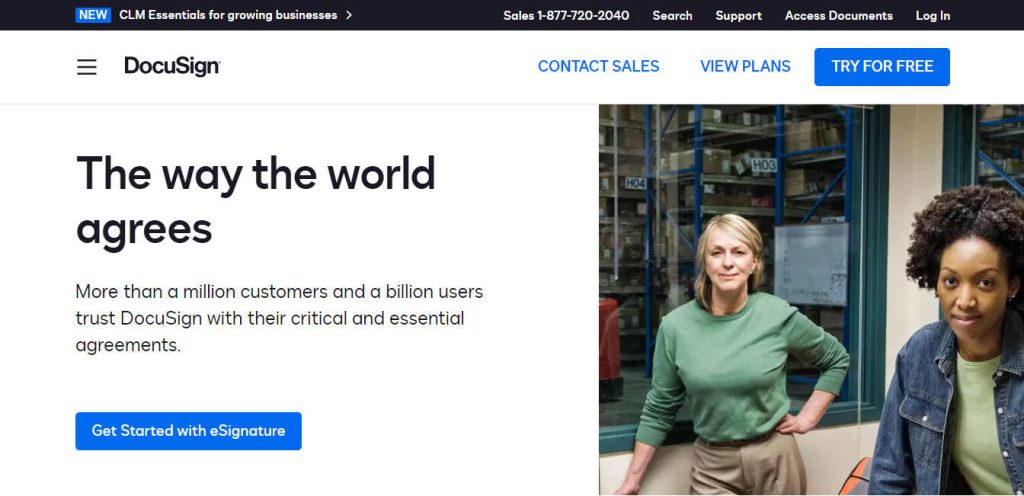 While both DocuSign and HelloSign offer similar feature sets, some important distinctions exist between the two services. DocuSign is widely recognized as the industry leader in physical and online security, offering robust encryption and accounting features. DocuSign has several protocols to protect its physical systems, including adherence to SOC 1, SOC 2, and ISO 27001. HelloSign, on the other hand, has better collaboration tools and is generally considered easier to use.
DocuSign pricing starts at $10 per user per month (billed annually) and includes access to the mobile app, reusable templates, and up to five documents per month. The more advanced Business Pro plan is priced at $40 per user per month (billed annually) and adds shared templates, custom branding, and more.
Key Features:
SMS authentication
Embedded signing on your website
Robust user management
Integrations:
Dropbox
Google Drive
Evernote
Pros:
Focus on security
Helpful UI copy
Easy implementation
Cons:
Limited customer support
Some confusing navigation elements
API integration could use improvements
Check out the top DocuSign alternatives here.
6. GetAccept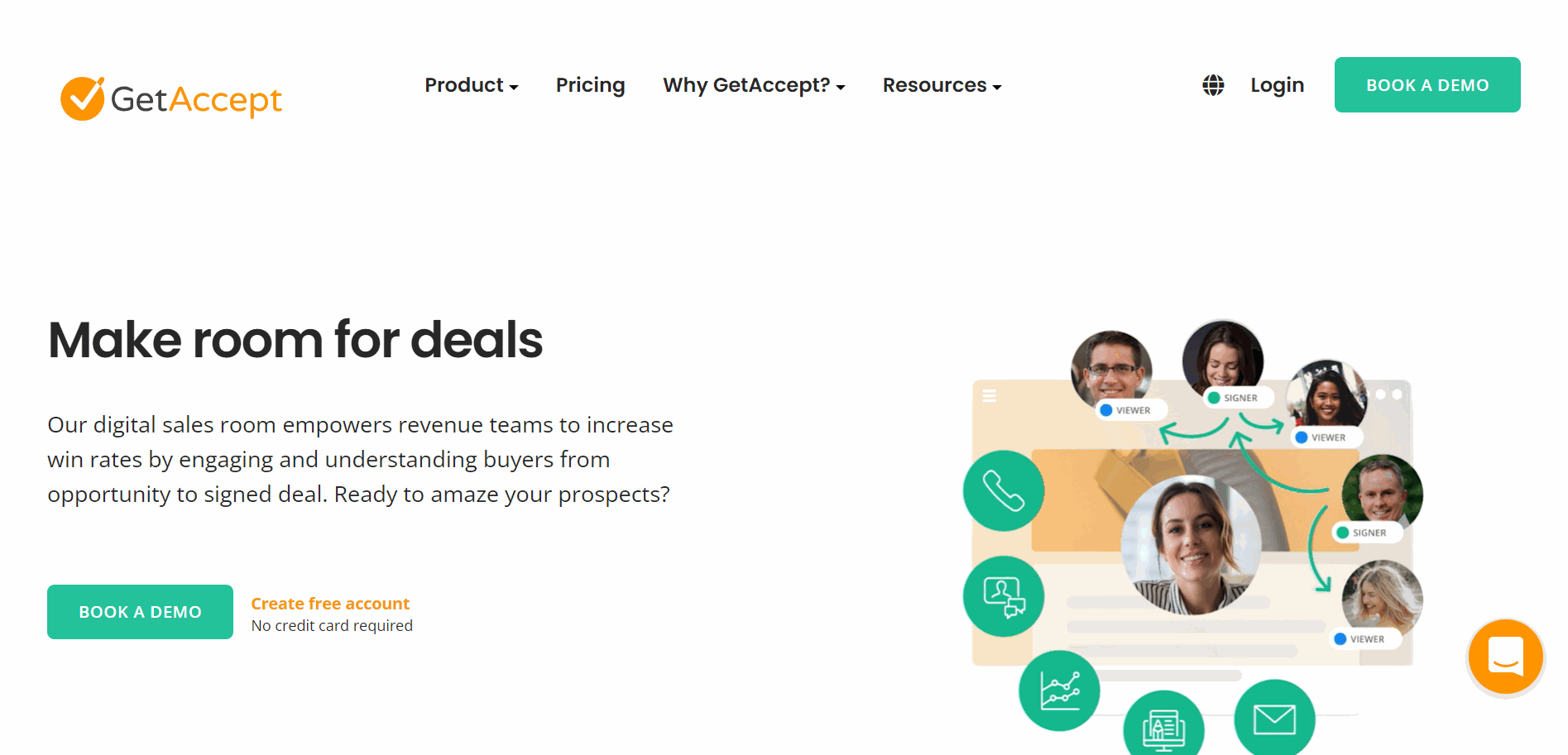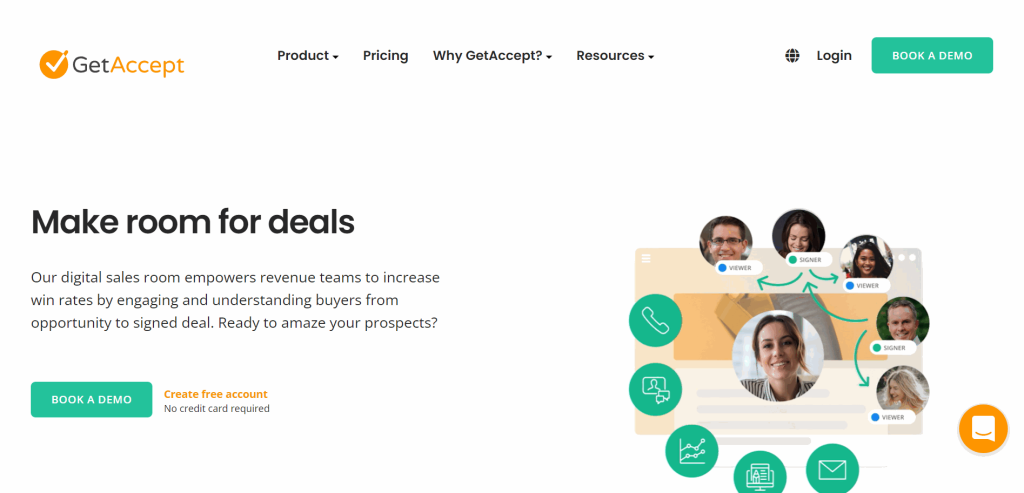 GetAccept is an effective digital signature tool for midsize teams needing an extra engagement boost. The software's video and chat features are perfect for getting everyone on the same page, and it's both intuitive and easy to use. HelloSign, on the other hand, is better suited for individuals and small teams. Its interface is simpler and geared towards quick, easy signing, making it ideal for those who don't need the extra bells and whistles. However, both eSignature tools are excellent choices for implementing electronic signatures so that the best choice will depend on your team's needs.
In contrast to HelloSign, GetAccept offers a free plan with up to three active send-outs per month. Its Essential plan is priced at $15 per user per month and offers up to 10 active send-outs and custom colors. These features make GetAccept more accessible for teams trying a new tool. 
Key Features:
Document analytics
Sales dashboard
Two-factor authentication
Integrations:
Pros:
Consistent release of new features
Easy to sign documents
Ability to track opened documents
Cons:
Integration with Salesforce could be improved
Limited ability to customize emails
Some UI performance issues
Bonus: What are the best GetAccept alternatives available?
7. Adobe Sign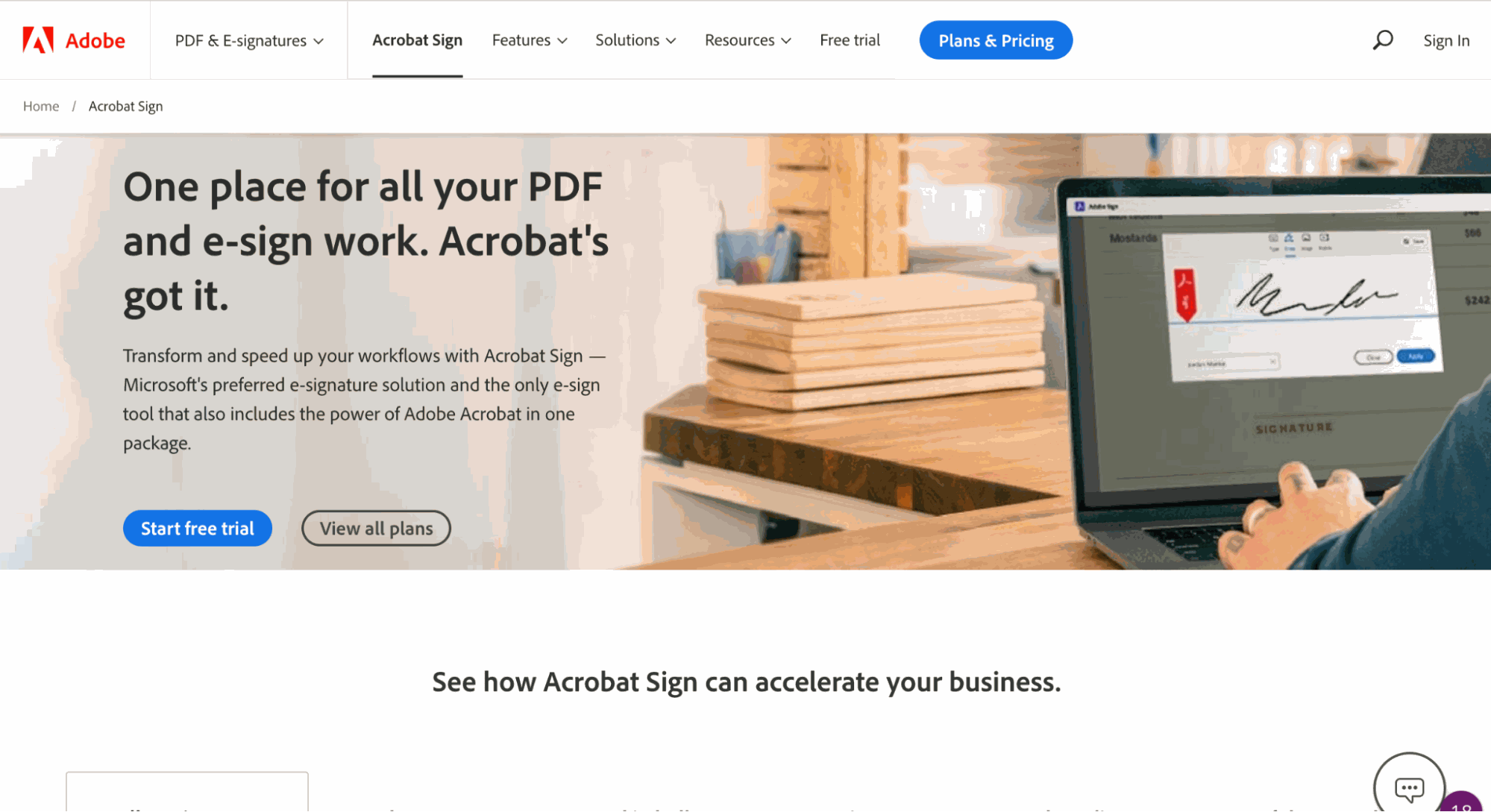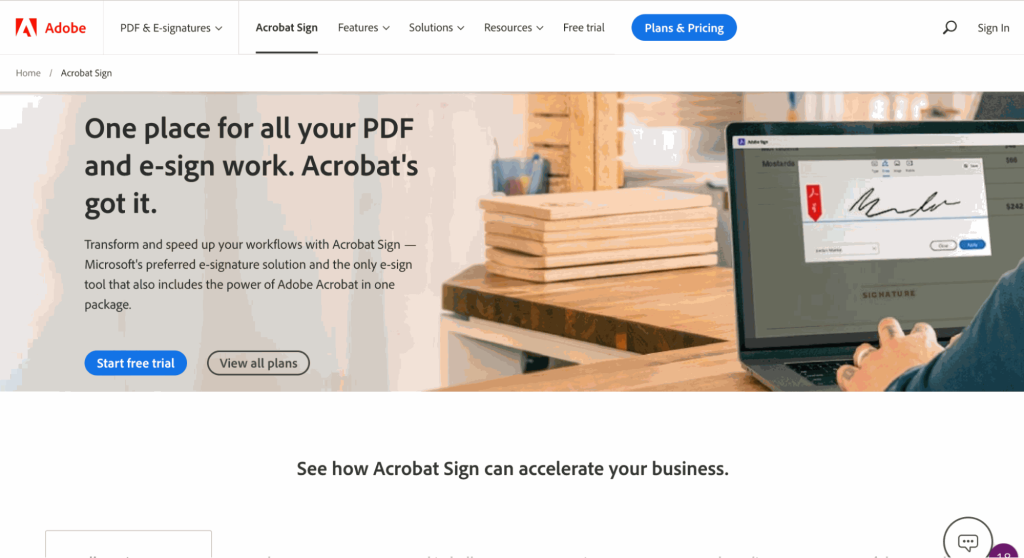 HelloSign and Adobe Sign are both leading electronic signature platforms. They each offer cloud, SaaS, and web deployment options and have robust help centers. Where they differ is in their audit trails and templates. HelloSign provides more comprehensive audit trails than Adobe Sign. This can be important when tracking down when and how a document was signed. HelloSign also has predefined templates for common legal documents such as NDAs and employment agreements. This can save time for users who don't need to create company templates from scratch.
Adobe Sign and HelloSign don't offer free tiers. Adobe Sign's Standard plan starts at $12.99 per month (billed annually) and includes custom languages, form preparation, and reusable templates. The Pro plan is priced at $19.99 per month and adds payment collection and bulk sending to its offering. Adobe Sign offers a free trial for its Pro plan but not its Standard plan.
Key Features:
Option to redact sensitive information from PDFs
Ability to convert scanned documents to editable PDFs
Option to add comments to PDFs
Integrations:
Pros:
Consistent updates to the feature set
Clean UI to sign documents
Ability to set up recurring reminders
Cons:
Need an Adobe account to use some features
Only the Enterprise plan includes in-person signatures
Issues with inserting images
As usual, here are some of the best Adobe Sign alternatives in case you already use them.
8. PandaDoc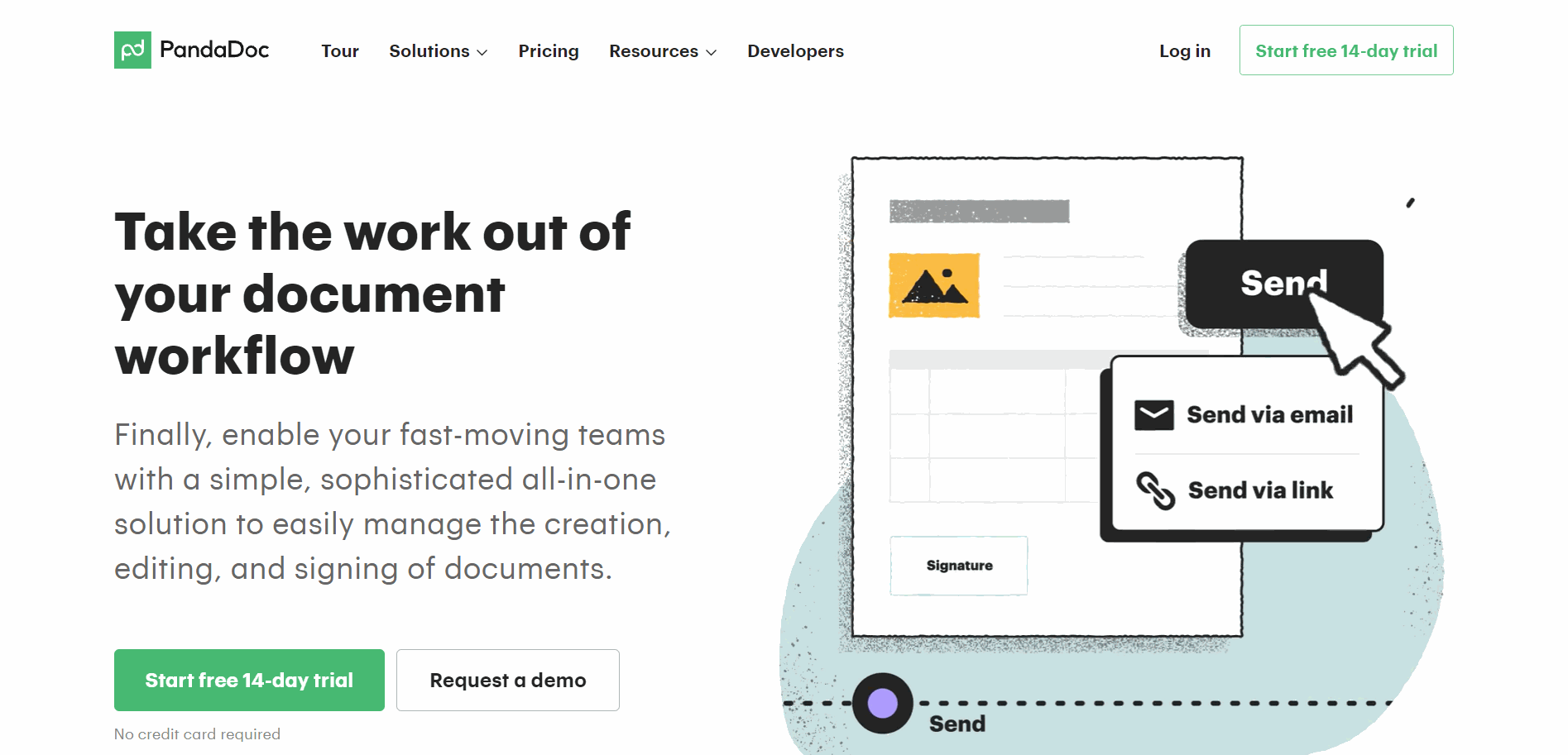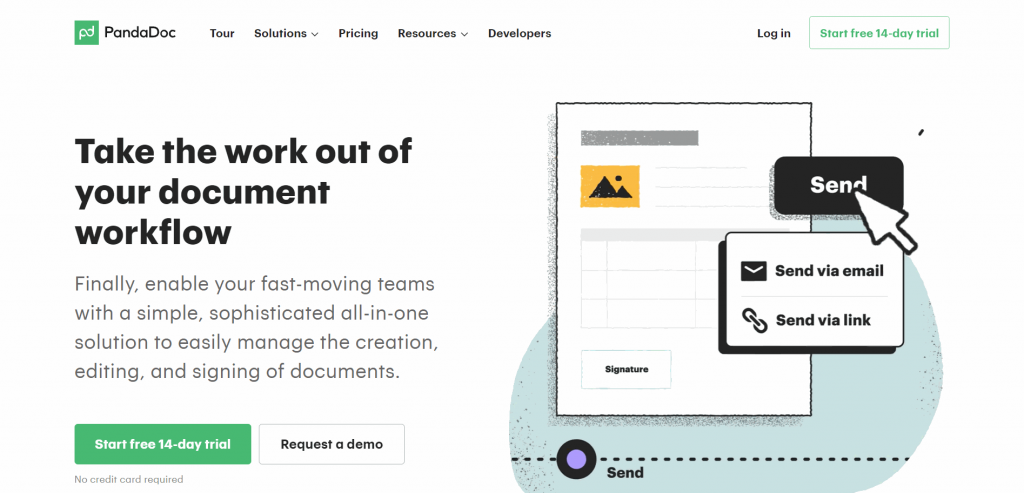 PandaDoc and HelloSign are two popular eSignature platforms. They both offer a range of features that can be helpful for businesses. However, there are some key differences between the two. For one, PandaDoc offers unlimited templates, while HelloSign restricts users to just five. This can be problematic for businesses that need to create many documents. In addition, PandaDoc offers analytics and online collaboration workflows. These features can be helpful for companies that need to track document usage and manage team collaboration—users won't find them on HelloSign. That being said, HelloSign offers tamper-proof documents and multi-language support. These features can be helpful for businesses that operate in multiple countries or need to ensure a high level of security for their documents.
PandaDoc's free plan includes unlimited legally binding signatures and payments. Its Business plan is the most popular and starts at $49 per user per month (billed annually). The Business plan includes access to a content library, bulk sending, and forms. PandaDoc has grown to have many competitors nowadays.
Key Features:
Rich media drag-and-drop editor
Approval workflows
Custom templates
Integrations:
Pros:
Easy-to-use customization tool
Well-designed integrations
Small learning curve
Cons:
Forms could be more intuitive
Some issues with UI
Some performance lag times
9. SignEasy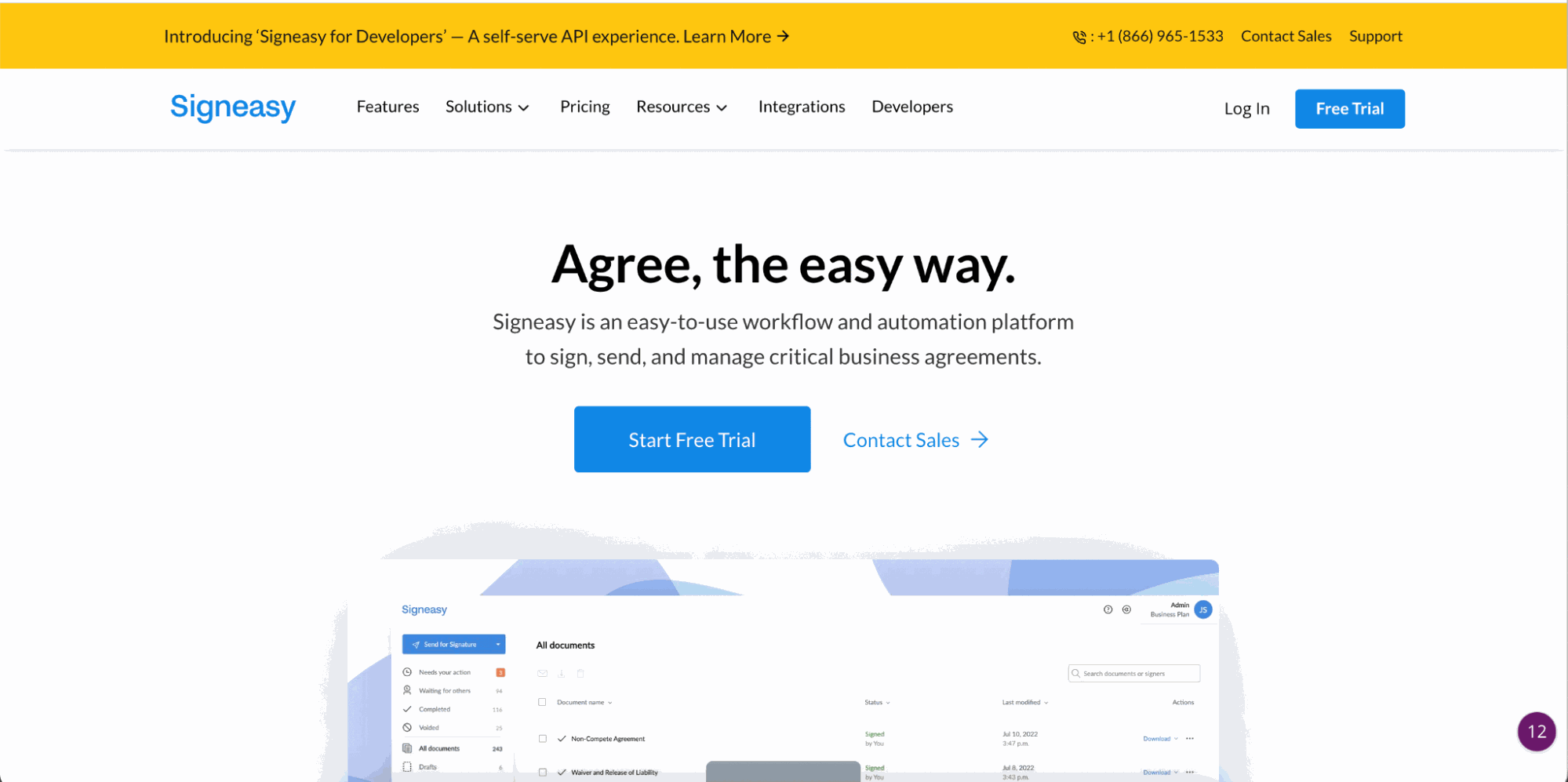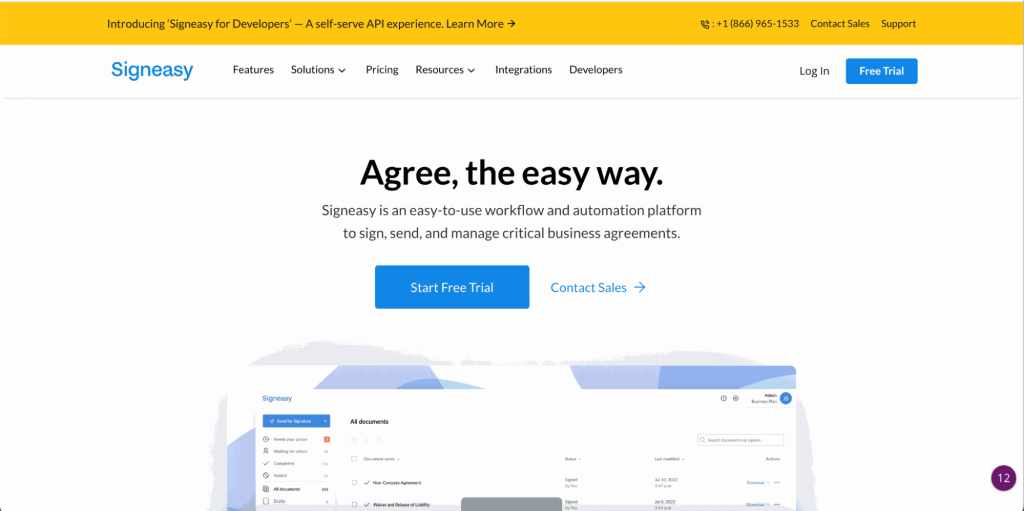 When it comes to digital signatures, HelloSign and SignEasy offer similar capabilities. HelloSign is known for its robust feature set, which includes advanced options for signing and sending documents. However, SignEasy has the edge when it comes to ease of use. Its mobile-first design makes it ideal for users who need to sign documents on the go. In addition, SignEasy offers a best-in-class API, making it a clear choice for businesses that need to make and integrate digital signatures into their existing software stack.
SignEasy's most basic plan starts at $10 per user per month (billed annually) and includes up to five signed documents per month. Its Business plan is priced at $30 per user per month and provides a dedicated customer support manager and shareable templates.
Key Features:
Advanced signer authentication
Team usage dashboard
Mobile apps for iOS and Android
Integrations:
Google Workspace
Microsoft Teams
Salesforce (for an additional $10 per user per month)
Pros:
Affordable plans
Supports several formats, including PDF and Office docs
HIPAA compliant
Cons:
Interface could be improved
Significant load times for documents
No alerts when documents are viewed
10. pdfFiller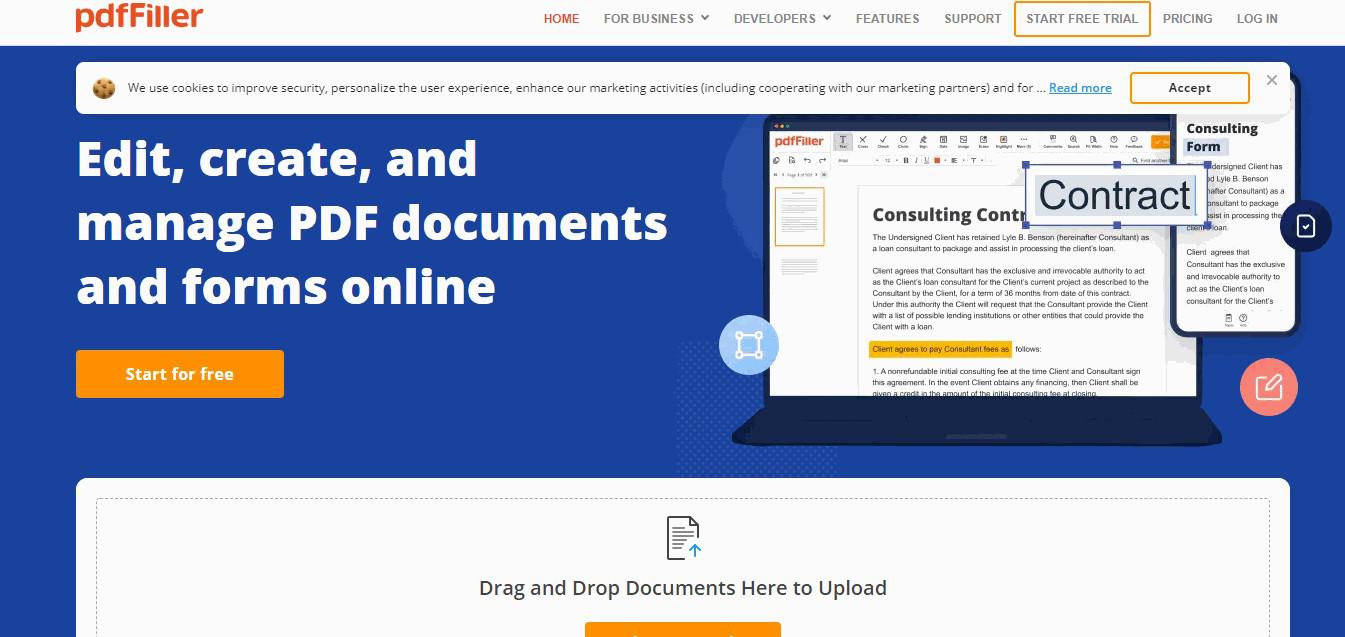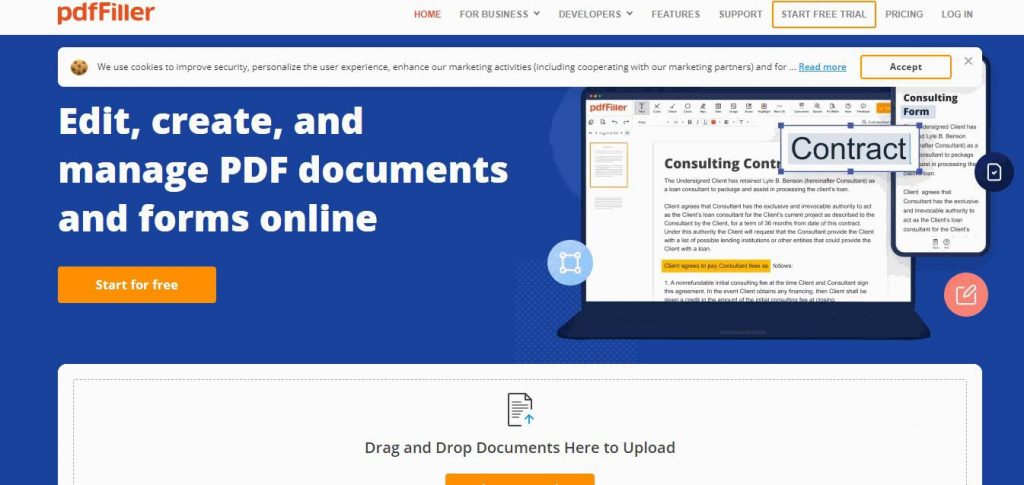 Both pdfFiller and HelloSign offer several features that can save time and streamline the document signing process. However, there are some key differences between the two services. pdfFiller allows users to add fillable fields to their documents, which can be a helpful time-saving tool. HelloSign, on the other hand, emphasizes customer service and training resources. HelloSign also offers a more robust set of tutorials, FAQs, and live chat support, making it a better option for those who need a little extra help getting started with a new tool.
pdfFiller has affordable plans ranging from $10 to $15 per user per month (billed annually). Its most popular plan, the Plus plan, includes creating reusable templates, merging pages, and accessing customer support within 30 minutes. Like HelloSign, pdfFiller doesn't include a free tier but has a 30-day free trial for all of its plans. 
Key Features:
Ability to restore previous document versions
Custom signature workflows
Recipient authentication
Integrations:
Pros:
Easy-to-use interface
Ability to delete pre-written text from fields
Convert PDFs with good-quality output
Cons:
Some performance issues with the mobile app
Some issues with stability
Limited templates
11. SignWell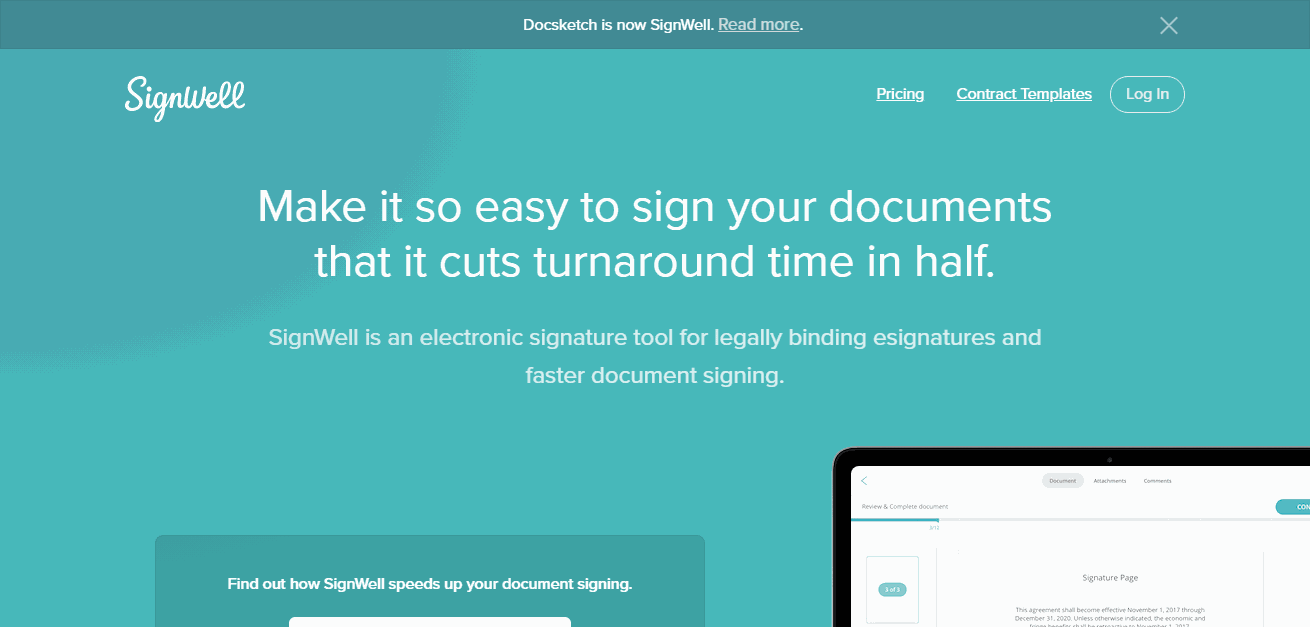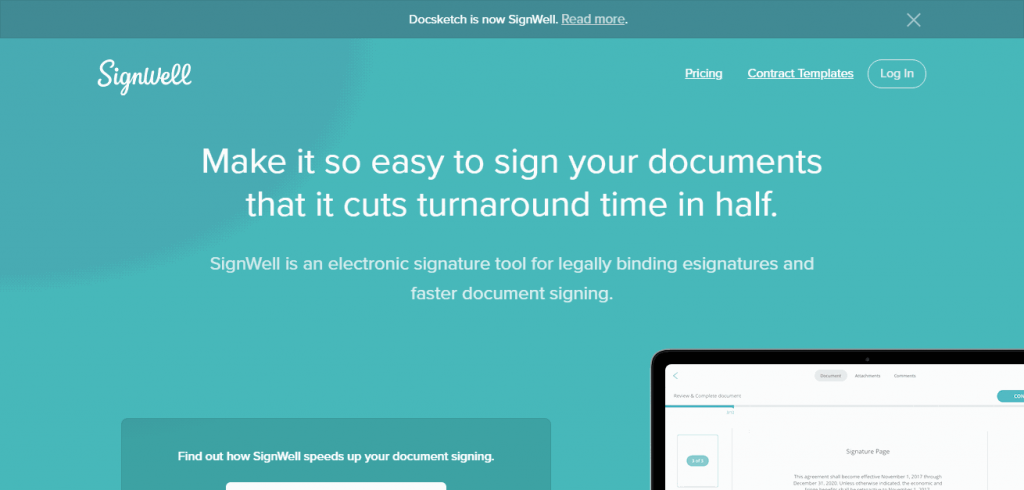 HelloSign and Signwell offer similar features, including creating and sending documents for signatures, tracking progress, and receiving real-time alerts. However, SignWell doesn't have a mobile app, so if you need to sign or send documents on the go, HelloSign may be a better option. HelloSign also includes 24/7 support and in-person training, so if you need assistance getting started, you'll have the resources you need.
Unlike HelloSign, SignWell has a free tier, including one sender and one template. Its Business plan is priced at $24 per month (billed annually) and includes up to three senders and unlimited documents and templates.
Key Features:
In-person signing
Signer redirect upon completion
Template links
Integrations:
Pros:
Straightforward collaboration tools
Signing reminders
Approval tracking
Cons:
Some document visibility issues
Some stability issues
Customization could be improved
12. ReadySign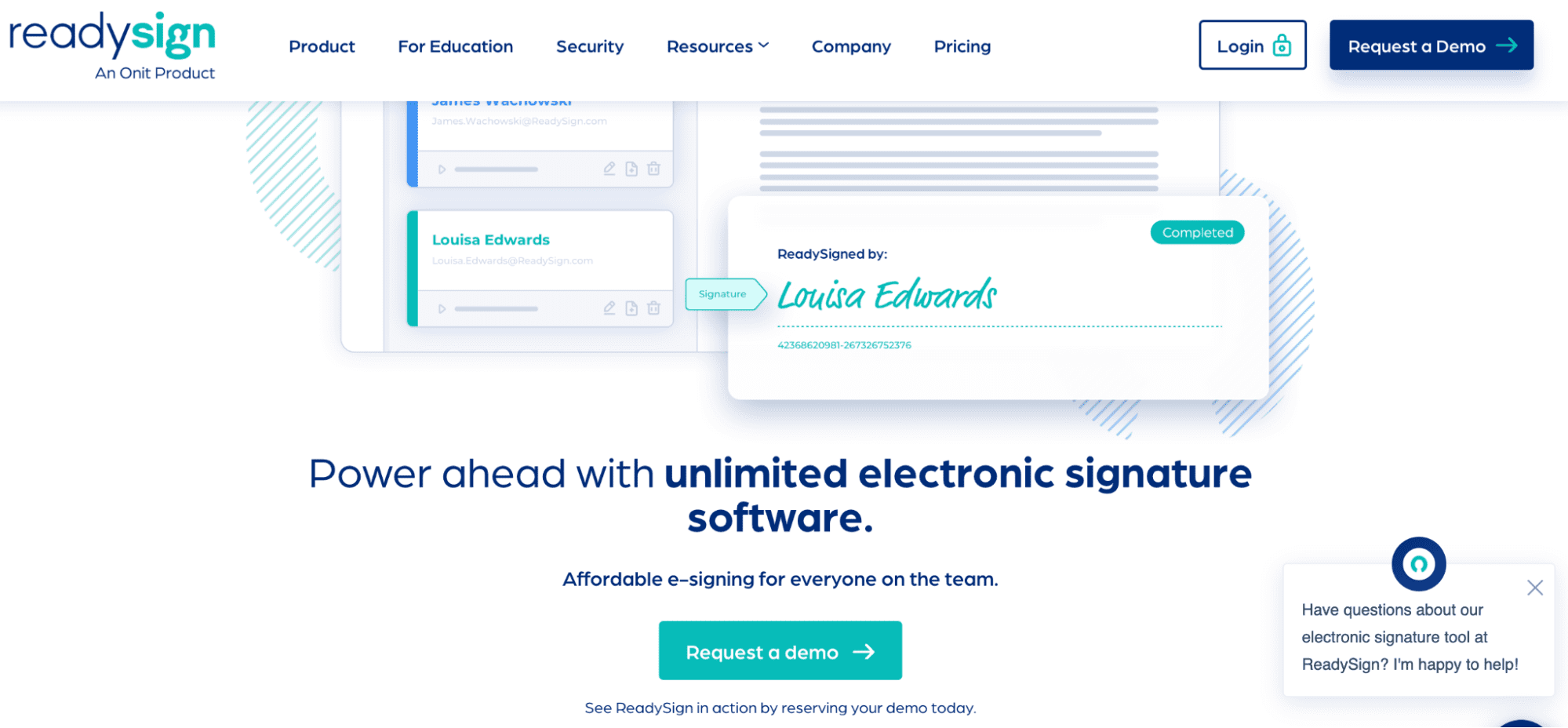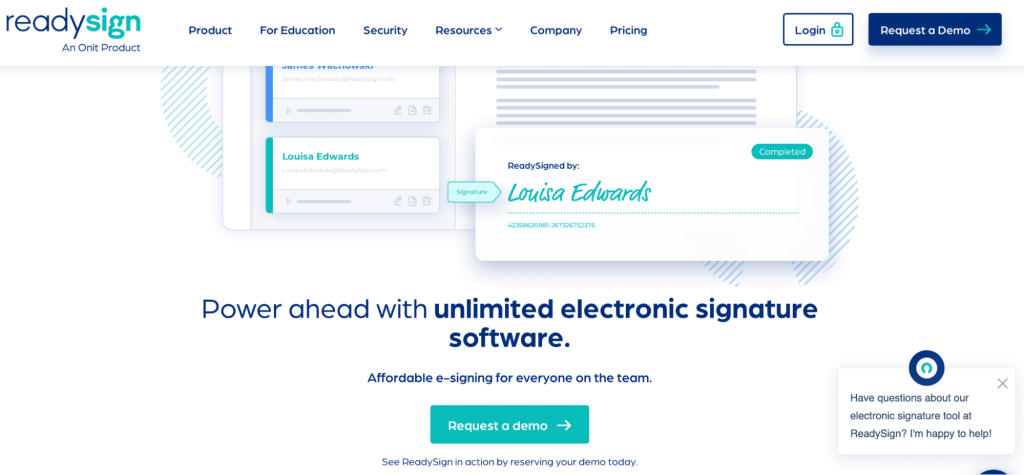 HelloSign and ReadySign offer similar feature sets, including authentication, custom templates, and multi-party signing. However, ReadySign performs slightly better in terms of ease of use and customer support. For businesses that place a premium on efficiency and customer service, ReadySign is the better option. However, HelloSign may be a more cost-effective choice for businesses on a tight budget. Ultimately, the best platform for your business will depend on your specific needs and preferences.
While ReadySign doesn't offer a free tier, its most basic plan is relatively affordable, starting at $6 per user per month (billed annually) for up to 100 users. This pricing gets you unlimited documents and signing notification reminders for parties that haven't yet signed. With fewer users (under 40), ReadySign is priced at $10 per user per month. Its 10-user plan is priced at $25 per user per month and includes the same features for smaller teams.
Key Features:
Bulk sending
SAML 2.0 / SSO
User role management
Integrations:
Pros:
Comprehensive audit trail
24/7 support
No set-up costs
Cons:
Some stability issues with fields
Can't load multiple PDFs
Limited user role customization
13. SignRequest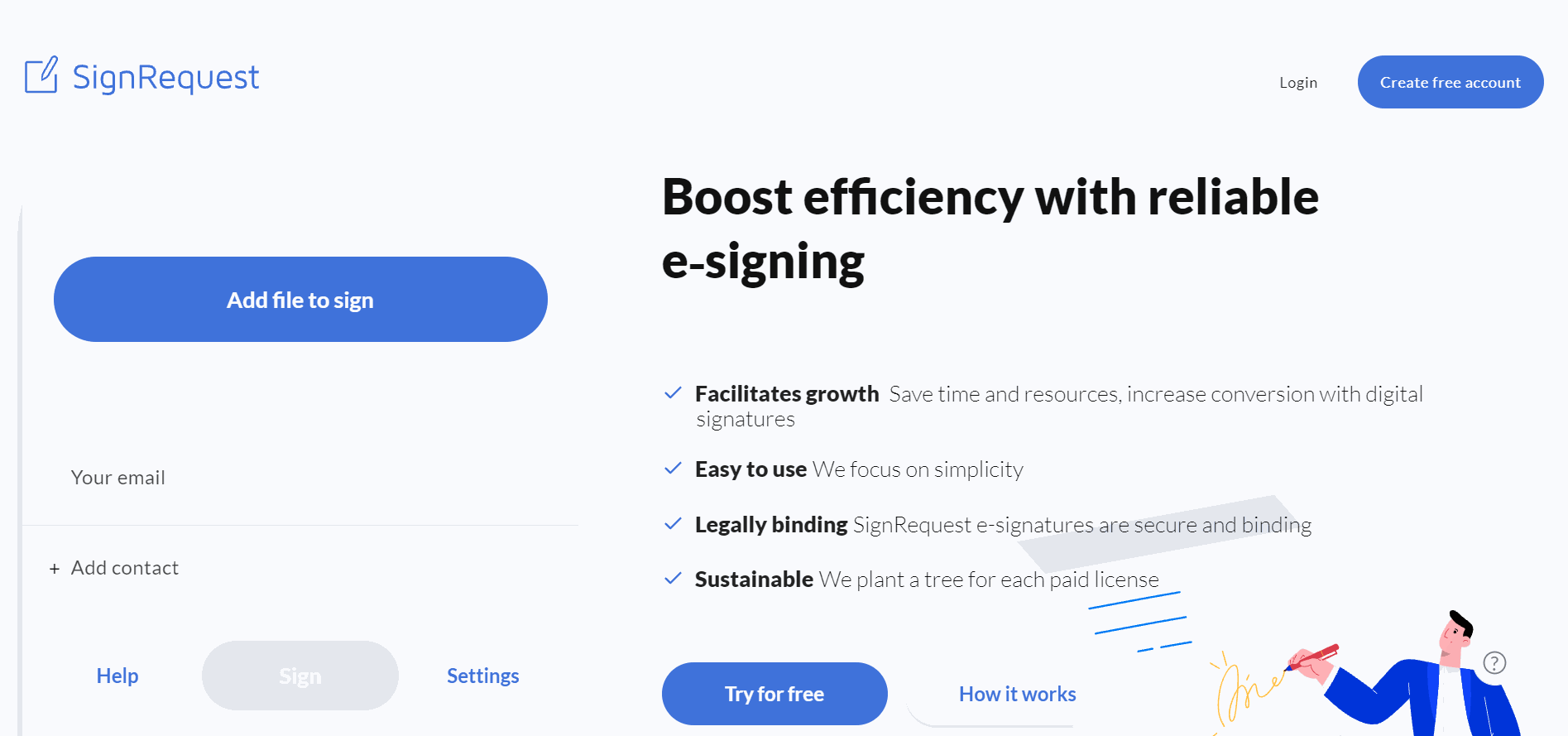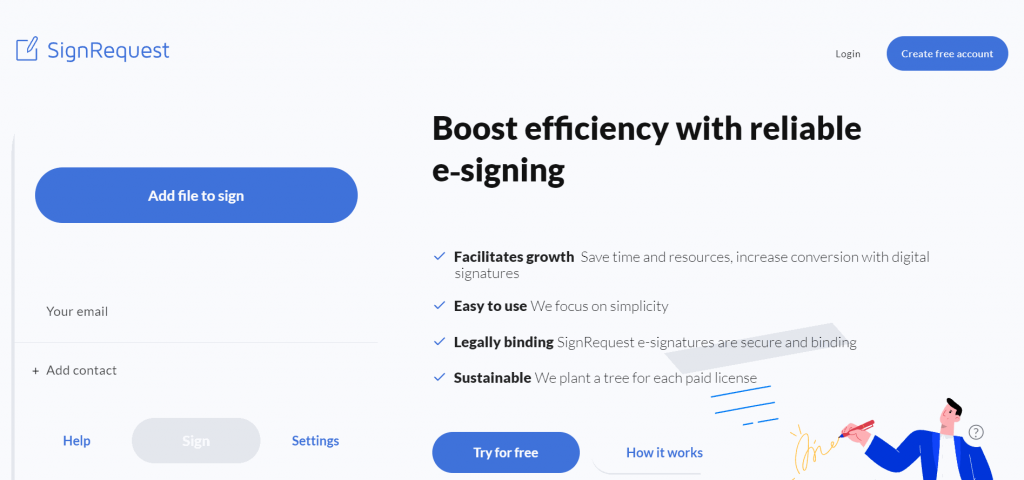 HelloSign and SignRequest are two popular eSigning tools with their strengths and weaknesses. HelloSign is a bit more robust, with a larger knowledge base that can be helpful for users new to eSignators. The platform is also slightly easier to use, with a more streamlined interface. However, SignRequest scores better in support quality, with faster response times and more helpful answers.
SignRequest has a simple pricing strategy with two tiers. Its Professional plan is priced at $9 per user per month and offers up to five templates and 17 languages. Its Business plan adds unlimited documents and bulk sending for $15 per user per month.
Key Features:
Custom landing pages
Option to customize signing order
Send multiple docs at once
Integrations:
Pros:
Signing is fast and simple
User-friendly design
Affordable pricing
Cons:
Chrome extension issues with certain file types
Usability issues with signature fields
Stability problems
14. ZorroSign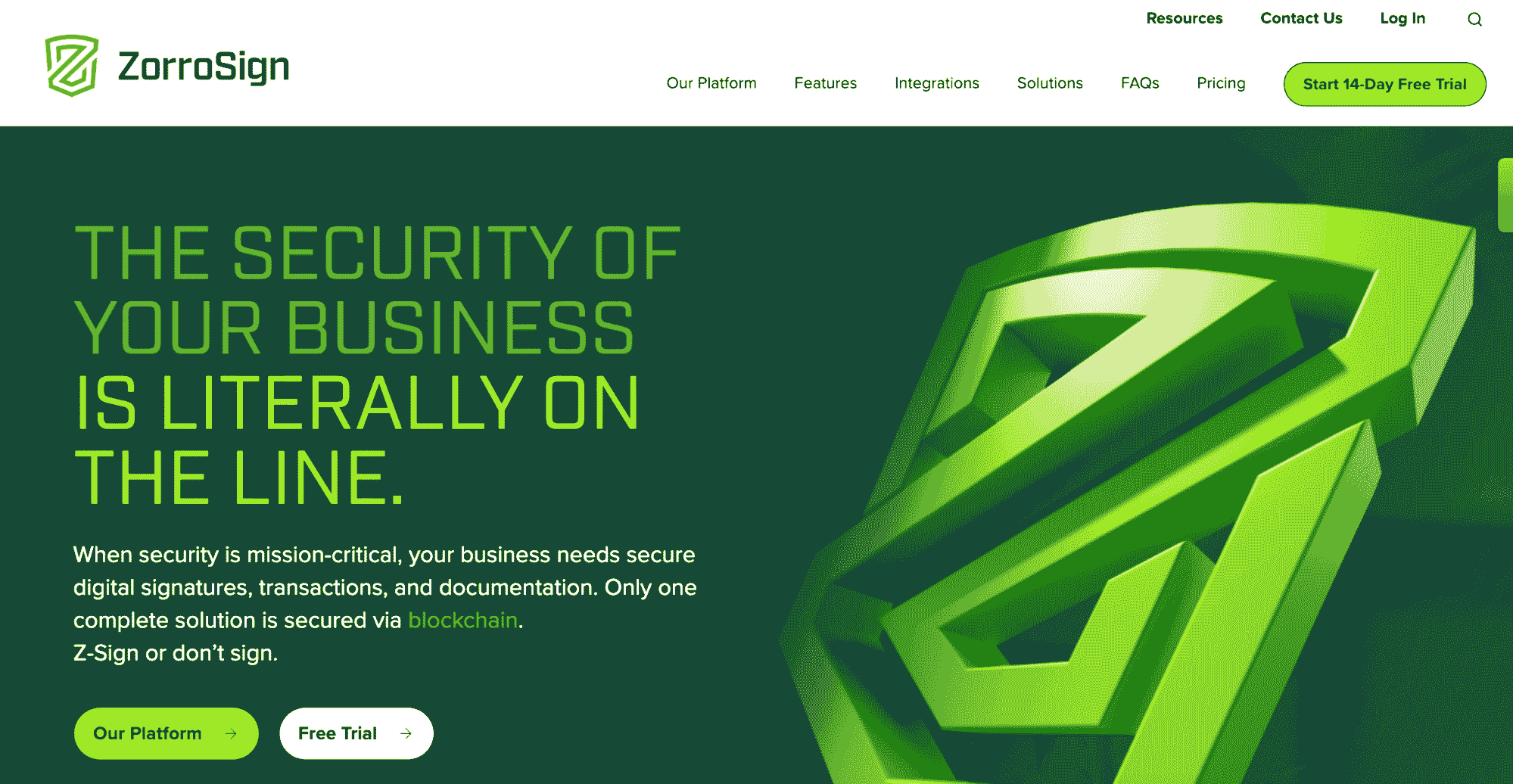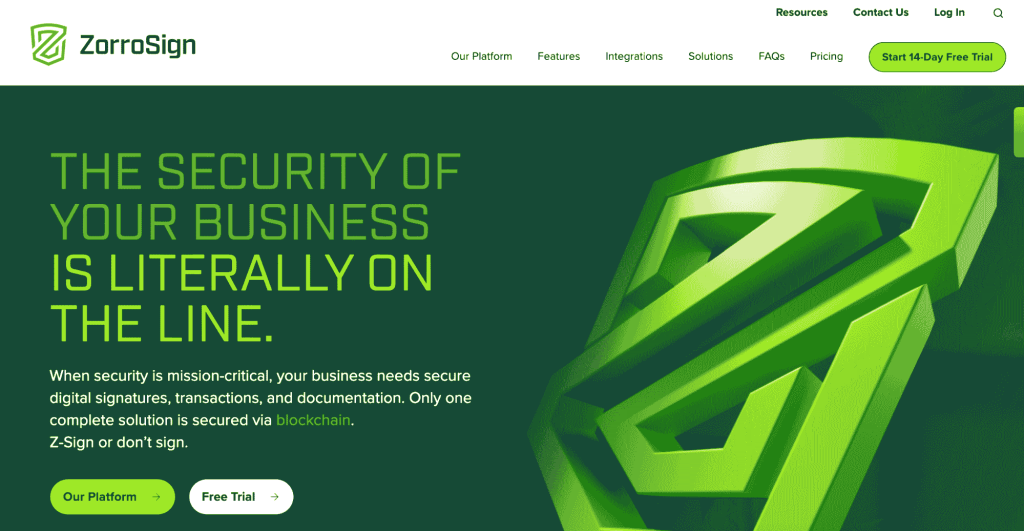 ZorroSign and HelloSign are both popular electronic signature solutions. They both offer SaaS and mobile deployments and therefore rank high in user convenience. However, ZorroSign appeals to individuals and teams dealing with crypto due to its ability to securely store signatures on the blockchain. HelloSign has more robust integrations with Box, Dropbox, Salesforce, and more. This gives users more options for how they want to access and manage their documents.
Like HelloSign, ZorroSign doesn't offer a free tier—although it does offer a 14-day free trial of all its plans. Its Business plan is priced at $25 per month and includes bulk sending and custom branding.
Key Features:
Two-factor authentication
Advanced team management
Webforms
Integrations:
Pros:
Simple to use
Drag and drop editor
Highly secure document signing
Cons:
Limited mobile app features
Not accessible for people with disabilities
Takes some time to adapt properly
15. SecuredSigning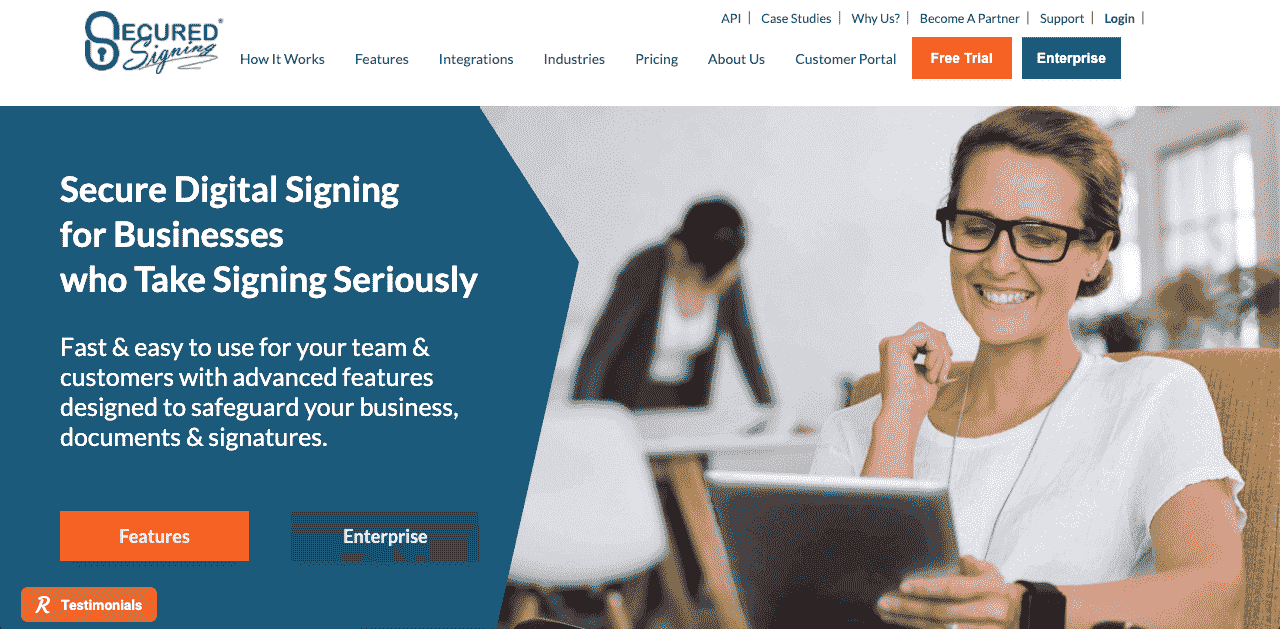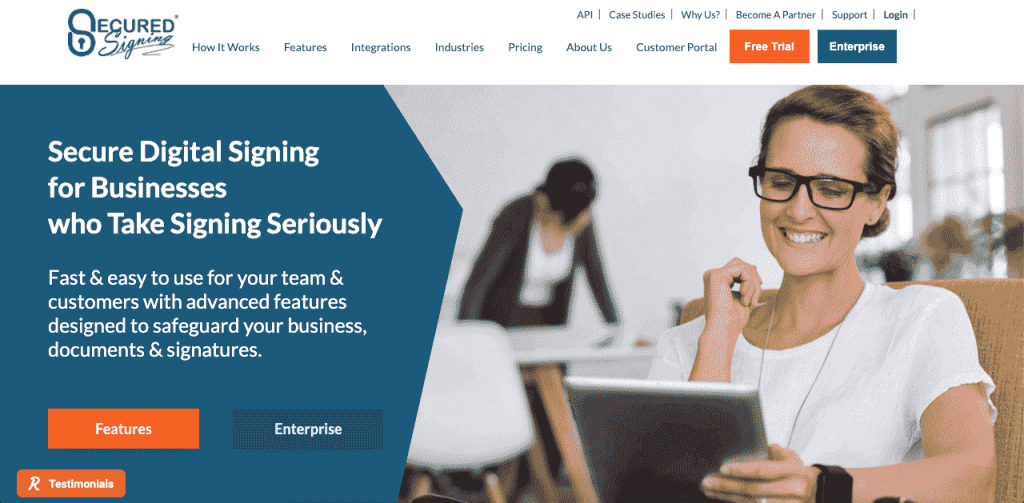 HelloSign is known for being user-friendly and intuitive and offering a robust set of eSignature tools. In addition, HelloSign performs better than Secured Signing regarding usability. However, unlike HelloSign, Secured Signing includes notary plans, which could be a deciding factor for some users with this specific need.
Unlike HelloSign, Secured Signing offers plans based on usage. The website has a sliding scale for the number of users and the number of documents. For one user and 600 yearly documents, the price is $27.45 per month, which can be more costly than HelloSign's offering, which has unlimited signatures.
Key Features:
Notary plans
Audit trail
Reminders and notifications
Integrations:
Bullhorn
Salesforce
Sharepoint
Pros:
Responsive customer service
Ability to add video confirmation to documents
Enhanced customization options for forms
Cons:
The potentially larger learning curve
Stability issues with the template editor
Does not support multiple signatures
How to Choose the Best HelloSign Alternative for Your Business
In today's fast-paced world, time is of the essence. Any process that can be streamlined to save time is worth considering, which is why electronic signatures have become so popular in recent years. If you're thinking of implementing electronic signatures for your business, you'll want to choose the best tool available. Here are some things to keep in mind when making your decision.
Security
Security is one of the most essential considerations when choosing an electronic signature tool. You'll want to ensure the tool uses encryption to protect your documents and data. When scaling your business with an eye on compliance, it's vital to use a platform emphasizing security. You should also look for a two-factor authentication tool to further protect your account.
Ease of Use
Another important factor to consider when choosing an electronic signature tool is the ease of use. Choose a user-friendly tool so that your team can start using it immediately. One way to gauge usability is through online reviews of the various tools available. You can also opt for a free trial of each platform before deciding.
Plans & Pricing
When choosing an electronic signature tool, you'll also want to consider plans and pricing. Once you've determined how to use the platform, you can evaluate which software provides the best value for your use case. Many tools offer free plans for small businesses, so be sure to compare the features and restrictions of each plan before making your decision.
HelloSign alternatives: FAQs
Below are a few frequently asked questions about HelloSign competitors.
Which is better, DocuSign or HelloSign?
Both offer a convenient way to sign documents without printing them out and using a physical pen. However, DocuSign provides a more comprehensive set of features, such as tracking the status of documents, including when they were signed and by whom. HelloSign, on the other hand, is a more affordable option and integrates with several popular productivity platforms.
Is there a free version of HelloSign?
There is no free version of HelloSign—only a free trial.
Is HelloSign legally binding?
Signatures created with HelloSign are legally binding. Any contract or agreement signed using HelloSign will be upheld in a court of law.
What You Need to Remember About HelloSign Alternatives
If you are looking for an eSignature solution, it is important to understand which options are available and what each alternative offers. HelloSign is a great tool, but it isn't right for every business. Carefully consider your options before committing, and evaluate the software based on how well it fits your particular use case.