If you're in the market for document signing software, you've probably come across GetAccept. It's a popular option, but not the only one. There are plenty of other great choices, some of which might be a better fit for your company. This article will look at ten GetAccept alternatives to help navigate your electronic signature solutions journey. As a result, you'll be on your way to better proposals and enable your team to close deals.
10 Best GetAccept Alternatives
If you're like most business owners, you understand the importance of streamlining your workflow and making things as efficient as possible. One of the best ways to do this is to ditch the old-fashioned way of doing things—wet signatures—in favor of electronic signatures. But with so many electronic signature tools, how can you choose the best one for your business? Here's a round-up of the best e-signature tools on the market.
1. Signaturely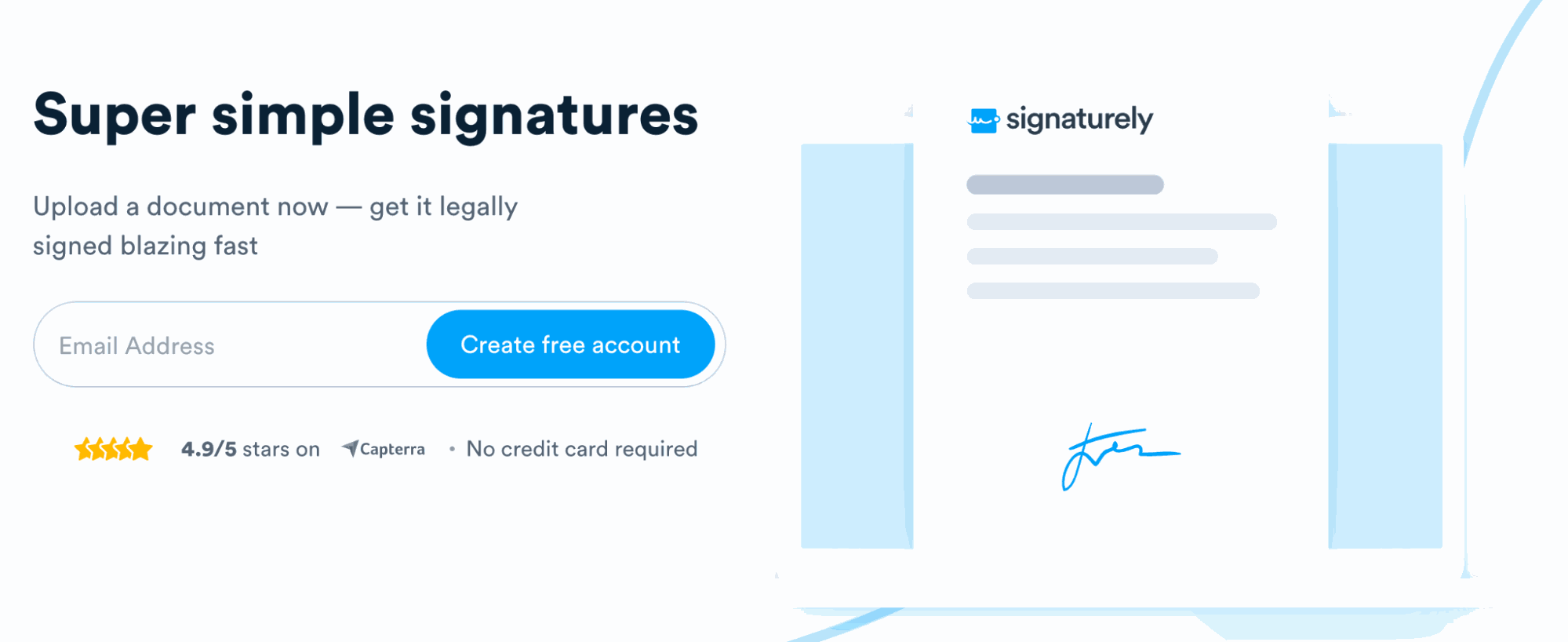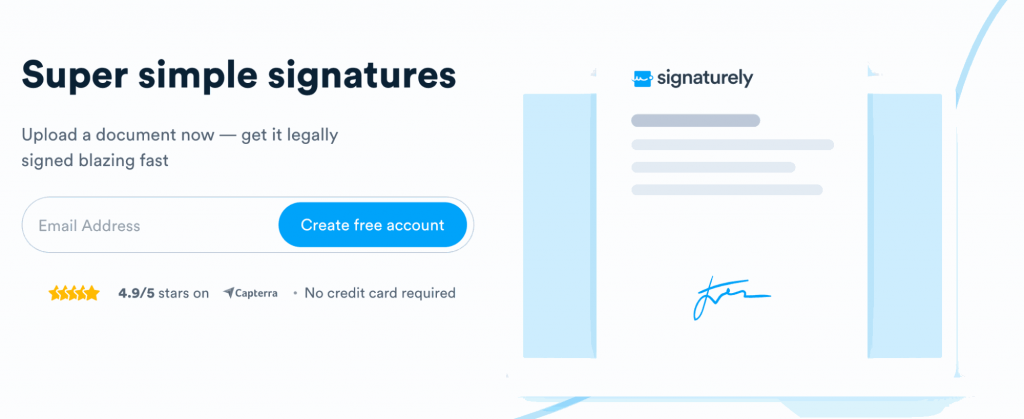 If you're looking for a reliable and easy-to-use online signature solution, Signaturely is an effective option. The platform offers a range of robust deployment features, including on-premise and cloud-based electronic signature solutions and seamless integrations with various third-party applications. Signaturely can meet the needs of businesses of all sizes with these features. In addition, the platform scores higher than GetAccept on ease of use, making it a good choice for companies that want a simple solution so that sales teams can quickly learn and adapt to reach more deals.
Signaturely and GetAccept offer free tiers with three send-outs, but Signaturely offers robust integrations. Signaturely's Personal plan starts at $20 per user per month (billed annually) and includes templates, audit logs, notifications, and reminders.
Key Features:
Guided signing
Team collaboration tools
Mobile Signing
Integrations:
2. PDFFiller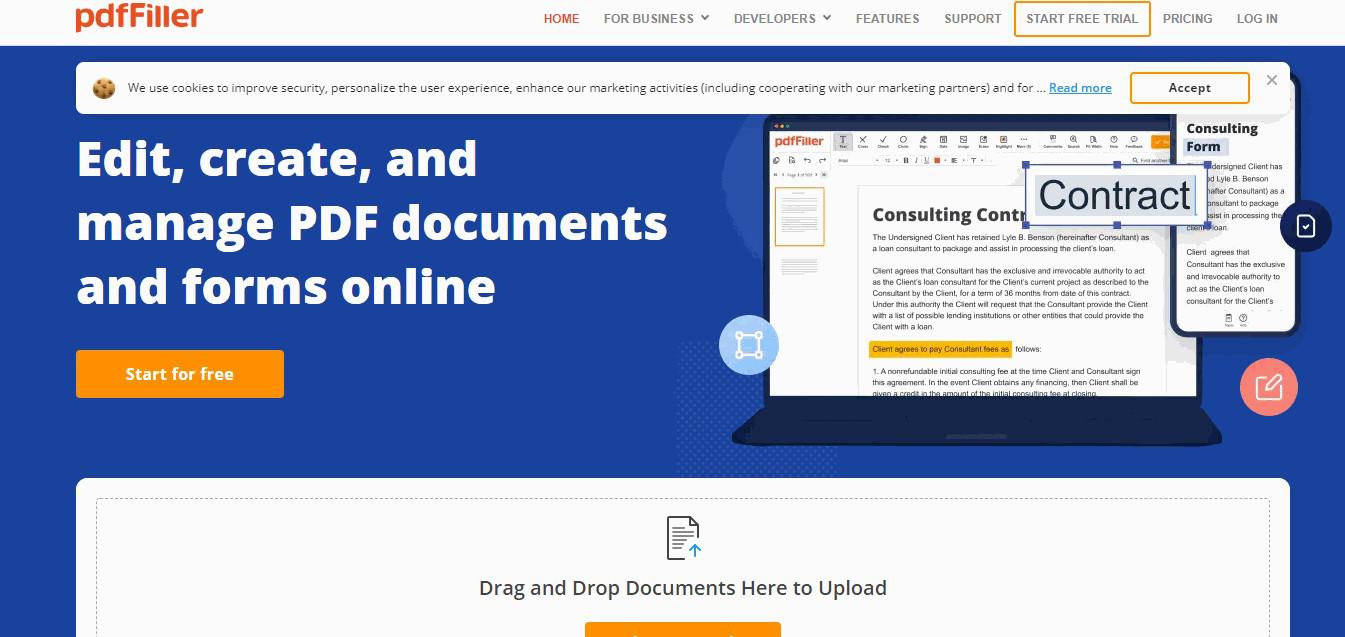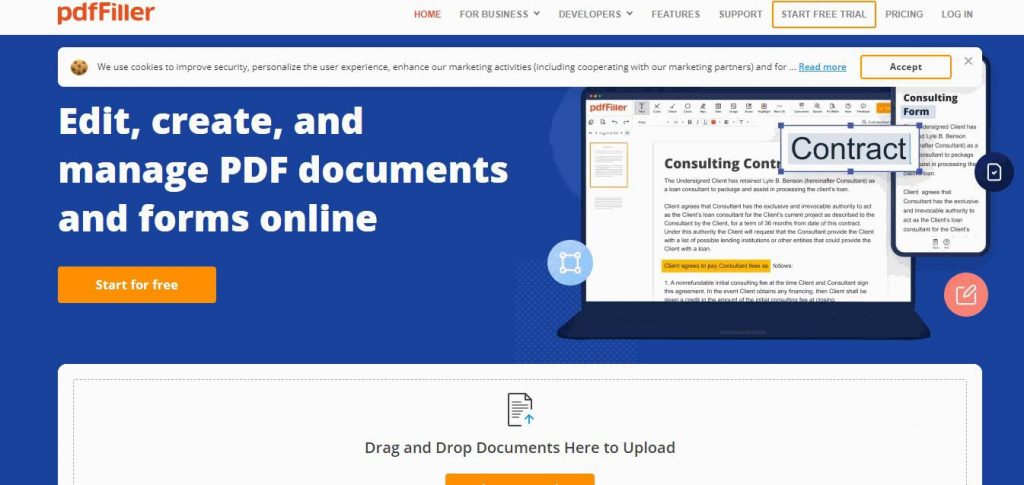 pdfFiller is a tool that helps users convert, edit and save their files and signatures. With pdfFiller, users can work on their files in real-time, making it a great tool for collaboration. Additionally, pdfFiller enables users to email or upload their files, making it easy to share documents. The Plus plan has a price tag of $12 per month and includes converting PDF to word documents and editing reusable templates. GetAccept and pdfFiller have a free document signing tier, but PandaDoc is rated higher in terms of usability.
Key Features:
Integrations:
DropBox
Google Drive
One Drive
Box
3. SignNow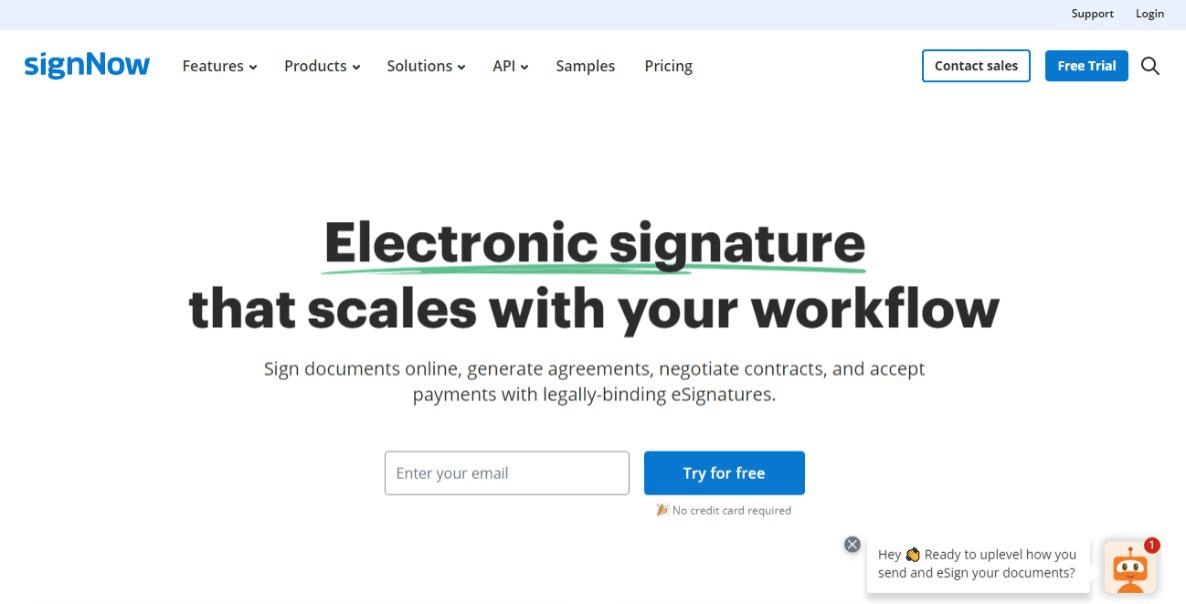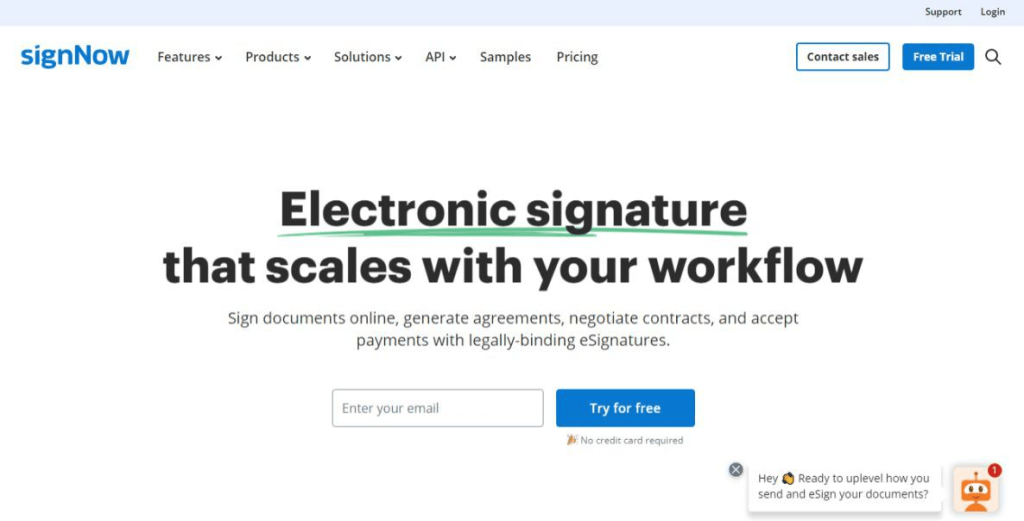 The GetAccept alternative, SignNow, offers a comprehensive platform for electronic signatures with a wide range of advanced features to suit the needs of businesses of all sizes. Perhaps most importantly, SignNow provides unlimited access to reusable templates, so you can streamline your sales process and save time. In addition, SignNow's in-person signature capabilities allow you to collect signatures even when recipients cannot sign electronically. GetAccept's free trial allows for up to five documents sent for signature per month, while SignNow has unlimited copies. Bonus: check our SignNow vs. DocuSign comparison.
Key Features:
Smart form fields
HIPAA compliance
In-person signatures
Integrations:
Microsoft 365
Salesforce
Google Workspace
4. HelloSign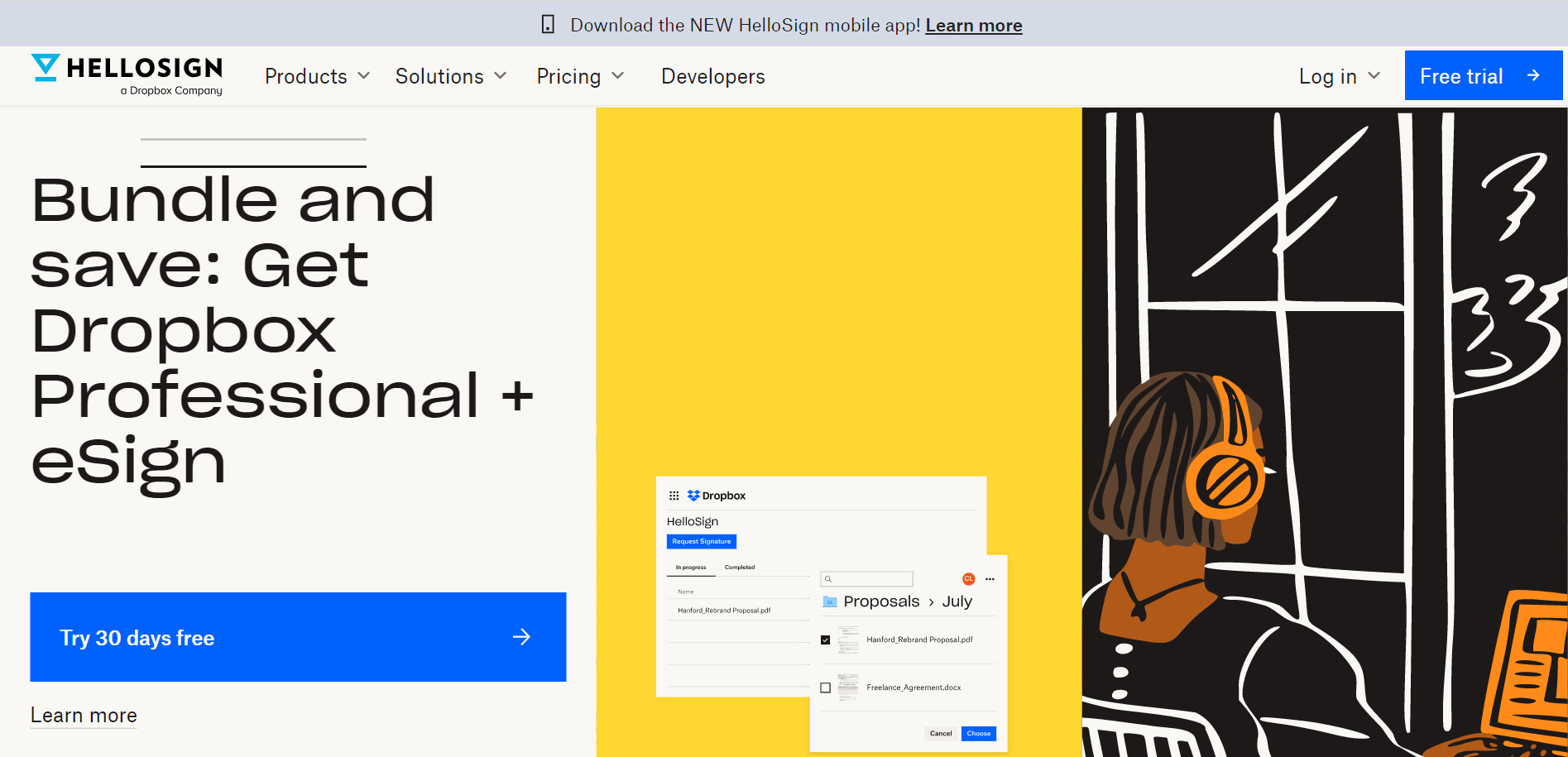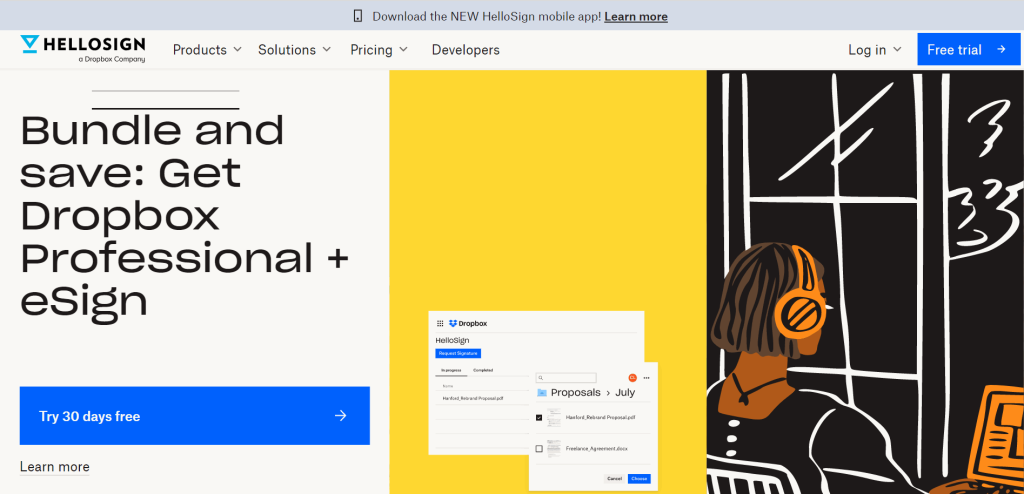 HelloSign allows you to create e-signatures and send documents with ease. HelloSign's tamper-proof feature ensures the validity of your contract or agreement. In addition, the platform offers cutting-edge security protocols, including 256-bit encryption and SOC II compliance. GetAccept scores higher on customer support, while HelloSign performs better in ease of setup. HelloSign plans start at $15 per month (billed annually). The Essentials plan includes one user, access to the mobile app, and integrations– which help you streamline your operations to close more deals. The Standard Plan starts at $25 per user per month and has up to five users, reporting, and SMS authentication.
Key Features:
Robust audit trails
Multiple languages
Signer fields with data validation
Integrations:
Google Drive
Microsoft Word
Hubspot
Here are some alternatives to HelloSign if you're looking for more information.
5. DigiSigner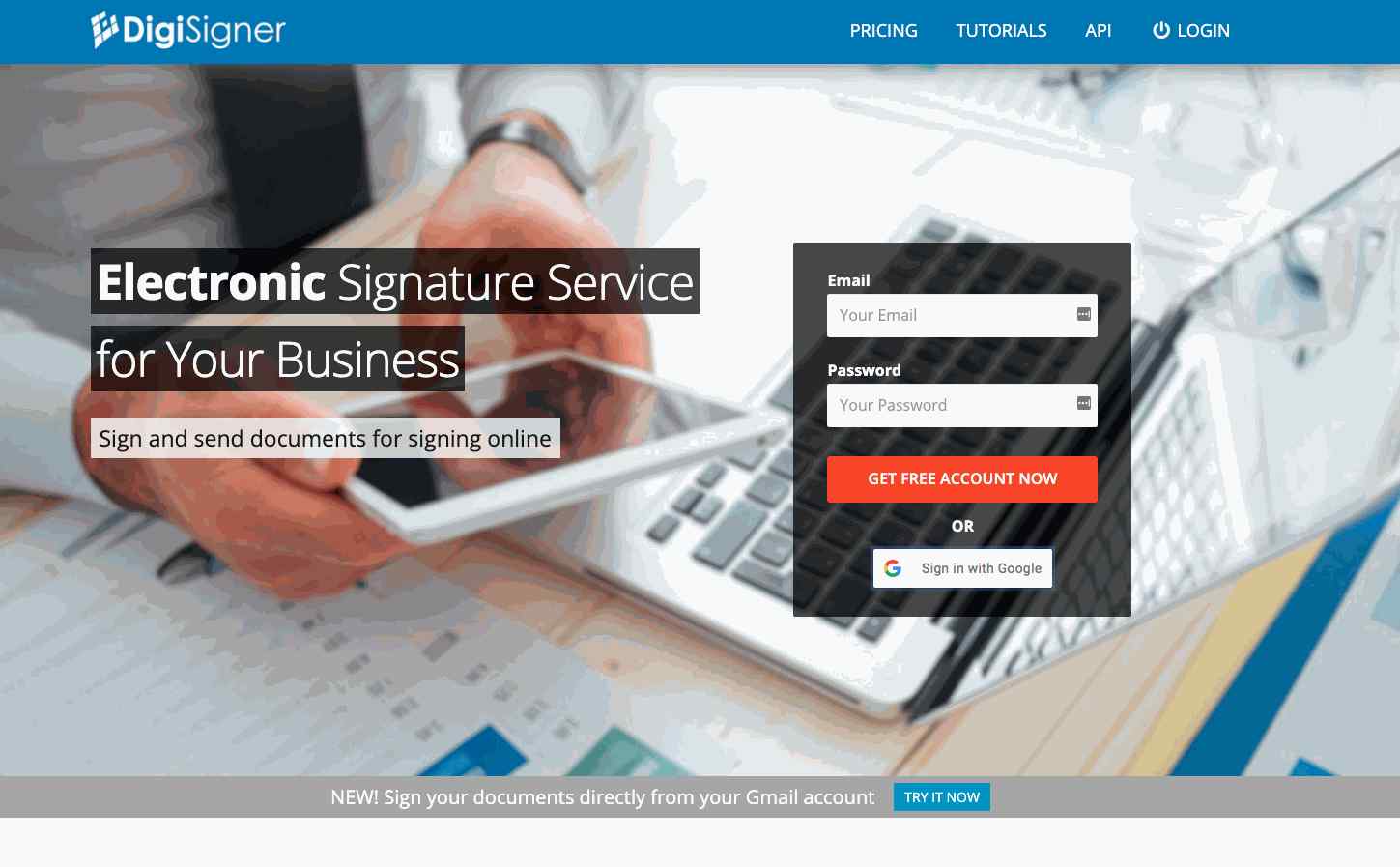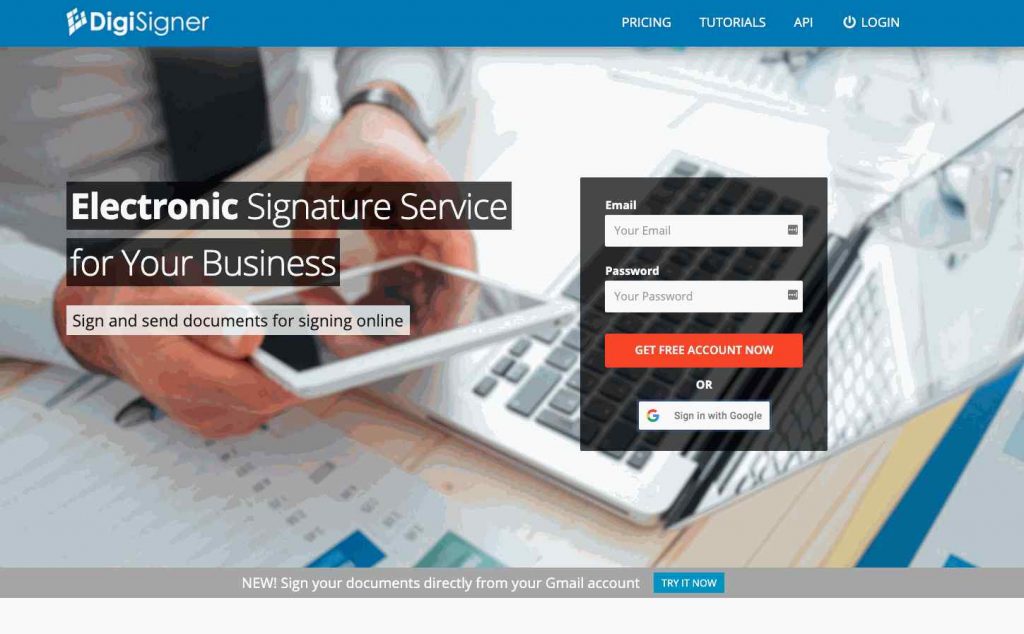 DigiSigner is a digital signature software that allows users to sign documents electronically. The software is simple and user-friendly, making it easy for anyone to sign a document. DigiSigner can be used for real estate, human resources, legal, and small businesses. The software ensures that all signatures are legally binding and compliant with e-signature laws. Unlike GetAccept, DigiSigner does not include a mobile app to sign forms.
With DigiSigner's free plan, you can access three monthly documents and multiple signers. Its next plan, the Pro plan, starts at $12 per month (billed annually). All paid plans include a 14-day free trial. Check out our DigiSigner alternatives listed here.
Key Features:
Signing links
Team management
Unlimited documents with paid plans
Integrations:
6. DocuSign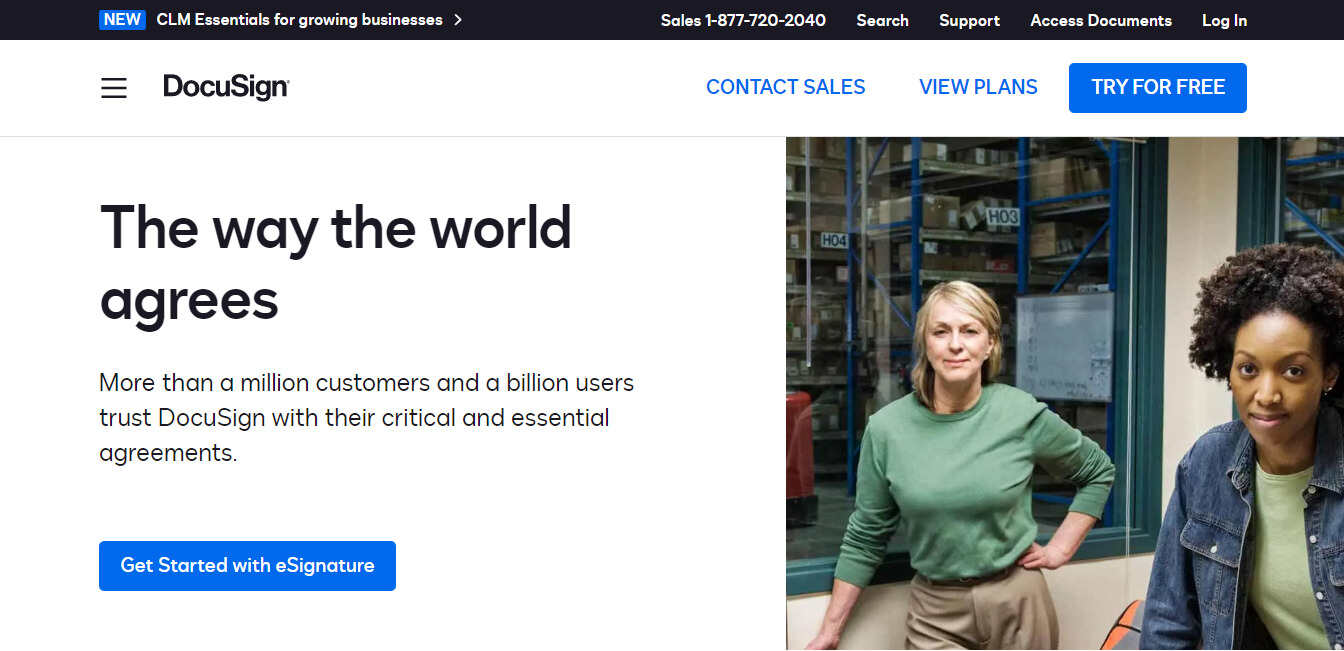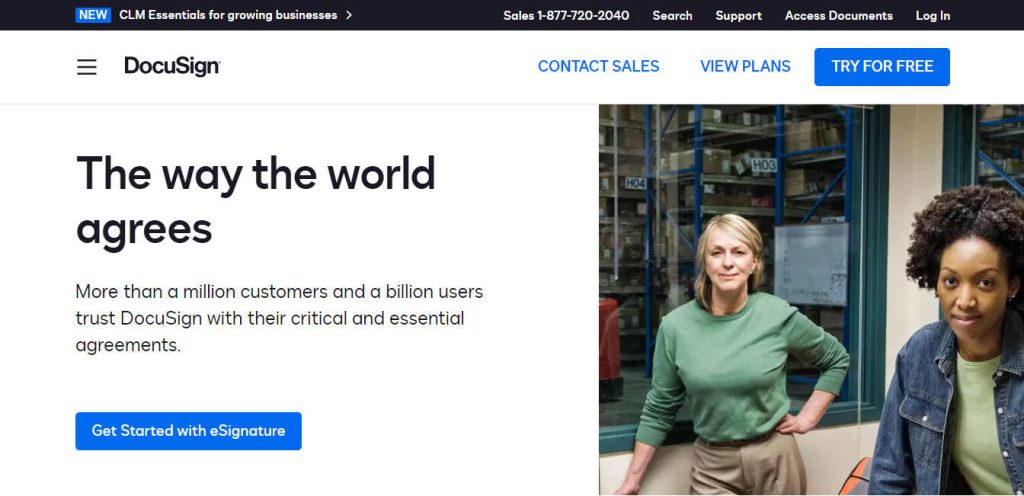 Signing documents online with DocuSign is quick and easy. With real-time visibility into the status of each agreement, you can complete transactions faster than ever. Plus, you get access to integrations that let your business applications work seamlessly together, making it easier for businesses large or small across a wide range of industries. Unlike GetAccept, DocuSign appeals to larger enterprise customers— while GetAccept caters to smaller revenue teams and sales reps that are scaling. DocuSign pricing for the Personal plan is priced at $10 per user per month (billed annually) and significantly increases in price when purchasing monthly instead of annually.
Key Features:
Real-time audit trail
Comments on documents for collaboration
Customized branding
Integrations:
Bonus: Top alternatives to DocuSign.
7. PandaDoc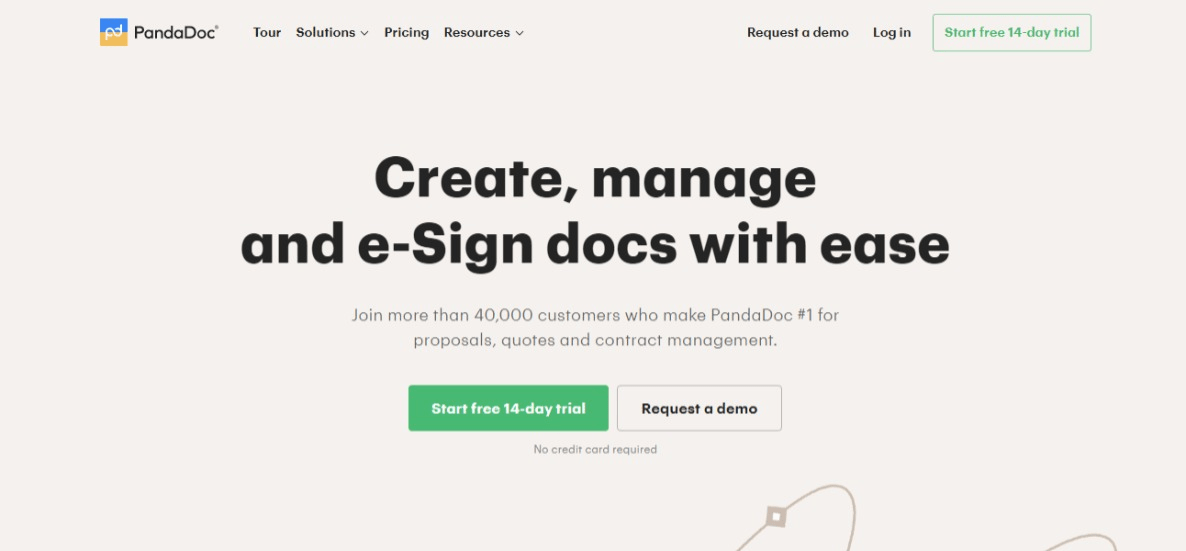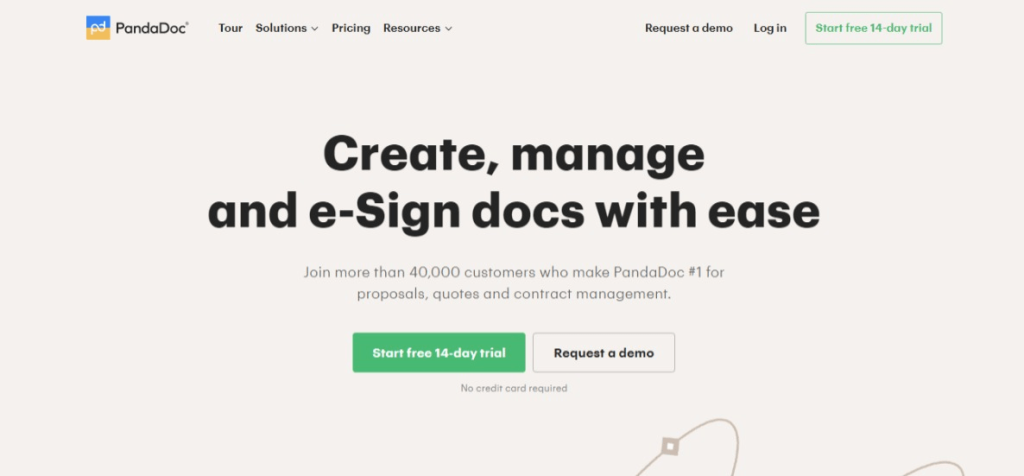 With PandaDoc, you can streamline the legal process for businesses with just one click. The intuitive interface makes it easy for your sales teams unfamiliar with this software while still providing them with all they need within their workflows. PandaDoc and GetAccept offer robust customer support, but GetAccept does not provide 24/7 support. PandaDoc includes a free tier with unlimited legally binding signatures, payments, and a mobile app. Its Essentials plan starts at $19 per user per month (billed annually). This plan includes templates, a drag-and-drop editor, and 24/7 email and chat support.
Key Features:
Activity tracking
Content Library
Approval workflows
Integrations:
CRM applications
Zapier
Salesforce
As usual, we compared some PandaDoc competitors here.
8. Formstack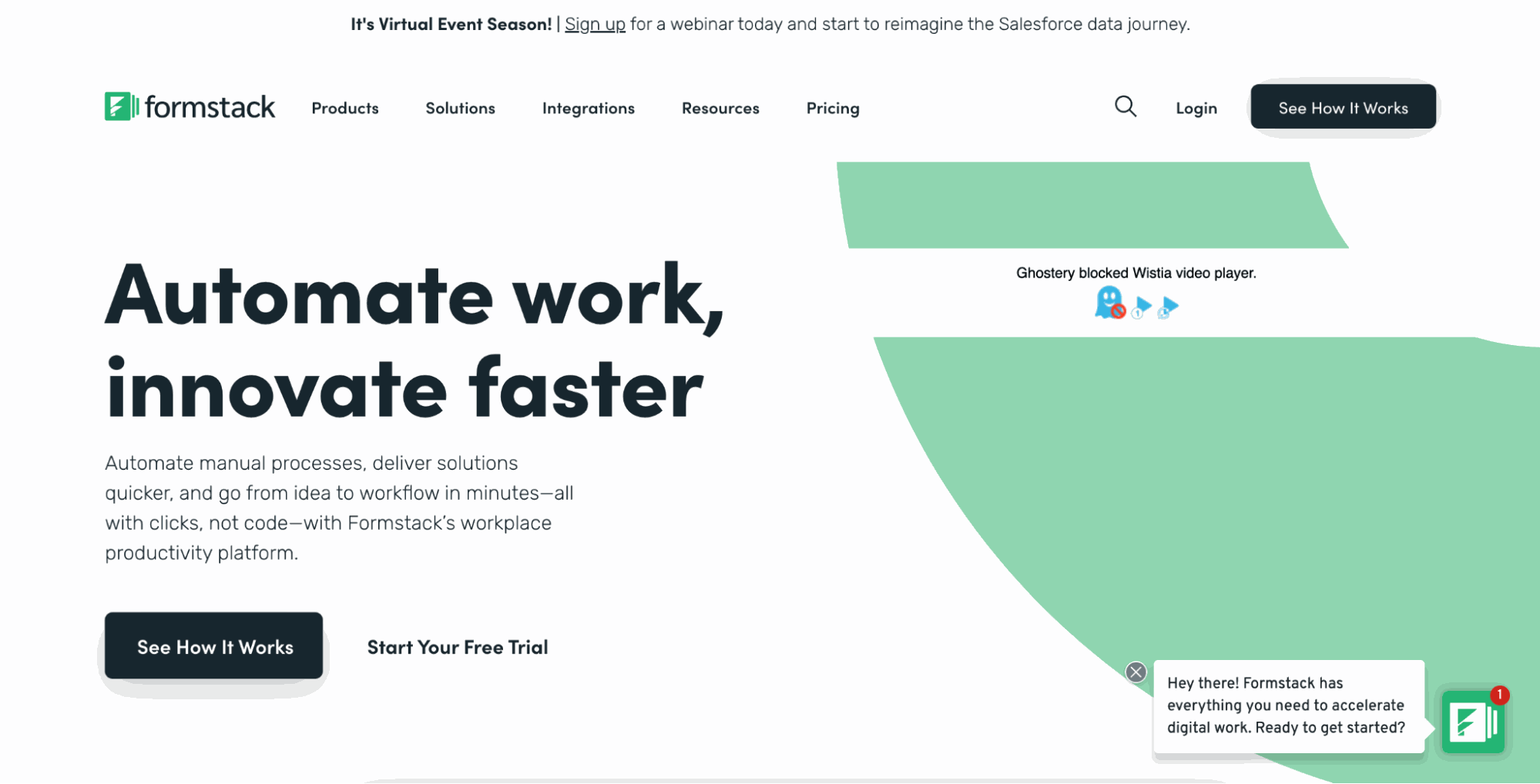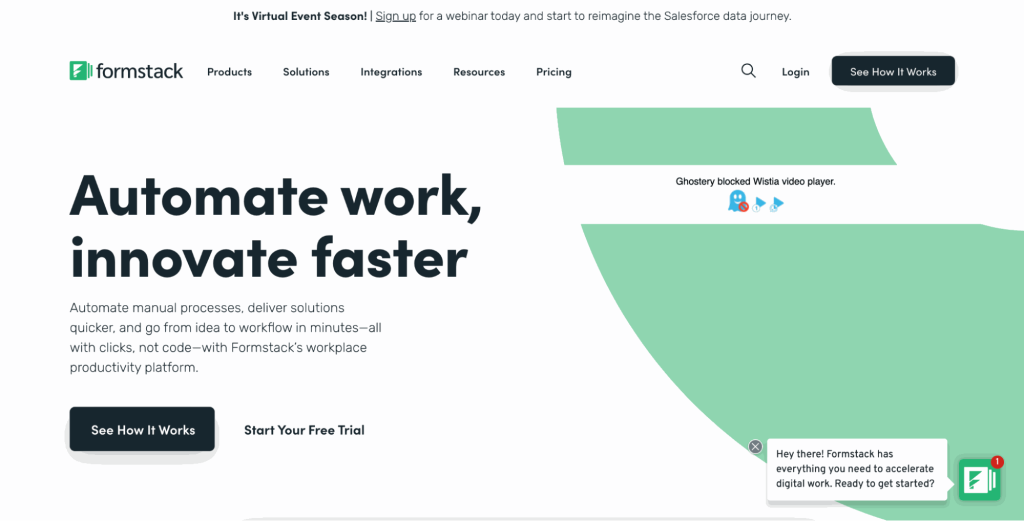 Formstack is a workplace productivity tool that helps organizations automate forms and collect signatures electronically. With Formstack, users can access premade templates, customize them to fit their needs, and share them with others. The forms can be filled out online or offline, and they can be signed electronically. Formstack also offers a mobile app that allows users to fill out forms on their smartphones or tablets. GetAccept scores higher in security measures and has a free tier, whereas Formstack outperforms in usability. Formstack's Basic E-signatures plan starts at $18 per month (billed annually) and includes unlimited documents and templates, signing on any device, and custom branding with your company logo.
Key Features:
In-person signing
Sending contracts via SMS
Reusable forms
Integrations:
Microsoft 365
Salesforce
Dropbox
9. YouSign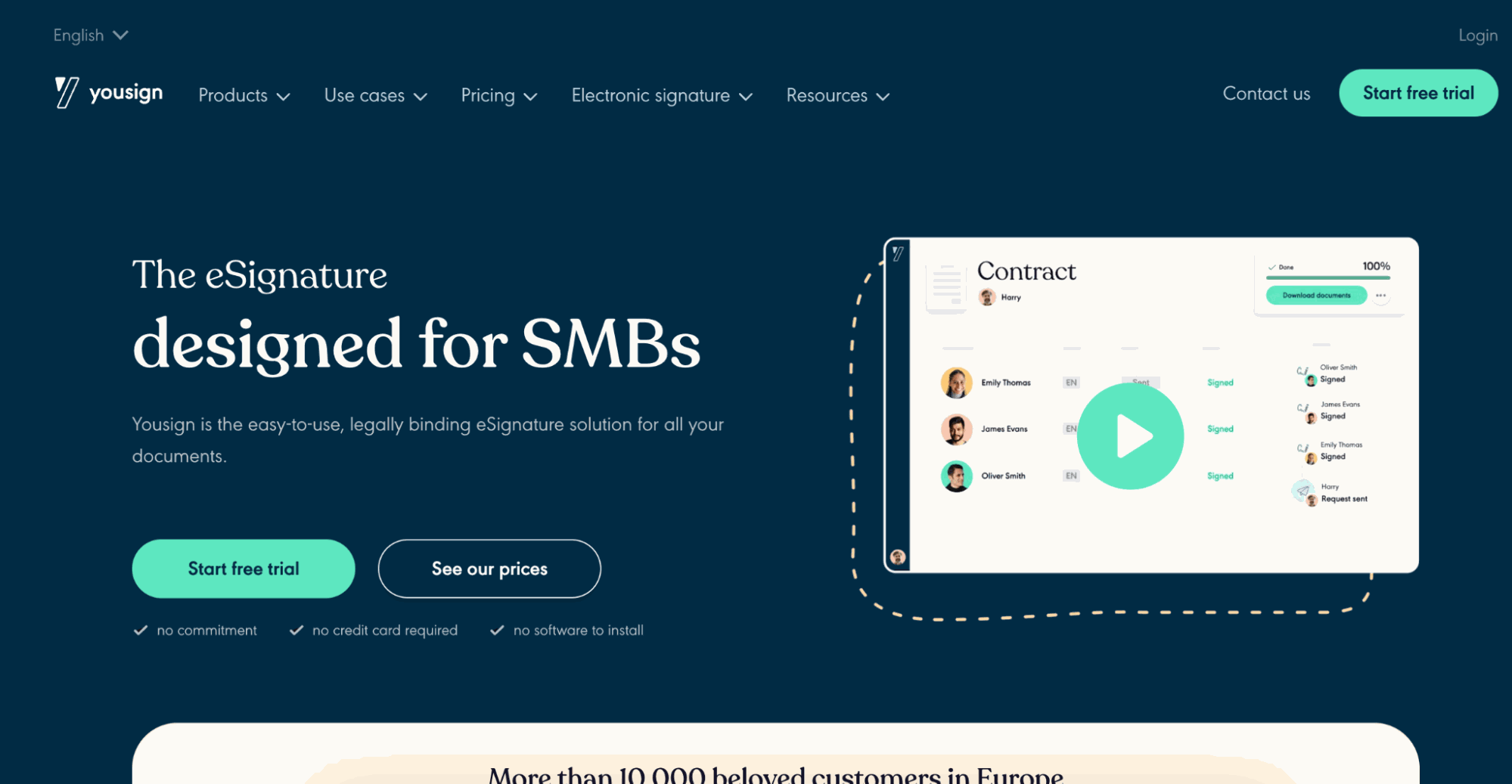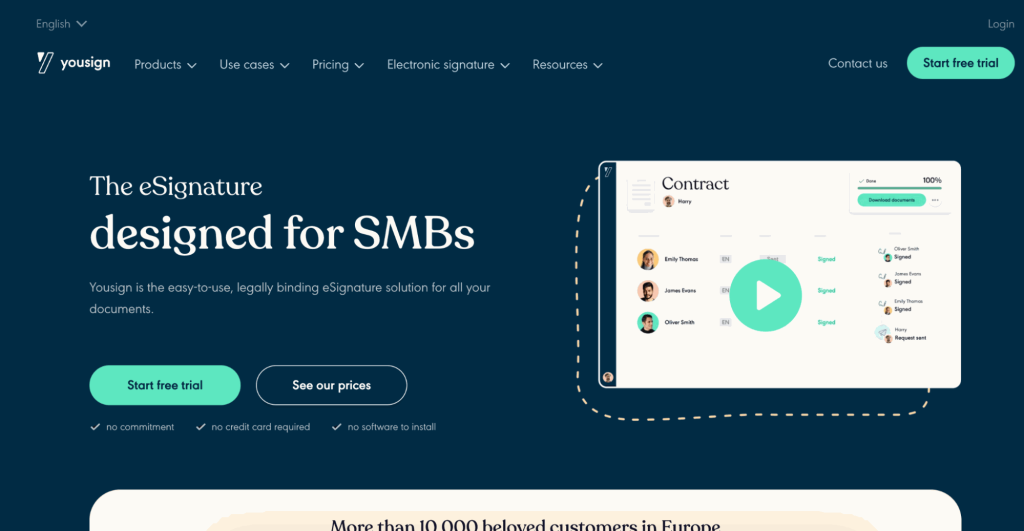 YouSign is one of the top electronic signature solutions for small and medium businesses. The contract management software is easy to use and helps companies to streamline their entire process with digital signatures. YouSign offers a free trial, and there are a variety of plans to choose from. These include the One plan at $9 per user per month (billed annually) and contain attachments, approvals, and in-person signing. Its Pro plan starts at $40 per user per month (billed annually) and adds integration with Zapier, advanced eSignature (AES), and SSO.
YouSign and GetAccept offer similar feature sets and a free tier, but YouSign is used by European SMBs, whereas GetAccept works best with small revenue teams.
Key Features:
Text fields and mentions
Automated reminders
Role and permission management
Integrations:
10. Adobe Sign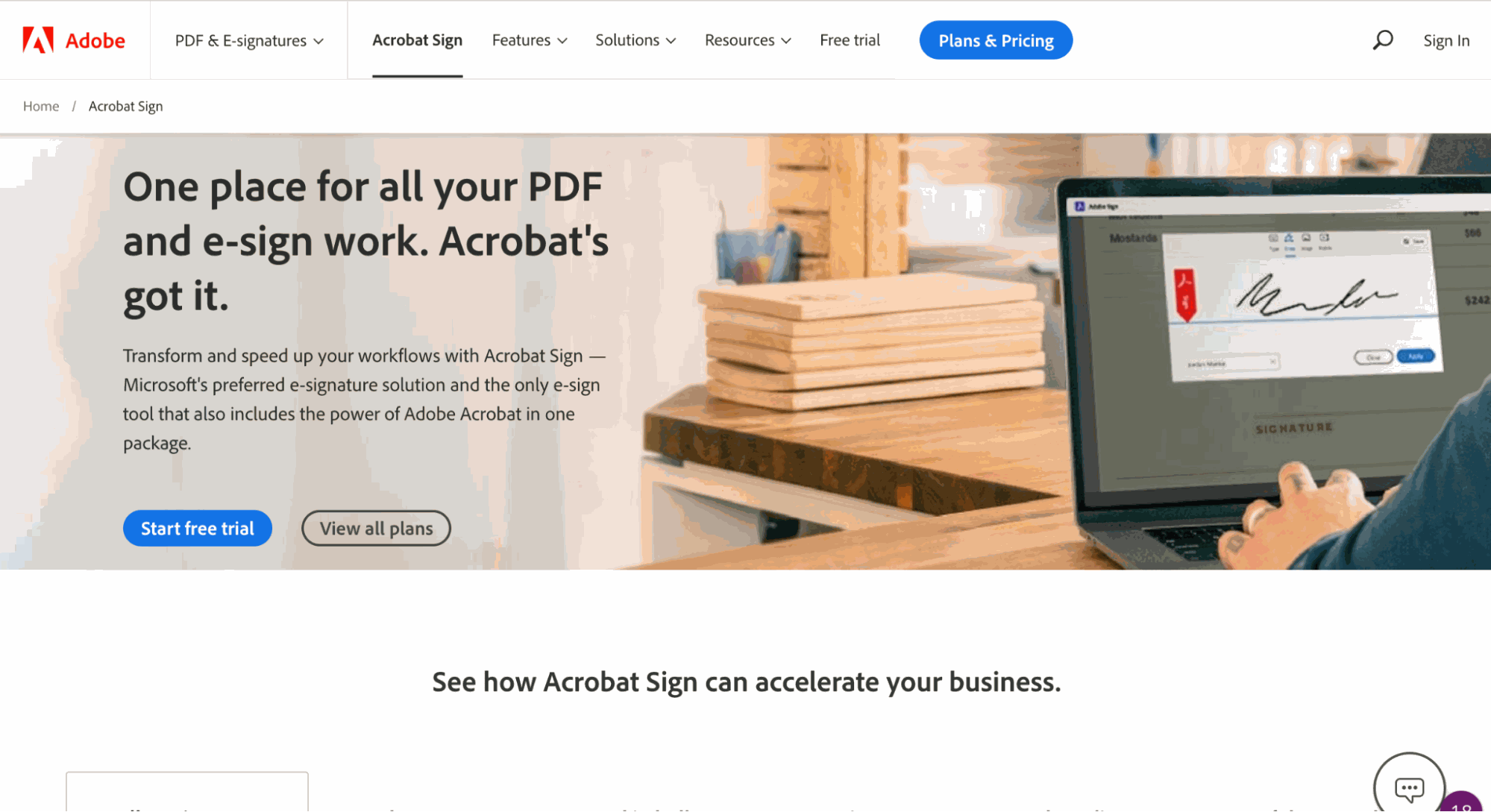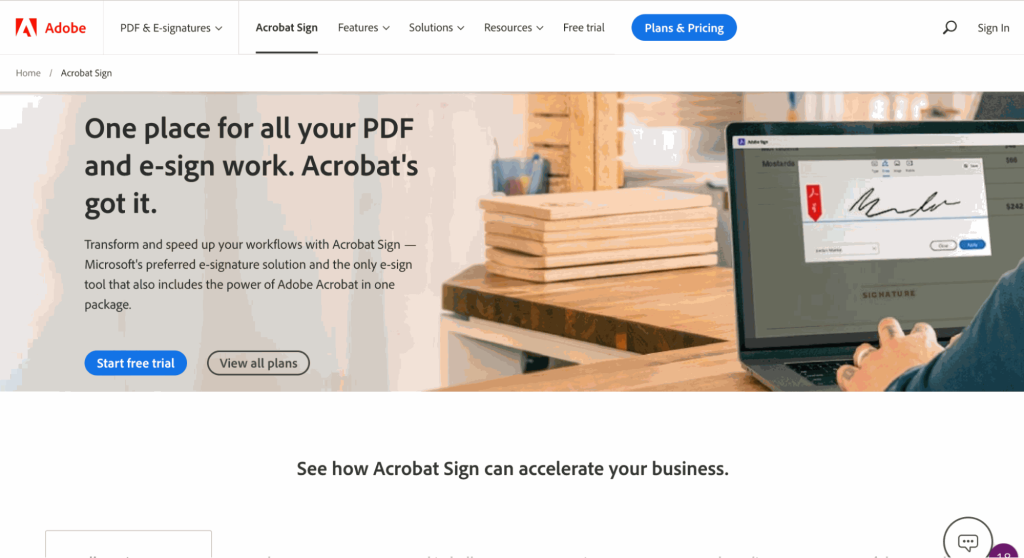 Adobe Sign makes it easy to sign and return contracts from anywhere, on any device. With its cloud-based digital signature solution that integrates seamlessly with Document Management or Accounting Software tools, Adobe Sign offers a robust platform for e-signatures. Whereas GetAccept offers a free plan, Adobe Sign's pricing starts at $12.99 per month (billed annually). Adobe's Acrobat Pro pricing starts at $19.99 per month and offers advanced document signing and other tools. Looking for an alternative to Adobe Sign? Look no more.
Key Features:
Customize languages
Collect digital signatures from websites
Bulk document sending
Integrations:
How to Choose the Best GetAccept Alternative for Your Business
Choosing the best eSignature tool for your business can be daunting, with many options. There are a few key considerations you should keep in mind to ensure you select a tool that is the best fit for your needs. These considerations include ease of use, security and compliance, mobile capabilities, and budget. Let's take a closer look at each one.
Ease of Use
The electronic signature tool you select should be easy for you and your employees to use. If the device is difficult to use, you will likely find that low adoption rates and productivity suffers. Look for a tool with a user-friendly interface that is easy to navigate. The learning curve should be short so you can get up and running quickly. 
Security & Compliance
When handling sensitive agreements, choosing a tool that offers increased security and meets industry compliance standards is essential. Make sure the tool encrypts documents using protocols like (SSL) to protect data during transmission. The company should also have a robust disaster recovery plan in case of an unforeseen event.
Mobile Capabilities
More people are conducting business on their mobile devices these days and as such, selecting an eSignature tool that offers mobile capabilities is important. This way, you can sign and manage documents from anywhere at any time. Look for a tool that has a dedicated mobile app so you can easily access your documents on the go.
Budget
When selecting an electronic signature tool, it is important to consider your budget. Some tools are offered as part of a subscription model, while others are available for purchase outright. Free options are also available, though these tend to be less feature-rich than paid options. Select the platform that makes the most sense for your business, considering upfront and ongoing costs such as subscription or maintenance fees.
What You Need to Remember About GetAccept Alternatives/Competitors
GetAccept is a fantastic choice for businesses that want a simple, easy-to-use tool that is also secure and compliant. If you are looking for a mobile solution, or need to stay within a specific budget, then other options may be better suited for your needs. No matter which option you choose, make sure to take the time to evaluate your needs to find the best fit for your business.