As business becomes increasingly digital, the importance of e-signatures has grown exponentially. E-signatures provide a convenient way for customers to sign contracts and other online documents; they also streamline business processes and reduce costs. However, with so many different e-signature tools on the market, it isn't easy to know which is right for your business. It's important to consider your specific needs and requirements when evaluating e-signature tools. In this article, we'll talk about our favorite DigiSigner alternative and list 10 options in case you need variety.
Electronic signatures are a must in today's fast-paced world. They are a safe, secure, and efficient way to get documents signed and confirm agreements. However, not all e-signature platforms are created equal. If you've used or are considering DigiSigner, there are a few important considerations when searching for alternatives.
We break down some of the top reasons to choose one of the leading electronic signature solutions similar to DigiSigner.
Enhanced Capabilities
Many alternatives offer template libraries and contract management, which Digisigner lacks. Additionally, many options do more than just electronic signatures, often providing digital workflows and document automation. These added features can save you time and money in the long run by providing a centralized platform for all your e-signature needs.
Flexible Plans
Another reason to consider an alternative to DigiSigner is the competitors' flexible plans. With most alternatives, you can send and sign unlimited documents for free. You can bundle these features with a relatively low fee if you need more advanced features, like document automation or templating. These added features contrast with DigiSigner, which limits the number of senders in its paid plans and doesn't offer advanced contract management features.
Better Mobile Experience
With most alternatives, you can quickly sign documents from your phone or tablet with just a few taps. Digisigner, on the other hand, does not have a mobile app, and you would have to print out the document, sign it manually, and then scan it back in. This process is time-consuming and inconvenient if you're on the go.
10 Best DigiSigner Alternatives to Use Instead
If you're considering using DigiSigner, there are a couple of top alternatives to consider instead, including:
1. Signaturely – The Best DigiSigner Alternative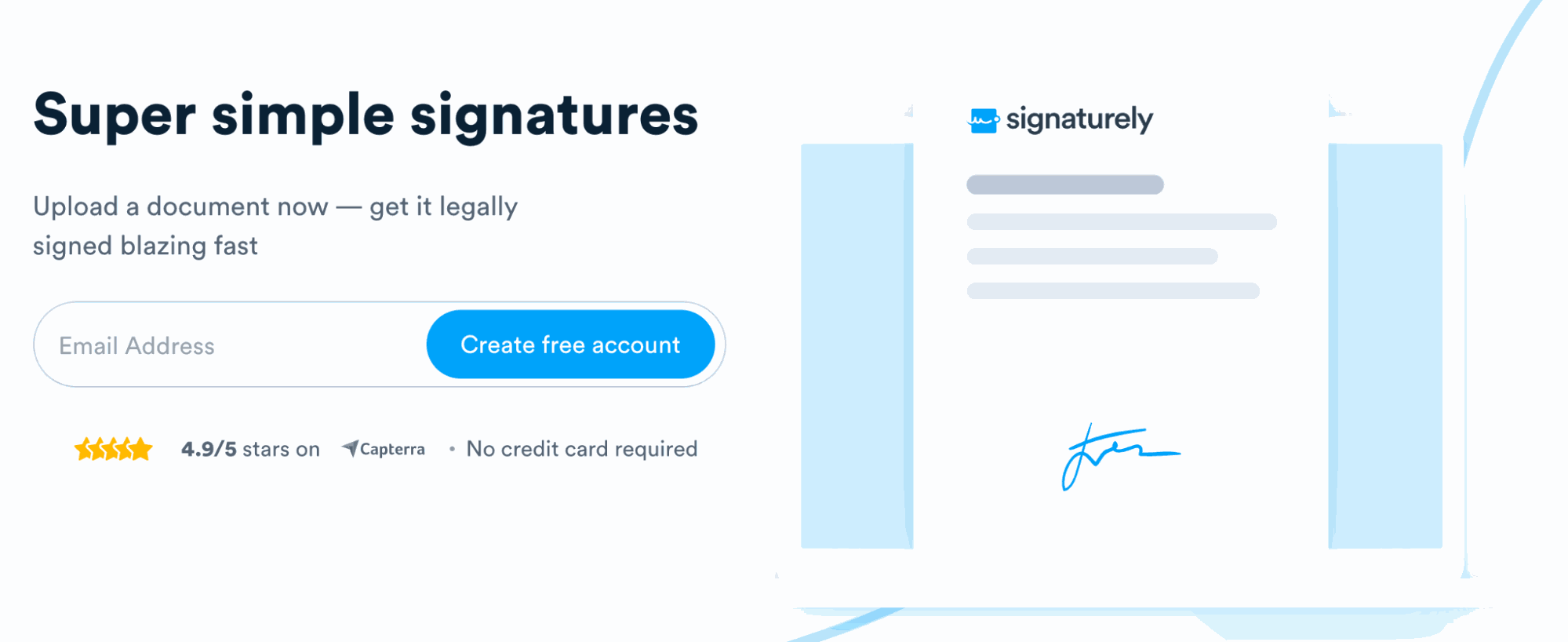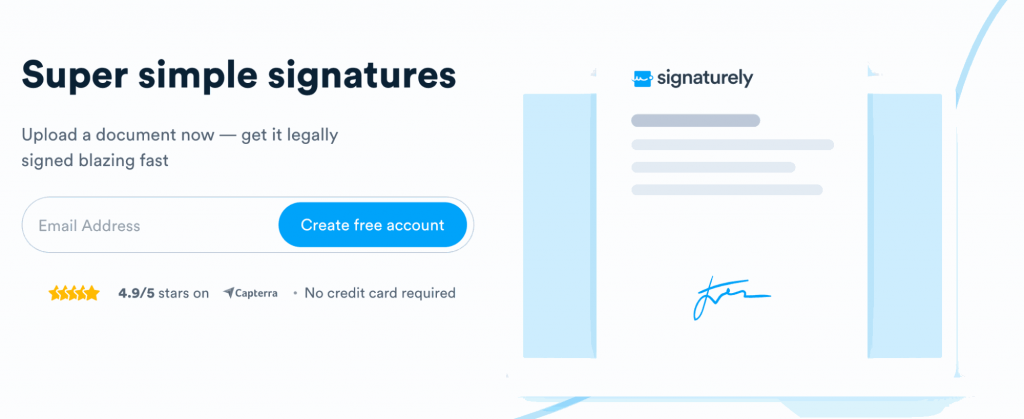 Signaturely is a robust e-signature platform offering an affordable solution for scaling businesses. Companies can easily and quickly create, manage, and track digital signatures with Signaturely. The platform is easy to use and offers a variety of features that make it a great choice for businesses of all sizes. Signaturely is also highly secure, ensuring your legal documents and data are protected. Overall, Signaturely is an excellent choice for companies looking for a reliable and affordable e-signature solution.
Like DigiSigner, Signaturely offers a free plan and free trials of its paid plans. Both platforms include unlimited signatures with their paid plans. Still, Signaturely provides a more affordable alternative starting at $30 per month (billed annually) for its Business plan— compared to $40 per month for DigiSigner's Team plan.
Pros:
Extremely easy to use
Affordable pricing options
Robust feature set
A responsive customer service team
Cons:
Some issues with the fields editor
Adding drawn signatures can be a bit tricky with certain devices
2. Adobe Sign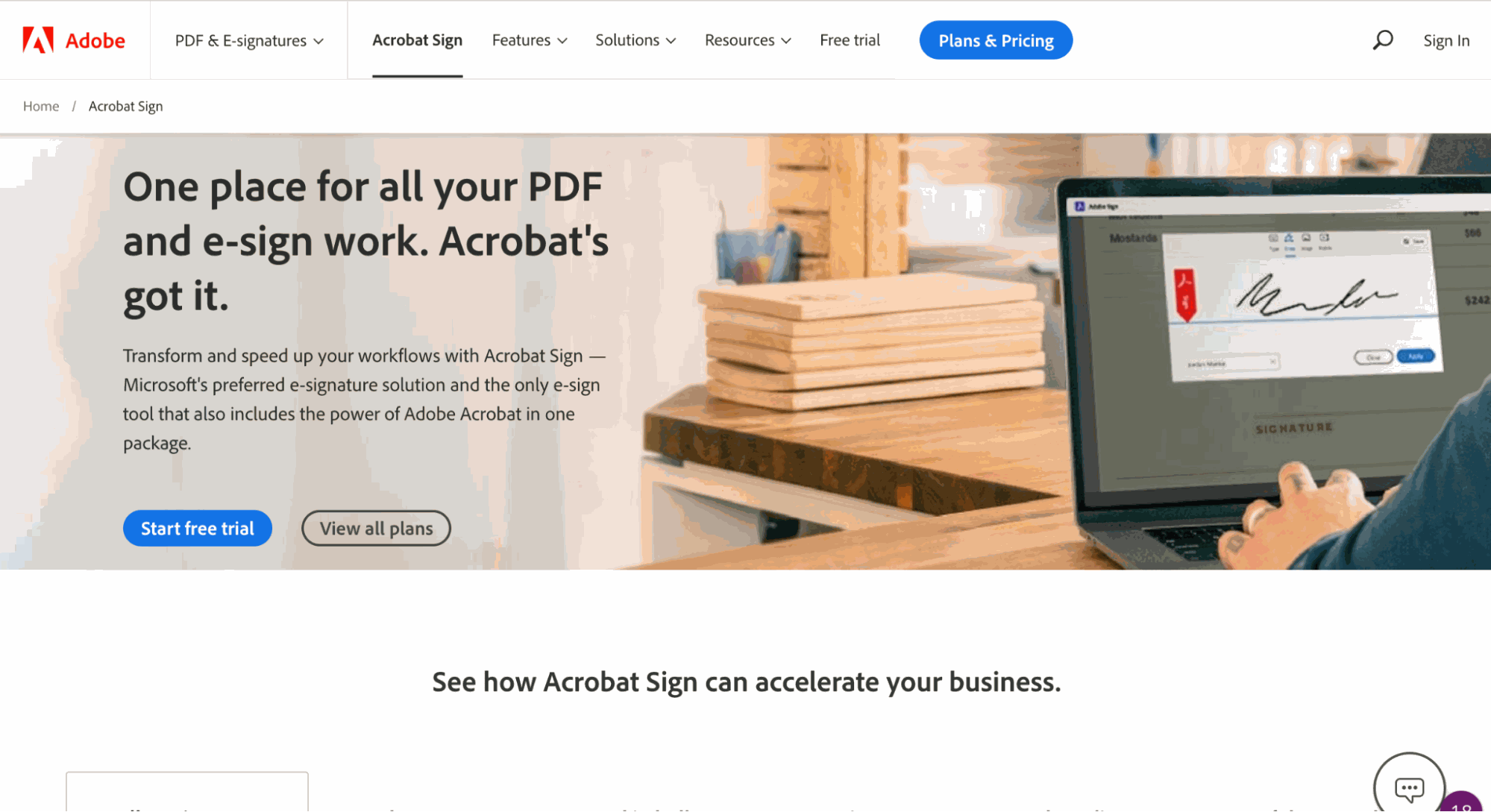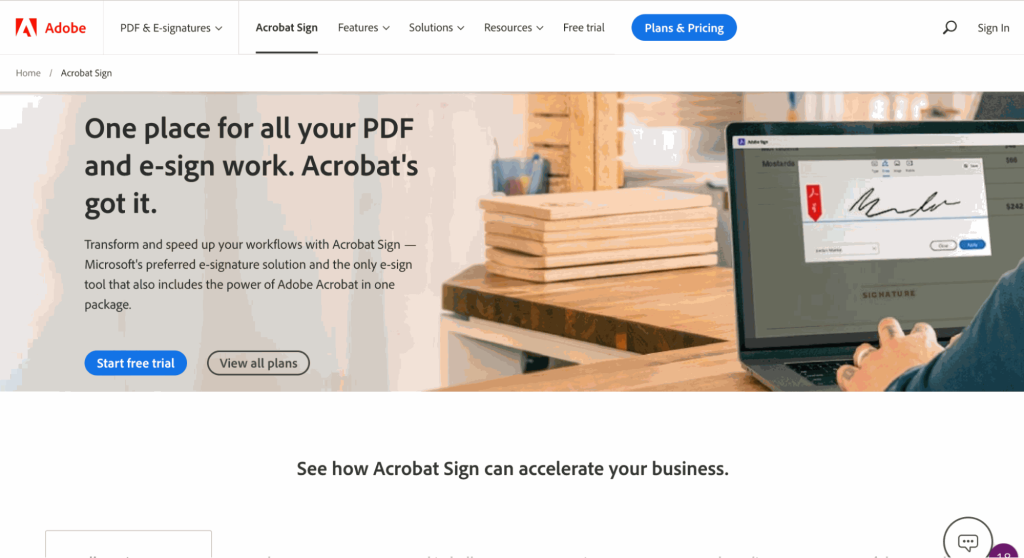 Adobe Sign makes it easy to sign and return documents from anywhere, on any device. Its cloud-based digital signature software integrates with popular solutions like Document Management or Accounting Software. Adobe offers peace of mind knowing your company's sensitive information won't get lost in transit.
Compared to DigiSigner, Adobe Sign performs better at meeting user requirements. Conversely, Adobe Sign carries a higher price tag than DigiSigner— making it more difficult for certain teams to access. In addition, DigiSigner offers document analytics, which is missing in Adobe Sign's feature set.
Adobe Sign offers a free trial, with individual pricing starting at $12.99 per month (paid annually) and rising to $22.19 per user per month for team plans. Here are other Adobe Sign alternatives and competitors.
Pros:
24/7 product support
Reusable templates
Integrations into Salesforce, Workday, and more
Cons:
UI could be improved
High price tag
Some performance issues
3. DocHub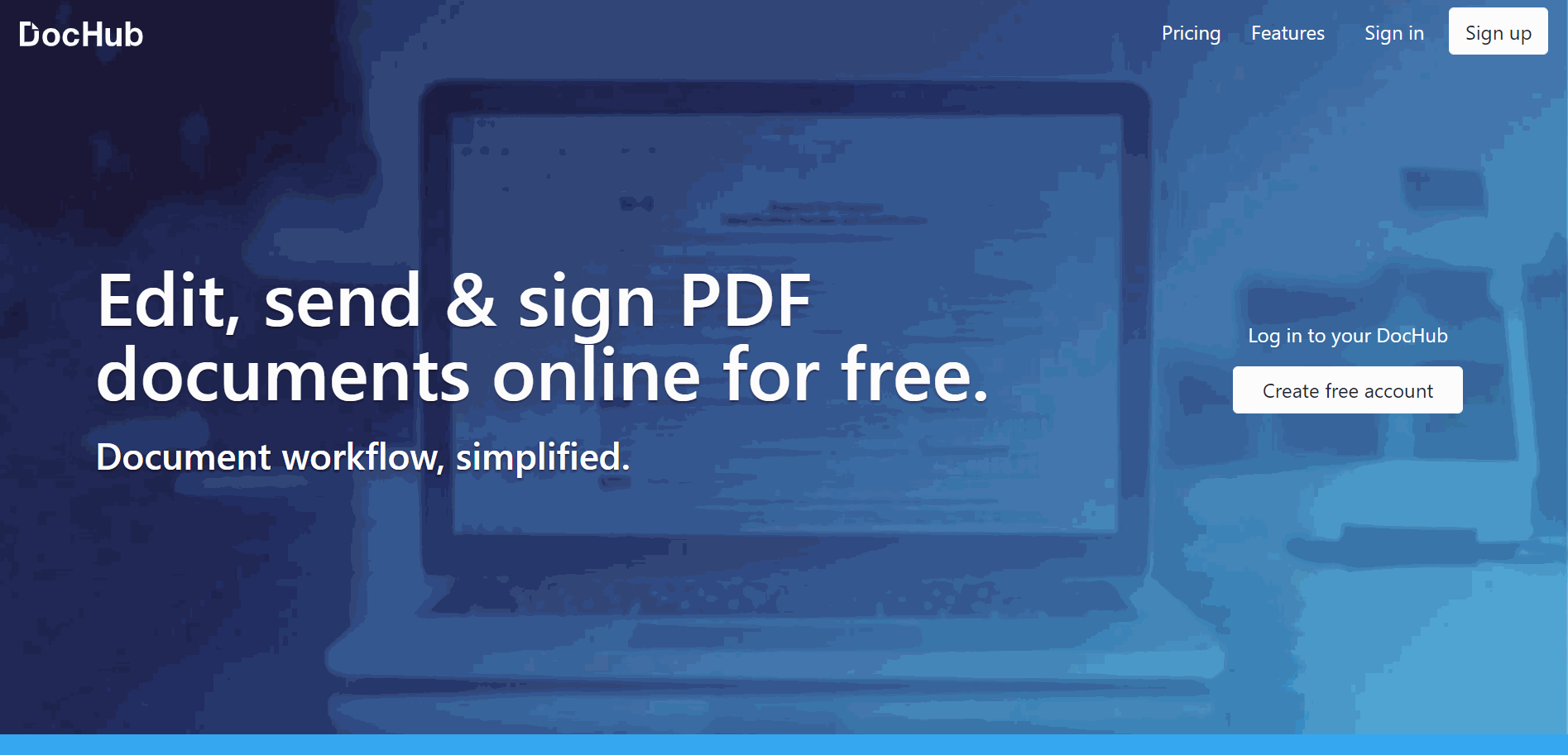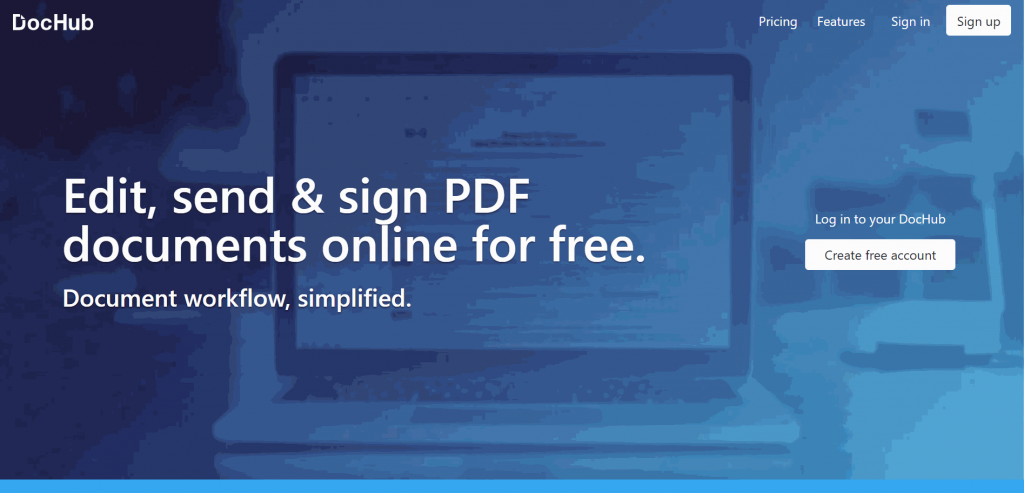 DocHub is an online PDF software that helps users create and edit PDFs. With DocHub, users can add electronic signatures, merge PDF documents, DOCx, and more document types— with import and export data. DocHub also offers Gmail, Google Drive, Dropbox, and more integrations.
Unlike DigiSigner, DocHub doesn't offer as many functionalities, such as document analytics, HIPAA compliance, and multi-party signing. However, DocHub offers more robust search and merging signature file capabilities.
Like DigiSigner, DocHub offers a free plan with 2,000 documents, five e-signatures per month, and seven saved digital signatures. Its other plan, the Pro starting at $10 per user per month (billed annually), gives you unlimited documents and e-signatures per month. Check out some DocHub alternatives.
Pros:
Simple pricing structure
User friendly
Powerful integration with Gmail and Google Drive
Cons:
Limited customer support
Lack of template support in the free version
The user interface could use improvement
4. HelloSign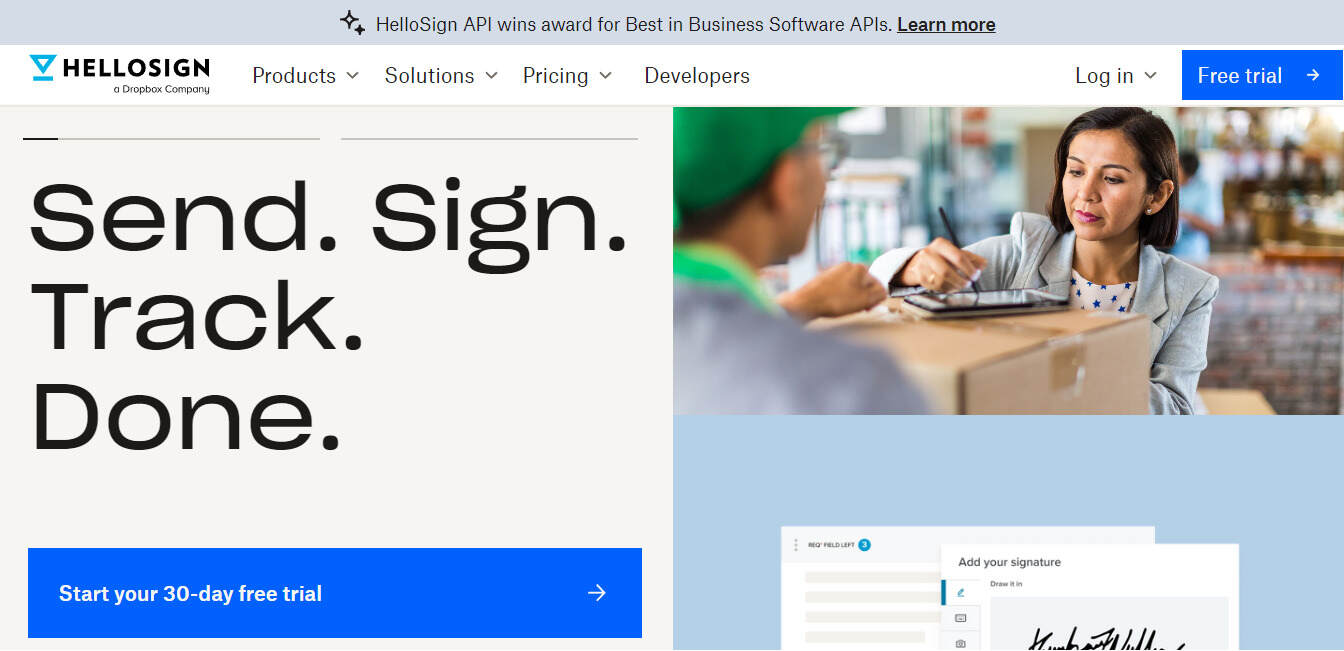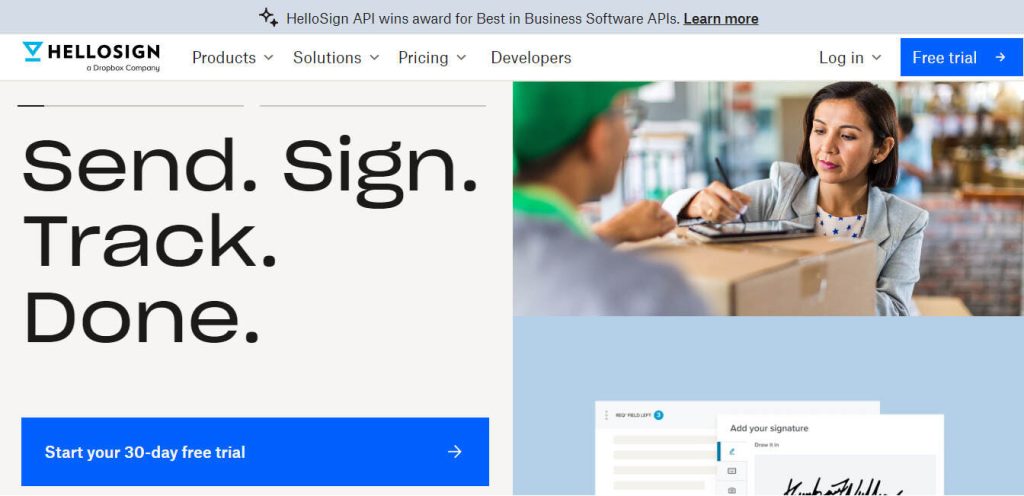 HelloSign is a practical choice for businesses that send secure documents for signature. The HelloSign app offers tamper-proof features and cutting-edge security, including 256-bit encryption or SOC II compliance–maximizing the protection of your information while still being able to sign documents anytime, anywhere.
DigiSigner and HelloSign offer a similar feature set, including audit trails, document analytics, and multi-party signing. However, HelloSign delivers more access with its mobile app and live training options. These capabilities make it easier for you to adopt the platform in your organization.
Pricing for the HelloSign platform starts at $15 per month (billed annually) and includes a free trial. HelloSign is widely popular and therefore has a list of alternatives as well.
Pros:
Automated reminders
Document tracking and analytics
Integrations with Dropbox (native), Hubspot, Google Drive, and more
Cons:
Some performance issues
UI could use improvement
Integration performance could use improvement
Bonus: Check our HelloSign vs. DigiSigner comparison.
5. Nitro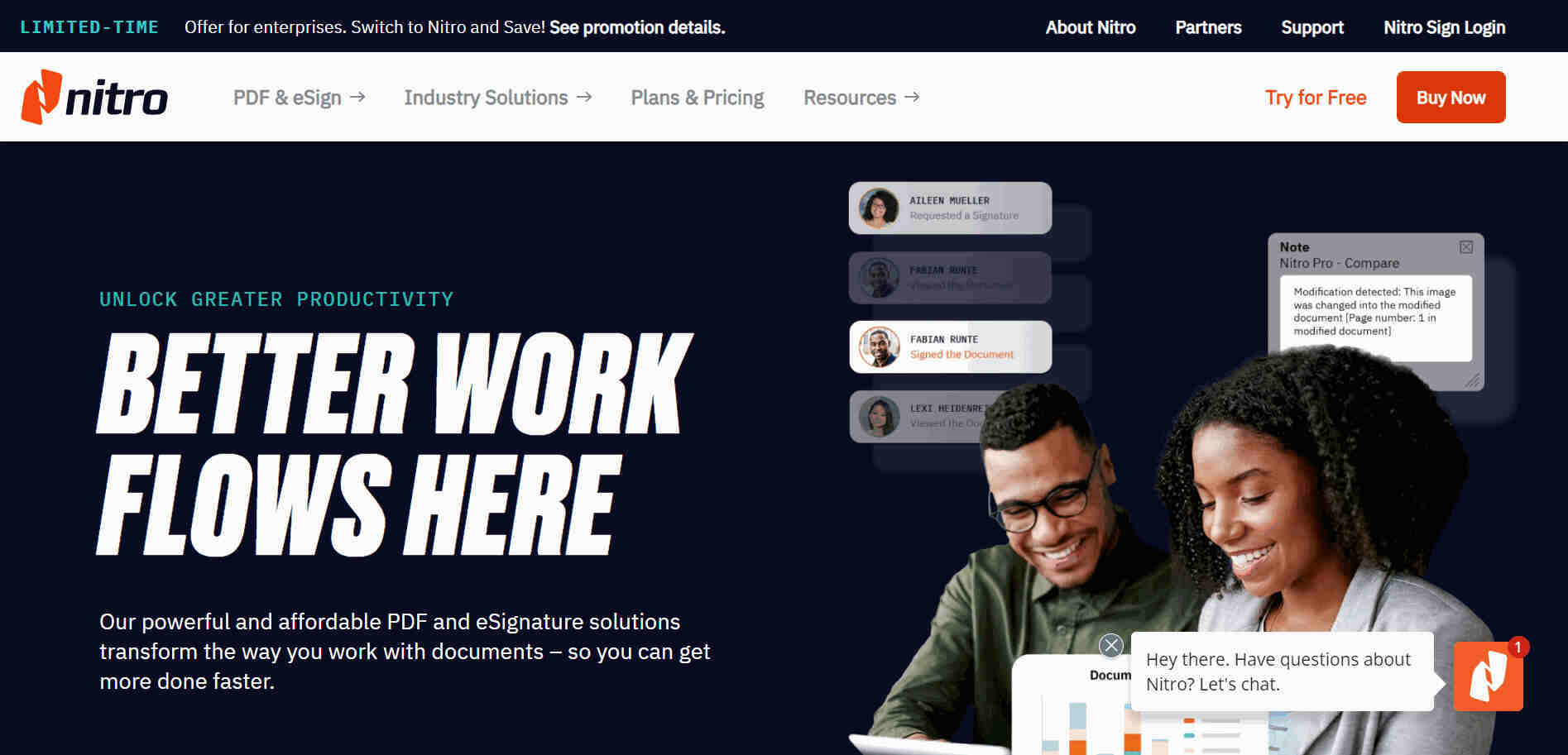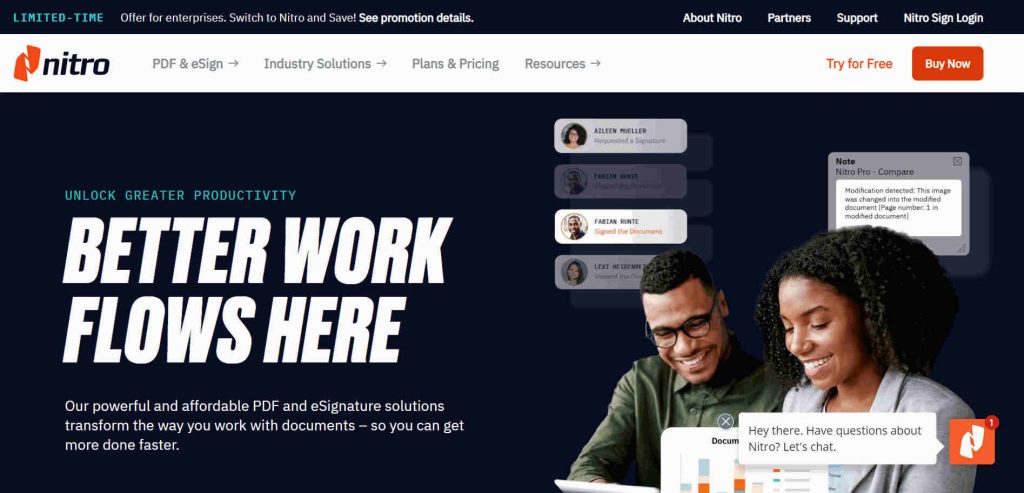 Nitro helps streamline your workflows by allowing you to easily create, fill, and sign forms without printing them. You can also send unlimited e-Signature requests to multiple signature recipients, and the forms are built for the web and mobile. Cloud storage integration is included to access your documents from anywhere. Nitro makes it easy to get your work done faster and more efficiently.
Both Nitro and DigiSigner offer a free trial. However, they differ in the pricing structure. Nitro PDF Pro starts at $143.99 per user for Windows and Mac plans, with up to 20 licenses. The Nitro Productivity Platform plan has custom pricing but includes both Mac and Windows support. DigiSigner has a free trial and plans to start at $12 per user per month.
Pros:
Seamless integration into document workflows
Robust UI
Advanced editing features
Cons:
Lack of regular updates to the platform
Limited customer service
Need to select either Mac or Windows for basic pricing plans
6. pdfFiller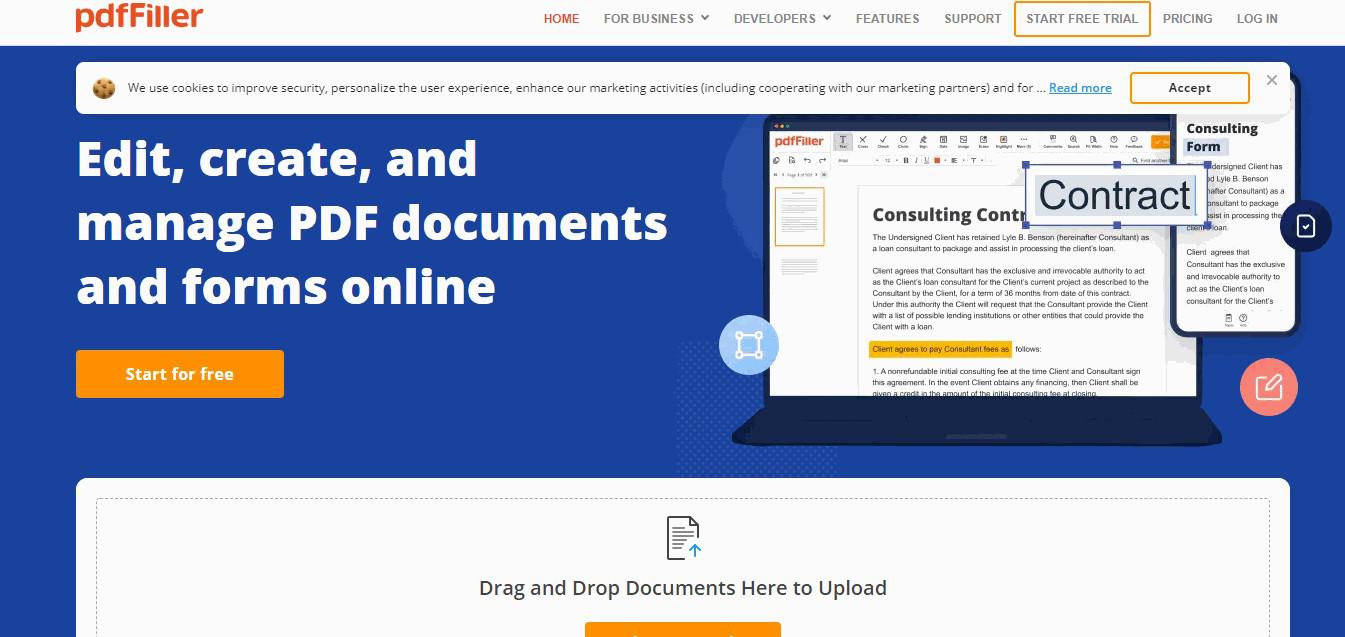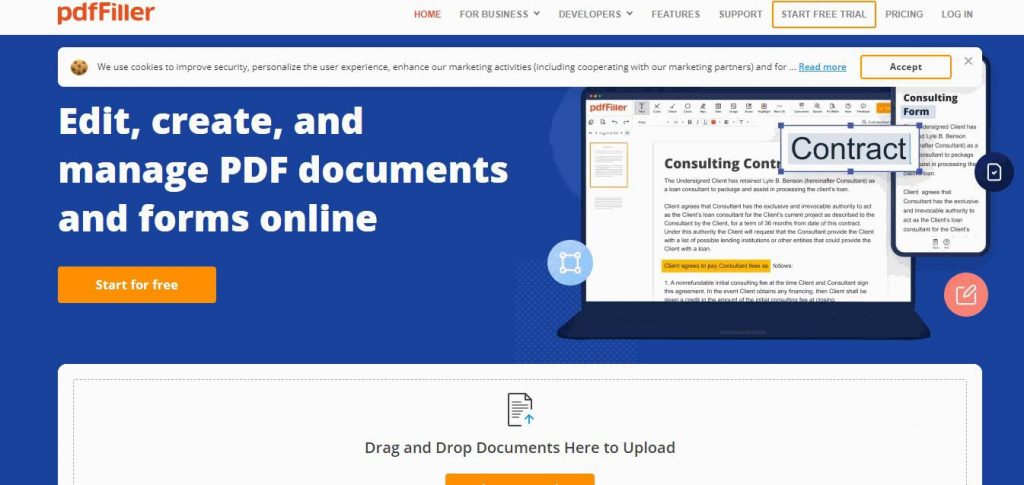 pdfFiller is an online PDF manager that helps you easily convert, edit and save your files. It also allows for collaboration so everyone can work on documents in real-time. Moreover, pdfFiller provides a seamless experience by enabling users to email or upload their files, accessible through the platform's secure login interface – all without complicated credentials.
Unlike DigiSigner, pdfFiller does not include a free tier— although it does have a 30-day free trial as part of its plan. In addition, DigiSigner has a more robust feature set, including customizable templates and mobile signature capture.
The Plus plan is priced at $12 per month, billed annually. It includes converting PDF documents to word documents, reusable editing templates, and password-protecting documents.
Pros:
Easy-to-use interface
The relatively low pricing model
Access to an online library of legal forms
Cons:
Formatting capabilities could be improved
Some PDF changes are difficult to make
UI could use improvement
7. SignNow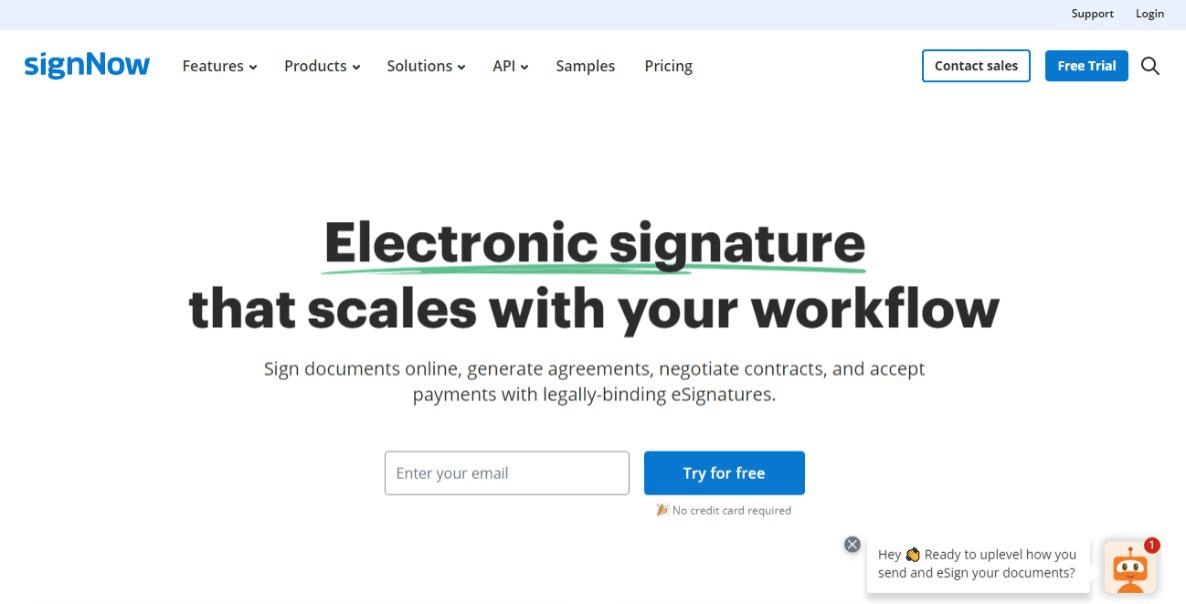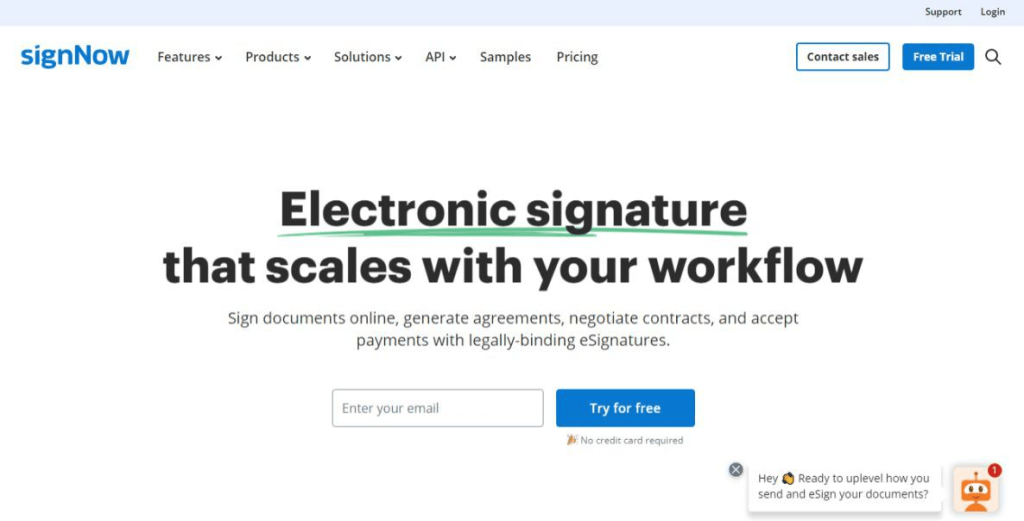 SignNow is a versatile e-signature solution tailored to meet the needs of any business. One key feature of SignNow's platform is unlimited reusable templates which means you don't have to start from scratch each time you send documents for signature. SignNow also allows you to customize your company's branding so your documents always reflect how you want to be perceived.
SignNow has a free trial, and its Business plans start at $8 per user per month (billed annually). They include unlimited templates and multiple languages. At the same time, DigiSigner has a free plan with up to three documents for signing per month and one sender.
Pros:
Affordable pricing
Easy access to document signing online
Payments solution
Cons:
UI could use improvement
The home page could be easier to navigate
Limited editing tools
8. PandaDoc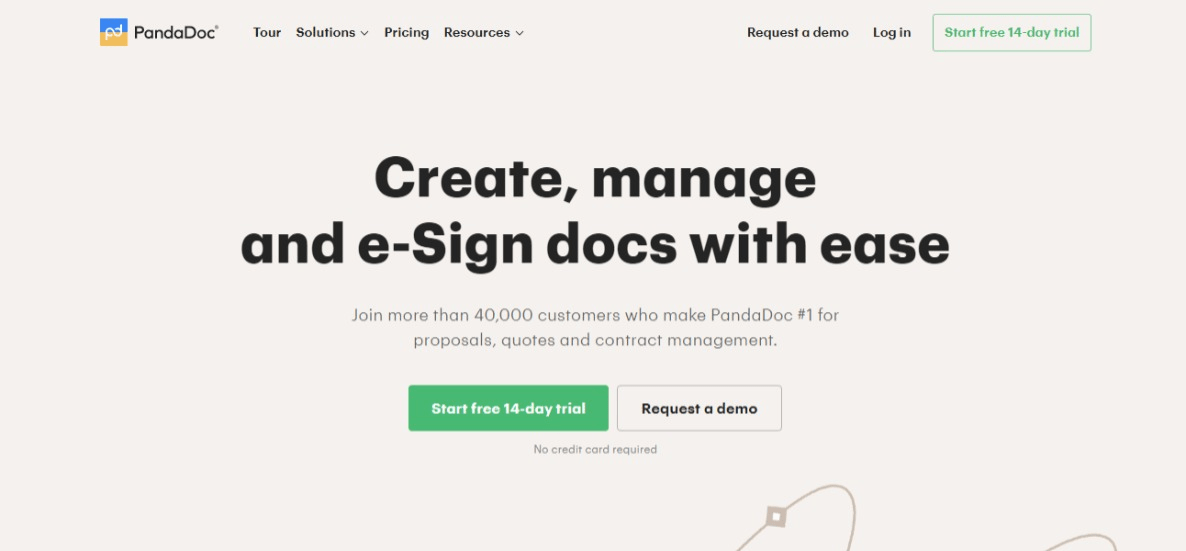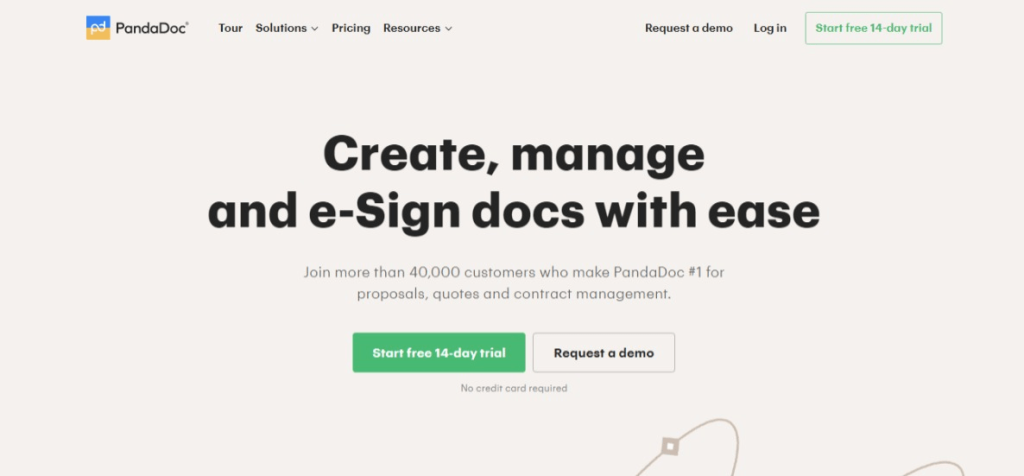 PandaDoc is a cloud-based document signing software that streamlines the legal process for businesses. It's used to create, send documents, and sign PDFs and contracts with just one click. The intuitive interface makes it easy to provide your team members with the necessary tools they need within their workflows – whether processing proposals or tracking document status in real-time seamlessly across different platforms like Zapier.
PandaDoc and DigiSigner offer similar tools, including task tracking, reminders, and customizable templates. However, PandaDoc's mobile app puts it a step above in terms of convenience.
Like DigiSigner, PandaDoc offers a free tier that includes unlimited legally binding signatures, payments, and access to its mobile app. Its Essentials plan starts at $19 per user per month (billed annually) and adds templates and document analytics as its upgrades from the free plan. Here are some PandaDoc Alternatives.
Pros:
Built-in templates
Integrations with Zapier and Salesforce
Easy-to-use mobile app
Cons:
Some usability issues
Limited API functionality
Template design could use improvement
9. DocuSign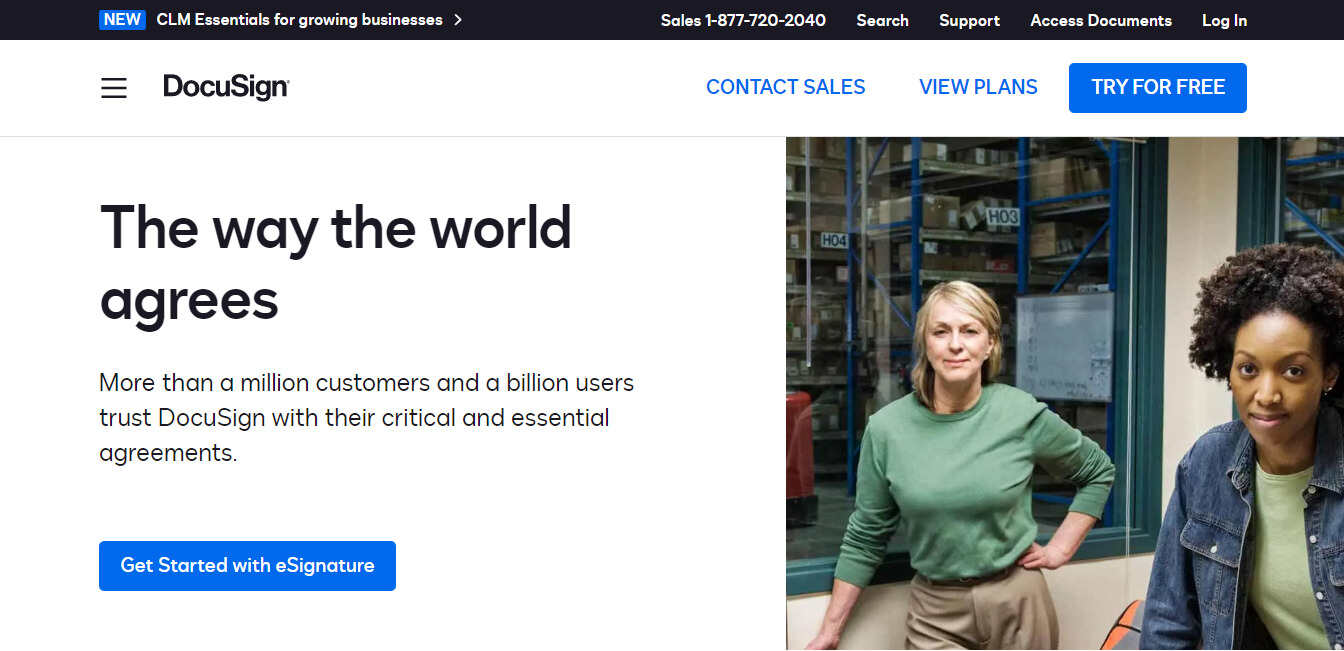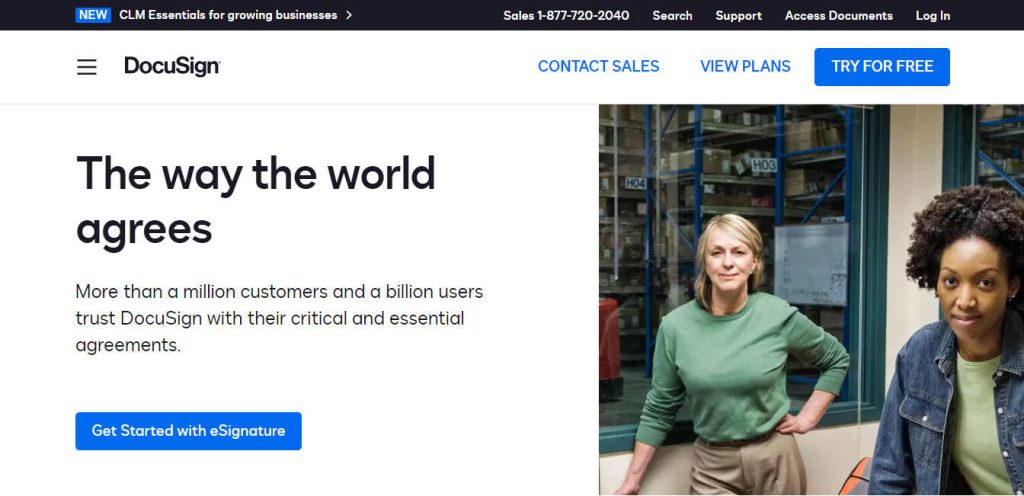 DocuSign is an electronic signature solution that allows users to accelerate business and simplify the management of agreements. With DocuSign, you can quickly sign and complete transactions online with greater security and get real-time visibility into the status from anywhere in your organization through its wide range of integrations.
DocuSign, unlike DigiSigner, offers a mobile app and access to 24/7 support. The platform is also more widely used among enterprise companies with larger teams, while DigiSigner is more popular among smaller businesses. We compared DigiSigner vs. DocuSign in the past.
Pros:
Easy to implement and adopt
Effective for scaling document management
Templates for collaboration
Cons:
Interface needs improvement
Performance issues with API
Costly to implement (Check out our DocuSign's pricing analysis)
10. Zoho Sign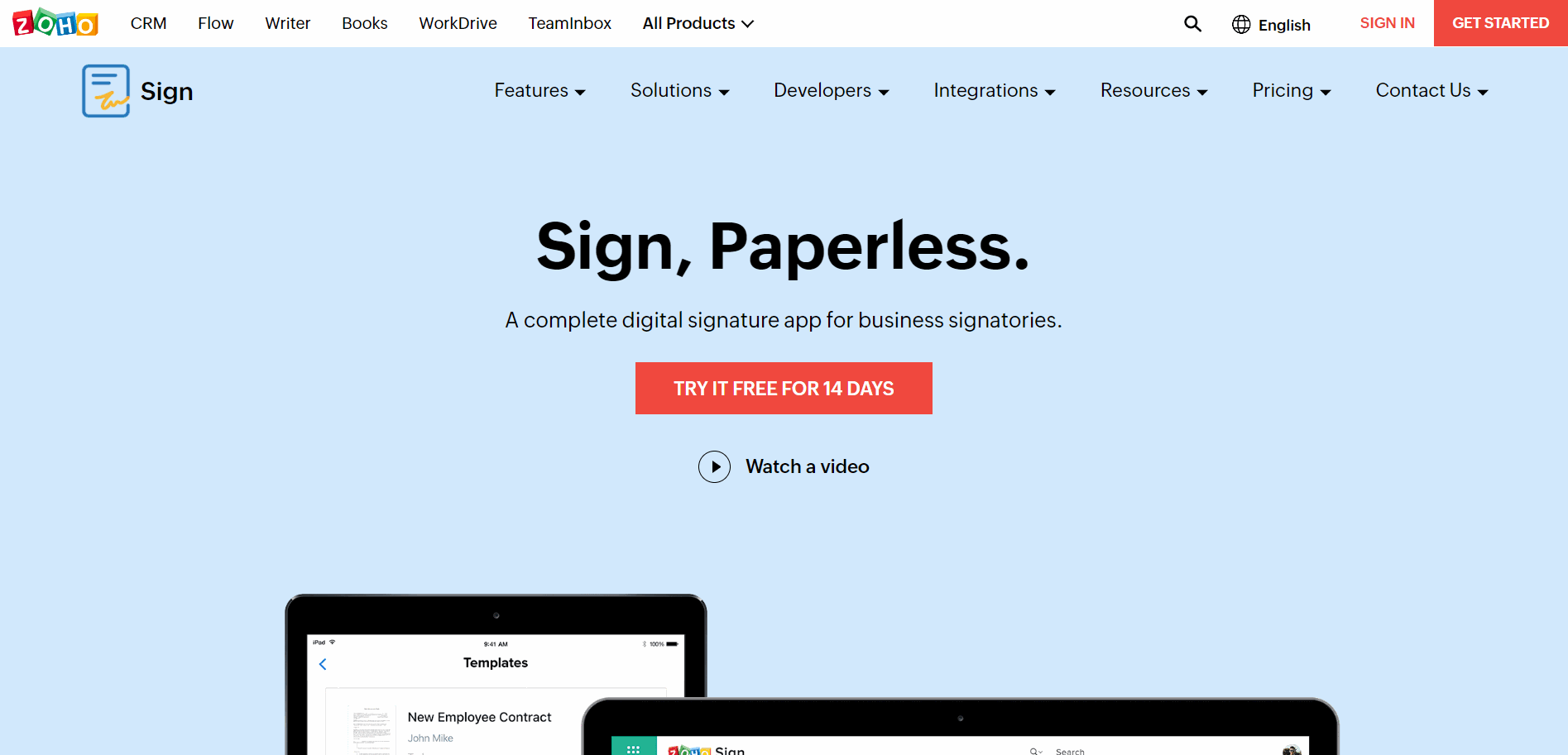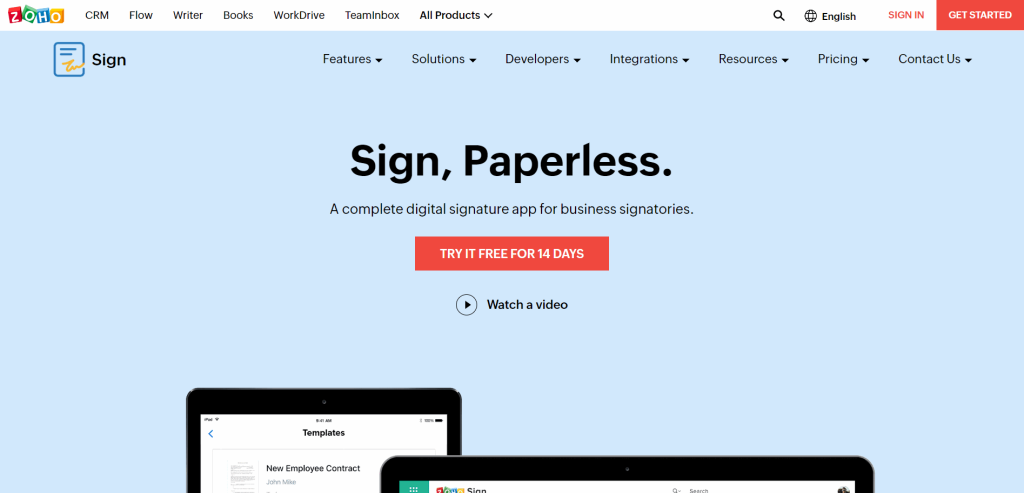 Zoho Sign is a digital signature software that helps you sign documents electronically and converts your signature to a digital signature. A simple interface allows you to add your digital signatures and send documents off for signing by others so they can be tracked. It also offers features like recipient authentication, reducing risk significantly.
Unlike DigiSigner, which is generally more popular with small businesses and insurance companies, Zoho Sign caters to smaller, scaling organizations. In addition, Zoho Sign offers mobile access, which DigiSigner's suite lacks.
Pros:
Native integrations with Zoho apps
iPhone and Android app
Easy to track the signing process
Cons:
Limited in-person signing capabilities
The audit trail could use improvement
Some issues with usability
Bonus: Here are the top Zoho Sign competitors to consider.
How to Choose the DigiSigner Alternative Tool for Your Business
In today's fast-paced business world, legally binding electronic signatures are essential. They enable businesses to quickly and easily sign documents remotely, saving time and money. With so many digital signature tools on the market, it can be challenging to know which is right for your business. It's important to consider key factors in making your decision.
Ease of Use
An electronic signature tool should be easy to use, both for the person signing the document and for the person creating the document. The signing process should be quick and straightforward, and adding fields such as date or title should be easy. The document creation process should also be simple, with a drag-and-drop interface that makes it easy to add or remove text, images, or other elements.
Security & Compliance
When choosing an electronic signature tool, it's important to ensure that the platform is secure and compliant with all relevant regulations. The platform should use encryption to protect documents in transit and have a robust authentication system to ensure that only authorized users can access documents. The platform should also comply with e-signature laws such as the ESIGN Act and the EU eIDAS Regulation.
Plans & Pricing
Before choosing an electronic signature tool, you'll need to consider your budget and what features you need. Some platforms offer a free plan with basic features, while others have tiered plans that provide more features at a higher price. Choose the plan that makes the most sense for your business needs.
What You Need to Remember About DigiSigner Alternatives
So, you're in the market for a digital signature solution. You've done your research and found that DigiSigner is a great option, but it only fits some of your needs. What do you do now? Don't worry; there are plenty of great alternatives to DigiSigner. When looking for a digital signature solution, you should consider a few things that can make your decision more impactful. Signaturely, a top DigiSigner competitor, offers a robust solution with all the features you need at an affordable price.