eSignature software is an important tool for businesses of all sizes. It allows employees to sign documents quickly and easily without printing them out and finding a pen. In 2022, there are several great eSignature options beyond DocHub. We'll dissect 11 DocHub alternatives and compare them, so you can decide which tool is best for your business.
11 Best DocHub Alternatives to Use in 2022
There are a lot of electronic signature solutions out there, so it can be tough to choose the right one for your business. But it's important to take the time to find a solution that fits your needs because the right eSignature solution can save you a lot of time and hassle.
Here are some top PDF editor tools to ease your workflows.
1. Signaturely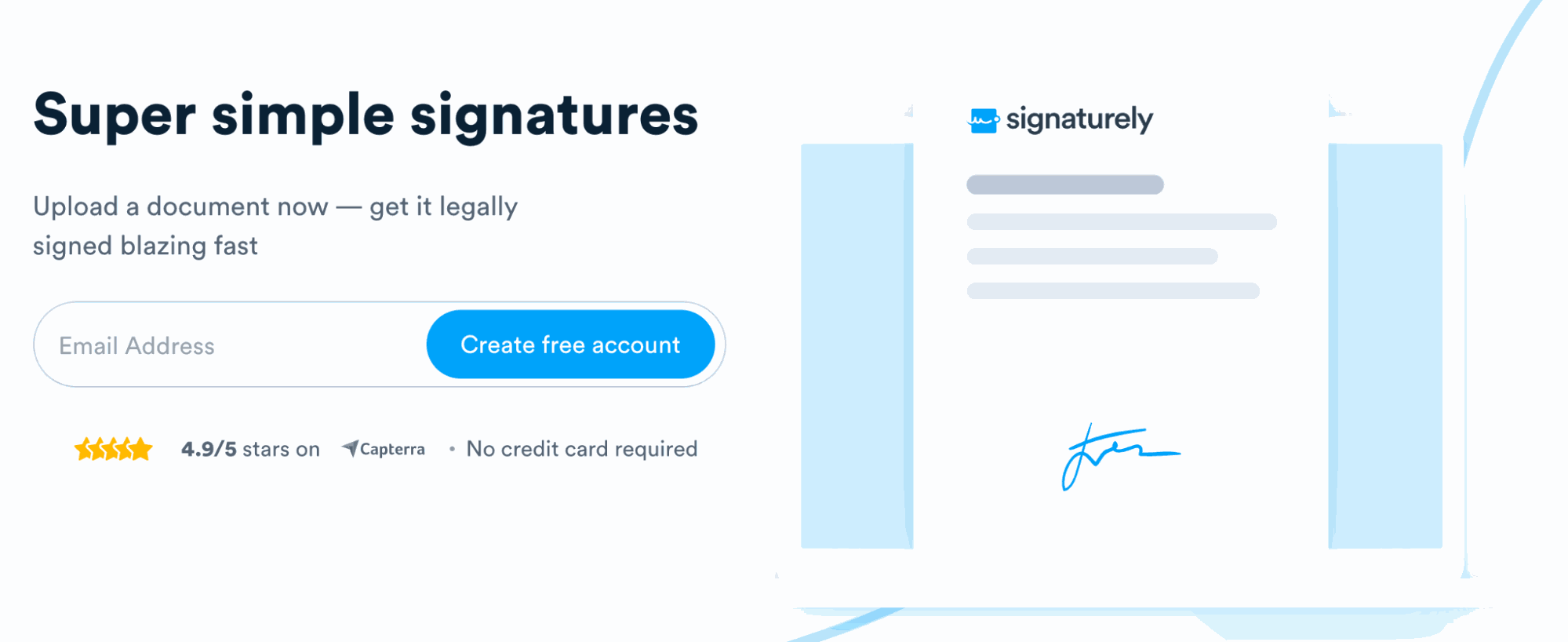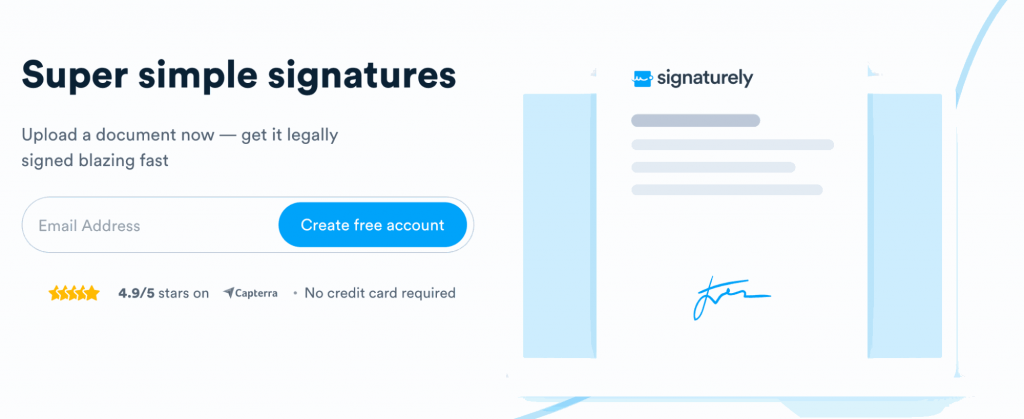 eSignatures are a handy way to get documents signed quickly and easily. Of all the eSignature software on the market, Signaturely is one of the best. For starters, it's extremely user-friendly. The interface is straightforward to navigate, so you'll be up and running in no time. Secondly, Signaturely is highly secure, ensuring that your PDF documents are safe from fraud or tampering. It's also free to use for individual users, so you can try it out before making a commitment.
Signaturely emphasizes ease of use, while DocHub offers an affordable price point. DocHub and Signaturely's free plans allow up to 3 signature requests per month, but Signaturely offers integrations with popular productivity tools. Signaturely's Business plan offers team management and custom branding at $24 per user per month (billed annually).
Key Features:
Easy-to-use eSignature solution
Automated notifications and reminders
Audit log and history
Custom business branding
Integrations:
2. pdfFiller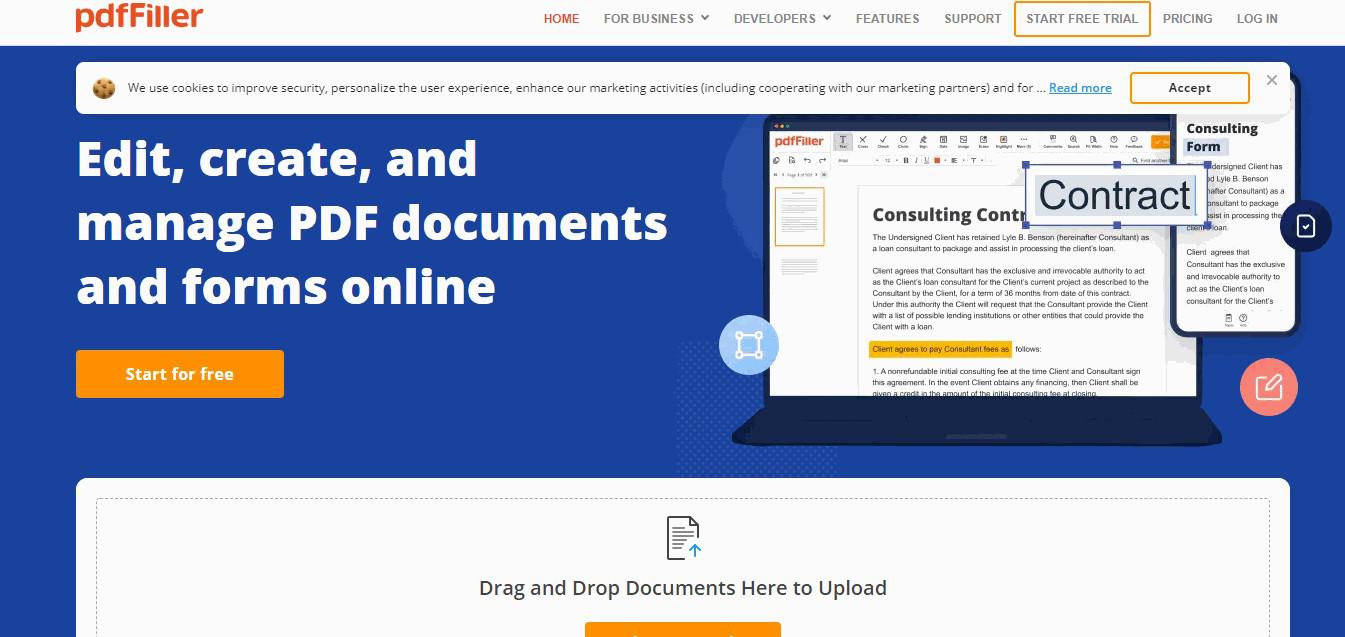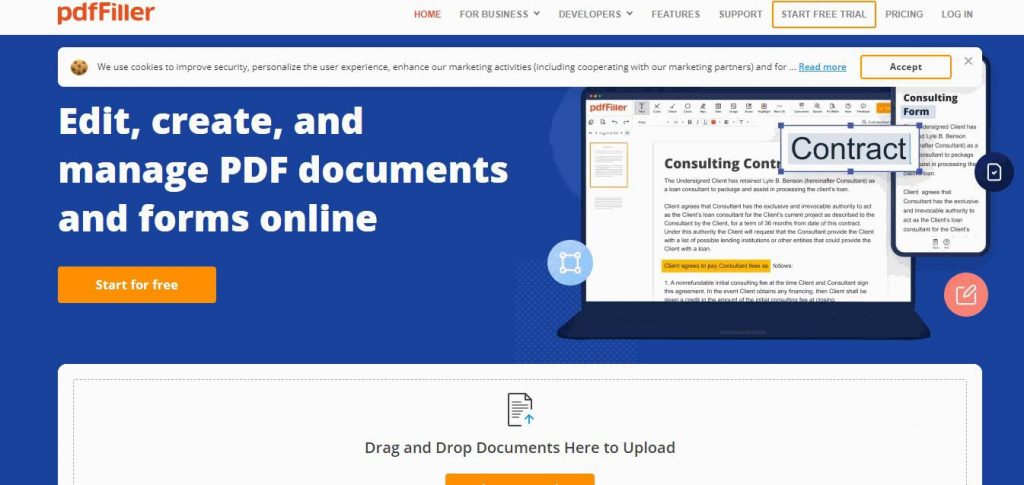 pdfFiller is an end-to-end PDF document management solution that helps individuals, small businesses, and enterprise customers with their processes. With pdfFiller, you can create, edit, sign, and share PDF documents online. The platform also offers a wide range of features to help you manage your PDF documents, including storage, version control, and security. Unlike DocHub, pdfFiller supports web-based, iOS, and Android platforms. It also allows you to comment on and review their PDF documents. On the other hand, DocHub offers PDF document templates and image editing.
Key Features:
Split PDF files
Edit PDF text
Sign documents on the go
Integrations:
3. Nitro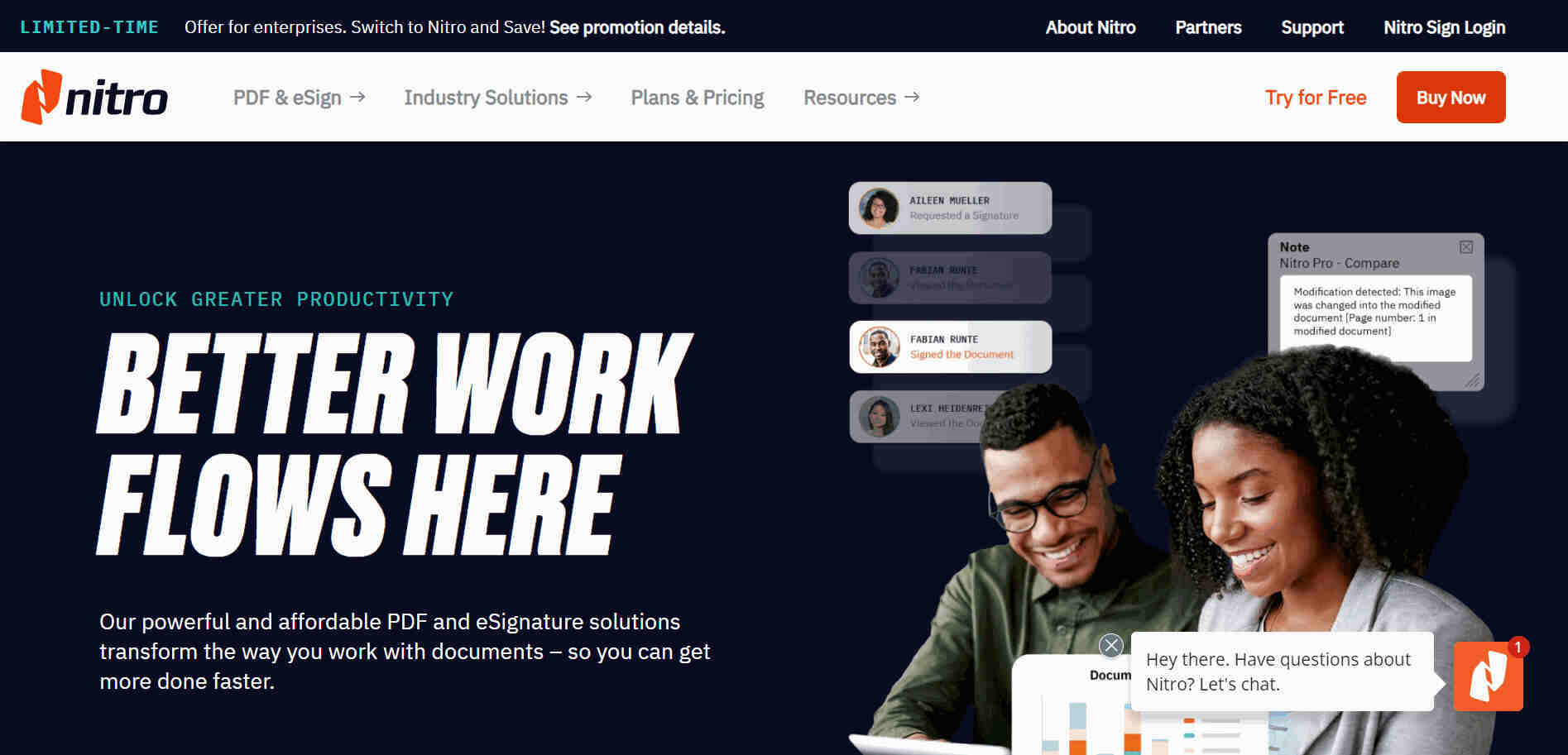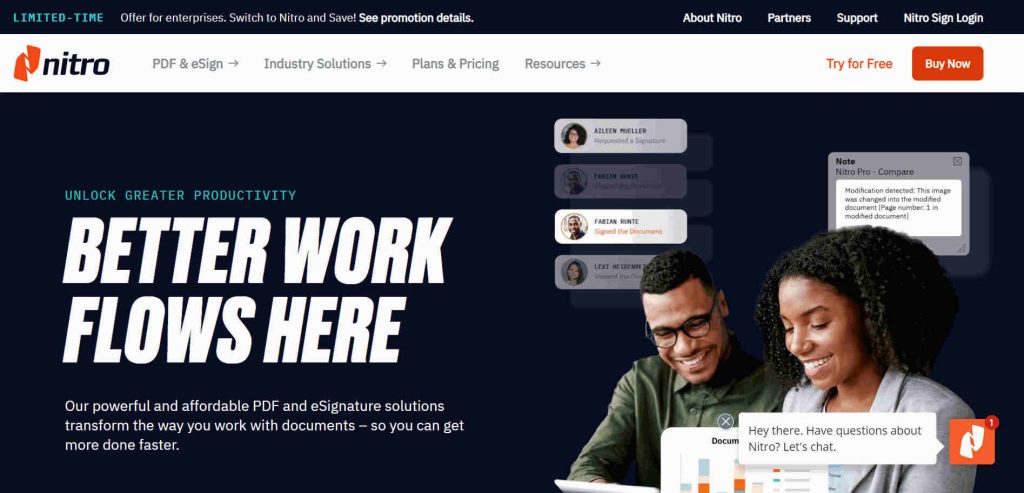 Nitro is a professional PDF document management software that helps businesses streamline their workflows and increase productivity. With Nitro, users can easily create, edit, convert, and share PDF files within a single interface. The software also offers powerful collaboration features, allowing teams to work on PDF documents securely and in real-time. In addition, Nitro integrates with leading business applications such as Microsoft Office and Dropbox, making it easy to use across all your devices. Compared to DocHub, Nitro offers more robust customer support, with webinars and advanced documentation. On the other hand, DocHub provides a free tier with up to 2,000 PDF files and five signatures per month. Nitro PDF Pro is priced at $179.99 and includes up to 20 licenses.
Key Features:
Split PDF files
Secure PDFs
Convert PDF files to Microsoft Excel and Powerpoint
Integrations:
Microsoft Outlook
Sharepoint
Zapier
4. Adobe Sign
Adobe Sign is a comprehensive, cloud-based electronic signature solution that lets you automate your organization's signature processes. With Adobe Sign, you can securely sign, send, track, and manage PDF files and forms from anywhere on any device. Adobe Sign integrates with other Adobe apps and third-party software, so you can continue to work the way you always have while reaping the benefits of digital signatures. Both Adobe Sign and DocHub are SaaS products and offer online support.
DocHub has a slight edge over Adobe Sign in terms of usability. DocHub has a free tier, whereas Adobe Sign only offers a free trial. The Adobe Standard plan starts at $12.99/month. Adobe Sign has some solid alternatives as well.
Key Features:
Access to PDFs from mobile and web
Ability to customize languages
Edit PDF files
Integrations:
5. PandaDoc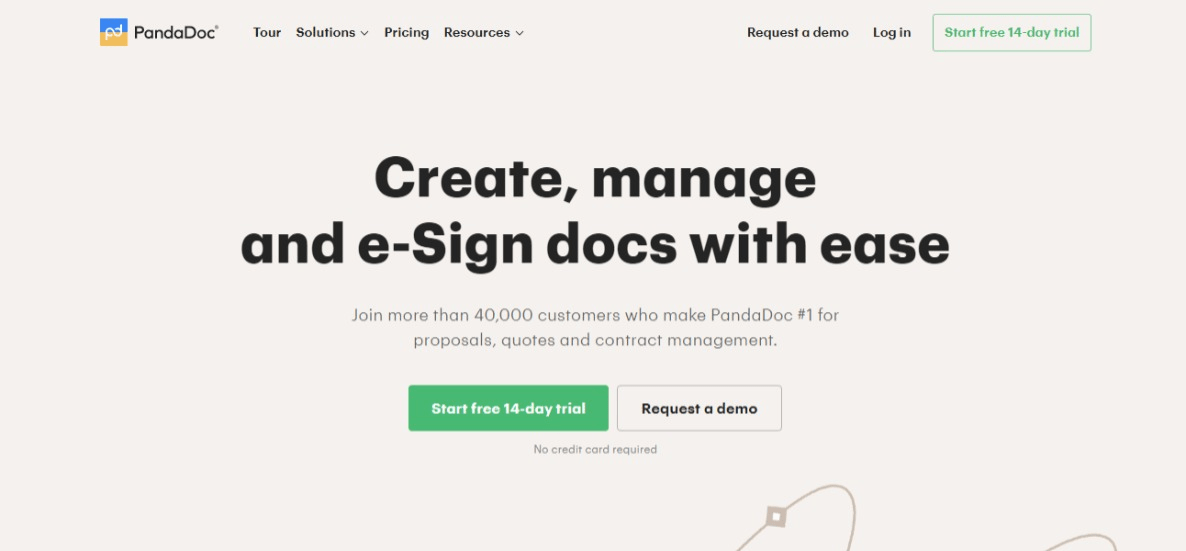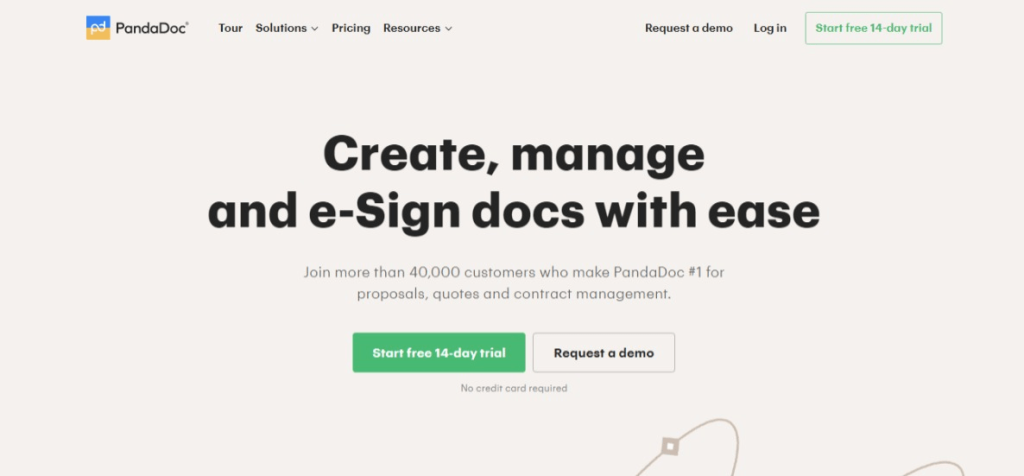 PandaDoc is an online document management system enabling businesses to create, edit, sign, and track PDF files and forms electronically. PandaDoc integrates with popular CRM and accounting software to streamline workflows and improve efficiency. With PandaDoc, users can create professional-looking PDF files using pre-designed templates or build them from scratch. PandaDoc also offers eSignatures, which are used to sign PDF forms electronically. DocHub's PDF file editor has limited functionality and does not include custom branding, whereas PandaDoc includes custom branding, analytics, and robust PDF file management.
Key Features:
Signer workflows
Payment capabilities
Robust set of integrations
Integrations:
Salesforce
Slack
Monday.com
Bonus: Here are our top PandaDoc alternatives.
6. HelloSign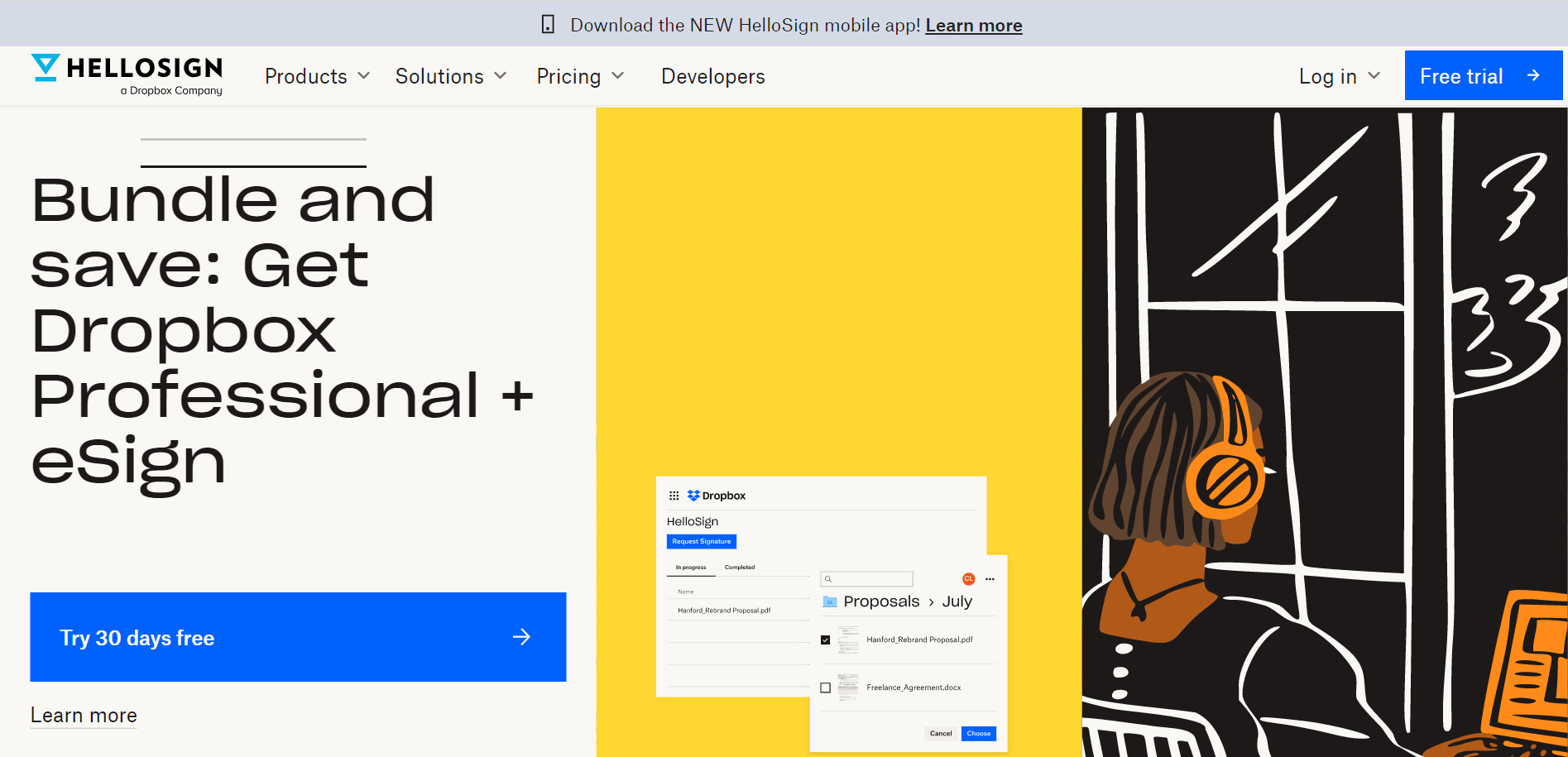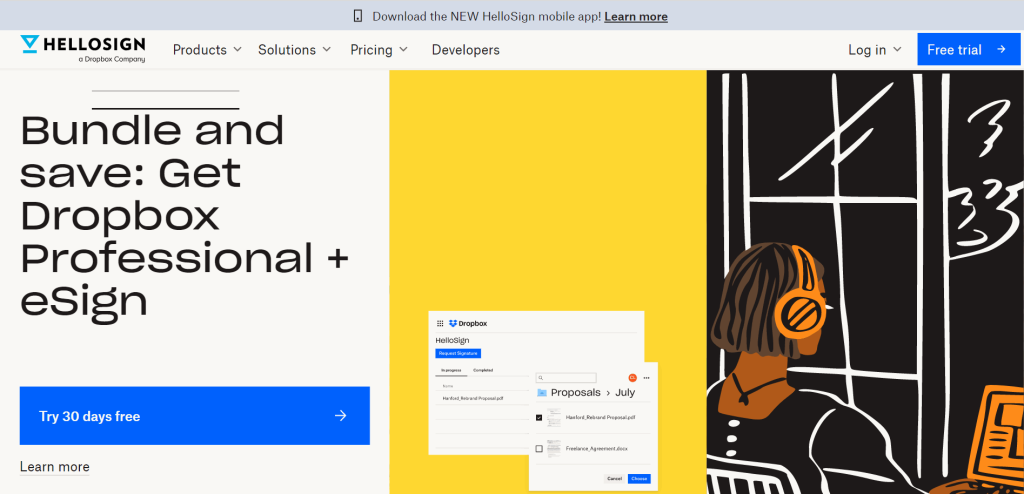 HelloSign was recently acquired by DropBox and provides companies with electronic signature functionality. The platform's technology includes encryption to ensure document security. HelloSign's services are used by businesses of all sizes, from startups to Fortune 500 companies. The platform offers a free trial for individual and team users and paid plans for business users.
Unlike DocHub, HelloSign delivers robust support and training materials for user onboarding. It also offers a large selection of over 90 integrations compared to DocHub's limited lineup. HelloSign is priced at $15 per month (billed annually) for its Essentials plan. This includes access to multiple languages, automated reminders, and up to 5 templates.
Key Features:
Tamper-proof documents
Data validation for fields
Signer attachments
Integrations:
Google Drive
Microsoft Word
Hubspot
Here are other HelloSign alternatives to consider.
7. DocuSign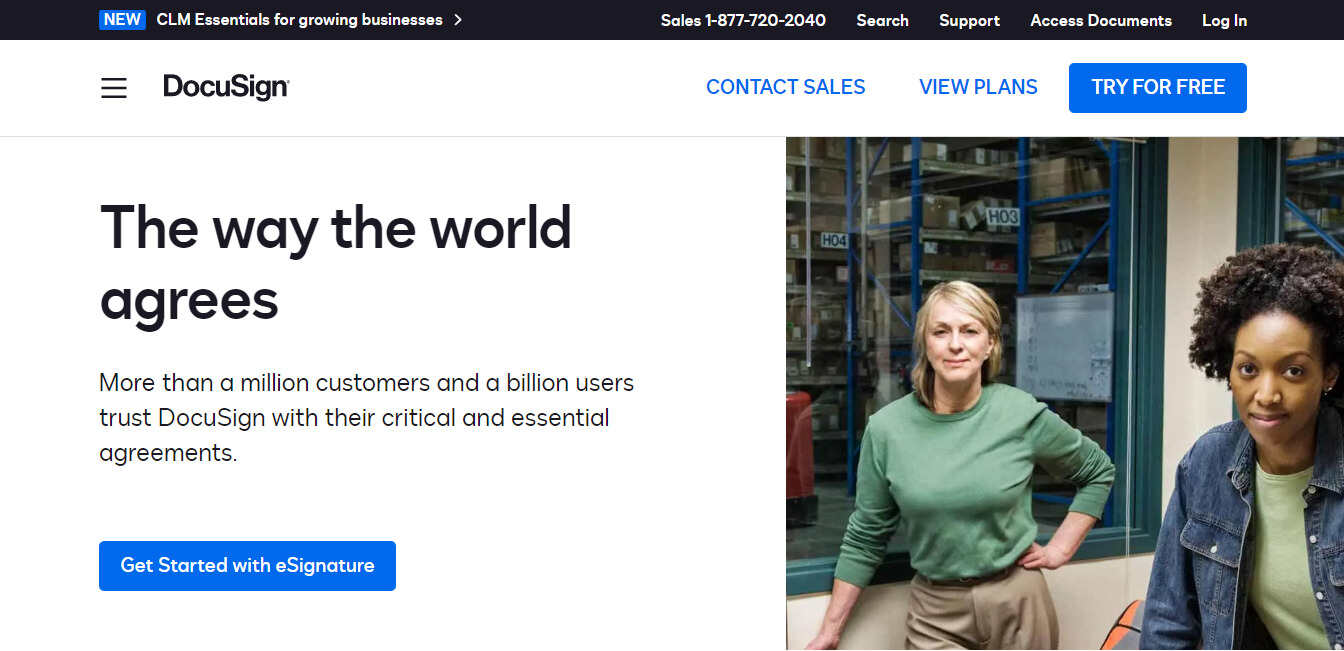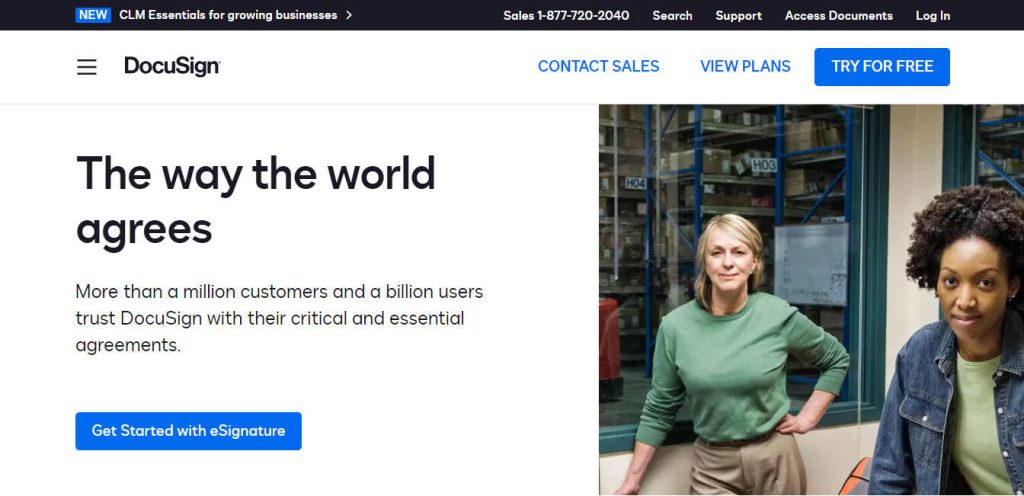 DocuSign is a leading electronic signature platform that helps organizations of all sizes digitally transform their businesses. Companies of all types use DocuSign to accelerate sales, reduce costs, and improve customer satisfaction—from small startups to Fortune 500 companies. Both DocuSign and DocHub have been significant players in the digital signature space. Working with DocHub is generally easier, but DocuSign has more robust CRM integrations and custom branding options. DocuSign plans start at $10 per user per month and include up to five documents per month. In contrast, the DocHub platform offers a more accessible solution—a free tier with up to 2,000 documents.
Key Features:
Shared documents
Collaborative fields
Payment collection
Integrations:
Salesforce
Microsoft Dynamics
Google Drive
Check out our top DocuSign competitor's article.
8. SignWell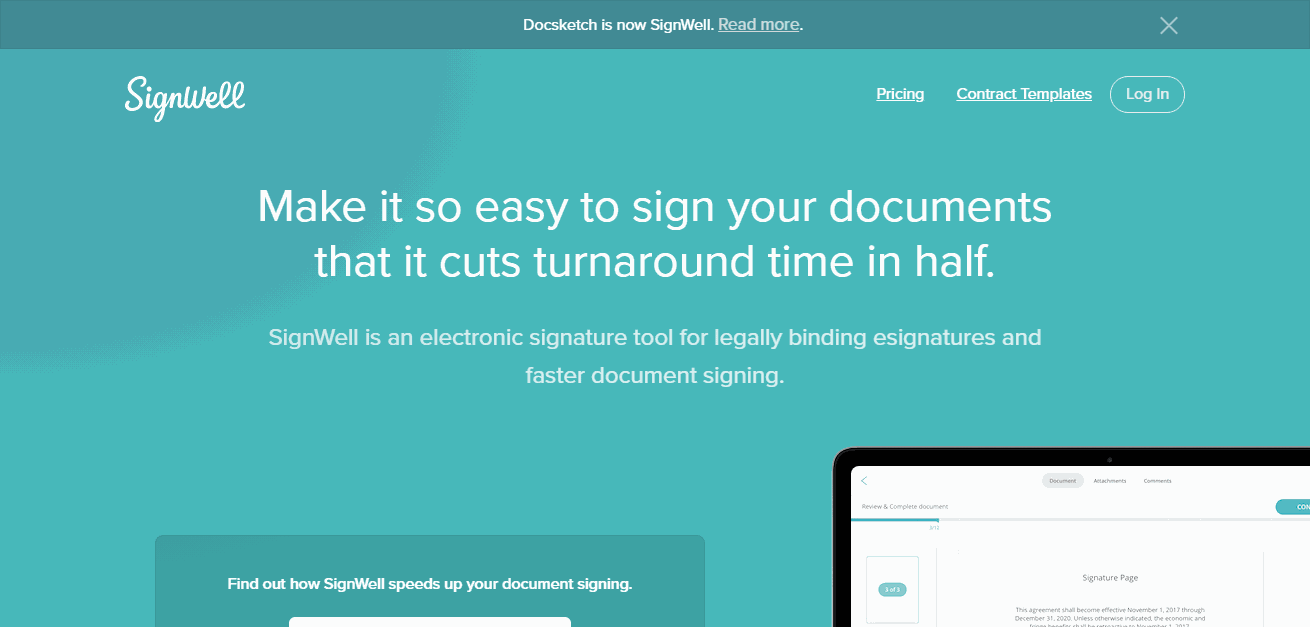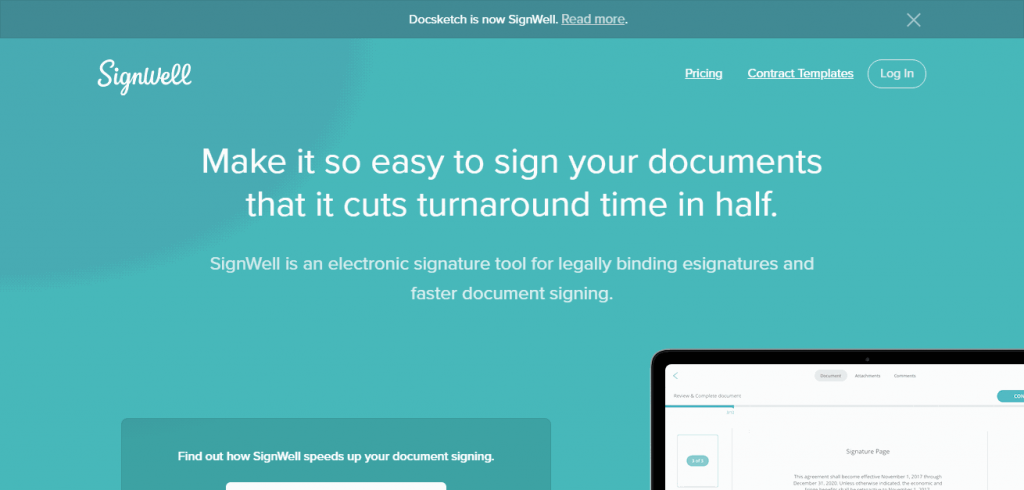 SignWell is an online service that allows users to create and sign an unlimited amount of PDF files and documents per month. The PDF editor is free to use and offers a variety of features that make it easy to create and manage legally binding signatures. For example, users can change the signature order on a document, add or remove signers, and track the status of each signature.
SignWell features a free plan with up to three documents per month. Its paid plans start at $8 per month (billed annually) and include unlimited PDF files, custom branding, and up to five templates. DocHub's similarly priced plan gives you unlimited PDF files, documents, and signature requests but no templates.
Key Features:
Data validation
Edit PDF files
Dedicated support
Integrations:
9. GetAccept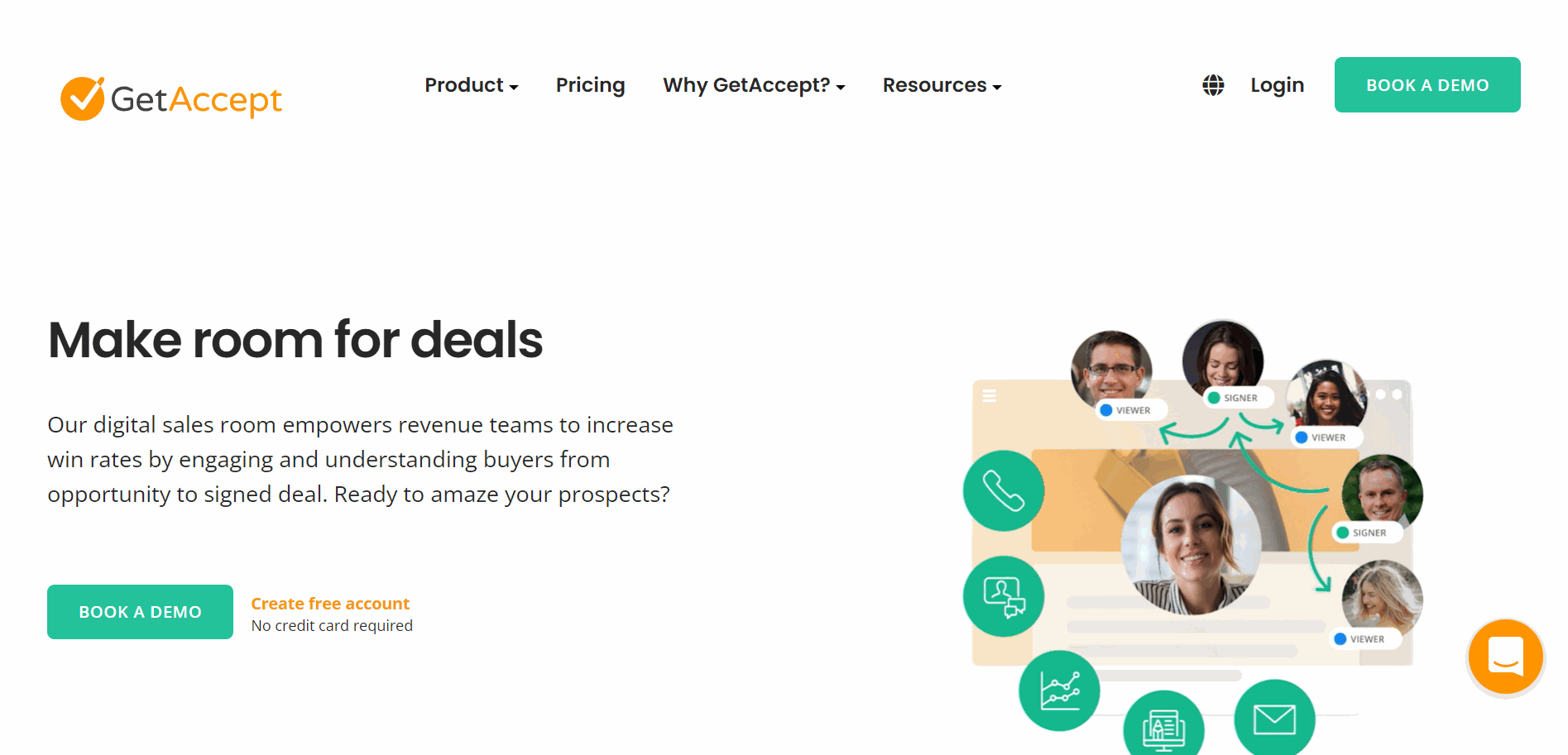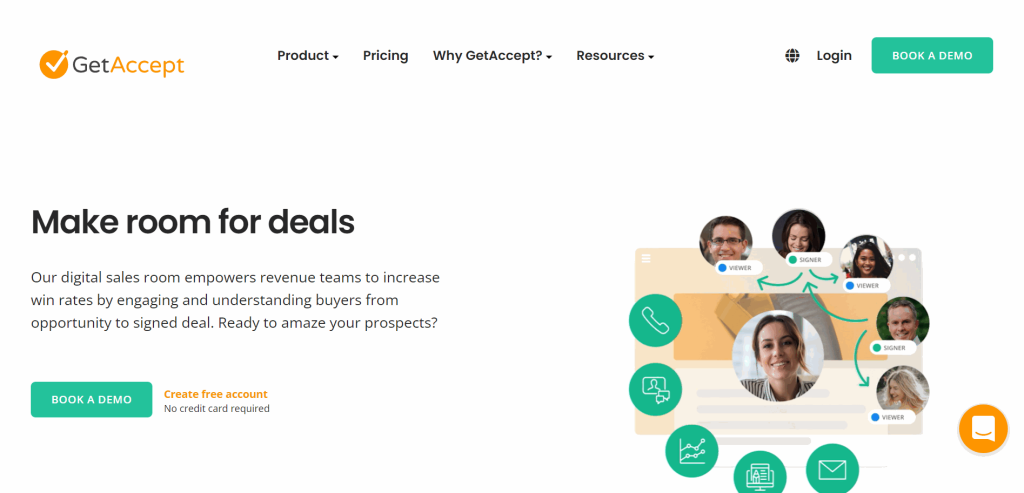 GetAccept is an all-in-one solution that helps sales teams close more deals. It offers a suite of PDF editor tools to streamline sales, including digital signatures, proposal management, and real-time tracking. GetAccept also provides a library of customizable templates to help you get started quickly and easily. Its built-in CRM ensures that your data is always up-to-date and accessible from one central location.
DocHub performs better than GetAccept regarding ease of use and setting up the platform, while Get Accept delivers better customer support. GetAccept's Essential plan is priced at $15 per user per month and includes ten active send-outs per user and access to customer support.
Key Features:
Store send-outs
SMS delivery
Content Library
Integrations:
Check out some GetAccept alternatives here.
10. YouSign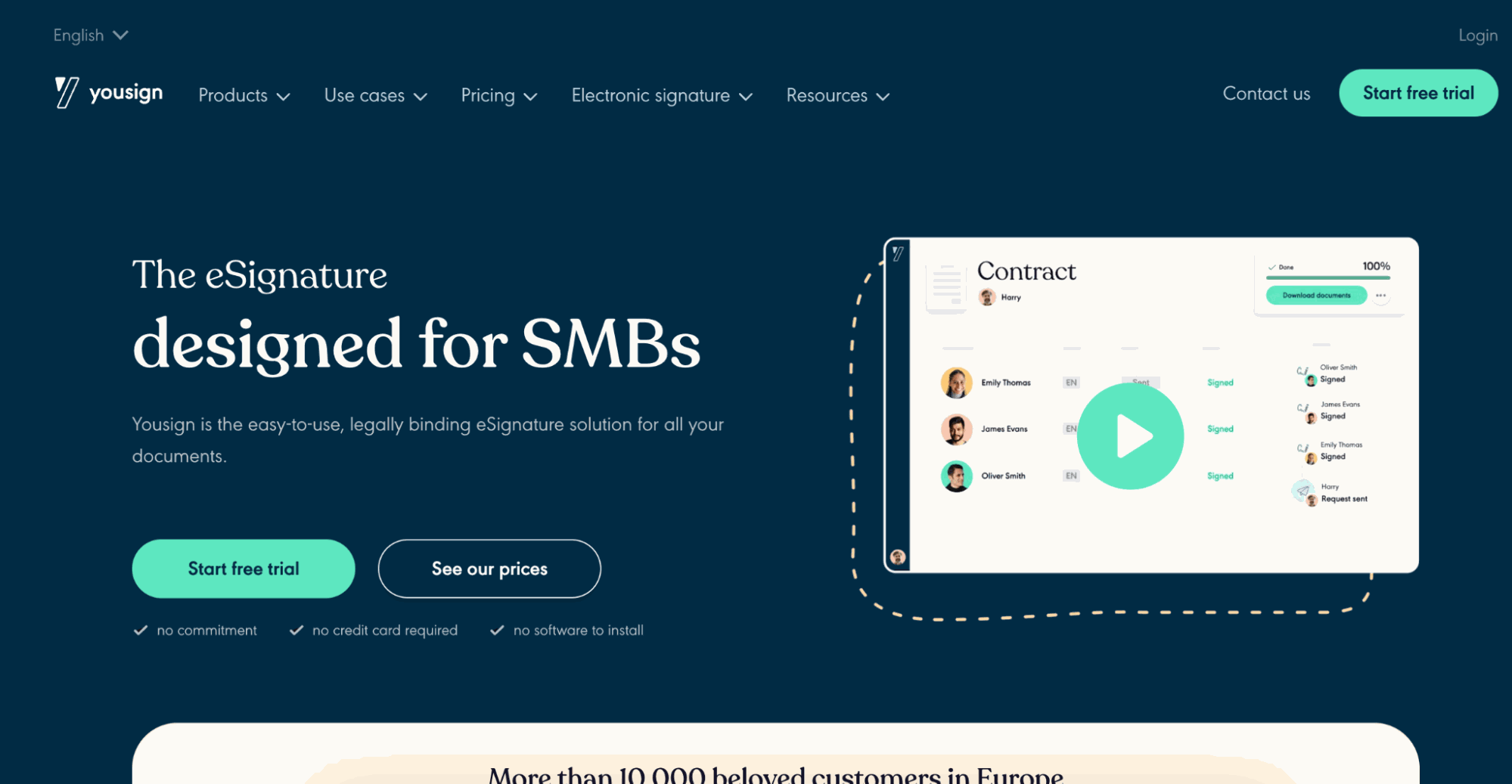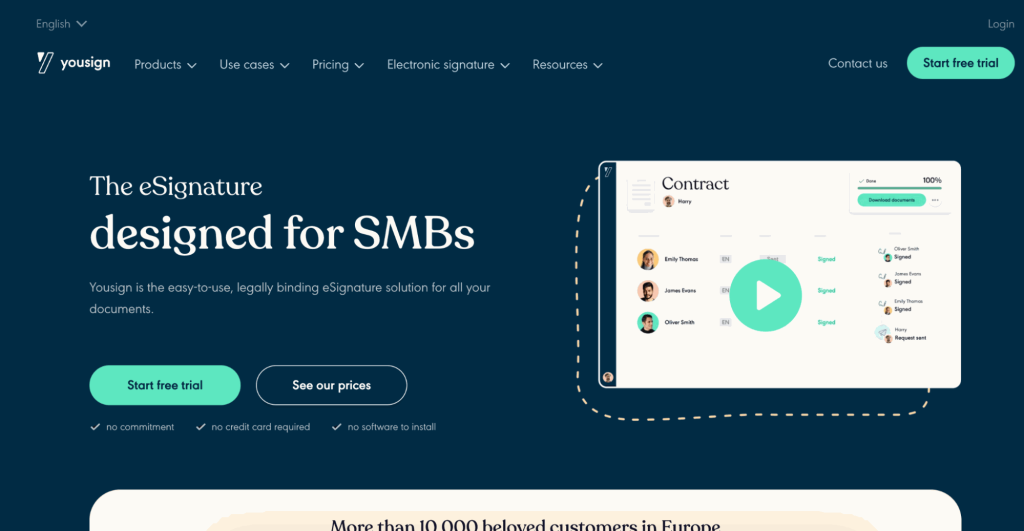 YouSign is a digital platform that makes it easy for small businesses to get PDF files and documents signed by their clients. The platform is simple to use and offers a variety of features, including the ability to track document status, set reminders, and use eSignatures. YouSign is an effective solution for small businesses that need to get PDF files signed quickly and efficiently. The platform offers four pricing plans, starting at $9 per month for individual users, with access to text fields, approvals, and in-person signing. Its Pro plan is priced at $40 per month and includes integrations with Zapier and workflows. DocHub, on the other hand, offers two more accessible plans with limited features.
Key Features:
Roles and permissions management
Access to templates
Social login
Integrations:
11. SignEasy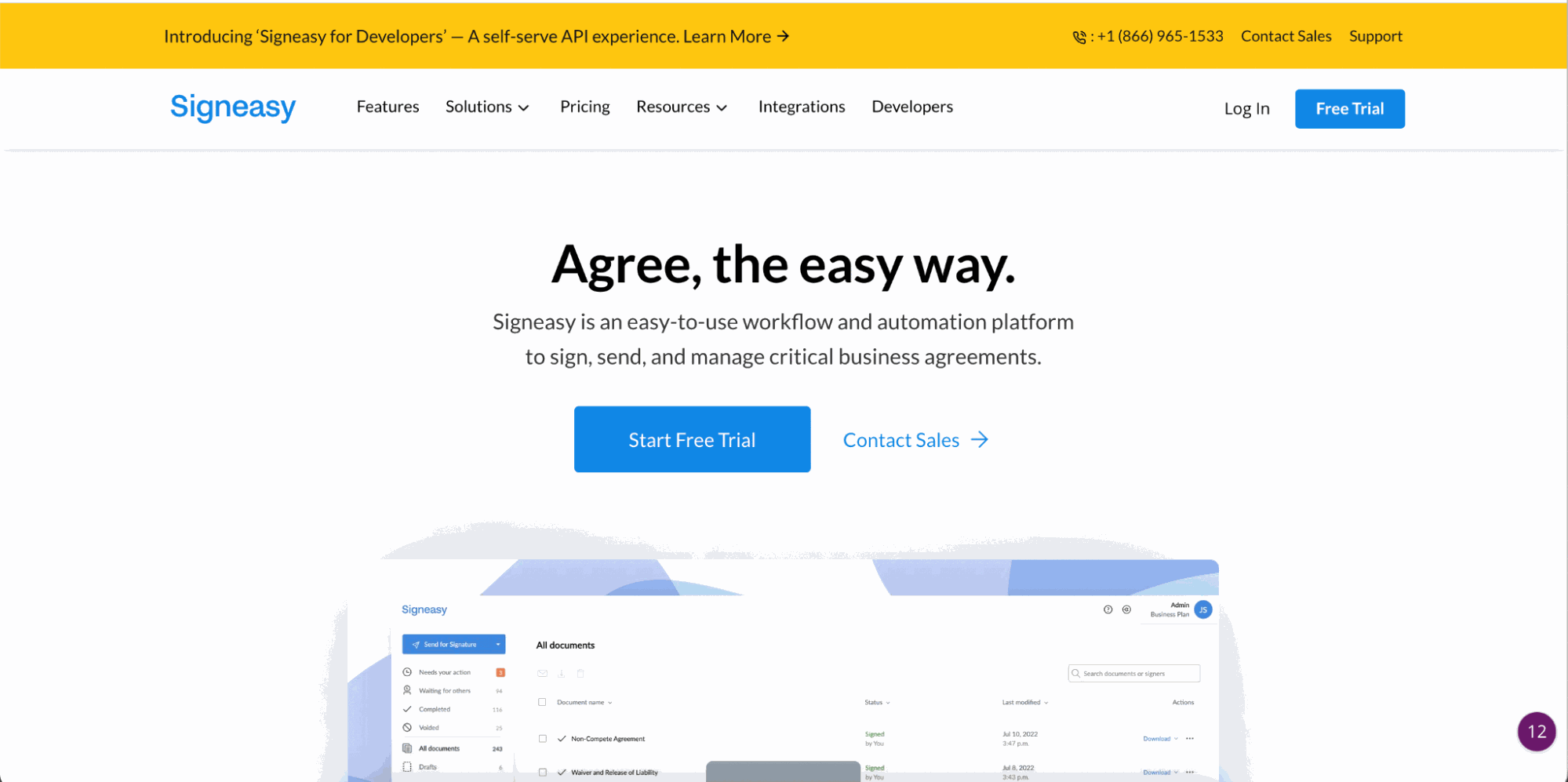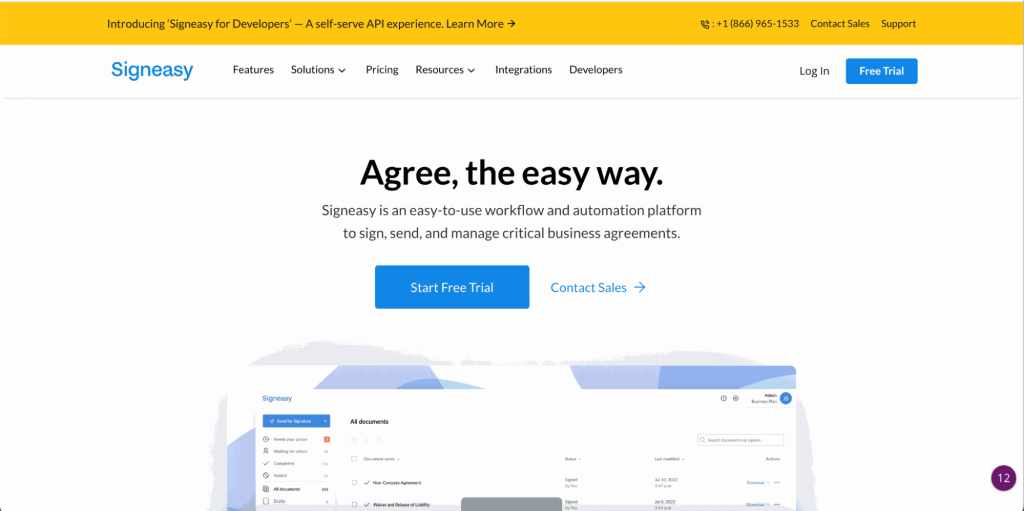 SignEasy is a workflow and automation platform that helps businesses streamline document management. With SignEasy, companies can create reusable templates for frequently used PDF files, generate public signing links for easy collaboration, and track document status in real-time. Unlike SignEasy, DocHub emphasizes ease of setup and use. Conversely, DocHub performs better in ease of use and setup, opting for a minimal interface. Both platforms serve mostly SMB companies. SignEasy offers three plans: Business, Team, and Essential. The Business plan is priced at $30 per user per month and includes a dedicated success manager, HIPAA compliance, and usage reports.
Key Features:
User management dashboard
Mobile apps
Signing via shareable QR code (if you want to use a separate tool, check out those QR code generators or use use Adobe's QR tool)
Integrations:
Google Workspace
Salesforce
Microsoft Teams
How to Choose the Best Electronic Signature Tool
You should consider a few when choosing a signature tool and PDF editor for your business.
Intended Use
Consider how you plan to use electronic signatures within your business. Will you need them for contracts or approval flows? Do you need to digitize your signature? Knowing how your team will use electronic signatures will help narrow down your options—so you can find a PDF editor tool tailored to your organization's needs.
Budget
Of course, budgets are an important consideration when choosing any business tool. It's especially important when choosing a PDF editor tool since there's a wide range of prices. You can find basic electronic signature tools for free, while more advanced options can cost hundreds of dollars per month. It's important to balance what you can afford and what you need to get the job done.
Security & Compliance
Depending on your industry, there may be specific regulations you need to follow when collecting signatures. Choose an electronic signature tool that complies with all relevant laws and regulations. You should also ensure that the company behind the tool takes security seriously. After all, you'll entrust them with sensitive information like signatures and financial data.
DocHub alternatives: FAQs
There are a few frequently asked questions about DocHub alternatives, including:
Does Google own DocHub?
No, DocHub is not owned by Google. DocHub is a document management software that integrates with Google Drive, allowing users to open, edit, and sign PDFs and other documents directly from their Google Drive account. In July 2022, DocHub was acquired by AirSlate, a leading provider of digital workflow solutions.
Which is better: DocHub or LuminPDF?
If you're looking for a PDF editor, you've probably come across both DocHub and LuminPDF. Both offer a free tier, but LuminPDF has more expensive plans overall. So which one is better? LuminPDF has more robust features, but it can be pricey if you're an individual or a small business. DocHub is more accessible in terms of price, but it doesn't have all the bells and whistles found on LuminPDF. Ultimately, it comes down to what you need from a PDF editor and how much you're willing to pay.
Is DocHub Pro free?
DocHub Pro is priced at $10 per user per month (billed annually) with access to unlimited PDF files and saved signatures.
What You Need to Remember About DocHub Competitors
DocHub is a great online tool for teams to sign and edit PDF documents, but it's not the only software dedicated to this purpose. Several other competitors are on the market, so it's important to know what they offer before deciding which product to use. This article has been a comparison of DocHub and some of its top alternatives. Overall, DocHub is a very competitive product with a lot to offer. If you need a tool for creating or editing documents online, evaluate your options carefully to make the right choice for your business.