Many people who use Dropbox to share or store documents may not know that it's possible to sign documents directly on the app. It's unnecessary to download the file and sign it using other software. 
To streamline your workflow and boost productivity, use our handy guide to learn how to sign documents on Dropbox!
Can You Sign Documents On Dropbox?
If you use your Dropbox account for storing and sharing documents that you or others need to sign, you've probably asked yourself if you can sign them while on the platform. The answer is yes, with the help of some tools.
Look for an e-signature app like Signaturely that integrates with Dropbox.  
Using an e-signature app makes signing digital documents much easier. You no longer need to move documents from one cloud storage software to another or send them to your email to add your signature. 
Dropbox can be integrated with your electronic signature tool, making signing documents more straightforward, convenient, and secure.
Benefits of Using an Electronic Signature to Sign Dropbox Documents
There are many benefits of incorporating e-signatures into your workflow:
1. The Signing Process is Quicker and More Convenient
Using an electronic signature is much easier than moving documents between two cloud storage platforms. No third-party tools are required, so you can easily sign documents on Dropbox—it could take as little as 15 seconds or less! This is much more convenient than using any other signing method.
2. Electronic Signatures Are More Secure
Traditional wet signatures can easily be copied or forged. In contrast, electronic signatures have built-in security and authentication measures that guard against fraud.
Digital documents contain detailed histories of when they were opened, altered, and signed. And when an e-signature is placed, the activity is included in an audit trail, which includes a timestamp, the signer's geolocation, IP address, and other identifying information. Furthermore, all documents are digitally secured by public key infrastructure (PKI), an industry-standard technology.
3. Easy Integration With Your Workflow
When you use an e-signature app like Signaturely, you only need a few clicks to sign documents. They also make it easy to send them along to collect signatures from other parties if necessary. Signaturely integrates seamlessly with Dropbox, Google Drive, OneDrive, and Box.
You can save signed copies of your documents and sales agreements, automatically sync and track document statuses, and safely store them on the cloud. E-signature apps will save you time and help you create a seamless workflow on one dashboard! 
How to Sign Documents on Dropbox
Dropbox has a built-in feature that lets you sign your documents directly through the app. You just need to click on the feather Dropbox icon from the Signature view and input your text or draw your signature.
Sign Dropbox Documents Using HelloSign by Dropbox
HelloSign is an e-signature app that helps you sign Dropbox documents. It integrates directly with Dropbox, so signing documents is incredibly convenient.
To securely sign your document, follow these simple steps:
Open your Dropbox account and select the files that you want to sign.
Click on the small HelloSign by Dropbox icon under the file name.
Once you're in the app, select HelloSign by Dropbox as your e-signature application and follow the instructions to sign your document.
Once you get used to signing documents on Dropbox using your electronic signature, you'll be amazed at how much time you save signing future documents. You don't need to worry about moving documents across apps or importing your signature from anywhere else; it's all there on the platform!
A Better Way to Sign Dropbox Documents – Signaturely
The Signaturely eSignature API tool is an e-signature tool that is not cloud-dependent. This means you can sign important documents even if they're stored in another cloud storage service, like Dropbox. You can also use this API tool to sign web forms and other digital documents.
This tool is easy to integrate with Dropbox so you can use it in place of the native signing feature.
How to Sign Dropbox Documents Using Signaturely in Less Than 5 Minutes
You don't have to be an IT genius to sign documents on Dropbox. Signing with Signaturely is as simple as filling out a form. Just follow these steps:
Log in to your Signaturely account.
Click on the "Sign" from the menu on the left side of the screen.
Import your file from Dropbox.
Once the file has been imported, click "Prepare Doc for Signing."
Affix your e-signature and send the document off.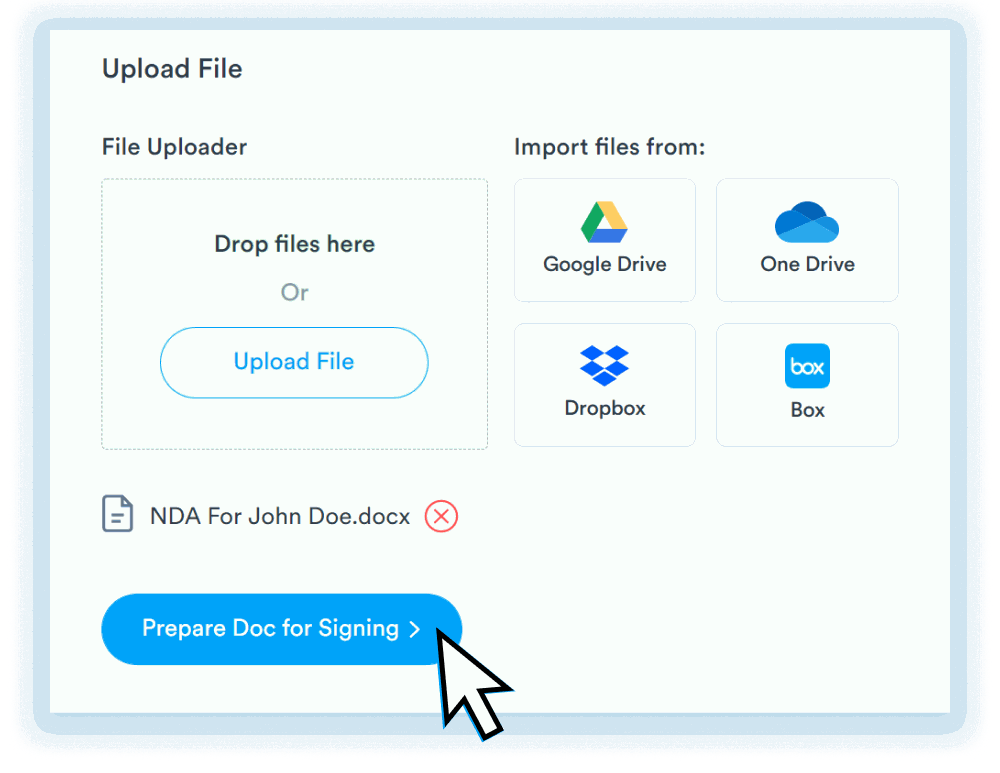 Unlike HelloSign, Signaturely lets you do everything in just a few taps. It also automatically scans your document to look for signature fields, so you don't miss a thing. 
How Do I Request A Signature In Dropbox?
If you want to request a signature from another party using Dropbox, follow these steps:
After signing into your Dropbox account, search for the document you need on the search bar at the top of your page.
Once your document is ready, click the Request a Signature button.
You can click the In Progress button to view your requests that are still in progress. The Completed tab will show any requests that have already been completed.
If you're signing a document inside Dropbox, a text box will appear automatically on the page where you're signing the document. This text box is a way for other signers to contact you directly. It speeds up any communication needed to get documents signed quickly.
The Signaturely app also automatically scans for blank signature boxes and fills them out for you. You don't have to do anything else, making your signature request much easier and simpler. It's the best way to request signatures in Dropbox.
Common Questions About Signing Dropbox Documents
Below, we answer some frequently asked questions about signing Dropbox documents:
Is HelloSign free with Dropbox?
A free HelloSign account is created once you send a signature request using Dropbox. It's free, but there is a limit to how many signature requests you can send each month.
How do I get an electronic signature?
Getting an electronic signature is quite simple. The easiest way is via an electronic signature tool like Signaturely. Once you create a free account, you can upload your document, open it in the app and follow the instructions for attaching an electronic signature.
You can do this three ways: Type your name, sign using a stylus pen, or scan your handwritten signature.
Can you sign a power of attorney online?
You can produce legally binding signatures for your power of attorney online using electronic signature software like Signaturely. 
However, some important legal documents require a notary. Software such as Notarize can simplify the process by connecting you with a notary online.
Remember This About How To Sign Dropbox Documents
If you're wondering, "How do I sign a Dropbox document?" the answer is simple – use an e-signature tool like Signaturely to sign Dropbox documents. The app includes features that make it a breeze to send contracts, important agreements, and signed documents via simple link sharing. Signaturely also makes requesting signatures from other parties simple and efficient.