In this article, you'll learn what a signature request is and how to use it properly.
We'll also talk about:
Why you should send signature requests online
How to request a signature online
How to request a signature in person
The best tools to use to request and complete a signature
By the end of this article, you'll know exactly how to ask for a signature and which tools you should use to make the whole signing process as quick and easy as possible.
Let's get started.
What Is a Signature Request?
A signature request is a process by which you ask someone to sign your document either in person or online.
The signature request is vital to the success of the signing process since it dictates how quickly the document will be signed, or if it will be signed at all.
This is why it's important to know how to request a signature and to have the right tools to guarantee the signature will be completed.
Benefits of Sending a Signature Request Online
There are many reasons why online signature requests are better than handwritten signature requests.
They're Easier
Asking for a signature online is as easy as selecting the right email template, filling it out, and sending it through a message or email.
There's no forgetting important details or worrying about your tone or wording. Once the template is set up, your signature requests will be easy to complete.
They're Faster
You don't need to wait until your signee is available to send a signature request. An email can be sent at any time, and your signee can read it at their earliest convenience.
When you send the signature request, they'll receive it immediately, regardless of where they are or what they're doing: no more tracking documents or missing the postman.
Sending multiple signature requests is as simple as adding additional email addresses to the right platform and letting the platform do the repetitive personalization tasks.
They're Cheaper
Since you're not paying for physical mailing expenses, driving anywhere, or meeting anyone, you'll spend less time and money asking people for their signatures.
You also don't have to pay for printers, ink, or paper because everything is done electronically. This leads us to the next point.
They're Greener
Have you ever had to print a multiple-page document because of a misprint or a misspelled word? This is wasteful and leads to a larger carbon footprint—all for the sake of one signature.
Online signature requests are greener because you don't need to waste ink or paper, and electricity is saved in asking for the signature.
They're Safer
Contrary to what many people may believe, online signatures are far safer and as legally-binding as physical signatures.
Starting with the signature request, all process steps are saved online, and the signatures themselves collect enough online information to legally record the intent and connect it to the person signing it.
So, how do you ask for a signature online and in person?
5+ Ways to Request a Signature From Clients and Colleagues
Here are several ways to request signatures from your clients and colleagues.
How to Request an E-Signature
Requesting a signature online is easy, as long as you have the right tools. Here's how to do it:
Using Electronic Signature Software
The best way to start the online signature process is by using an online signature tool such as Signaturely.
Signaturely is one of the easiest tools you can use to request and provide signatures online. All that is required is to create a free Signaturely account and connect it to your Google Drive. Next, prepare your online signature by drawing, typing, or uploading an existing one.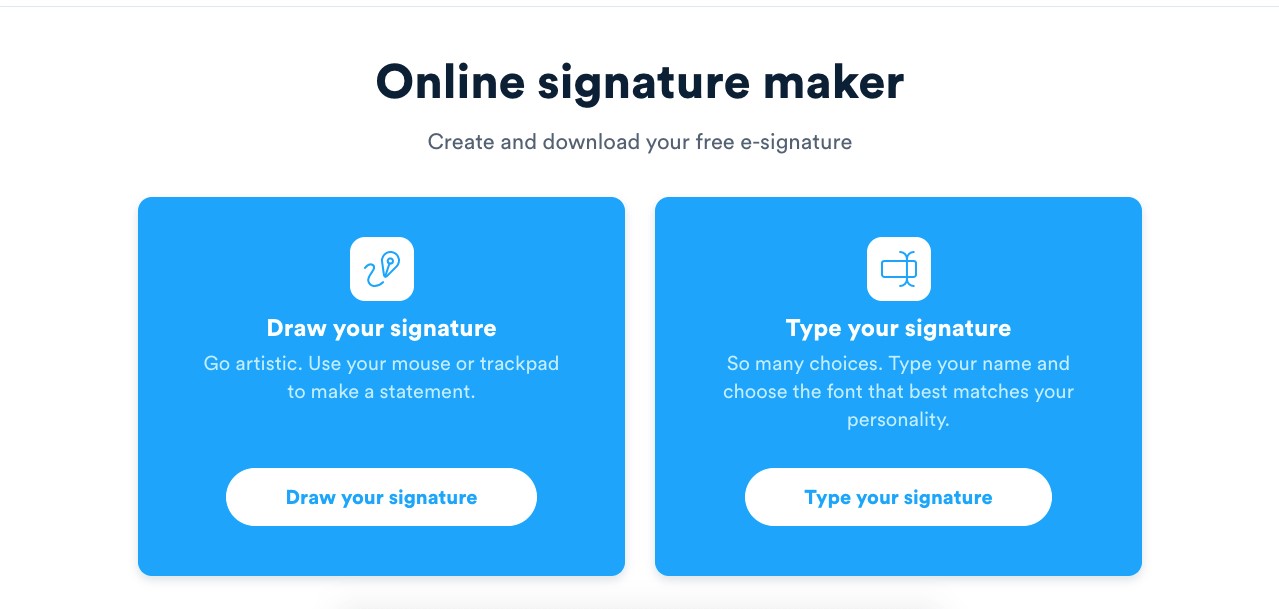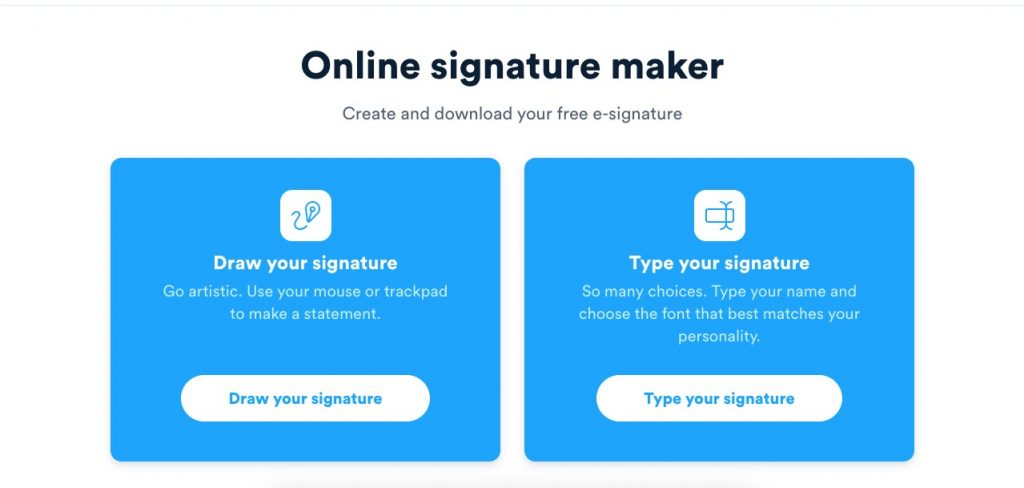 We have an online signature generator. If you're drawing your signature, you can adjust the thickness and color of the line. You can personalize it by choosing from various fonts and colors if you're typing it.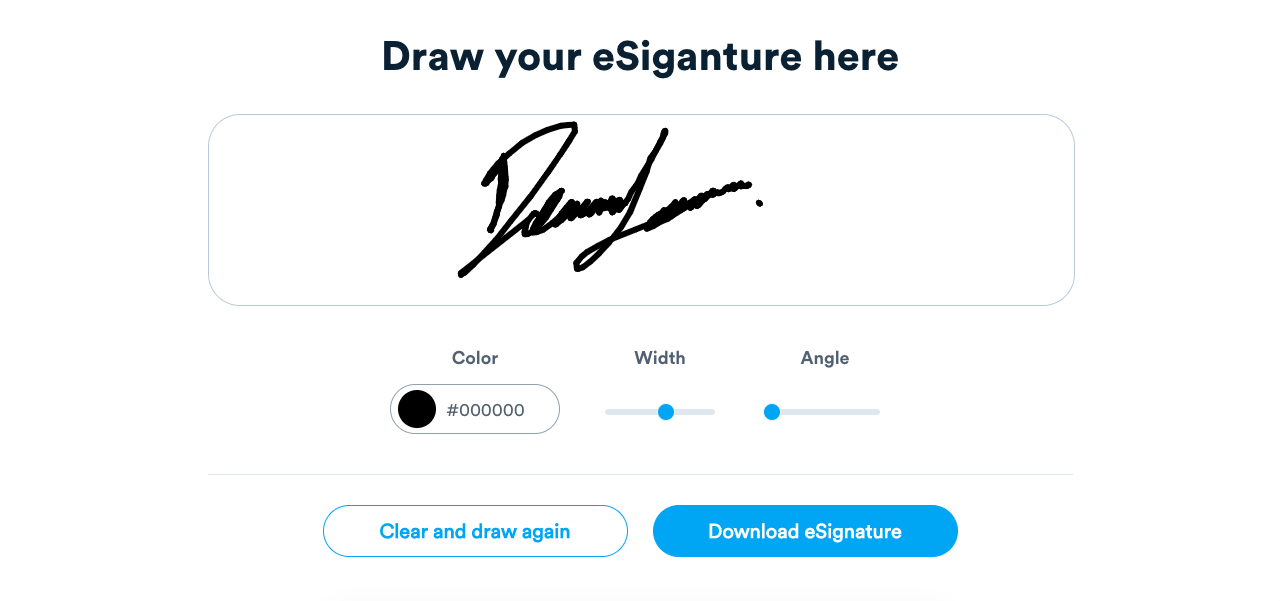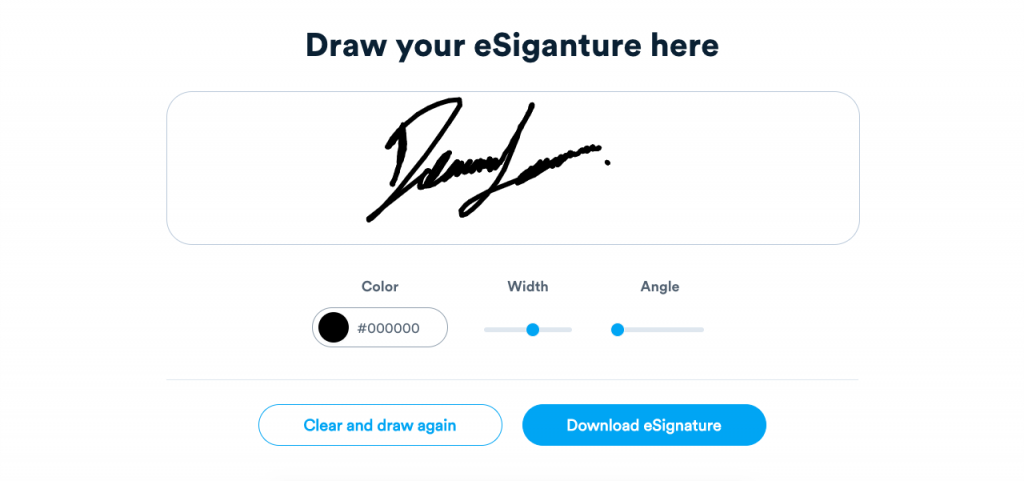 Once your signature is ready, it's time to prepare your document.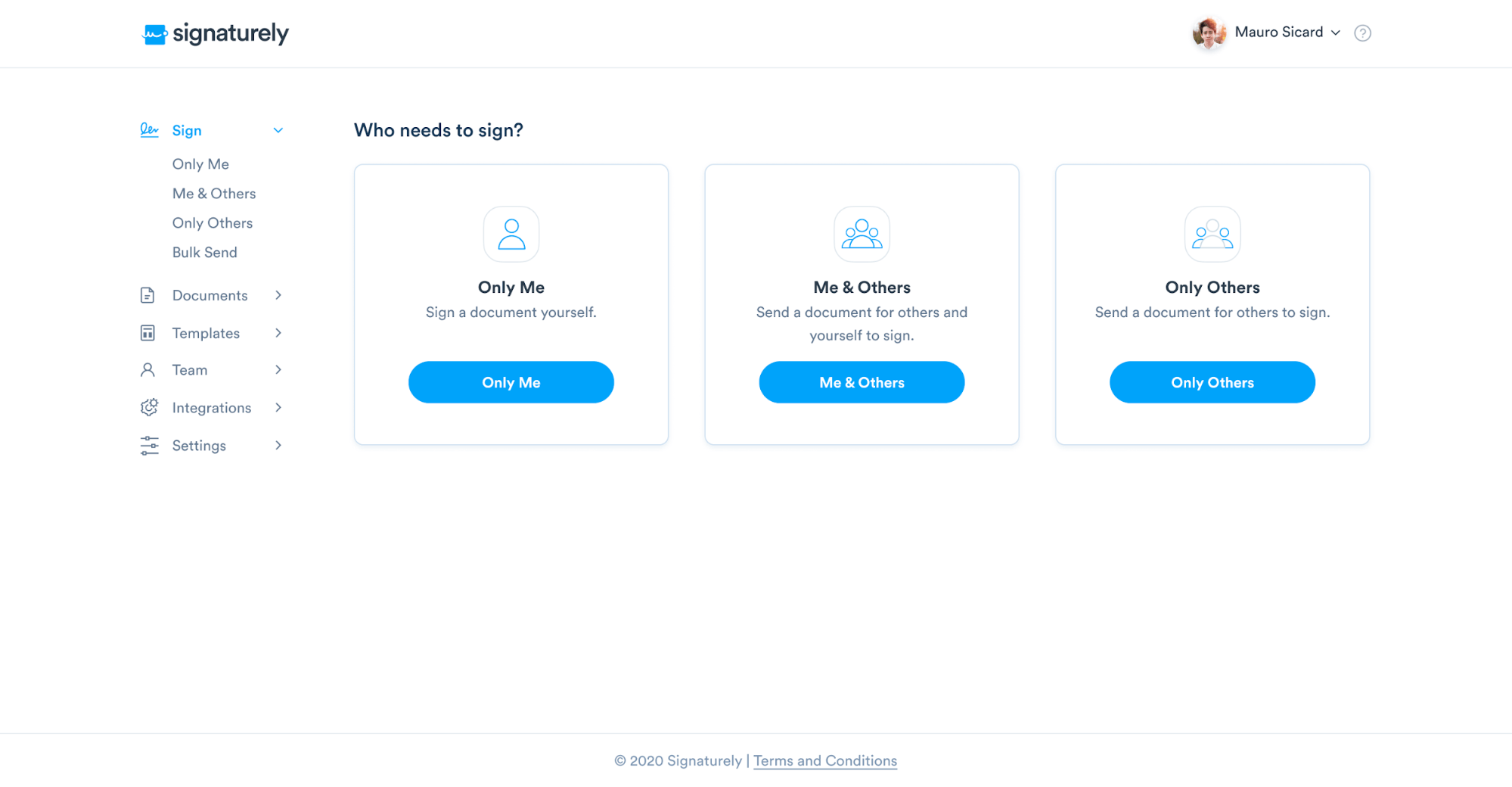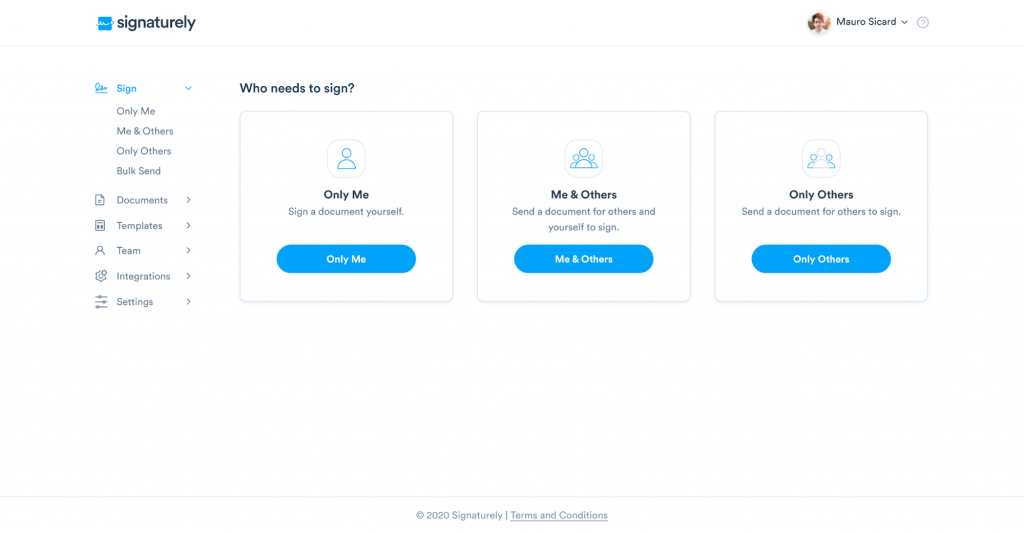 When preparing a document for signing, Signaturely will first ask you who will sign the contract. That way, Signaturely can adapt its process to your signers.
You can also choose the order in which you wish to have your document signed. Signaturely will send the document from one person to the next instead of sending it to everyone at once.
After this, you can upload your file from Google Drive and fill in the signature fields with your choice of options, such as signatures, initials, dates, text boxes, or checkboxes.
Simply save the file and send your signature request when you have finished. Your signers will receive a signature request that looks like this: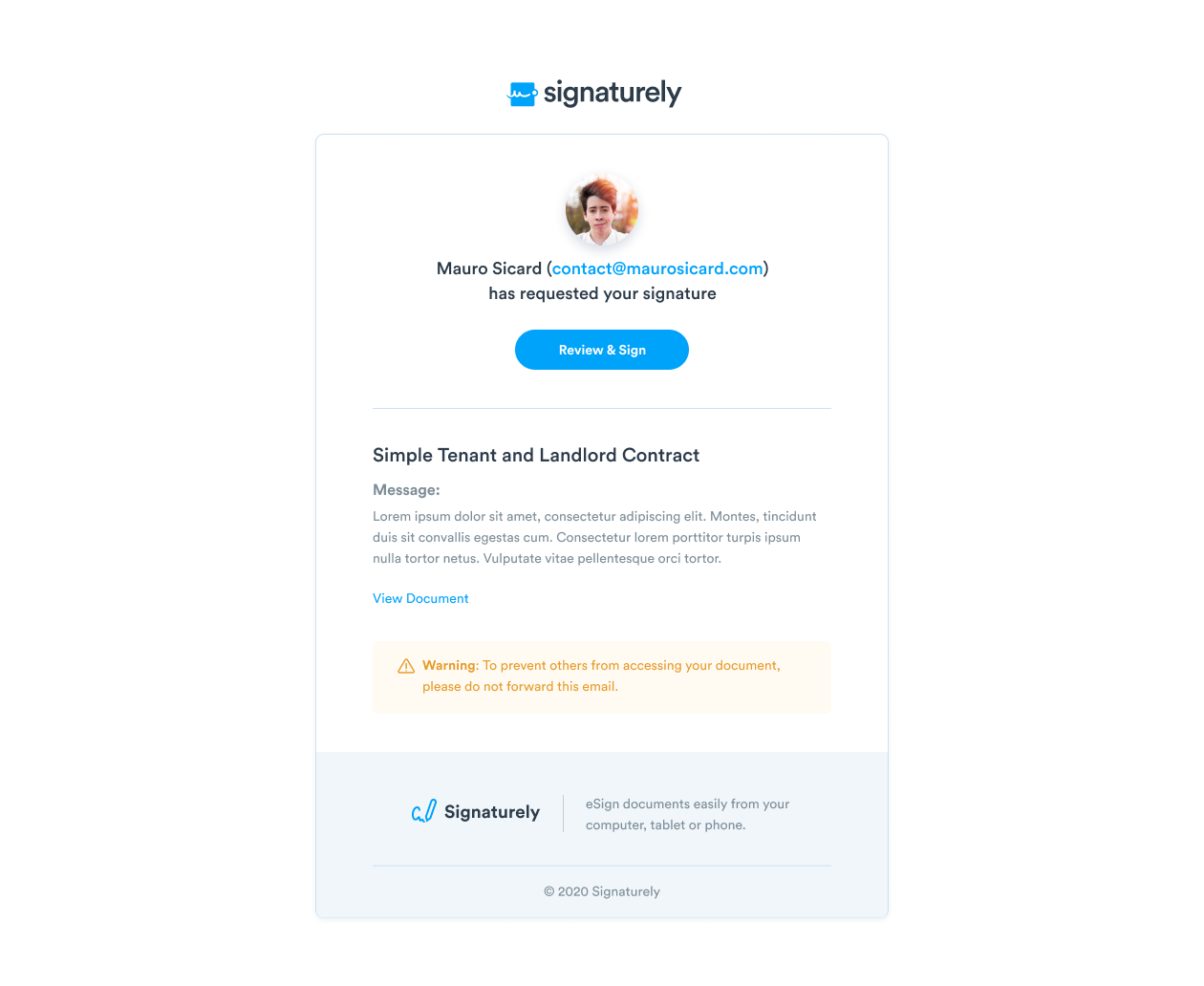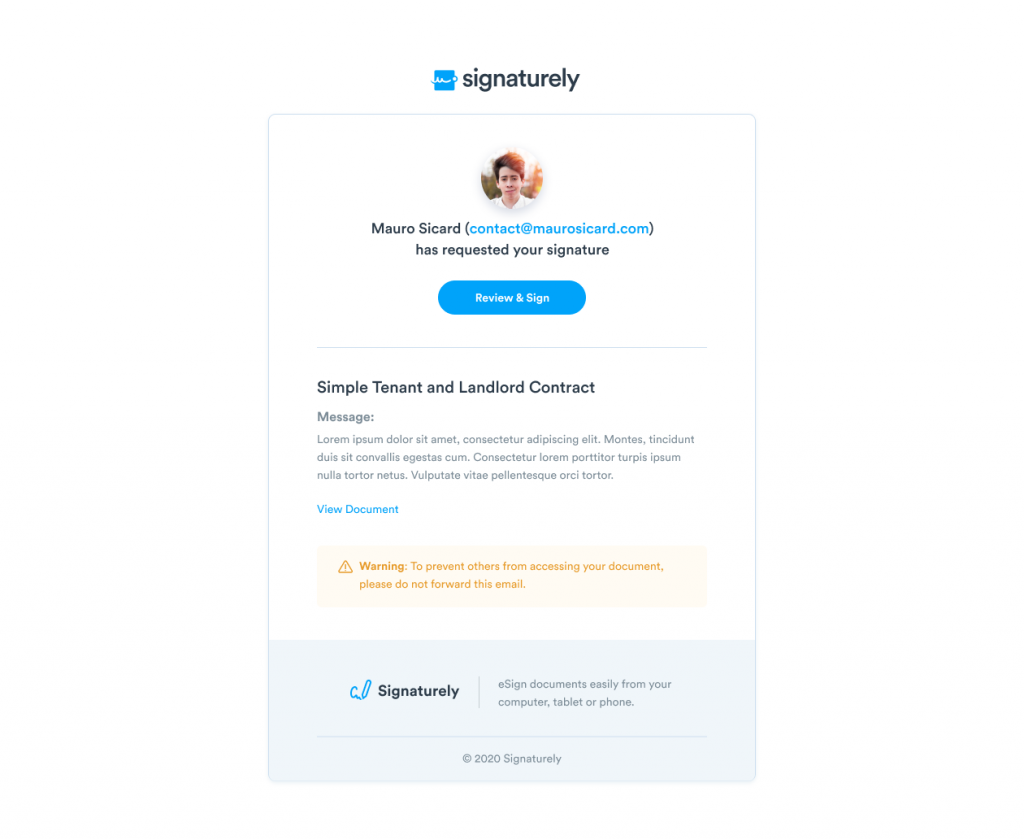 Once the recipients of the signature request click "Review & Sign," Signaturely will guide them through the process of creating their signature and signing the contract.
This signature request is particularly effective because it naturally guides your signees from the signature request to completing the signing process, explaining how to sign the contract online to simplify the process, even if they have never done it before.
Pros:
Very simple
Very safe
Convenient process
Start for free
Send multiple signature requests
Guided experience for signees
Cons:
Not always available as a mobile app
Not as personal as face-to-face contact
Asking for a Signature Request via Email
If you choose not to use signature software to add signature fields to your document, you'll have to send your document as an attachment to an email.
In this case, the wording of your signature request will be very important since it will tell your signees whether or not they should sign or even open the attachment.
Start by thinking about how you will address the person you're sending the signature request. You will want this email to be an extension of your usual communication.
If you haven't personally established communication with your recipient, it's always better to be too formal than informal.
Keep the email short. Let them know who you are, why you're sending the document, and what you're requesting of them.
Finally, read your email twice and confirm that you've attached the document before sending it. You don't want to send a beautifully written email just to be followed by a quick "whoops, I forgot to attach the file" message.
Pros:
Very simple process
It saves time and money
Cons:
Not a great approach for people with no electronic signature experience
It doesn't allow for much personalization
Not great when you require multiple signers
Signature Request via File Sharing Service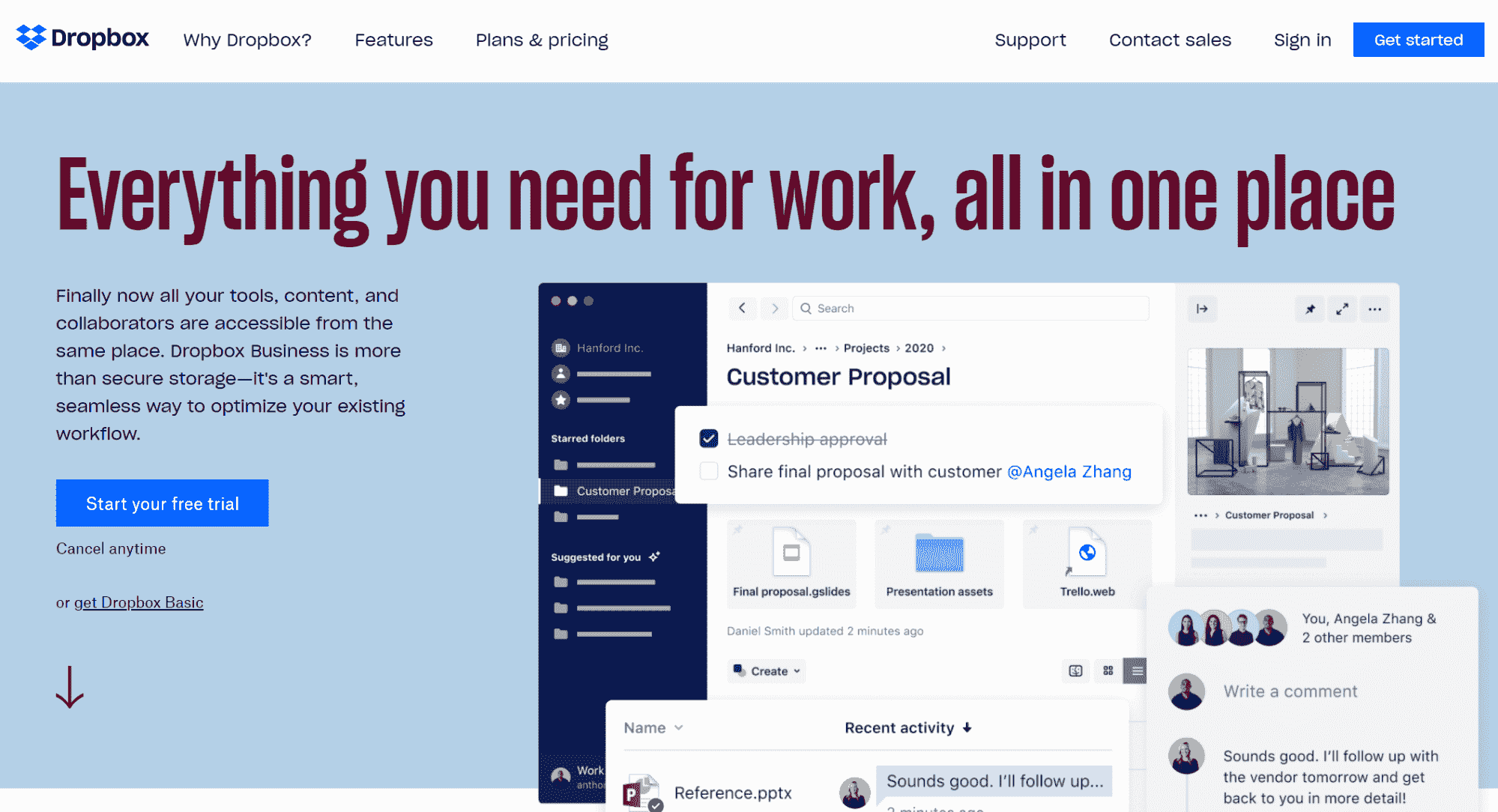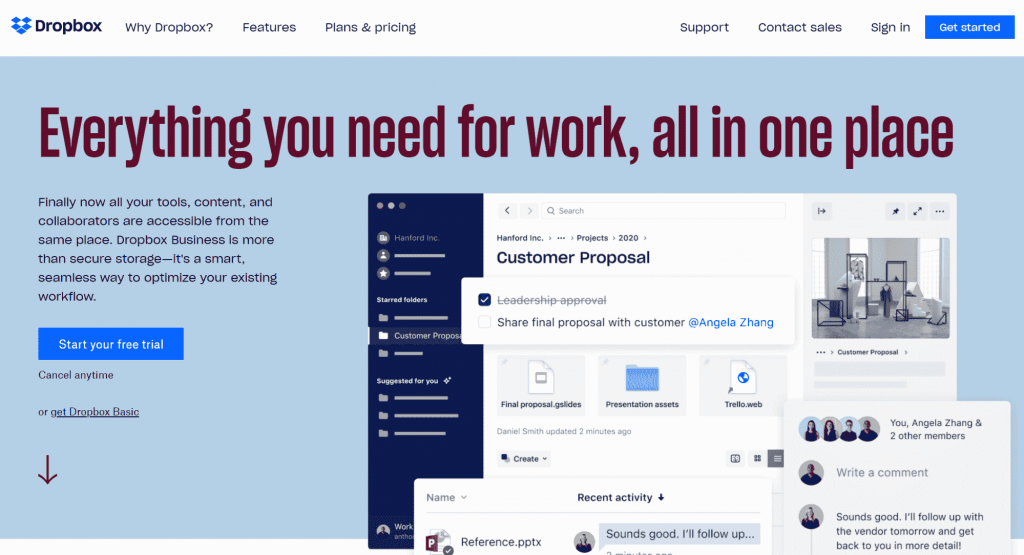 If you're using a sharing service like Dropbox, you can request a signature in one of two ways:
By using an electronic signature platform
Most electronic signature platforms integrate with the most popular file-sharing services. All you need to do is to follow the steps from the option "using electronic signature software" to get people's signatures.
By sending them through the file sharing service
Most file-sharing services allow you to share your files with someone else directly on the platform. However, you must ensure your signature request is appropriate and doesn't go unnoticed.
You'll often be required to limit your characters, so use your words wisely. And, since you can't explain very much in the message, make sure your recipient is expecting the file.
Finally, ensuring that your recipient has received the document never hurts. Ask them to confirm or email them to check up on them and ask for an estimate for when you can expect their signature.
Pros:
Very easy process
It saves you time and money
Cons:
It May take longer to solve their issues
It may not be appropriate to request a signature through such short messages
It doesn't allow for much personalization
How to Request a Regular Signature
Here's how to ask for a standard "ink" signature:
Signature Request in Person
If you're going to ask for a signature in person, make sure you're getting all the benefits you don't get from requesting a signature online.
Whenever possible, set up an appointment to request a signature. If you can't set up an appointment, find out when they're generally available, like right after a lunch break or after a meeting you both attended.
When requesting a signature, tell the potential signee why it is important and explain what you're asking them to commit to with their signature. Answer any questions they may have.
Finally, let them know when you'll be presenting them with the documents they need to sign, and make sure you fulfill your part by providing them with them the documents on time.
Pros:
Very personal approach
It can get you signatures quickly
Allows you to be there for the whole signing process
Very quick and easy to solve their questions
Cons
Requires both parties to be together at the same time
Requires printed documents
Signature Request via Mail
Sometimes, due to time commitments or geographical location, you simply cannot see the other person face to face, and you will be required to send the documents and the signature request by regular mail.
If you're sending everything together, position your signature request so that it's the first thing they see upon opening the package. This can be done in the way you package it. Another option is to attach the document that needs a signature in a second envelope, so when they open their parcel, they will see both your signature request and the unopened document to sign.
Structure the signature request like any other letter, explaining which documents require a signature and how and where to sign. Make sure to include instructions for sending the signed documents back. Attach your phone number in case they have any questions.
It's better if the letter is typed and printed rather than handwritten, but don't forget to sign it by hand.
Pros:
Convenient when you have to send the document
Allows for the signer to sign at their own convenience
Cons:
Time-consuming
It gives the signer the extra responsibility of returning the documents
Can be the most expensive option
Any mistakes can quickly double the signing time
How Signaturely Simplifies the Process of Signature Requests
Signaturely can not only request signatures but handle your whole signing process.
Electronic signatures made simple
Signaturely streamlines your signing process by allowing you and your signees to create electronic signatures for free online.
To add signatures to all your documents, you just need to upload them to the Signaturely platform and use the drag-and-drop editor to add the required signature fields to your document.
Signaturely also allows you to send your document with a personalized message and assign a signing order if necessary.
Finally, Signaturely explains to your signers what they need to do and guides them throughout the process, preventing them from needing to contact you to answer simple questions and making the signing process as quick as possible.
Legal electronic signatures
Signaturely saves all the data from you and your signers to make all of the signatures legally binding. The Signaturely platform also saves a legal backup of all your documents, so even if you lose the file or delete it by accident, it will never be truly lost.
Signaturely records a digital stamp with each signature, which makes it easy to track the document back to the signee. This digital stamp holds up in court and can be used as evidence if the need ever arises.
Sign everything faster
With Signaturely, your team can collaborate when writing documents so you won't have to go back and forth with them in person and can quickly correct any issues on the document.
If you need a lot of signatures, Signaturely can handle it. Simply select your documents, select your signees, send the documents, and repeat. It's really that simple.
Signaturely also has powerful integrations to trigger an automatic start on your projects as soon as you get the green light from your signees.
With Signaturely, you get quick, simple, legally-binding signatures in just minutes.
Conclusion
Signature requests are the first step to getting recipients to sign your documents. To write an effective signature request, remember who you're writing to and make sure you meet their expectations.
An electronic signature platform is the easiest way to send an effective signature request. Sign up for Signaturely for free today, and send signature requests that actually get signatures.