In this article, we'll review over 20 electronic signature apps. We'll dive into the details of the most popular apps, the niche apps, and the new apps. We'll compare them to answer a simple question: Which electronic signature app is right for you?
We'll evaluate apps based on criteria such as:
Features
Price
Customer reviews
Pros and Cons
By the end of the article, you'll know exactly which platform will be best for you.
Let's get started!
Best 20+ Electronic Signature Apps For Your Business
Here are the best electronic signature apps of 2020:
Signaturely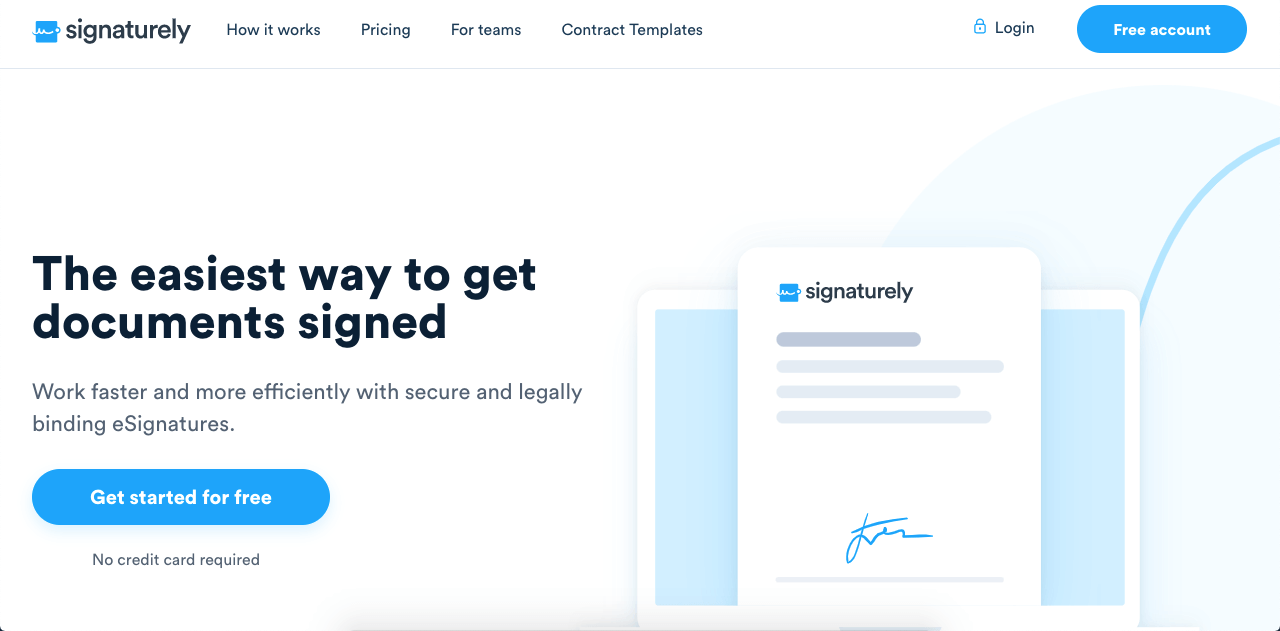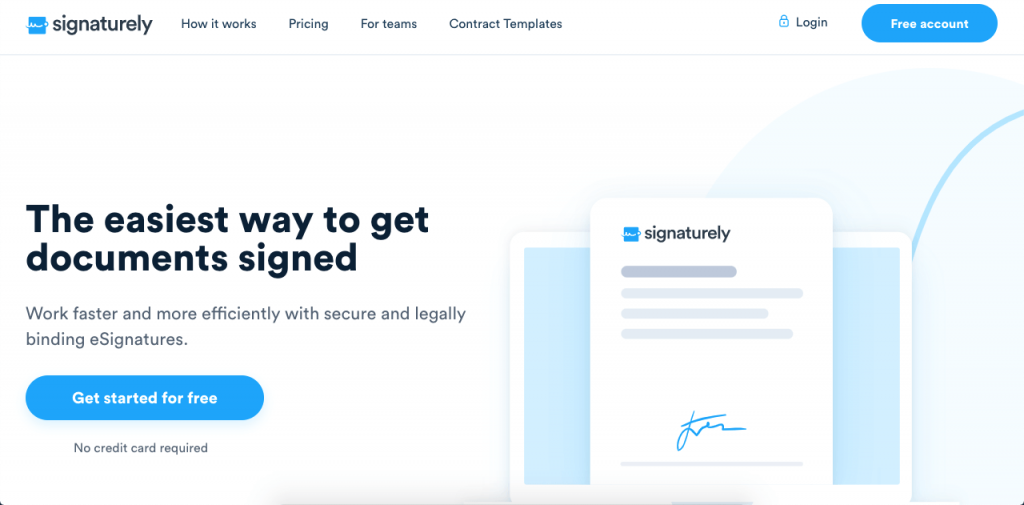 We built Signaturely to be cheaper, faster, and better than all other platforms. It's that simple.
Signaturely allows you to create a free user account so you may start using it immediately. This free electronic signature software integrates with cloud-based platforms such as Google Drive, Dropbox, and OneDrive, to name a few, so you may access your documents and start signing. You can send up to three signature requests per month for free.
This free package also gives you access to the audit log and history, along with notifications and reminders. That way, you can keep track of your document's progress and gently remind users to sign them.
Need to send more than three monthly requests? For just $10 per month, you can send an unlimited number of signature requests above and beyond the benefits included in the free account.
Looking for free templates? With our $15 per month business account, you'll get not only an unlimited number of signature requests but also an unlimited number of templates. You'll also receive team management and custom branding tools, so you and your team may create as many branded documents as you need.
This is perfect for any business as it allows you to collaborate with multiple teammates working on various templates simultaneously. You may also continue updating your templates without the need to delete old ones, and you'll never have to store templates as your business grows.
Creating online documents with Signaturely is very easy.
You begin by selecting whether or not the document requires a signature. Next, add a title to your document and import it, or use the included editor, to create it from scratch. Once you have your document ready, select the signees and, if necessary, assign which order they should sign it in, and create the display message that will be sent with the document. Finally, review your document and send it.
Signaturely will guide your signees throughout the signature process and allow them to create their e-signature if they haven't already.
Sign up for free to start using Signaturely today.
Pros:
Affordable: Signaturely is priced below industry standard, and its pricing is simple and straightforward.
User friendly: Signaturely can help your signees draw, type, or upload their online signature and guide them through the rest of the process.
Team collaboration: Your whole team can edit and review your documents to ensure quality.
Cloud-based integrations: You can easily upload your documents from any online server.
Faster service: Optimizing your documents for online signatures is as easy as uploading, adding signature fields, and sending them.
Cons:
No mobile app: Mobile app is still under development.
HelloSign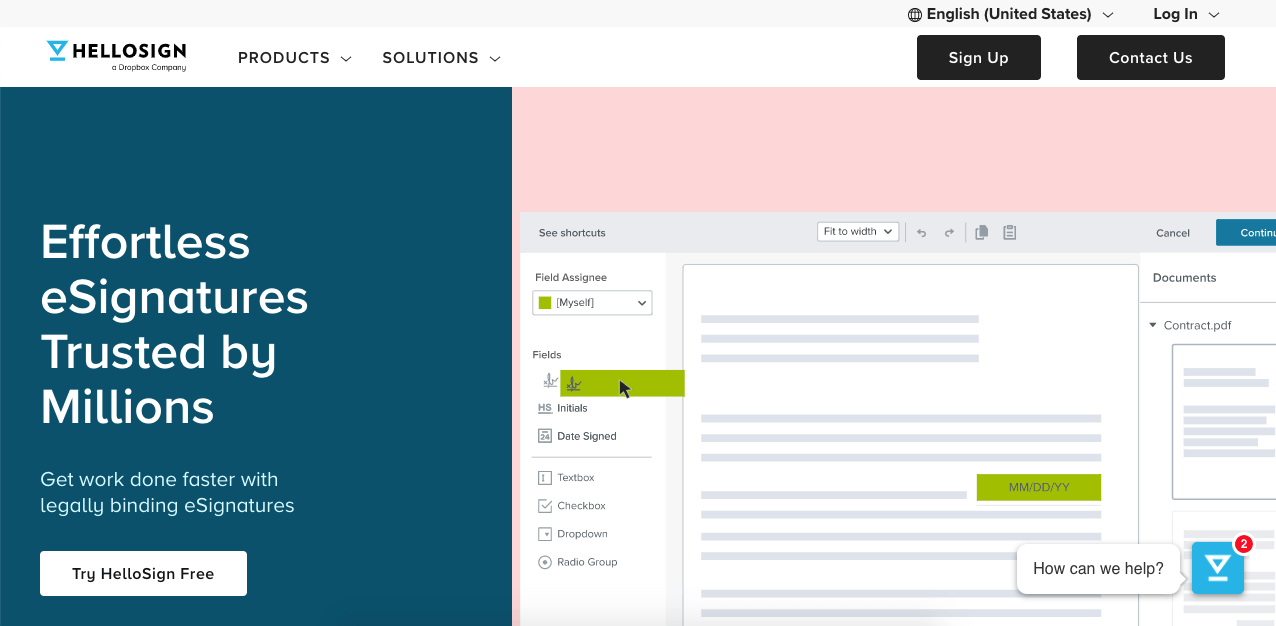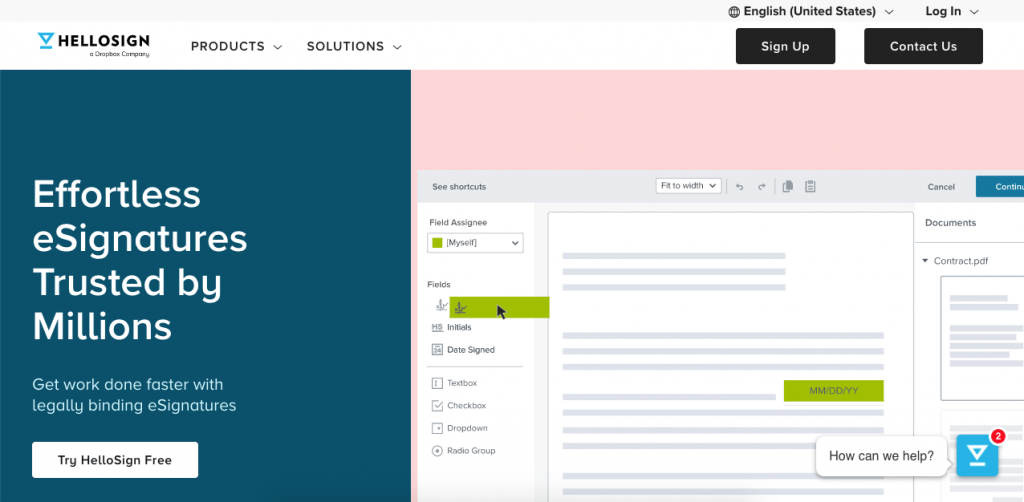 HelloSign is a simple and intuitive eSignature platform. With the ability to capture multiple eSignatures, you and your signees may sign any document anywhere.
HelloSign is integrated with Gmail, Google Docs, G Suite, DropBox, and Google Drive so that you can access your online documents immediately.
Pros:
Easy to use: The user interface (UI) is intuitive and is perfect for beginners.
Powerful free version: Although it doesn't include customizable templates, you can still get a lot out of the apps and document design.
High-security capabilities: HelloSign offers "Bank-level security", which protects your documents by SSL encryption and secure server infrastructure hosted at a state-of-the-art Tier III, SSAE-16, and ISO 27001 certified data center.
Good integration: You may integrate it with Google Docs, Salesforce, Dropbox, Zapier, HubSpot, Slack, and many others.
Cons:
Lack of functionality: Although it's simple to use, it's not for people who need absolute control over their documents and advanced features and fields.
Expensive: Can become quite expensive for professional users.
Limited amount of templates: Even with premium memberships, your account will always be limited to the number of templates you can save.
Price: The free document software account includes only three monthly documents and one user. Pro plans start at $13 per month and include unlimited documents.
PandaDoc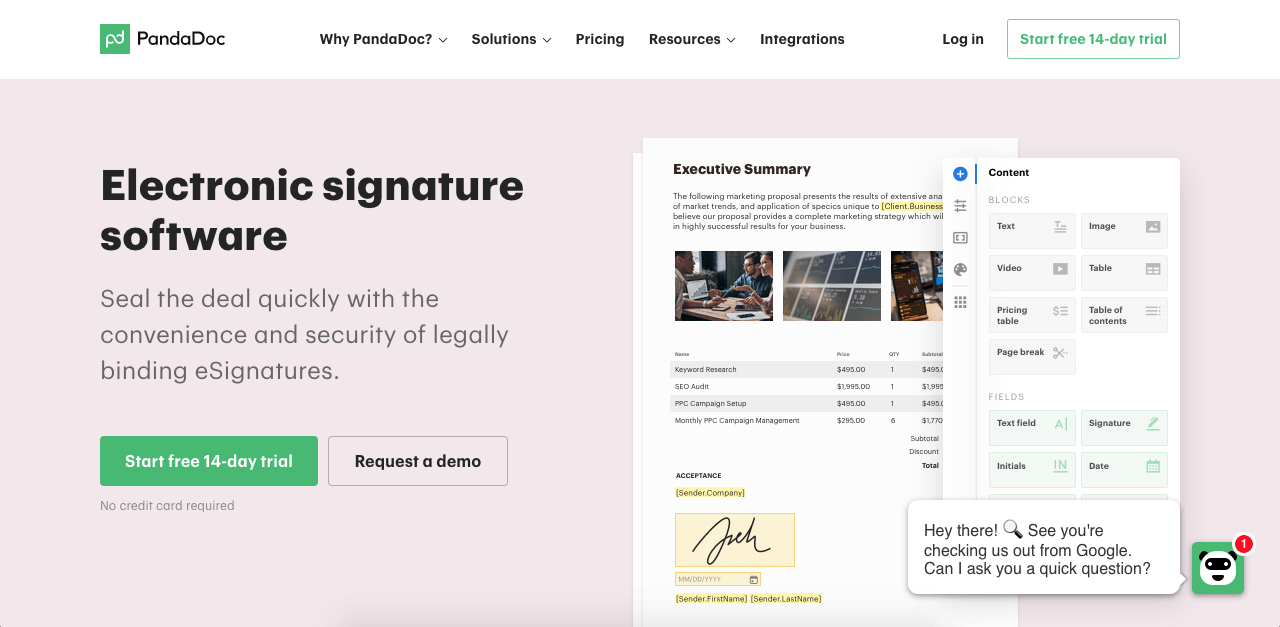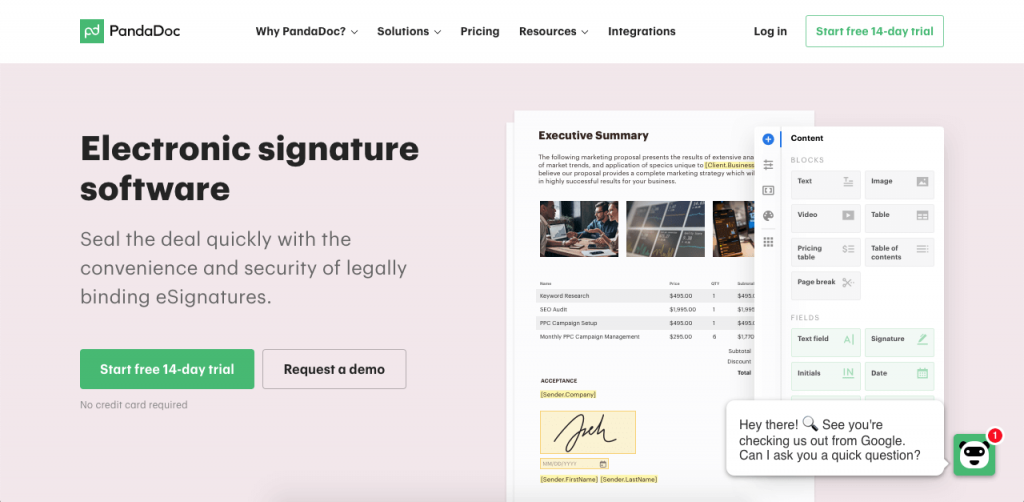 PandaDoc is an award-winning online document management platform with a user-friendly, streamlined UI. 
Its eSignature feature is one of several document management tools and is very easy to use. With a drag-and-drop editor, creating and formatting your files is a cinch.
This platform offers hundreds of attractive and professional-looking templates and document analytics that tell you how long your documents take. With this data, you can identify bottlenecks and identify trends to help you find ways to expedite the signing process.
Pros:
Powerful integrations: PandaDoc integrates with multiple customer relationship management (CRM) systems, like Salesforce, Pipedrive, and Hubspot. Don't you know what CRM is about? Learn more about customer relationship management here.
Document management: With PandaDoc, you can eSign your documents while also managing them and integrating them with your workflow without ever needing to leave the platform.
Excellent UI: The editor in PandaDoc is very easy to use, so you won't be wasting time learning or training employees on how to use it.
Cons:
No free membership: Although there is a 14-day free trial, there's no ongoing free membership.
Bugs and deliverability issues: Clients often complain about platform bugs and their sent documents going directly to spam folders.
Expensive: PandaDoc's pricing is above the industry's standard.
Price: The professional plan costs $19.99 per user per month. Business plans start at $39.99 per user per month. A free trial is available for all plans.
DocuSign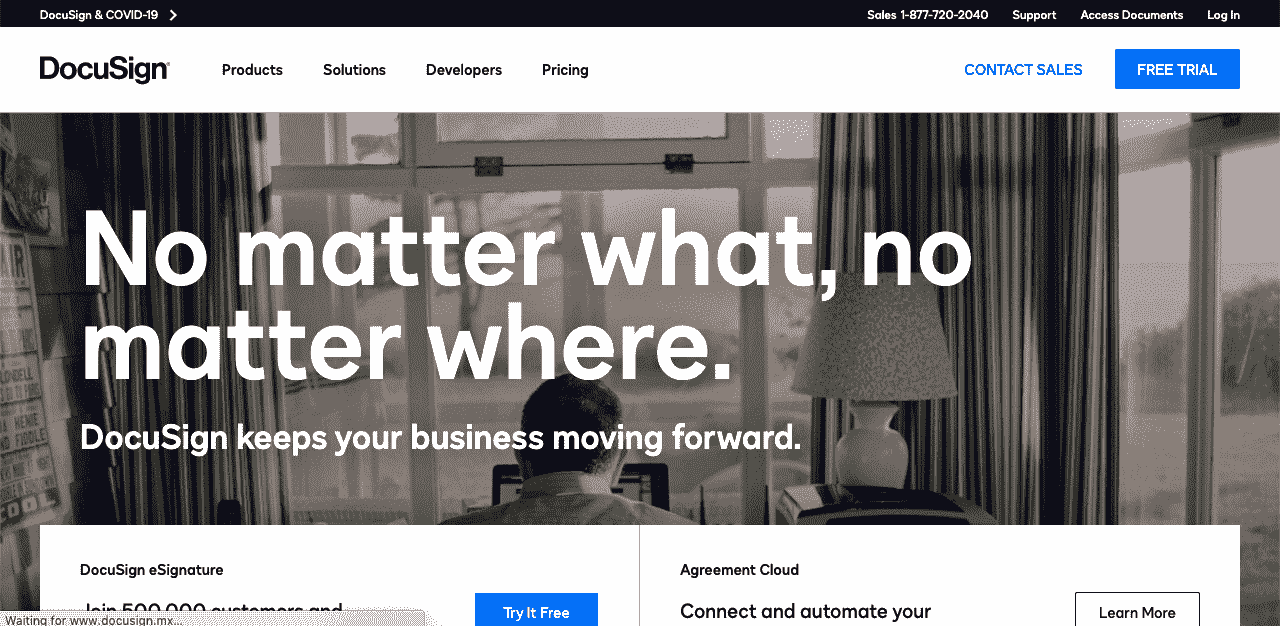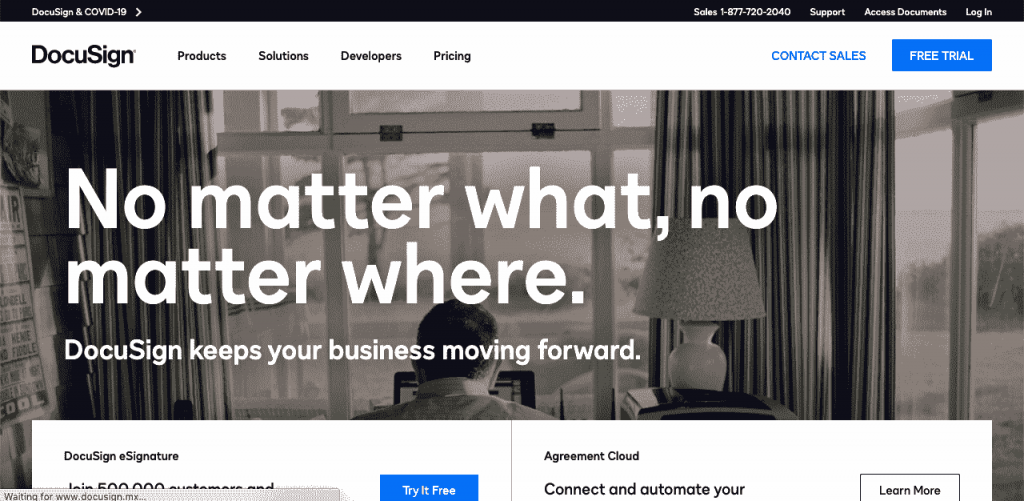 Available since 2003, DocuSign has designed its business to become an innovative and pioneer online signature software. It's one of the most popular options on the market.
DocuSign has advanced online signature capabilities, allowing users more control over the document and its fields. The Quick View sidebar lets you view your documents' status at a glance. This helps with staying up to date on the signing process and knowing which documents are about to expire.
Pros:
Powerful online app: The platform works with iOS, Android, and Windows 10 mobile and tablet devices.
High level of customization: Customize your documents and workflow through advanced options and Application Programming Interface (API) integrations.
High-quality templates: Highly specialized templates are available with the more expensive plans.
Legendary reputation: The company has been around 15+ years  and is used by notable clients such as LinkedIn, Salesforce, and T-Mobile.
Cons:
No free plan: You need to pay for a monthly plan if you want to use the platform.
Expensive: This platform's pricing is above the industry standard and the highly specialized features and fast support options are only available in the most expensive tiers.
Price: The Personal Plan costs $10 per month for a single user. The Standard Plan costs $25 per user per month, including personalized branding. The Business Pro Plan costs $40 per month and includes various advanced options.
AdobeSign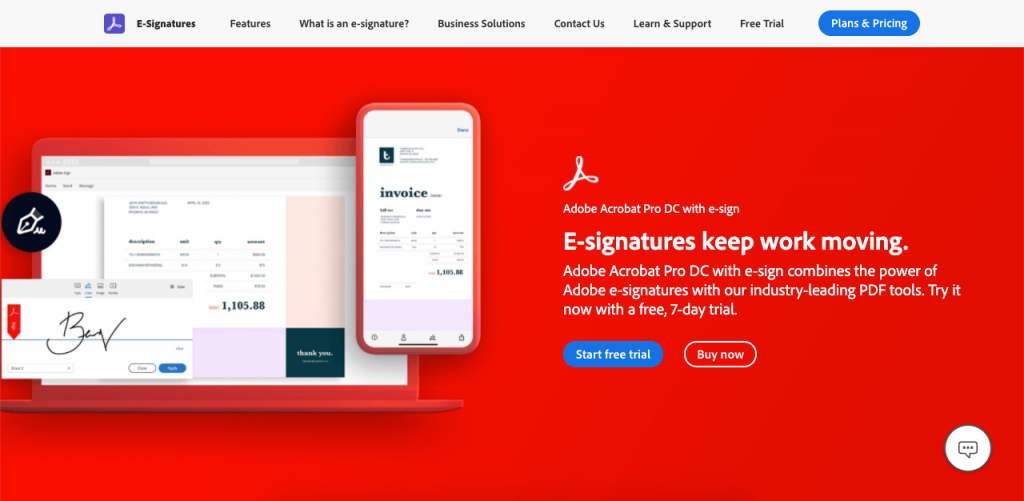 Another popular option, Adobe Sign, is considered by many to be the benchmark for professional document and eSignature apps.
Recipients can sign with Adobe, even if they don't have an account, and access their documents with nearly any device. From friendly and intuitive UI to advanced integrations and API, Adobe Sign truly offers something for everyone.
Pros:
Highly functional: The platform can be accessed by anyone and used to sign documents quickly and effectively.
Very well trusted: Backed by Adobe, a reputable company, your clients and partners will have no issue signing your online documents, even if eSigning is a new concept to them.
Advanced options: The platform has powerful enterprise integrations and can be used for many advanced purposes with Adobe's API.
Cons:
Lacking customer support: Many complaints about Adobe's customer support service exist.
Higher learning curve: The UI isn't as straightforward as other options.
Price: Starts at $29.99 per month for the Small Business Plan, which includes up to 9 users.
Docsketch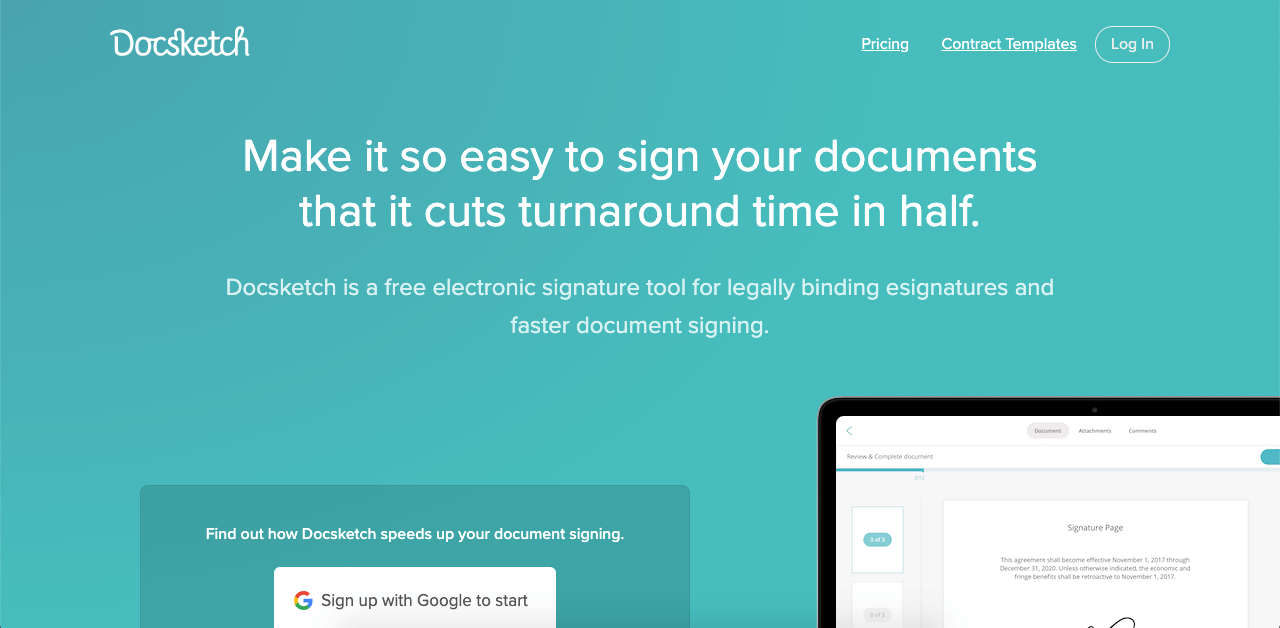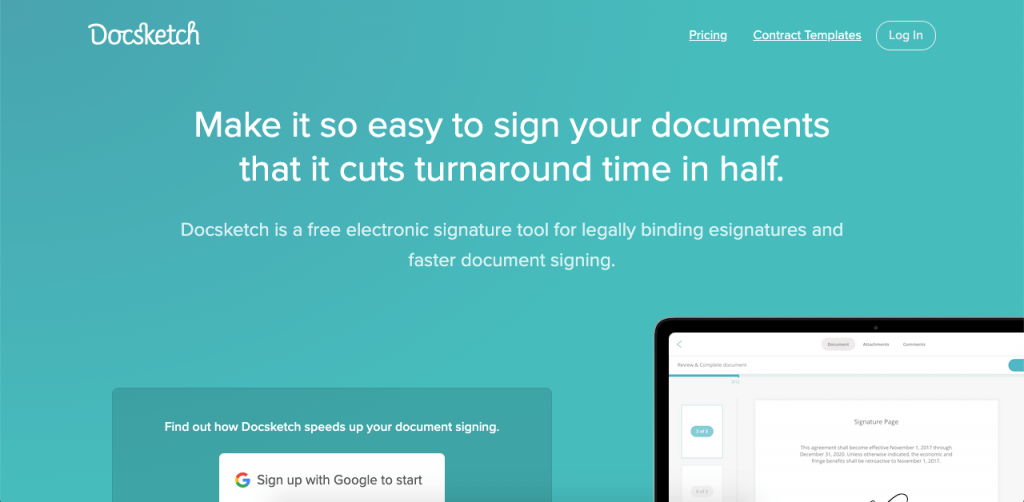 With a very generous and feature-filled free plan, Docsketch is a good option for anyone looking for free eSign software.
Docksketch features include flexible workflows, reminders, and document tracking, and you can even customize your signees' experience based on the document they'll be signing.
Pros:
Perfect for beginner signees: You can personalize the signing process of each signee according to the document you're sending, so it's as simple and easy as possible for them.
Easy-to-use templates: You can turn your most-used documents into templates to customize future documents to send them quickly.
Document tracking: Docksketch informs you when your documents have been viewed and signed.
Generous free plan: The free plan, which includes reminders and notifications, allows you to send up to three monthly documents.
Cons:
No integrations: You can't integrate it with your CRM for automatic workflows.
No advanced options: The streamlined platform lacks API and advanced fields.
No built-in editor: Documents need to be written and edited off-site.
Price: Docsketch has a free limited plan, a personal plan starting at $8 per month, which includes 5 templates and unlimited documents, and a business plan starting at $24 per month, which includes branding options, unlimited templates, and advanced preferences.
OneSpan Sign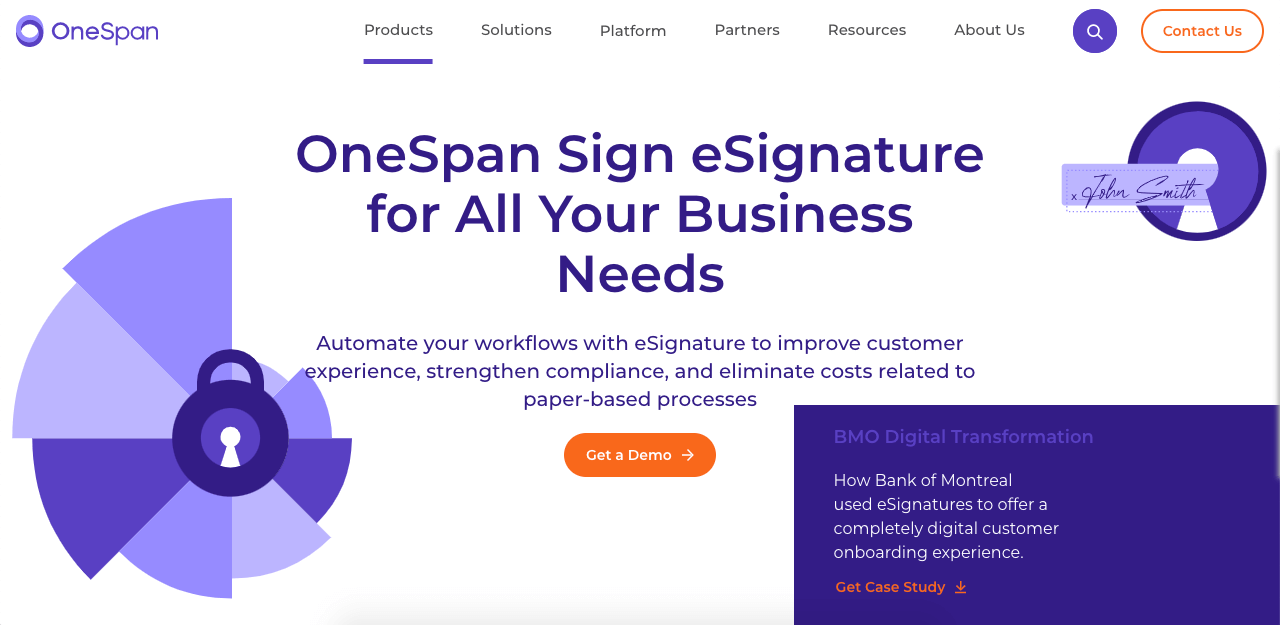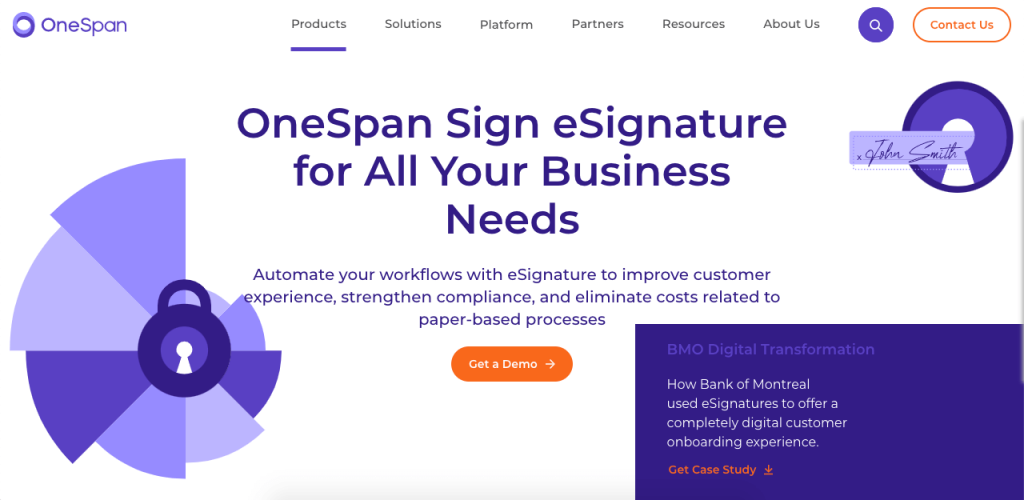 Formerly known as eSignLive, OneSpan Sign is the perfect option for large companies needing strong security.
Used by IBM, NASA, and BMW, eSignLive can be used on-site or online. It offers many integrations, advanced features, and full compatibility with all mobile and desktop devices.
Pros:
Business-focused: With powerful CRM integrations and advanced capabilities, this is a great platform for any business, large or small.
Proven solution: The company has been around for over 25 years and has accumulated an enviable client list that speaks for itself.
International support: The tool is available in six languages, with global language support at the client's disposal.
Cons:
Multiple changes: They've changed the name of the company three times in the last few years, and sometimes big changes aren't properly communicated to its customers.
No free plan: You can't use the platform for free outside of the free trial.
Lacking searching feature: You can't use the search feature to look for documents based on a signee's name, and it can be hard to find older documents.
Price: There are two plans, "Professional" and "Enterprise." Pricing isn't listed on the website, so you need to contact the company for pricing.
SignNow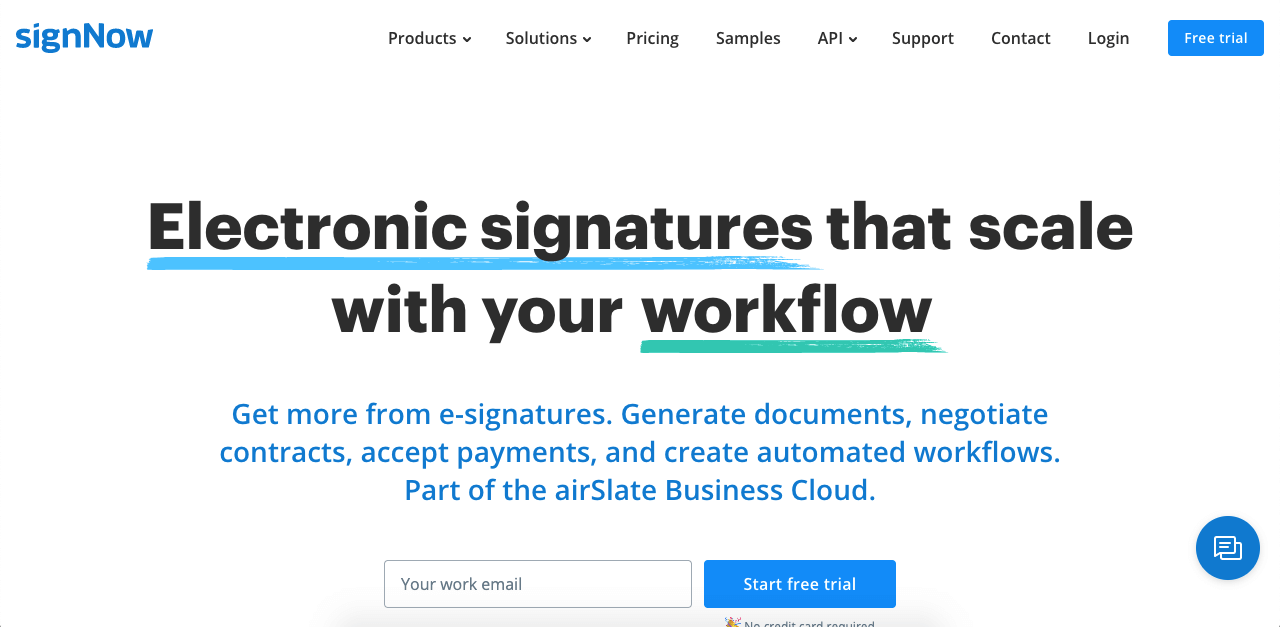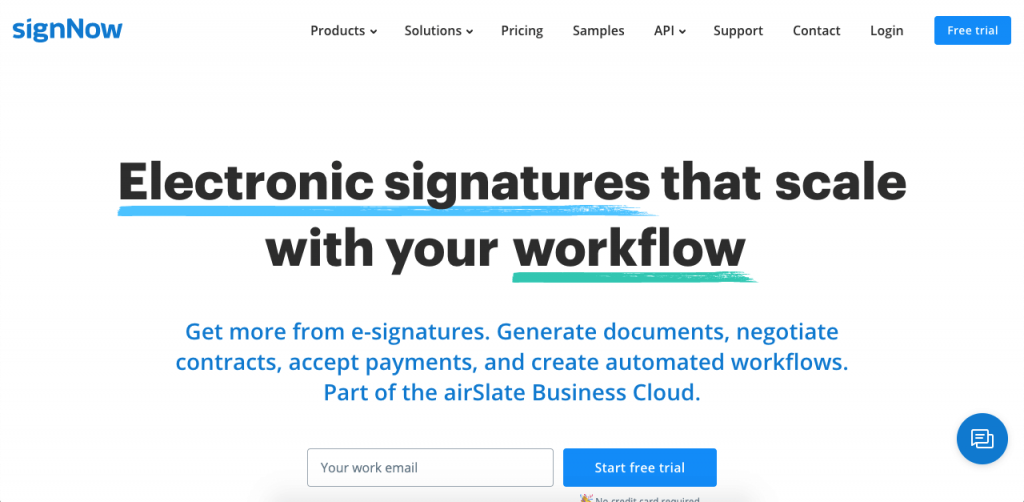 SignNow has won multiple awards for its intuitive and user-friendly software. With a focus on small businesses, SignNow is an affordable, powerful option.
The Android and iOS apps from SignNow are reliable and easy to use and used by 40% of Fortune 1000 companies.
Pros:
Amazing apps: The SignNow apps are considered among the best for online signatures on mobile devices.
Many integrations: Besides its multiple integrations, SignNow also includes a custom API.
Affordable: SignNow is among the most affordable professional options.
Cons:
Lacking search feature: Searching amongst templates and documents can take a while, and the search feature isn't very effective.
No editor: You can't edit documents directly on the platform.
Issues with templates and documents: Multiple users report bugs when uploading documents and using the SignNow templates.
Price: The entry-level plan is $8 per user per month. The full-feature plan is $15 per user per month. Enterprise plans start at $30 per user per month.
SignEasy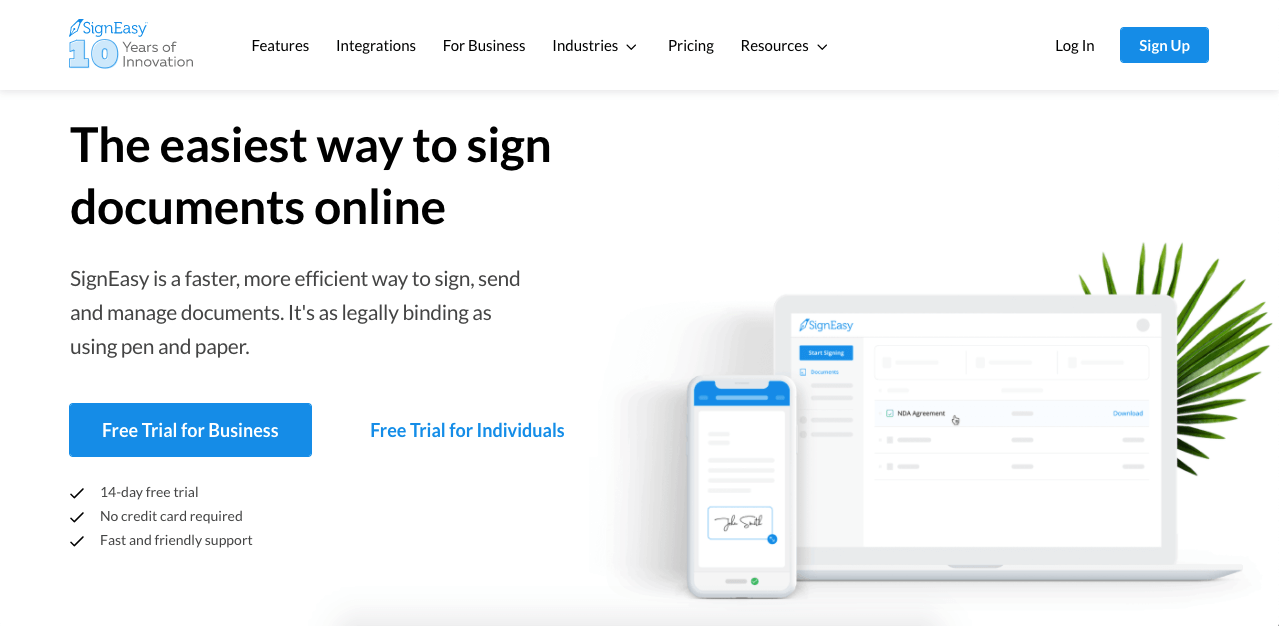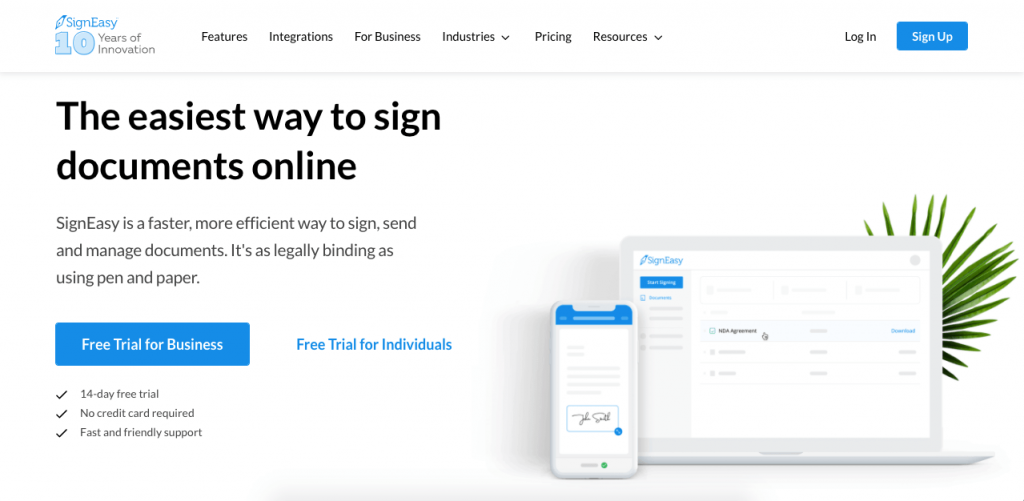 With a minimal UI, SignEasy honors its name by making the signing process as streamlined as possible.
Its drag-and-drop editor and easy-to-use tools allow you to quickly and easily create and modify documents on-site. SignEasy also offers in-person signing and self-signing options.
Pros:
Easy to use: The platform is extremely intuitive and user-friendly.
Powerful API: Its API offers more functionality to users looking for advanced features.
Great integrations: SignEasy integrates with multiple CRMs, such as Salesforce, Oracle, and Sunrise, and can connect to many more using Zapier.
Cons:
No free option: There's no free plan for this platform.
Visibility issues: The platform has some sizing and visibility issues that may hide some of the signee information.
Expensive for large companies: The only multiple-user setup is the most expensive option and only includes three users―adding extra users is quite expensive.
Price: The Standard Plan starts at $15 per month. The Plus Plan costs $20 per month. The Premium Plan costs $75 per month and includes up to three users, requiring an extra $25 for each additional user.
RightSignature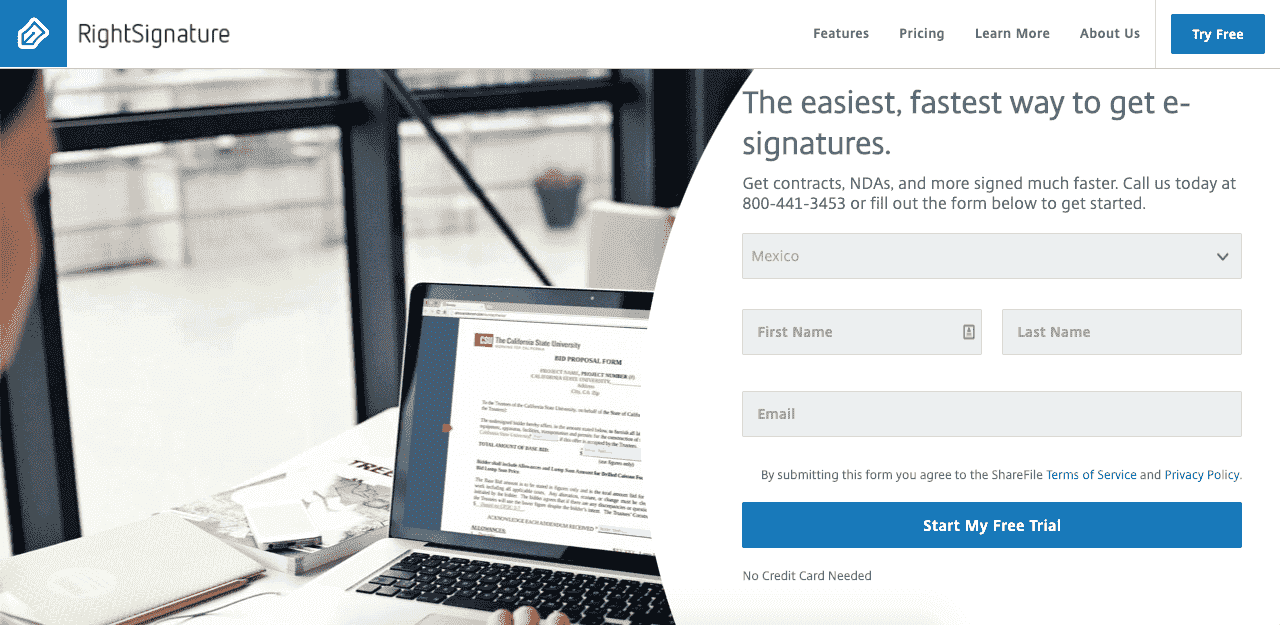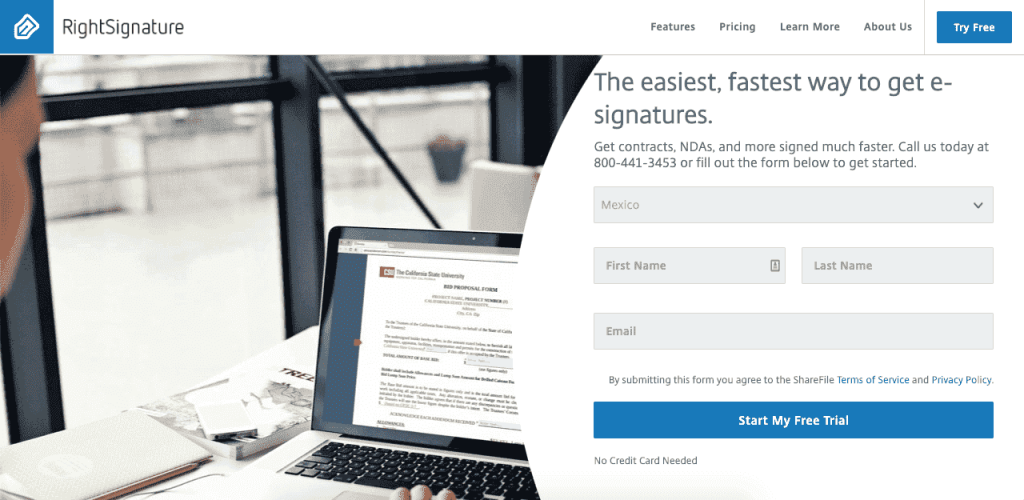 Created by Citrix, RightSignature is an eSign with strong built-in security and high-quality management features.
RightSignature is a great way to guarantee that your documents are signed by the right person, offering password-protected documents with expiration dates. The Signer Sequencing feature allows you to determine the order in which a document needs to be signed, which automizes the whole process.
Pros:
Many integrations: Although there aren't many built-in integrations, its powerful API allows you to expand upon them.
Quality creating and editing features: You can create and modify your documents in-app with a built-in editor.
Handwritten signature maker: Your signees can design and sign with their own handwritten signatures.
Cons:
Expensive: Although the Personal Plan is quite affordable, the Advanced Plan, geared more to companies, is priced above the industry average.
No free option: There's no way of using the platform for free other than its free trial.
Price: Starts at $12 per month for the Personal Plan or $60 per month for the Advanced Plan―which includes three users.
KeepSolid Sign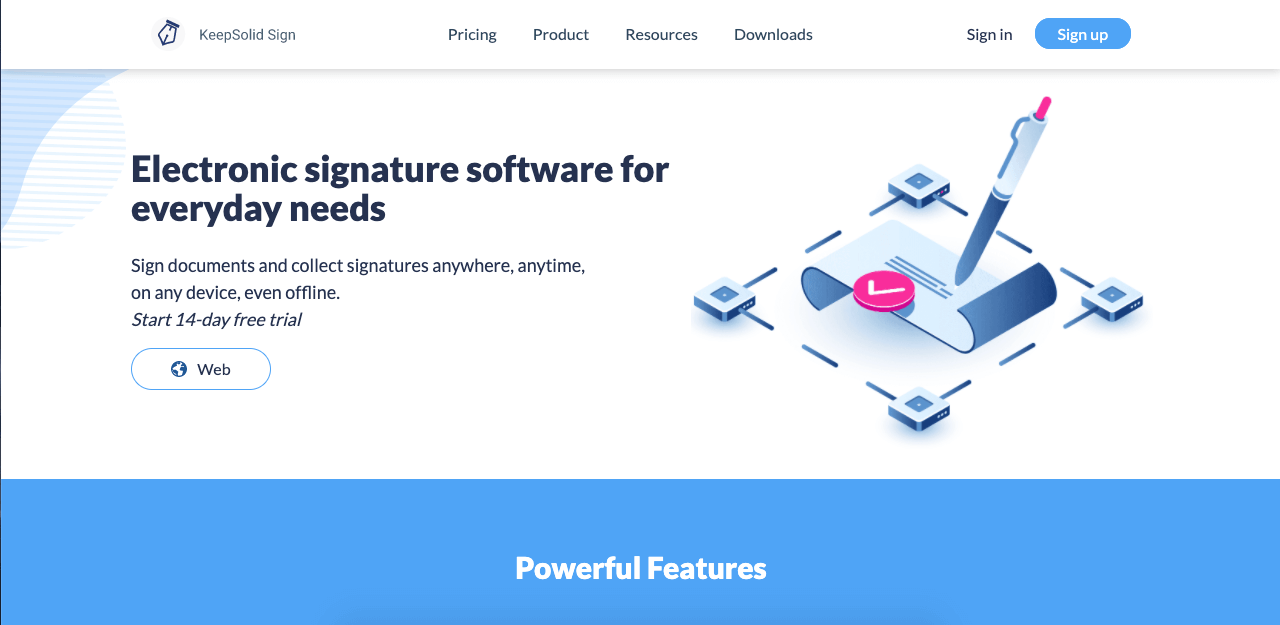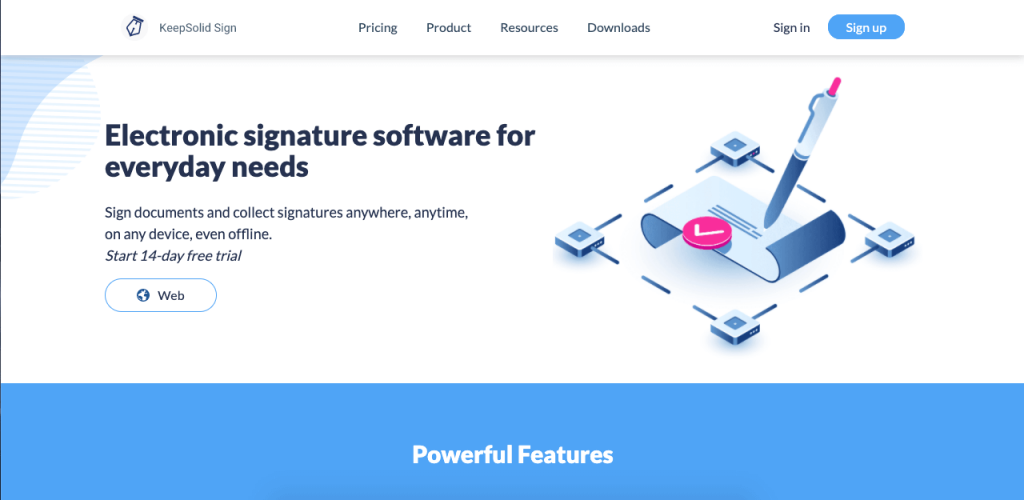 If security is your main concern, KeepSolid Sign is just what you need.
KeepSolid Sign focuses on secure data storage and signature verifiability. Its digital signature software is fully mobile-friendly so that you can sign on the go and contains simple drag-and-drop forms to help you with your documents.
Pros:
Built-in editor: Due to its built-in editor, this platform makes it easy to draft and edit documents, even on mobile devices.
Offline access: You can access the platform without being connected to the internet.
Security-focused: Perfect for companies with sensitive information.
Cons:
No free option: There's no plan to use the platform for free.
Premature notifications: Your signees will receive an email with an invitation to set up an account while you're adding them to your document, even before the document has been sent, so they may receive a notification by mistake.
No audit trail: This can be an issue when it comes to proving legality.
Price: Starts at $99.99 per month per user.
Signable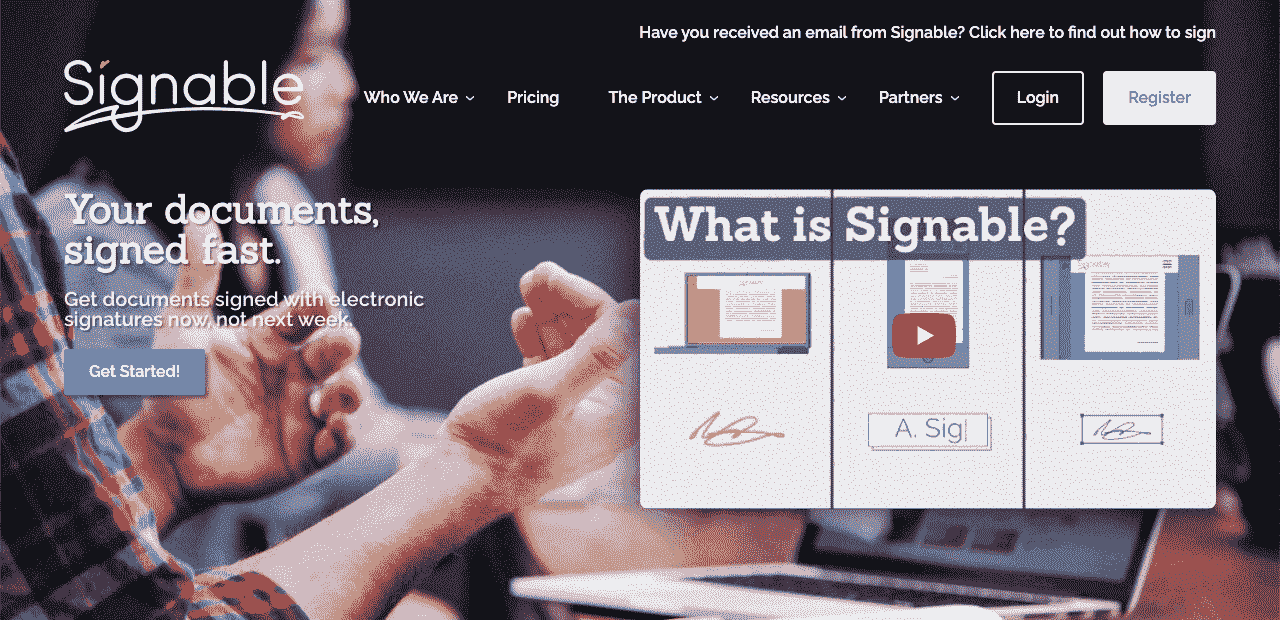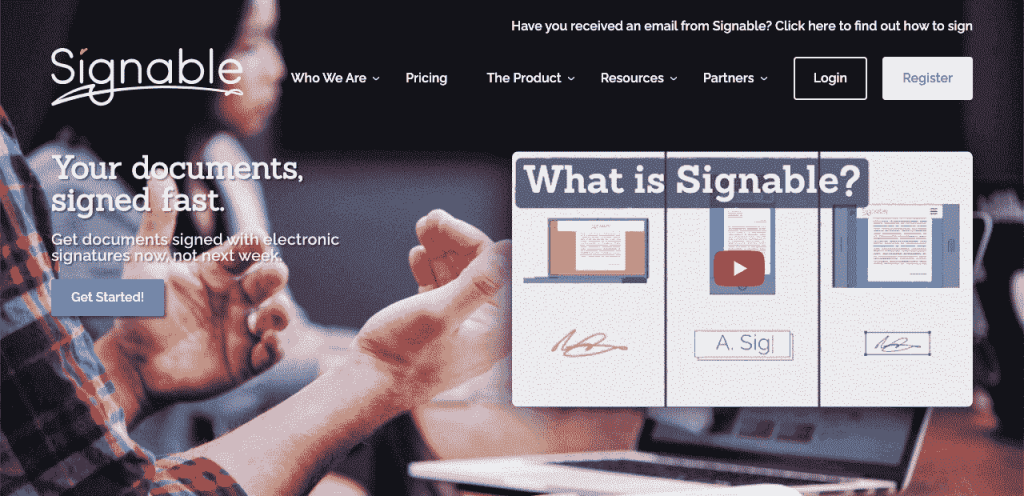 Signable is the only option on this list that allows you to pay as you go. This makes it very appealing to professional users who don't need to eSign regularly.
The platform mainly caters to European and U.K. clients, so it's up-to-date with U.K. and E.U. law. If you or your company are European and worried about legality, this platform will provide you with great security.
Pros:
Multi-language support: Signable currently supports English, German, Spanish, French, Dutch, and Portuguese.
Detailed document tracking: You can see which stage your document is at in the signing process and receive the audit trail when the document is fully signed.
API integrations: Although the platform only natively integrates with Dropbox and Capsule, you can use its API to expand its integrations to meet your needs.
Cons:
No mobile apps: The platform lacks not only mobile apps but also full mobile functionality.
No branding on pay-as-you-go: You can't pay extra for branding if you're not on a monthly plan.
Limited capabilities: There are few advanced features and native integrations for Signable.
Price: Pay-as-you-go costs £1 per document. The Small Business Plan costs £21 per month and includes up to 50 documents. For up to 750 documents, the Corporate Plan costs £199 per month.
GetAccept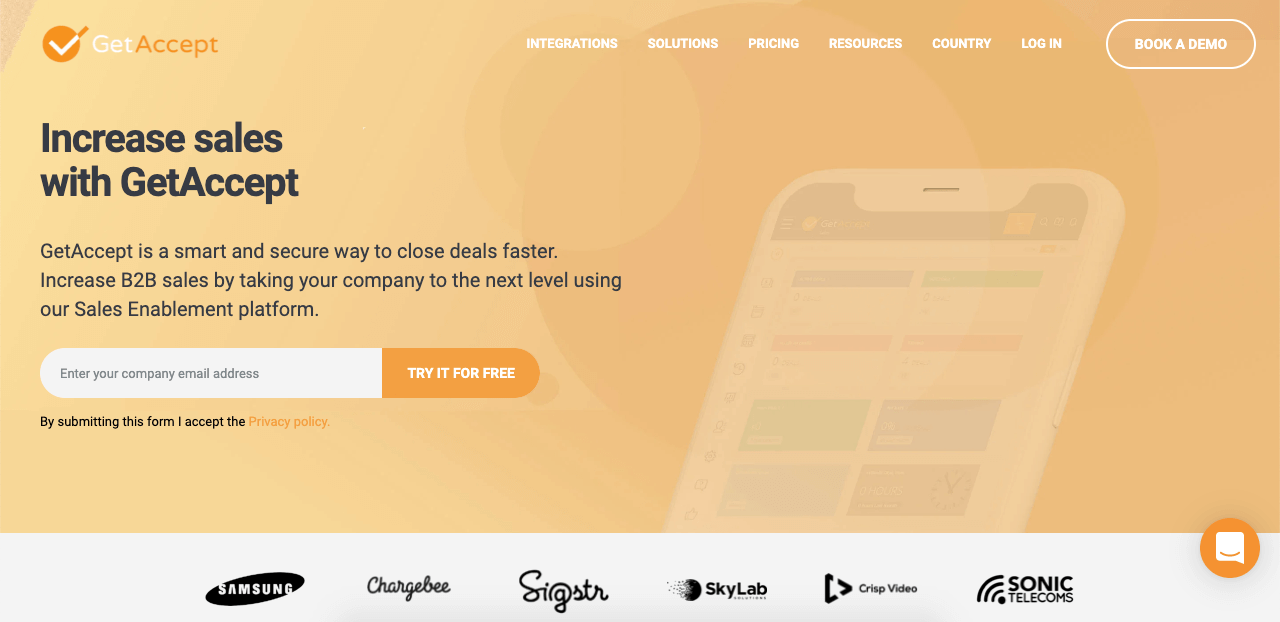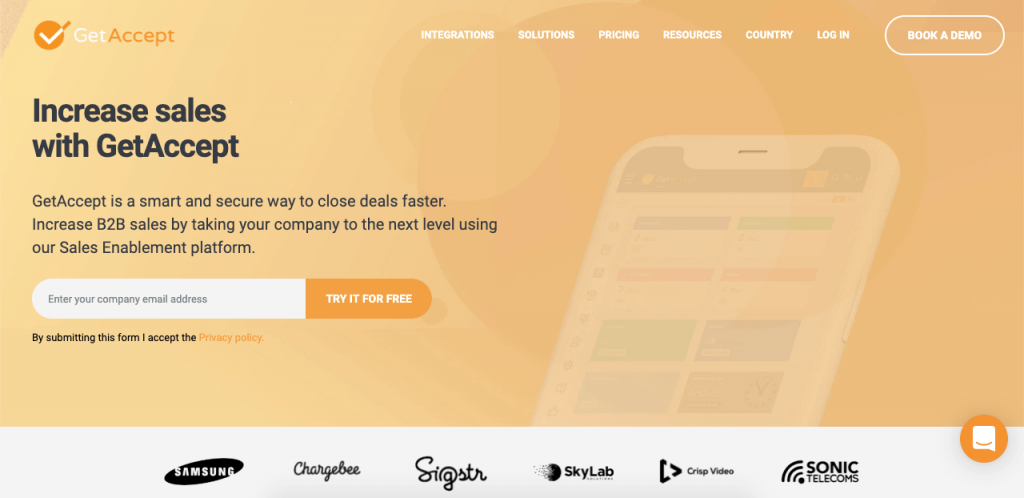 GetAccept is a terrific tool if you're looking for electronic signature software that integrates well with your CRM.
Used by Samsung, Crisp Video, and other notable clients, GetAccept is an excellent online signature tool for B2B sales and online teams.
Pros:
Many integration options: GetAccept integrates with Salesforce, Stripe, HubSpot, Microsoft Dynamics, LinkedIn sales navigator, Pipedrive, and Google Docs, to name a few.
Powerful API: On top of all of its integrations, GetAccept also offers an API for developers.
Sales-focus: GetAccept has many templates, analytics, engagement, and automation focused on increasing your sales.
Cons:
Lacking built-in editor: Users complain about their experiences revising and editing documents on the platform.
Non-intuitive UI: The two views, sales and signature, and the UI design has been reported as confusing and hard to use.
Price: Starts at $22 per user per month, with its Business Plan raising that price to $40 per user per month and its Enterprise Plan increasing it to $60. API is available through custom pricing.
SecuredSigning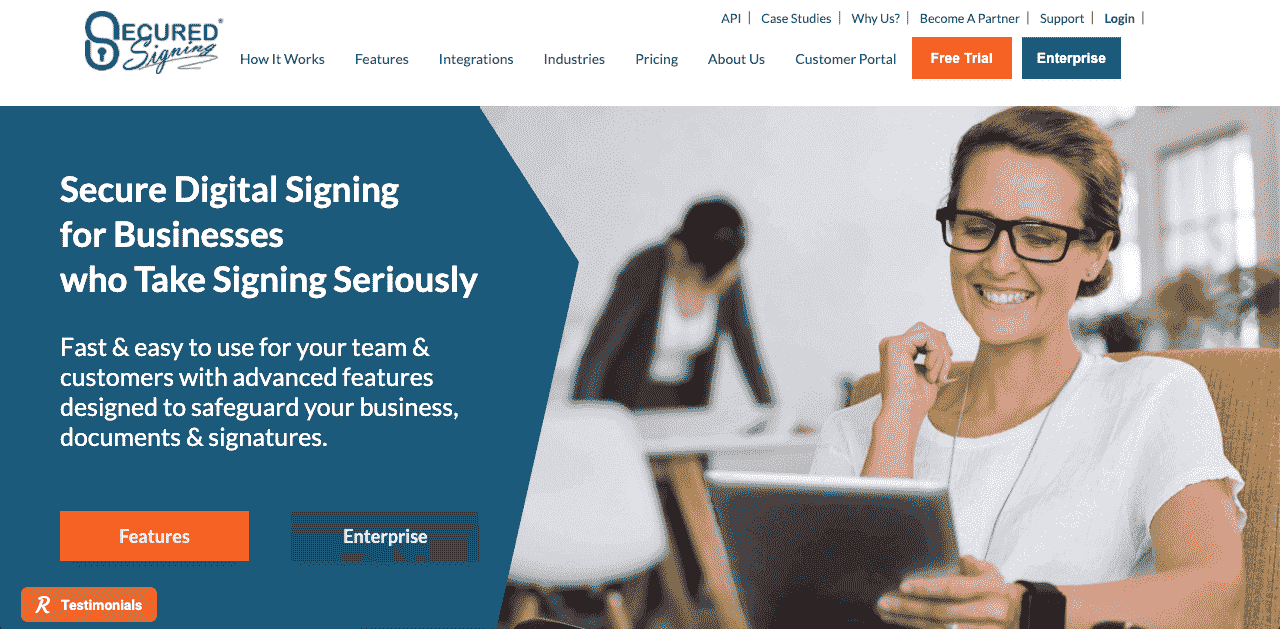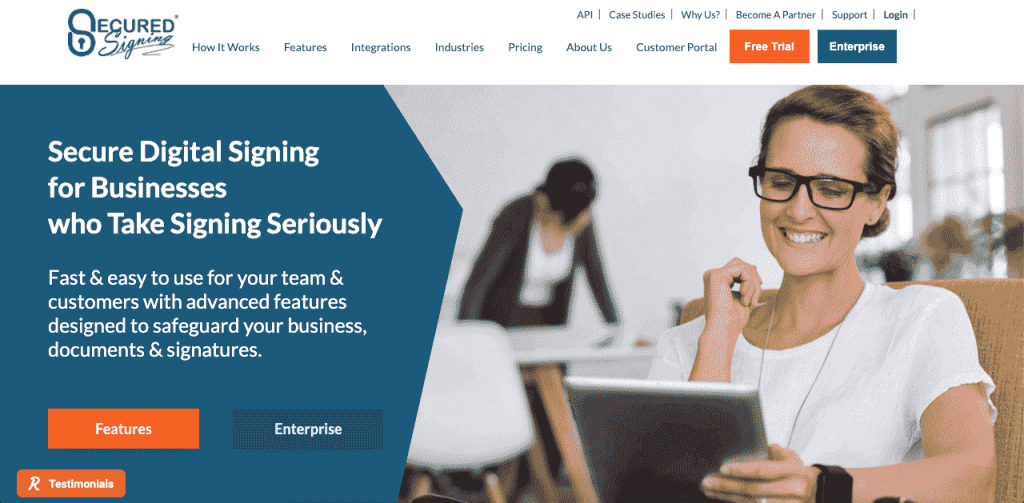 SecuredSigning allows you to customize your workflow and safely add online signatures with multiple advanced features.
With SecuredSigning, you can upload, create, and modify documents, use your favorite CRM through its many integrations, and sign documents with a tap of your finger.
Pros:
Online Notary: You can request that a Notary Public notarize your documents remotely for added validity and legality.
Powerful integrations: You'll most likely find your favorite CRM in SecureSigning's long list of integrations.
Video confirmation: You can enable video confirmation to record the signing process of your signees, so you have further proof of intent.
Cons:
Relatively unknown: It's hard to find user reviews or experiences online.
Non-disclosed price: You'll need to contact the company directly for pricing.
Price: Free plan for one user, which includes three documents per month. Further pricing is only available upon request.
Contractbook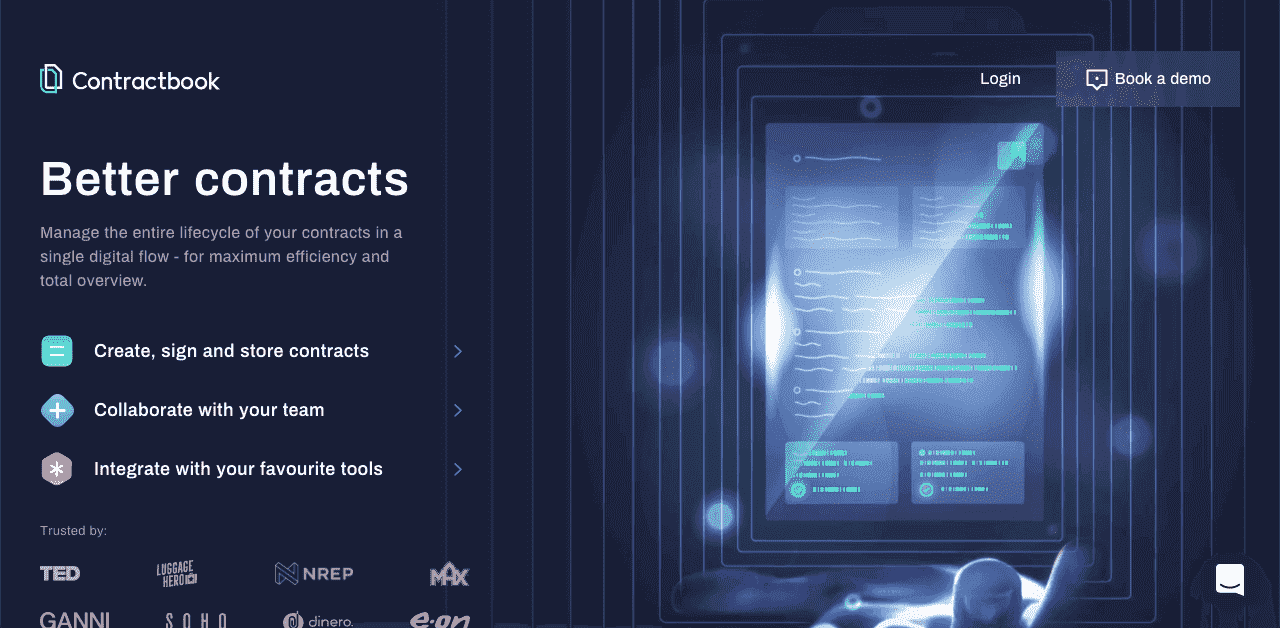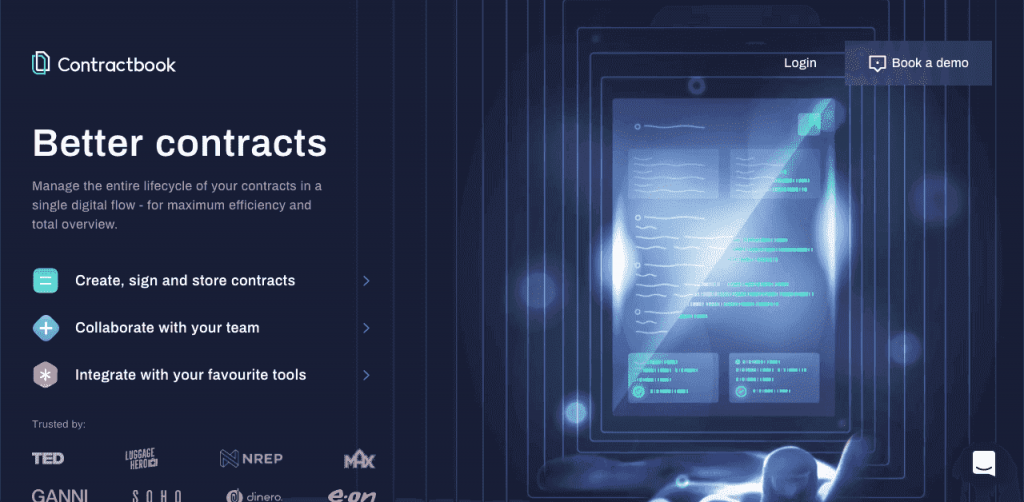 Contractbook's focus is on contract management tools with eSign capabilities. This means you get more options when editing, revising, and tracking your documents.
The menu divides the documents into Signed, Pending, Requested Changes, Rejected, and Uploaded, so you can keep track of multiple documents and stay informed about each document's stage. This makes it the perfect solution for managing multiple contracts and documents.
Pros:
Great integrations: Besides integrating with Slack, Pipedrive, Hubspot, Dropbox, and a few others, you can use its API to expand its integrating capabilities.
User-friendly: The interface is straightforward and easy to use, even when keeping track of multiple documents.
Team collaboration: The platform allows you to send your draft to your teammates for review and keep track of who edited what.
Cons:
Lacking contact management: There's no contact saving on the platform.
No advanced analytics: Although the platform focuses on businesses, there's a distinctive lack of document analytics.
Price: Free Pilot version includes unlimited free digital signatures. The Basic Plan costs €49 per month and includes more personal options. The Collaborate Plan for business costs €74 per month.
Lightico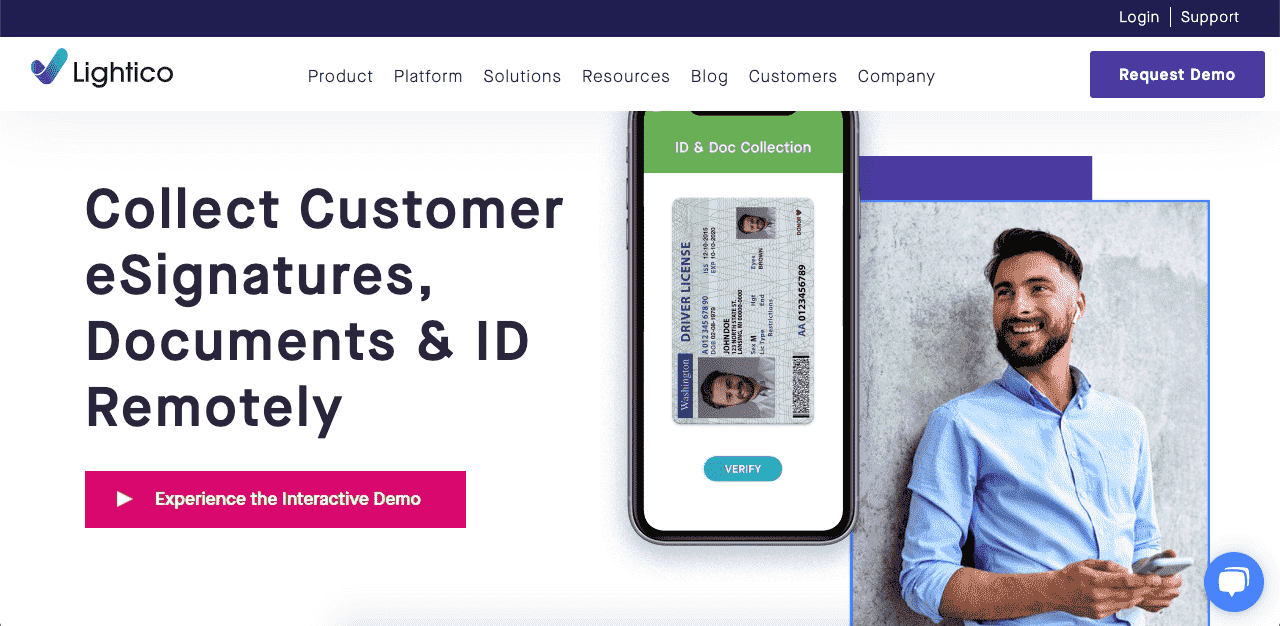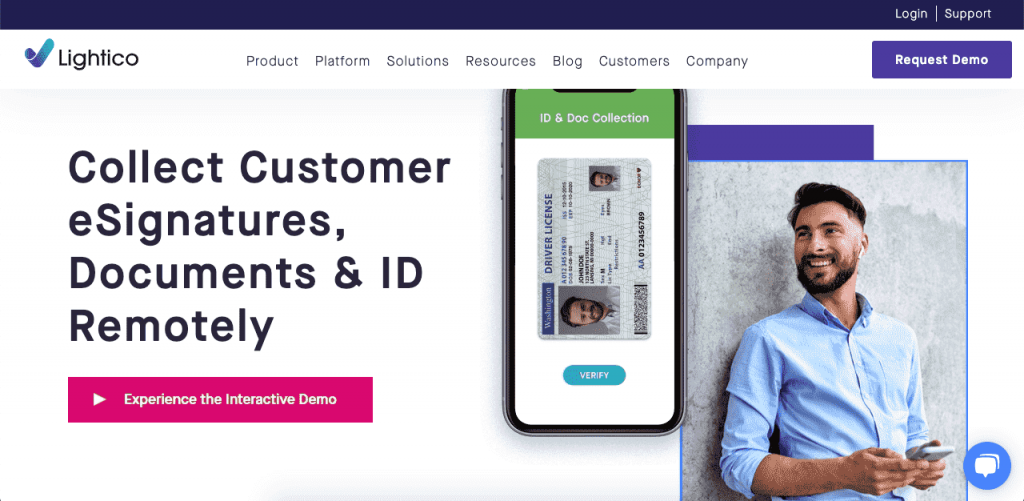 Lightico is a handy tool for anyone with a high volume of B2C documents and transactions. 
With their electronic signature software being only a small part of their customer experience platform and their many CRM integrations, Lightico's goal is to become your default customer journey service.
Pros:
Great for businesses: The platform is built around businesses and their clients, so you'll get a lot of value along with their signature software.
Holistic customer journey approach: Lightico's main purpose is to streamline every step of your customer journey, eSignatures included.
Easy to use: All of the features are under a very intuitive and streamlined UI.
Cons:
Not the best option for individual users: Since the platform is built around businesses, it lacks a free plan, and it's of little use for personal purposes.
Price: Available through consultation only.
Formstack Sign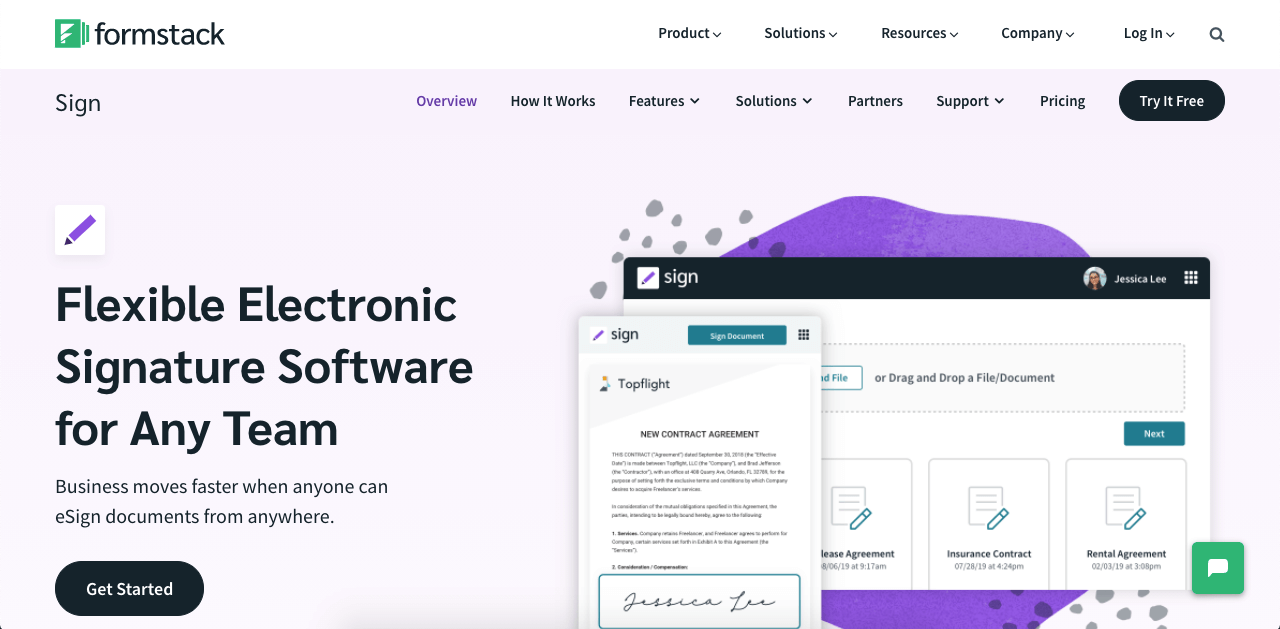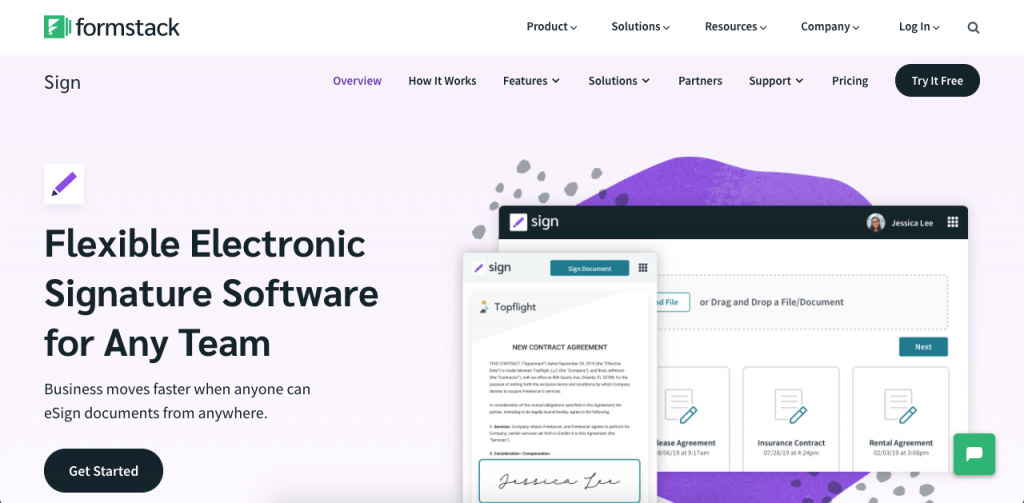 If you're looking for a solution built for teams, Formstack Sign is another amazing option.
The platform offers a flexible solution that can be used individually or by teams. You can even test their platform online to understand the process better. The platform is fully mobile-friendly, so your signees can check their documents on the go.
Pros:
Open API: Useful for allowing the platform to integrate with your favorite tools.
Highly secure: Your documents are stored in secure data servers, and you can password-protect them to guarantee the signee is the only person with access to them.
Drag-and-drop builder: To simplify your document creation and editing process.
Cons:
Lack of native integrations: It doesn't integrate with Zapier and you have to pay a premium fee to use the API or to have integration access.
No advanced features: Although Formstack caters to businesses, it doesn't offer advanced fields or analytics.
Price: The Standard Plan starts at $15.95 per user per month. The Pro Plan jumps to $25.95 per user per month. The Enterprise Plan pricing is available based on a customized quote.
SignRequest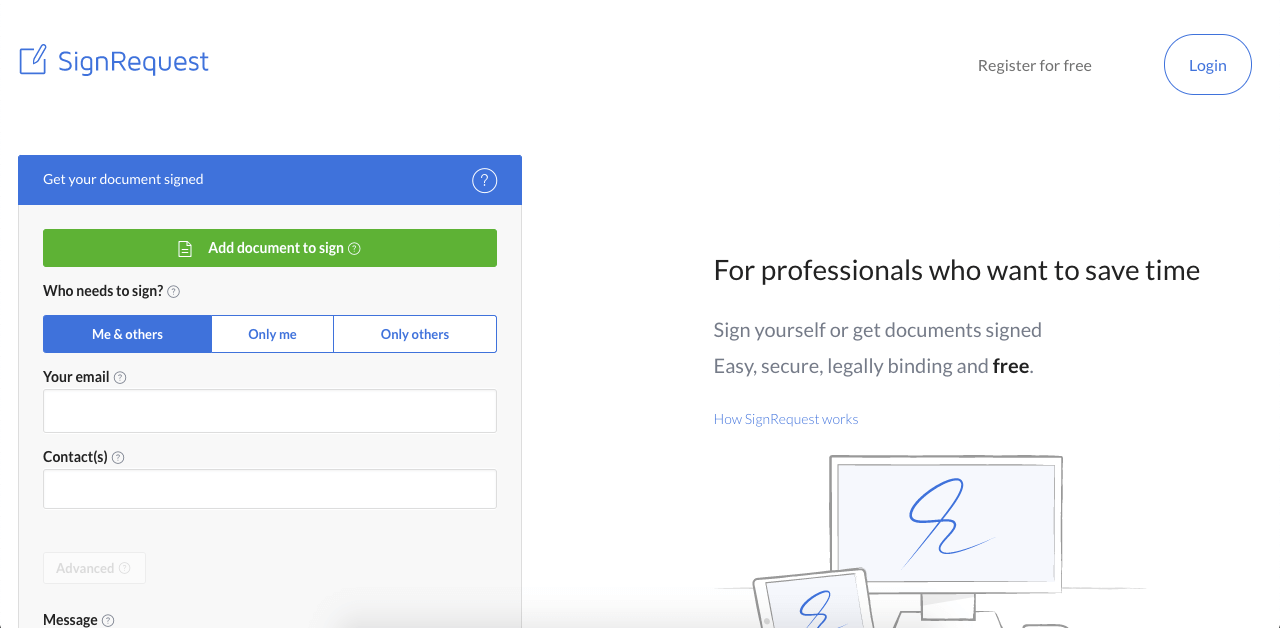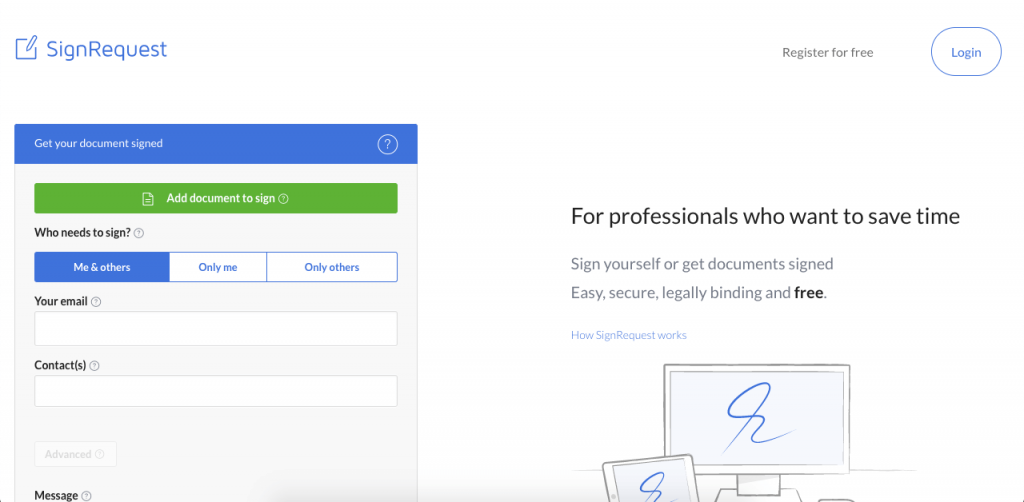 SignRequest offers a generous free eSignature software plan, simple and streamlined processes, and top-notch integrations.
With SignRequest, you can send bulk documents, sign documents directly on Salesforce, and easily manage and track multiple documents.
Pros:
Free plan: The free plan offers a generous 10 documents per month, an excellent tool for anyone looking for sporadic eSigning.
Affordable: The most expensive plan is 12 euros per month per user and includes unlimited teams and templates.
Eco-friendly: They claim to plant one tree per license.
Cons:
Lacking contact organization: The platform doesn't offer many features to keep contacts organized, which makes it harder to use when dealing with multiple clients.
Lacking mobile experience: The mobile experience isn't as complete or intuitive as most other options.
Price: The free plan offers 10 documents per month for one user; paid plans start at $7 per month for one user and allow for the ability to send unlimited documents.
eversign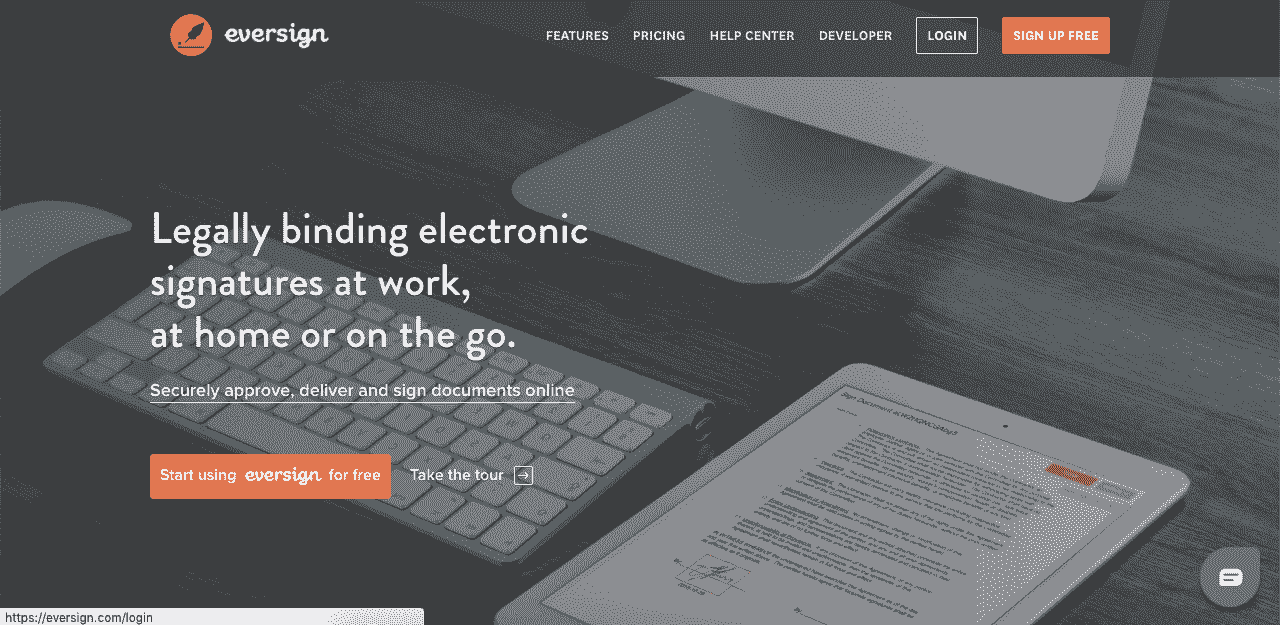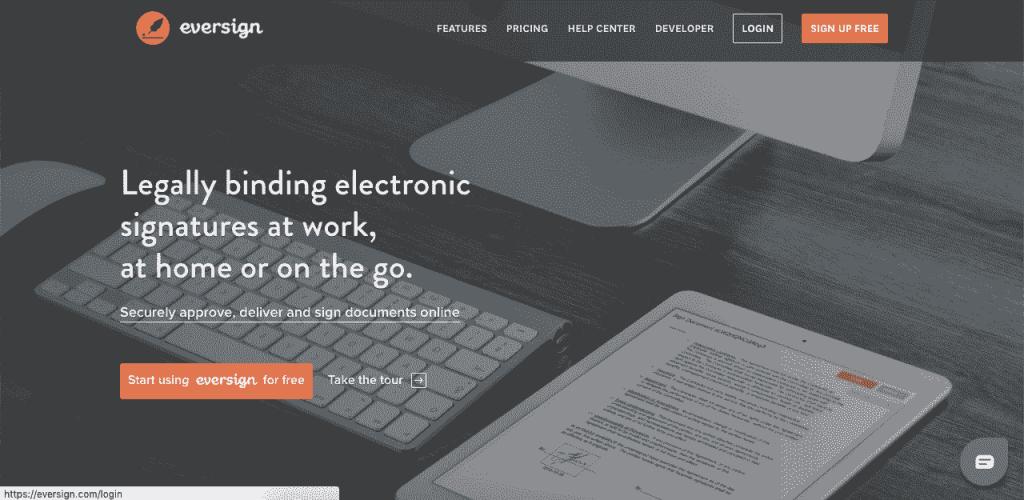 Eversign is a complete document management solution with eSignature capabilities. It allows for in-person signing and automation options.
The platform includes a document editor to manage your documents in-app and offers many templates for multiple industries.
Pros:
Useful for multiple purposes: Any business can take advantage of its templates, signing capabilities, and document management capabilities.
Powerful integrations: Besides integrating with the most popular cloud-based platforms, it also offers an API to further integrations.
Free online signature creator: You can type, upload, or create your signature in-app.
Cons:
Lacking user experience (UX) support: Multiple users report difficulties learning to use the platform.
Expensive company branding: Custom branding is only available with the most expensive plan.
Price: Free plan available with up to five documents per month; paid plans start at $9.99 per month for unlimited documents, $39.99 per month for five-person teams, and $79.99 per month for companies.
SnapSign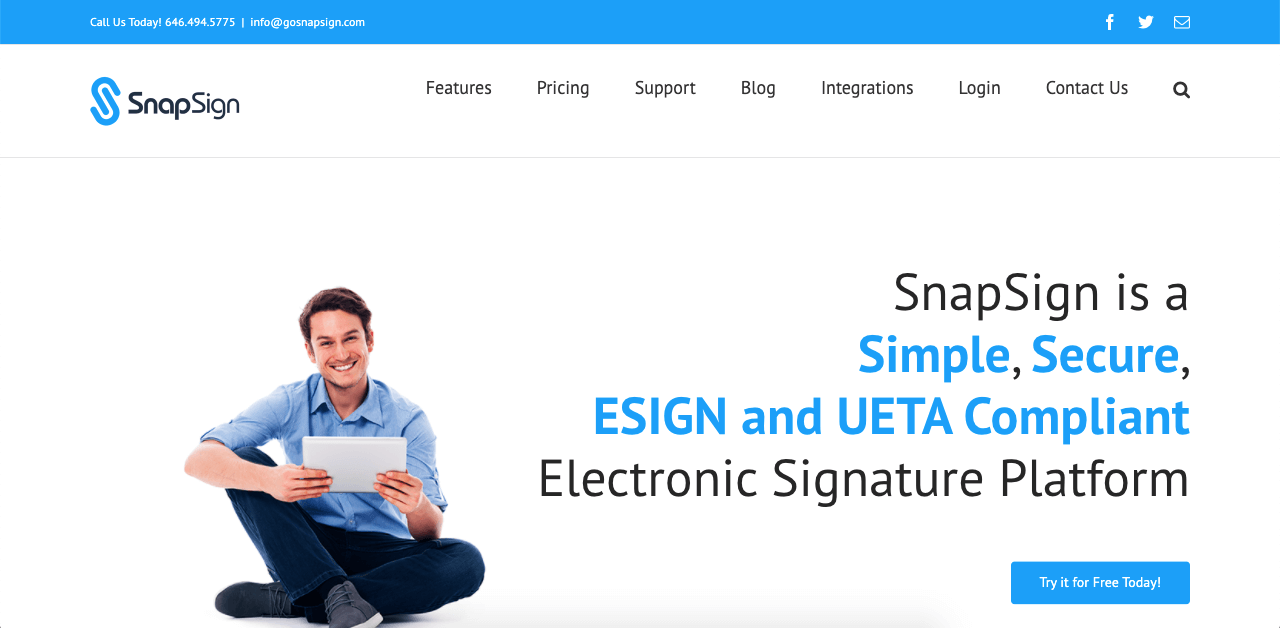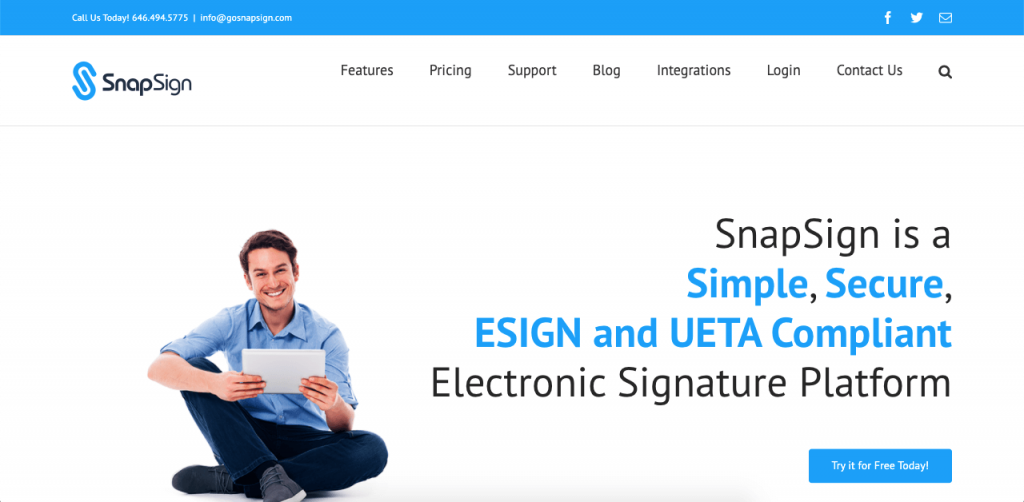 Based in the United States, SnapSign is a simple and secure online signature platform.
It offers many integrations, custom workflow options, and multiple templates to get you started.
Pros:
Affordable: Although the platform doesn't offer free plans, plans are affordable and feature-loaded.
Ample template library: Many templates for common forms.
Unlimited documents: There's no limit on the number of documents included in all plans.
Cons:
Lack of reviews and client experiences: It's hard to find any online experiences of SnapSign clients.
Integrations not included: Integrations are only included upon request.
Price: Basic plans start at $9.99 per user per month. The price is $19.99 per month for five users and added features.
Yousign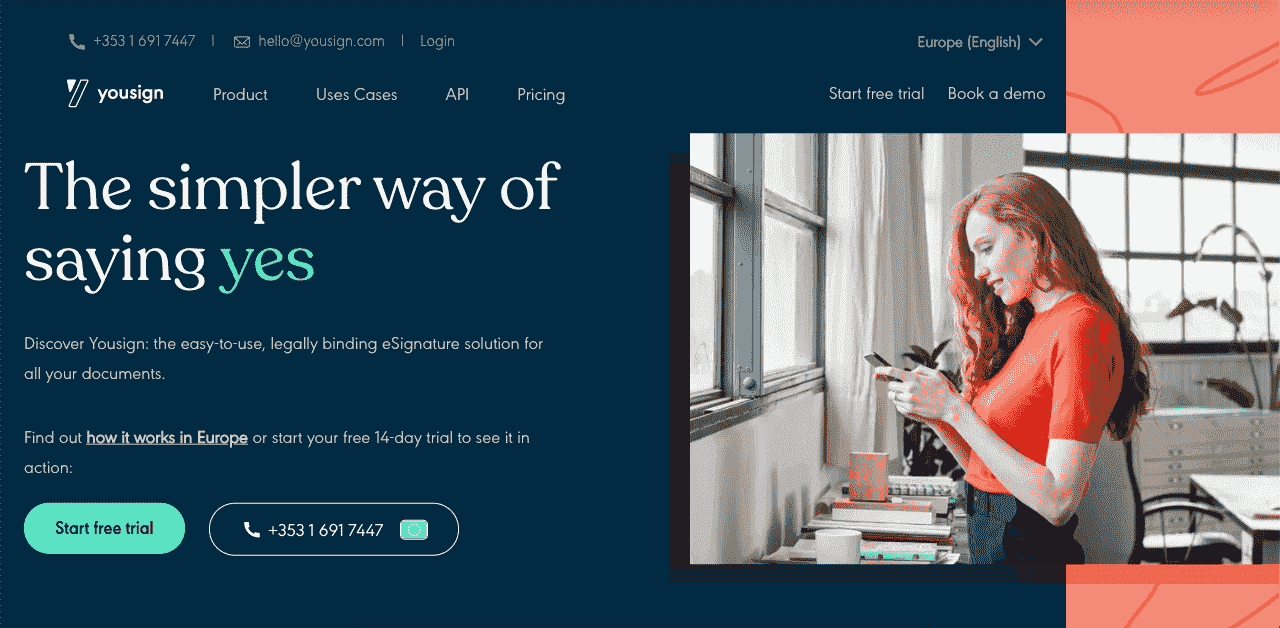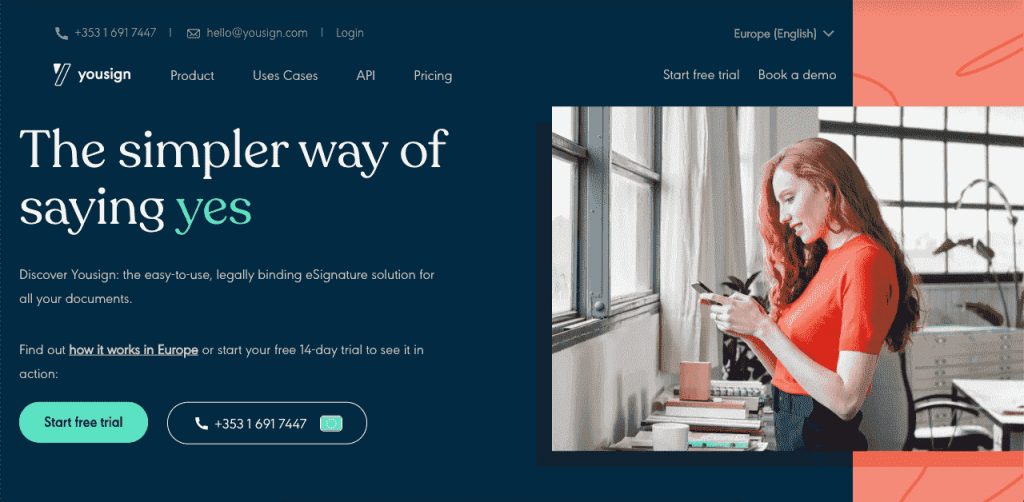 Based in Europe, Yousign is an easy-to-use online signature platform focused on European users.
With a straightforward and modern UX design and a streamlined signature process called "Procedures", this platform is a good option for anyone looking for a friendly online signature platform.
Pros:
Excellent user experience: The design, the process, and even the color palette are made to provide an easy and friendly user experience.
Flexible flows: You can set up an order for signees, set up reminders, and modify your workflow for each document.
Highly secure: Documents are saved on secure servers, timestamps are included for documents, and access is limited to authentication per user.
Cons:
Lack of worldwide support: The platform only caters to European users.
No audit trail: This may make it harder to prove online signature validity.
No editor: You'll have to edit your documents off-site.
Price: Starting at €25 per user per month.
Preview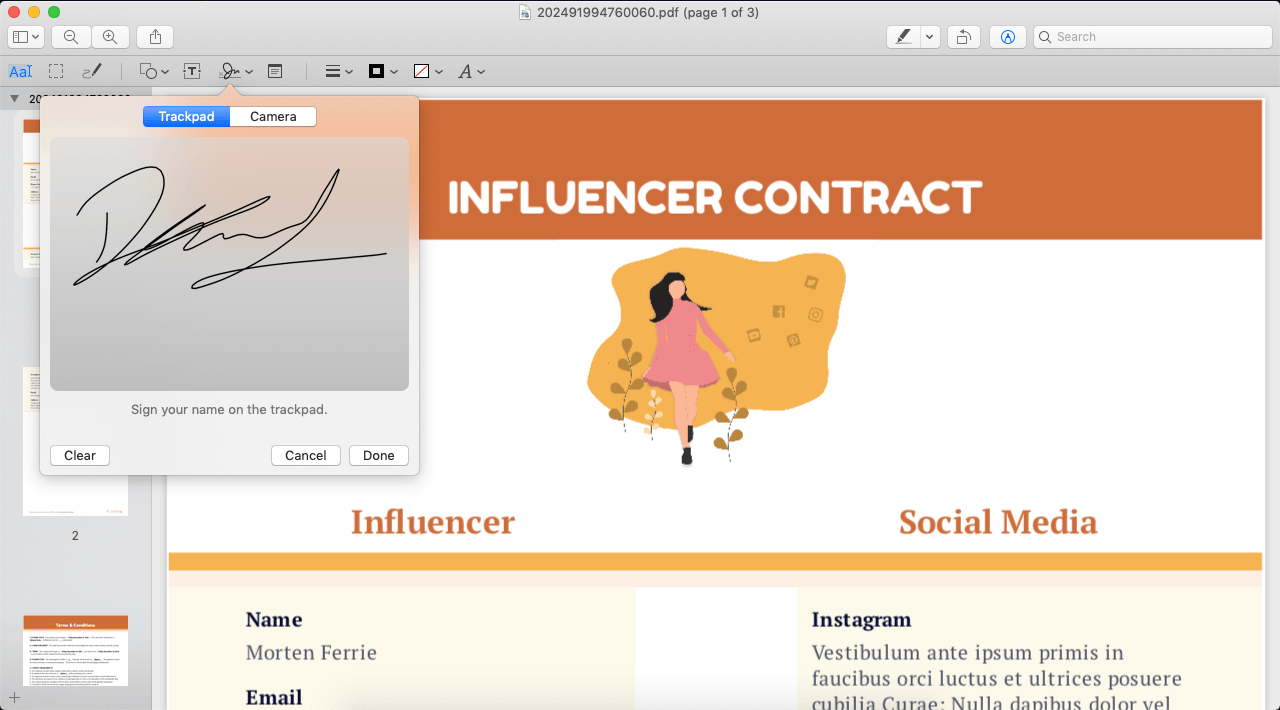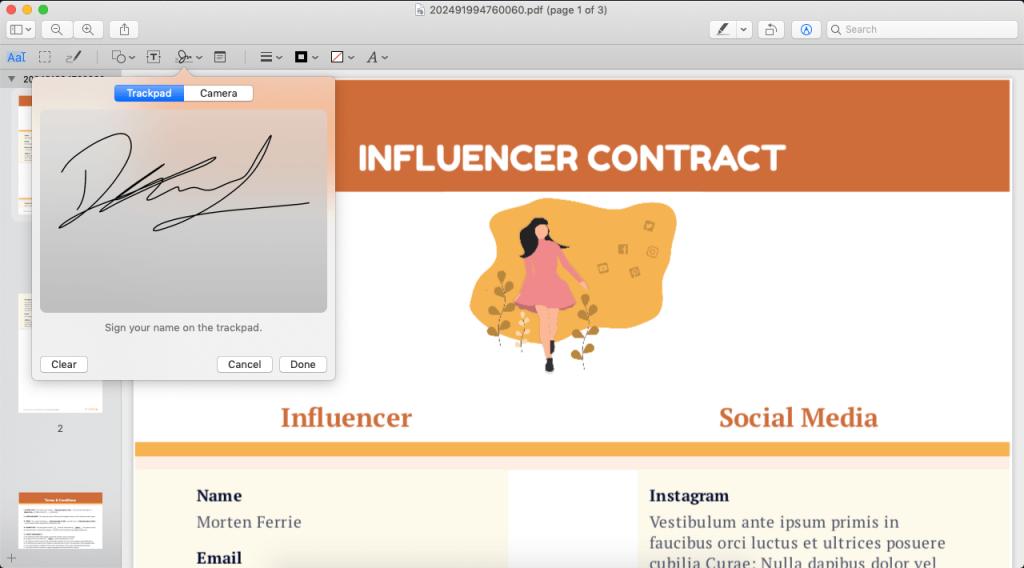 Preview is a pre-installed software with Mac OS X and eSign capabilities. Apple has been updating the software to make it more user-friendly.
Pros:
Free: If you have an Apple computer, you have free access to it already.
Good editor: You can quickly edit PDFs to add signatures.
Friendly signature capture app: You can use your camera to capture a signature or use your trackpad to create one.
Cons:
Lack of accessibility: It's only available on Apple computers.
Lack of advanced features: Not the best solution for anyone using online signatures regularly.
Price: Included with all Apple computers.
Digisign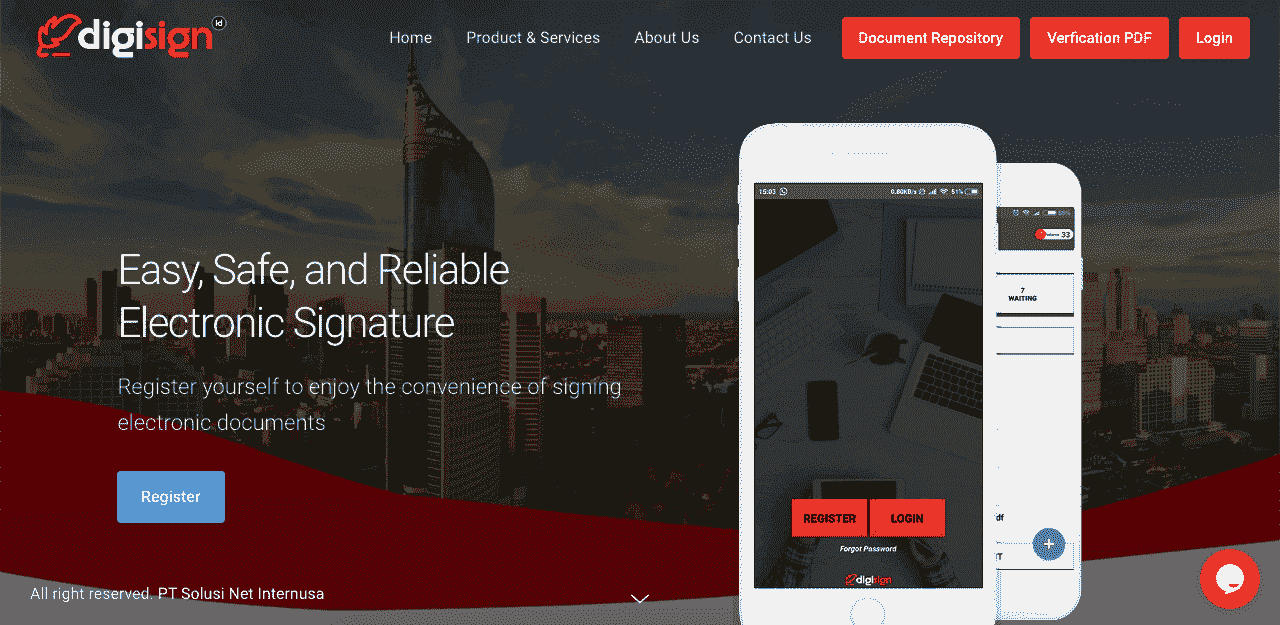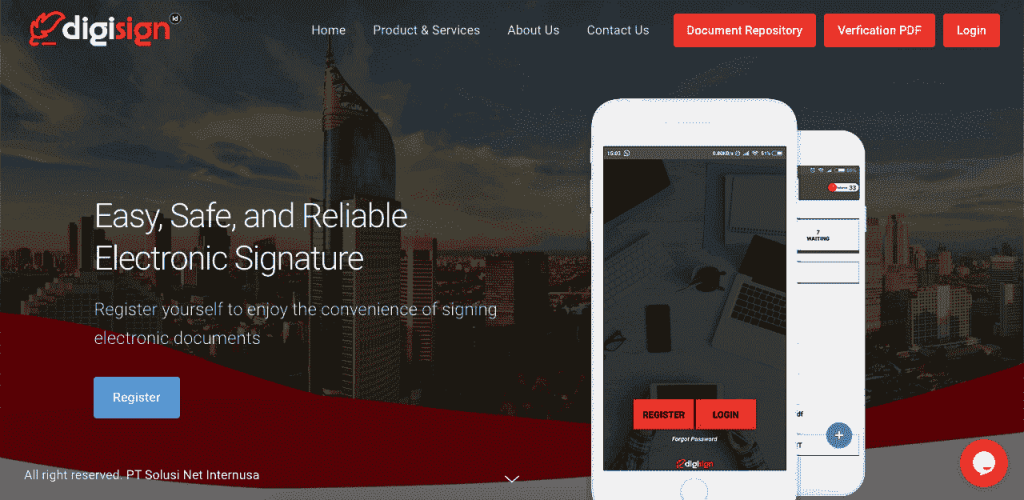 Digisign describes itself as a public service tool for electronic signatures. It's a great choice for highly secure eSignatures since it attaches a timestamp to each document as it's signed and follows KYC processes to guarantee the authenticity of personal data.
Pros:
Highly secure: Its security protocols are top-notch when authenticity is of the essence.
High capabilities: The platform allows you to receive over 15,000 signatures in the most advanced plans.
Mobile app: For creating documents and signing on the go.
Cons:
Lacking support: Only email support is provided, no phone support.
Unclear security backup: The platform doesn't offer enough information on the security of its servers.
Price: Available upon request.
AuthentiSign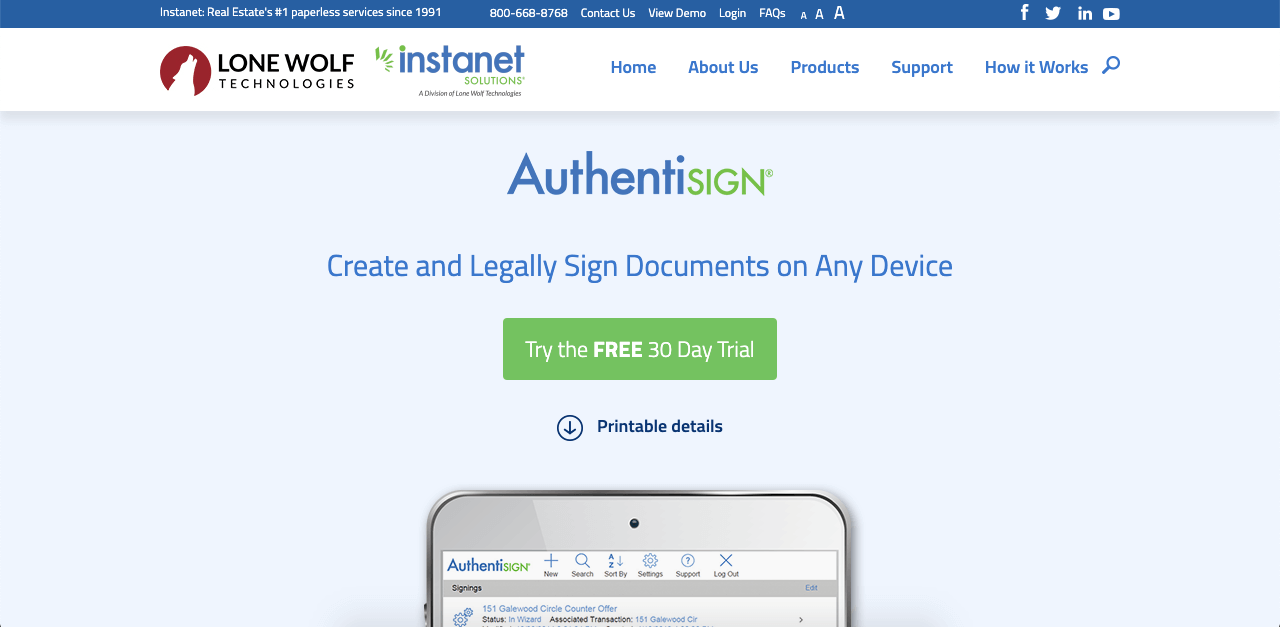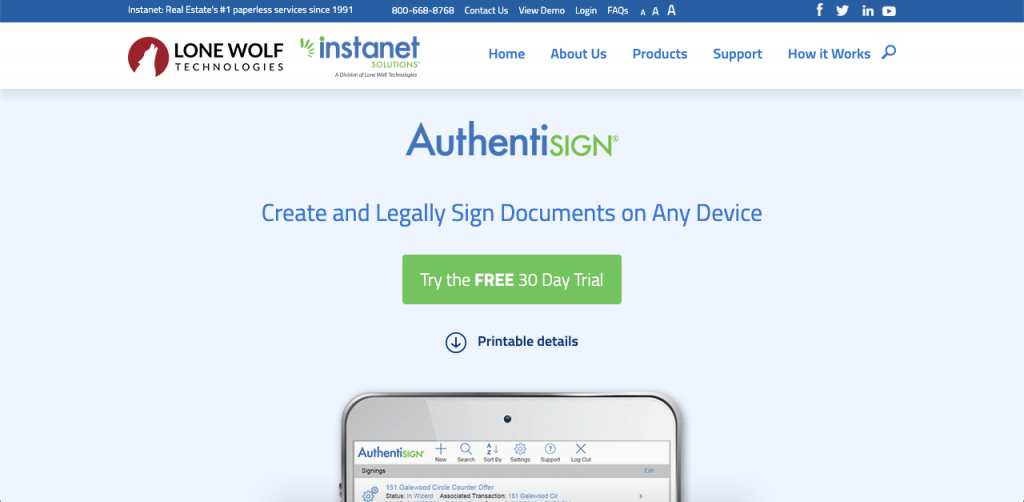 Focused on catering to real estate companies, AuthentiSign is the best place to find real estate templates and receive online signatures online.
AuthentiSign is part of Instanet Solutions, which gives real estate users many useful features to manage their listings and clients online.
Pros:
Full real estate suite: Perfect for handling all of your real estate needs, signing included.
Fully mobile-friendly: The platform works on any phone or tablet.
Cloud-based integrations: Integrates with Google Drive, Dropbox, and OneDrive.
Cons:
Not for all users: The narrow approach only targets people in real estate.
Limited availability: The platform is only available to Canadian and United States citizens.
Price: $129 per year.
DocHub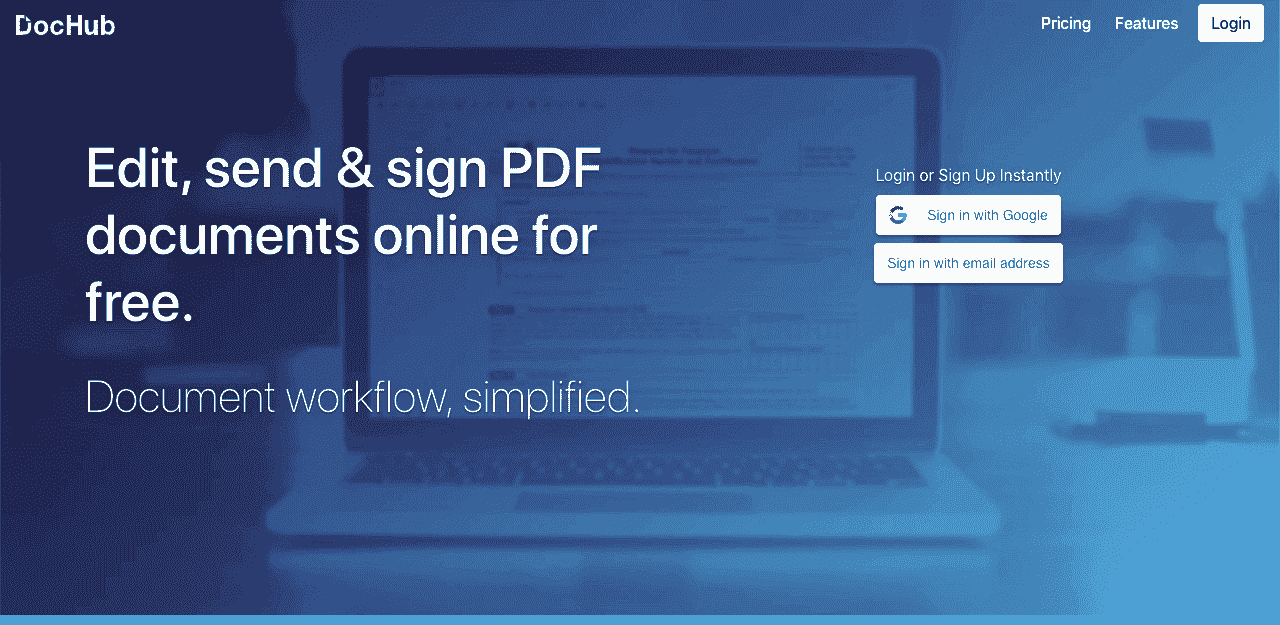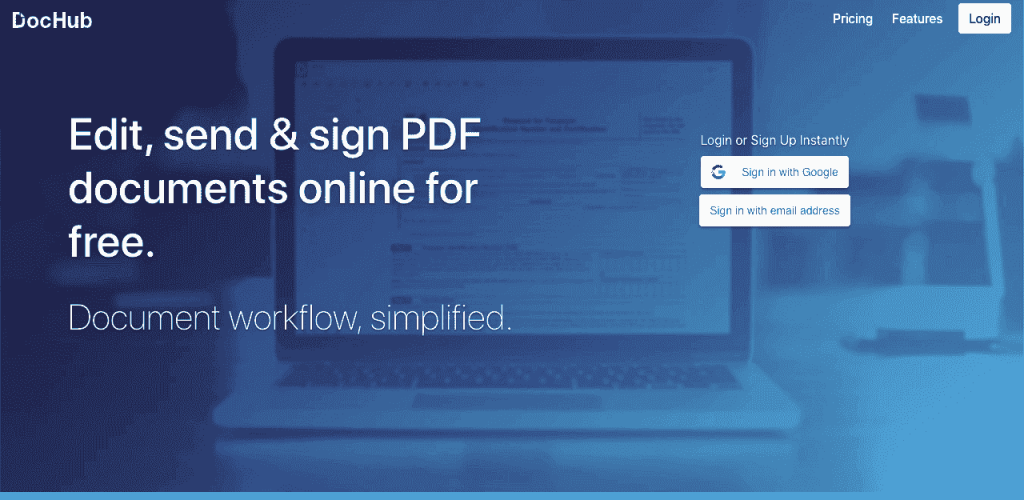 DocHub is a terrific option for quickly importing PDF documents to add signature fields. You can also import your documents from multiple cloud services to set them up and send them to your signees.
Pros:
PDF editor: The platform allows you to open and edit PDFs for more than just adding signature fields.
Simple interface: Perfect for users or companies looking to migrate their PDFs and printed documents into an online solution.
Fully mobile-friendly: The platform works on any Windows, iOS, or Android device.
Cons:
Minimal  reviews: Although the platform claims to have over 47.7 million users, there are very few reviews online, and the company doesn't showcase any brands that use its platform.
Buggy platform: The few reviews that are posted online complain about multiple bugs when using various features and tools.
Price: Free service for up to two documents and five signatures per month. Pro tier starting at $6.99 per month for more documents and advanced features.
Frequently Asked Questions:
1. What is electronic signature app?
An electronic signature app allows you to sign digital documents―particularly those that are legally sensitive, such as contracts―eliminating the need for paper documents.
2. How do I create an electronic signature?
You can draw your signature with a touch screen or touchpad using your finger or a stylus, type it using your keyboard, or upload a photo of it.
3. How do I create a digital signature on my phone?
You need to download an electronic signature app on your phone, then draw your signature using the touchscreen.
4. How do I create an electronic signature in PDF?
You can draw, type, or upload a photo of your signature to the PDF file you wish to sign.
5. How do I convert my signature to a digital signature?
You can scan a signed piece of paper, crop your signature, and save it in a suitable format.
6. Can you draw a signature in Word?
You can only use an electronic signature in Word by typing your name or uploading a photo of your signature to sign a Word document.
Electronic Signature Apps: The Bottom Line
Signing electronically is the way of the future. That's why it's important to find the best platform for you and your customers.
If you're looking for a feature-filled, affordable, and simple option to grow with your company easily, try Signaturely for free.