In this article, you'll learn exactly how to sign a contract online—without any hassle.
We'll also show you the following:
What an electronic signature is
Why you should sign contracts online
How to sign contracts using Signaturely
In addition, you'll get the answers to the most frequently asked questions about eSignatures, how to make them valid, and how to create your own.
Let's get started…
What Is an Electronic Signature?
An electronic signature is a way to give legal consent or approval online. With it, you can sign virtually anything—without needing to print a form and sign it normally. 
Because of their convenience, eSignatures are being used more and more. They can speed up any process that needs a signature, are legally binding by most countries, and reduce printing, traveling, and shipping costs.
Electronic signatures are mostly used by marketing and sales deals to expedite the process and (when hiring someone online) to get them to sign legally binding NDAs and other contracts.
Why Should I Sign Contracts Online?
Here are the main reasons to sign contracts online…
1. Fast turnaround time
eSignatures are to regular signatures as emails are to snail mail. They expedite the process by getting the job done almost instantly, regardless of where the relevant parties are.
Signing electronically means you don't need to transport your contracts to your stakeholders physically. You don't even need to print your contracts at all.
By using electronic signatures, you can directly go from drafting your contract to getting it signed.
2. More secure
People can be more secure despite what people may think when they hear about eSignatures. Paper documents are very easy to tamper with. Not only can they be tampered with by scanning and reprinting them, but they can also be hacked into a simple photocopier.
By using electronic signatures, all parties get a copy of the document that (once signed) cannot be tampered with. The right contract management software can detect any document's slightest alteration.
3. Lower costs
Besides the costs of packaging, paper, and ink, eSignatures reduce the potential for human error. At best, signing mistakes can slow down progress. And at their worst, they result in very costly losses.
Due to their automated nature, electronic signatures eliminate these signing mistakes. They can also provide alerts about records or compliance issues.
Lastly, since they're more secure than regular signatures, they can save you legal fees when you sign your contract.
In short, electronic signatures are safer, cheaper, and faster than regular signatures.
How to Sign Contracts Online Using Signaturely
With Signaturely, you can start signing the contracts you have at hand right away. We remove all the unnecessary processes and allow you to set up your contract immediately.
Just upload your contract and add your required fields. Then you're ready to go. Signaturely will create the fields and take care of the guiding process. Here's how.
1. Choose your signers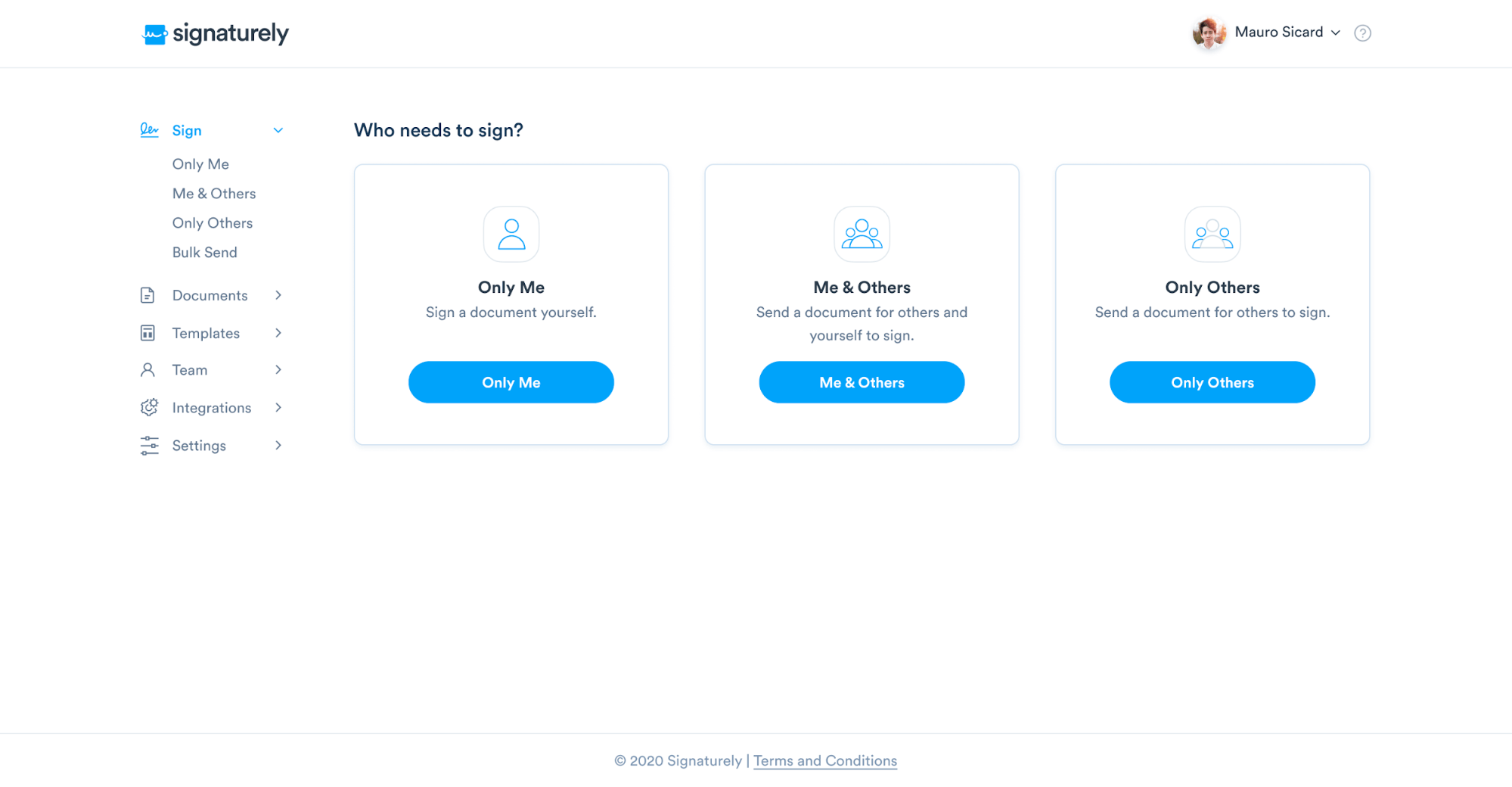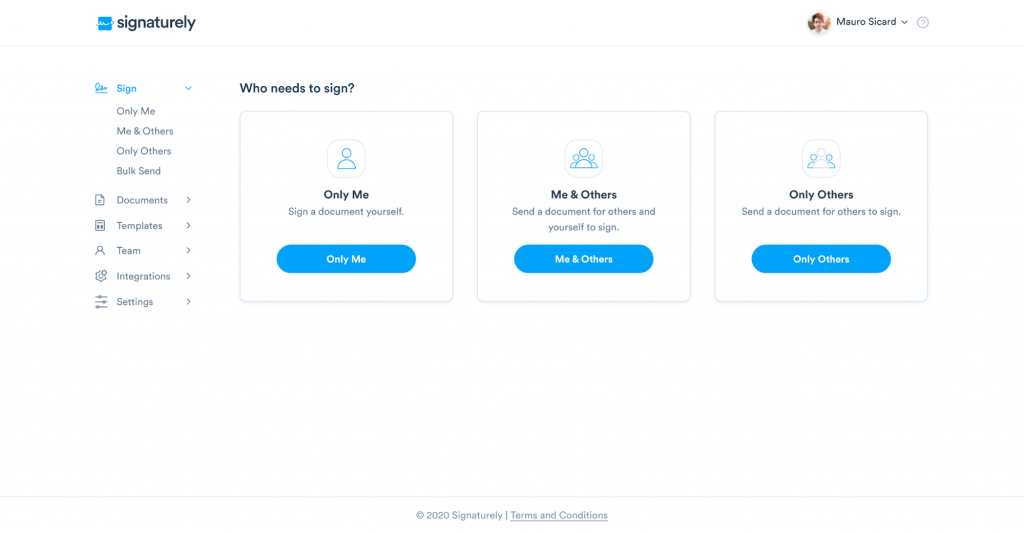 Once you have your contract, you can use Signaturely to send them to the signers. If your contract needs to be signed by different people in the right order (including you), Signaturely can send them one after the other, as each stakeholder signs the agreement. In this case, you can choose "Me & Others" in Signaturely. If your contract only needs to be signed by you, this is also an option, and you'd have to choose "Only Me".
2. Prepare the Document
Now, you'll have to prepare your document for signing. If you've chosen the "Me & Others" option, you need to follow this process.
Add a title and an optional message for signers
Choose a template or directly upload your contract.
Choose signers by adding their name and their email.
Click on "Prepare Document"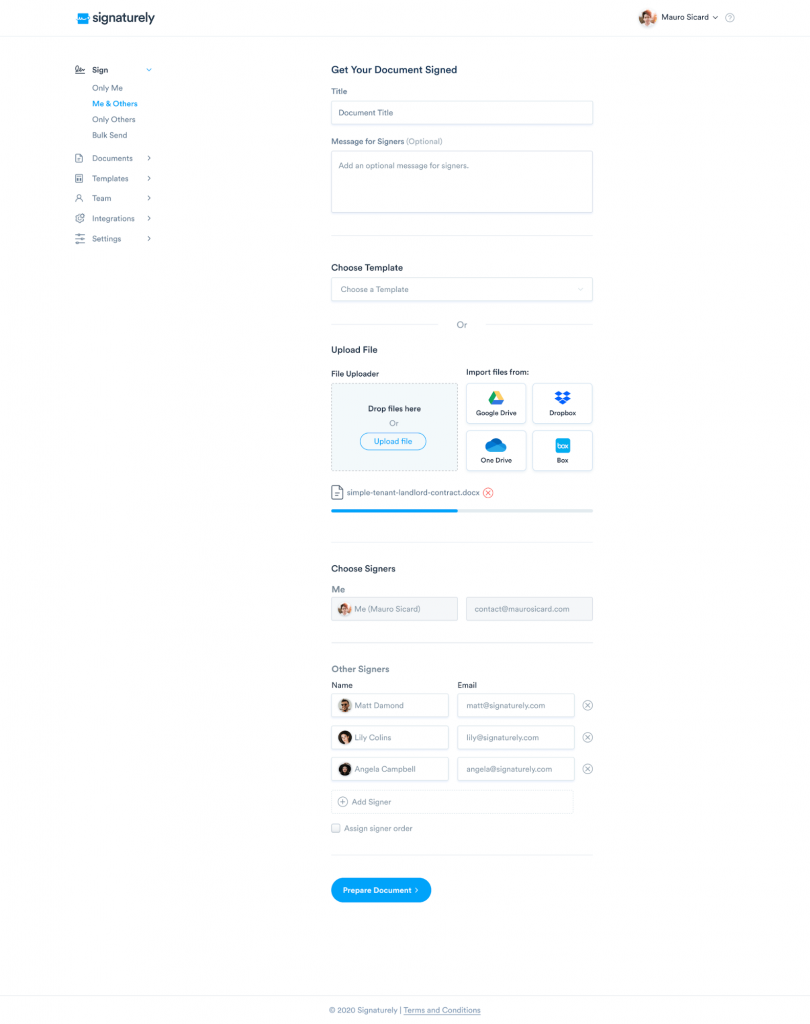 Now, you must define all the fields that need to be included in your document (such as signatures, initials, dates, textboxes, or checkboxes). Also, you can assign each field to specific signers.
Signaturely will guide signers through every step of the signing process—starting with creating their eSignature.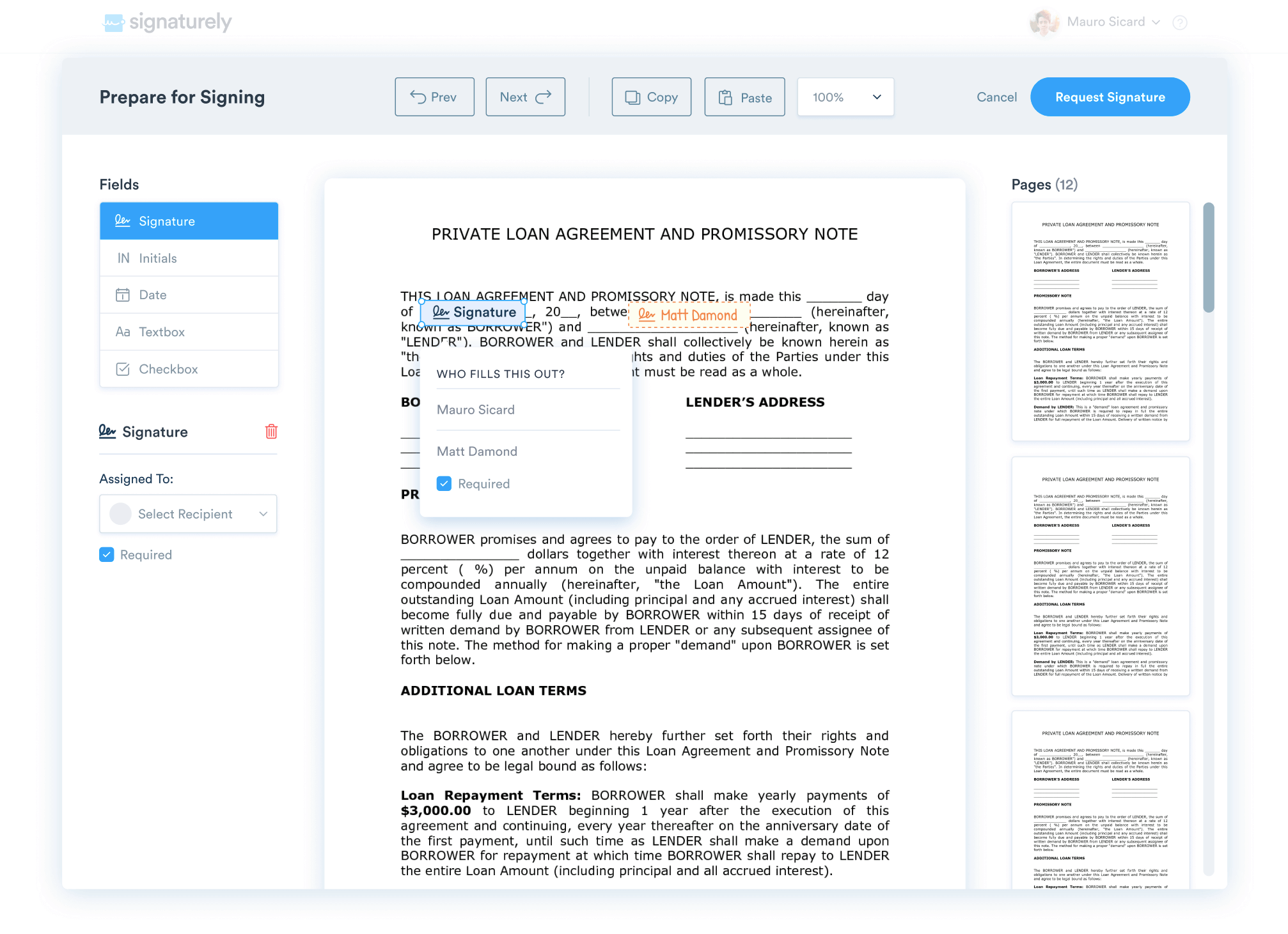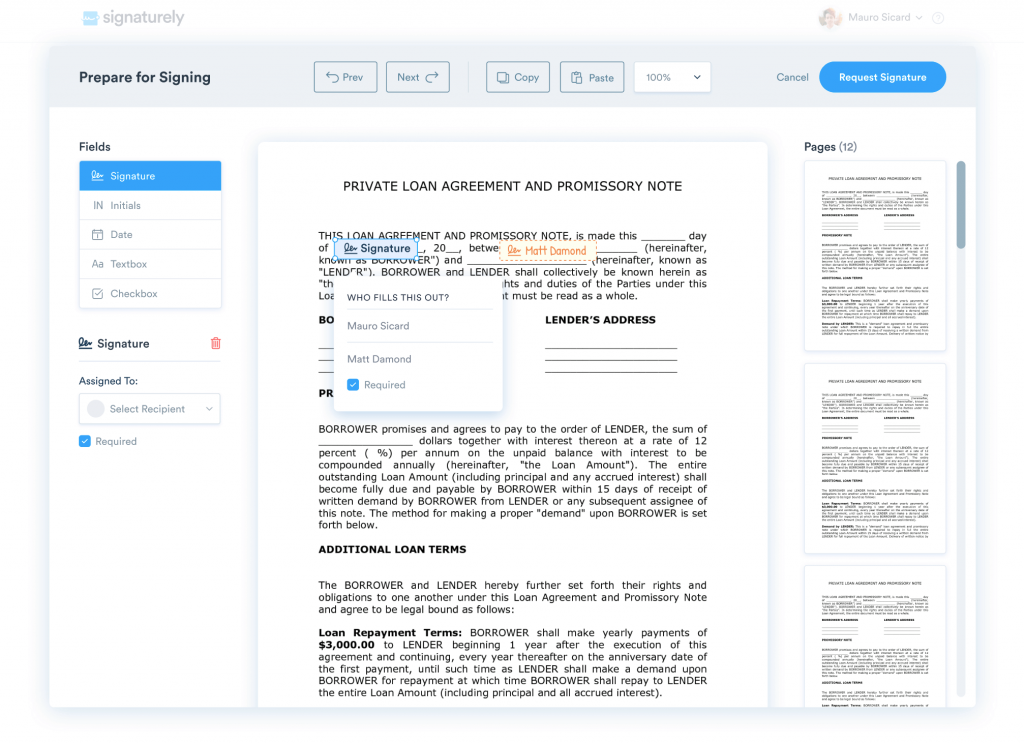 Now, you can easily save a copy of your document and go back to your document overview section.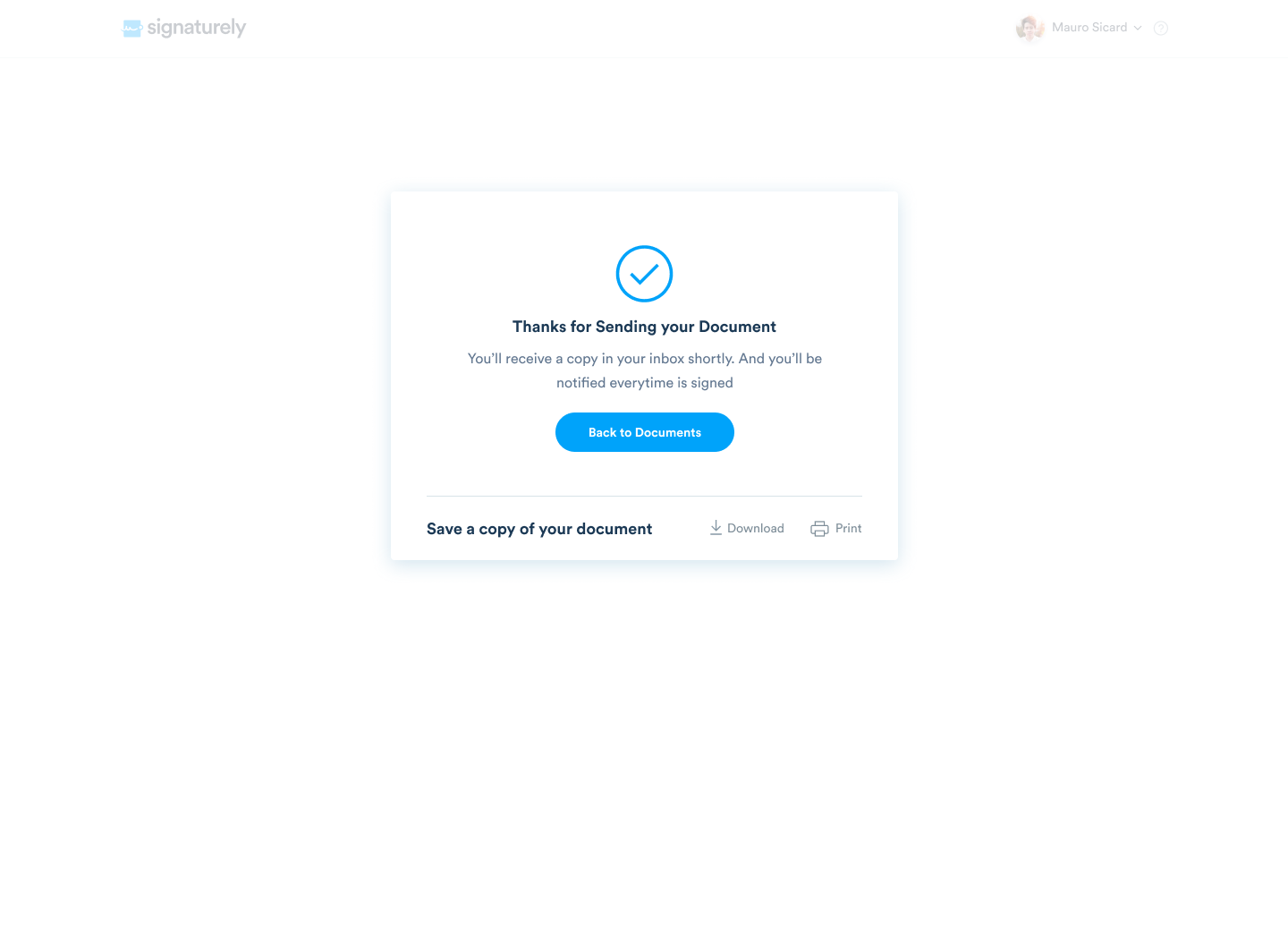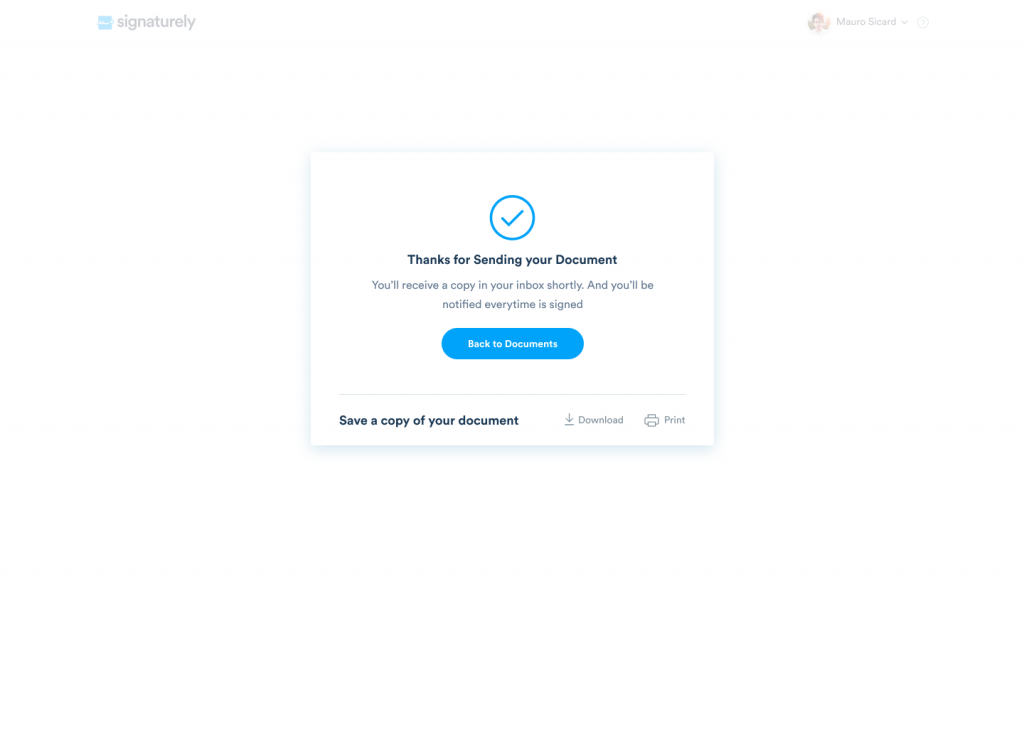 3. Let your signers sign the contract
Creating eSignatures with Signaturely is easy. Your signers will receive a signature request via email.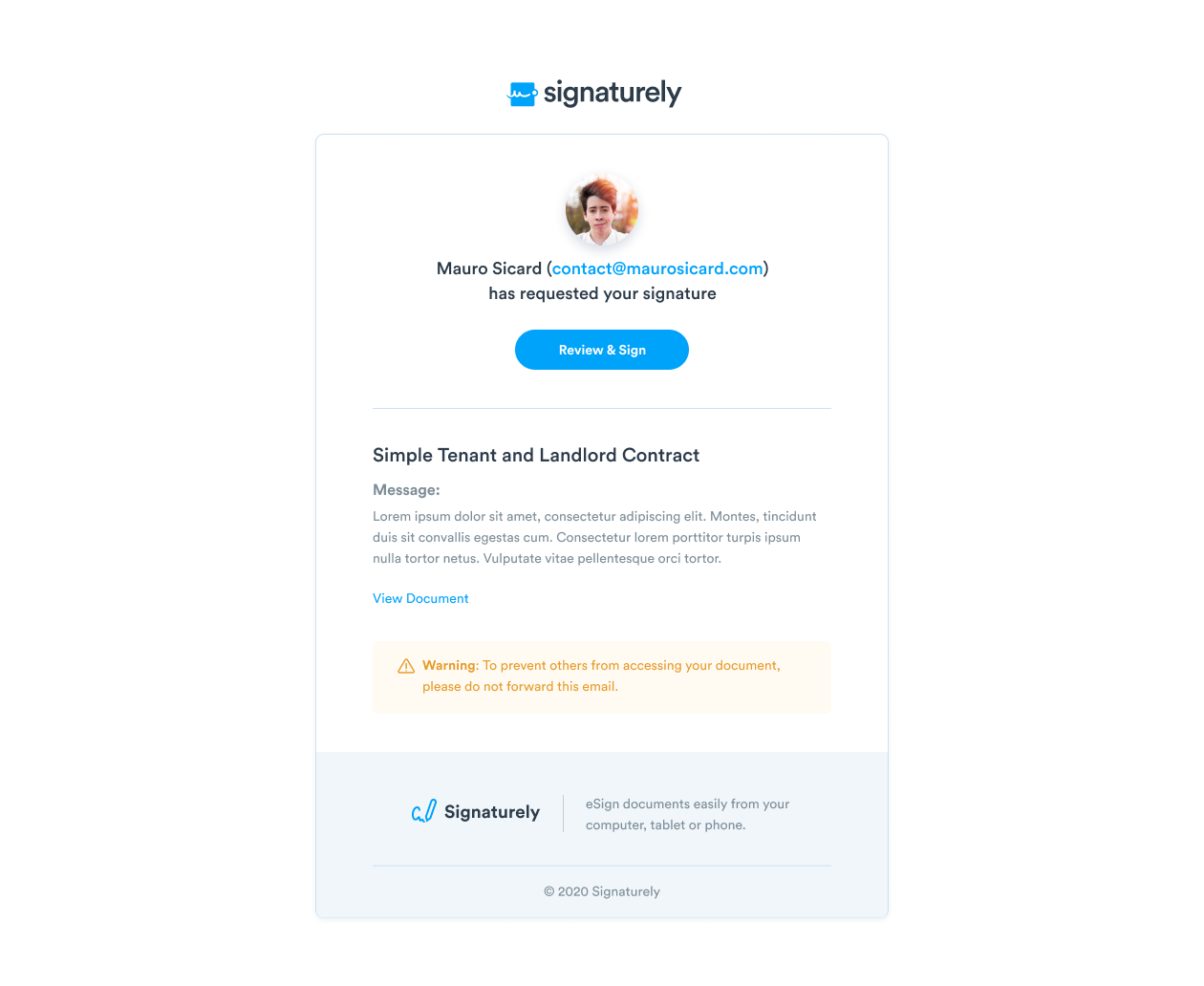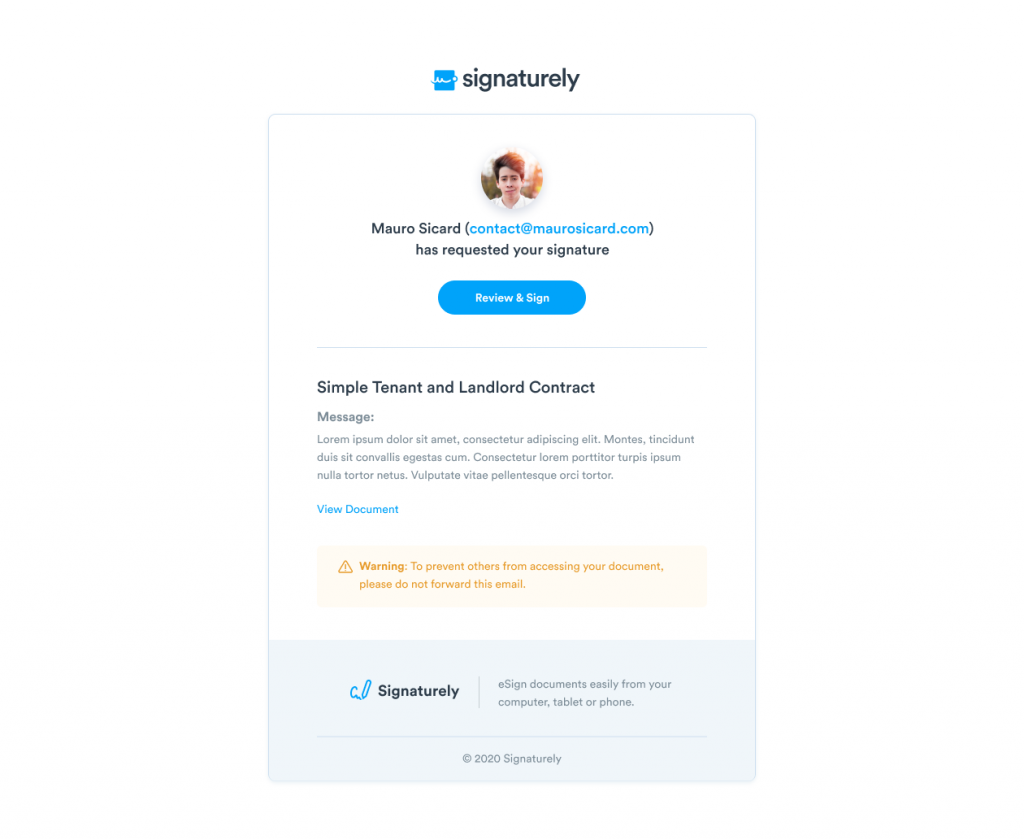 After receiving their signature request, all your signers have to do is fill in the fields that you've assigned to them without leaving the platform.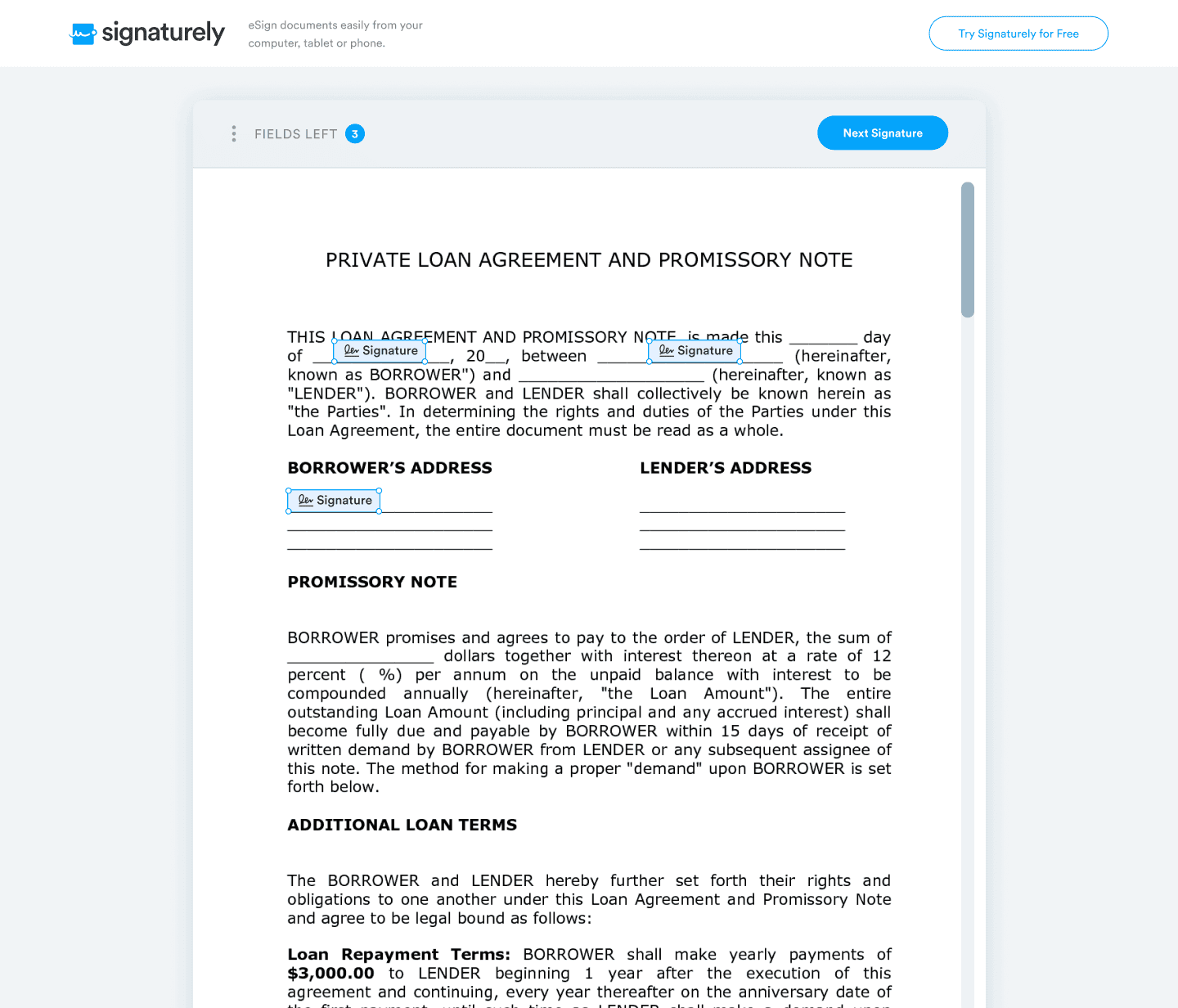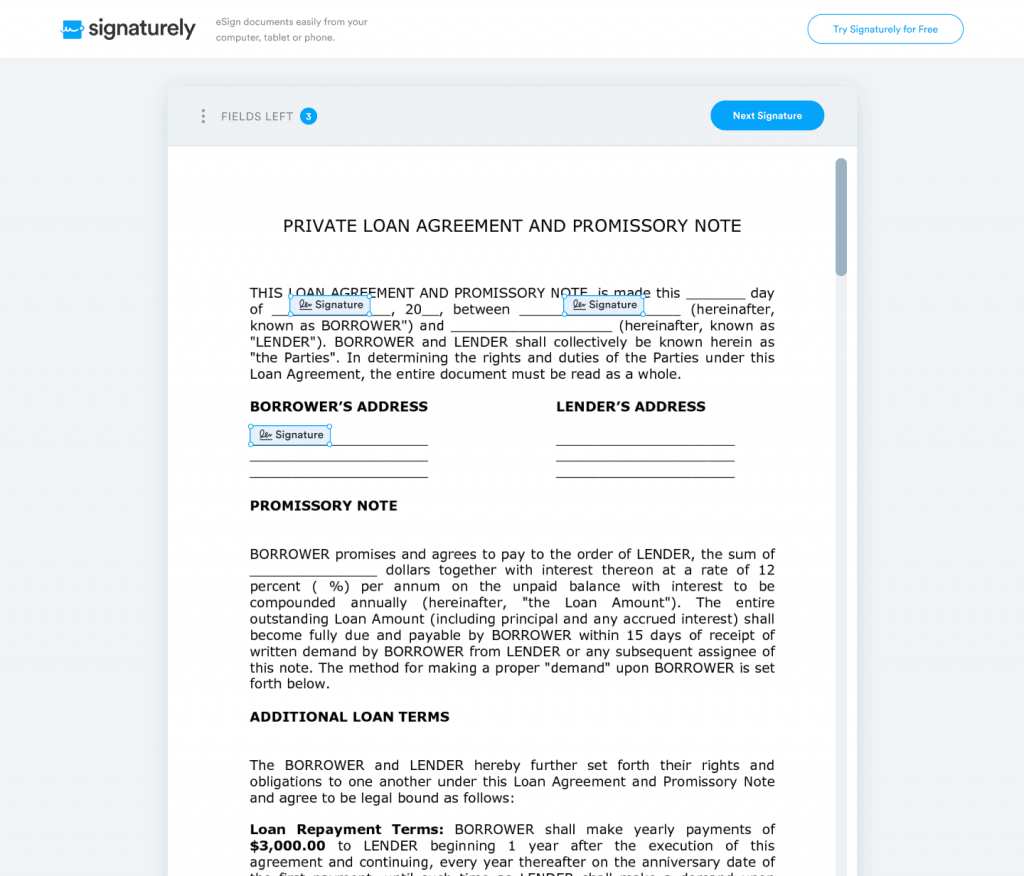 Once the document is signed, there's no way to lose it. Signaturely will save the critical data and keep a legal backup for all your documents, in case you need it.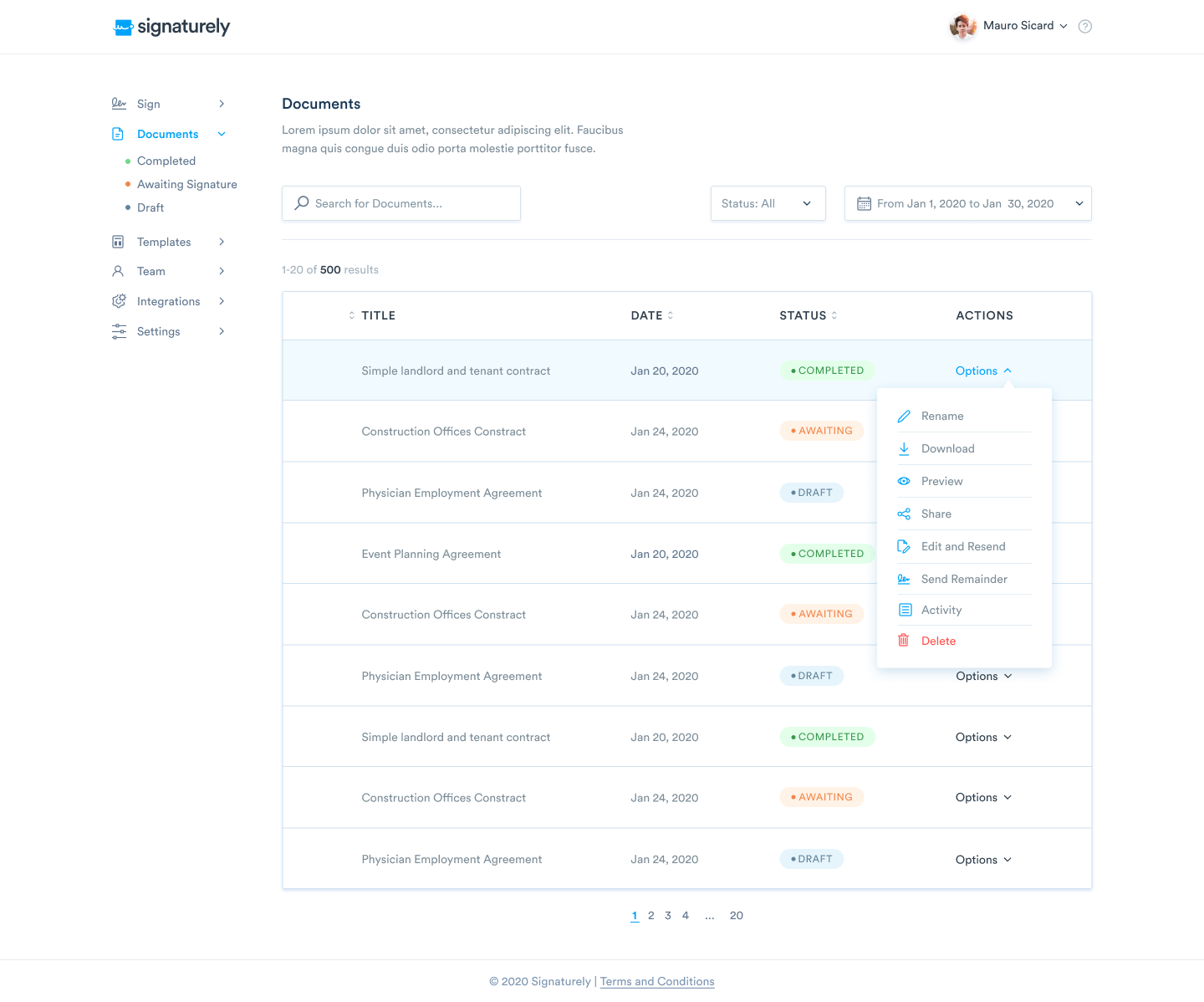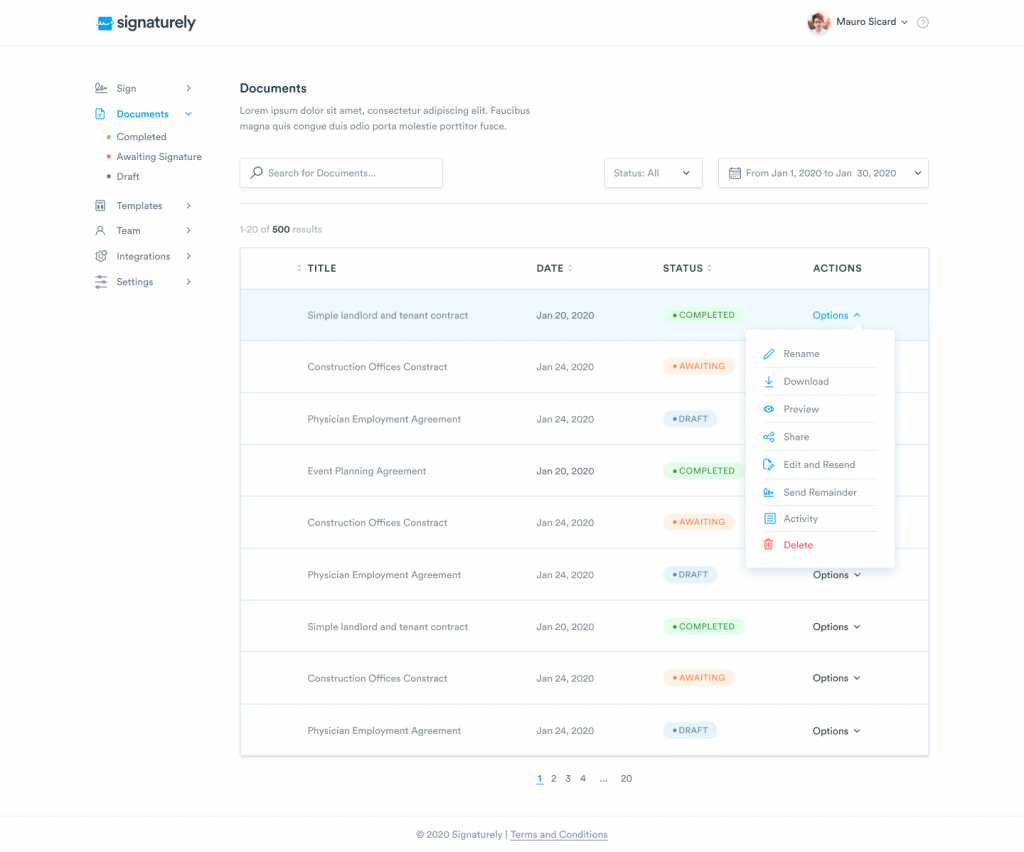 That's all. Easy, isn't it?
If you want to make more agreements, use one of the 45+ ready-made professional templates that Signaturely has for you.
All of our templates are written and proofread by legal experts. All you need to do is to adapt them to your needs and clients.
With Signaturely, you'll get access to free templates, such as:
SEO Proposal
Work for Hire Agreement
Referral Agreement
Personal Training Contract
Non-Compete Agreement
Rental Agreement
Sales Contract
Non-Disclosure Agreement
Marketing Agreement
Service Agreement
And 35+ more!
How to Sign a Contract Online Via Email
Signaturely makes it easy to create and send documents to get signatures via email from anyone you need. 
Since Signaturely integrates with Google Drive, One Drive, Dropbox, and Box, you can easily migrate your documents to Signaturely. Then all you have to do is determine where you'll need your signatures and send them in-app!
Once your signers receive the contract in their inbox, Signaturely will take care of them and guide them step-by-step, just as you would if you were meeting them in person. 
Anybody can sign from anywhere—via their computer or even their phone. As they get signed, Signaturely will keep you informed of the process, allowing you to send reminders to people who haven't signed and alert you at the beginning of each step. So you always stay informed.
How to Create an Electronic Signature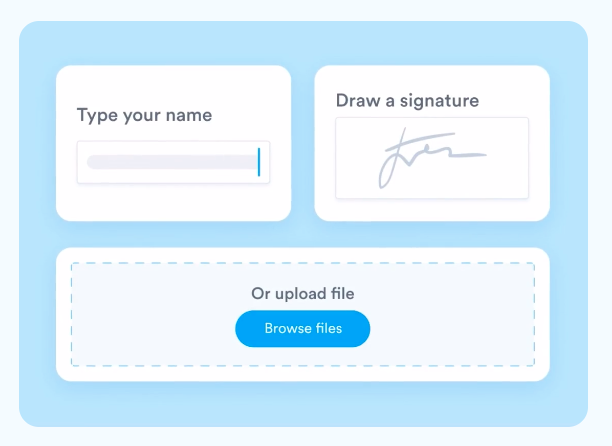 Signaturely gives you and your signers three ways to create your signatures…
1. Type it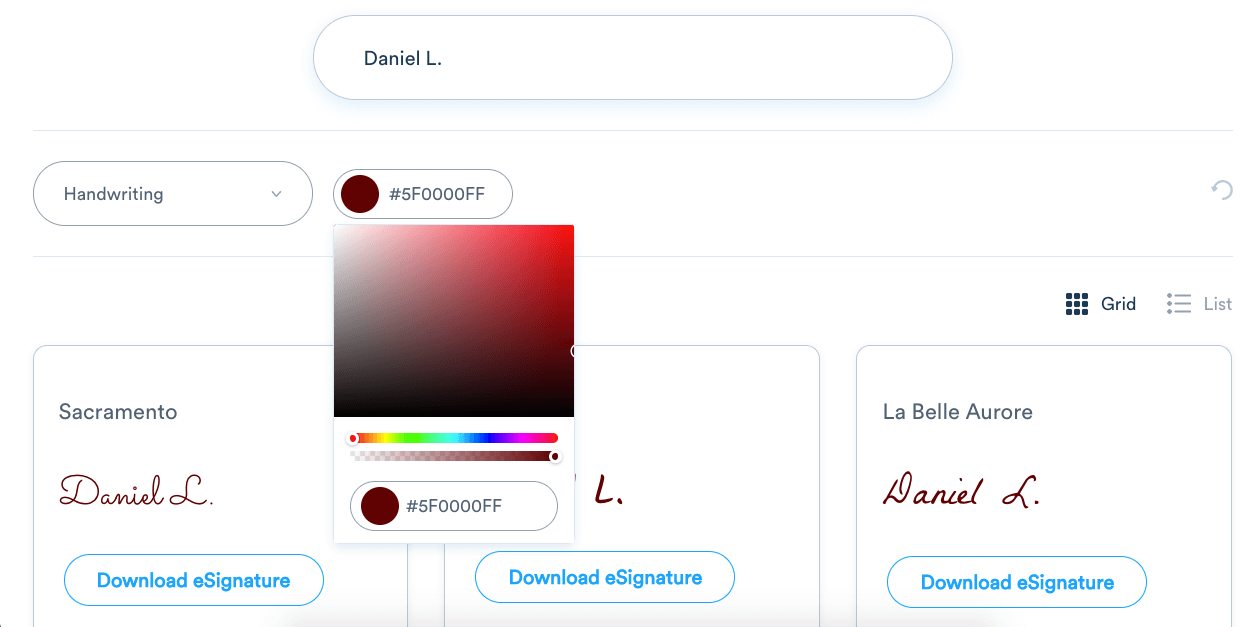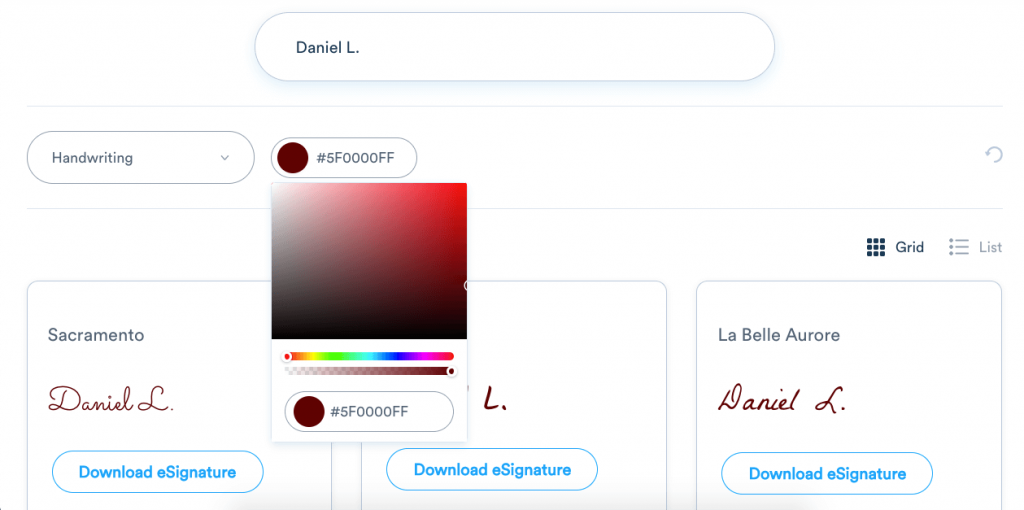 Type your name or initials and select a font. With Signaturely, you can choose between fonts that look like handwriting or regular fonts. You can also change the color of your signature.
Once you're happy with your signature, you can download it. Your new signature image will be saved on your computer as a PNG and ready to use.
2. Draw it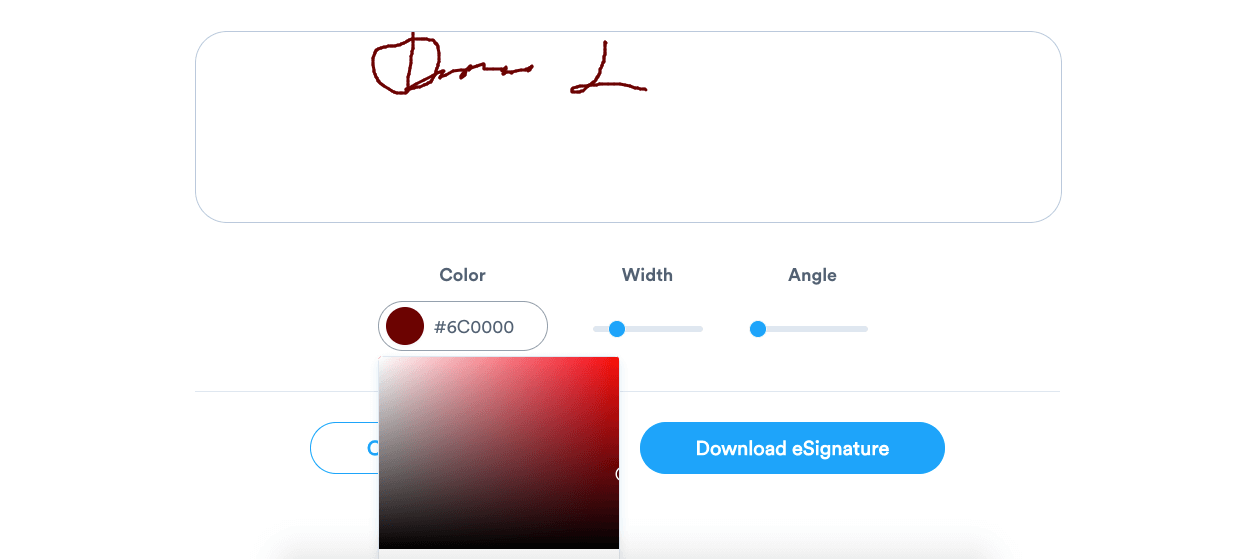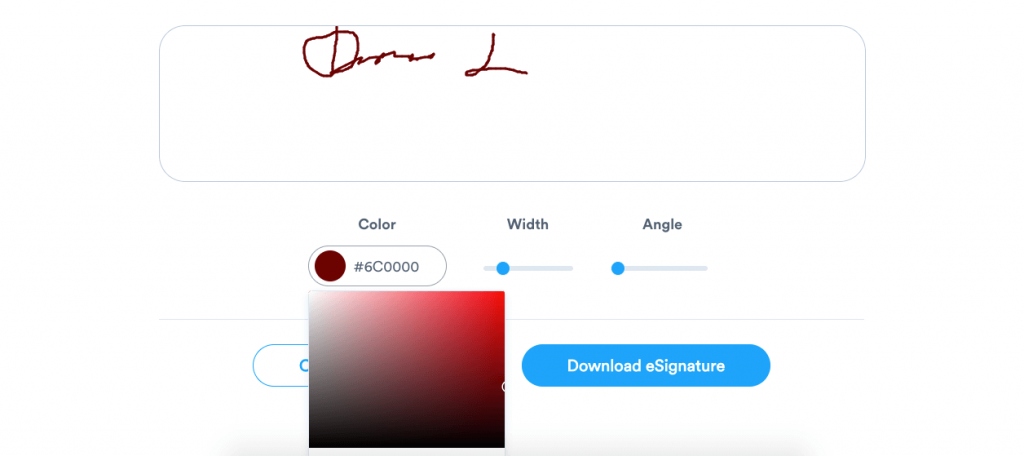 If you want to, you can also draw your signature. Use your mouse, trackpad, or stylus to draw it in Signaturely's eSignature maker. And to make your signature completely unique, you can change its angle, thickness, and color. 
Once you're done, download it as a PNG. Then it'll be ready to use.
3. Upload it
Lastly, if you want your eSignature to look exactly like your wet ink signature, you can upload a picture of it.
Draw your signature on a blank piece of paper, and scan or take a photo of it. Signaturely allows you to crop the image to trim any extra space. This image of your signature will also become your eSignature.
Frequently Asked Questions about how to sign a contract online
Here are some of the most frequently asked questions about electronic signatures.
How do I sign my name electronically?
You can sign your name electronically via any e-signing platform. All you need to do is upload or create your digital signature, save it as an image, and use it to sign online documents from your computer or phone.
Can I sign a contract digitally?
Yes, you can sign a contract digitally. According to the Global and National Commerce Act (ESIGN – USA), a contract or signature "may not be denied legal effect, validity, or enforceability solely because it is in electronic form." In other words, eSignatures are just as valid as wet-ink ones.
However, eSignatures may not be sufficient when a document needs an extra layer of identification, notarization, or one or more witnesses. They may also be insufficient when documents are likely to have forged signatures, which include powers of attorney, wills, sworn declarations, and large financial transactions that require a notarized document.
How can I create my handwritten signature online?
Signaturely allows you to create your signature by uploading, drawing, or typing.
You can upload an image of your signature to use as an eSignature. You can also use our free online signature maker to draw a signature using your mouse, trackpad, or stylus. Then you type your signature and select a font and color to make it unique.
Once you create your eSignature, you can download it and use it to sign any online document. 
Is a digital signature valid?
In short, digital signatures are valid and legally binding as wet ink signatures. Like any other kind of signature, its validity largely depends on certain requirements.
All signers must consent to the electronic signature and intend to be bound by it. The process used to create the signature on the document must also be recorded by the platform being used to sign.
In addition, these records may be retained and available for accurate reproduction. That's why Signaturely automates digital records for your documents, which you can use for legal and compliance issues.
Since digital contracts are exponentially harder to forge than their paper counterparts, digitally signed documents are not only just as valid but also safer.
The validity of digital signatures varies from country to country. You can check the validity of eSignatures in your country here.
Can you type your name for a signature?
Yes, you can. The legal definition of a typed signature is an electronic process, symbol, or sound associated to record a contract.
To ensure your typed name is legally binding, there must be a way to prove the typed name belongs to the signee. In Signaturely, we use and record digital certificates and records to prove the identity of the person signing. Each eSignature records digital stamps (such as an IP address), making it easy to track the signature back to each signee.
You can create your typed signature in our free online signature maker.
Can a person have 2 digital signatures?
Yes, a person can have two Digital Signature Certificates. For instance, they may decide to have a signature for personal use and another signature for personal use.
The validity of the digital signature depends on its ability to tie it to the person signing, not its uniqueness. As long as you're using an e-signing platform line on Signaturely that keeps track of the IP that was used by the signee to sign a document, the signee can use any signature they'd like.
How do I cancel digital signatures?
Digital signatures can be removed like any other form field. If the document hasn't been fully signed, you can look for a "Cancel" option. All e-signing platforms must have a "Cancel" option to legally bind.
If you want to remove a digital signature from a document that has already been signed and locked, you'll need to contact the document's creator. They'll be able to remove the signature and even void the document as needed. 
How do I verify an electronic signature?
You can verify electronic signatures by signing with a digital certificate and verifying the identity of the signee. That's why Signaturely saves all digital imprints made by any interactions you and any signers have with the document. With them, documents are easily validated, tracked, and recovered— even if you don't save them.
These digital records have been valid for years and hold up in court. They record the IP addresses of all signers, which validates and links them to their online signature.
Signing Contracts Online: Conclusion
Online signatures are the best ways to sign your contracts and documents online. They save you time and money and can be used by anyone in the world with an internet connection.
All you need to get started signing contracts online are an online signature and a platform to ensure your eSignatures are valid and legally binding.
By trying Signaturely for free, you can make your own online signature and get your online documents signed today.