In the era of climate change and global warming, it's more important than ever to be as eco-friendly as possible. Paper use and its production have a detrimental effect on our environment. In the USA alone, paper amounts to up to 40 percent of all waste (shocking, isn't it?), and gasses emitted during paper production are polluting the air even further. Here's how to sign a PDF without printing to save our planet.
Luckily, we have a chance to impact the environment and decrease the amount of paper positively we use every day, especially in business, by moving things online.
We can find a wide array of document management and eSigning software online to help us streamline our processes and be more responsible with our home — the Earth.
Let's discuss how we can sign PDFs electronically and help save our planet.
How to Sign a PDF on a Windows Device (Without Printing It)
Signing documents electronically is extremely easy. Once you learn how to do it, we're sure you'll forget about signing paper documents. Let's see how you can sign your PDF documents on Windows without printing them.
Signaturely
Signing documents electronically is easy when you have reliable and affordable software solutions like Signaturely (also known as a PDF signer).
Signaturely's biggest perk is not dependent on any operating system. We can access it through any web browser and run it on practically any device.
Signing PDF documents via Signaturely is easy. You need to go to the website, log in or create an account, and the journey will begin.
Once you log in, a panel will appear on the left, allowing you to sign documents, view previous documents, use templates, make forms, and so on.
To start signing documents, you must choose one of three options to suit your needs and upload a document from your device: Google Drive, One Drive, Box, or DropBox.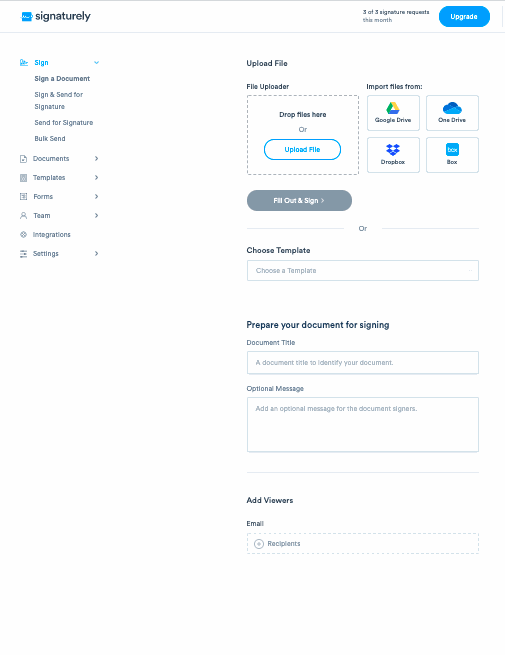 We uploaded a document straight from our device and clicked the "Fill Out & Sign" button to start the document process.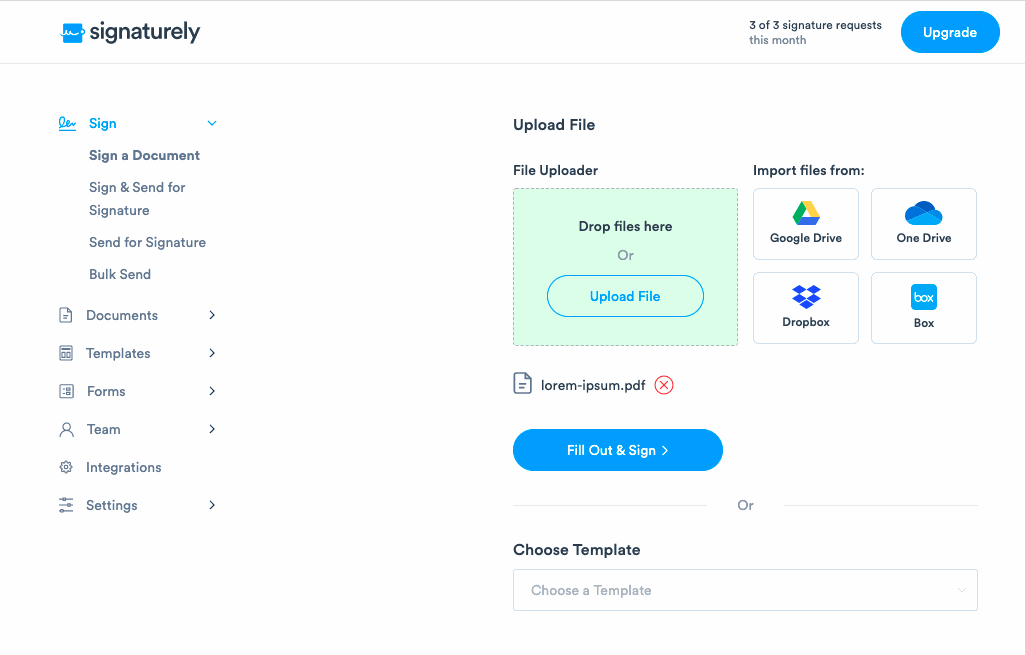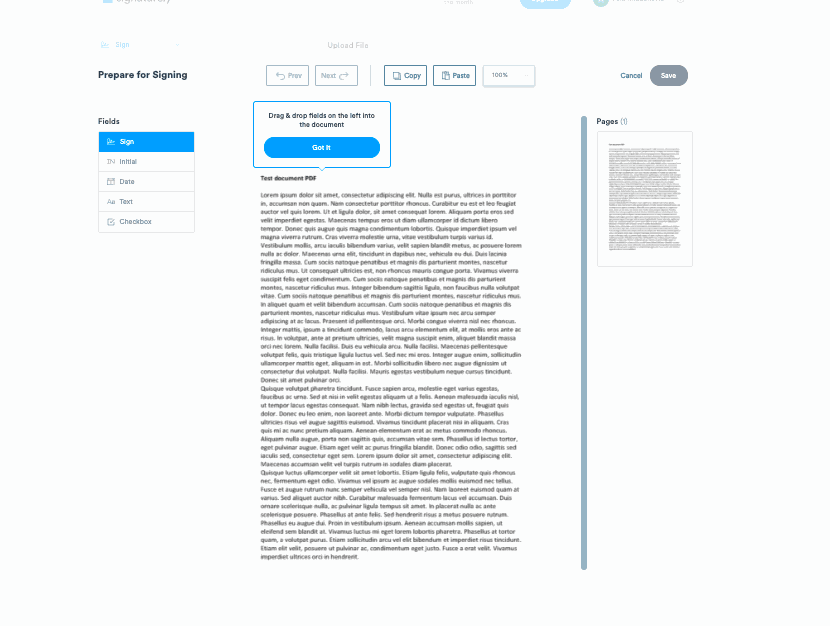 We placed a cursor where we wanted our signature to be to sign the document. After this, a window popped up, and we chose to place a typed signature in the document. You can choose to make a handwritten signature, type a signature, or insert a photo of your signature.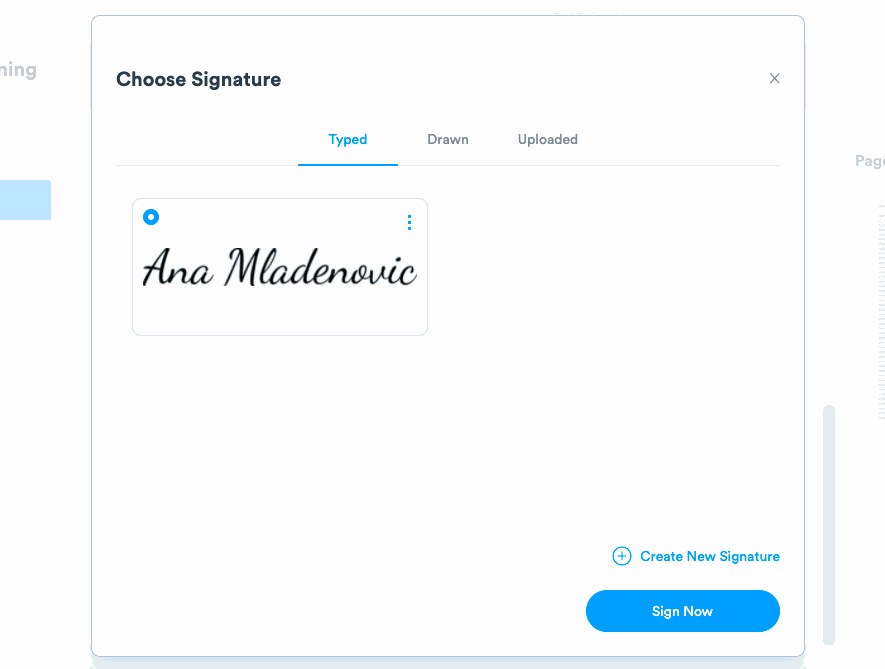 After creating the signature, we chose the "Sign Now" option, and the signature appeared in the document. We could then resize it and adjust it to our needs.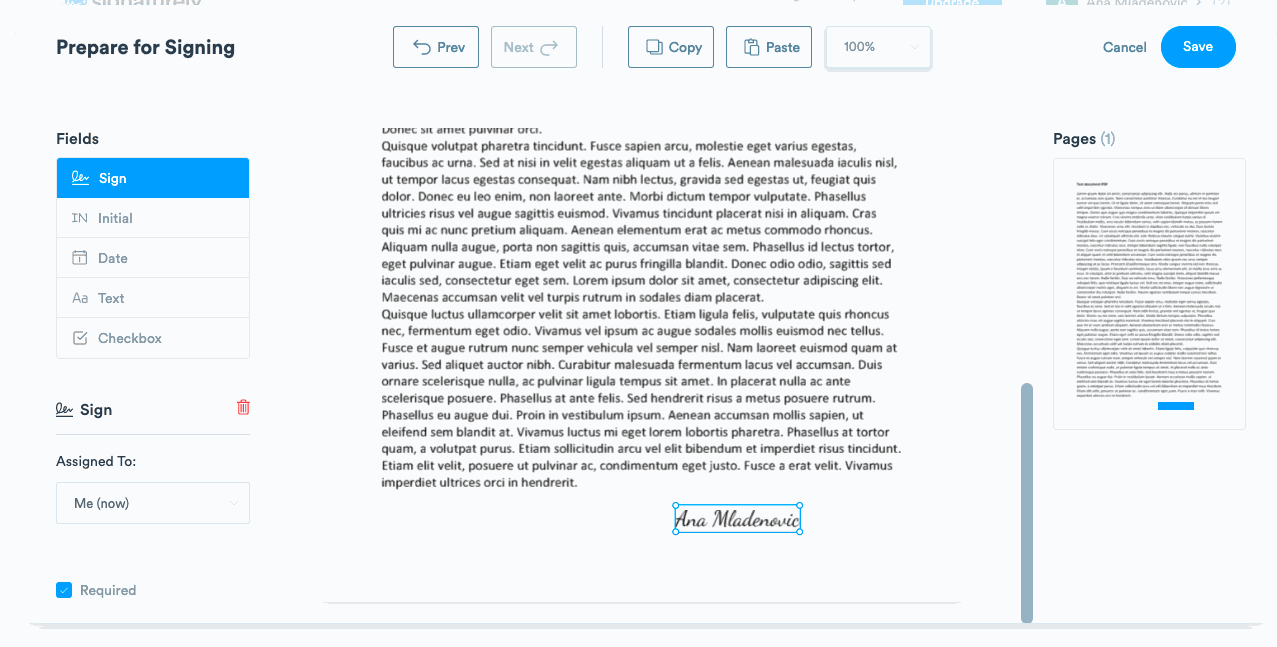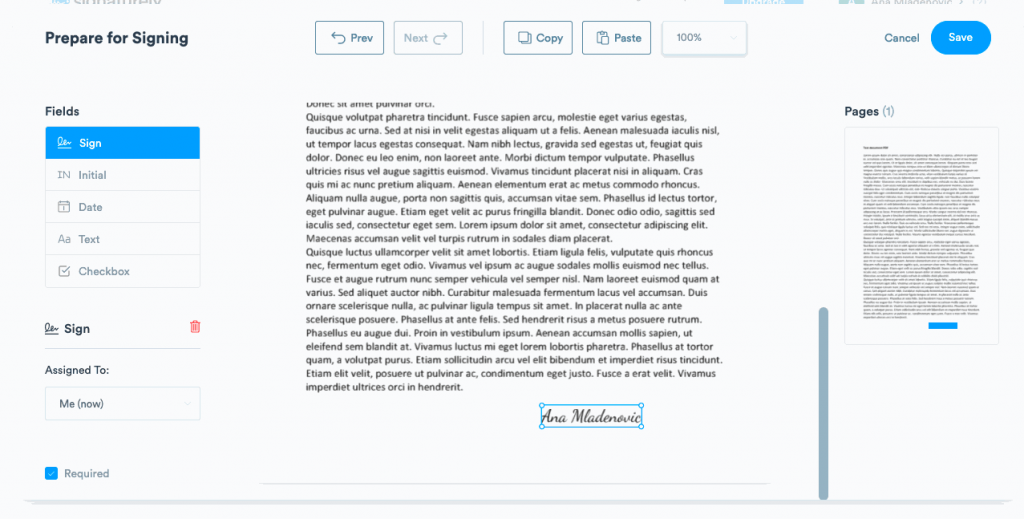 We then clicked the "Save" button and were ready to download or send our document to recipients.
Adobe Acrobat Reader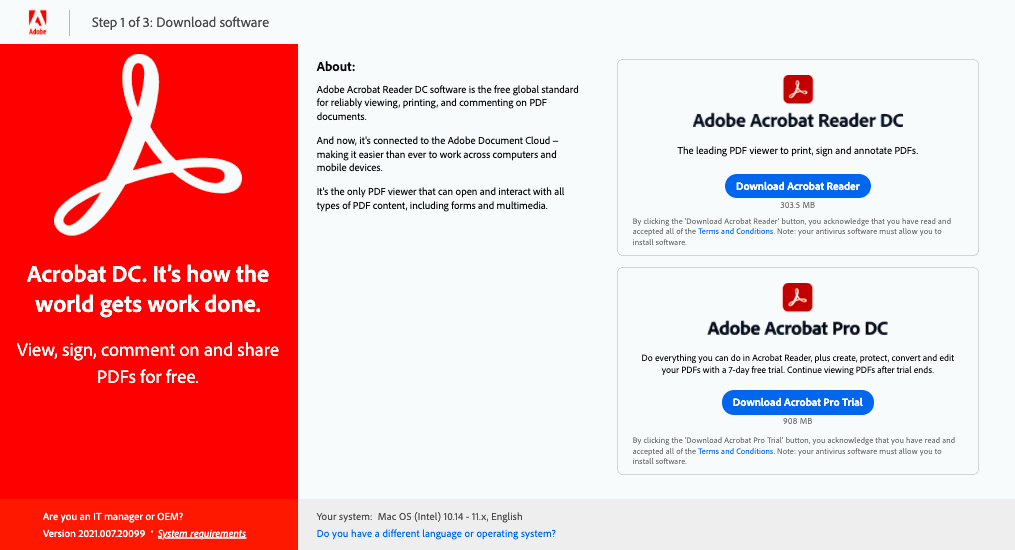 Signing documents in Adobe Reader on Windows is a seamless process. After installing the program, you need to open a document or a form you want to sign. Then you need to click on the "Sign" icon in the toolbar and select the "Fill and Sign" option.
Hover the mouse next to where you want to place your signature and wait for the blue box to appear. Click anywhere in the blue box, and type your text to fill the field.
Next, you want to click on the "Sign" icon and choose between signature or initials. Once you do this, you can create your signature by typing, drawing, or inserting a photo of it. When you finish the process, click "Save."
Many people don't have Adobe Acrobat installed on their computers, which can be daunting unless you're tech-savvy. Here's our full guide on how to sign a PDF without Adobe Acrobat.
How to Sign a PDF on a Mac (Without Printing It)
Now that we've explained how to sign PDF documents in Windows, we'll discuss how Mac users can electronically sign PDF contracts.
Signaturely
Using Signaturely on your Mac device isn't different than using it on Windows. Since it operates through browsers, you can follow the instructions we provided for Windows users.
Preview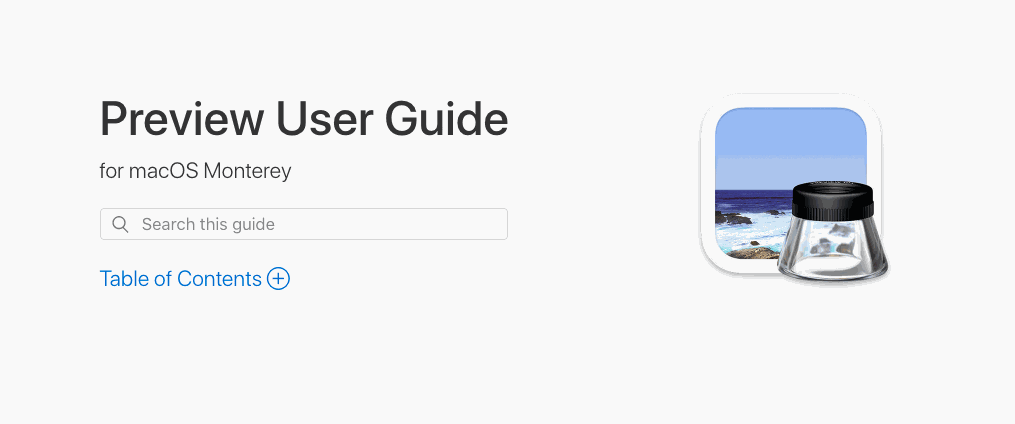 Mac users can sign their documents with the macOS Preview app by capturing their signatures with their Mac's camera. Here's how to do it.
Double-click on the document you need to sign and open the "Preview" application. Then, check the "Tools" section, select "Annotate" and then the "Signature" option, and click on the "Manage Signature" button.
Next, you want to sign your name on a piece of paper and hold it up to the camera to capture and save it. Then, go to the "Tools" option, click on "Annotate" and "Signature," and insert your image in the PDF.
How to Sign a PDF on an Android (Without Printing It)
You can now sign your documents while on the go via your Android device. We'll explain and see how to do it.
Signaturely
Given that Signaturely runs seamlessly on any device and is not dependent on any operating system, the experience will be the same regardless of which app or device you use. If you want to learn how to electronically sign documents with Signaturely, scroll up and follow the guide we provided for Windows devices.
Adobe Fill & Sign
To install Adobe Fill & Sign, you'll have to go to the Google Play store and search for Adobe Fill & Sign. Once you find it, click "install" to start the process.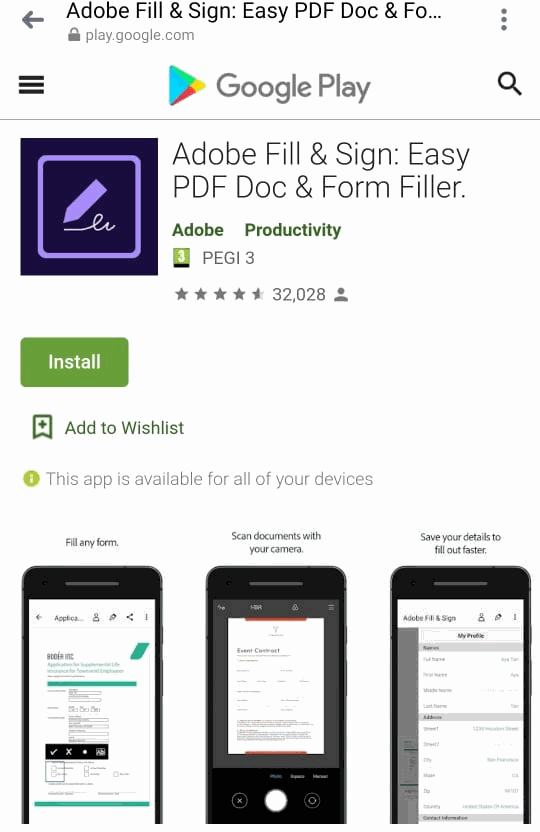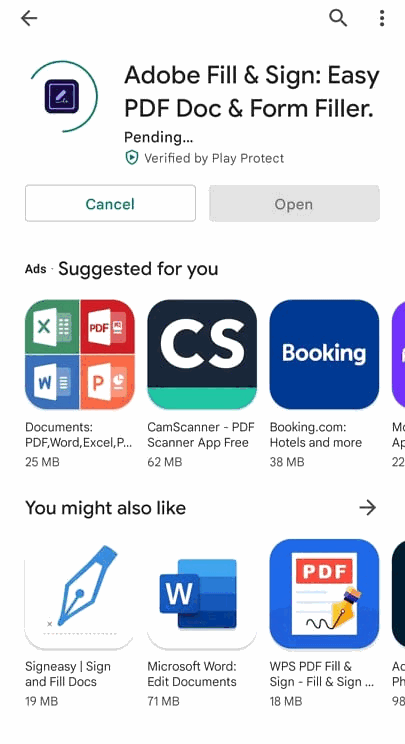 Downloading the app takes seconds. After downloading, you'll be asked to complete the sign-in process. You can either choose to sign in with your Google or Facebook account.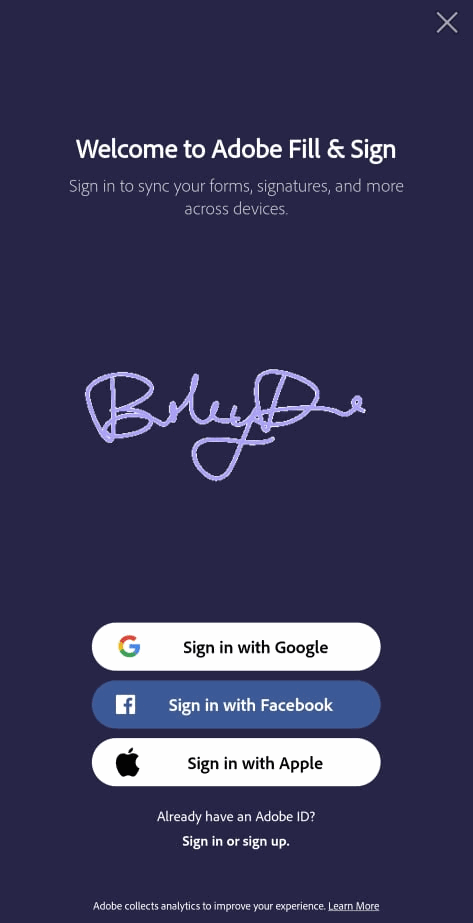 Once you complete the sign-in process, you can choose a PDF file to upload or scan a physical document via the Adobe Scan option.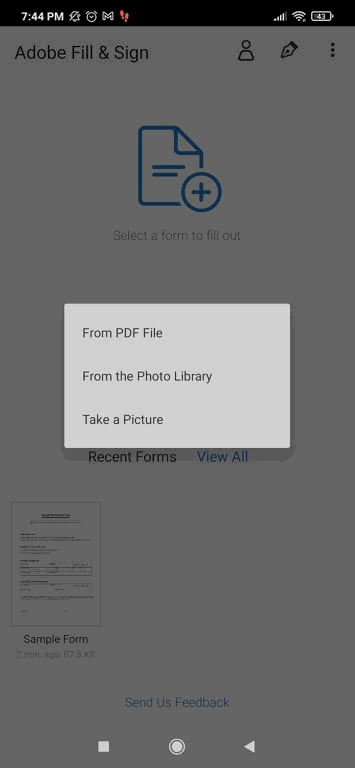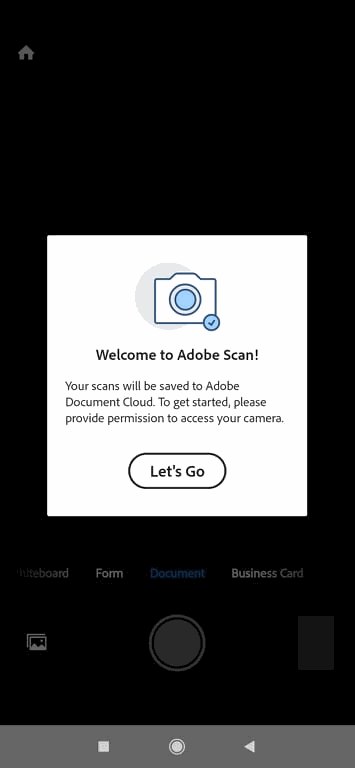 We love that we can create custom fields anywhere in the PDF. To do this, we need to tap anywhere on the screen.
To create a signature, we need to click on the fountain pen icon in the upper right corner. We can choose to make a signature or create the initials we will use in the signing process.
This time, we chose to make a full signature, and a screen popped up asking us to draw our signature using our fingers. We drew the signature and clicked "Done."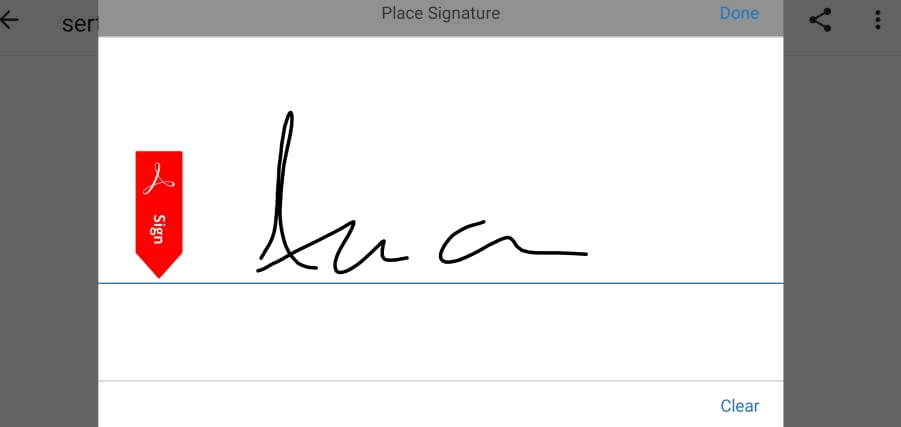 Once we had created our digital signature, we needed to tap on the screen to insert it and again on the fountain pen icon. By following all these steps, we could see our signature on the PDF and further customize it to our needs by resizing and moving it. To save the document, all we had to do was close it.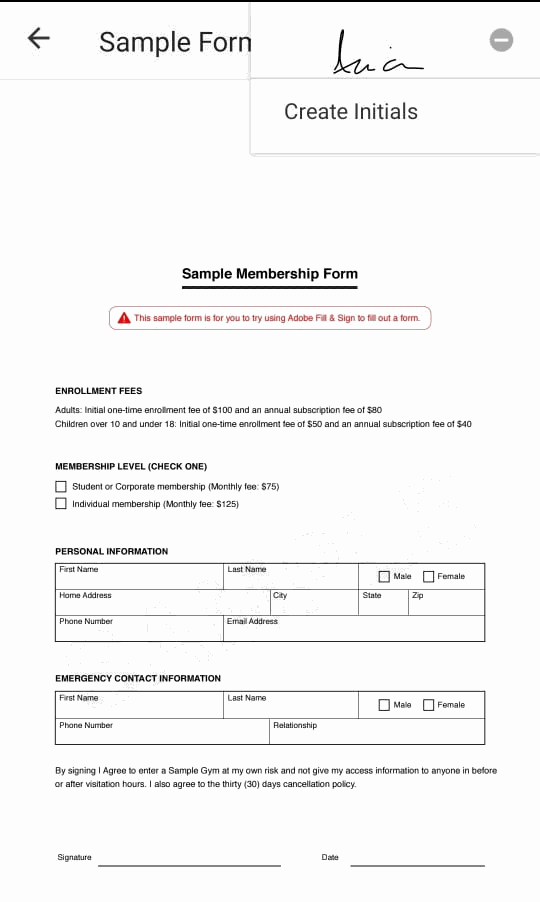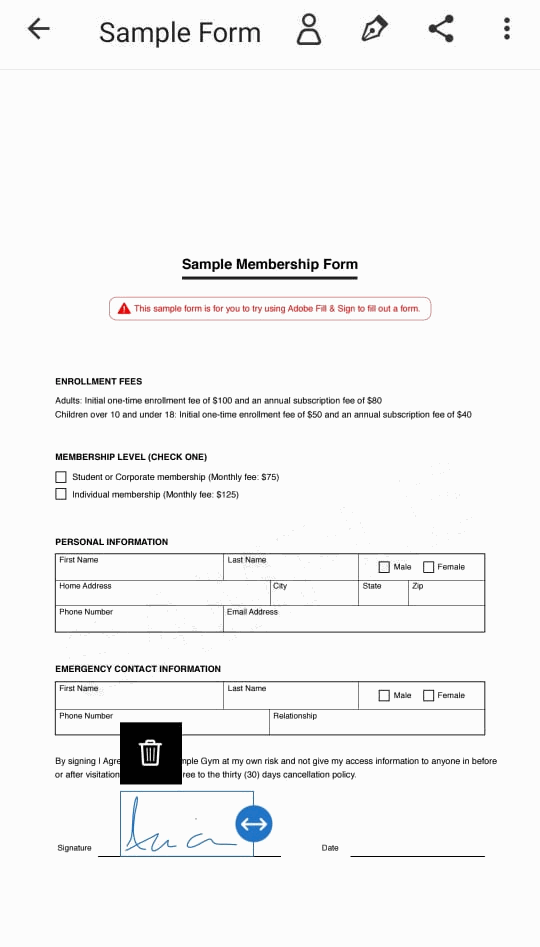 Now we can share our document by choosing the "Share" icon next to the fountain pen. We can send it to Slack, email, or download and print it.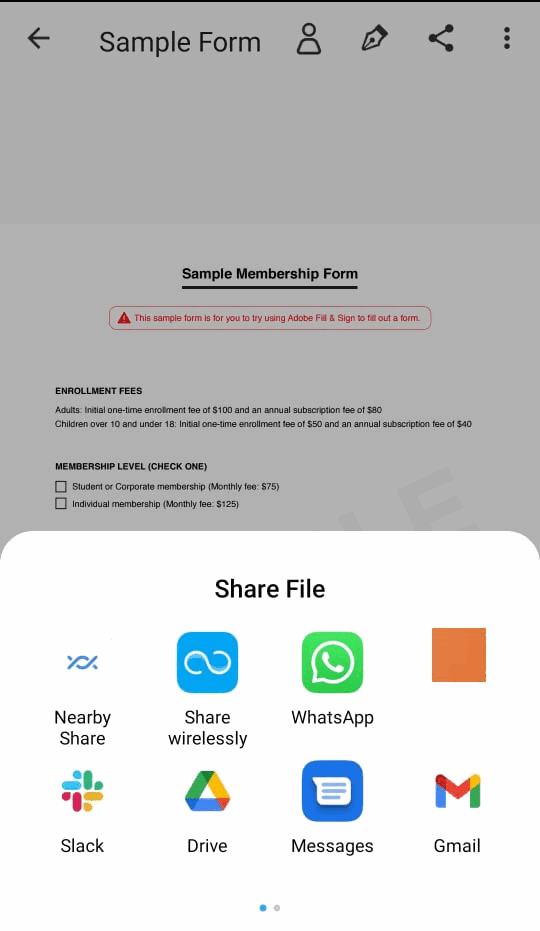 How to Sign a PDF on an iPhone or iPad (Without Printing It)
Now that we've covered how to sign documents on Windows and Android devices, we'll discuss how to do so on Apple devices such as iPhones and iPads.
Signaturely
As we mentioned, Signaturely will work the same regardless of your device. Apple users can log in to Signaturely through Safari and follow our Windows users' instructions. It seems like the best option for those joggling between multiple devices, doesn't it?
Mail
You can sign documents from your iPhone or iPad in your email account. However, it's important to mention that this feature is available only to those using iOS 9 or later since those operating systems have a built-in Markup preview.
You can electronically sign your emailed documents on your iPad or iPhone by previewing the attachment in the Mail app. Once you complete this step, you'll have to tap on the toolbox icon and click on the "Signature' button in the Markup preview.
Once you do this, you'll be able to sign your document using your finger on the touchscreen. To complete the process, press "Done," and once you reply to your sender's email, they'll receive your signed attachment.
Why Is It Crucial to Sign PDFs Without Printing Them?
Paper production has a massive impact on our environment. In the USA alone, paper amounts to 40 percent of waste, and its production leads to deforestation and releasing toxic substances into the air.
We must decrease paper use as much as possible. Furthermore, it's equally important to give back to the planet by planting more trees (like we do at Signaturely) and trying to be as green as possible.
Frequently Asked Questions About Signing PDFs Without Printing Them
We live in a digital era. Therefore we can abandon old and damaging processes like excessive paper use. If you want to learn more about how you can contribute, read the answers to these commonly asked questions.
Can I sign a document without printing it?
If you're wondering if you can sign a document without printing, wonder no more! The answer is yes! We can now choose between a wide array of tools (some of them are already built into the devices we use) that can help us reduce paper waste and manage our documents more efficiently.
How do I electronically sign a PDF document?
You can choose from many document-signing tools, including those we've recommended, and abandon paper and pen forever.
Is it possible to sign a PDF for free without printing it?
It's possible to sign a PDF for free without printing it. Some eSigning apps offer freemium versions for creating digital signatures and signing documents online, or you can use the built-in features on your device.
Conclusion: How to Sign a PDF without Printing it
Being responsible and eco-conscious is more important than ever. Luckily, we have the tools to help us decrease the waste we produce and help us manage our documents in a better and more productive way by creating digital signatures and electronically signing PDF documents.