Choosing the right eSignature solution for your team can be difficult as it takes time and effort. There are many choices on the market, each with its unique benefits and drawbacks. This comparison guide will look at two of the most popular eSignature solutions: HelloSign vs. DigiSigner.
Introducing HelloSign vs. DigiSigner
While HelloSign and DigiSigner are popular eSignature platforms, it's important to understand their use.
HelloSign Overview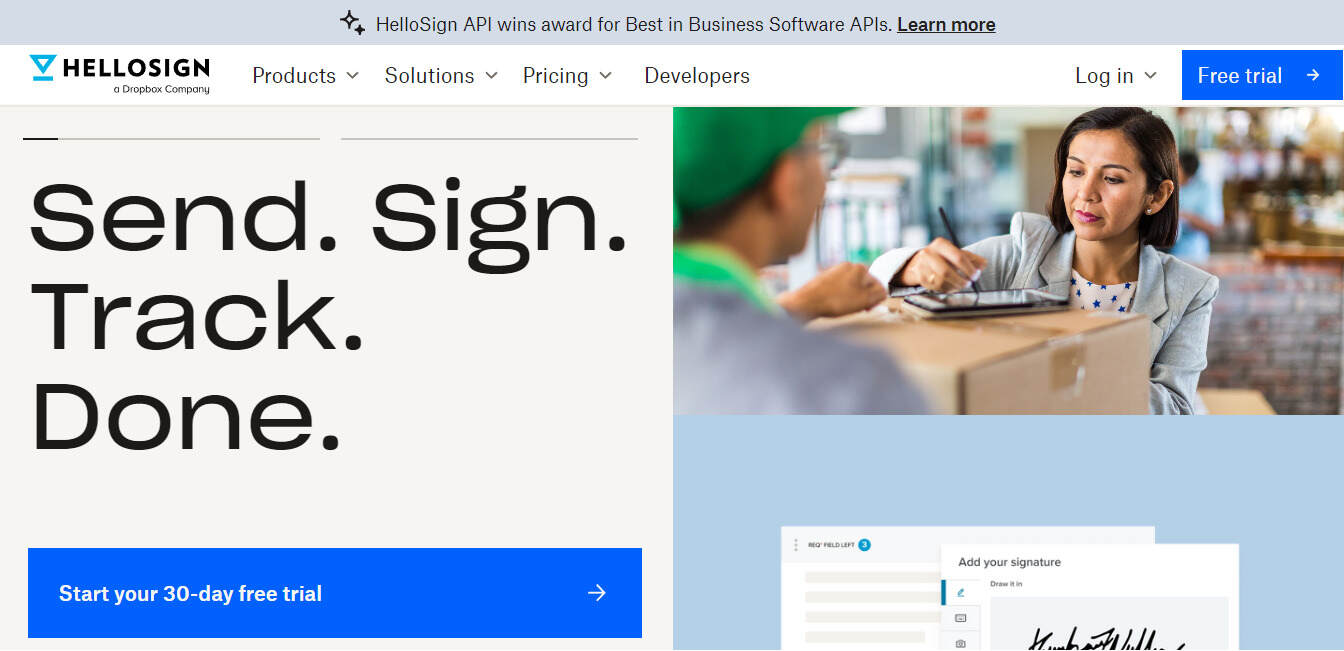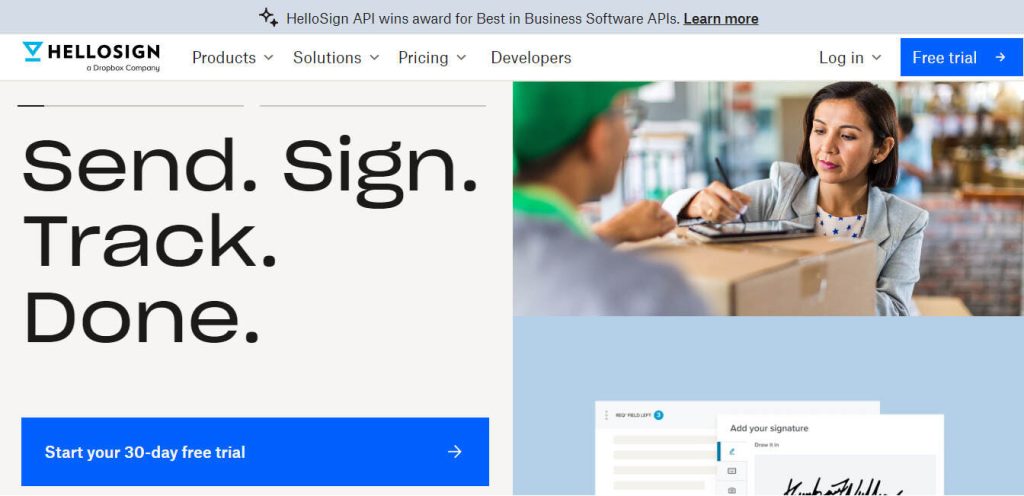 Dropbox recently acquired HelloSign, a leading eSignature platform. HelloSign's integrations with popular apps like Slack and Google Docs make it easy to manage signature workflows and streamline the document signing process. With HelloSign, you can send documents for signature directly from your Dropbox account, track the status of your signatures, and get notified when a document is signed. HelloSign's robust security features ensure that your documents are safe and secure. Its user-friendly interface makes it easy to get started.
DigiSigner Overview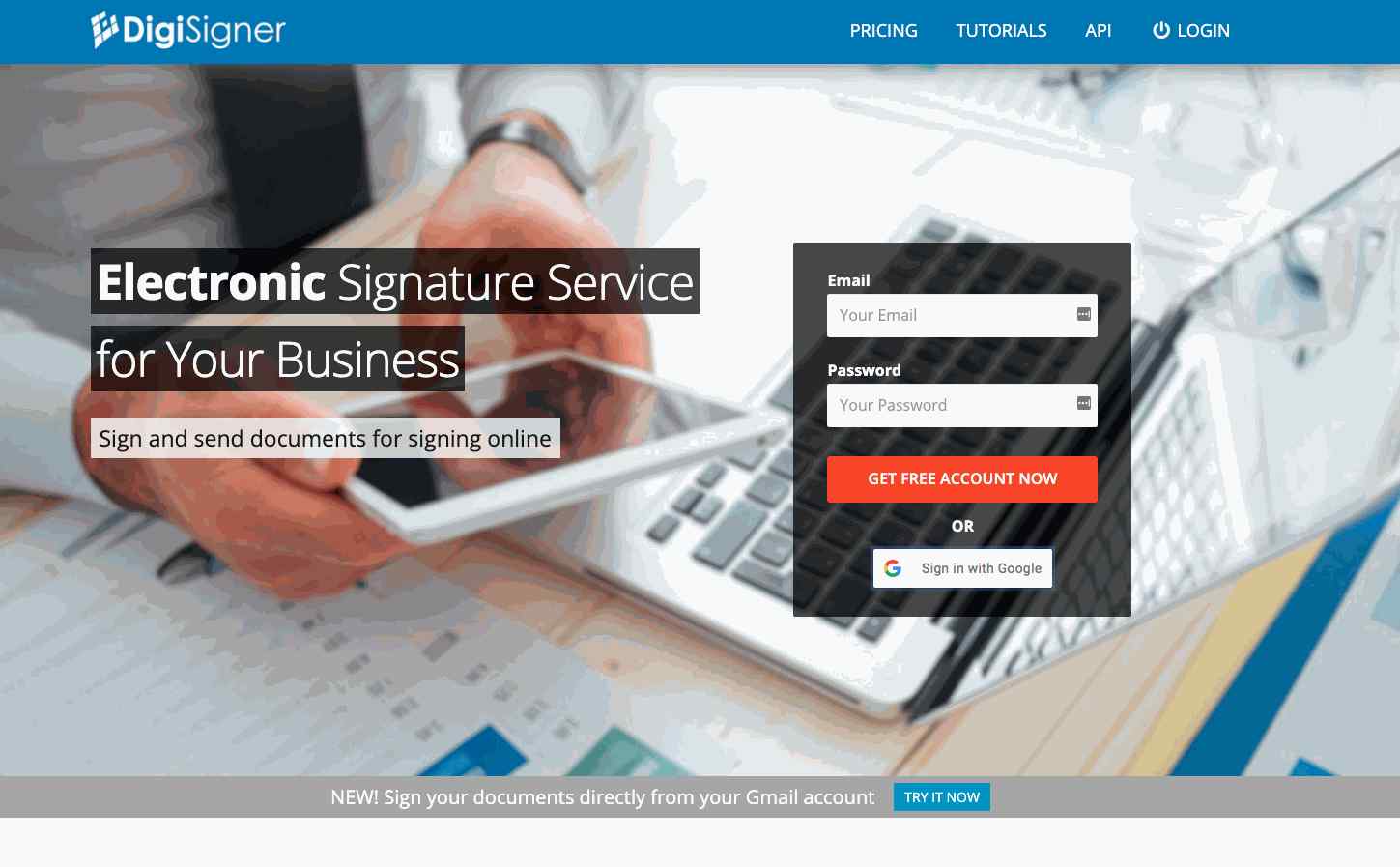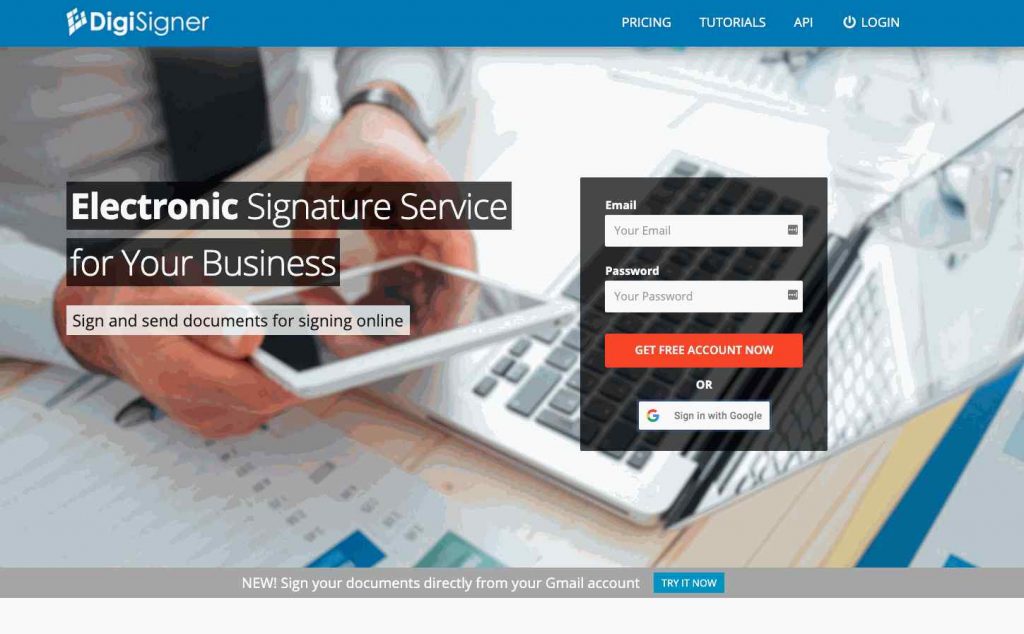 DigiSigner is an online eSignature platform that offers a convenient and secure way to sign documents electronically. It is used by real estate, HR, and legal departments of businesses of all sizes. The platform uses SSL encryption to protect documents and digital signatures. DigiSigner offers a simple way to digitize handwritten signatures. Users can upload a scanned signature image or type their name to create a digital signature. The platform allows users to add dates, locations, and other information to documents.
HelloSign vs. DigiSigner: Tell All Comparison Guide
We break down key features, pricing, reviews, integrations, and more to comprehensively assess Hello Sign and DigiSigner.
1. HelloSign vs. DigiSigner: Key Features
HelloSign features are more robust than DigiSigner, which brings a more minimalist approach to electronic signatures. On the other hand, HelloSign provides a more comprehensive suite of features that make it a versatile tool for signing online PDF documents.
HelloSign Features
HelloSign is a popular electronic signature solution that offers users several features. Perhaps most notably, HelloSign provides tamper-proof documents, which means that once a document has been signed, it cannot be altered. This feature gives businesses high security and assurance when using HelloSign for important contracts and agreements. In addition, HelloSign integrates seamlessly with Dropbox, making it easy to store and manage documents. Here are some HelloSign competitors to consider as well.
DigiSigner Features
DigiSigner is a simple yet powerful tool for creating and signing documents electronically. Signatures can be captured with a digital camera, mouse, or trackpad, and users can pre-fill text for fields to save time. Forms can be shared via link, making it easy to collaborate with others.
2. Integrations & API
Integrations are an essential component of selecting electronic signature software. HelloSign offers more robust integrations, while DigiSigner opts for an API approach. HelloSign's native integrations provide a more user-friendly experience for streamlining your workflows, whereas DigiSigner might require more technical knowledge.
HelloSign Integrations
HelloSign offers various integrations across CRM, file storage, and digital twin organization software. These integrations include:
Greenhouse
Hubspot
Microsoft Dynamics 365
Google Docs add-on
Slack
DigiSigner Integrations
Unlike HelloSign, DigiSigner only offers an API connection to other platforms instead of investing in native integrations. The API is created using REST and JSON, and its API pricing starts at $0.50 per document.
3. Usability
DigiSigner and HelloSign are relatively easy to use. HelloSign packs many more features, while DigiSigner offers simplicity in its eSignature solution.
HelloSign Ease of Use
HelloSign is easy to use and offers powerful customization that makes it better than DigiSigner. HelloSign can be used on any device with an internet connection. The software is secure and encrypted and has a support team available 24/7.
DigiSigner Ease of Use
DigiSigner is more basic than HelloSign and offers fewer features, but it is simple and easy to use. DigiSigner has a user-friendly interface that makes it easy to create, manage, and sign documents online. The software also offers a variety of features that make it easy to work with PDFs, including the ability to add comments, highlight text, and insert images
4. HelloSign vs. DigiSigner: Security Features
HelloSign and DigiSigner offer robust security features that make them ideal for businesses of all sizes. HelloSign performs better in regulatory compliance, while DigiSigner is more adept at enterprise scalability.
HelloSign Security
HelloSign is committed to providing the highest level of security for customers. HelloSign complies with SOC 1 Type II, and SOC 2 Type I standards and is ISO 27001 certified. The platform also has an incident reporting system to address potential security issues quickly. In addition, HelloSign's audit trails ensure that task progress is tracked.
DigiSigner Security
DigiSigner is a secure electronic signature solution that meets the highest standards for document security. The document collection system uses SSL encryption to protect your documents in transit, and all signed documents are stored in a HIPAA-compliant manner. In addition, the platform is compliant with the ESIGN Act and UETA, ensuring that your electronic signatures will be legally binding. As a result, you can better manage regulatory compliance.
5. Use Cases
Both HelloSign and DigiSigner can cover a wide range of use cases. There are a few ways the platforms make specific business needs a reality.
HelloSign Use Cases
HelloSign is a versatile tool that can be used for various purposes. One use case that HelloSign is well suited for is HR onboarding document storage. With HelloSign, HR professionals can easily upload and store all onboarding documents in one central location, helping reduce admin work for professional and personal tasks. HelloSign's customizable templates feature can also create technical onboarding documents to save time.
DigiSigner Use Cases
Financial services and insurance companies often have to deal with many contracts, many of which need to be signed by customers. This can be a time-consuming and bureaucratic enterprise process, particularly if customer signatures are required in person. DigiSigner provides a PDF editor that makes it simple to manage contracts and allows business users to track legal documents' task progress while allowing you to secure and unlock PDF documents.
6. Customer Support
HelloSign offers a robust support platform and charges extra for support options like phone and chat. On the other hand, DigiSigner provides a simple approach to customer service, allowing users to reach out via phone or email.
HelloSign Support Options
When you need support, HelloSign offers several options. You can submit a ticket, explore the learning center for answers to common questions, or contact the platform's team directly. HelloSign's level 1 support team ensures a response within 8 hours, while its level 2 support team guarantees a reply within 4 hours. HelloSign offers training documentation, webinars, and technical resources to help get you started.
DigiSigner Support Options
DigiSigner offers a few different options for customer support. You can submit a form on their website or contact support via email or phone. Unfortunately, they don't seem to have any help center resources. However, their customer support team is responsive and knowledgeable, so you should still be able to get the help you need.
7. HelloSign vs. DigiSigner: Plans & Pricing
Both HelloSign and DigiSigner offer four different plans priced per user or team of users. HelloSign only includes a free trial for one of its plans, while DigiSigner has a free trial and an entirely free tier.
HelloSign Plans
HelloSign has flexible pricing plans. Its Dropbox + eSign plan starts at $24.99 per month (billed annually) and includes integrations, five customizable templates, and multi-language support. This is the only HelloSign plan that comes with a free trial.
DigiSigner Plans
Unlike HelloSign, DigiSigner offers a free plan with up to three documents per month. Its Team plan is priced at $40 per month (billed annually) and includes customizable templates, custom branding, and team features.
8. User Reviews
When evaluating HelloSign and DigiSigner, it's essential to look at what users are saying, so you can take a peek beyond what's advertised.
HelloSign Reviews
HelloSign has earned positive reviews from customers for its ease of use and versatile feature set. However, some users have been unhappy with the company's customer service. In particular, some customers have reported feeling their issues haven't been solved when contacting customer service.
DigiSigner Reviews
Customer reviews of DigiSigner are mainly positive, with users lauding the software for its affordable pricing, customization options, and simple design. Most customers find the user interface easy to use and navigate, with only a few minor complaints about confusing UI elements.
HelloSign vs. DigiSigner: Which Should You Choose?
While HelloSign and DigiSigner solve a similar problem, their applications can vary.
HelloSign: Best For Scaling Teams with Complex eSignature Needs
If you're looking for a comprehensive eSignature solution that can scale with your business, HelloSign is a great option to consider. It offers a robust feature set that supports a complex document workflow and integrates with leading productivity tools like Google Docs and Dropbox. Getting started with HelloSign is easy, and you can scale up your usage as your needs evolve. Since it's cloud-based, you can access your signature documents from anywhere, making HelloSign a convenient software solution.
DigiSigner: Best For Small Teams Looking for a Straightforward Solution
If you're part of a small team that needs a straightforward solution for digitizing signatures, DigiSigner is a fantastic option. It's affordable and easy to use without all the extra features you might not require. Plus, it has an effective API to plug into other tools.
The Best Alternative: Signaturely
When it comes to electronic signature platforms, there are a few different options to choose from. HelloSign and DigiSigner are two of the most popular choices, but they're not the only ones. Signaturely is another option worth considering and one of the best DigiSigner alternatives, especially if you're searching for an easier-to-use service with a robust feature for signing documents online.
One of the main advantages of Signaturely is that it's easier to use than both HelloSign and DigiSigner. The interface is more intuitive, and the process of creating and sending documents is more straightforward. In addition to being easier to use, Signaturely has a more generous free version subscription than either HelloSign or DigiSigner.
With Signaturely, you can create signatures and send up to three documents per month for free. If you need to sign or send more than three documents in a month, you can upgrade to one of Signaturely's paid plans. While DigiSigner has a free plan, it's much more limited in terms of what you can do.
What You Need to Remember About HelloSign and DigiSigner
HelloSign and DigiSigner are effective eSignature platforms. While HelloSign is a little more expensive, it has many features that DigiSigner doesn't have. DigiSigner is a more straightforward solution for teams that don't need complex features that could result in awkward PDF software for users.