In today's technologically advanced world, companies are opting to move more, and more of their operations and transactions online and into digital formats. . This, of course, applies to contracts and agreements as well. Digitized signatures have emerged as a solution to seal these digital contracts.
What Is A Digitized Signature
You may be wondering what a digitized signature is. A digitized signature is essentially an electronic or scanned copy of your original handwritten signature. It allows you to easily sign digital contracts without going through the hassle of creating a physical copy first and then scanning the signed version. Digitized signatures are a 100% legal way to sign documents. They are also referred to as electronic signatures. This technology helps companies cut back on the hassle and cost of printing. They are especially useful for companies operating with clients and partners in other countries.
Digital vs. Digitized Signature 
A digital signature and a digitized signature are not the same! A digital signature is more than a "scanned signature" and comes with unique encrypted information, which makes its authenticity verifiable. Because it's more than just a copy of your signature (as compared to digitized signatures), it offers a great deal of security.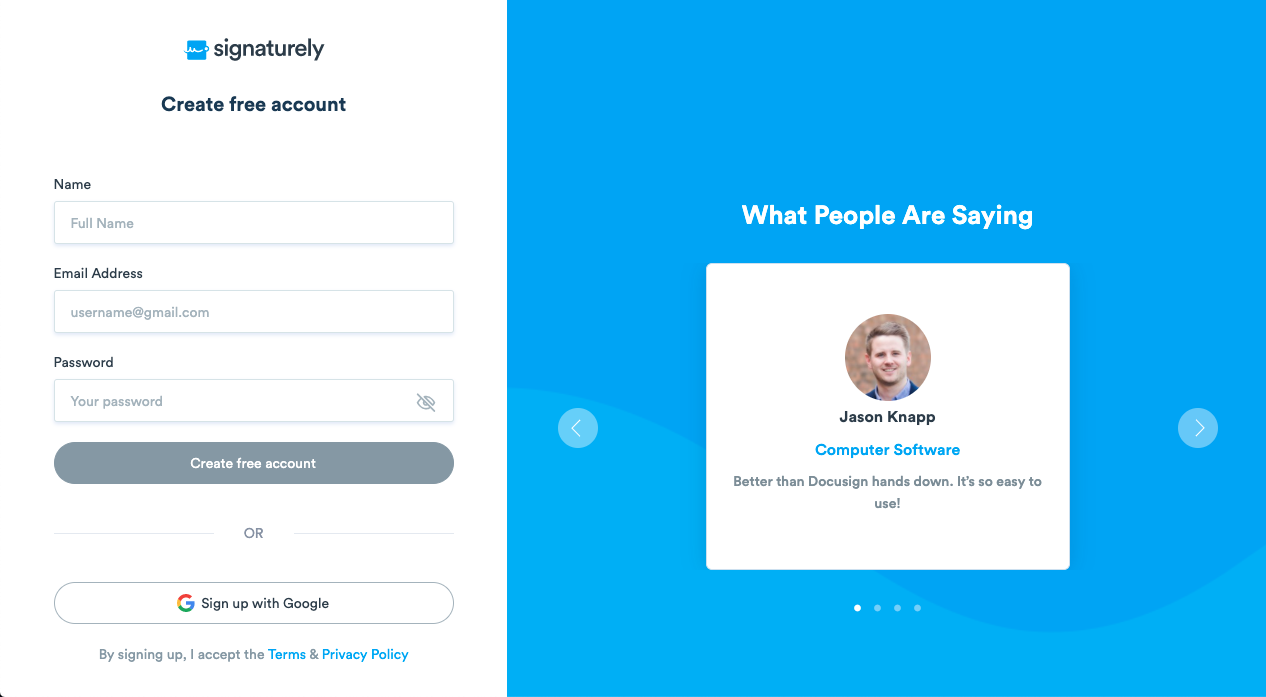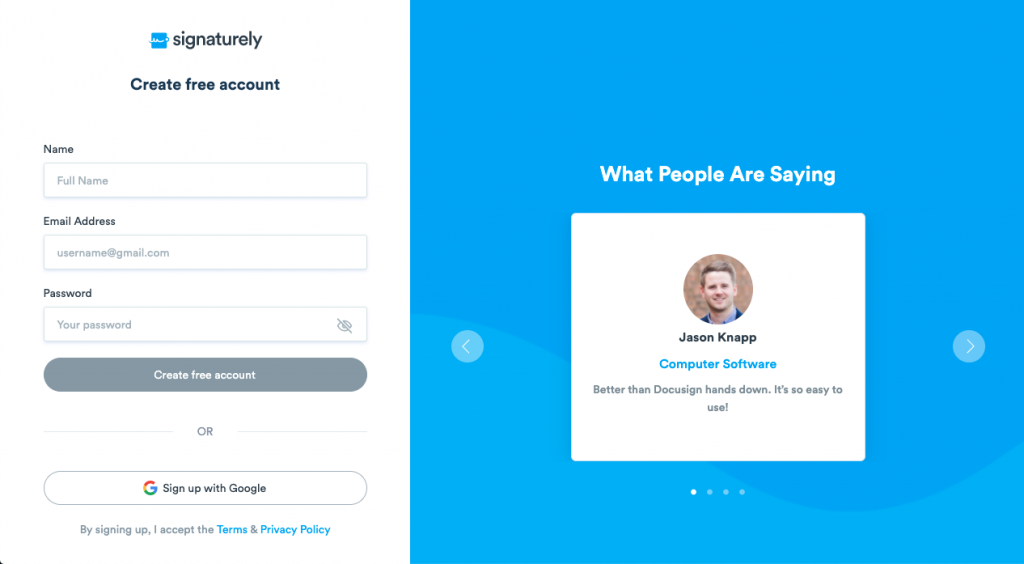 Both digital and digitized signatures have their uses.  As mentioned above, digital signatures are far more advanced than simply a digital form of your handwritten signature. Digital signatures rely on public key infrastructure (PKI), making them secure and verifiable. They also include private keys that are only visible to the signer.
Since the electronic document and signature process depends on such advanced technology, it is safer and less prone to mistakes than traditional document signing. Your signature cannot be forged; once the document is signed, it cannot be altered. Software like Signaturely allows you to make your signature super-secure through 2-factor authentication. This ensures that only you can access your account and that your signature will not be misused.
Is A Digitized Signature Legal?
Digitized signatures are legally binding in the United States. This is a result of the E-sign act which states that as long as an electronic signature is obtained appropriately using the right technology, it is valid. However, for a digitized signature to be admissible in court, you must prove two things—the signer's intent and the document's security. If there are any security gaps in the process, a judge may rule a signed document inadmissible. Therefore, businesses need to ensure their system is foolproof and secure.
How To Digitize Your Signature
While digitizing your signature is a straightforward task, it's important to choose a reliable site for the process to ensure your signature is secure.
Digitize Your Signature the Standard Way
Here's the most simple method to digitize your signature:
Sign a piece of paper with your handwritten signature. Try to make the signature larger than normal since you need it to be as clear as possible once digitized.
Now simply scan the document. Ensure that the scanned image is of high quality.
In case you don't have access to a scanner, you can use a scanner app on your phone.
Once you have the perfect scan, you will have to adjust and crop the image and move it to a horizontal signature line.
Now paste the image into a new document, but make sure you paste it with a transparent background. Use the magic wand to remove any white that's still visible in the background.
Now save the file in a PNG format. A PNG format is best because it's compatible with most eSignature software found online.
While this process is one way to produce a digitized signature, it's not the most efficient or safe method to sign a document digitally.
Create a Digitized Signature Faster with Signaturely
Signaturely offers two methods of digitizing your signature. Method number one:
Draw your signature:
and start drawing your signature.
We would recommend using a touchpad since it will allow you to draw more accurately.
If you don't have a touchpad, you can still use a mouse, just be sure to sign as smoothly and clearly as possible!
Once you've drawn your signature, you can easily download it by clicking the "Download eSignature" button. The file downloads in a useful PNG format.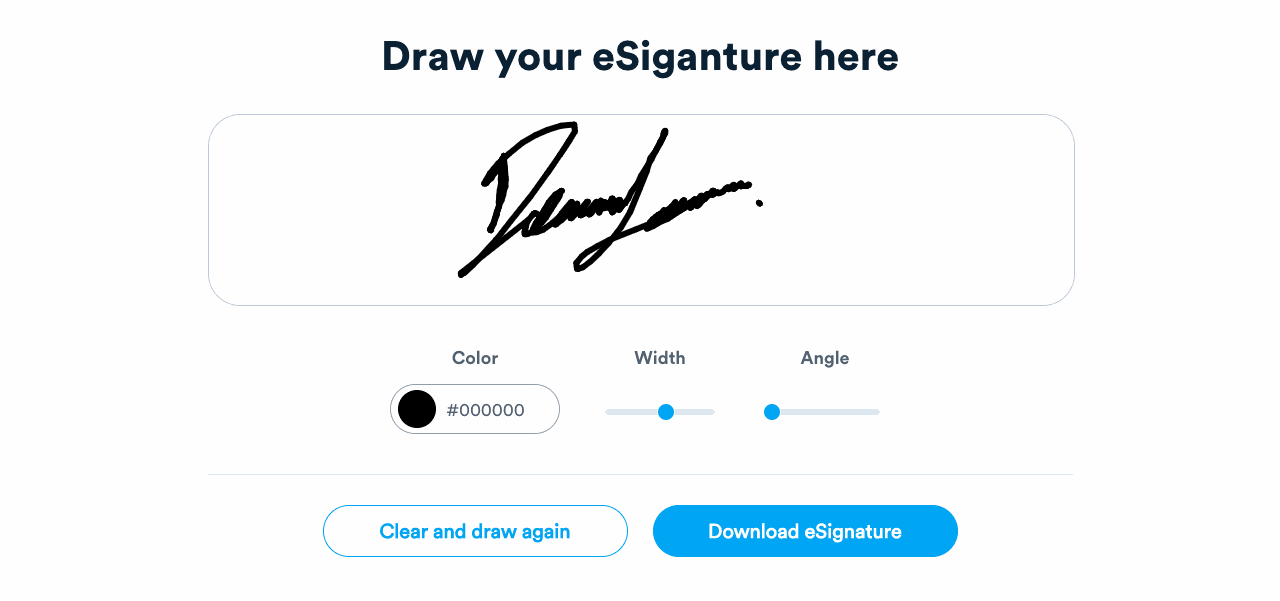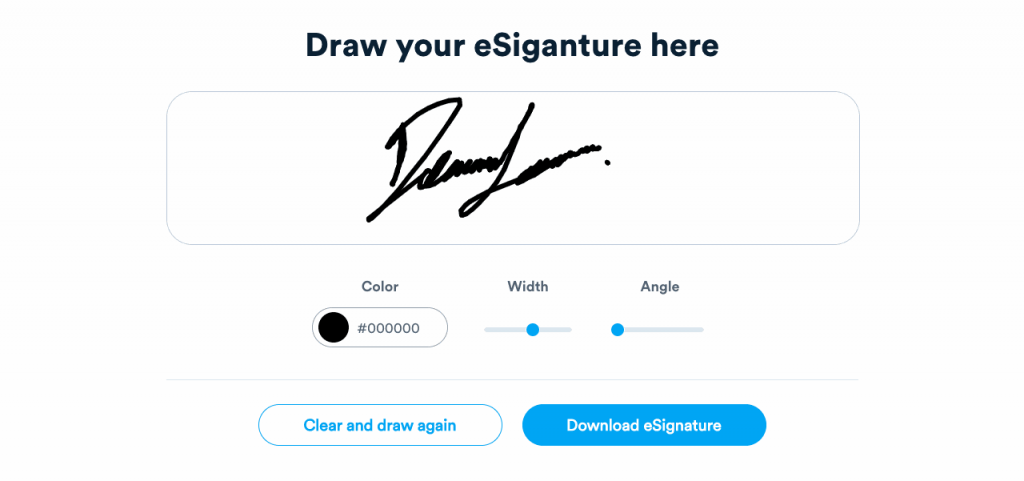 Alternatively, you can use Signaturely's "Type your Signature" option.
Type your name into the box.
Signaturely will produce a variety of different signatures for you to choose from.
You can choose from an array of fonts, including Sacramento andCaveat. Signaturely also has unique fonts that you won't find anywhere else.
Simply pick the font you like, download your eSignature and start signing documents!
Signaturely makes it simple to digitize your signature. You don't need a scanner, and the entire process is straightforward and free.
How To Digitize Your Signature In Word
Do you need to sign a Word document but don't know where to start? Here are a few different methods you can use:
Use a signature software
The best and easiest way to digitally sign a Word document is through electronic signature software like Signaturely.
Here's how you go about it:
Create a free Signaturely account.
Select the type of contract you want to create on the contract templates page
Once you fill the document, select who needs to sign the document- Is only your signature required, or do more people need to sign?
Enter the name of the document and contract terms. Then simply click "upload file".
Select your file and upload it.
Add your own signature, and then add your signers so they can add their signatures.
Forward the document to your co-signers
Signaturely's software is an easy and free way to add your signature to Word documents. You can also upload and monitor multiple Word documents on it.
Create a digital drawing of your signature
You can use Signaturely's online signature maker to draw your signature. Then download it and add it to your Word document. The step-by-step instructions are detailed above.
This method makes it easy to personalize your signature and make it unique.
How To Digitize Your Signature for a PDF
Here's a link to a few methods you can use to add your signature to a PDF.  Signaturely also works great when it comes to signing PDF files. Here are step-by-step instructions:
Upload your PDF file onto your account.
Add your own signature and send your document to any additional signees.
The best thing about Signaturely is that it allows you to keep track of who has signed the document and who has not. It will also send reminders to the other signees.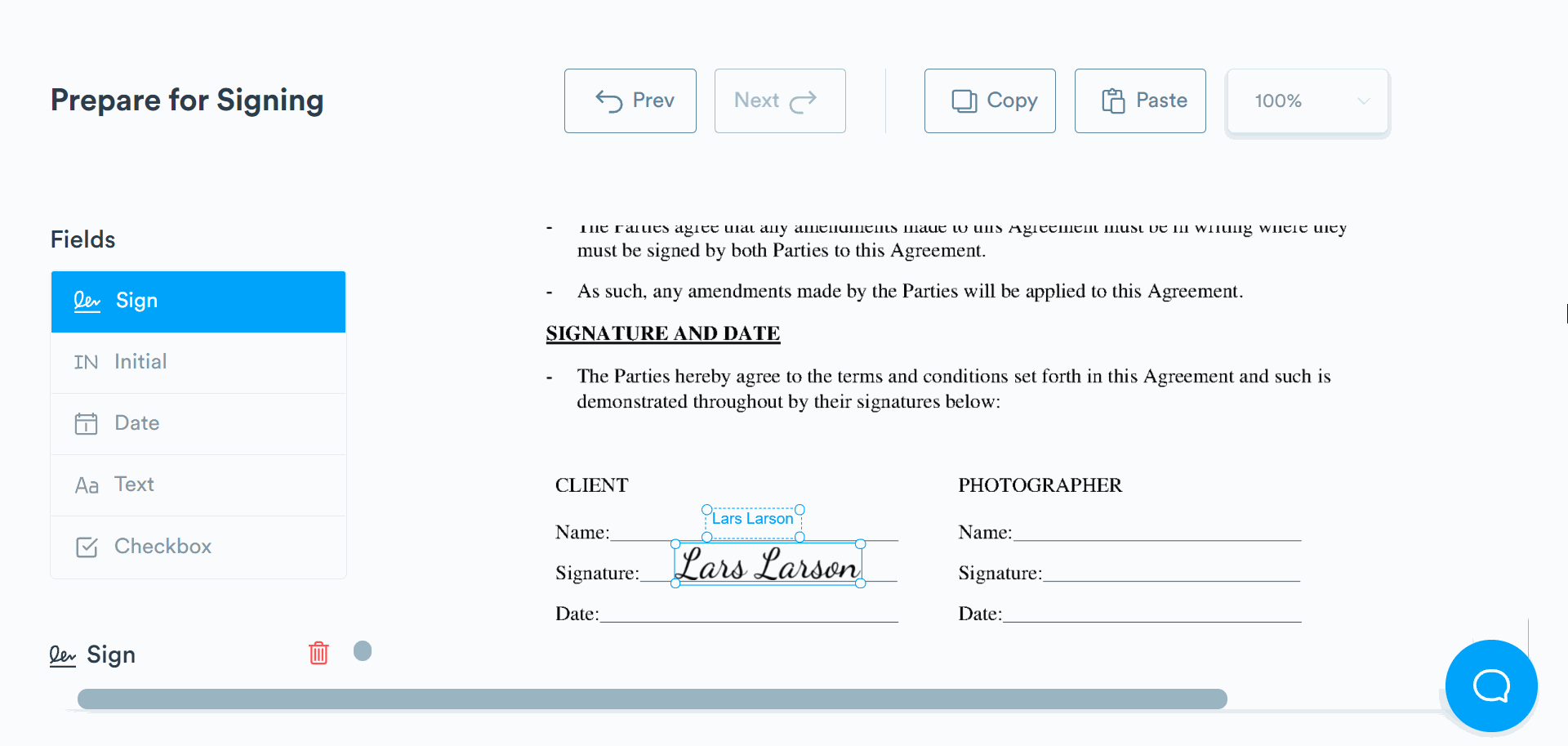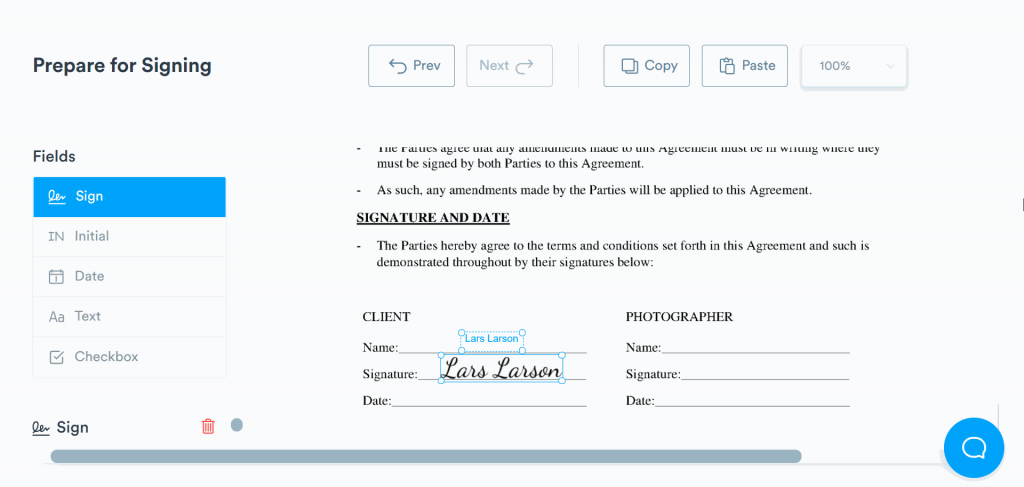 Digitize Signature FAQ
What is the difference between a wet signature and a digital signature?
A wet signature refers to your handwritten signature. In contrast, your digital signature appears only in digital form and is made up of a unique code. A digital signature is also different from a wet signature since it is a scanned version of your original handwritten signature.
How do I remove the white background from my signature?
Microsoft Word makes removing the white background from your signature relatively easy. Simply open a document on Word and insert the image of your signature. Then go to the Format Picture menu and click on corrections on the top left menu. The picture correction option will allow you to remove the background and create a transparent signature.
What counts as an electronic signature?
According to the ESIGN Act in the US, an electronic signature is "an electronic sound, symbol, or process attached to or logically associated with a contract or other record and executed or adopted by a person intending to sign the record." Therefore, both digital and digitized signatures count as electronic signatures.
Key Takeaways Regarding Digitized Signatures
If you need to sign documents digitally, you can opt for either a digital or digitized signature. While you could use a basic method to create a digitized signature, such as signing a paper and then scanning it, websites like Signaturely make the process simple and efficient. You can easily create your digitized signature and store it online for later use. Digitized signatures created with Signaturely are legally-binding, and their software is secure.