Digital signatures are the newer, faster, better way of signing documents online. They cut your costs, require less time, are more environmentally friendly, and make the whole process easier and faster for everyone involved.
However, you may be hesitant to adopt the process if you don't know much about how they work. That's why, in this article, we'll discuss the ins and outs of digital signatures.
By the end of the article, you'll know exactly what digital signatures are, how they work, and how to get started with them.
Let's dive in.
What is a Digital Signature? What does a digital signature look like?
Digital signatures are the digital equivalent of regular ink signatures. Just like ink signatures signal your approval or involvement in a paper document and its contents, a digital signature does the same on digital documents.
And they do it far better than ink signatures can.
Digital signatures use a Public Key Infrastructure (PKI), a standard format that provides high security and acceptance to your document. This combination of a public key and a private key is what makes a digital signature so safe.
Through the PKI and the processes involved in creating electronic signatures and storing digitally signed documents, you can be sure that your signature cannot be forged, and once signed. The document cannot be altered.
This makes a digital document with an e-signature secure enough to be valid worldwide, including anywhere within the United States and the European Union.
How Do Digital Signatures Work?
Here's the step-by-step process of using a digital signature:
1. The digital signing software
To properly use a digital signature, you can't just get a JPEG of your signature and paste it on a Word document. You need an electronic signature app to do the job.
Electronic signature solutions, like Signaturely, make your digital signatures effective by becoming a TSP and certifying the document for you, keeping it safe.
Signaturely, for example, uses ISO 27001 and FIRMA certified data centers managed by Amazon. This allows Signaturely to access AWS data centers to securely store all your data on the cloud, ensuring only your signer's eyes can access it. The data you send to or from Signaturely is also encrypted in transit through 256-bit encryption. 
Signaturely also gives you the power further to protect your data through 2-Factor Authentication (2FA) to ensure you are the only person accessing your Signaturely account. 
Electronic signature platforms like Signaturely also handle all parts of the digital signing process for you, ensuring everything about the digital signing process is valid and legally binding.
2. Signing up for a platform for electronic signatures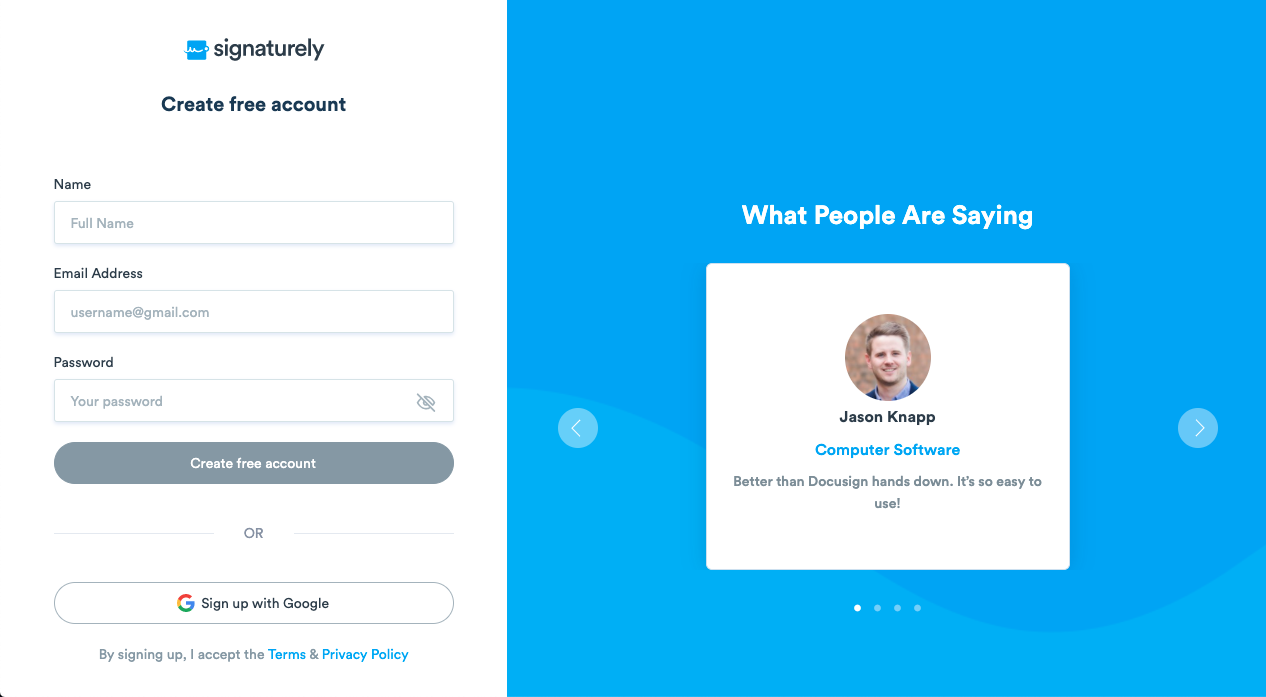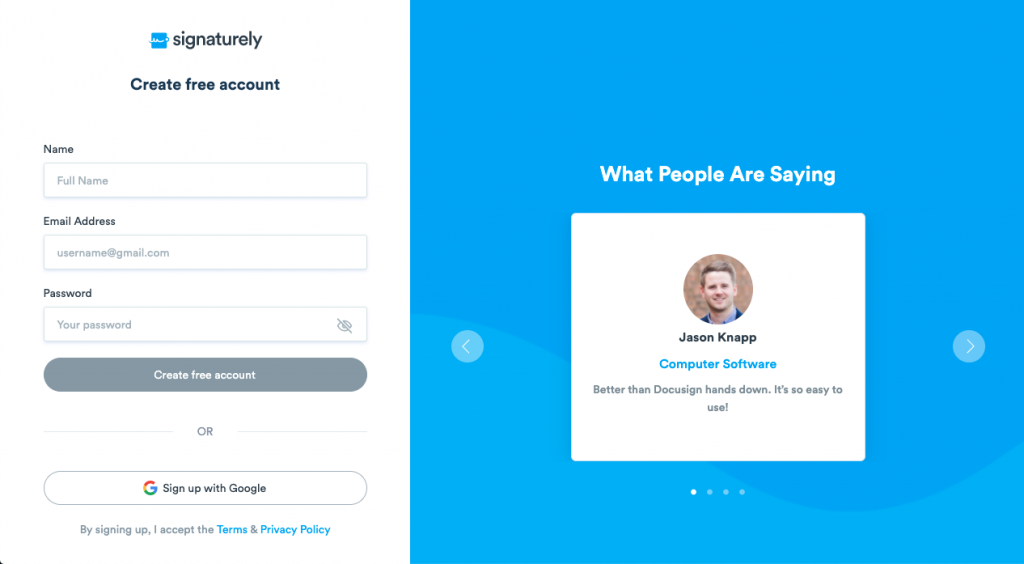 Since e-signatures are only valid when using the right software, you'll need to choose one that works for you. There are a few options available for digitally signing documents, but you can get started for free by creating a Signaturely account.
Signaturely offers a forever-free account allowing you up to three sent documents for free per month.
Start by creating a new account with your name, email address, and password, or sign up with your Google login for an even faster process. Within seconds you'll be able to access Signaturely's platform to create your new document.
3. Create or upload your documents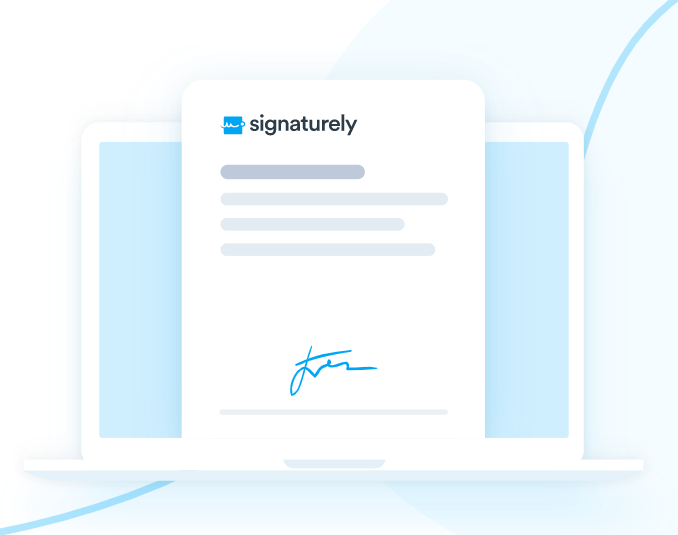 With Signaturely, you can get started immediately with the contracts you have. There are no unnecessary processes so that you can set up your contract immediately.
Simply upload your document, and use the editor to add the signature fields. That's it.
To upload your documents, you can either upload them directly from your computer or import them directly by connecting your DropBox, Google Drive, OneDrive, or Box accounts. 
When the document has been uploaded, simply open it with the editor to add the signature fields, positioning them exactly where someone would sign if they were using an ink signature.
Looking to get more agreements made? Just use one of the 45+ ready-made professional templates that Signaturely makes available for you.
All of Signaturely's available templates are written and proofread by legal experts. All you need to do is to adapt them to your needs and clients.
With Signaturely, you'll get access to a wide range of free templates like:
SEO Proposal
Work For Hire Agreement
Referral Agreement
Personal Training Contract
Non-Compete Agreement
Rental Agreement
Sales Contract
Non-Disclosure Agreement
Marketing Agreement
Service Agreement
And 35+ more!
When creating a document in Signaturely, you can get your team to collaborate on it, review it, and finish it through a seamless process.
Whether you're uploading a document or starting from scratch with one of Signaturely's templates, the process is quick and easy.
4. Send signature requests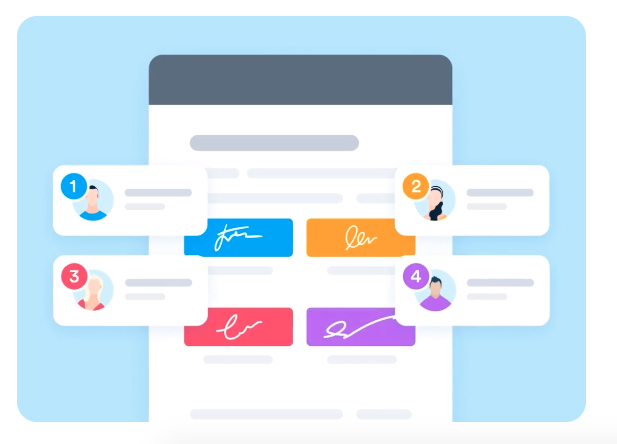 When your document is fully digitized and ready to be signed, it's time to send a signature request to your signees. This process can be completed entirely in-app, letting Signaturely do the heavy lifting for you.
All you need to do is to add the signees' names and email addresses. If your contract needs to be signed by people in a specific order, you can have Signaturely send the document to them one after the other as each individual signs the agreement. 
Signaturely will then guide your signees through each step of the signing process, starting with creating their e-signature and continuing through the whole signing process step by step until each signature has been added to the document.
5. Wait for your digital documents to return
We know it can be nerve-wracking to wait for a document to be returned. The longer you wait, the more questions you ask yourself, like: "Have they seen it yet?" When did they see it? Should I call them and ask why they haven't signed the document?
Signaturely puts you in control of the document signing process. Through Signaturely's dashboard, you can easily track your documents as they progress. Signaturely lets you know who has signed, when, and who has yet to sign.
Are you worried about someone holding up the line because they haven't signed yet? Simply send them a notification through Signaturely. Signaturely will remind the signee that their signature is still required, so you don't have to get directly involved. This gentle reminder is usually enough to nudge someone into signing without pressuring them into it.
Using powerful encryption and security keys to protect your document
When your signees open a document, their only option will be to sign it. They can't alter, edit, or change anything on the document. When a user signs the document, the signature records a timestamp. Once all users have signed, the document automatically locks itself, preventing further edits. You and your signees can know that the document you're signing cannot be altered in any way.
Once a document has been signed, there's no way to lose it. Signaturely will save the critical data and keep a legal backup of all your documents in case you need it.
Creating a Digital Signature with Signaturely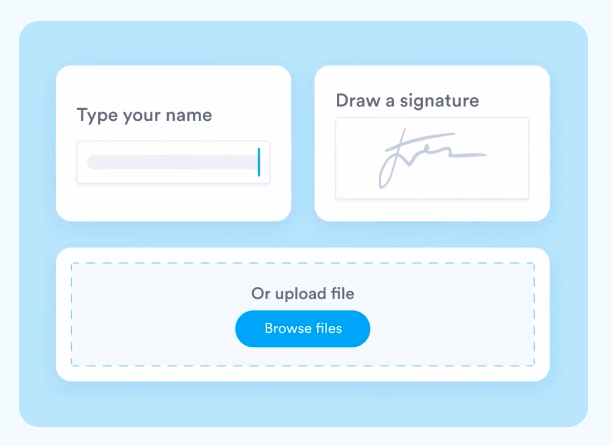 Anyone who wants to create a digital signature can do so with Signaturely's free Online Signature Maker. There is no need to create or sign in to an account to do so.
Here's how:
1. By typing it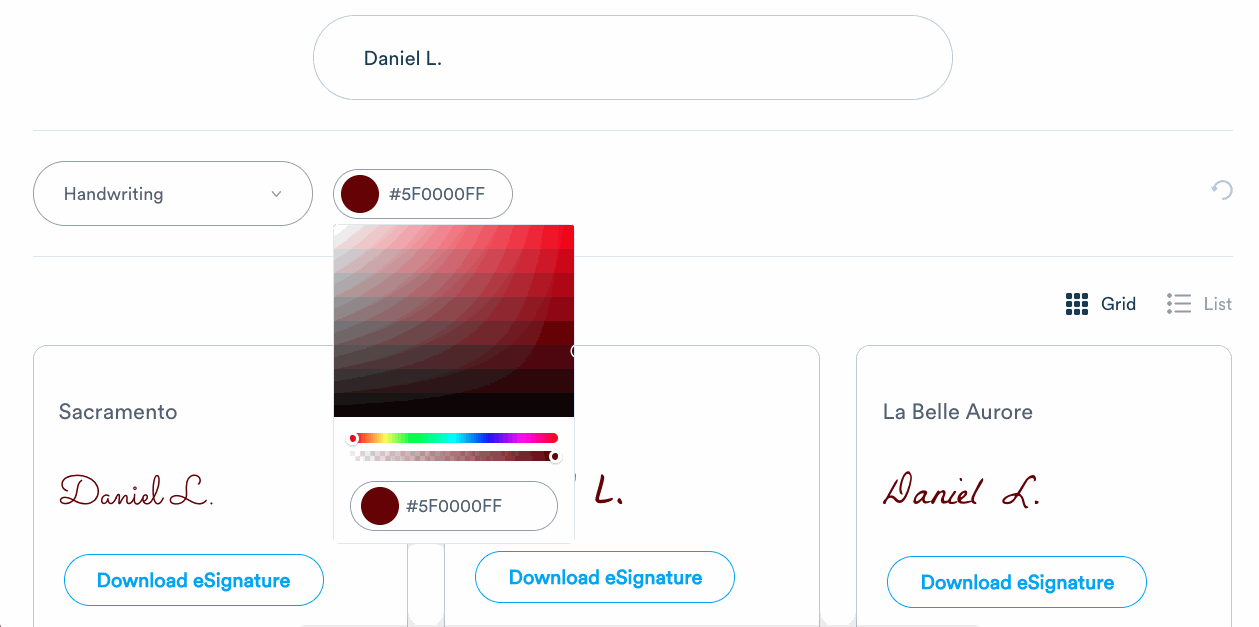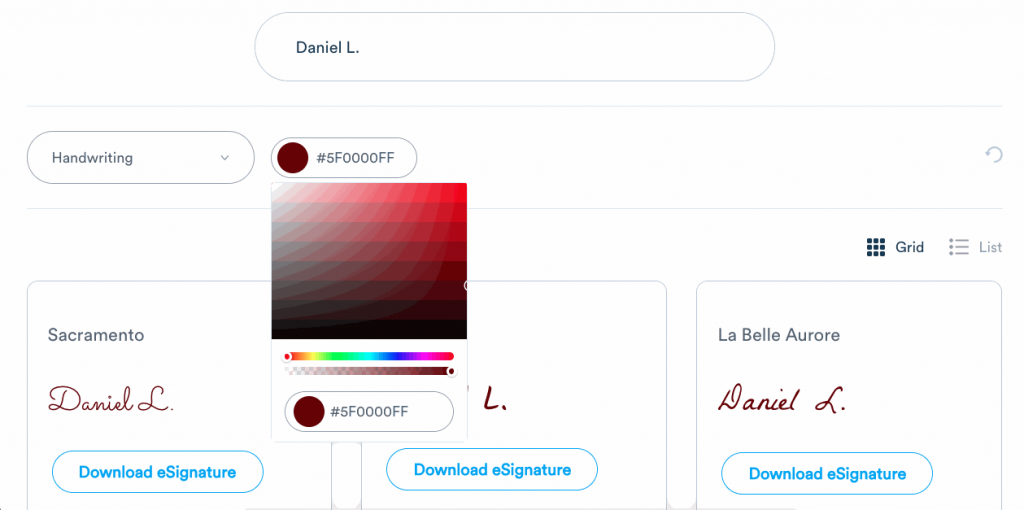 Typing is usually the way to go if you want to create a digital signature quickly. Simply type your name or initials on the text box, then choose a font to look like your wet ink signature or to personalize it according to your tastes. With Signaturely, you can choose between handwriting fonts and regular fonts and change the color of your signature.
Once you're happy with your signature creation, you can download it. Your new digital signature will be saved on your computer as a PNG file and ready to use.
2. By drawing it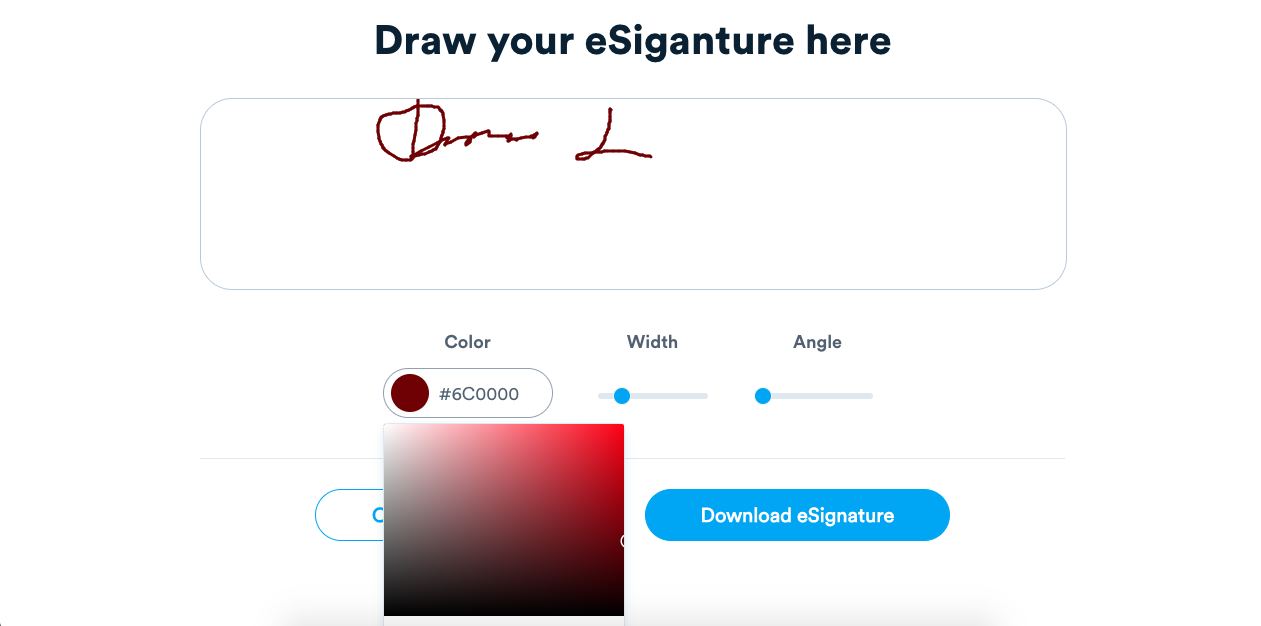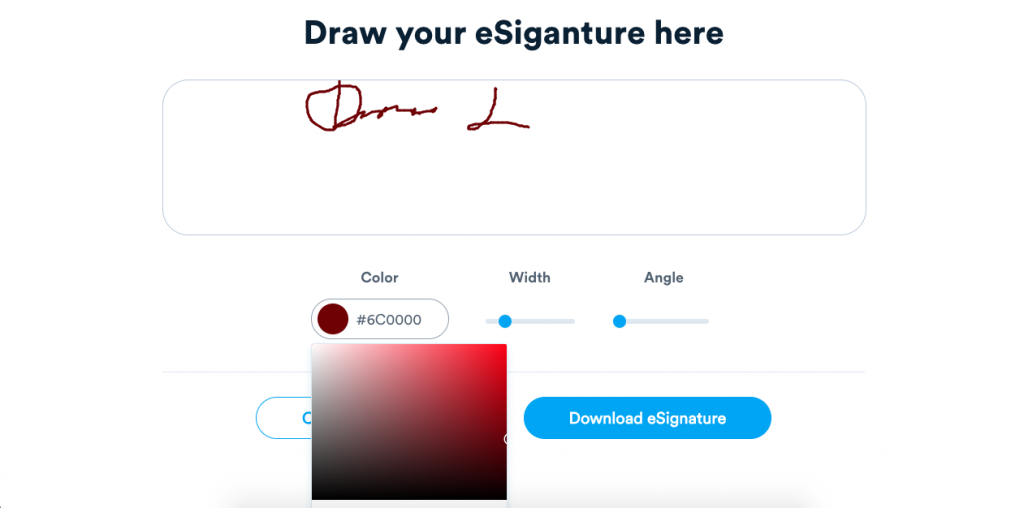 If you want to create a digital signature that looks more like your regular signature, you can also draw it. Simply use your mouse, trackpad, or stylus to draw your signature in Signaturely's e-signature maker. Once you've drawn it, you can change your signature's angle, thickness, and color to make it unique.
When this process is complete, download the signature as an image (PNG file), and it will be ready to use.
3. By uploading it
Lastly, if you want your e-signature to look exactly like your wet ink signature, you can simply use your wet signature by uploading it as a picture.
Draw your signature on a blank piece of paper, and scan or take a photo of it to upload it to the platform. Signaturely will then allow you to crop the image to trim any extra space. This image of your signature will also become your e-signature.
Frequently Asked Questions about Digital Signature
Here are the answers to commonly asked questions about digital signatures:
Who needs a digital signature?
Anyone who wants to expedite the signing process, making it easier and faster to sign documents, keep documents safer, and sign from any device, anywhere, will need a digital signature.
Businesses that want to expand into international markets cannot be bothered with flying their clients whenever there's a new proposal or sending documents back and forth by snail mail to have them signed. Some users are looking for a way to securely sign a document that cannot be altered or edited after the fact.
Since digital signatures are becoming the norm, any company or individual who wants to get on board with new technology will also require digital signatures.
Who provides digital signatures?
Digital signatures are provided by the signees who sign the document hosted and kept by a digital signature platform. The digital signature platform provides the resources and backing needed for the digital signature to be valid and easy to verify.
Once a person uses a digital signature platform to send, sign, and receive online documents, they can also provide their signatures and request others' signatures.
When is a digital signature required?
Digital signatures are required whenever there's a need for a digital document to be signed. This may be because of location, for example, when one of the signees cannot meet at a certain time or place to sign a document. It may also be required for security purposes since digital signatures provide more security features than ink signatures, and online documents cannot be forged or edited after signing.
Lastly, a digital signature may be required just for convenience since users can sign documents digitally from any device anywhere at any time.
What are the benefits of using digital signatures?
There are many benefits to using digital signatures, like:
Extra document security: Whereas paper documents can be stolen, altered, destroyed, or lost, digital documents cannot. Platforms like Signaturely keep a backup of your documents for legal and security reasons. So, even if you and your signees delete all copies of the document from your computers and from the internet, the only way to fully destroy it is by letting the platform know you want it destroyed.
Enhanced customer satisfaction: Digital signatures enhance your customers' experience by making it easier and faster for them to sign documents. Platforms like Signaturely take extra care of your customers by guiding them through the signing process. Your customers will have a more positive experience than they likely would've had by signing the document in person.
More time effective: Digital signatures save a lot of time for you and your signees during and after the signature process. Instead of scheduling a visit where witnesses can see the signing occur and trying to figure out a time and place for the process to happen, you can all simply sign whenever it's more convenient for each person, spending only the time it takes to read the document and add a signature. Rather than wading through mountains of paper documents each time you need to retrieve a contract, you can simply look it up among the signed documents you have online and find it in a matter of seconds.
Legally binding: Signaturely is developed and maintained to get worldwide legally binding digital signatures. This means that instead of having to look up the laws in a specific country about signing a document and making it legally binding, you simply have to check if Signaturely is available within that country to know that your signatures and documents will be legally binding.
Access to audit trails: Audit trails let you trace your digital documents right back to their origin, adding an extra level of validity to your whole signing process. You can always ask for an audit trail to Signaturely to ensure those documents are legally binding and prove their validity very easily in front of a judge or jury.
Budget-friendly: Probably the easier and more immediate benefit of digital signatures is the fact that they're simply cheaper to get. Not only are you saving money lost to printing and storing paper, but you're also saving money on ink, printer purchases, printer maintenance, gas for trips back and forth, office space, and much more.
Simpler process: Lastly, digital signatures are easier and more streamlined than ink signatures, especially when using a platform like Signaturely that guides you and your users through every step of the process to ensure everyone knows exactly what to do and how to do it.
Can digital signatures be trusted?
Yes, digital signatures can be trusted. Since digital signatures rely on public and private keys, they are protected through a powerful cryptographic algorithm that ensures their safety and prevents malicious use. When using a digital signature, the platform records a quick digital timestamp to prove ownership of the digital signature and keep the document locked and safe from editing.
Can digital signatures be forged?
In contrast to wet signatures, digital signatures are hard to forge. Whereas a wet signature can easily be forged, digital signatures are protected with multiple layers of security and authentication, making them more reliable and easier to prove ownership, even in court.
What is the difference between a digital signature and an electronic signature?
The basic difference between a digital signature and an electronic signature is that a digital signature is generally used to keep digital documents safe and is authorized by a certificate authority (CA). An electronic signature is generally referred to as the signature on a contract that a signer has used to prove intent.
What are the different types of digital signatures?
There are three types of digital signatures: Basic, Advanced, and Simple. A Basic digital signature is very similar to a Simple signature since no encryption is required for either. An Advanced or Advanced & Qualified digital signature requires encryption and carries the same legal value as an ink signature.
What is a Digital Signature? Conclusion
Digital signatures are safer, faster, easier to use, and superior to regular wet signatures. If you want to get started in digital signatures, digitizing your documents, and easily sending signature requests, there's no better option than Signaturely.