As businesses grow, so does the need for software that can keep up with their expanding needs. In 2022, more and more companies will be looking for e-signature software to help them manage contracts and get important documents signed. This article will cover ten Zoho Sign alternatives you should consider using in 2022. Each tool has unique features that could complement your operations.
10 Best Zoho Sign Alternatives to Consider (Updated)
As businesses look for alternatives to Zoho Sign, here are ten great options. Each software package offers unique features that can benefit your company in several ways. So, whether you're looking for increased security or enhanced collaboration capabilities, there's sure to be an e-signature solution perfect for your business needs.
1. Signaturely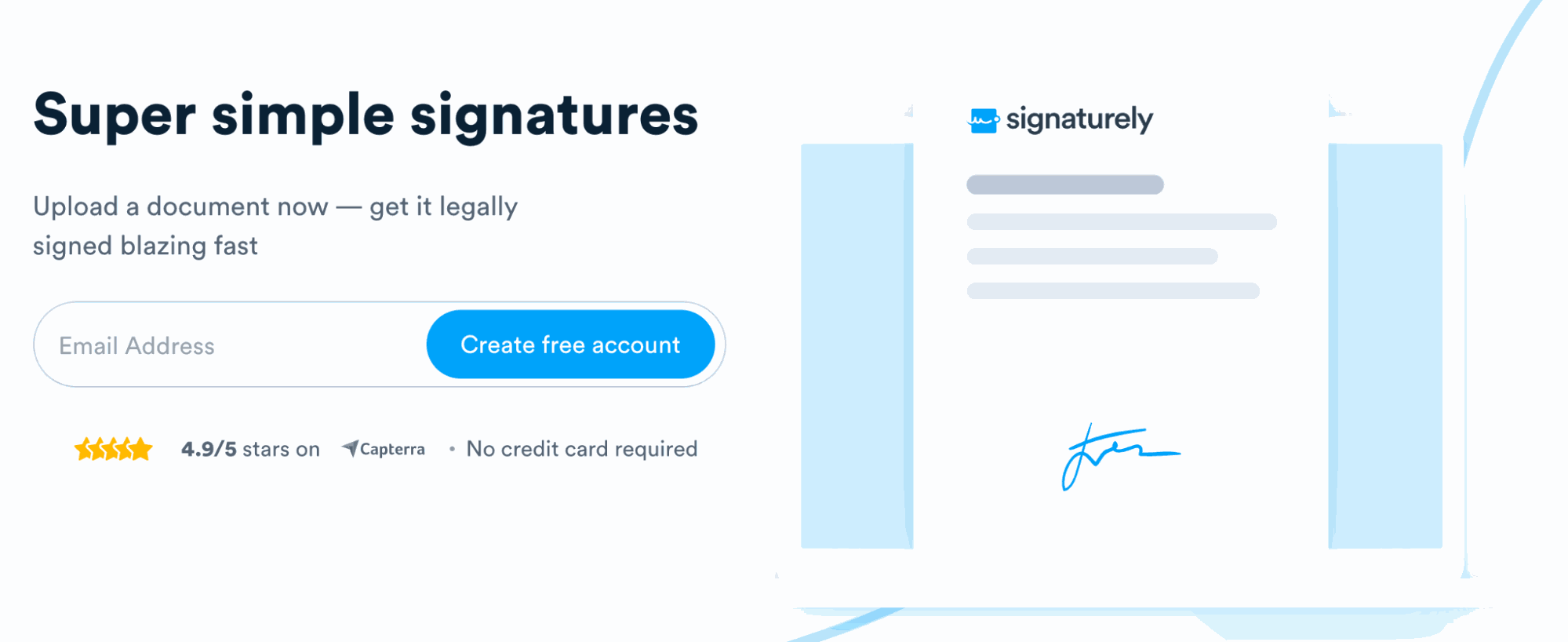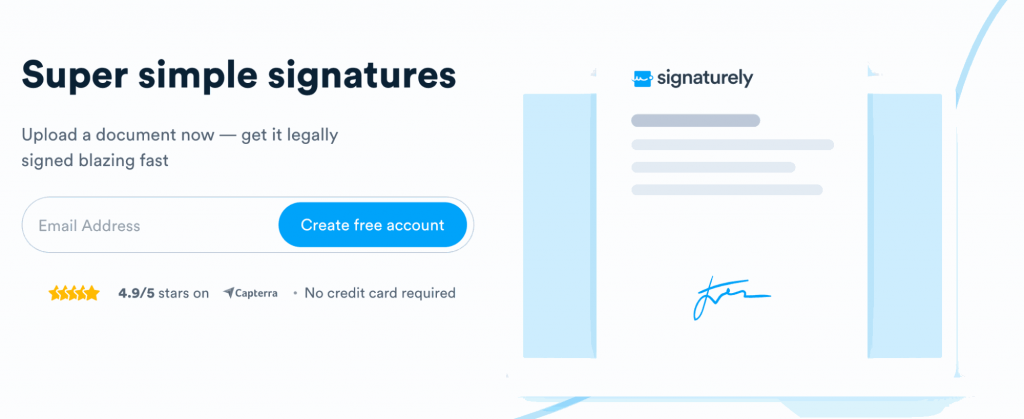 If you're looking for a simple, effective way to sign your documents, Signaturely is a great option. It's easy to use and offers more affordable pricing than Zoho Sign. Plus, it provides more opportunities for custom branding, so you can ensure your signed documents look professional. Signaturely also offers a free tier, so you can try it out before you commit to a paid plan. Overall, it's a fantastic choice for those who want an easy-to-use platform with affordable pricing and robust customization options.
Signaturely offers a free tier with access to integrations and up to three signature requests per month. Its Business plan is priced at $24 per user per month (billed annually) and includes team management and audit log and history. These features are built for enterprise and scaling businesses and provide the robust support needed to support critical operations.
Pros:
Free plan and accessible pricing
Extremely easy to use
Robust custom branding
Excellent customer support
Cons:
Fields editor could use improvement
2. PandaDoc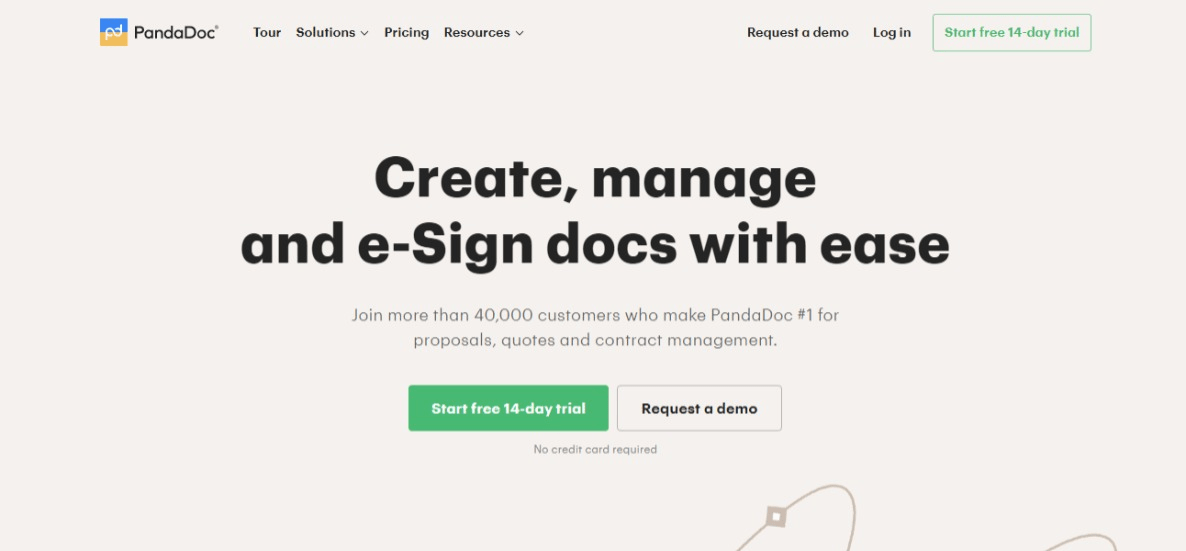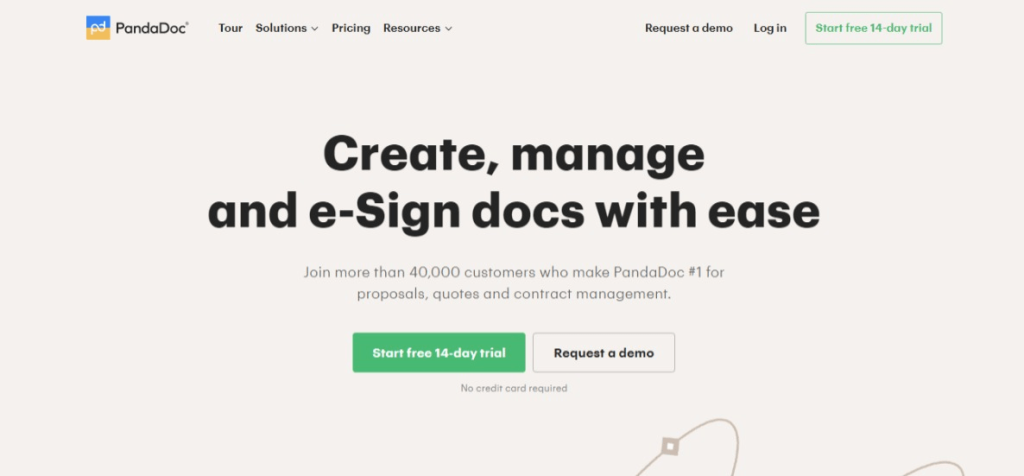 PandaDoc is an all-in-one tool for creating proposals and contracts. With its drag-and-drop editor, you can easily add or remove sections to customize your document. Plus, with real-time approvals, you can get feedback from your team without delays. Moreover, if you're using a CRM system, PandaDoc has native integrations to make your life even easier.
While PandaDoc and Zoho Sign provides legally binding signatures, there are a few notable differences between the platforms. For one, PandaDoc supports payment integrations like Stripe and PayPal, whereas Zoho Sign lacks this feature. Conversely, Zoho Sign offers more robust integrations with Zoho apps that can streamline workflows.
PandaDoc has a free tier with unlimited signatures. Its Essentials plan is $19 and includes templates and 24/7 live support.
Pros:
Robust templates
Easy to create new proposals
Friendly pricing
Cons:
Limited customer support
Minor navigation issues
Assigning fields for signees could be improved
Bonus: Check out our top 10 PandaDoc competitors.
3. SignNow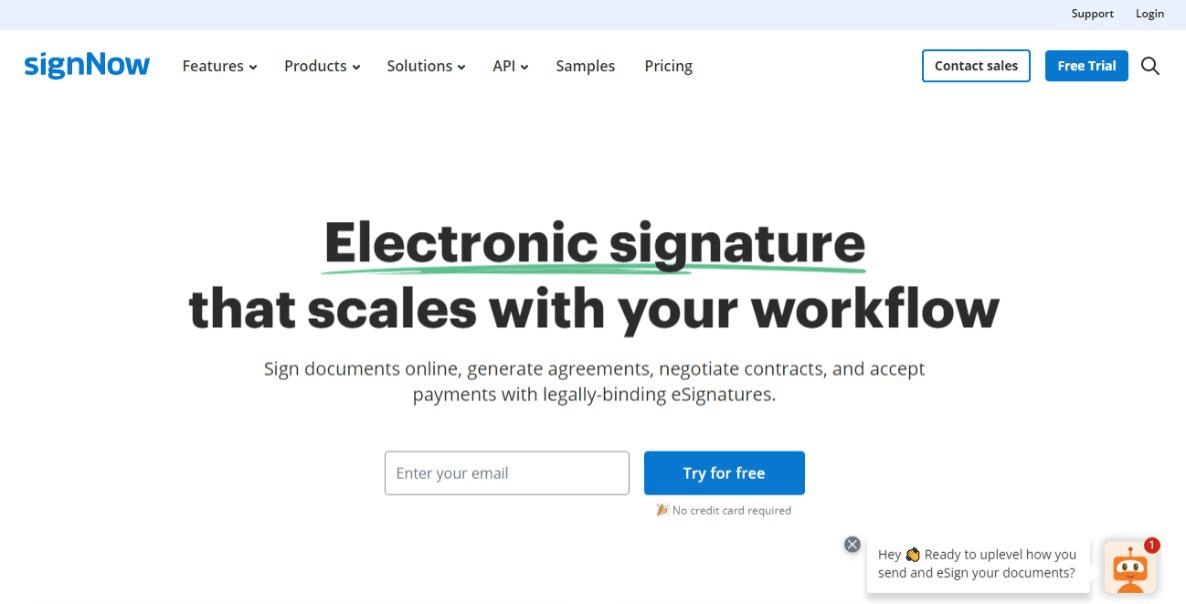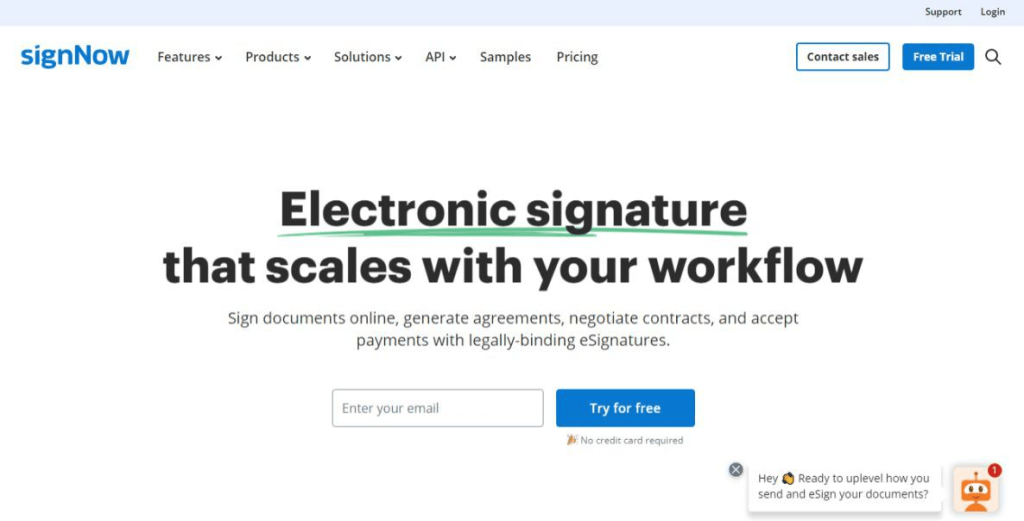 SignNow is an e-signature solution that helps businesses manage team collaboration on signing documents. The SignNow API allows you to automate workflows and efficiently organize team collaboration. With SignNow, you can save time and money by reducing the need for paper documents.
Both Zoho Sign and SignNow offer a free plan and in-person signing. Unlike SignNow, Zoho offers blockchain-based technology that helps you track your documents. SignNow, on the other hand, emphasizes document merging and field validation which sets it apart from other alternatives.
Pros:
Easy to get documents signed
Robust signature tracking
Reusable templates
Cons:
Limited customer support
Adding signees could be easier
Navigation could be improved for non-users
4. GetAccept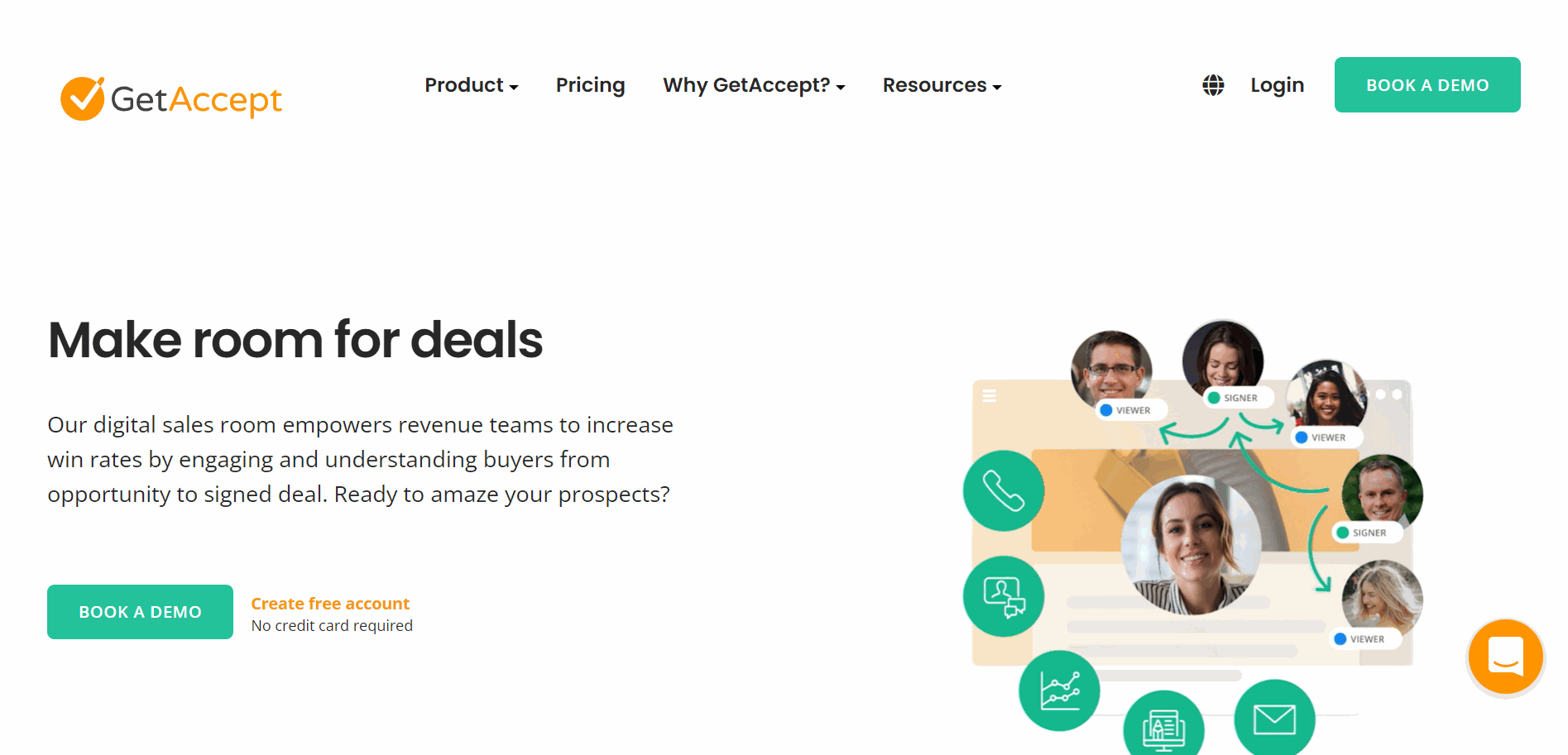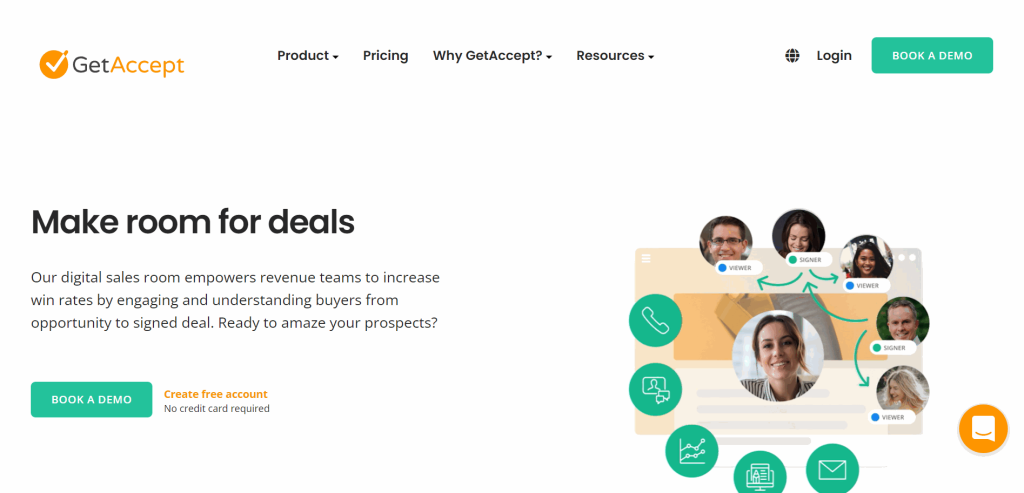 GetAccept is a contract management software that helps sales teams close deals faster. It includes features like automated reminders and a content library, so you can easily find the resources you need to get the job done. Since it's all stored in the cloud, you can access your contracts anywhere.
ZohoSign and GetAccept offer free plans. Unlike GetAccept, Zoho provides a more robust integration with Office 365 and Zoho Apps— which can be a detractor for teams who use either suite.
GetAccept plans start at $15 per user per month (billed annually) and include ten active sends outs per month. For $49 per user per month (billed annually), users get access to the Professional plan for scaling companies with unlimited send-outs.
Pros:
Video greetings with documents
Document tracking and analytics
GDPR and SOC2 compliance
Cons:
Minor usability issues
There could be more customization in UI
Templates could be improved
Additionally, here are the best GetAccept alternatives in the market.
5. Adobe Sign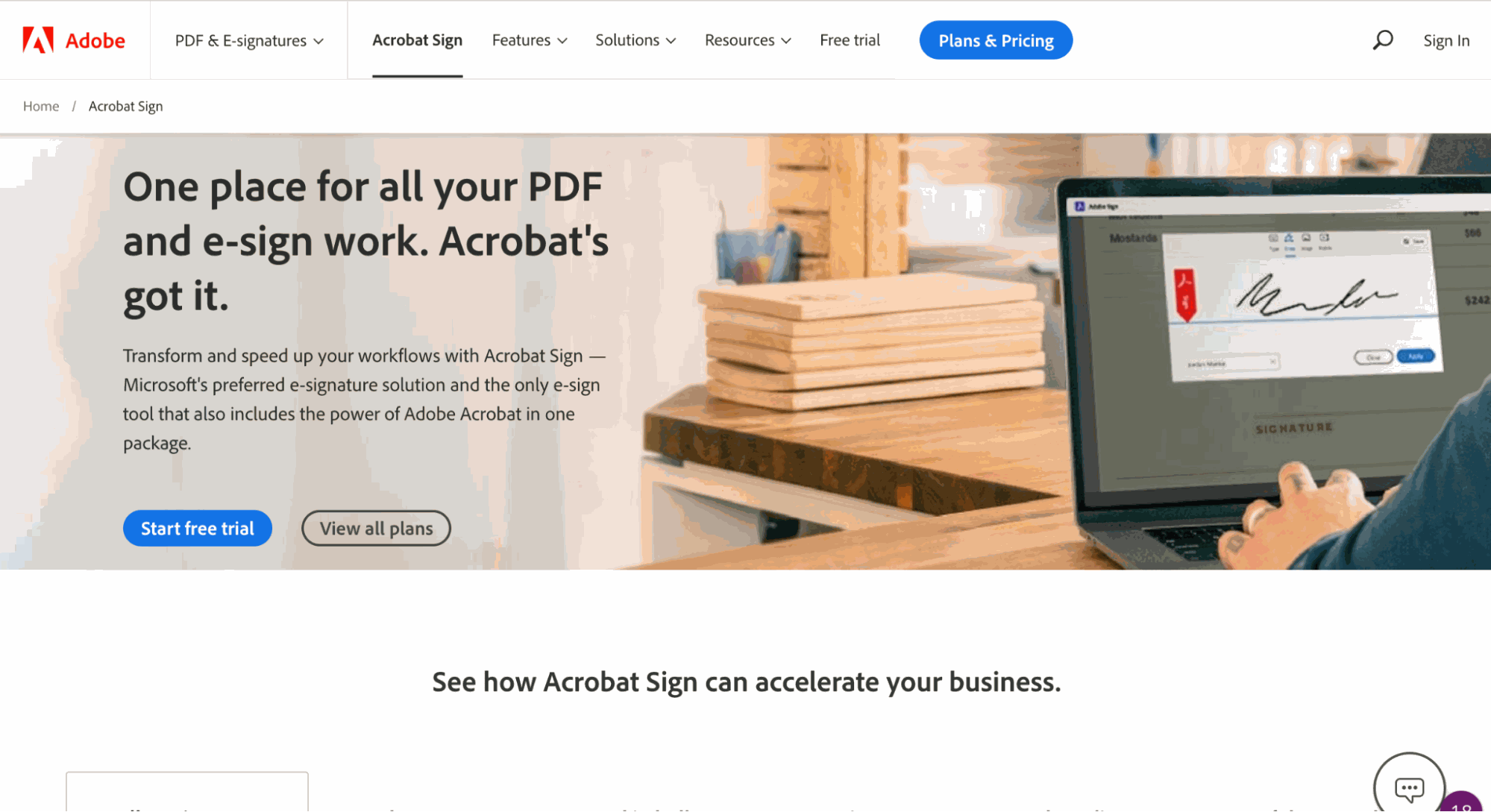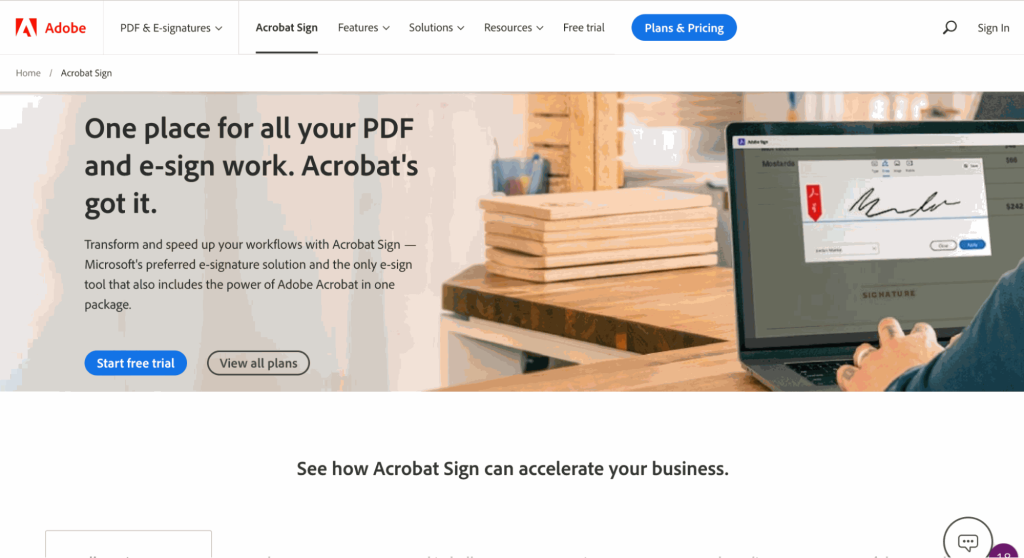 Adobe Sign is a cloud-based service that allows users to sign contracts, invoices, job applications, and other documents. Adobe Sign uses encryption to protect the document contents and offers various legally binding digital signatures. You can also add fields to the document, such as text boxes and drop-down menus, making collecting information from multiple parties easy.
Adobe Sign and Zoho Sign offer similar features, including integrations with Office 365, mobile apps, and custom workflows. Zoho Sign scores better on ease of use and setup, which may be necessary if your team wants to get started quickly with an easy tool.
Unlike Zoho Sign, Adobe Sign does not offer a free tier. Its standard plan is priced at $12.99 per month (billed annually)— complete with audit trails, agreement tracking, and form preparation. Its Pro plan, priced at $19.99 per month, comes with a 14-day free trial and includes PDF validation and sensitive information redaction. Here are other competitors to Adobe Signed compared.
Pros:
Multiple language support
Embed e-signatures on websites
Robust customization in contracts
Cons:
Clunky mobile app
More options could be available on signing
Not enough ways to share documents
6. HelloSign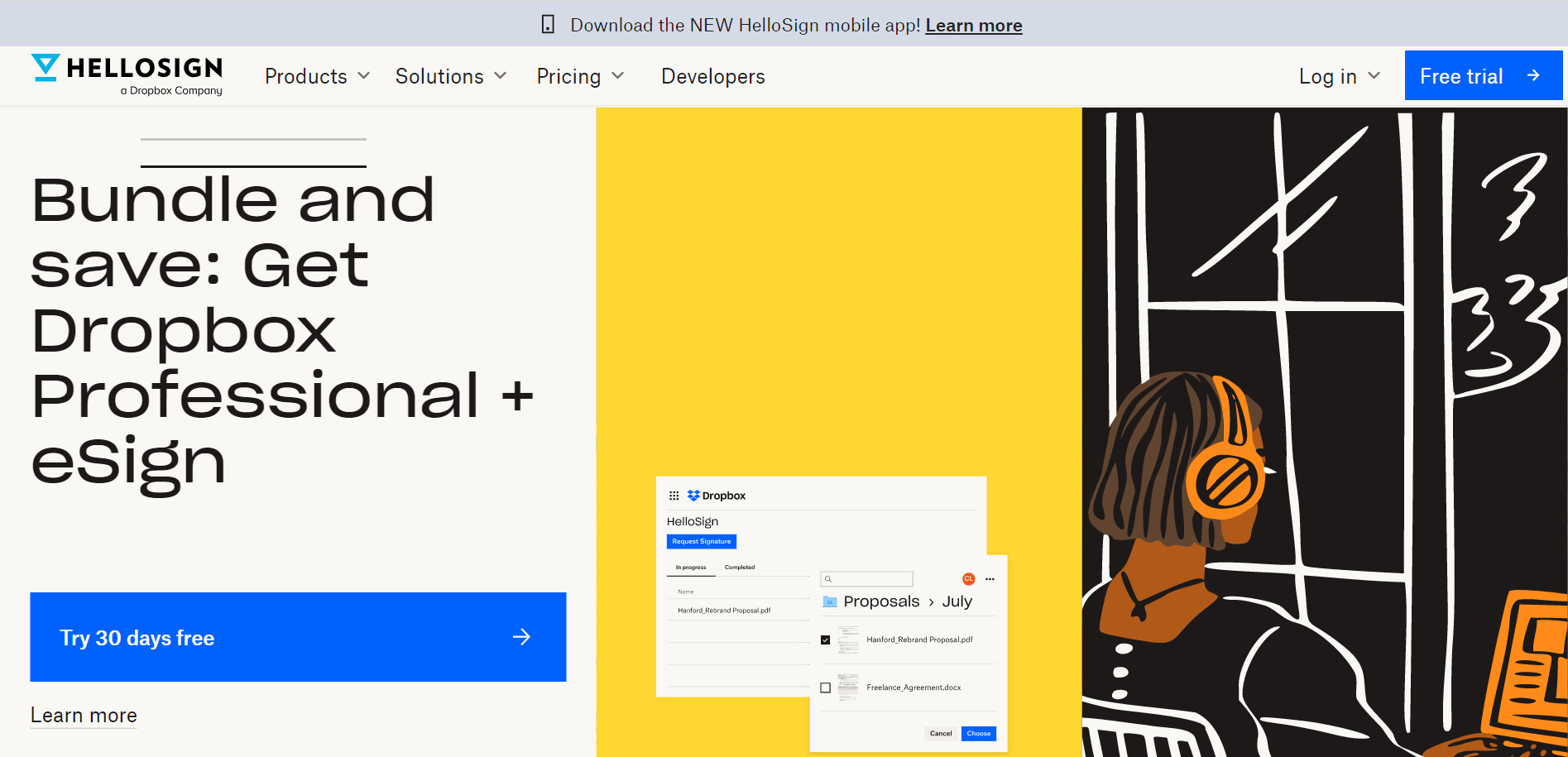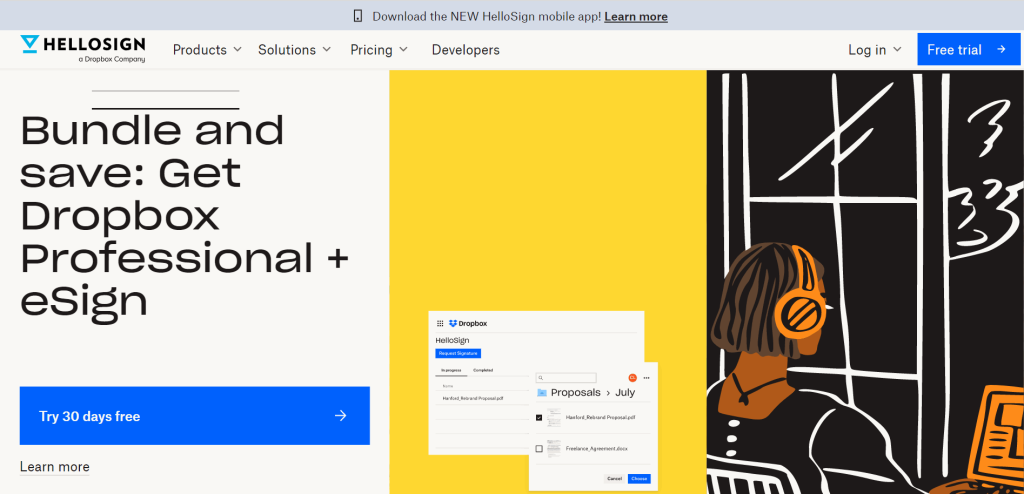 HelloSign is a digital signing platform that allows businesses to collect legally binding signatures electronically. HelloSign offers a range of features to streamline the signing process, including custom workflows, in-person signing, and templates. HelloSign integrates with several popular apps and platforms, making it easy to get started with electronic signatures.
Zoho Sign and HelloSign allow businesses to collect legally binding signatures electronically, making managing contracts and other document signings easier and more convenient. However, there are some key differences between the platforms. Zoho Sign has better integrations with other Zoho apps, making it a more seamless experience for users already using other Zoho products.
After being acquired by Dropbox, HelloSign offers Dropbox features along with its Dropbox + eSign plan at $24.99 per month. Unlike Zoho, HelloSign does not have a free tier.
Pros:
Audit trails
Signer attachments
Track signer responses
Cons:
Mild performance issues
Integrations could be more robust
Some navigation issues
HelloSign has some strong alternatives, as listed in another article.
7. SignRequest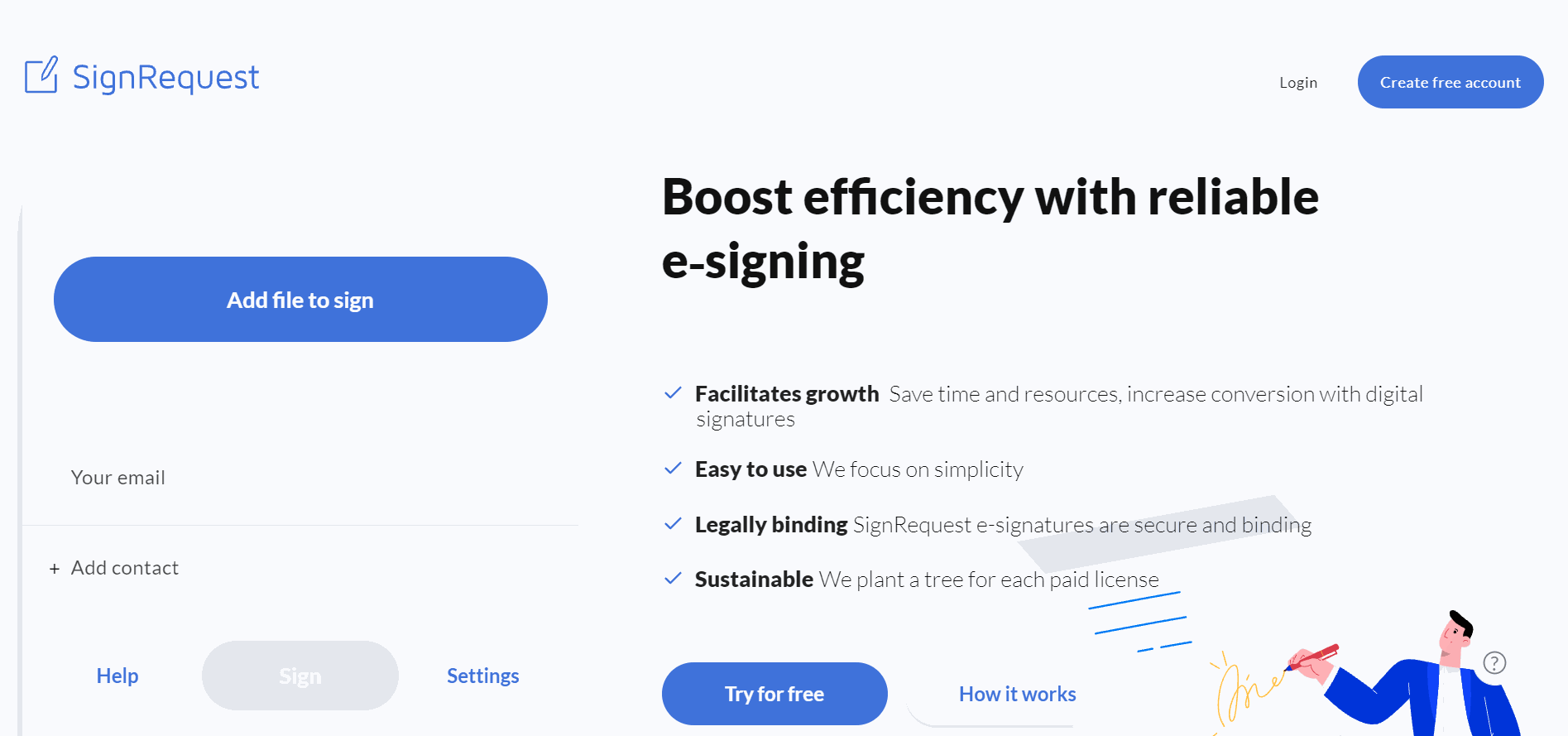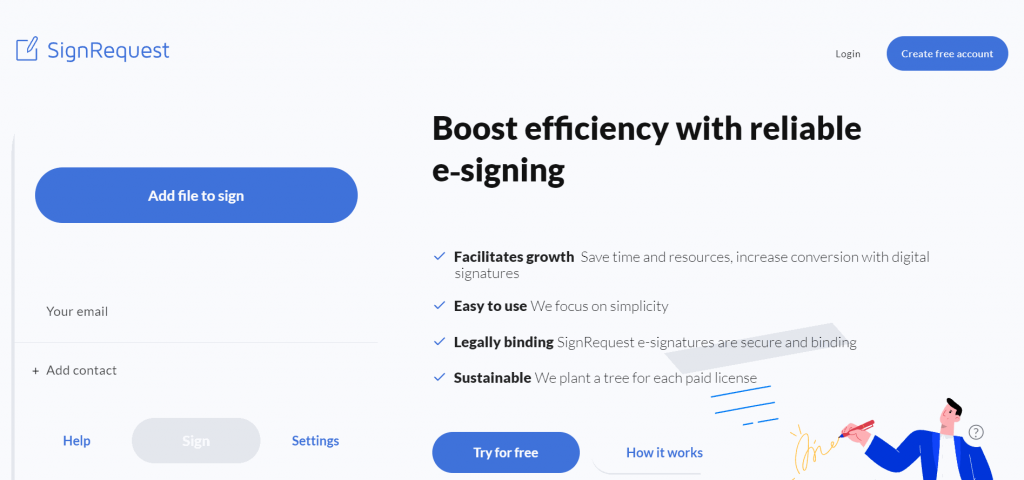 SignRequest is a document signing and management tool that allows users to store and manage multiple documents and prepare documents for signature. Zoho Sign has more robust integrations with other tools and services like Zoho apps. SignRequest connects to Zapier, allowing even more integrations with other popular tools— but less support for native integrations. Depending on your suite of tools, this can be an important factor.
SignRequest offers simple pricing of two tiers: Professional at $9 per user per month and Business at $15. While the Business plan offers more functionality, it does not provide the lengthy set of features Zoho Sign offers.
Pros:
Custom landing pages
Custom contract signing order
Create a signature easily
Cons:
Limited native integrations
No mobile access
Difficult to customize contracts
8. DocuSign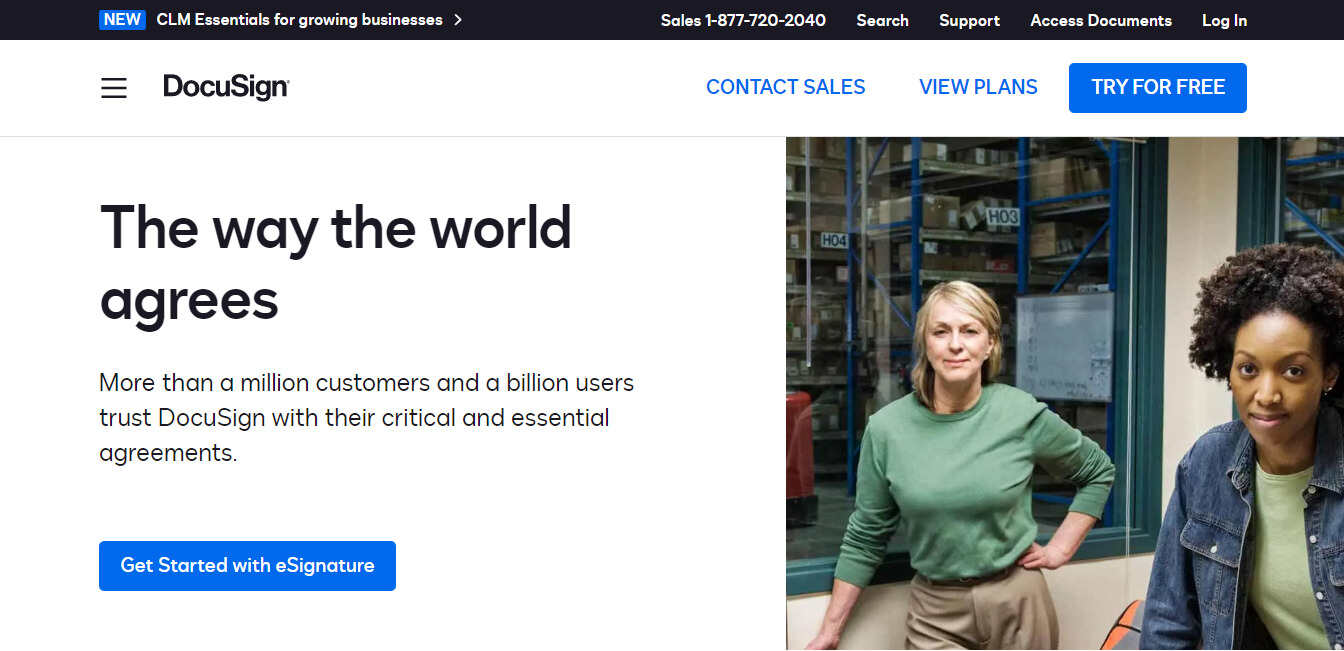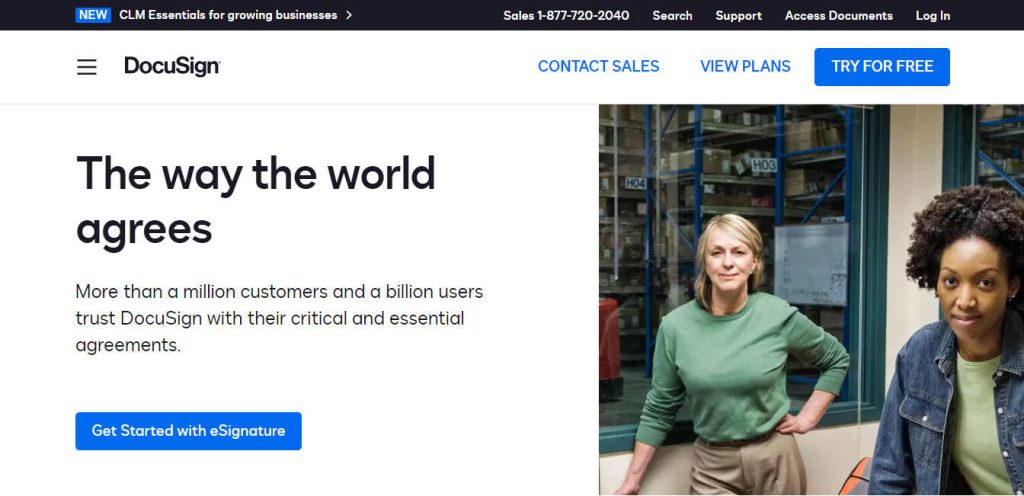 DocuSign is a widely used e-signature platform (the one with most competitors) that offers a robust set of features for enterprise users. DocuSign has more integrations with other applications, while Zoho has better integrations with Zoho apps. However, both platforms provide an easy-to-use interface and a wide range of features. DocuSign is ideal for businesses that need a comprehensive e-signature solution. At the same time, Zoho Sign is a good choice for companies that use Zoho apps and need a simple e-signature solution.
DocuSign's basic plan is priced at $10 per user per month (billed annually) and includes access to reusable templates and up to five documents per month.
Pros:
Robust security features
Embedded signing on websites
Advanced user management features
Cons:
Pricing is not as accessible
Navigation could be improved
Customer support could be improved
Check out our full Zoho Sign vs. DocuSign comparison here.
9. pdfFiller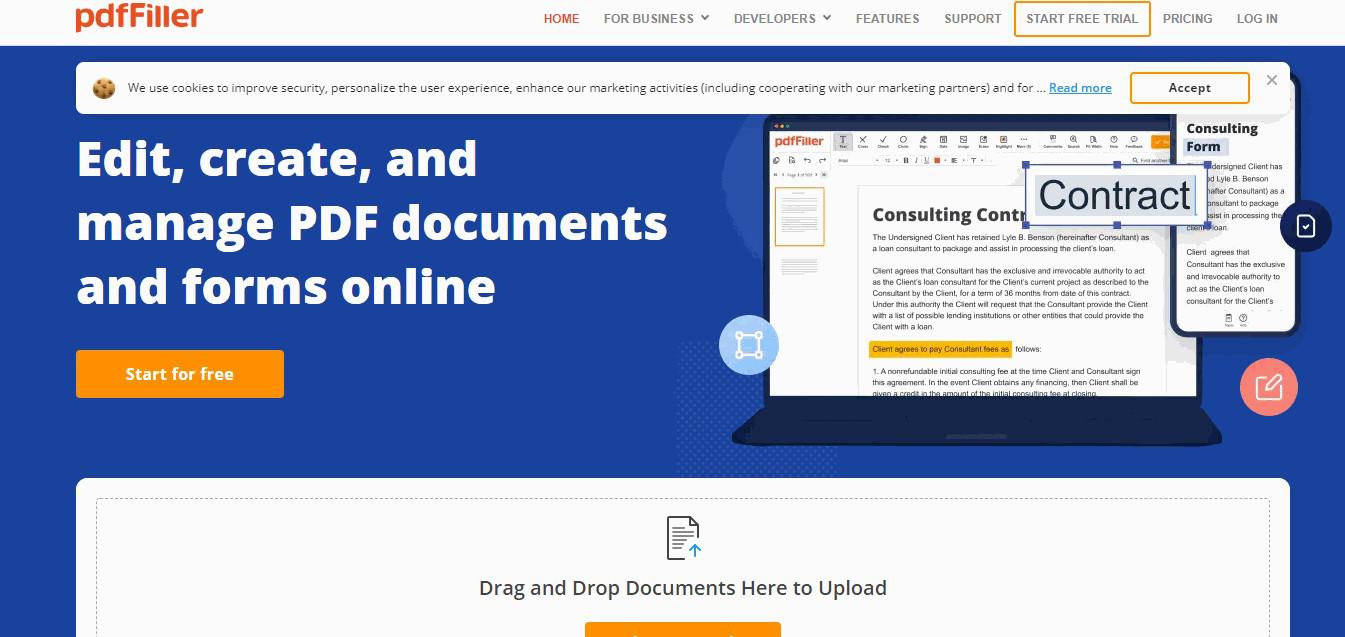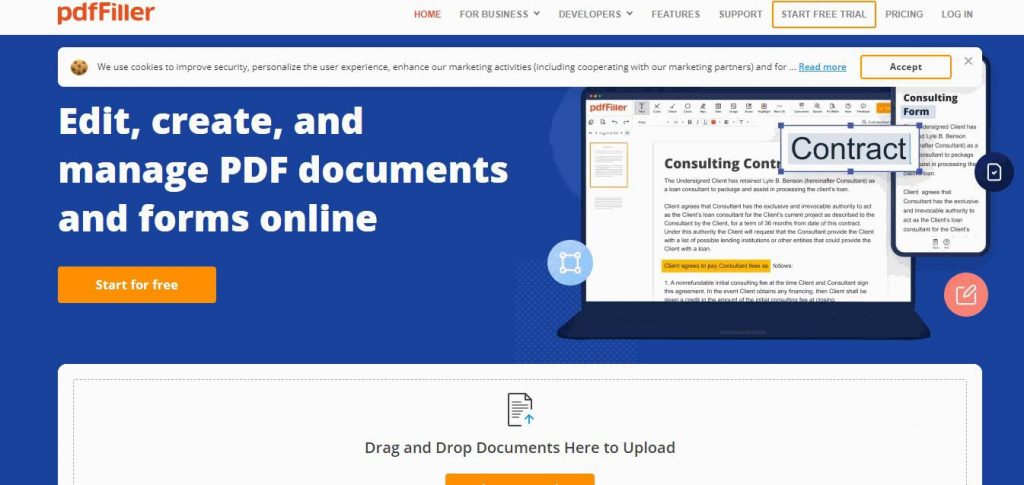 pdfFiller is a good choice for those who need to fill out PDF forms electronically. It offers a wide range of PDF signing features, including adding text, images, and signatures. However, it does not have the same level of integration with Zoho apps as Zoho Sign. As a result, pdfFiller is best suited for users who need to fill out PDFs quickly and easily. Zoho Sign offers multi-language support, bulk sending, and robust integrations with Zoho apps. On the flip side, pdfFiller does not have this functionality.
pdfFiller's Plus plan starts at $12 per month (billed annually) and offers advanced workflows, password-protect documents, and signature authentication. 
Pros:
Uploading documents is easy
Send to sign
Easily access deleted documents
Cons:
Performance issues
Templates could use improvement
Issues with saving documents
10. Nitro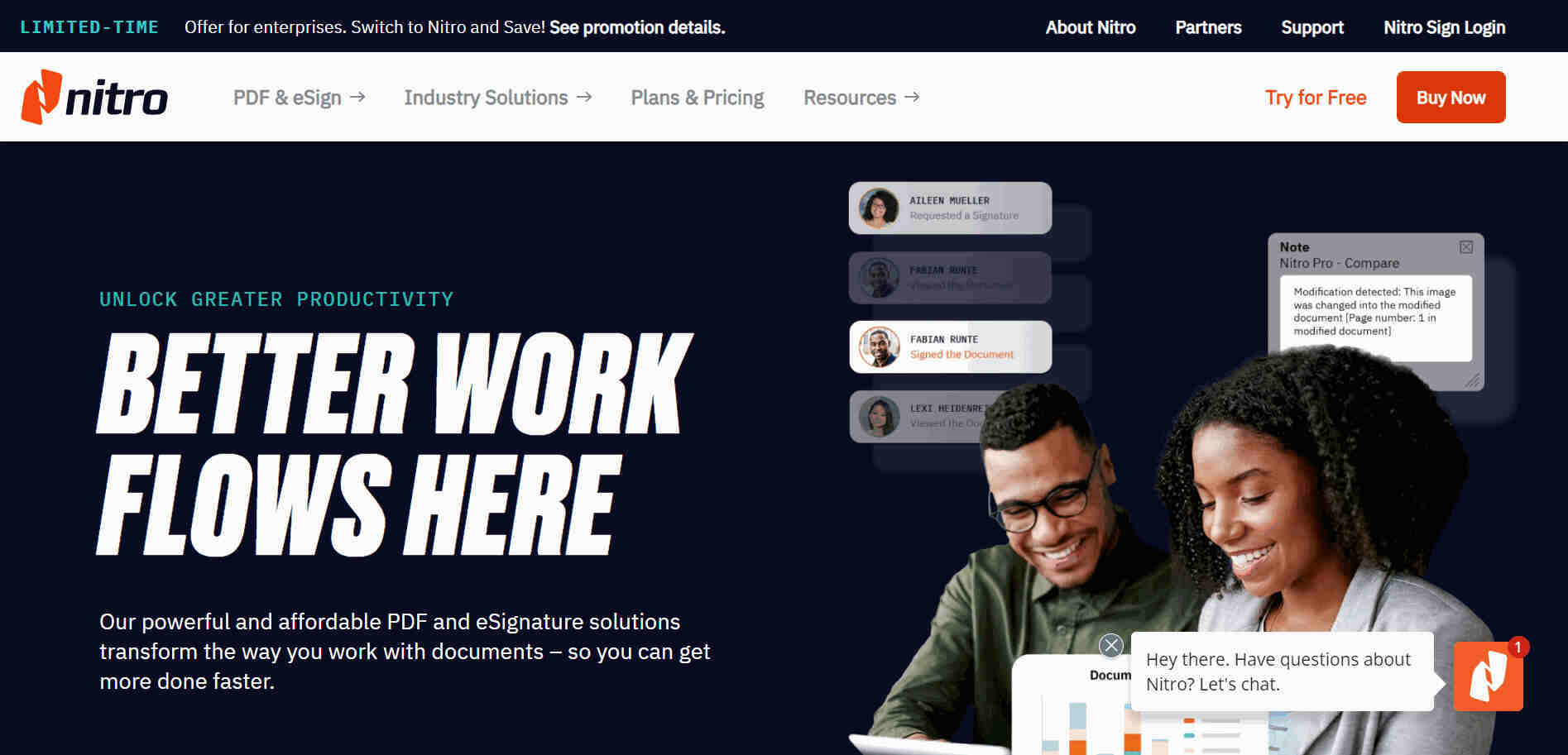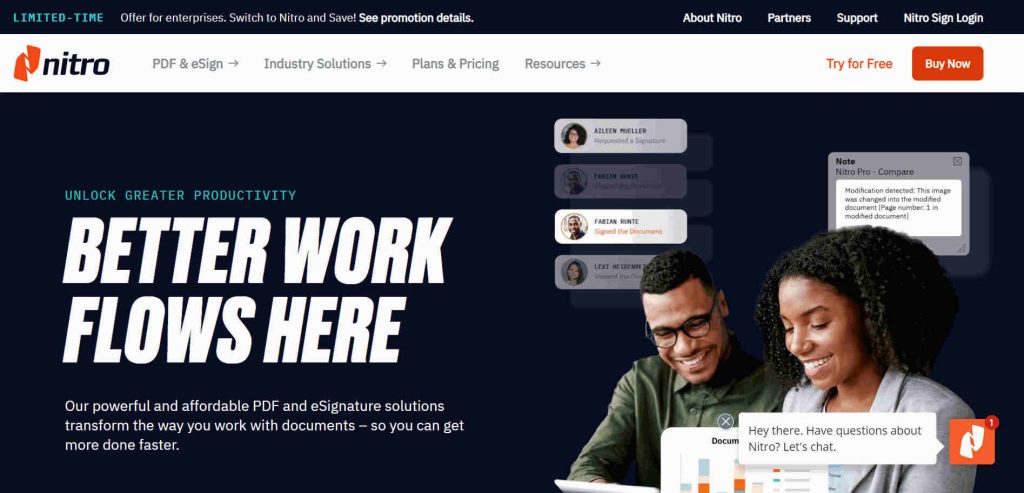 Nitro is a paid PDF signing software offering more features and a higher level of performance than the free Zoho Sign. Nitro's main advantage is its usability, and it is designed to be easy to use, with a straightforward interface and simple tools. Unlike Nitro, Zoho provides a free tier allowing users to create and sign documents.
Nitro Sign Essentials starts at $9.99 per user per month (billed annually). Its Advanced plan is priced at $19.99 per user per month (billed annually) and includes unlimited signing and custom branding.
Pros:
Secure PDF files and sign electronic documents
Convert documents to many formats
Integrations with Outlook and Sharepoint
Cons:
Limited customer support
A small number of regular updates
Some confusing navigation elements
How to Choose an Electronic Signature Tool for Your Business
If you're running a business, you probably need an eSignature tool. With so many electronic signature tools on the market, how do you choose the right one for your business? Here are a few things to keep in mind as you shop around.
Ease of Use
The digital signature tool you choose should be easy enough for anyone in your company to use, regardless of their tech savviness. After all, spending hours training your employees on how to use the tool will not save you any time in the long run. Look for a tool with a user-friendly interface that doesn't require special skills.
Security Features
When you're dealing with sensitive information, security is paramount. Ensure the electronic signature tool offers robust security features like two-factor authentication and encrypted storage. That way, you can rest assured that your data is safe from prying eyes.
Plans & Pricing
Another important consideration is price. Many electronic signature tools offer free plans for small businesses. Still, these plans usually have limitations like the number of documents you can sign or the number of users who can access the tool. If your business needs more than the free plan offers, compare pricing and features before settling on a platform.
Zoho Sign alternatives: FAQs
There are a few key frequently asked questions about Zoho Sign alternatives.
Is Zoho Sign legitimate?
Zoho Sign is a legitimate electronic signature solution that businesses of all sizes have used for over ten years. The software is used by companies worldwide and has been recognized as a leader in the e-signature space by G2 Crowd, Capterra, and other independent reviewers.
How secure is Zoho Sign?
Zoho Sign takes document security very seriously. All digital documents uploaded to Zoho Sign are encrypted with a cryptographic hash function, ensuring only authorized users can access the document. In addition, the platform offers multi-factor authentication for added security.
What is Zoho Sign used for?
The software enables businesses to collect signatures electronically and streamline the signature process by allowing users to create and send documents for signature, track the status of signature requests, and manage all signed copies in one central location.
What You Need to Remember About Zoho Sign Alternatives
As a business owner, you know the importance of staying updated on your industry's latest news. We're bringing you a roundup of the top Zoho Sign competitors to ensure your company uses the best software.