In this digital era, borders and time zones are practically non-existent when running a business. Our clients may come from different parts of the world, and expanding a business beyond one state's border is generally easier. However, digitalization requires the increased use of online tools that enable streamlined and undisturbed workflow, and among the most essential of these is PDF signing software.
We've written this guide to discuss this software, explain its importance and how it works, and help you choose the best tool for your business.
What Is PDF Signing Software?
If we had to describe PDF signing software in a few words, we would say it's a tool that allows you to finalize decisions and fill and sign documents online, even when people are miles apart.
It's a tool that helps organizations and individuals collaborate and sign approvals and contracts electronically. A PDF signing software is a bridge that formalizes written contracts and deals, making things more official and, thus, safer. This software is meant to automate and simplify the document signing process.
Best PDF Signing Software
These are the best solutions you can find in the market to help you effortlessly streamline your operations.
Signaturely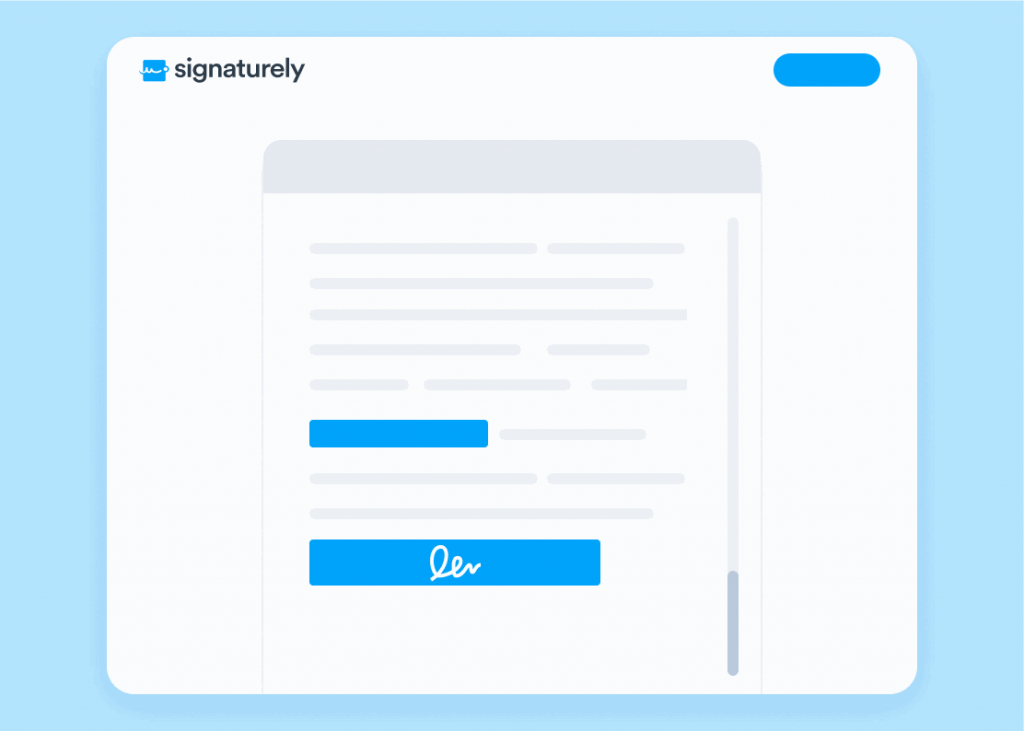 Signaturely is a cloud-based PDF signing tool that allows businesses and individuals to gather approvals and signatures on documents safely and easily.
Furthermore, users can upload and prepare files they want to send or sign using pre-made templates, which greatly decreases the time spent on such tasks. Depending on their needs, they can insert additional fields and customize the signing process.
What's handy with this software is that users can send documents via email and view them on any device. And if you're a working professional, you know how much accessibility is important, considering the vast majority of people check their email and documents during their morning commute.
Another great feature this app has is the possibility of setting automated reminders, enabling users to track pending, signed, or unsigned documents and save them in one centralized place.
Moreover, this eSignature software saves signees' digital imprints such as IP addresses, locations, names, email addresses, etc. It enables seamless tracking of the number of sent documents, views, and signatures.
Its intuitive design decreases the learning curve, which many find attractive.
Signaturely allows a wide variety of third-party integrations, including Dropbox, OneDrive, Google Drive, and Box.
If you're wondering how to sign a document with Signaturely, the process is relatively easy — you can even sign it on your iPhone. After choosing the right plan that matches your needs, upload a document to the platform and add signature fields where you need them. You can add your signature and send the doc to the signees.
Signaturely will immediately notify recipients via email that they have to sign a document, and in case they don't know how the process works, it will guide them through each step of the process.
Pros:
Easy to use.
There are plenty of third-party integrations.
Possibility of setting up automatic integrations
Intuitive
Cons:
Mobile app is currently under development
Adobe Sign

Adobe Sign is another digital signature solution that allows users to replace pen and paper with electronic signatures.
With the help of this tool, users can sign documents and send and track digital signatures on any device. We love this eSignature tool because it allows users to customize signing workflows effortlessly. 
Furthermore, this tool integrates well with a wide variety of apps, including Microsoft SharePoint, Dynamics, Office 365, Salesforce, Workday, Nintex, Apttus, Icertis, ServiceNow, and many more.
However, its biggest drawback is that you cannot buy it without purchasing the entire Adobe package, making it a pricey solution.
To sign a document with Adobe Sign, you just need to upload a PDF document to a platform and send it to the signee. After receiving it, they can type, draw, or insert an image of their handwritten signature and send the signed document back.
Pros:
Easy to use
Good collaboration features
Intuitive interface
Cons:
Expensive
Inability to change the document once finalizes
It cannot be purchased individually
DocuSign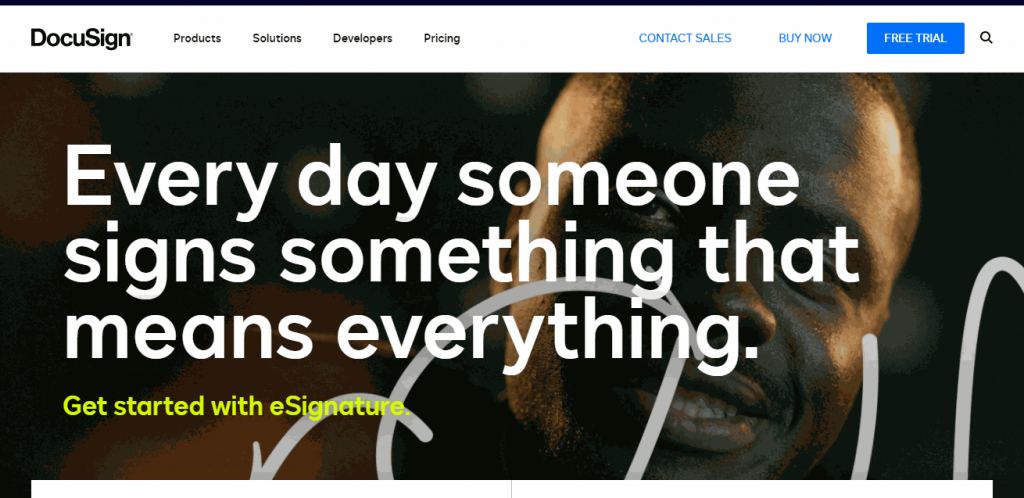 DocuSign is another digital signature solution that allows you to replace paper documents, sign forms, and collect signatures electronically. This tool is made for organizations of all sizes and from various niches, and it can be used to sign a wide array of document types, including contracts, school permission slips, approvals, etc.
This tool is intuitive, and its easy-to-use interface makes the document signing process a breeze. 
With DocuSign, users can upload different documents, send them to signees, and specify in which order they need to sign them.
A highly intuitive dashboard allows users to track the progress of their documents and gives them accurate information about the stage it has reached. In addition, it will send reminders to those who lag.
A great benefit of this tool is that it allows users to sign documents in different languages. DocuSign offers a mobile application for iOS, Android, and Windows devices.
The process of signing documents with DocuSign is the same as with the other software we mentioned. You need to upload PDF documents to the platform and send the invite to signees. After receiving it, they agree to electronic signing, follow the necessary steps, save the document, and send it back.
Pros:
Available in multiple languages
Multi-device usage
Cons:
HelloSign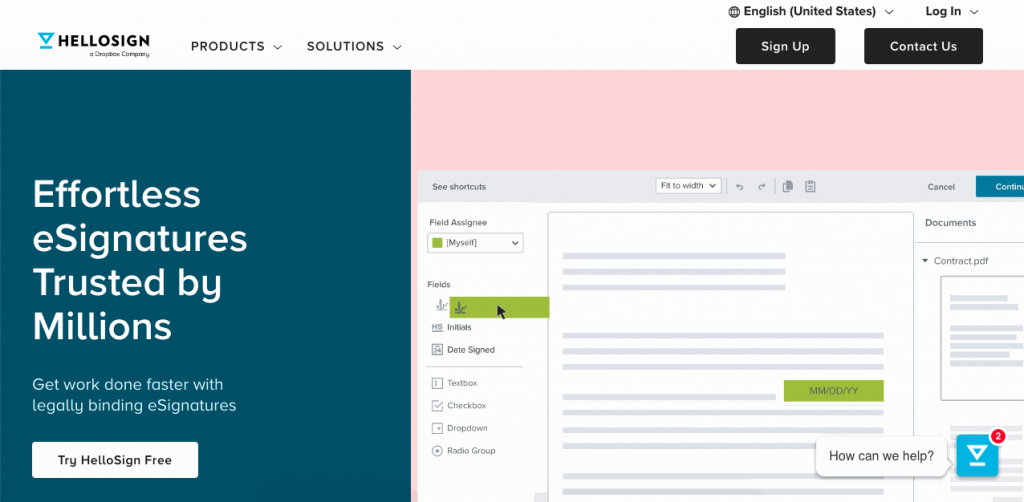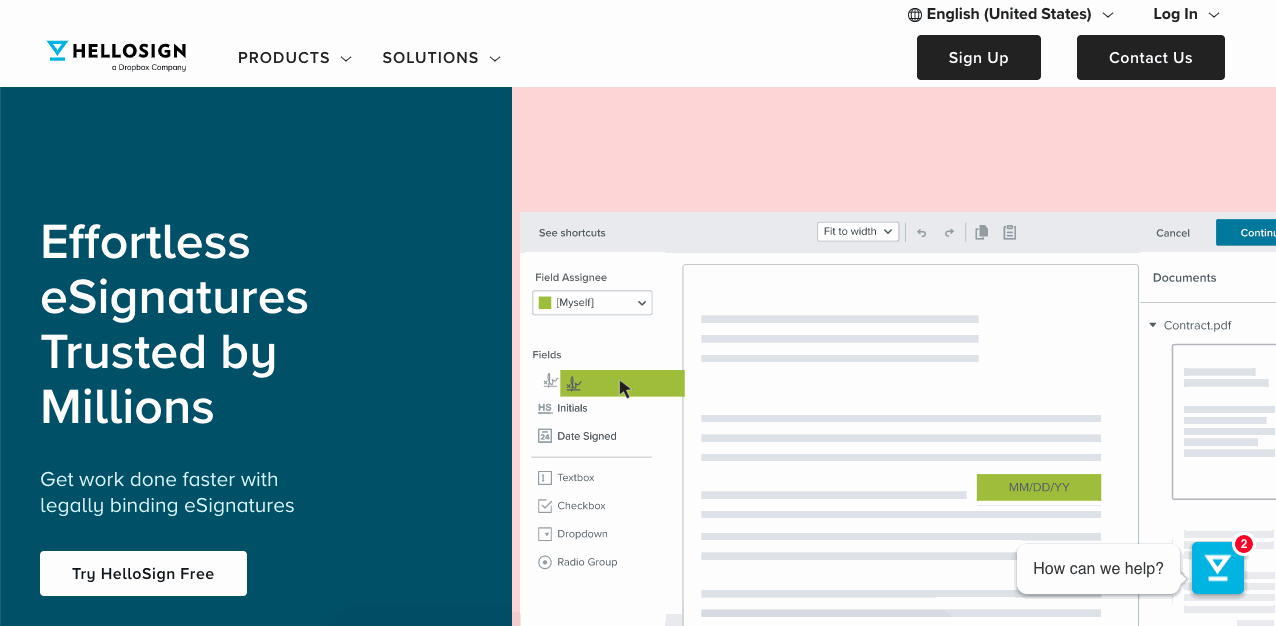 HelloSign is a digital signature software that allows users to replace paper documents with legally binding signatures and sign various documents with legally required electronic signatures. 
What we love about this app is that documents can be shared via various apps, including Dropbox, Google Drive, and Evernote, allowing signees to complete the process promptly and without risk.
HelloSign offers many features, including automatic reminders, a customizable signing workflow, team management tools, bank-level security, templates, and more. Documents can be signed from Android and iOS operating systems as well.
Pros:
Mobile-friendly
Detailed reporting feature
Cons:
Paid plans are pricey
Inability to edit the text of uploaded documents
Difficult to use on mobile devices
RightSignature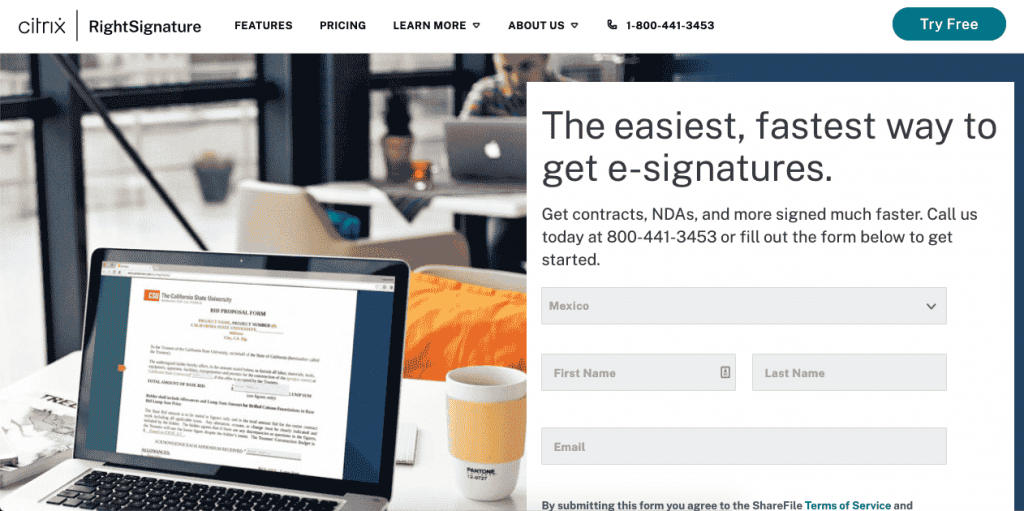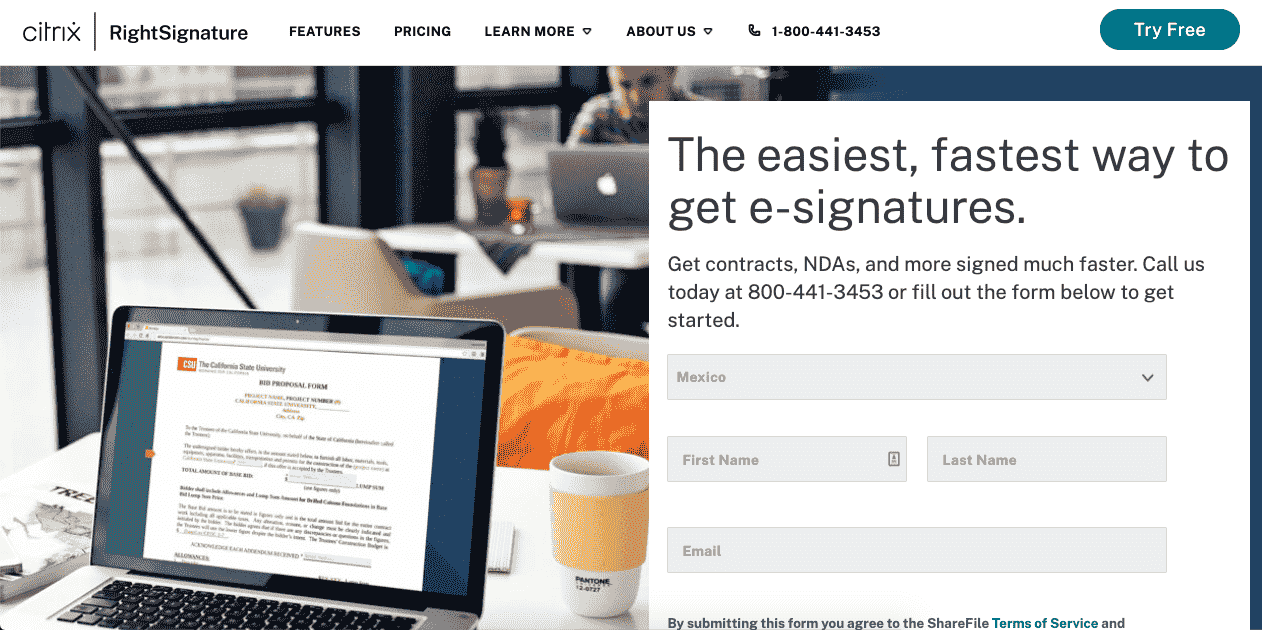 RightSignature is yet another digital signature solution that allows streamlined paperwork management. However, compared to other solutions we mentioned, this tool doesn't have a good UI, making it a bit harder to handle.
With RightSignature, users can review, fill in documents, and create digital signatures online with a mouse or touchscreen. What we love about this app is the option of bulk signing, which is especially convenient for those with plenty of signees for specific documents.
Pros:
Clean setup
Option of bulk signing
Cons:
UI is not as good as the competition
Logging in to the app can be complicated
Eversign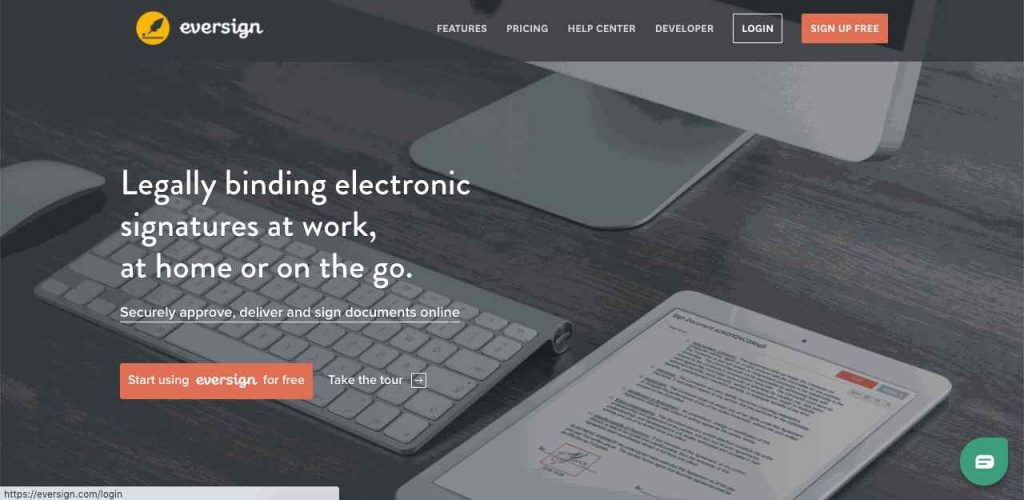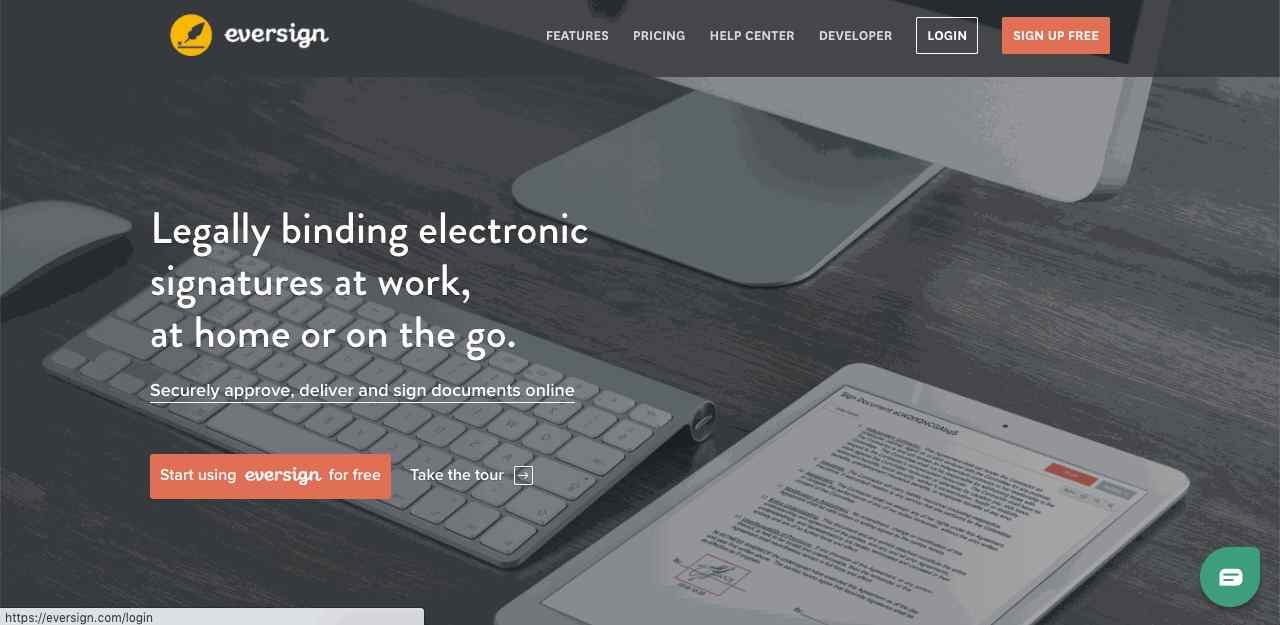 Eversign is a cloud-based eSigning software that allows users to prepare and sign documents online. It offers extensive audit trails, content management tools, and a document editor.
Furthermore, this tool provides built-in templates for contracts and forms that help streamline business processes. Another great feature this app has is its accessibility through various devices — both on desktop and mobile.
Lastly, this tool integrates with various third-party applications such as Google Docs and Salesforce.
Pros:
Multi-language
Wide array of integrations
Cons:
Sometimes users find it difficult to complete the signing job
Pricey solution
How to Pick the Ideal PDF Signing Software
According to some statistics, around 30 percent of small business owners spend too much time on administrative work. Having eSigning software can decrease the time spent on administrative tasks greatly. However, choosing the right eSignature software can be challenging.
That said, we decided to provide you with a few tips on making the best choice for your business.
Legally binding signatures
One important question about eSigning software is whether signatures will hold up legally. This might be tricky since the laws around eSignatures vary depending on the geographical location of your business.
You need to be certain that the software you choose offers a technology that ensures that the electronic signature is valid. There isn't a possibility of anyone tampering with the documents.
Collaboration
Tailors say you should measure three times before cutting; we support this. Usually, when we're making documents that legally bind us, we want to ensure everything is in the right order. This means we will spend some time revising them and sending them back and forth. When selecting the best eSignature software for you, make sure to choose one that offers great collaborative options that will streamline the process of making and signing documents.
File management
If you're a business owner, you know how fast documentation can pile up and how hard it might be to find the right one when you need it most. Because of this, while choosing the best eSigning software, you should look for a solution that offers a file management system that will help you organize documents most effectively.
Integrations
Many of us have to juggle several software solutions throughout the workday, which can be distracting and time-consuming. When choosing the ideal e signature solution, we should consider its ability to integrate with other software solutions. This will decrease the mess of switching tabs, eliminating distractions, and streamlining the processes.
Simplicity
Ease of use is essential to consider when choosing the best eSignature software for our business. You don't want to spend additional time explaining to customers how to complete the document signing process. You should look for software that is easy to understand, efficient and helps you get the job done in a few easy steps. 
FAQ about Signing Software
These are some of the most common questions about PDF signing software.
What is PDF Signing Software?
PDF signing software is a digital solution that helps you sign, prepare, collaborate on, and send documents electronically. It's a solution that helps you streamline paperwork and enables you to form deals with people and organizations, regardless of their location.
What is the best PDF Signing Software?
Generally speaking, the best PDF signing software is the one that offers you a seamless experience, comes as an affordable solution, and can remove the time-consuming aspects of your jobs, allowing you to focus on what matters most.
What PDF Signing Software can I use for free?
The best free PDF signing software is Signaturely. However, the free plan is limited to three monthly signatures, which is acceptable for individuals or smaller businesses.
Conclusion
Making deals can be complicated. Luckily, we no longer have to waste precious time and money on sending and editing legally binding documents. We can do it easily with the help of eSignature solutions.