Getting legally binding electronic signatures on the go is easier than ever. You can sign online documents on your PC, laptop, and even iPhone. Here, we'll show you the three best and easiest ways to sign a PDF on iPhone or other mobile devices — from free tools to get quick and easy signatures to paid options to sign documents in bulk.
By the end of the article, you'll have a favorite way to sign pdfs on your iPhone and handle all signatures and documents.
Let's get started.
Here Are 3 Simple Ways to Sign PDFs on an iPhone
Check out these simple ways you can sign pdfs on your iPhone:
1. Using Electronic Signature Software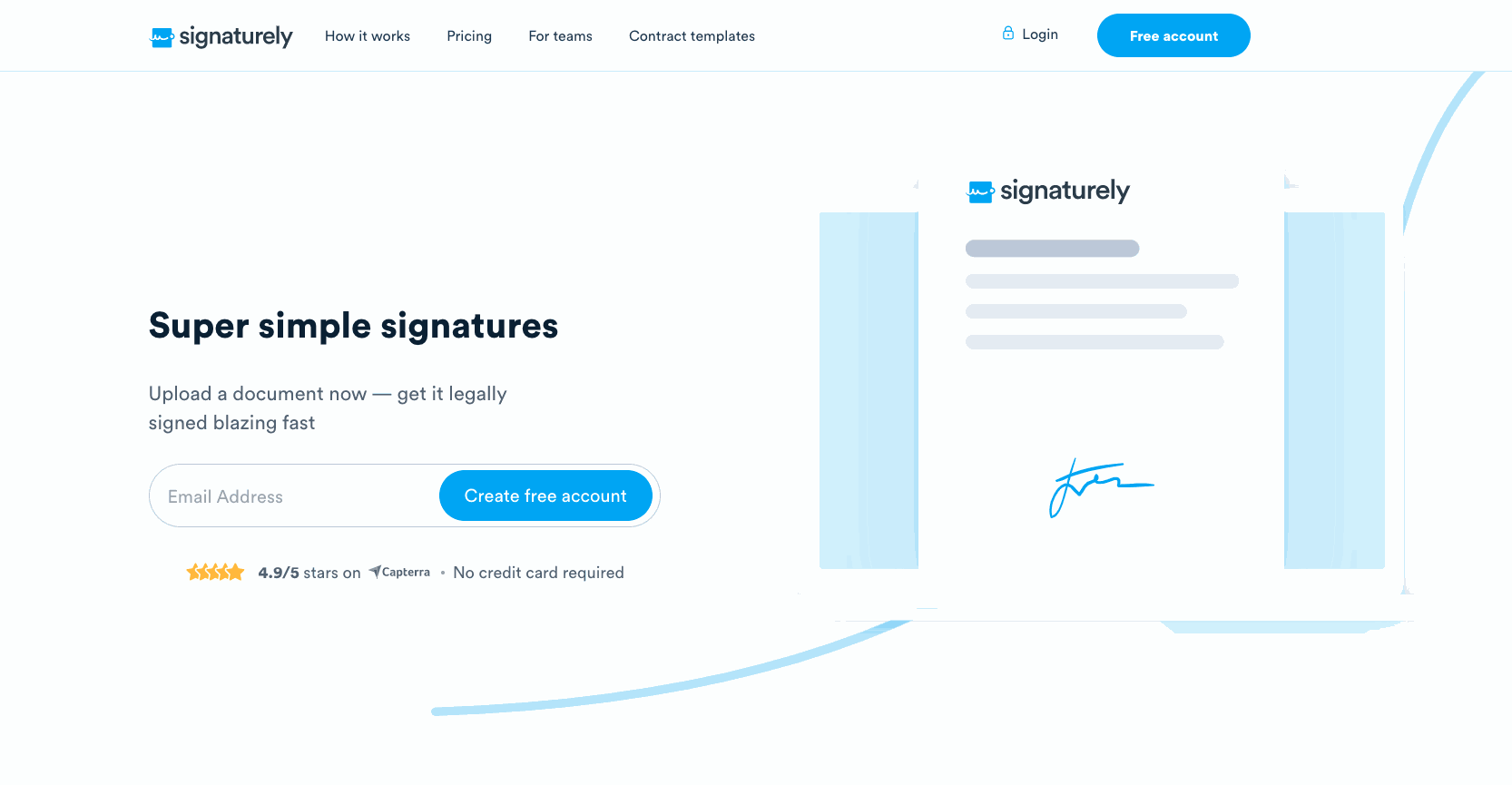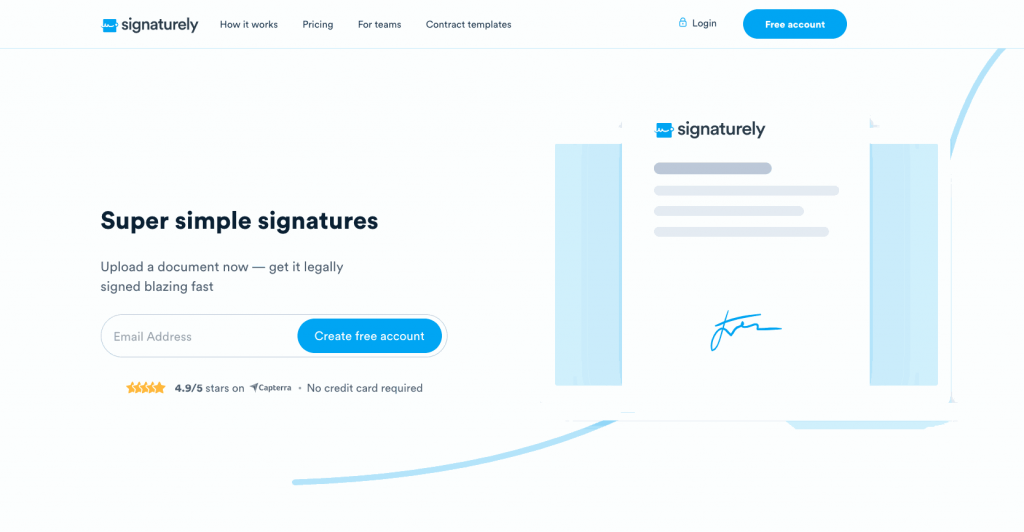 One of the easiest ways to sign documents is by using a third-party app developed to sign a PDF on your mobile device electronically.
Electronic signature software like Signaturely streamlines the signing process, making it easy to sign documents, keep track of all contracts, and ensure the legality of your signatures. With it, you can use your iPhone and iPad to track your PDF documents, create a new signature, and send documents securely to be signed in bulk.
You can use Signaturely's free features to sign documents effortlessly, send bulk signature requests, store documents online, and guide your signees through the signature process.
Here's how to use Signaturely on your iPhone:
Steps to sign a PDF on your iPhone with Signaturely
It's easy to sign documents on your iPhone with Signaturely. Just follow these steps:
Step 1: Log into your Signaturely account — it's free to sign up for a Signaturely account. Create your account, and sign in on your iPhone's browser.
Step 2: Choose your signees — Once you've created your account, go to the left sidebar and tap on "Sign." Then, select who will sign your document. You can choose "Only Me" if you're the only one signing, "Me & Others" if you're a co-signer, or "Only Others" if other people will be signing the document.
Step 3: Prepare your document — Now that you've selected who will sign it, you can start preparing it to be signed. Upload your document from your computer or cloud service. Then, tap on "Fill Out & Sign" to go to the editor, where you can place your signature fields.
Step 4: Send your document — Once you've prepared it, you can sign it and send it to the rest of your signers. You can also choose the order in which your document should be signed, and Signaturely will send the document accordingly.
Step 5: Monitor your signing process — Keep an eye on your document. Signaturely will guide all signers through each step, from creating their online signature to filling out the last signature field. You can also send in-app reminders to people who haven't signed to speed up the signing process.
It's that easy! Once your document is fully signed, it will appear in your Signaturely account inbox. You can access it from your iPhone, laptop, or any other device with an internet connection.
2. Using PDF Software (such as Adobe Acrobat Reader)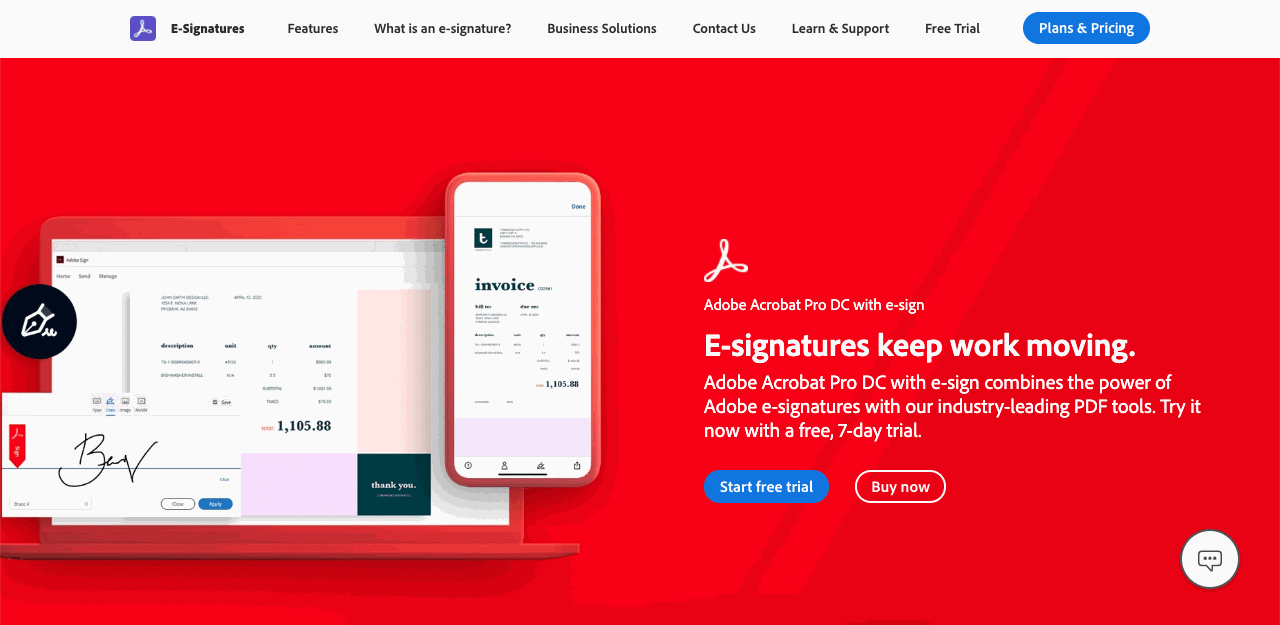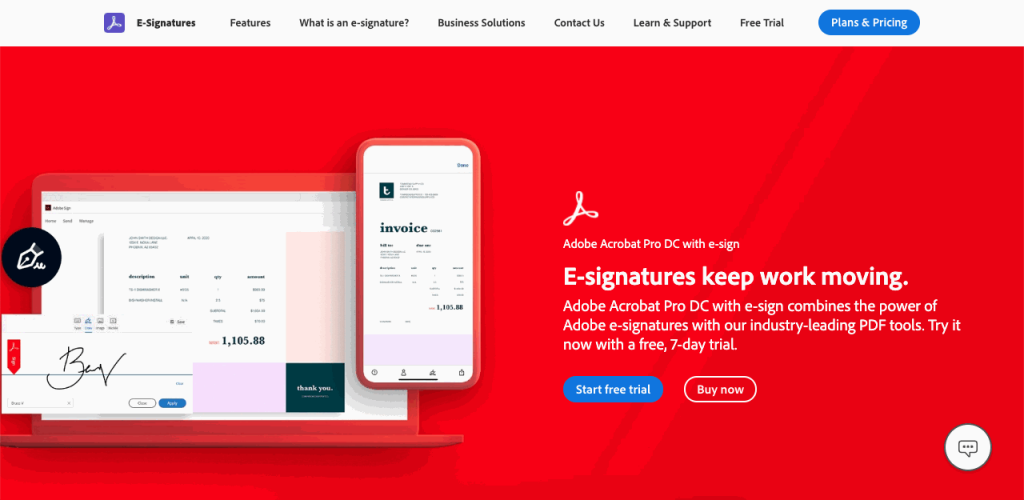 Another way to sign a PDF on an iPhone or iPad is with Adobe Sign, an online signing platform designed by Adobe that allows users to sign documents on multiple devices.
Here's how to use it:
Step 1: Upload documents — Connect your cloud service to the platform and select the documents you want to sign.
Step 2: Prepare your PDF file for signing — Select who will sign the document, and add a personal message. Then, use the in-app editor to add the signature fields.
Step 3: Send the PDF file — Once the document is ready, you can send it to the signees.
Step 4: Wait until the document is signed — Adobe will send you notifications to track the document and let you know when it's fully signed.
After the document is signed, Adobe will save the signed PDF file to the platform. However, you don't need Adobe to sign PDF documents nowadays.
3. Using Apple Markup
Finally, you can sign documents with your iPhone or iPad by using the Markup feature. You can annotate and edit PDF files, images, and screenshots with it. 
Markup also features online signature capabilities that allow users to add an online signature to any document.
Here's how to use the signing Markup tools on your iPhone:
Step 1: Open the Mail App — Start by opening the Mail app on your iPhone or iPad. Since it syncs with the email interface, you can use your email to send the document when it's ready.
Step 2: Choose to reply to an email or create a new one — Once you open the mail app, decide whether your document will be attached to an email response or a new email.
Step 3: Select your PDF document — Tap on the body of your email, then tap the cursor and select "Insert Photo or Video Attachment." Here, you can select the PDF document you need to be signed.
Step 4: Attach the signature field — Once you've selected the document, tap "Markup" to open the markup toolbar, and select the plus symbol to start adding your digital signature to the PDF document. You can type your signature or draw it with your finger or Apple Pencil. Once you've added your signature and signature fields, you can also add additional information for your signees.
Step 5: Send your PDF file to get signed — Since Apple Markup is a very basic tool, you'll probably want to let your signees know how to sign the document with their Apple Pencil, finger, or virtual keyboard and notify them of any future steps they may need to take.
Once your document is signed, make sure to save it and back it up to the cloud to make it easy to track.
FAQ About Signing PDFs on iPhone
Here are answers to common questions about how to sign documents with your iPhone or iPad:
How can I sign a PDF on my iPhone for free?
Signing a PDF for free with your iPhone and iPad can be done in several ways. For quick and free signatures, you can use the Markup icon on your Mail app on any iOS device. 
If you want bulk options, in-app reminders, and more advanced features, you can use Signaturely to create a new digital signature, handle all of your PDF documents, and keep track of your signature requests.
Signaturely can connect to the same iCloud account you use to upload your PDFs, and it will guide your signees, explaining how to sign the document step by step.
How do I sign a PDF document on my phone?
The easiest way to sign a PDF on your phone is through an app like Signaturely.
You can create your online signature free by typing it or drawing it with your Mac's trackpad or Apple Pencil. Then, upload your document to Signaturely, and follow the steps above to sign it.
You can also use your Mail app to sign your PDF. Go to the Mail app and select Markup to get started.
How do you electronically sign a PDF file?
The best way to electronically sign a PDF file is with Signaturely. With it, you can create a free account with up to three signature requests per month. The platform also allows you to track your PDF files, guiding your signees step by step through the signing process.
Conclusion
Signing a PDF on your iPhone is easier than ever. Whereas other third-party tools and the Markup feature may allow you to get simple signatures for free, Signaturely allows you to easily sign any document with any device, like your iPhone, iPad, and even your iPod touch!
Create a free account with Signaturely, and start signing PDF files and sending signature requests for free today.