The best contract management software will take your management process to the next level while taking a load of work off your hands.
The right software can empower your company to expedite sales processes, manage more customers, and grow faster. But with so many options, how do you know which one to choose?
In this article, we'll discuss the best contract management software for each industry and guide you toward the one that will suit your needs.
Let's dive right in.
Our Review Criteria
Each platform is chosen because it provides distinctive features that make it ideal for each industry. However, the tools aren't necessarily made exclusively for that industry, so you can still use them if they fit your needs.
We'll go through each platform's key features that make it ideal for each industry, including its contract management capabilities and features, like automated alerts and workflows, online signing capabilities, and audit trail access.
Then we'll review the tool's pricing to help you identify if the tool fits within your budget and find the best pricing plan for you and your company.
The list will only feature industry leaders and trustworthy tools that can help you streamline your contract management process.
Best contract lifecycle management software
Contract lifecycle management software allows you to manage contracts from inception through execution until their renewal or expiry date.
A good contract management system should store all the company contracts, obtain all legally binding online signatures, monitor compliance, and give the company a strategic advantage over other companies through automation and reports.
Here are the best contract lifecycle management tools for you:
Signaturely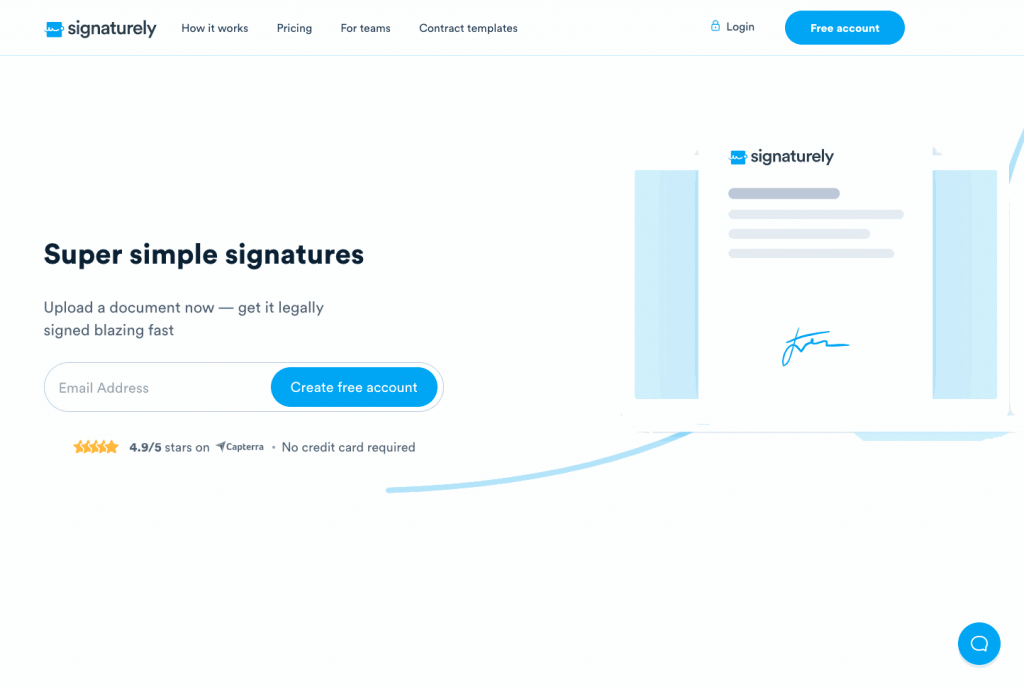 Signaturely is a simple and effective contract management tool that helps you create and upload documents and transform them into legally binding online contracts.
Start by signing up for a free account, and upload your contracts from your cold service or computer. Then, add the signature fields and adapt your contract for your signees. Add your signers' details and email addresses, and send it away. 
Once you send your contracts to be signed, Signaturely will guide your signees step by step until they're done signing. This allows you to provide better customer service when managing contracts, sending smart contracts that are intuitively easy to sign.
Is a signature still missing from one of your contracts? Send gentle in-app reminders to the missing signers to add their signatures.
Do you need a specific contract written up? Signaturely gives you access to multiple free contract templates reviewed by proofreaders and legal experts. These time savers help you create the document you need and use the same document over again for other signers in the same position.
Signaturely also offers seamless collaboration, allowing for teamwork on contracts and expediting your contract creation process. We also have an awesome Signature generator.
With Signaturely, it's easy to manage all documents step by step, from contract creation through contract expiry, in a simple and streamlined contract management solution.
Pricing
Signaturely offers users a generous forever-free option with up to three signature requests per month.
At $20 per month, the Personal tier gives you one template and unlimited signature requests per month.
At $30 per month per user, the Business tier includes unlimited templates so you can manage all your contract data in one tool.
Try Signaturely for free today, and find out if it's the right contract management solution for you.
Best enterprise contract management software
Enterprise contract management software helps large companies and their legal and business teams manage contracts and contract data on a larger scale.
Here's the best enterprise contract management solution:
Agiloft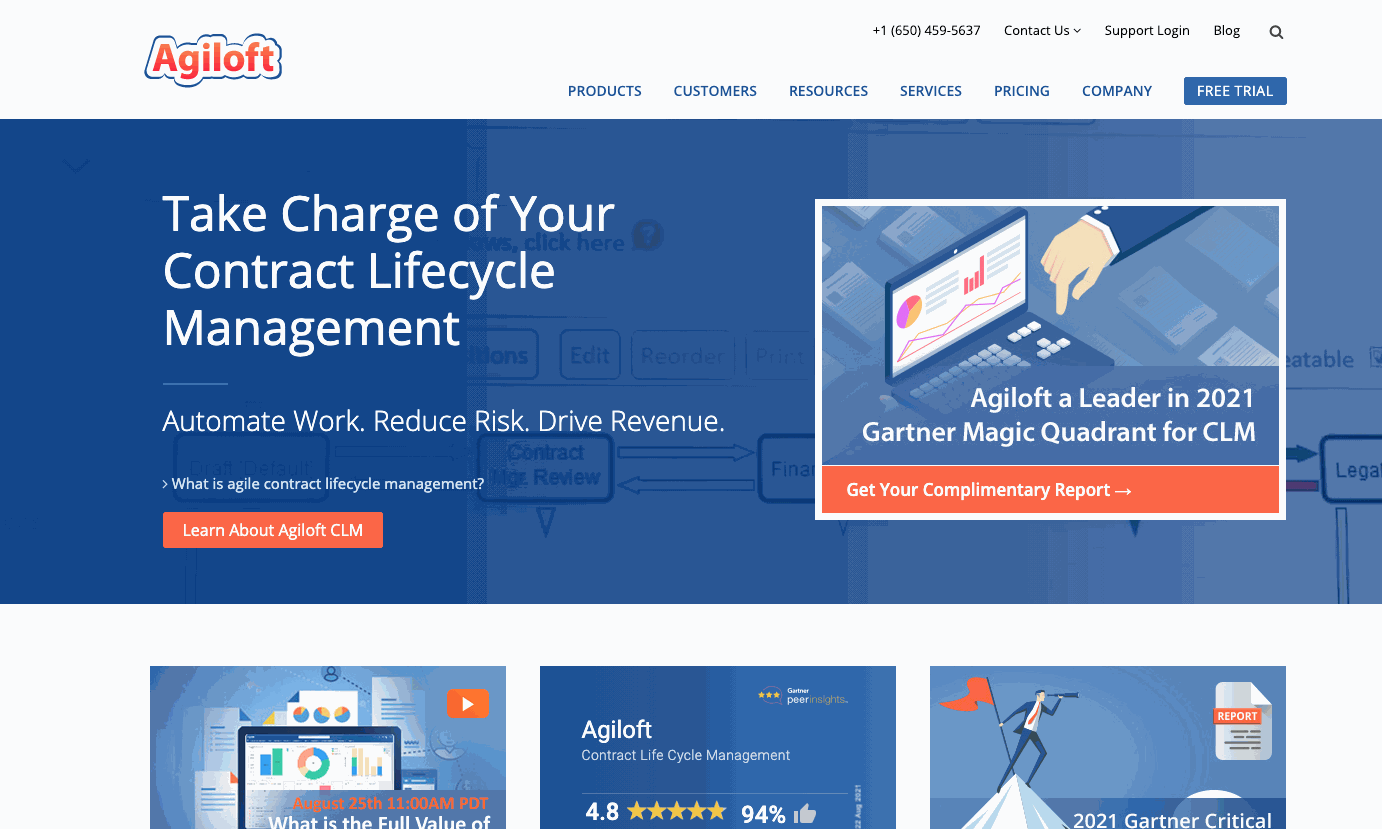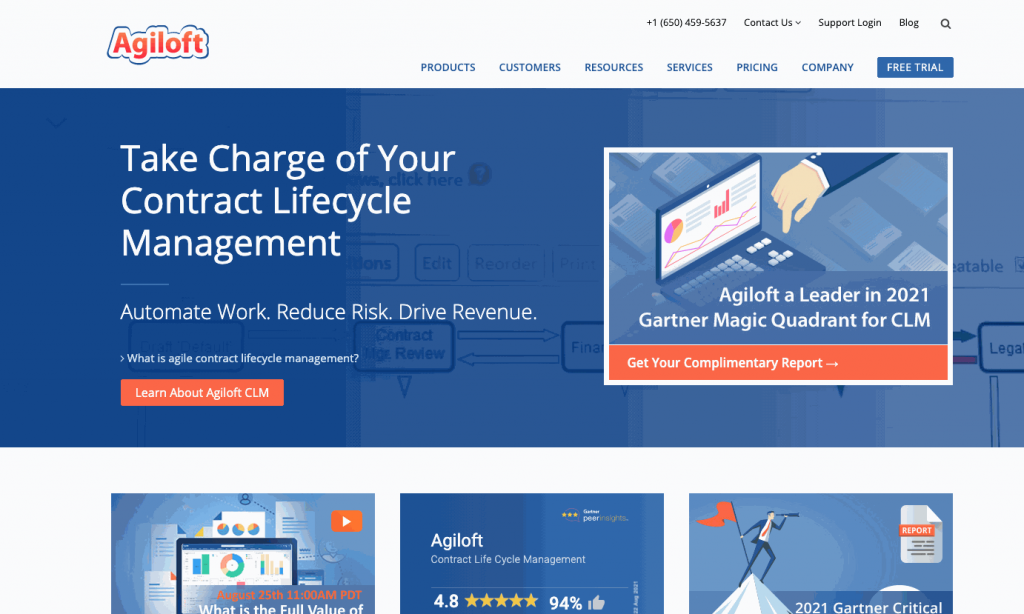 Agiloft offers users a contract management system that's easy to adapt and customize.
This platform allows users to manage many contracts, offering advanced features to their legal and business teams to help them throughout their contract management process.
Users can also take advantage of Agiloft's webinars and use specific contract lifecycle management tools for sales, procurement, and legal purposes. The tool has a 99.6% success rate for implementations and is used by large companies like NASA, Chevron, Charter Communications, and Roche.
Agiloft's UI is fairly easy to use and includes a knowledge base and wizard-based setups to simplify the process. Although the platform's focus seemed to be on larger companies, its pricing has recently shifted to attract smaller business teams as well.
Pricing
Agiloft offers a limited free trial for up to 10 users. This free tier includes standard integrations and offers contract comparison and authoring, approval workflows, and a few more features for free.
Although the platform doesn't list its prices publicly, reports place its Professional tier at $65 per license per month, including timer-based rules at faster intervals and access to phone support.
The Professional Extended plan, starting at $95 per license per month, also offers multi-language support, vendor, employee, and customer portals, and access to prebuilt integrations.
Finally, starting at $135 per license per month, the Enterprise plan offers open integration APIs and pre-built AI modules.
Other plans with larger capabilities are available upon request.
Best healthcare contract management software
The right healthcare contract management software will make it easy to manage contracts while maintaining confidentiality and compliance with security frameworks.
Here's the best healthcare contract management platform:
ContractWorks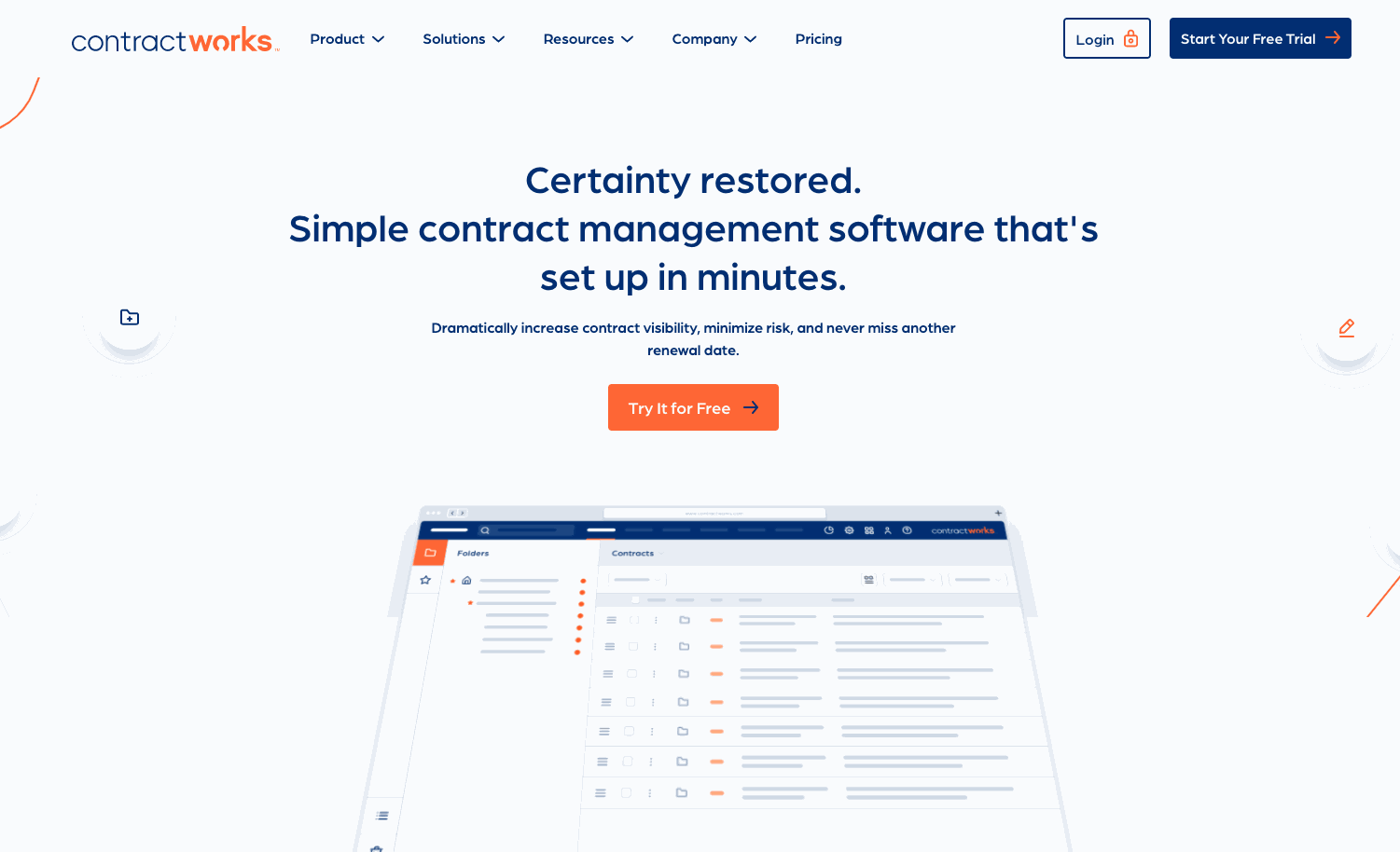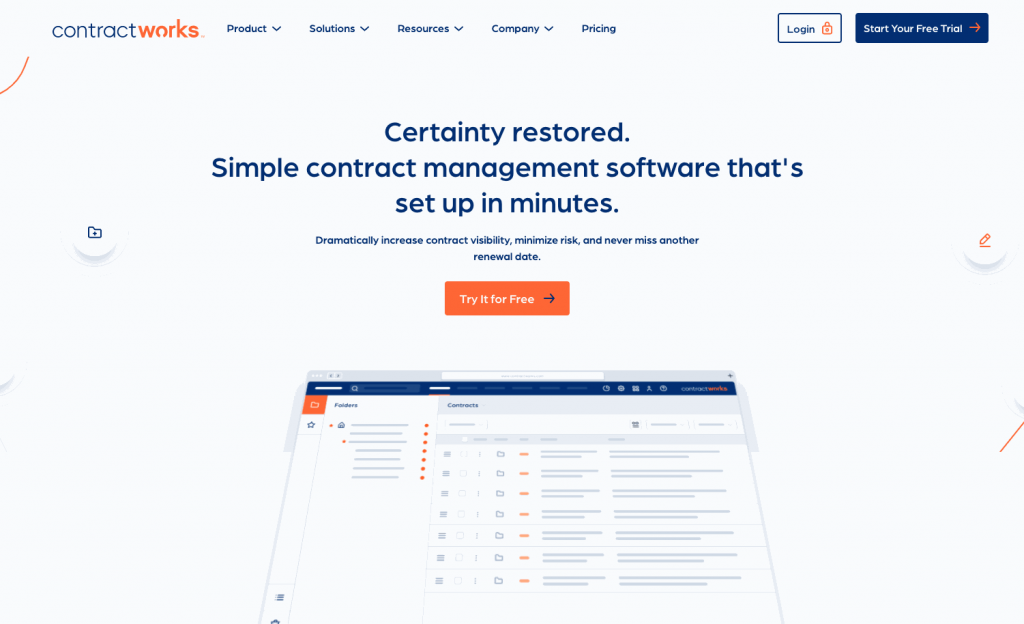 ContractWorks is a contract management platform that focuses primarily on contract management.
Although it lacks some features for creating contracts and team collaboration, those features will probably not be a dealbreaker for healthcare since there are few negotiations, to begin with. Plus, the lack of those features may make it preferable for dealing with private matters since it's easier to ensure confidentiality.
The platform offers 24/7 support and a simple drag-and-drop interface. It offers unlimited users with every pricing plan and multiple features for improving contract visibility. This helps users organize their workflows and minimize risk through simple automation and reminders.
Users also get custom scheduled reports to learn from their documents, electronic signing capabilities, contract repository, and smart AI tools to track key data users also get custom scheduled reports to learn from their documents, electronic signing capabilities, contract repository, and smart AI tools that track key data points or enrich, restructure, and transform data to form valuable conclusions.
Although it's a fairly expensive platform, its price is explained by its niche nature, simple UI, and long service history.
Pricing
Pricing for ContractWorks starts at $600 per month for its Standard tier, which includes unlimited users, five electronic signature licenses, and up to 2,500 documents. At $800 per month, when billed annually, the Professional tier gives users 10,000 documents and 10 electronic signature licenses.
Finally, starting at $1000 per month when billed annually, the Enterprise tier provides users with unlimited documents and 20 electronic signature licenses.
Best legal contract management software
Legal contract management software helps legal teams with advanced signature fields and specialized legal features. It should also help law firms meet compliance regulations and improve team collaboration on legal documents.
Here's the best legal contract management software:
CobbleStone Software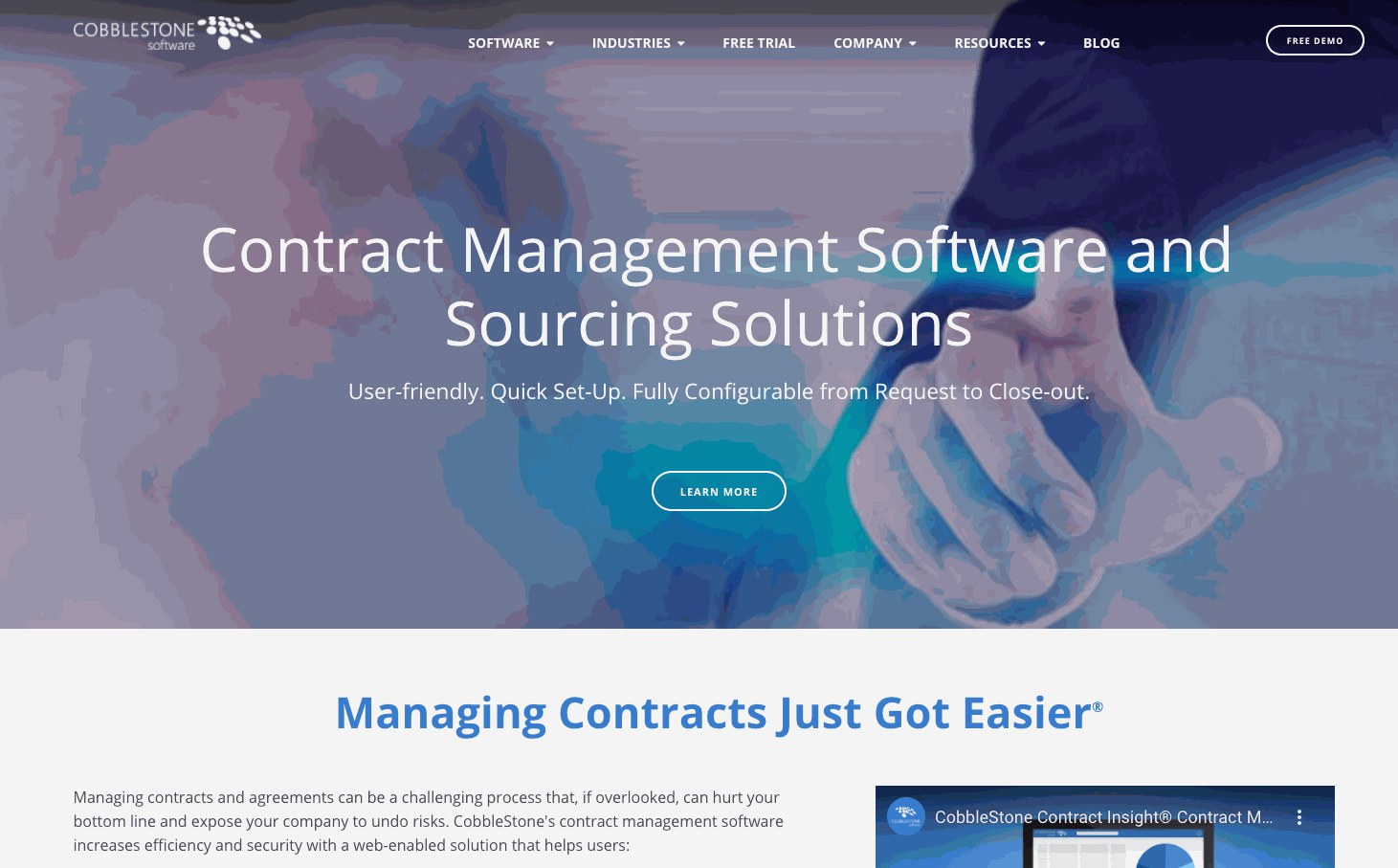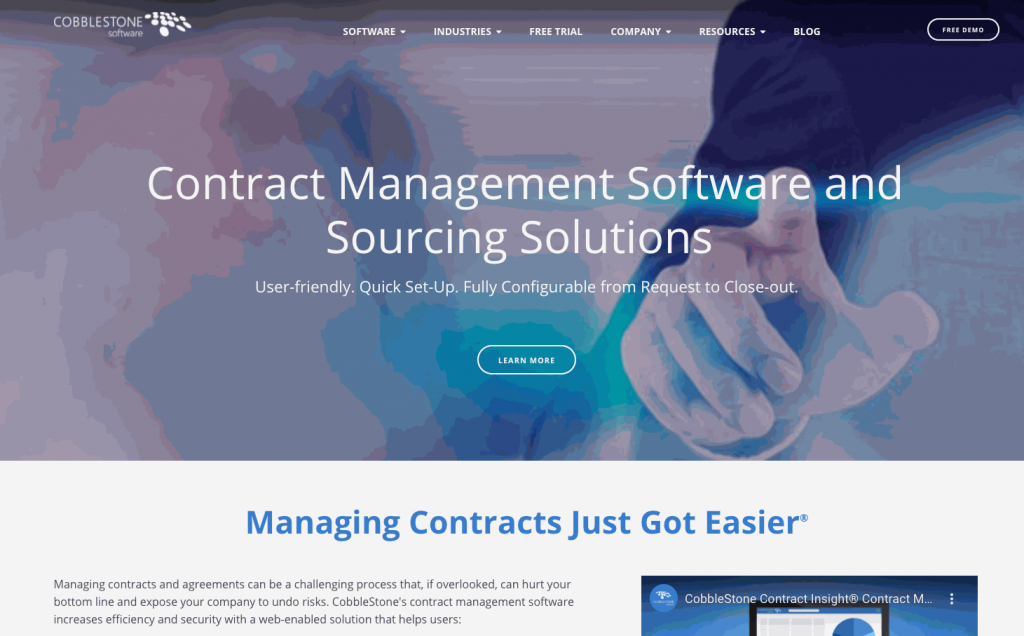 CobbleStone Software offers legal contract management software made to manage counterparty contracts and committals.
This tool features end-to-end legal document management, with custom report design tools, automated alerts and workflows, and overall legal document management. The intuitive user interface makes it easy to use, allowing for better adoption rates despite its advanced legal features.
The legal platform also provides advanced contract management and document assembly capabilities, online signatures, and vendor management. It can be used to comply with regulatory agencies and meet government and company legal regulations, all while improving team collaboration.
The platform allows for powerful workflow management and assures legal companies they'll be able to see ROI "in as little as 30 days."
Pricing
CobbleStone Software doesn't offer a free tier or list its prices on its website. However, reports suggest that CobbleStone Contract Insight pricing starts at $59.99.
Best real estate contract management software
Contract software is a must in real estate, helping agents manage multiple contracts on multiple listings under a single platform.
Real estate contract software should also help brokers, agents, and auditors through the contract's entire lifecycle and expedite sales efforts.
PandaDoc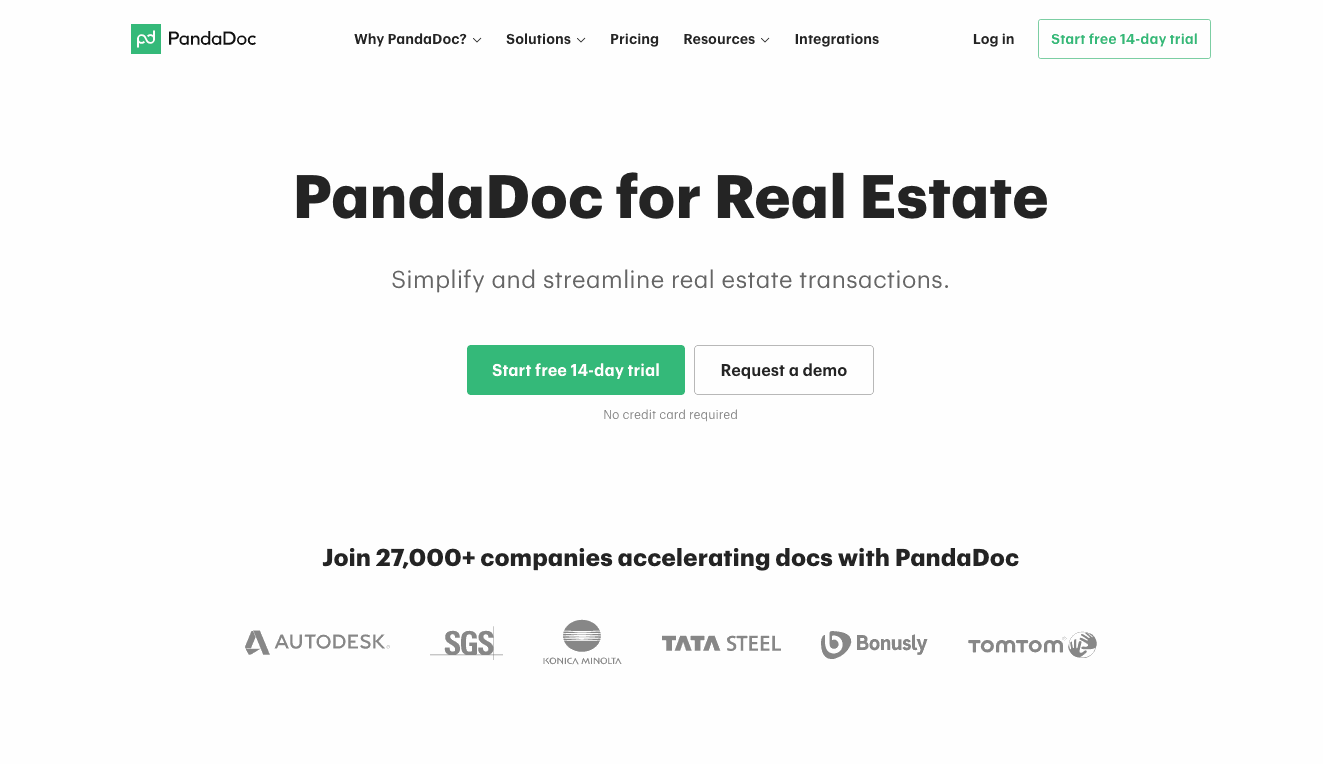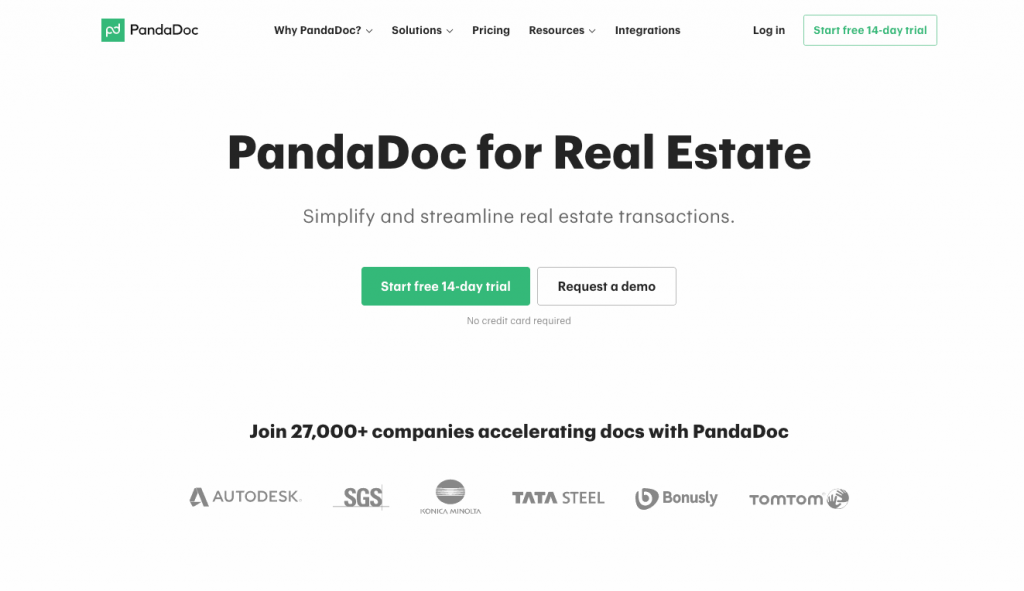 PandaDoc offers a simple contract management tool designed to streamline real estate transactions. Used by companies like TATA Steel, Autodesk, and Bonusly, PandaDoc enables users to streamline contract creation and sharing and automate the whole signature collection process.
This cloud-based platform ensures real estate agents can always access their listing contracts from any device and empower them to close sales as soon as buyers are ready.
The platform gives users great insight into their contracts, letting them know who they've been interacting with. It simplifies the whole real estate documentation process through a more intuitive interface.
PandaDoc has apps for Android and iOS, and the platform works well with Windows and macOS. Signaturely is a solid Pandadoc Alternative.
Pricing
PandaDoc offers a limited forever-free account with unlimited legally binding signatures and contracts.
Pricing starts at $19 per month per user for the Essentials plan, which adds features like templates, a drag-and-drop document editor, document analytics, and 24/7 customer support.
At $49 per month per user, the Business plan adds some integrations, a content library, custom branding, and more. Larger real estate companies can ask for tailored tiers with access to their API and Salesforce integrations.
Best contract management software for government contractors
Government contractors must comply with many regulations to ensure everything runs according to the government's standards.
Here's the best contract management software for governments contractors:
Adobe Sign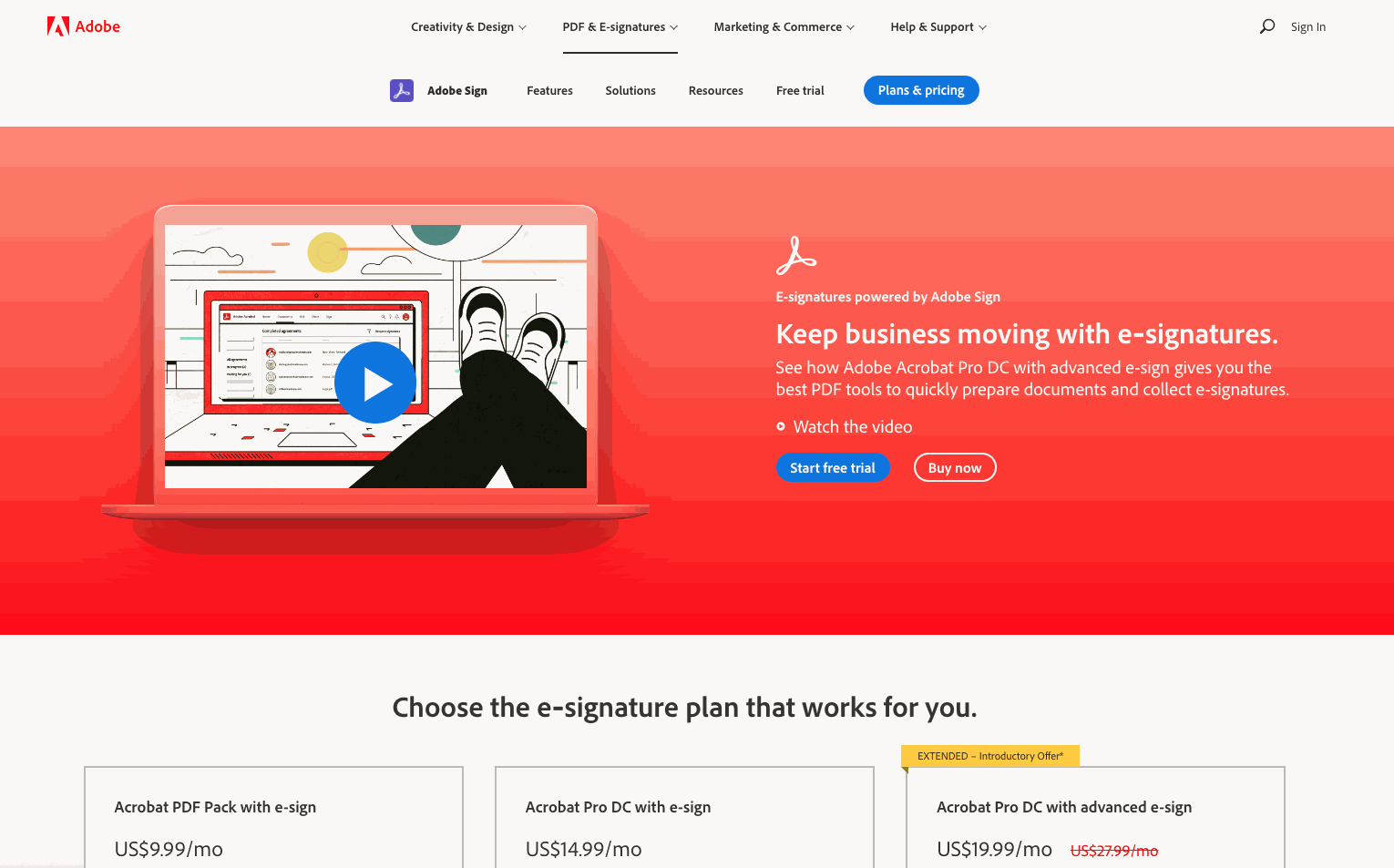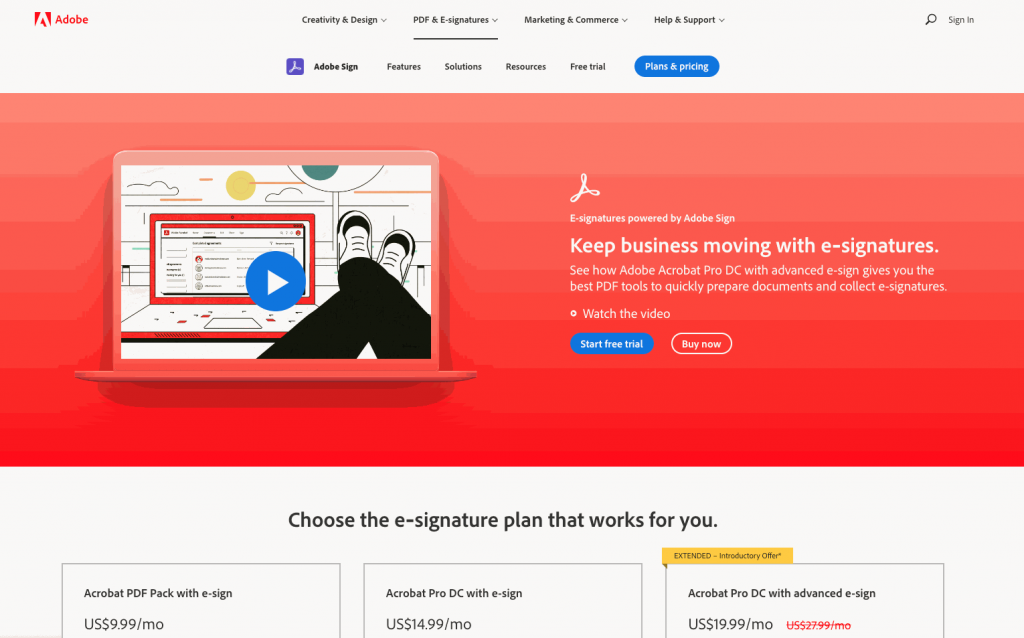 Known until 2011 as EchoSign, Adobe Sign is considered the benchmark of online signatures, especially regarding compliance with laws worldwide.
Backed by Adobe, Adobe Sign offers multiple features that are useful for government contractors and other companies needing advanced signing features. Plus, the platform is practically blinded from downtime or bugs, making it very reliable.
However, its pricing shows Adobe Sign's versatility and features, making it better for mid to large-sized companies, and therefore, many Adobe alternatives have been created. Adobe and DocuSign are strong eSignature contenders.
Pricing
Adobe Sign doesn't have a forever free account, only offering a free trial. Its pricing starts at $9 per month for a very basic set of features. Single users can choose between a $14.99 plan for an all-in-one PDF and e-signature solution or $27.99 monthly for Acrobat Pro DC.
Business plans start at $16.99 per month per license and include the PDF and signature solution. At $29.99 per month per license, businesses also get advanced e-sign features for teams, which is great for government contractors.
Best contract management software for construction
Construction contract management software helps companies speed up the approval process, manage their payments and invoices, and track all subcontracts and purchase orders.
Here's the best contract management software for construction:
Access Construction ERP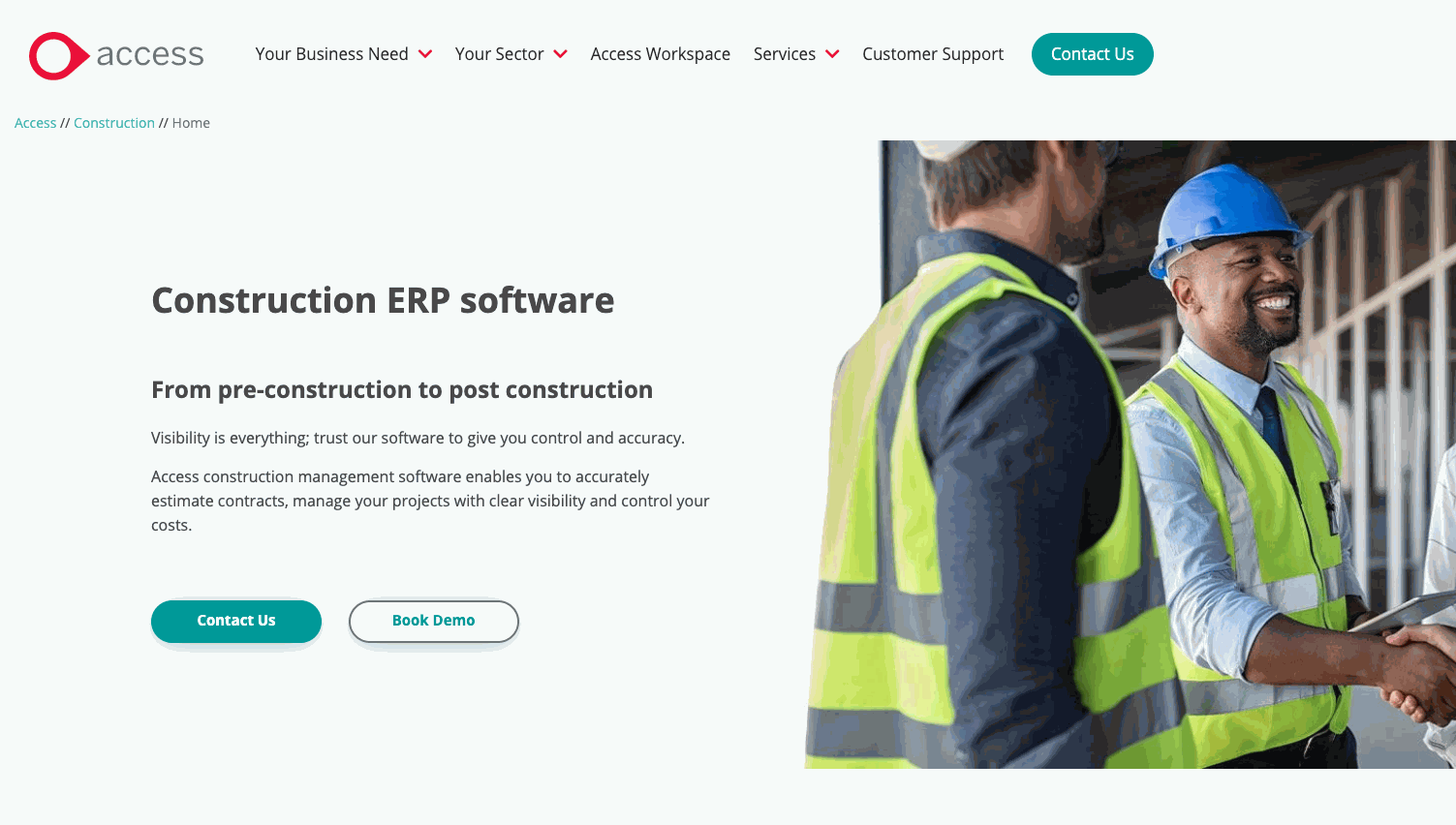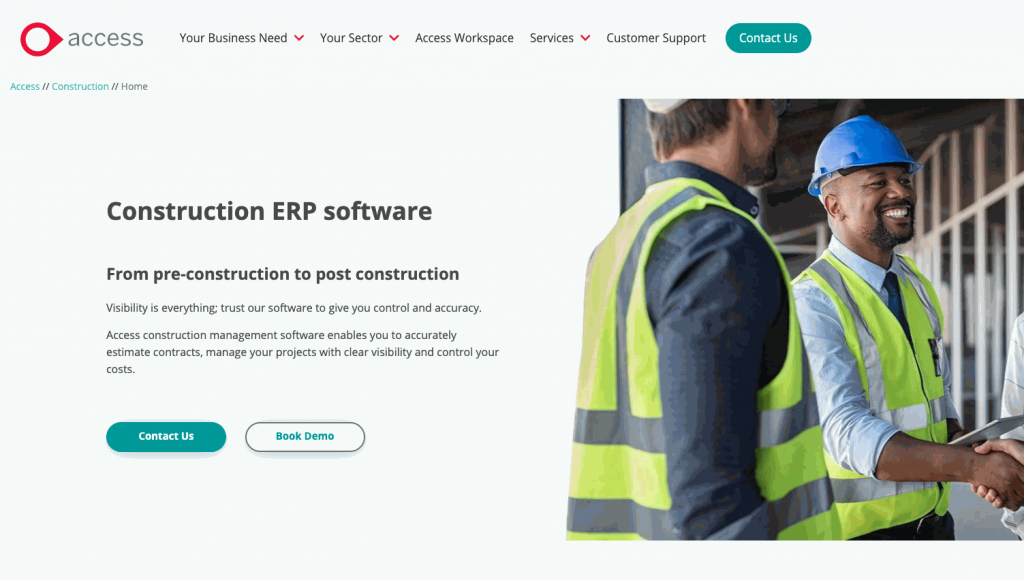 Access Construction ERP comprises their award-winning Enterprise Resource Planning EasyBuild and ConQuest Estimating.
The platform can also be used for payroll and HR, handling private health contracts, employee pensions, and company cars. It can even help screen candidates and verify their information, conducting background checks and confirming their profile before sending them an employment contract.
With this software, employers can ensure their staff is fully compliant, handling accident and investigation processes and helping them ensure all workers are up to date with the latest training and certification needed to keep them working.
Its cloud-based system allows users to access the platform from their office, working site, or mobile work environment, with comprehensive reporting and a robust suite of data capture methods.
Access allows users to address all aspects of construction, giving them powerful estimating software and allowing them to perform site management and handle accounting, HR, and even payroll. 
Users will only need to use this one digital construction tool.
Pricing
The Access Group doesn't provide any pricing online. Users need to contact them for a custom quote.
Best contract management software for nonprofits
Regarding nonprofits, contract management needs to be transparent, easy, and reliable.
Non-profit contract management software should help companies streamline their documents, expedite their lifecycle, and make it easy to track contract milestones and expiration dates.
Here's the best contract management software for nonprofits:
ContractSafe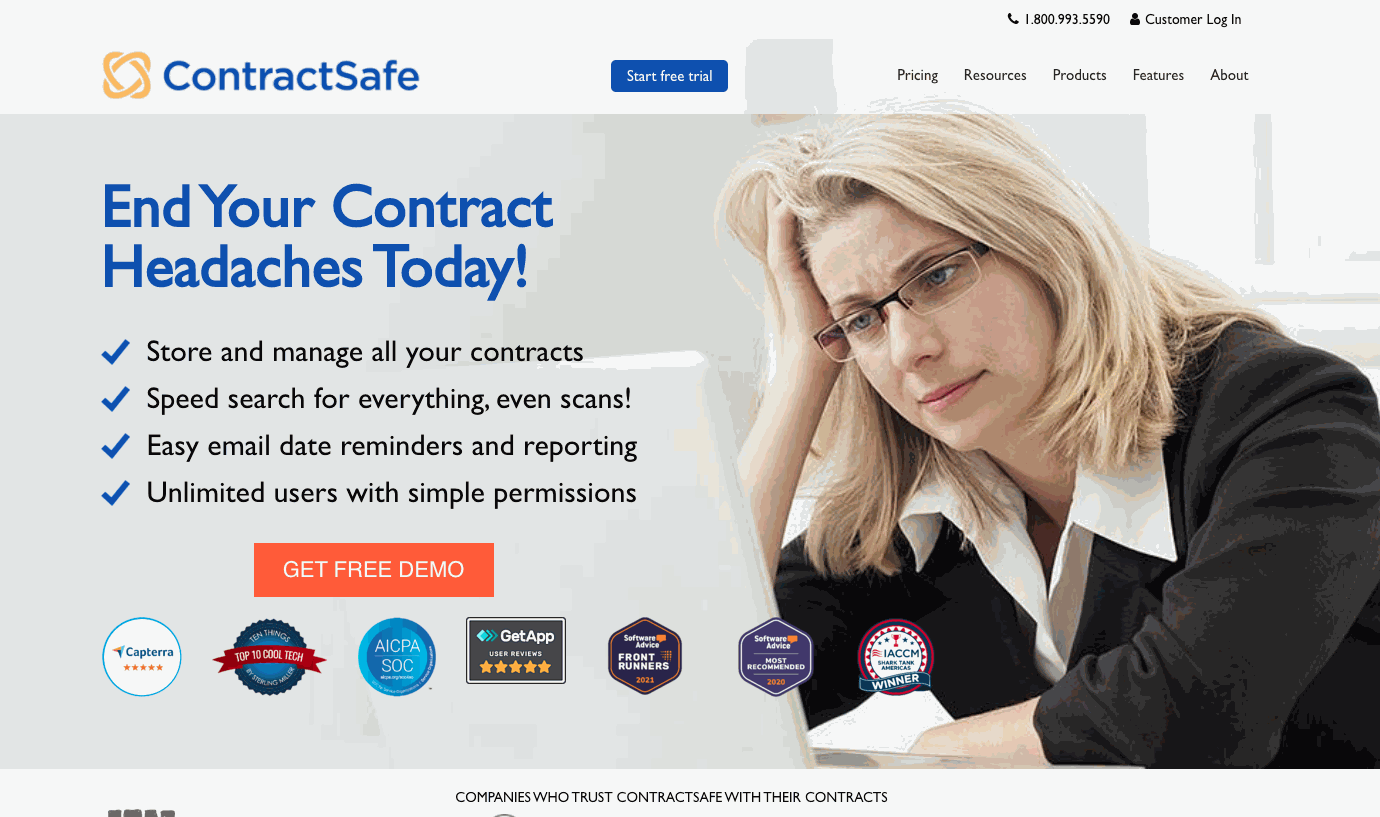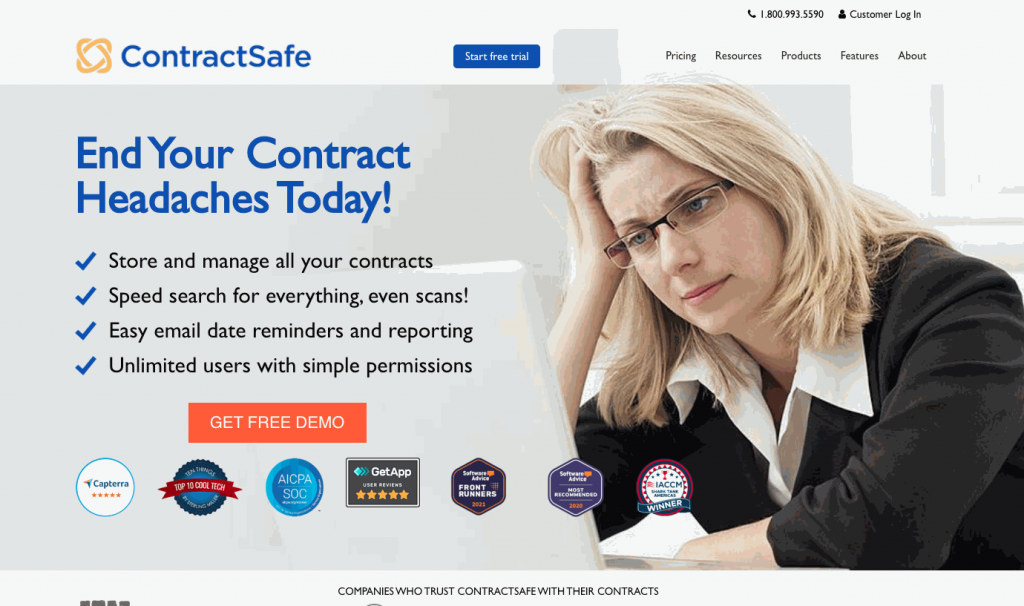 ContractSafe is a large contract management suite with software specifically designed for nonprofits.
The tool allows users to store and share documents, get reports from their contracts, and ensure safety and compliance. Although it lacks workflow automation and document creation features, its nonprofit solution hosts documents securely in a cloud-based repository hosted by Amazon Web Services.
The platform also has different sharing and role permissions to compartmentalize information and many integrations to work with other nonprofit tools.
Pricing
ContractSafe doesn't offer a forever-free plan. Instead, paid plans start at $299 per month for its basic tier, which includes up to 500 contracts, unlimited users, date reminders, bank-level security, SOC2 audit, and more.
The Standard tier, starting at $499 per month, can host up to 1,000 contracts, schedule and email reports, show custom fields and forms, and generate redlines. It also includes a one-way integration with DocuSign.
At $699 per month, the Professional tier can host up to 2,500 contracts and offers 100 jump-start contracts. It also comes with a Zapier integration, a virtual data room, and a two-way DocuSign integration.
Finally, starting at $899 per month, the Enterprise tier can host up to 5,000 contracts, offering 200 jump-start contracts and integrations with API and SalesForce.
Best contract management software for startups
Startups usually need strong contract management software capable of advanced features, especially when acquiring investors and managing finances.
Here's the best contract management software for startups:
DocuSign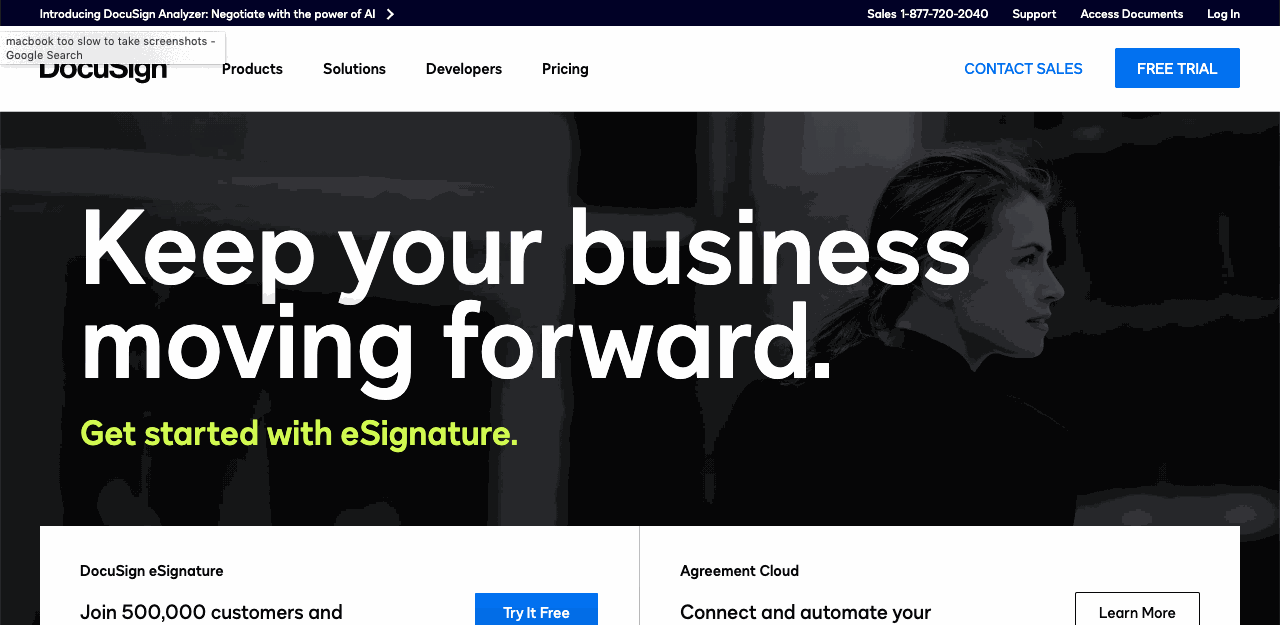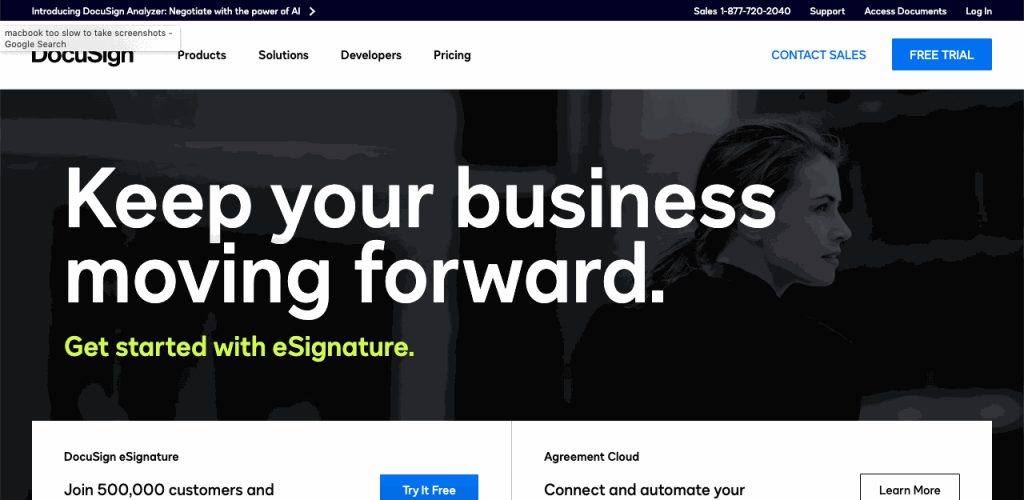 DocuSign is a popular contract management option with a long and positive reputation and a large user base.
DocuSign allows users to automate their contract management system through templates and workflows. It also gives users access to analytics, integrations, and mobile apps to help them get the most out of the tool.
This contract management option also features more advanced signature fields and reliable online signatures with geolocation capture. Real-time status reporting can help users keep track of their contracts and expedite their contract management process.
Although this isn't a free contract management option, it offers users versatility and more advanced options. Signaturely is considered a solid DocuSign competitor.
Pricing
DocuSign doesn't offer a free plan. Instead, its pricing starts at $10 for its Personal Plan, which is a limited, single-user option. The Standard plan, starting at $25 per user per month, allows for up to 5 users, multiple languages, a real-time audit trail, and branding.
Finally, at $40 per user per month, The Enterprise plan also includes payment capabilities, bulk send, in-person signatures, and a paid option for advanced authentication.
FAQ
Here are answers to a few commonly asked questions on contract management solutions:
What is contract management?
Contract management refers to handling a document through its entire contract lifecycle.
Contract management can include some tasks that legal departments usually provide, like getting legally binding signatures and providing contract analytics.
Why is contract management important?
Contract management is important because it helps businesses oversee contracts, record processes, and automate contract actions. Contract management can also act as contract storage and editor, enabling business teams to create and send contracts much faster.
It is important to have a contract tool that can automatically create a contract, send it, and handle it throughout its process. It can help businesses optimize financial and operational performance, learn from their data, reduce costs, increase security, and much more.
What is contract management software?
A contract management software handles each document through the entire contract lifecycle. It helps users learn from contract data, provides contract storage, automates multiple tasks, and can help with contract negotiation.
Some contract management tools can even generate smart contracts to automate contract creation and enable companies to follow strict privacy guidelines.
What are the benefits of contract management software?
Contract management solutions help users reduce costs by offering multiple automated contract creation options, bulk send, and an automated workflow. 
They also reduce the need for law firms to create contracts through specialized templates and legally binding online signature solutions.
How do you choose the best contract management solution?
Start with a list of features the tool must have and a list of extra features that would make a contract management solution more attractive. Make sure to establish a budget before looking for tools.
When you start, look for the best contract management tool based on features, customer reviews, and upgrading capabilities.
How much does contract management software cost?
Contract management systems can be as expensive as thousands of dollars or as affordable as a forever-free tier.
The cost of contract management solutions will depend on the features and capabilities you need.
Conclusion
Contract management software can streamline your entire contract lifecycle. Tools like Signaturely allow you to check on contract statuses and send in-app reminders to expedite the signing process. 
It can also help you sign contracts and guide your signees step by step until they've signed theirs. That way, you make sure even the most technically challenged user can sign your contracts, expediting the approval process of new contracts.
Try Signaturely for free to see if it's a good fit.