In this article, we'll pit DocuSign vs. Adobe Sign. We'll analyze both platforms to answer a simple question: Which one is better?
We'll evaluate both based on the following:
Features
Price
Security
Usability
Customer reviews
By the end of the article, you'll know exactly which platform is the right one for you.
Let's get started!
Introducing DocuSign vs. Adobe Sign
Here's a closer look at what both platforms have to offer:
What is DocuSign?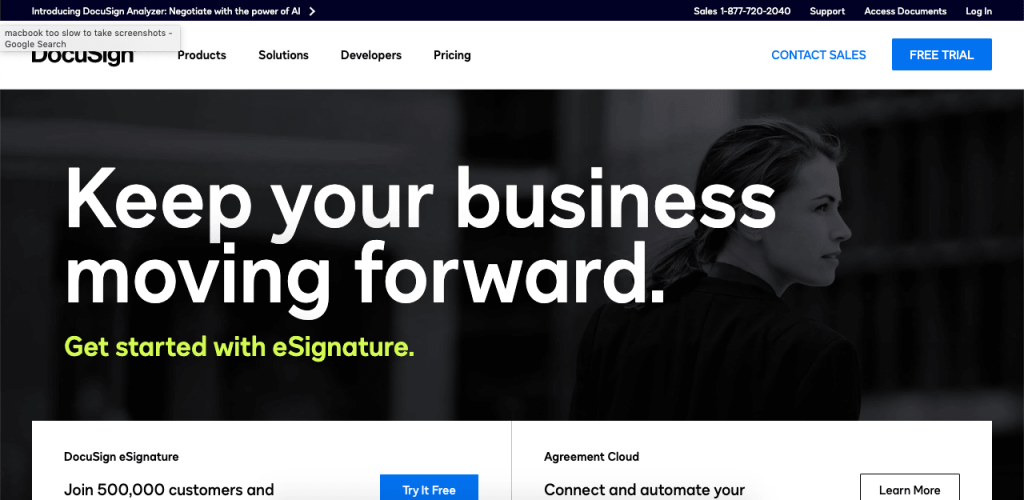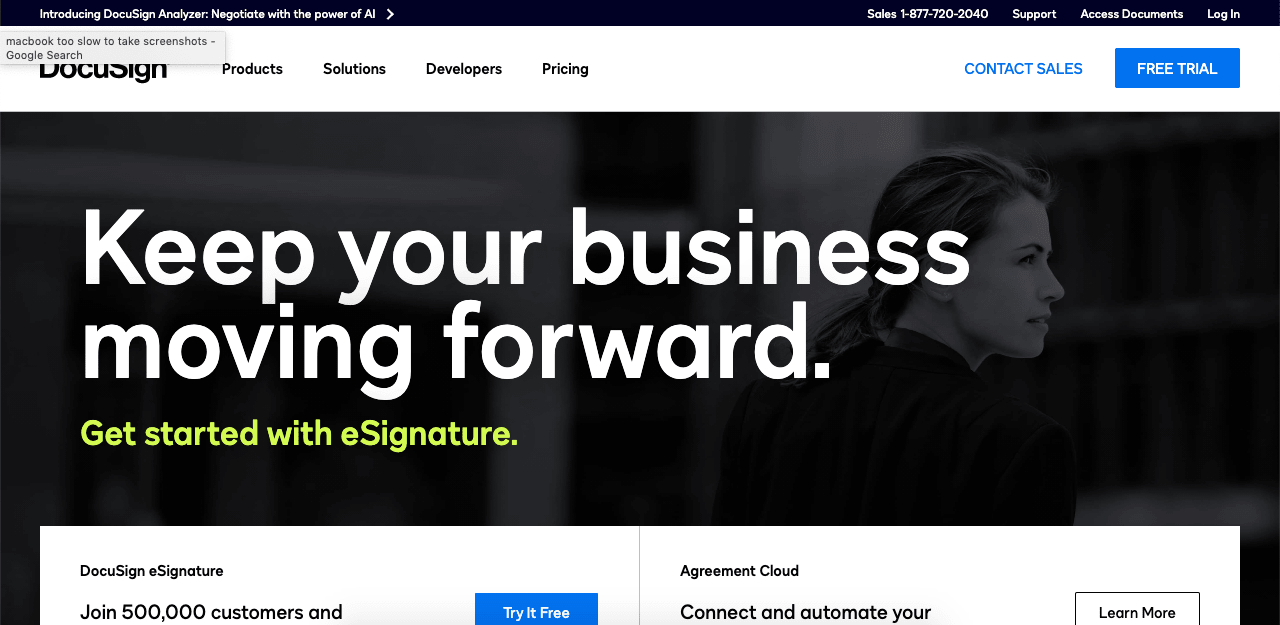 DocuSign is a very popular online signature platform with a huge user base and thousands of positive reviews due in part to its capabilities.
With DocuSign, you can create templates and workflows, access powerful analytics, and attain trustworthy and reliable online signatures through geolocation capture and real-time status reporting.
DocuSign seamlessly integrates with Google Drive, Dropbox, Salesforce, and many other major partners. Users can access and sign DocuSign documents on nearly any device.
Starting at $10 per month for individual users, with powerful Standard and Pro plans, DocuSign offers many functionalities to individuals and businesses alike.
What Is Adobe Sign?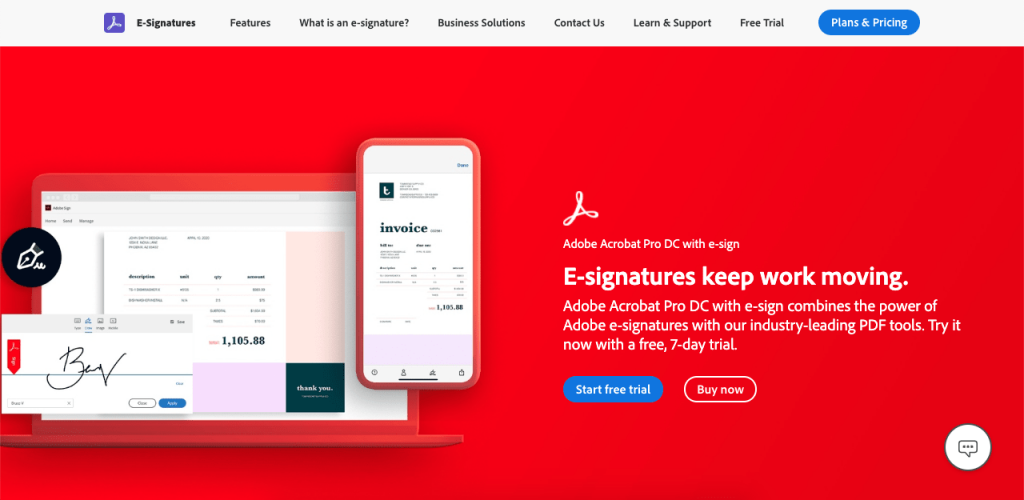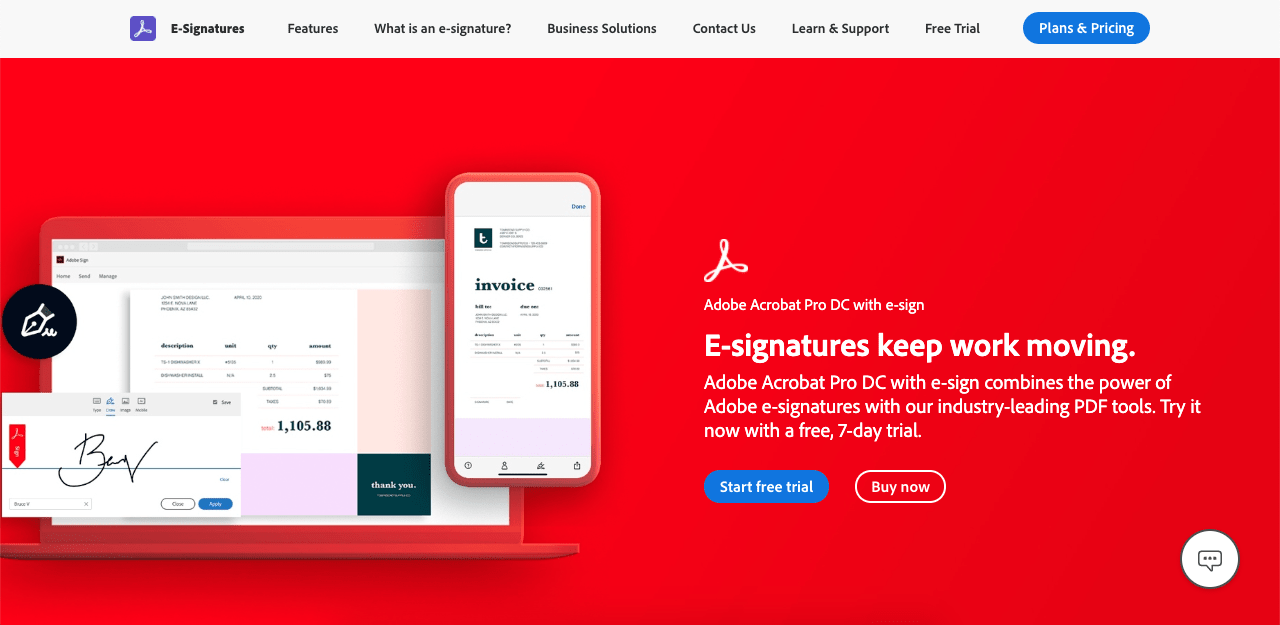 Formerly known as EchoSign, Adobe Sign is part of the Adobe family and is considered by many to be the benchmark of online signatures.
Adobe Sign seamlessly works with many other business-related apps and provides a streamlined user experience.
Backed by Adobe, Adobe Sign has a multi-million dollar company behind it, so it excels in security and integration. It also offers various advanced features for business and professional users.
Individual users can begin using it for only $9.99 per month, with plans for both small and standard businesses available.
DocuSign vs. Adobe Sign – Head-to-Head Comparison
Here's how Adobe Sign and DocuSign fare when compared side by side:
1. Usability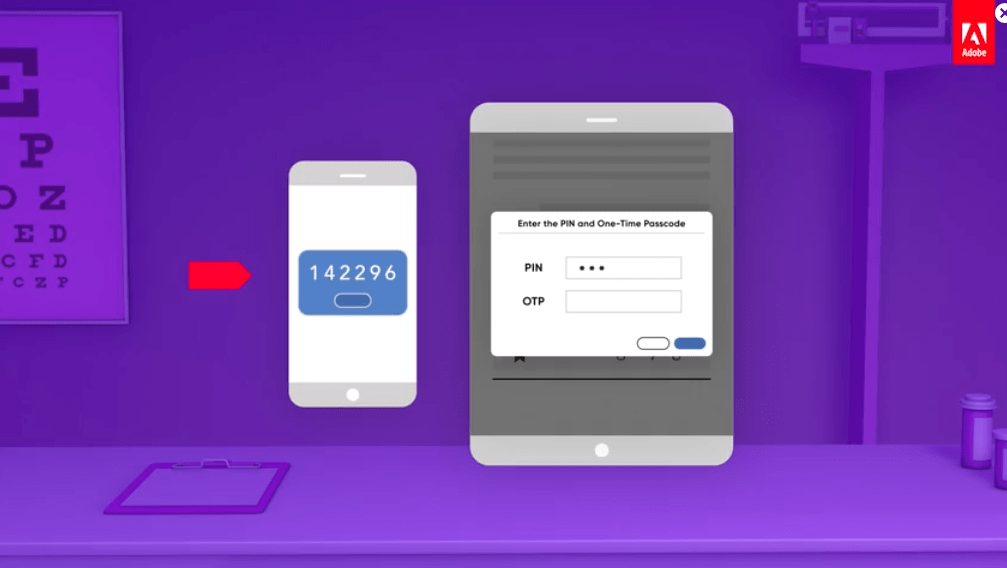 Both Adobe Sign and DocuSign offer an easy and streamlined signature process, allowing anyone to access documents from anywhere and sign them with legally-binding digital signatures.
You can use both to access and sign documents offline (unless the documents need online access to complete signatures) and easily upload and edit documents to be signed.
Once you upload your documents, both Adobe Sign and DocuSign offer simple drag-and-drop tools to place signature fields on documents with multiple formats. You can then prepare them to be signed.
When you're done preparing the document, the signing process in Adobe Sign and DocuSign is very similar.
Your signees will be notified by email that their signature is required. The platforms will then guide signees through creating their signature and signing the document.
While this is happening, the platform will keep you updated about the document's status, telling you who has signed it and who is yet to sign, and offering you the chance to send reminders to keep things moving.
Finally, both platforms will give you access to the audit trails for your documenting and legal purposes when the document is signed.
Winner: Evenly matched
2. Features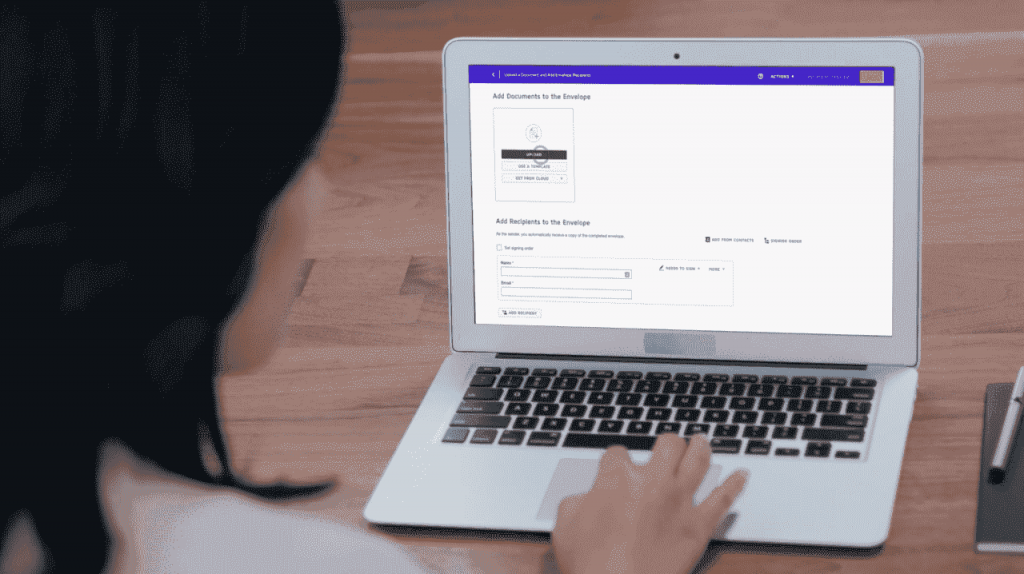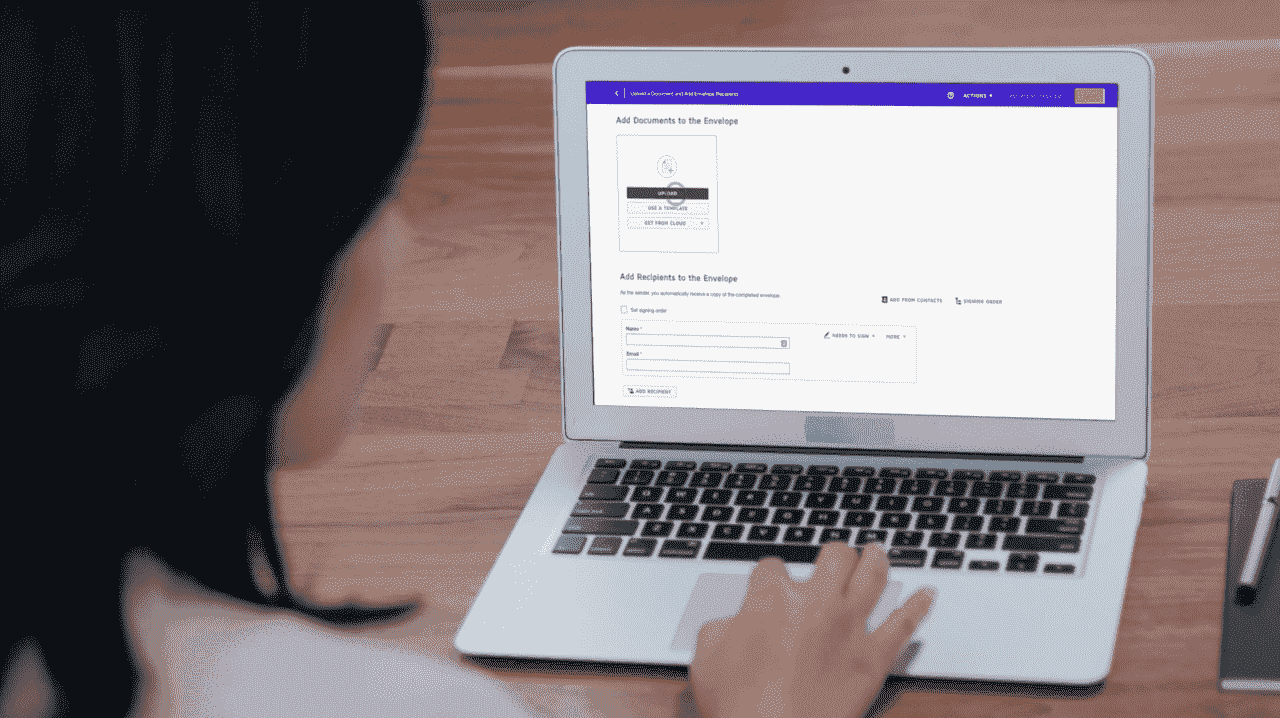 Adobe Sign's features mainly focus on streamlining the signature process to cater to all kinds and sizes of organizations. It has excellent integrations and can seamlessly integrate with other members of the Adobe family, such as Adobe PDF, Adobe Acrobat, and even Adobe Creative Cloud, so you can store your documents.
On the other hand, DocuSign focuses on simplifying the customer experience for both business and private users. Although lacking the backing of a large company, DocuSign also offers great integrations to cloud services and CRMs.
Both Adobe Sign and DocuSign offer:
Audit Trail
Authentication
Auto Reminders
Bulk Send
Company Branding (in professional tiers)
Customizable Templates
Digital Seals
Document Analytics
Document Management
Custom-built enterprise plans
Notifications And Reminders
Mobile Signature
Multi-Party Signing
Task Progress Tracking
Two-step Authentication
DocuSign also offers:
Advance Correct
Advanced Analytics
Agent Role
Biometric Phone Authentication
CC Anywhere (Carbon Copy)
Collaboration/Markup
Dynamic Forms
ESIGN compliant
PowerForms
Adobe Sign offers:
Assign and Reassign User Licenses
Automatic Form Field Detection
Color-Coded Recipient Fields
Configurable Time Stamps
Document Workflow Triggers
EU Qualified Time Stamps
Form Field Fonts
Mobile Sending, tracking, and Management of Signing Processes
Security and Compliance
Self-Serve Forms
Many of the features that are unique to the individual services are not essential. The main difference in features is Adobe's compatibility with Adobe apps and DocuSign's powerful analytics.
While Adobe's compatibility is great, DocuSign's integrations are even better. However, no integration will compensate for the lack of Adobe's analytics, which DocuSign certainly has.
Winner: DocuSign
3. Security
DocuSign and Adobe Sign follow industry-standard security practices to keep your information and documents safe and secure.
They also comply with multiple government regulations allowing their online signatures legal validity.
However, DocuSign's holistic approach gives them a slight edge over Adobe Sign, especially regarding security for SMBs.
DocuSign is also very transparent about what they do to keep your information safe, outlining everything in its DocuSign Security Brief. Adobe Sign directs security questions to Adobe's Trust Center, without providing the details of their security management system.
Winner: DocuSign
4. Use Cases/Case Studies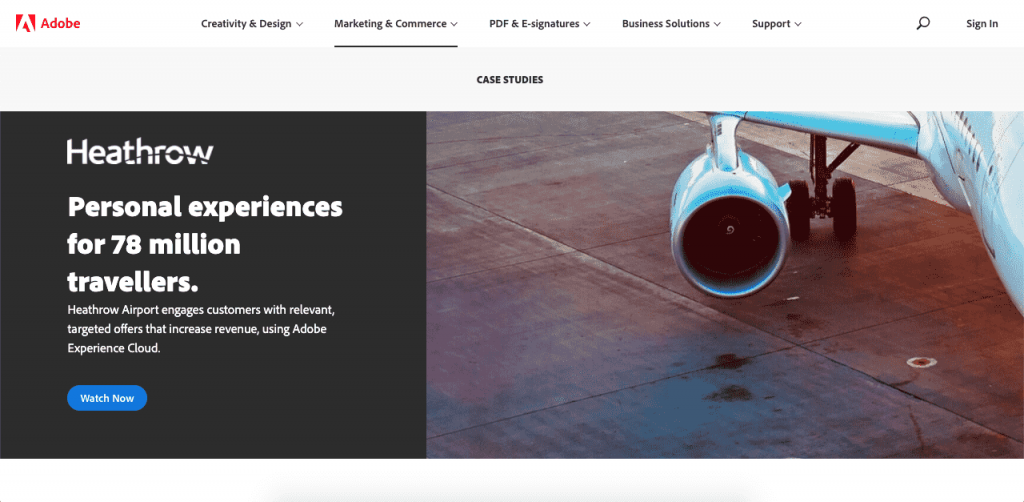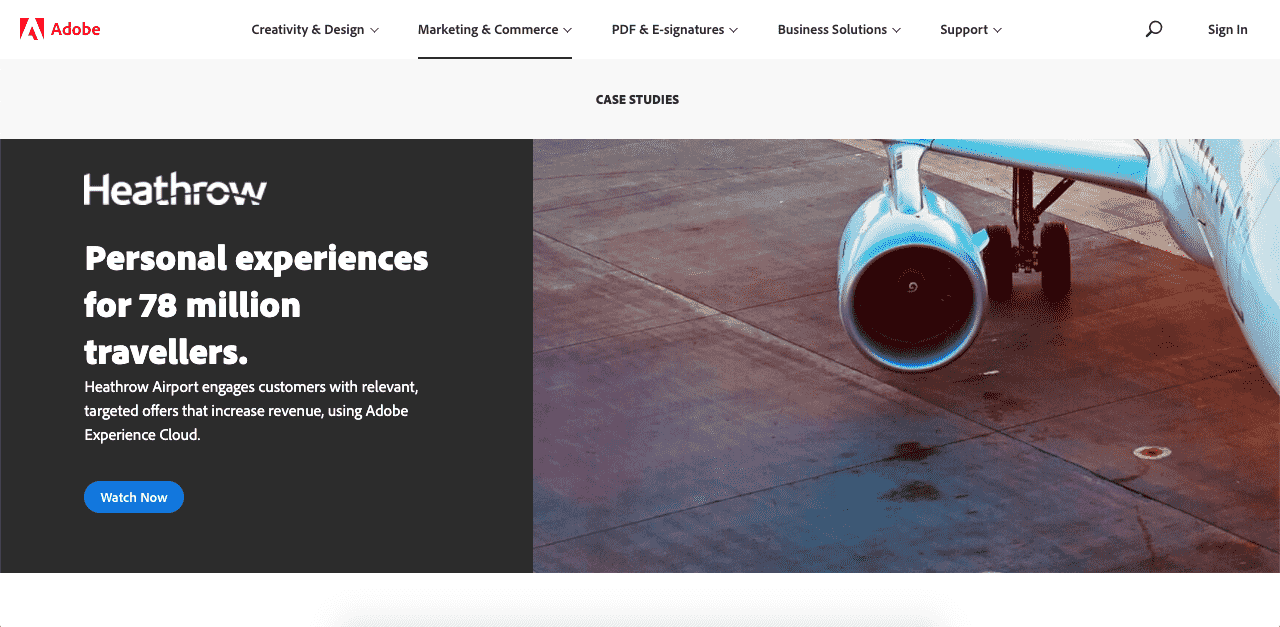 As both options are very popular, both Adobe Sign and DocuSign have many use cases and case studies from successful customers.
DocuSign, for example, has over 200 case studies from companies across the world with clients from communications to quality management publishing how DocuSign has helped their businesses move more quickly and grow faster.
That being said, Adobe Sign has such an enviable client list that it has a dedicated page of case studies. 
Listing successful experiences from prestigious clients such as Panasonic, Heathrow, Sprint, Home Depot, Roche, Virgin Holidays, and many more on their website, you can learn about their experiences in both document and video form.
Winner: Adobe Sign
5. Integrations & API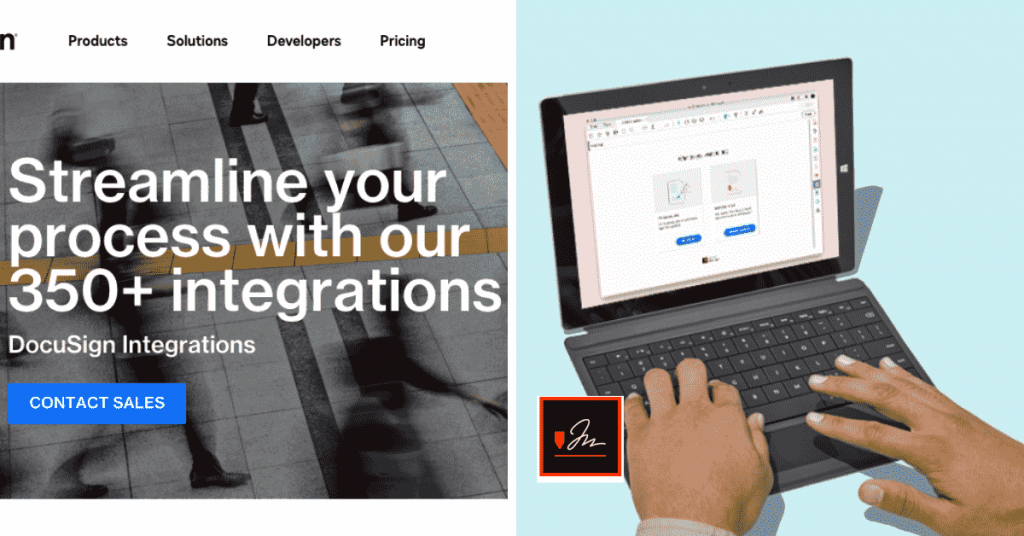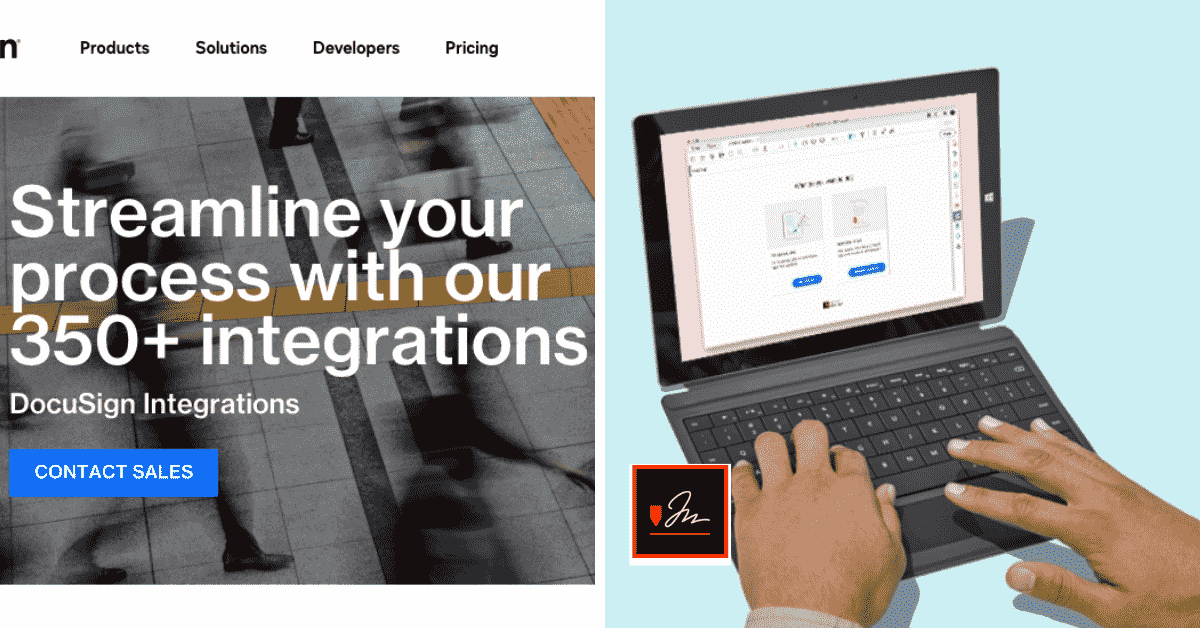 Both Adobe Sign and DocuSign have a good list of powerful integrations that make it easy to upload documents and use business-related software with their tools.
Adobe Sign, for example, comes with Microsoft's backing, having been named by them as their preferred e-signature solution in 2017. That backing led to integrations between Adobe Sign, Microsoft 365, and Microsoft software—all powered by Microsoft.
Besides Microsoft, Adobe Sign has dozens of integrations to CRMs, HR software, and many more—including the Adobe software list. But accessing these integrations will only be possible through the most expensive Enterprise tier.
However, DocuSign offers not just dozens but hundreds of native integrations with many partners—including Microsoft—and nearly any other integration that Adobe Sign supports. These integrations are also available at lower price tiers than Adobe Sign.
DocuSign gives you virtually all of the integrations that Adobe has to offer and hundreds more—at a lower price point.
Winner: DocuSign
6. Customer support
Adobe Sign and DocuSign offer multiple support options, but the support you need will depend on your plan.
Adobe Sign offers 24/7 live chat support for all pricing tiers, which is great but not as effective as phone or email support, which are available only through its more expensive tiers.
DocuSign offers more support options but at a slower pace. Besides the 24/7 live chat service, DocuSign also offers a ticketing-based service that will usually get responses within the first 24 hours.
If you want more advanced support options, DocuSign can upgrade your support plan, giving you faster responses and a wider array of help options.
In both Adobe Sign and DocuSign, you'll likely need to pay more to get quick and effective customer service; however, DocuSign lets you pay for the customer service alone, while Adobe Sign will force you to upgrade your price tier entirely.
Winner: DocuSign
7. Pricing Model
Both Adobe Sign and DocuSign offer two tiers of pricing for businesses, plus an entry-level $10 fee for individual users.
DocuSign's business plans start with the standard tier at $24.99 per month per user with up to three users. Upgrading to their business plan costs $39.99 per user per month, allowing for multiple users and adding the extra option of processing payments. We have a complete analysis of DocuSign's pricing here.
Adobe Sign's pricing starts with a small business plan, which costs $34.99 per user per month and has no limit on users. Their business plan is $39.99 per user per month, which may seem like a small jump for advanced form and customer service options, but it requires a three-year commitment. Here are other affordable Adobe Sign alternatives.
While both options seem fairly close, DocuSign offers a cheaper business option for anyone looking for personalized branding, reminders and notifications, and document comments.
Winner: DocuSign
8. User Satisfaction and Reviews
Since they're both popular options, both DocuSign and Adobe Sign have many positive reviews from a large variety of clients around the world.
Users usually complain about Adobe Sign's limited number of integrations and its focus on larger businesses.
DocuSign gets complaints about their limited number of signature options in their lower pricing tiers.
The G2 software comparison site ranks Adobe Sign at 4.3 out of 5 stars and DocuSign at 4.5 out of 5 stars. 89% of Gartner users recommend Adobe Sign, while 90% recommend DocuSign.
Although DocuSign has a slight edge over Adobe Sign when it comes to user reviews, DocuSign's reviews aren't as plentiful as Adobe Sign's.
If you're interested in reviews, Adobe Sign has a plethora of them from many users, explaining exactly what they liked and disliked about the platform and giving them an edge over DocuSign.
Winner: Adobe Sign
9. Customization
Both Adobe Sign and DocuSign give you access to branding options in business-level pricing tiers. Both offer you the option to add your logos, taglines, overall company branding, and custom messages to your signees.
Once you have created your brand profile with your logos and document colors, both platforms will seamlessly integrate them into your documents. They also offer advanced customization options for URLs, headers, and footers. DocuSign even allows you to edit HTML and XML files to have complete control over your documents at the enterprise level.
Neither DocuSign nor Adobe Sign offer white labeling, so both of the platforms will integrate their brand with the documents you send. HelloSign will most likely be a good fit if you want a white labeling option. You can read more about it in our HelloSign vs. DocuSign article.
After experimenting with both platforms, we found Adobe's menu to be better overall and more intuitive when setting up your company profile and branding. Adobe Sign also provides more branding options at a slightly lower price point, giving you templates to easily get you started on sending branded documents.
Winner: Adobe Sign
DocuSign vs. Adobe Sign – Which tool should You choose?
Although both are completely suitable for digitally signing documents, the right tool for you will depend on your individual needs:
Adobe Sign: Best for small companies and individuals
Although slightly more expensive than DocuSign, Adobe Sign is a perfect fit for anyone looking for a simple e-signature solution.
Its simple menus and drag-and-drop interfaces make Adobe Sign extremely easy and intuitive. You'll also get access to the integrations you are most likely to need, including cloud integrations, widely-used software, and seamless Microsoft and Adobe cross-collaboration.
Adobe Sign will even let you add a payment solution for a small fee to its Small Business Plan, making it cheaper than DocuSign if you're looking to collect payments.
DocuSign: Best for Medium to Large Companies
If your company already uses a wide array of software and you need many documents signed frequently, DocuSign will give you the most value for your money.
With hundreds of native integrations, DocuSign will seamlessly integrate the software you're already using. DocuSign also gives you detailed analytics to keep track of everything and find ways to speed up your process.
DocuSign also offers unlimited templates, so you won't need to worry about deleting old templates to make space for new ones.
Signaturely: A Great Alternative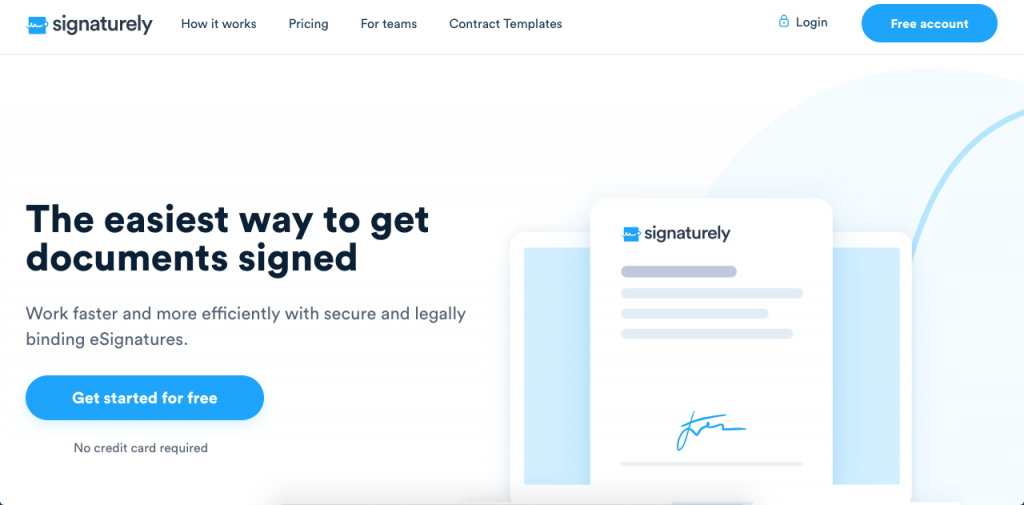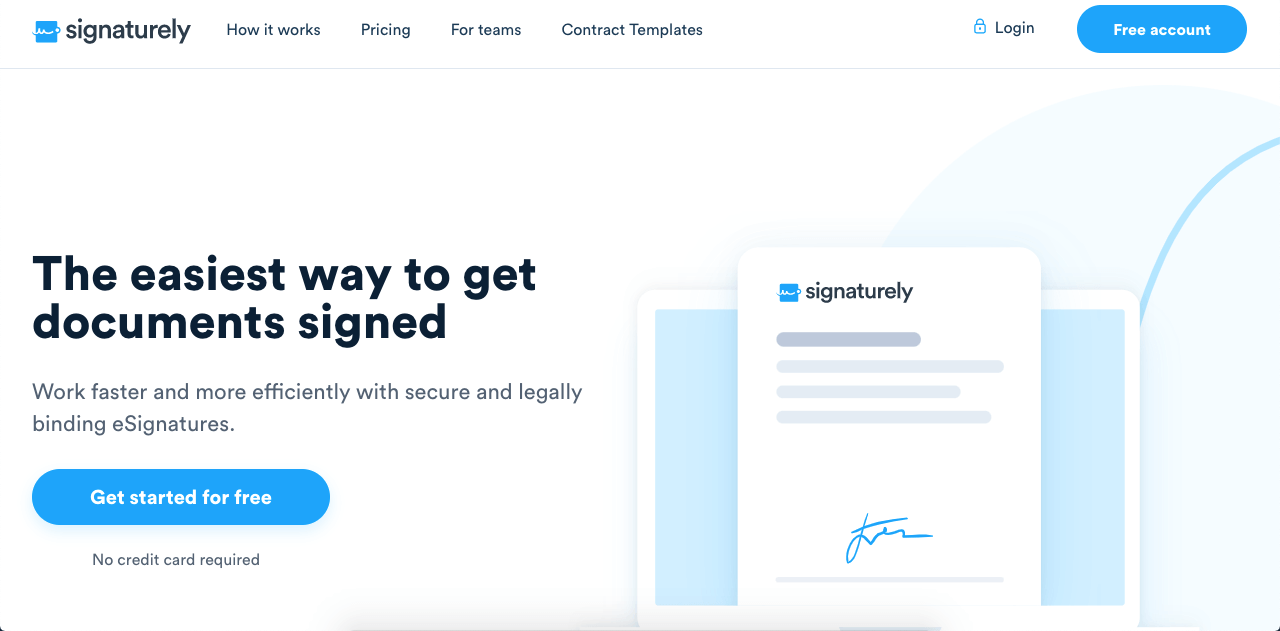 If you're looking for an option that's as easy to use as Adobe Sign while remaining cheaper than DocuSign, Signaturely is the option for you.
Unlike DocuSign and Adobe Sign, you can create a free account and start using it immediately. Your free account will integrate with Google Drive, Dropbox, OneDrive, and Box, giving you free access to notifications and reminders. You can use the free account to send up to three signature requests per month.
Need more signature requests? For just $10 per month, Signaturely gives you unlimited signature requests, so you can send as many documents as needed.
Signaturely is a solid DocuSign competitor with unlimited signature requests and templates. At just $15 per month, it is far cheaper than both Adobe Sign and DocuSign, and you won't have to worry about deleting templates as you go. With this plan, you'll also get features for team management and custom template branding.
Unlike other solutions, such as DocuSign and PandaDoc (check out some PandaDoc alternatives here), Signaturely gives you access to a fast, streamlined platform to get you started in no time.
Creating online documents with Signaturely is very easy. First, select whether or not you need to sign the document. After this, you can name your document, import or create it using the editor, and select the signers and the display message to be sent along with it.
You can also assign a signer order and review your document before sending it to ensure your signature has been added correctly and that there are no issues with it.
Once you send it, Signaturely will guide your signers throughout the signature process, allowing them to create their own eSignature if they don't have one. We also have an awesome Online Signature creator.
Sign up for free to start using Signaturely today.
Frequently Asked Questions: DocuSign vs. Adobe Sign
Here are the answers to the most common questions about Adobe Sign and DocuSign:
DocuSign
1. Is DocuSign part of Adobe?
No. Although it works with Adobe PDF and has Adobe integrations, DocuSign is not part of Adobe.
2. Is DocuSign a qualified electronic signature?
Yes. DocuSign offers legally-binding digital signatures in 188 countries.
3. Can you use DocuSign to sign a PDF?
Yes. You can easily upload PDFs to prepare them to be signed digitally in DocuSign.
AdobeSign
1. Is Adobe Fill and Sign secure?
Yes. Adobe Fill and Sign is a free app created by Adobe that is fully secure and safe to use.
2. Is Adobe Sign included in Acrobat Pro?
Yes, Adobe Sign's features are included in the Acrobat Pro DC subscription.
3. How much is Adobe Sign?
Adobe Sign pricing starts at $9.99 per month per user and does not have a free version. You can try Adobe Sign for free for 14 days.
DocuSign vs. Adobe Sign: Conclusion
Adobe Sign is a great online signature tool for private users and small to medium companies that require a simple tool without the need for advanced integrations or analytics.
DocuSign is better suited for large companies that need multiple documents signed regularly and more powerful integrations and analytics.
And if you're looking for a more intuitive tool than Adobe Sign and cheaper than DocuSign, you can't go wrong with Signaturely.