When it comes to running a business, there are a lot of moving parts. There's a lot to keep up with, from managing inventory to tracking sales and marketing documents. And when it comes to paperwork, the task can be even more daunting, which is why it makes sense to consider helpful tools like DocuSign and DigiSigner for your business. In this article, we'll compare DigiSigner vs. DocuSign in detail to help you evaluate which tool is the best solution for your company.
Get to Know DigiSigner vs. DocuSign
DocuSign and DigiSigner offer digital signature solutions for individuals and businesses of all sizes. Here's a brief overview of what they bring to the table.
DigiSigner Overview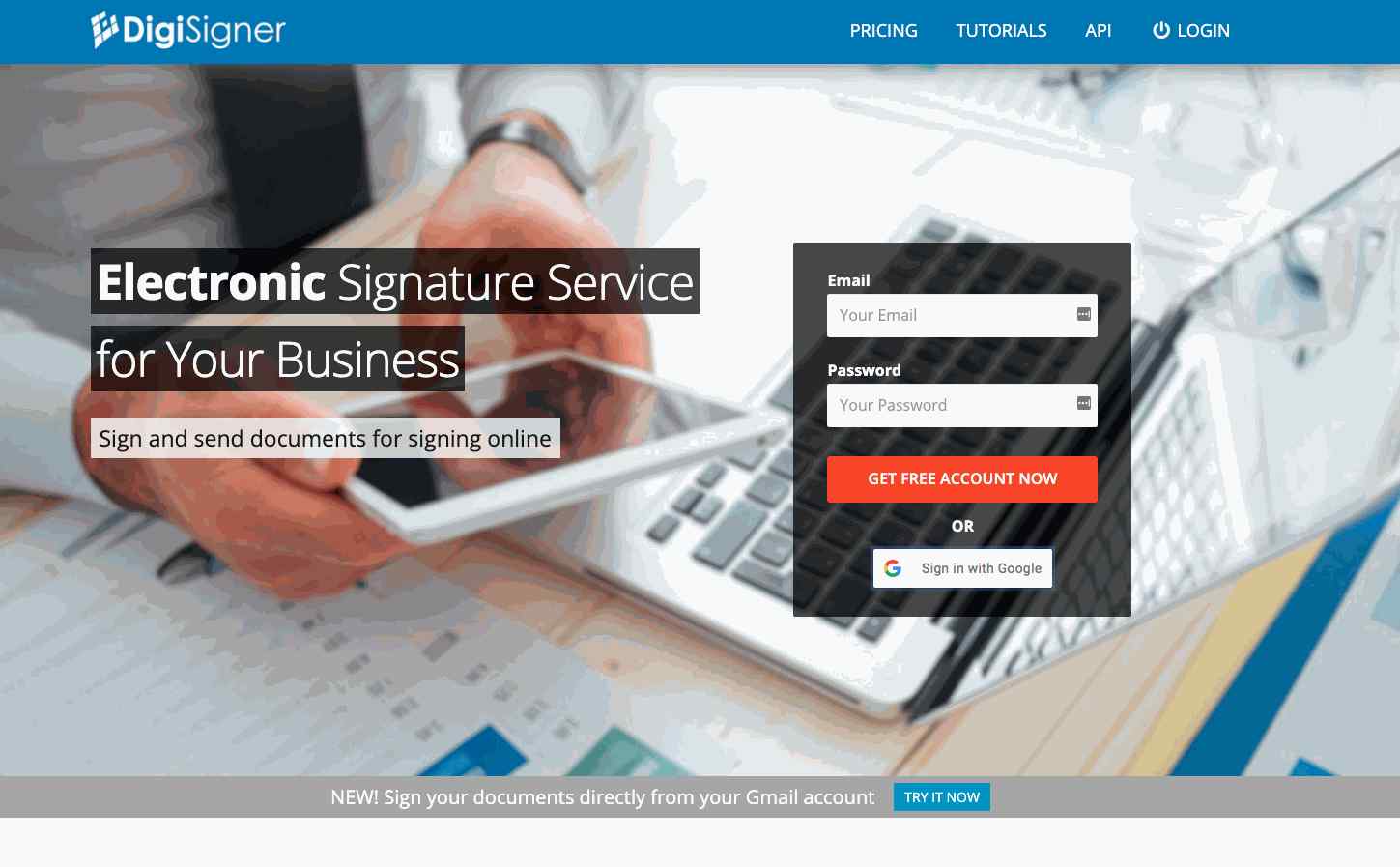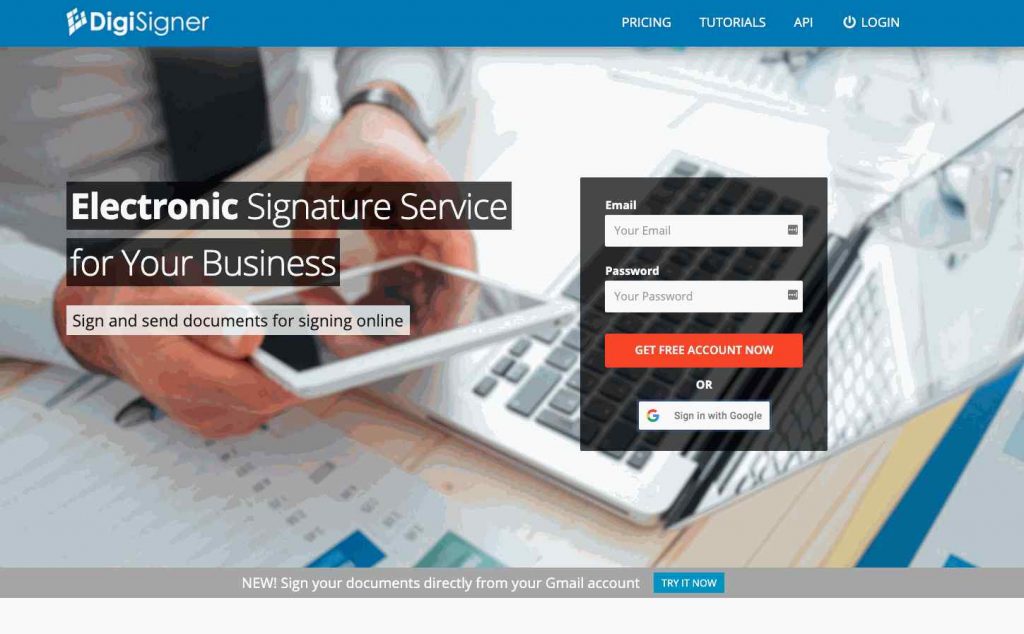 DigiSigner is a secure online platform that allows users to create signatures and sign documents online. Various businesses use the platform in real estate, HR, and the legal profession. DigiSigner uses SSL encryption to ensure the security of all PDF documents. The platform is also easy to navigate and allows users to create handwritten signatures. As a result, DigiSigner is a convenient and secure way to manage documents electronically.
DocuSign Overview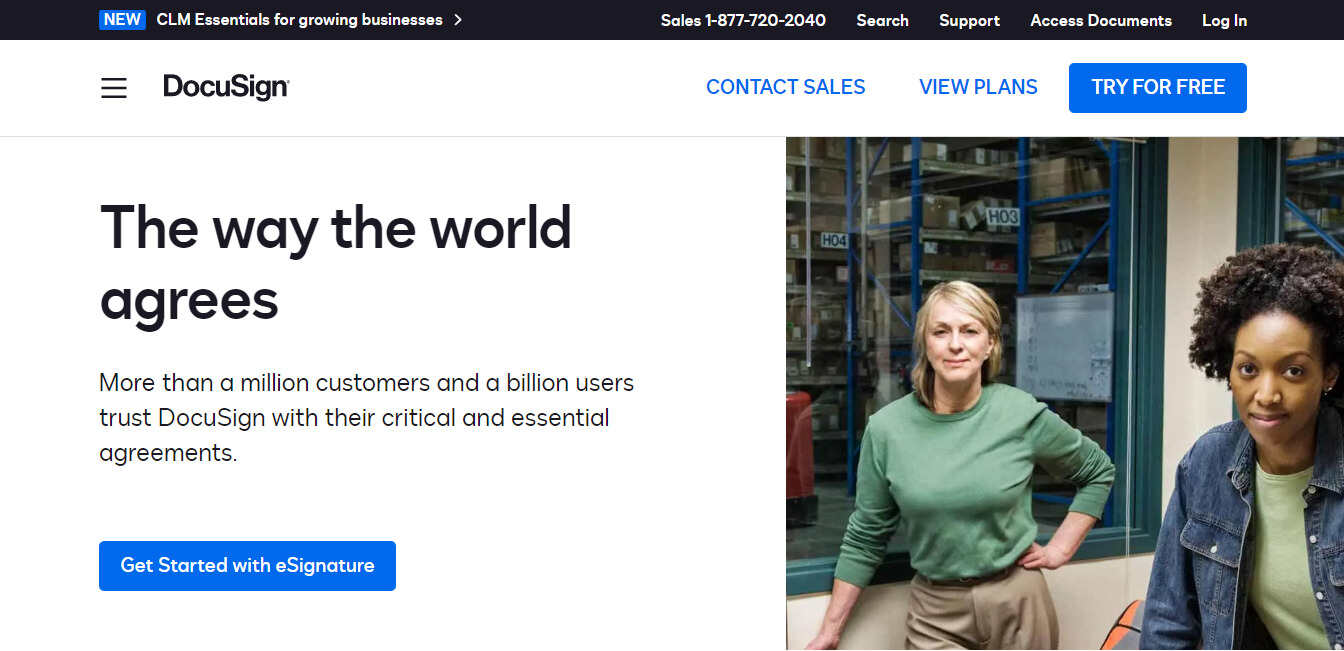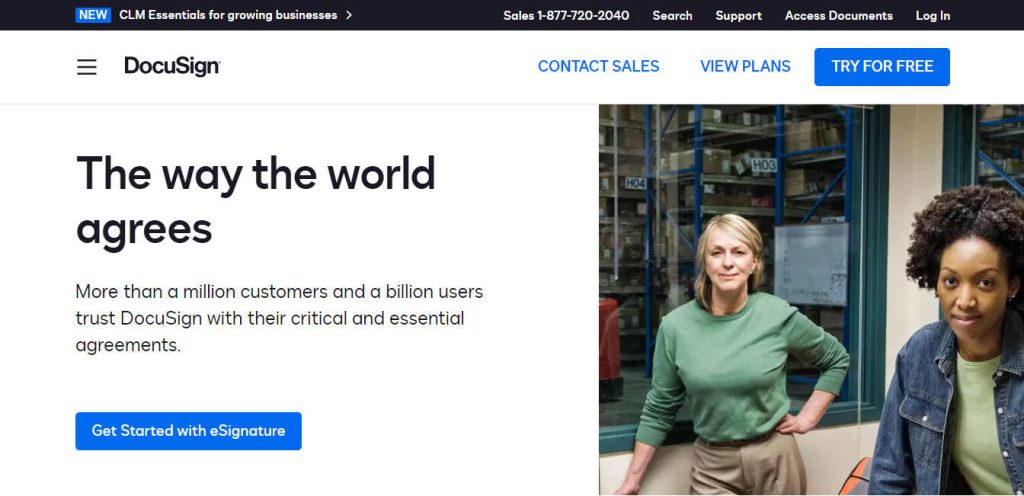 DocuSign provides easy-to-use contract collaboration tools that allow businesses to get contracts signed electronically. The platform is simple to set up and use. It also integrates with over 400 other tools, making it an essential part of any business toolkit. DocuSign is also highly secure, with 256-bit encryption and a robust user authentication system. Ultimately, it's the leading contract management platform on the market and is trusted by businesses of all sizes.
DigiSigner vs. DocuSign: Complete Comparison Guide
This comparison guide will look at DigiSigner, and DocuSign features, integrations, pricing, use cases, and more.
1. Key Features
When choosing an electronic signature solution like DigiSigner or DocuSign, it's important to evaluate the features of each tool to see which product best supports your business workflows.
DigiSigner Features
DigiSigner allows users to add multiple signatures to documents. Electronic signatures can be captured with a digital camera or using a mouse or trackpad. Documents can also be prefilled with text, making it easier to fill out forms. After signatures have been added, the document can be shared via email or link, making it a versatile tool to help streamline your legal workflows.
DocuSign Features
Key DocuSign features include the ability to send documents for signature and customizable templates. Documents can be sent individually or in bulk, making it convenient to get agreements signed quickly. The platform also gives users the ability to change the order of signatures. DocuSign has features that DigiSigner doesn't offer, such as merging documents, team support, and bulk sending.
2. Integrations
A good eSignature solution will integrate seamlessly with your existing workflows and processes. This will make it easy to get started and ensure that your team can take full advantage of the features and benefits of eSignatures.
DigiSigner Integrations
Unlike DocuSign, DigiSigner only offers an API connection to other tools instead of native integrations. The API is created using REST and JSON and allows you to access PHP, Java, and C# libraries. Its eSignature API pricing starts at $0.50 per document.
DocuSign Integrations
Instead of relying on an API, DocuSign offers over 400 integrations. These tools help you connect your eSignature solution to workflows across many departments, including sales and HR. Some of DocuSign's primary integration partnerships include:
Microsoft
Zoom
Workday
Google
Apple
3. Ease of Use
It's essential to evaluate DigiSigner and DocuSign on their ease of use. The last thing you want is to get bogged down with a complicated tool when all you need to do is sign a document. In general, both DigiSigner and DocuSign are fairly easy to use, but there are some key differences between them.
DigiSigner Usability
DigiSigner is a more basic digital signature tool ideal for individual users or small businesses. It offers fewer features than DocuSign but is easier to use and has a more intuitive interface. Some users report that the interface could be improved, but it was easy to get documents signed overall. In addition, DigiSigner boasts a best-in-class customer satisfaction team.
DocuSign Usability
DocuSign is a comprehensive eSignature solution that offers a wide range of features, including convenient customizable templates. It allows users to upload and sign documents on mobile and desktop devices, track task progress, and send reminders, which makes for a clean and straightforward solution. Conversely, DocuSign's customer service response isn't as reliable as DigiSigner's, which can be a drawback when attempting to resolve pressing issues.
4. Security & Compliance
When it comes to digital documents, security is always a top concern. That's why it's essential to carefully evaluate the security features of any eSignature service before making a commitment.
DigiSigner Security
DigiSigner is a secure digital signature platform that complies with the ESIGN Act and the UETA. It uses SSL encryption to protect your documents' privacy and meets HIPAA requirements. This makes it a practical choice for businesses that need to collect signatures electronically and place a high value on security and compliance.
DocuSign Security
DocuSign has several security measures in place to give users peace of mind. Their geo-dispersed data centers are SOC 2 audited and have DDoS mitigation in place to protect against attacks. The software also includes two-factor authentication for an extra layer of security. Overall, DocuSign offers a more robust security program than DigiSigner, but both provide legally binding signatures in the end.
5. Use Cases
Evaluating each software's use case is important when choosing a digital signature solution. Doing so can help you visualize how these tools can help you achieve your goals. 
DigiSigner Use Cases
DigiSigner helps sales teams close deals faster by simplifying the document management process. With its ability to send and resend contracts and proposals, DigiSigner ensures that all parties have the most up-to-date document version. In addition, automated notifications keep everyone informed about the status of signatures, minimizing delays while awaiting a final document. With DigiSigner, sales teams can focus on what they do best: Selling.
DocuSign Use Cases
DocuSign is an essential tool for businesses of all sizes. Its multi-language support makes it ideal for executing international sales transactions. Adding digital signatures to change orders helps streamline the process and prevent delays. DocuSign's security features can also help HR teams with employee onboarding—the platform can ensure that all necessary paperwork is signed and stored in a highly secure place.
6. Support
Anyone who has ever dealt with a frustrating customer service experience knows how important it is to have access to a good support team. When managing important documents that need to be signed electronically, you should trust that the software you're working with will help if you run into any problems.
DigiSigner Customer Support
Users have had positive experiences with DigiSigner's customer support, despite the software having more limited help options than DocuSign. For DigiSigner support, you only have the option to submit a form or email or to call their office. DocuSign has a more expansive community of users who can help. However, DigiSigner users report that the customer support team is responsive and helpful.
DocuSign Customer Support
DocuSign offers several options for customer support, including phone support, opening a support ticket, and asking the community. Phone support is available for customers who need immediate assistance. Asking the community is a great option for customers searching for answers about using DocuSign. The community comprises other users familiar with the product who can offer helpful advice. API support is available through a separate help center for customers who need help integrating DocuSign into their existing software.
7. Plans & Pricing
Both platforms offer various plan options and pricing models, so evaluating them side-by-side is important to determine which tool best fits your budget.
DigiSigner Plans
Unlike DocuSign, DigiSigner offers a free plan with up to three documents per month. Its Team plan is priced like DocuSign's Business Pro plan at $40 per month for up to five senders—and includes a 14-day free trial. This plan becomes more affordable than DocuSign's as you add more users, which can be a huge plus for scaling teams.
DocuSign Plans
DocuSign offers four different pricing plans. Its most basic Personal plan provides up to five electronic signatures per month and automated reminders for $10 per month (billed annually). Its more advanced plan, the Business Pro plan, offers additional features like collaborative fields and SMS authentication. This plan is priced at $40 per user per month for up to five users.
8. Customer Reviews
Both platforms offer a variety of features and pricing options, so it makes sense to read reviews from real users to get a sense of what they did and didn't like about each service. Trustworthy reviews can help you see beyond what's being advertised.
DigiSigner Reviews
DigiSigner users love the platform's features, including its reasonable pricing, user-friendliness, and customization options. While there are some areas where users have found issues, such as emails going to spam and some confusing navigation elements, the document signing software is well-liked by its users overall.
DocuSign Reviews
DocuSign is a popular document signature software that offers robust collaborative features and ease of use. Many users love DocuSign for its name recognition and for making it easy to sign documents electronically. However, some users have complained about minor usability issues and feature requests. In addition, some clients are dissatisfied with DocuSign's pricing structure, which is steeper than DigiSigner's.
DigiSigner vs. DocuSign: Which Should You Choose?
Both DigiSigner and DocuSign offer a compelling feature set that can help your team scale their eSignature operations. In conclusion, we recommend choosing a tool based on the following use cases:
DigiSigner: Best For Small Businesses With Scaling Teams
DigiSigner's more affordable plans make it an attractive option for teams that need a straightforward solution for their eSignature needs—without the excess features. DigiSigner has customers worldwide, particularly in insurance, professional services, and the financial industry. A large portion of DigiSigner's customer base comprises small to midsize businesses with under 10,000 employees. Bonus: Here are some other DigiSigner alternatives.
DocuSign: Best For Large Teams with Complex Needs
DocuSign's robust feature set, premier security, and scalability make it an ideal choice for large teams with complex business needs. DocuSign's services are used by some of the world's largest organizations. In addition, DocuSign boasts a robust security program, which is ideal for large organizations that require best-in-class security.
Still Unsure? Try Signaturely Instead
While DigiSigner and DocuSign offer a comprehensive eSignature solution, there are a few reasons why choosing Signaturely over DocuSign or DigiSigner might make sense for your business.
Signaturely is one of the top DocuSign competitors available. One of the biggest advantages of using Signaturely is that it is incredibly easy to use. Anyone in your organization can create an account and use the software with minimal training.
Another great benefit of choosing Signaturely is its accessible advanced plans. If you have many employees who need to sign documents electronically, its Business Pro plan is a great choice. Priced at $30 per user per month, it includes many of the same features you get with DocuSign and DigiSigner at a more affordable price point. Signaturely offers a generous free tier with access to robust productivity integrations. So, if you're unsure whether Signaturely is right for your business, you can try it out before committing.
Signaturely offers the same features as DocuSign and DigiSigner, making electronic signatures legally binding. You can rest assured that all documents are encrypted and stored on secure servers. The platform also provides two-factor authentication to prevent unauthorized access to your account.
What You Need to Remember About DigiSigner vs. DocuSign
DocuSign's robust feature set and premier security are unrivaled in the industry. DigiSigner is the best choice for small business scaling teams; its more affordable pricing makes it a great value for businesses of all sizes. Consider other robust options like Signaturely that might better help your company achieve its goals. Ultimately, deciding which electronic signature solution to use should depend on your team's specific business needs.