If you're like most teams, you and your colleagues have probably considered using an electronic signature solution to help improve your workflows. But with so many options available, it can be hard to decide which is right for your business. This guide compares PandaDoc vs. Adobe Sign—from pricing to customer reviews—to help you make the best decision for your business.
Get to Know PandaDoc vs. Adobe Sign
PandaDoc and Adobe Acrobat Sign provide robust electronic signature solutions to users across various industries. Let's take a closer look at each platform. 
PandaDoc Overview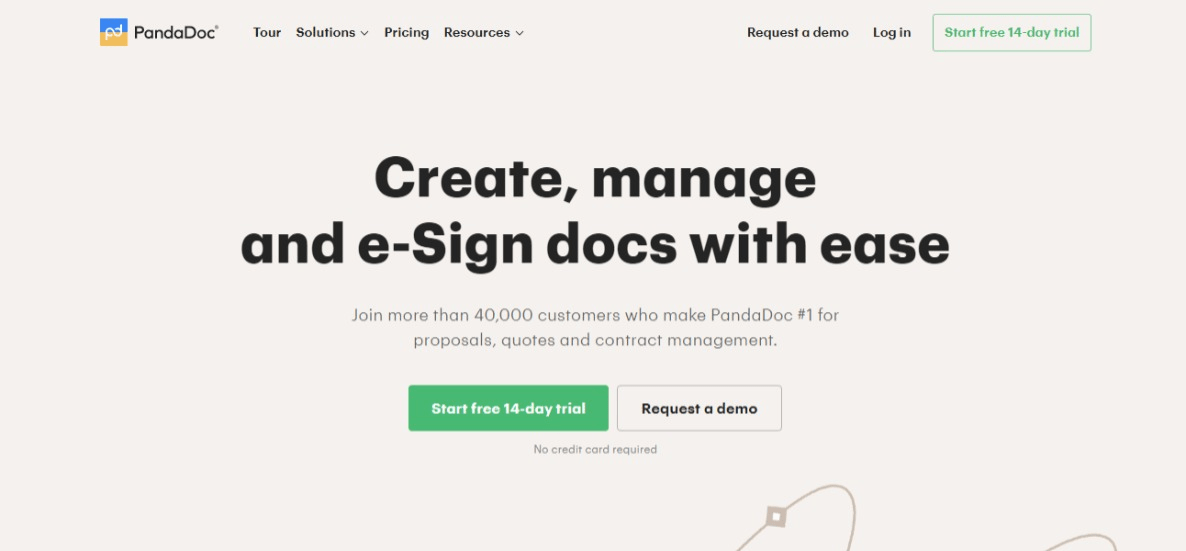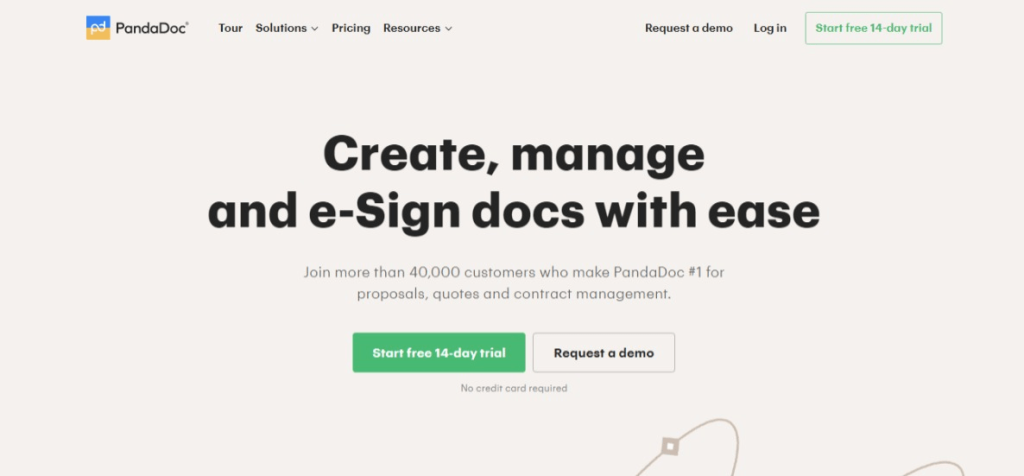 PandaDoc is a cloud-based document management solution that helps businesses easily create, manage, and sign documents and PDF files. The platform is used in many industries, including construction, education, manufacturing, and healthcare, to streamline document workflows and improve collaboration. With PandaDoc, users can create signatures for documents, build templates, track document activity, add eSignatures, and more. 
Adobe Acrobat Sign Overview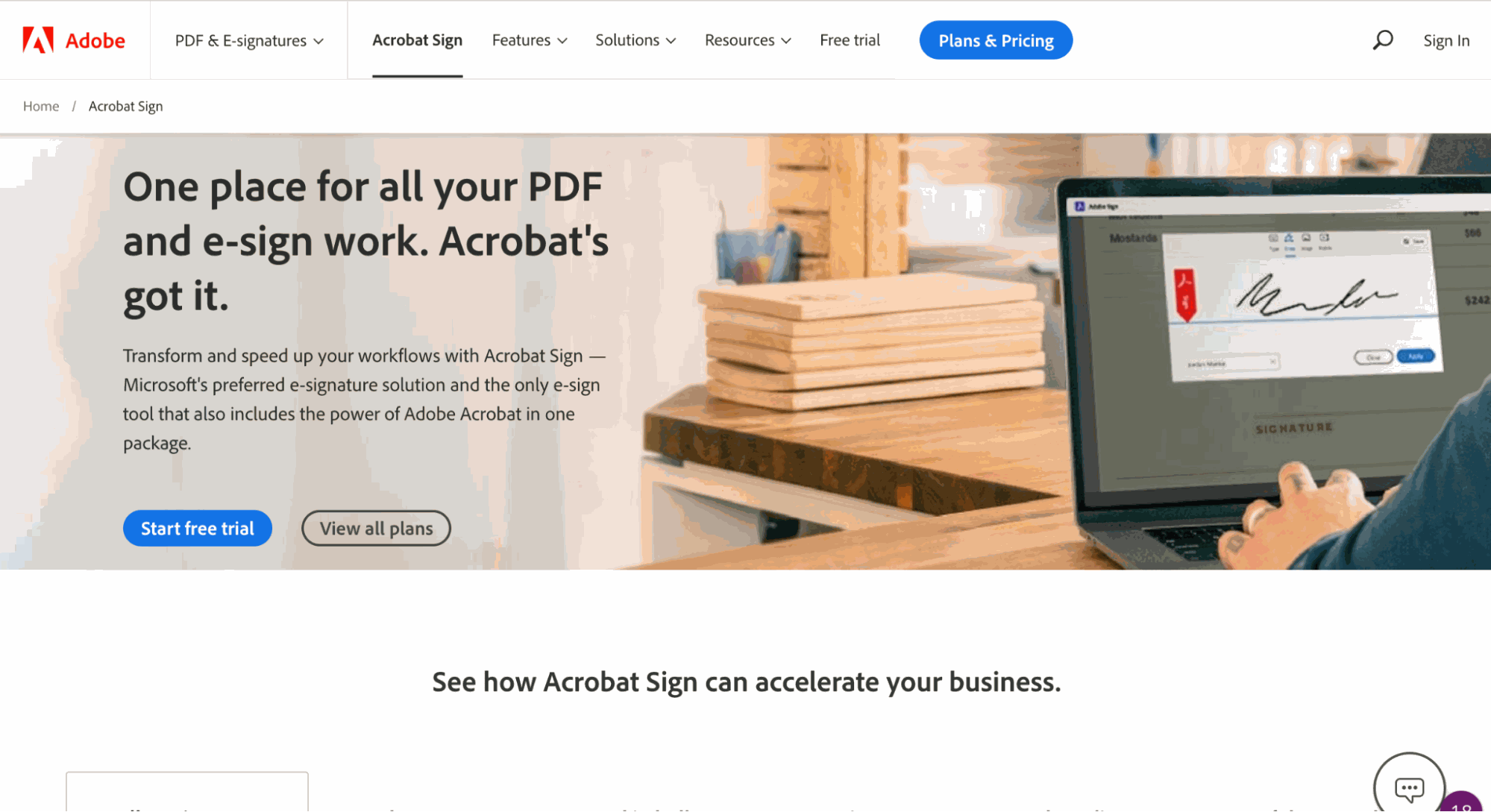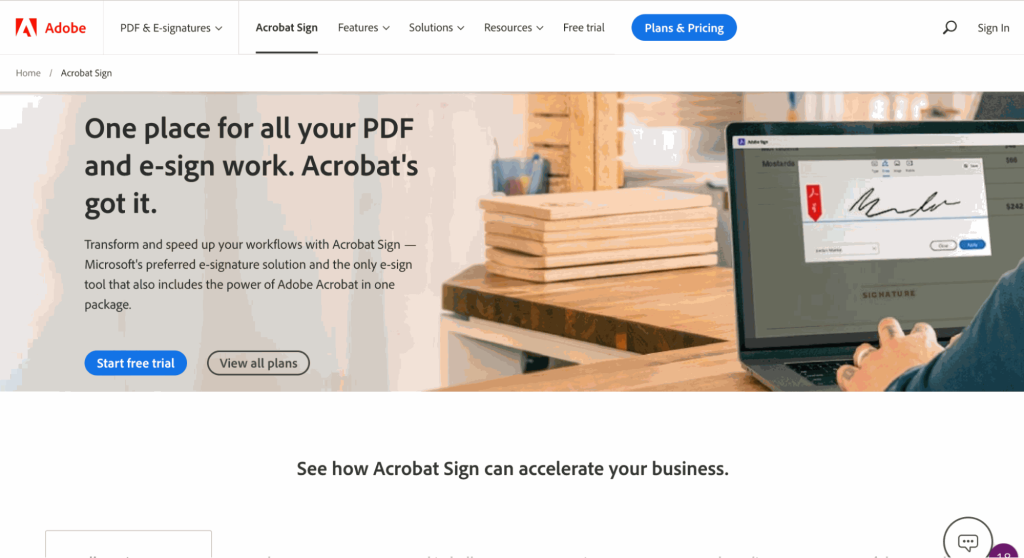 Adobe Acrobat Sign is a leading eSignature solution that helps organizations collect signatures from employees, customers, and partners. The platform makes it easy to track the status of documents and send reminders, making it a valuable tool for any organization. More than 500,000 organizations worldwide use Adobe Acrobat Sign. 
PandaDoc vs. Adobe Sign: Side-by-Side Comparison
If you're in the market for an electronic signature solution, you've likely come across both Adobe Acrobat Sign and PandaDoc. While they have some similarities, this side-by-side comparison breaks down the differences and will help you decide which platform is right for your team.
1. Key Features
PandaDoc and Adobe Acrobat Sign offer a wide range of similar features, including custom workflows, templates, and CRM integrations. PandaDoc has a slight edge in providing analytics on your signatures and documents. 
PandaDoc Features
PandaDoc is a document automation and contract management software that helps businesses streamline their document creation and online signing processes. With PandaDoc, you can create and send digital documents, track document activity, and manage approvals—all in one place. PandaDoc also offers a content library of professionally-designed templates and a document builder to make it easy to get documents signed electronically. 
Adobe Acrobat Sign Features
Adobe Acrobat Sign is a versatile tool that can be used to collect digital signatures from websites or bulk-send documents. One of its exceptional features is language customization for global operations. Another key feature is the ability to embed a signature form on websites to capture signatures. This allows users to sign PDF documents without downloading and installing software on their Windows or Mac desktop. Adobe Acrobat Sign also offers the ability to bulk-send documents. 
2. Integrations
PandaDoc and Adobe Acrobat Sign have similar integrations with the most popular productivity tools. These integrations allow you to plug sales, marketing, and HR into eSignature workflows. While some differences exist between PandaDoc and Adobe Acrobat Sign's integrations, the platforms are compatible with a wide range of programs that are likely to cover most of your workflows. 
PandaDoc Integrations
PandaDoc includes integrations across CRM, payment, and storage platforms, including:
Google Workspace
Zoom
Microsoft Teams
Pipedrive
Zoho
Adobe Acrobat Sign Integrations
Adobe Acrobat Sign allows you to store files in the Adobe Cloud and integrates with your existing tools, including:
Google
Salesforce
Oracle
Workday
Box
3. PandaDoc vs. Adobe Sign: Ease of Use
Both platforms deliver an easy-to-use digital signature experience, with PandaDoc having a slight edge over Adobe Acrobat Sign. However, users point out that there's a more significant learning curve in adopting and implementing PandaDoc across large teams. 
PandaDoc Usability
PandaDoc has an intuitive interface that makes it easy to create and edit documents. Its overall usability score is high, making it a good choice for businesses that must create and manage many documents. One limitation is that some of the design elements can be restrictive.
Adobe Acrobat Sign Usability
Adobe Acrobat Sign is a great tool for large-scale implementation because of its ease of use. Its simple interface allows users to get started with limited training quickly. The real power of Adobe Acrobat Sign lies in its ability to automate the signing process, which can save you a significant amount of time. 
4. Security & Compliance
PandaDoc and Adobe Acrobat Sign provide best-in-class security measures to ensure your electronic signatures are safe. 
PandaDoc Security
PandaDoc is committed to maintaining the highest level of security for its customers. The platform is HIPAA compliant and SOC II Type 2 certified. GDPR compliance is also part of PandaDoc's certification. The platform uses AWS to ensure that all data is stored securely. Its eIDAS compliance guarantees that PandaDoc's software meets the strictest data security standards. 
Adobe Acrobat Sign Security
Adobe Acrobat Sign is a reliable and secure way to manage documents. The software uses multiple user authentication methods, document certification, and ANSI tier 4 data centers to protect your information. In addition, Adobe Acrobat Sign is SOC II Type 2 compliant. 
5. Adobe Sign vs. PandaDoc: Use Cases
While PandaDoc and Adobe Acrobat Sign have similar features, they're optimized for different use cases.
PandaDoc Use Cases
One popular use case for PandaDoc is collecting payments online. With PandaDoc, you can reduce the time it takes to collect payments by automatically sending invoices and payment requests to your customers. Plus, PandaDoc integrates with accounting software to speed up invoicing. As a result, using PandaDoc to sign documents and collect payments online can save you time and money.
Adobe Acrobat Sign Use Cases
Adobe Acrobat Sign helps you streamline HR document completion. By digitizing documents and storing them in the cloud, Adobe Acrobat Sign makes it easy for HR professionals to access the documents they need exactly when they need them. And because Adobe Acrobat Sign allows for eSignatures, documents can be completed faster than ever. 
6. Customer Support
Both PandaDoc and Adobe Acrobat Sign's customer service have been well-reviewed, but Adobe Acrobat Sign has a slight edge. Some PandaDoc users have noted a quick response time and resolution. However, users have also reported extended wait times before receiving a response. 
PandaDoc Support Options
PandaDoc offers robust documentation for getting started, integrations, team management, and FAQs. The platform also allows you to submit a customer support request via form. 
Adobe Acrobat Sign Support Options
Adobe offers the ability to contact support via its app. The platform also provides a comprehensive user guide, tutorials, and a beginner's guide to help you get started.
7. PandaDoc vs. Adobe Sign: Plans & Pricing
PandaDoc plans have a wider range of options. While they're higher priced, they offer more analytics features than Adobe Acrobat Sign. PandaDoc also provides a free tier, unlike Adobe Acrobat Sign. Both platforms offer free trials of their plan—although Adobe Acrobat Sign only includes a free trial of its Individual Pro plan.
PandaDoc Plans
PandaDoc has a free plan with unlimited documents and payments. Its Essentials plan starts at $19 per user per month. This plan includes templates, document analytics, and 24/7 chat support.
Adobe Acrobat Sign Plans
Adobe Acrobat Sign has a simple pricing plan with a Standard and Pro option for individuals and teams. The Standard for Teams plan starts at $14.99 monthly with unlimited signatures, PDF export, and Microsoft 365 integration.
8. User Reviews
PandaDoc and Adobe Acrobat Sign score relatively high regarding customer reviews. There are key differences in what customers like and the improvements they want. 
PandaDoc Reviews
PandaDoc customers love the platform's ease of use. In addition, its native CRM integrations make it a breeze for users to streamline their workflows. PandaDoc clients report a lack of customization options for designing proposal documents—they often don't align with users' requirements.
Adobe Acrobat Sign Reviews
Adobe Acrobat Sign users quickly mention the software's ease of use and high level of performance. On the flip side, users have pointed out that some Adobe Acrobat Sign Pro features aren't sufficient for those who are power users of digital signature software. 
PandaDoc vs. Adobe Sign: Which Should You Choose?
PandaDoc and Adobe Acrobat Sign are efficient options for your eSignature operations. Their specific features and pricing models will help you determine which software is best for your company.
PandaDoc: Best For Power Users
PandaDoc offers advanced analytics features and API/SSO support for custom user roles, making it ideal for teams with complex needs. The software's comprehensive feature set allows users to automate document workflows, track document statuses, and collect electronic signatures from contacts. PandaDoc's powerful automation capabilities can streamline document management for teams of all sizes.
Adobe Acrobat Sign: Best For Small Businesses and Individual Users
Adobe Acrobat Sign is a versatile and affordable eSignature solution ideal for small businesses and individual users. The platform's easy-to-use interface makes it simple to create and manage digital signatures, and its wide range of features ensures that you'll find a plan that meets your needs. In addition, Adobe offers large-scale, enterprise-grade security and compliance.
Signaturely Is the Best Alternative
Signaturely is an electronic signature software that packs a punch. It offers complex electronic signature workflows with accessible pricing. Compared to Adobe Acrobat Sign and PandaDoc, Signaturely provides a generous free tier allowing businesses to send three documents out for monthly signatures and access integrations. Users can also access a free trial of Signaturely's paid plans. 
One of the biggest advantages of Signaturely is its ease of use. The platform is designed to be intuitive and user-friendly so that you can get started with legally binding signatures without any training. 
Signaturely takes security seriously and offers several features to protect your data, including encrypted storage and two-factor authentication. That way, you can get the sophisticated security offered by PandaDoc and Adobe Acrobat Sign at a lower price.
FAQs
Below are a few frequently asked questions about PandaDoc and Adobe Acrobat Sign.
Which is better: PandaDoc or DocuSign?
While PandaDoc may be slightly easier to use, DocuSign offers a more comprehensive set of features, making it more versatile and ready for use on an enterprise level. Here are other PandaDoc alternatives.
What's the difference between DocuSign and Adobe Acrobat Sign?
Both platforms offer a variety of similar features, including the ability to track document progress, access templates, and add security features. However, DocuSign is better suited for larger businesses with more complex electronic signature needs.
Is Adobe Acrobat Sign cheaper than DocuSign?
Adobe Acrobat Sign generally has cheaper plans, but DocuSign offers more robust features at lower price points. Additionally, you can find the top Adobe Sign alternatives here.
What You Need to Remember About Adobe Sign vs. PandaDoc
Adobe Acrobat Sign and PandaDoc are great tools for creating and requesting electronic signatures. Each software has different features suitable for different users, so carefully consider which platform will work best for you.