Signing physical papers is a thing of the past. Today, signing papers is all about convenience, versatility, and effectiveness.
In this article, we'll show you four ways to sign papers and outline their pros and cons electronically. By the end, you'll know your best method of signing papers online.
Let's get started.
1. Electronic Signature Software
Electronic signature software allows you to sign papers online and takes care of the whole signing process for you.
They can improve your document management by allowing you to handle multiple signature requests, keep track of contracts, and get analytics in one place.
Signaturely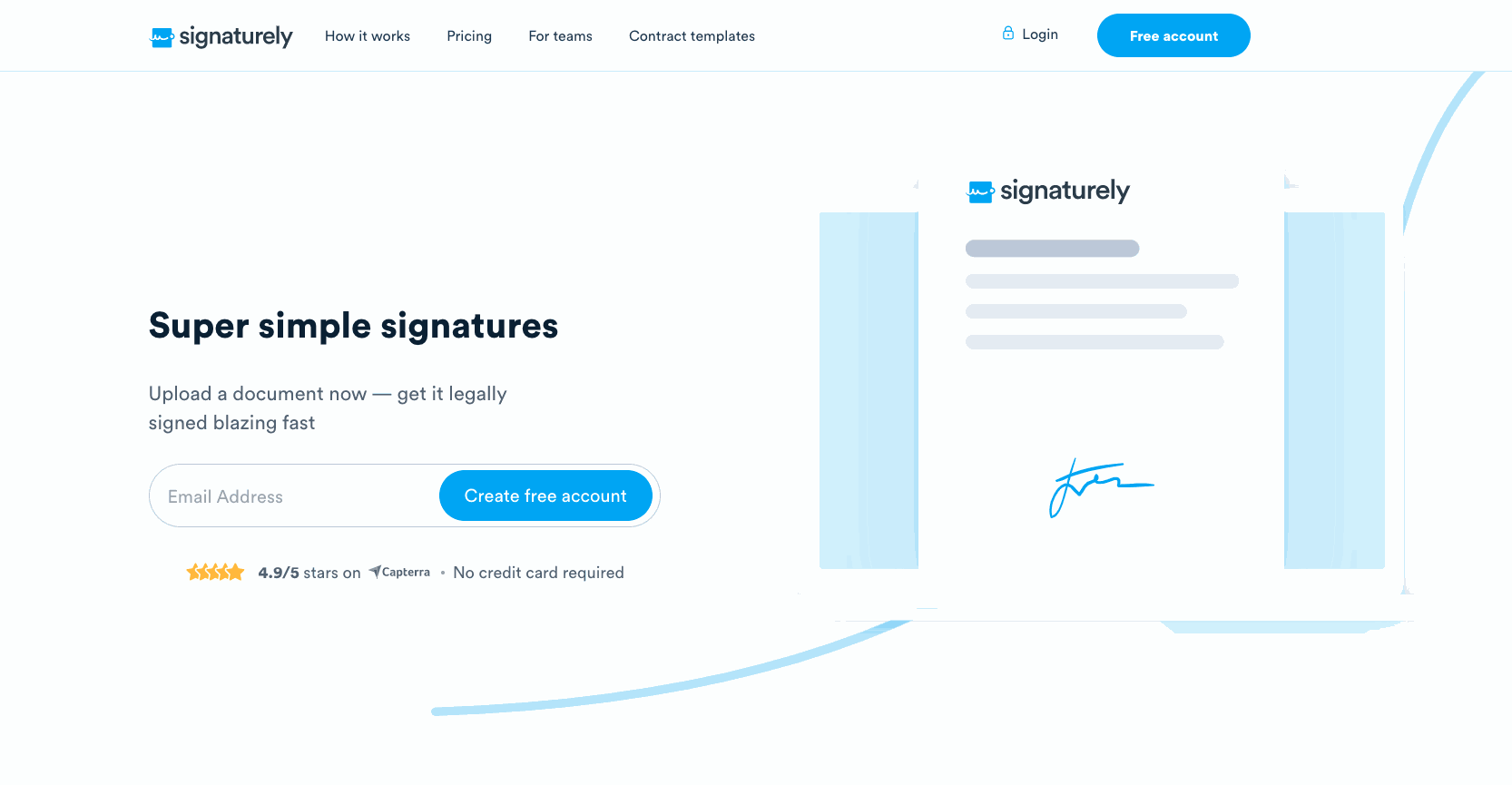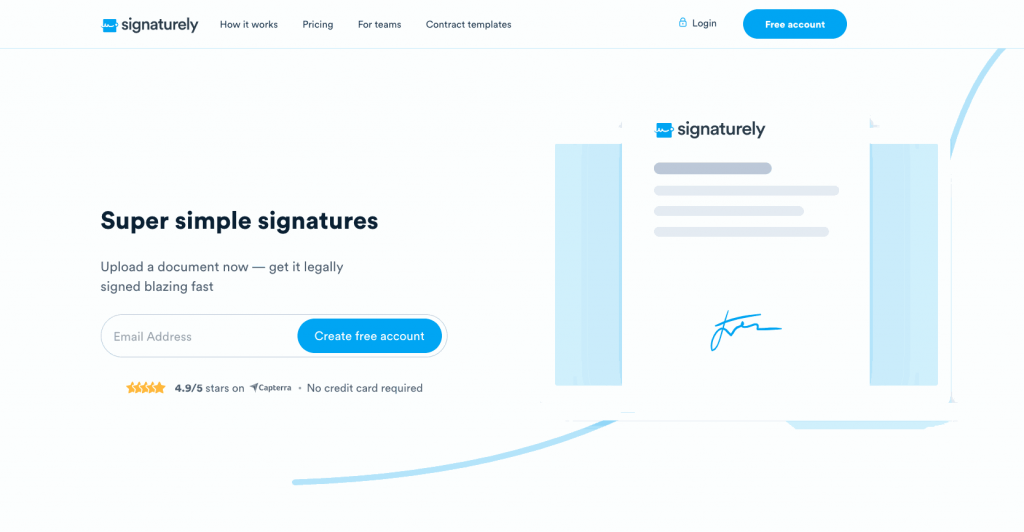 Signaturely is a simple and effective electronic signature software created to help you upload documents and legally sign them online as fast as possible.
With simplicity at its core, Signaturely has everything you need to start getting electronic signatures through a responsive and intuitive UI.
Why Signaturely is one of the best tools for digitally signing papers
Using Signaturely is extremely simple. Just upload your documents from your computer or cloud service. Then you can add the signature fields and the information of your signers and send them a signature request.
Your signers will be notified that their signature is required. Signaturely will then guide them through every step of the signing process, from creating an online signature, if they don't have one already, to signing the last box.
Is someone taking too long to sign? Send them a gentle reminder in-app to get things moving again.
This will not only drastically improve your signing process, but it can also improve your customers' experience, allowing you to get more electronic signatures faster.
Main Features
Here are a few of Signaturely's main features:
Intuitive UI
Forget about long and unproductive training days. With a simple UI, you and your team can immediately get started on sending signature requests.
Just drop your document, place the signature fields, and send it. Signaturely will take care of the rest.
Free plan
With Signaturely's forever-free option, you can get up to 3 signature requests per month, along with the signing features. That way, you can get a signed document for free while collecting electronic signatures on all your documents.
This allows you to test the platform and pay for it only when you can afford it.
Simple signing process
It doesn't matter if your signees often sign online documents or if they've never used electronic signatures. Signaturely gives them a seamless and streamlined signing process for faster turnaround times and improved customer experience.
Signaturely takes care of your signees and customers, so you don't have to.
Pricing
Signaturely is very affordable. Its pricing starts at $10 for unlimited signature requests, so you can ask for as many documents as you need. For just $15, you get branding plus a fully unlocked tool, including unlimited documents and more advanced features.
With such affordable pricing and unlimited documents and contracts, it's easy to test out the tool and quickly get started with electronic signatures.
Sign documents online for free with Signaturely, and see if it's the right fit. We are the best HelloSign alternative available today.
Adobe Acrobat Reader DC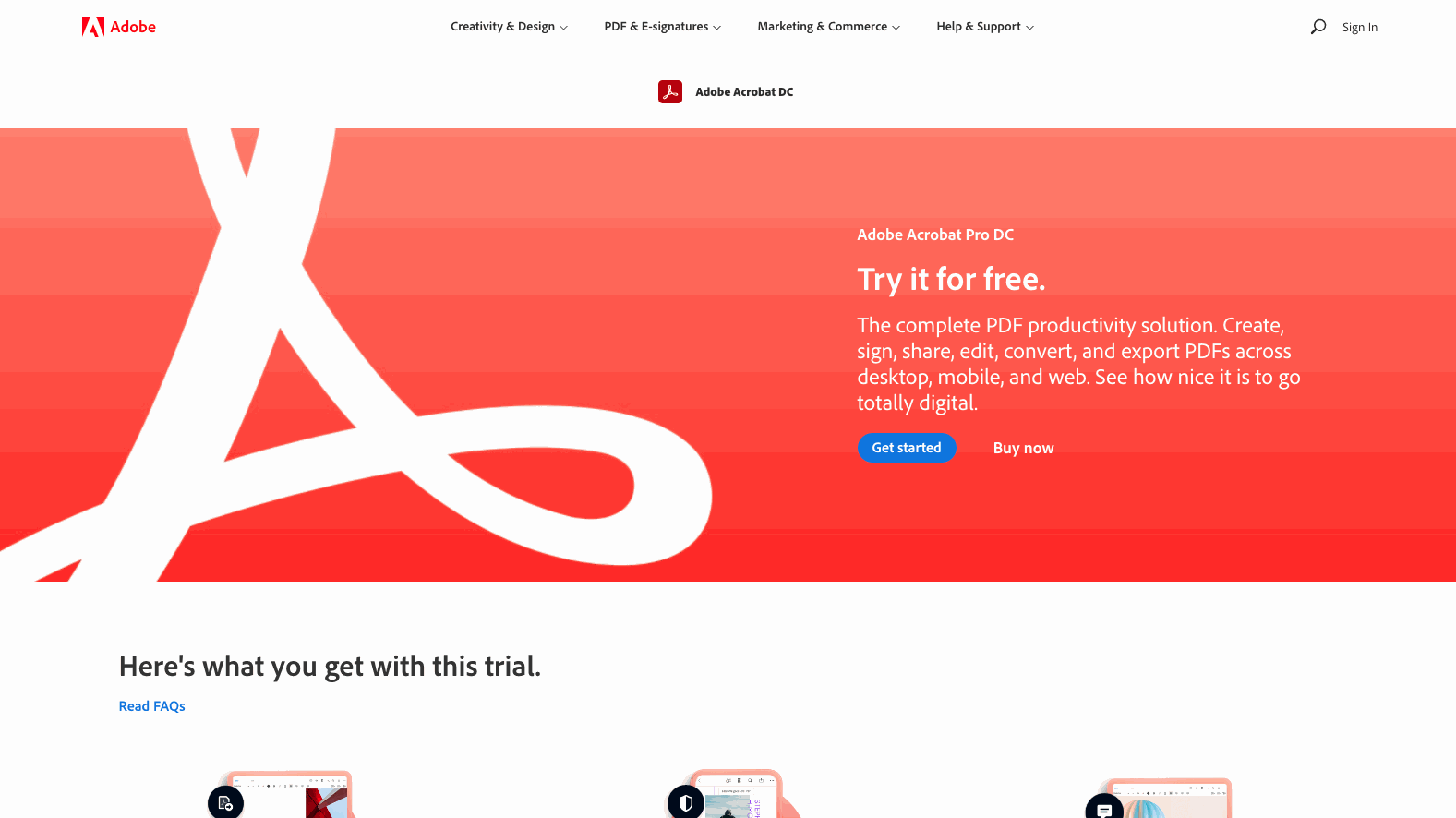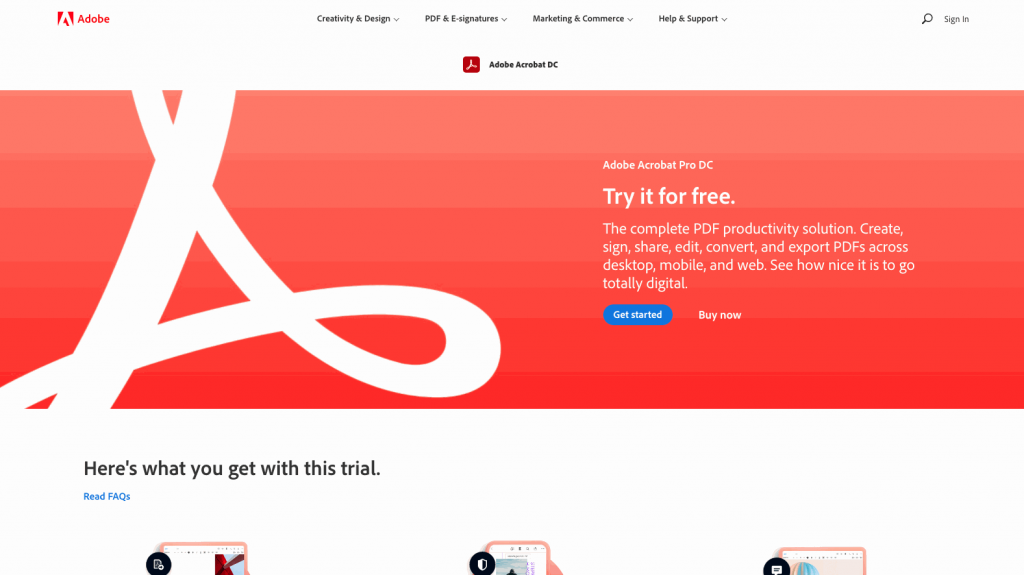 Adobe Acrobat Reader DC is a paid online signature platform with a large and reputable company behind it.
With it, users can convert multiple physical papers into online documents, collect digital signatures, and supervise multiple signature requests. The UI makes this already simple tool easy to use and understand.
The platform offers a mobile app for signing papers on the go, and it only has one pricing tier, although there are no free options.
Pros
Here are some of Adobe Acrobat Reader DC's advantages:
Simple platform
Allows to create digital signatures from a mobile device
Capable of converting physical documents to digital ones
Cons
Here are some of Adobe Acrobat Reader DC's disadvantages:
No free options
No advanced features
Bonus: Check out our DocuSign vs. Adobe Sign article and learn how to sign a PDF without Adobe here.
2. Scan and Sign
Another way of signing papers electronically is by scanning your signature and transforming it into your e-signature.
Here's how:
Step 1. Print your document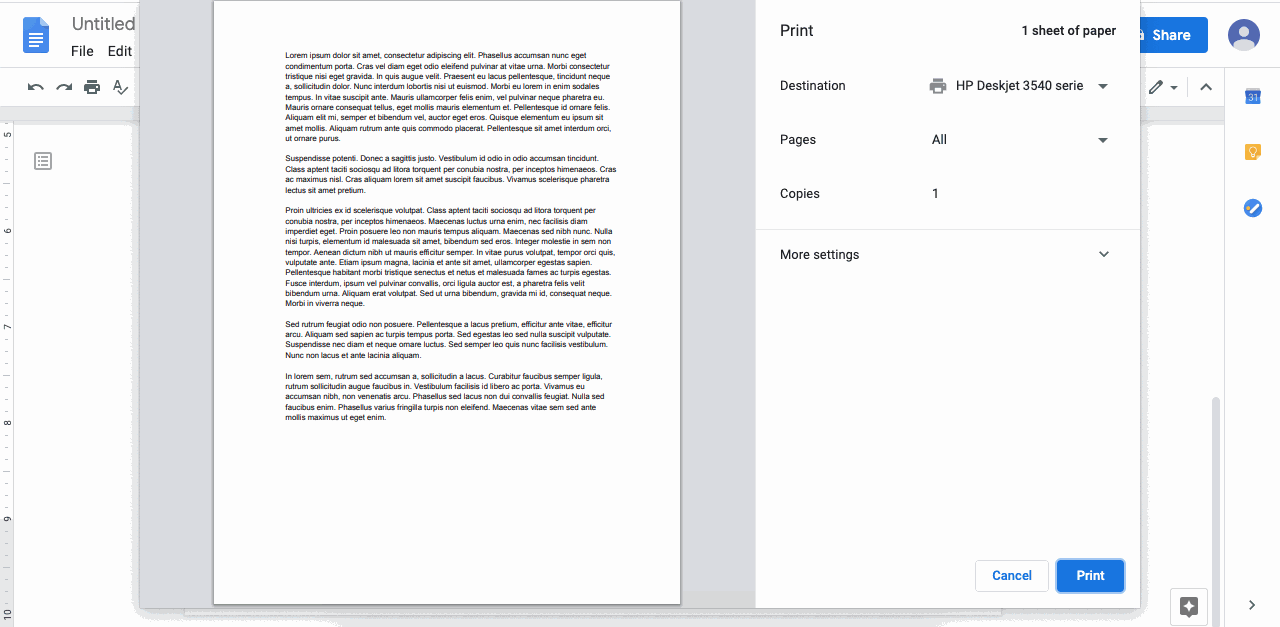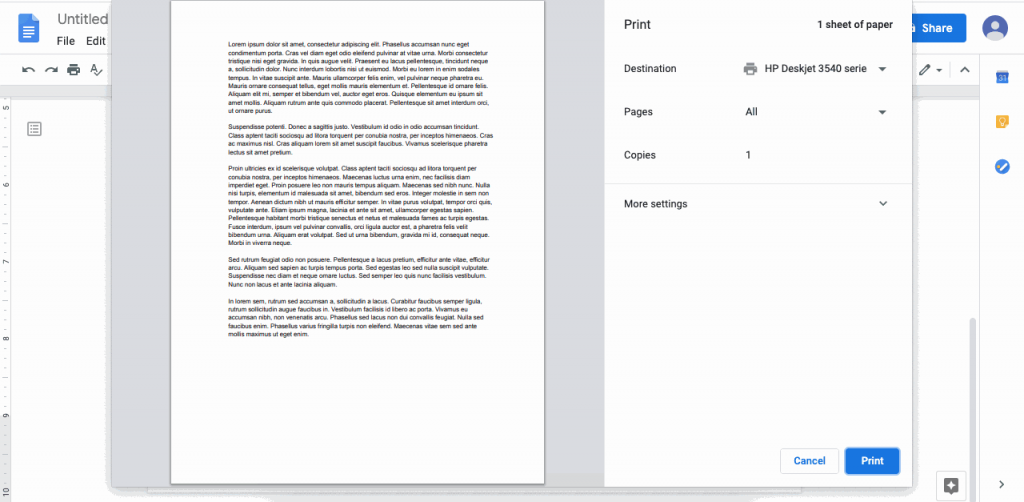 Open your document, and select the "Print" option or press Ctrl+P to get your document ready to print. Review your file, select the printer you want to use, and click "Print."
This will start the printing process.
2. Sign your document
Use a pen to sign each part of the document, usually in the margins of every sheet. Don't forget to add your electronic signature at the end.
If you make a mistake while signing any of the pages, you can print that individual page again to replace it.
3. Scan and send your signed document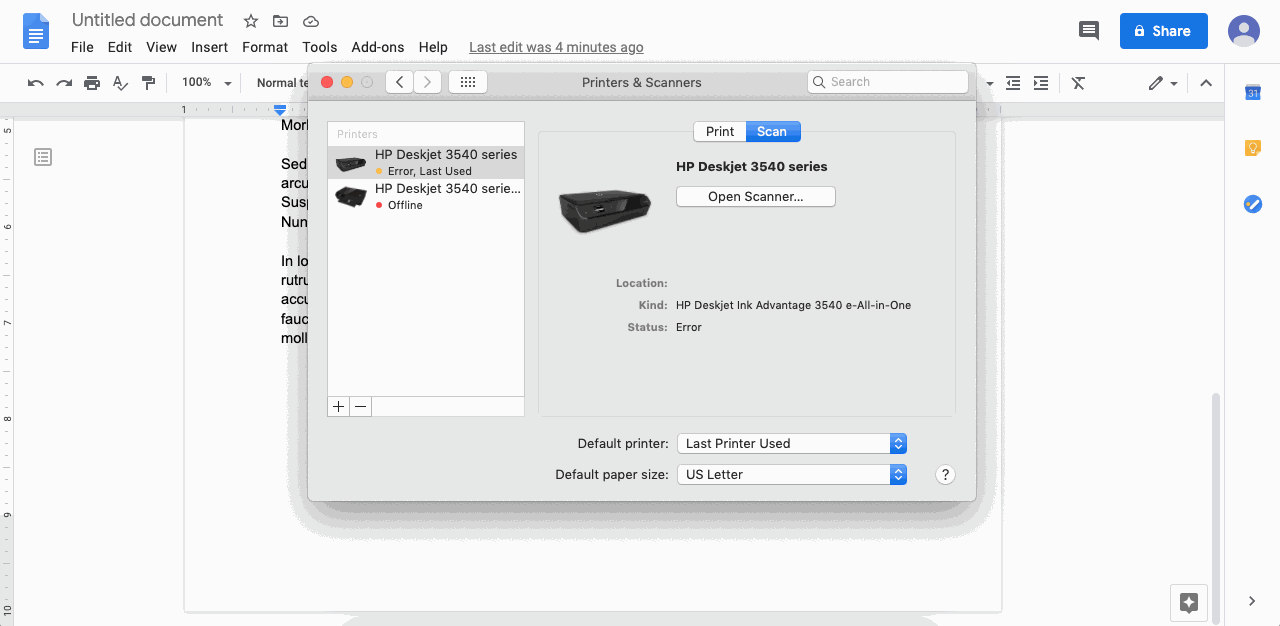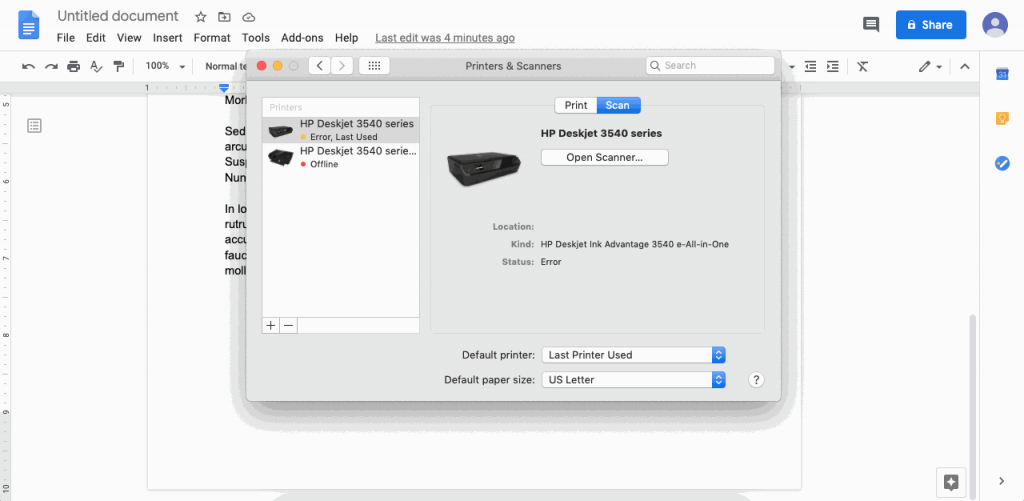 You can use a scanner connected to your computer via Bluetooth or USB to scan your signed papers. Simply follow the instructions to scan page by page and save each page as a PDF.
If you don't have a scanner, you can use a scanner app or your phone's camera app with good lighting to take a photo of your document. If you're taking a photo, you can polish the scan with a digital editing tool like Photoshop or Photopea to increase the contrast and get more clearly defined colors.
Then all you need to do is send your signed papers back!
Pros:
Very easy to do
No need for apps from other parties
Uses your handwritten signature
Intuitive process
Cons:
Time-consuming
No third-party legal support
No authentication features
Requires many tools
There you have it. From scan to email to signature.
3. Digitally Drawn Signature
If you want to skip scanning or digitize your ink signature, you can use a digitally drawn signature instead.
Here's how:
Draw your signature with your mouse or trackpad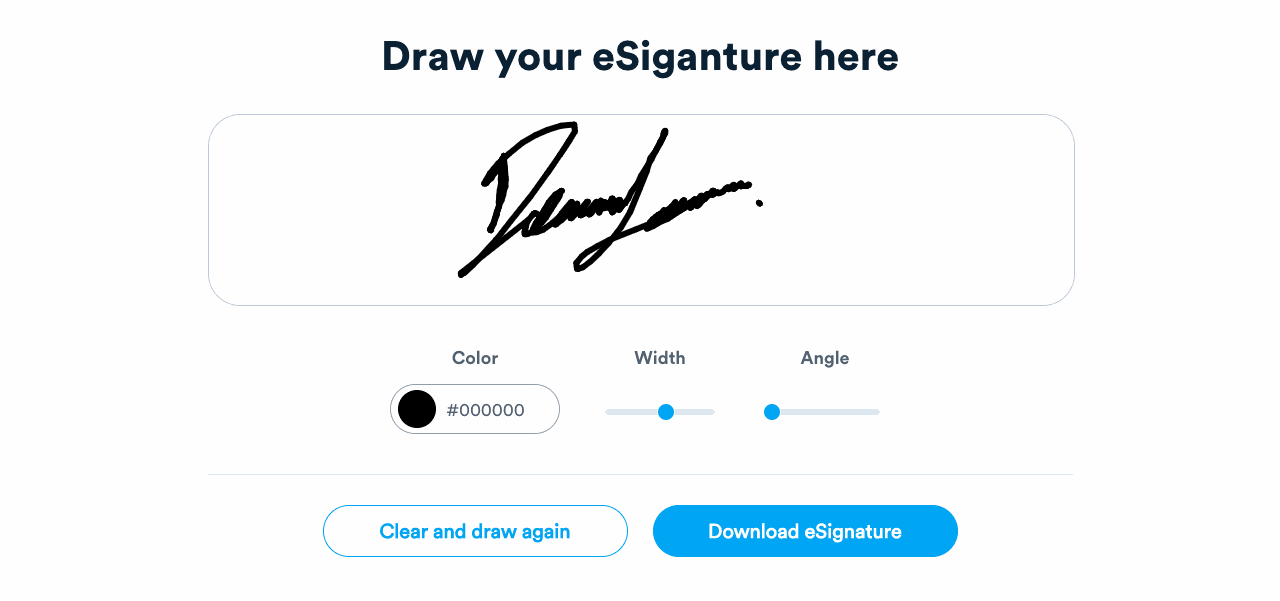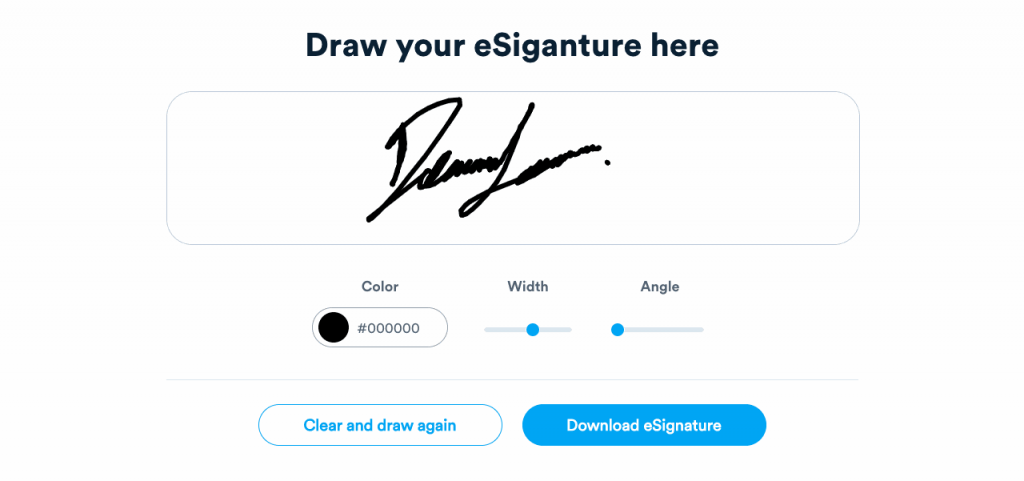 You can use Microsoft Paint or an online tool like Signaturely's Online Signature Maker to draw your signature digitally.
To design your signature with Signaturely's Online Signature Maker, select "Draw your signature." Then use your mouse or trackpad to draw your signature, personalizing the thickness and color of the lines.
Once you're done, download the file as a PNG, and it will be ready to use.
Draw your signature on a touchscreen
You can also use almost any drawing app on your phone or tablet to draw your signature. This allows you to draw a more organic signature and make it look just like your wet signature.
Open your drawing app, and use your fingers or stylus to draw your signature. You can then save it and use the image as an electronic signature.
Using your keyboard and choosing a font
Lastly, you can skip the drawing and use Signaturely's Online Signature Maker to type your signature instead.
Select "Type your signature" and use the text box to type your name or initials. You can also personalize it with a font and color. Once you're done, save the file and use it as your digital signature.
Pros
Here are some of the pros of a digitally drawn signature:
Can be as similar to a handwritten signature as desired
Endless customization opportunities
Quick and easy to do
Cons
Here are some cons of a digitally drawn signature
You still need a platform to validate them
You'll require a third-party software
4. Apps (Android and iOS)
You can also use multiple mobile apps for Android and iOS to sign papers from anywhere with your smartphone.
Android apps to sign documents online
Here are some of the best Android apps for signing documents:
Adobe Fill & Sign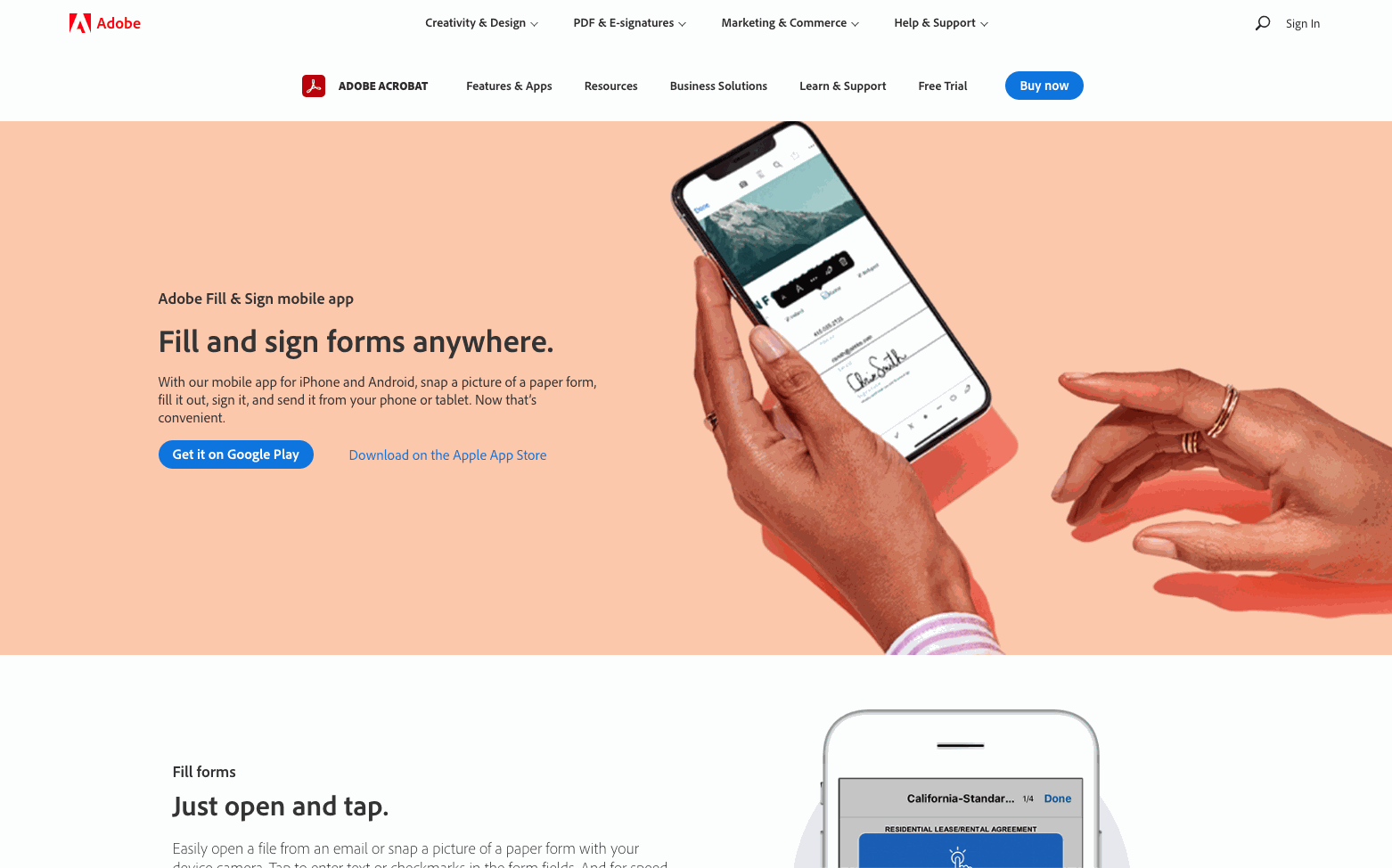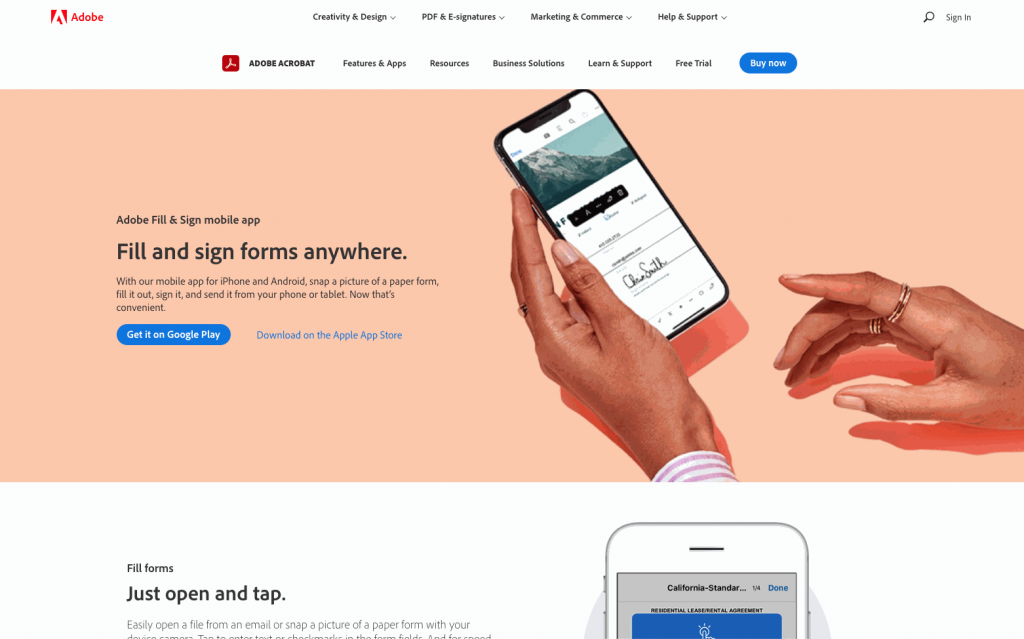 Also made by Adobe, Adobe Fill & Sign is a mobile app for signing documents on Android and iOS devices and forms.
The app is easy to set up and start signing. Once the setup process is complete, users can open their documents in the app, rearrange them, and even make quick edits.
The platform then allows users to create their signature, sign the document, and share it with the right person.
Pros
Here are some of Adobe Fill & Sign's pros:
Backed by a large company
Simple UI
Popular app
Simple electronic signatures
Cons
Here are some of the cons of using Adobe Fill & Sign:
Very limited features
Lack of advanced features for digital signatures
Multiple reports of sending incomplete forms
PDFelement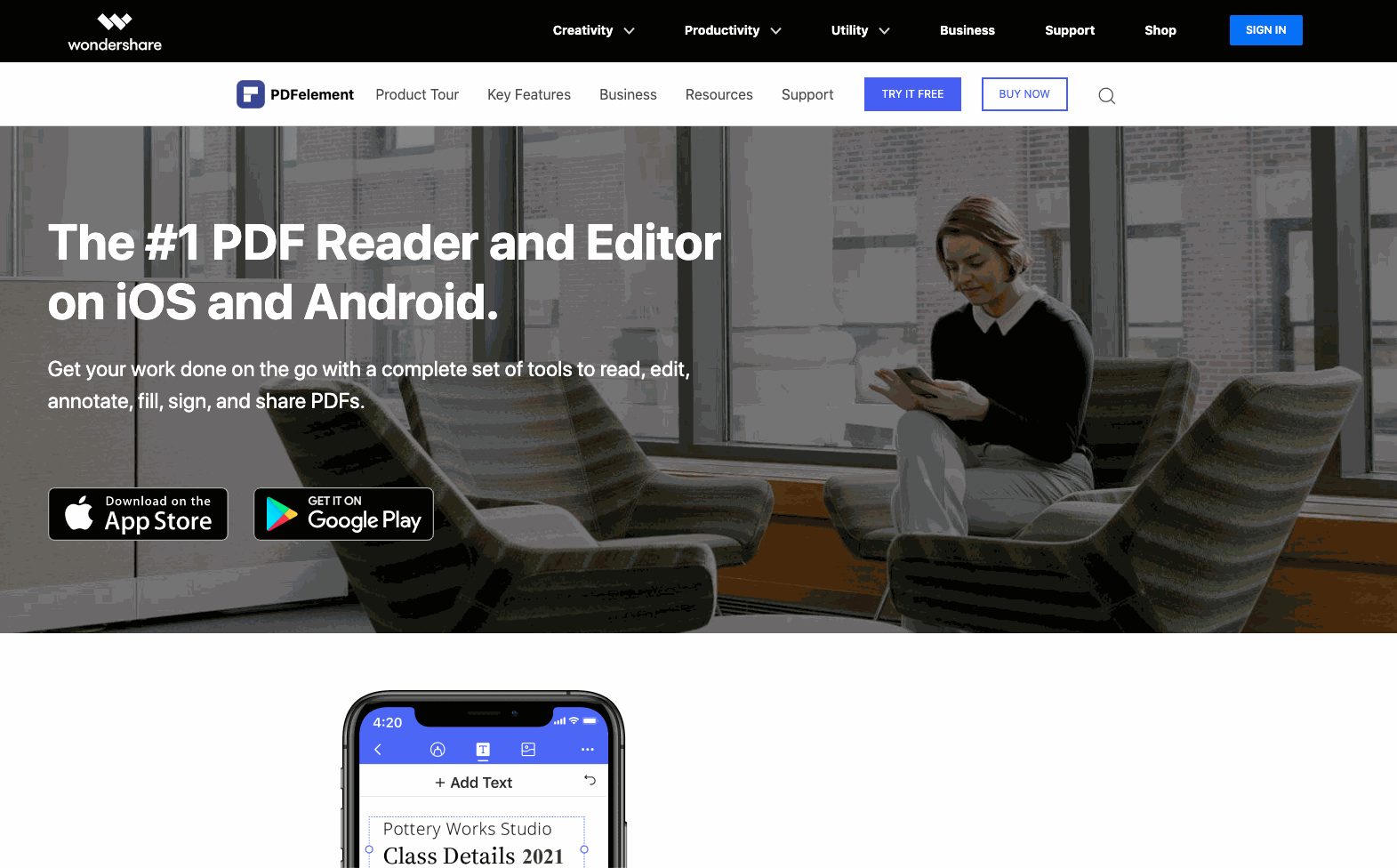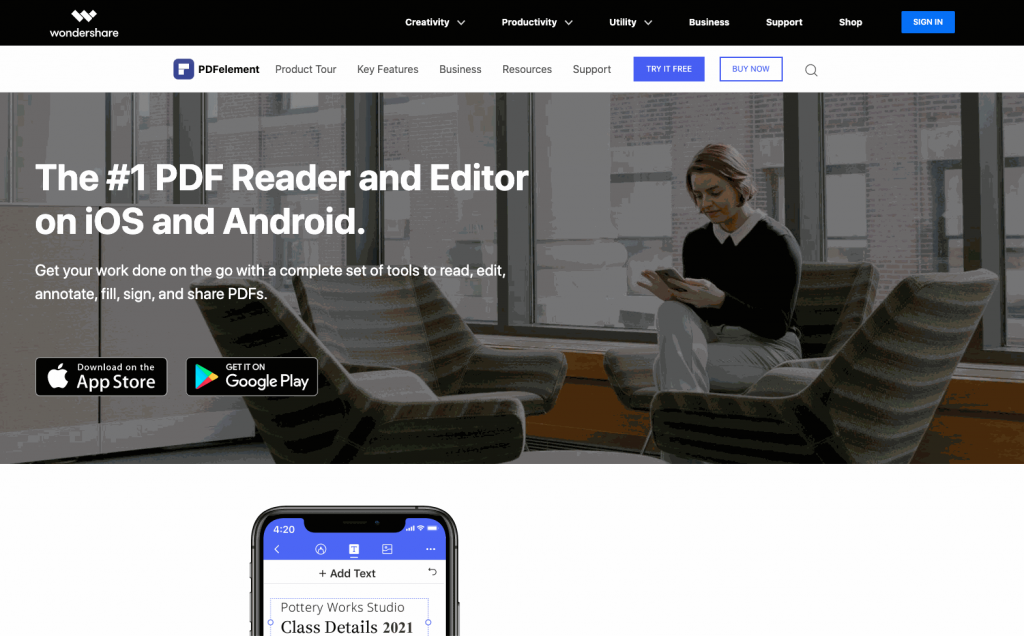 PDFelement is a PDF editor and reader for Android and iOS apps. With it, users can easily create, edit, and convert PDFs directly from their prone.
This app also allows users to add signature files to any PDF, plus comments, stamps, drawings, and even attachments. The document can then be signed with a Signature ID. However, users must let the other signing party know how to use the app when sharing their documents.
Pros
Here are some of the pros of using PDFelement's Android app:
Simple and intuitive UI
Free option
Can convert an online document into a PDF
Can add multiple things to a PDF
Cons
Here are some of the cons of PDFelement's Android app:
Lacks advanced features
Not great for smooth and simple signing processes
iOS apps for signing papers electronically
Here are some iOS apps for signing papers electronically.
Preview
You can use Apple Preview to add a signature in Pages. Although it only signs PDFs, Apple Preview has a very useful and little-known tool to add electronic signatures to any PDF.
Users can access it by opening the PDF they want to sign with Preview. Then click on the Markup icon, and select the Signature icon. Selecting Create Signature will allow users to sign with their trackpad, use the webcam to capture an ink signature or sign with their iPhone or iPad.
Once the signature is recorded, users can add it, dragging it and resizing it to fit the document.
Pros
Free
Fairly easy to use
Legally-binding
Cons
It only works for Mac users
Your signees may not know how to use it
Mail
Lastly, users can also sign documents through Apple Mail. The signing feature is under Preferences>Signatures. Users can select the email account to which they want to link a signature and create their own signature to start signing PDFs.
Mail also allows users to automatically add their signature to emails as a way to end their messages.
Pros
Here are the pros of using Mail to sign documents:
Free
Fairly easy to use
Legally-binding
Cons
Here are some of the cons of using Mail to sign documents:
It only works for Mac users who also use Mail
Not very well known
Conclusion
As we've seen, there are multiple ways of signing papers electronically. If you want to get started with a simple, free, and intuitive platform, sign up for Signaturely for free, and see if it's the right tool to start signing papers electronically today.