In our modern, technology-crazed world, signing documents online has become the norm. People rarely fax documents these days; they send them digitally. You receive an email with the document and sign it immediately.
Sounds easy, right? It can be — if you know what you're doing. The platform you use can affect how simple — or complex — signing a document is. For instance, using an iPhone can make things a little confusing.
But don't worry; in this article, we'll explain five ways you can sign documents with an iPhone, including:
Using Apple Markup
Using an electronic signature software
How to sign PDF documents
How to sign scanned documents
After reading all of this, you should be able to sign any digital document right from your iPhone easily.
Ready to get into it? Let's begin.
How to Sign a Document on iPhone
Signing a document fast is important for streamlining your digital signage workflow. You may need to deal with various forms, contracts, and agreements that require your online signature.
Below, we've outlined two strategies you can use to sign any type of document from the convenience of your iPhone.
Use Apple Markup
Markup is an iPhone feature that lets you annotate and edit various documents like PDFs, images, and screenshots. You can add your online signature — text or drawn — to a document with Markup.
The Markup feature is easy to use. Just follow these simple steps:
1. Open the Mail App
Start by opening the Mail app, as this is where you'll be using the Markup feature. It syncs right into the email interface, so the process isn't complicated. 
2. Choose to Reply to an Email or Compose a New One
After opening the app, decide whether you're responding to an email you've received or sent a new one out. Either way is fine, as it's simply a matter of attaching your document to the email in question. The Markup feature will allow you to attach your digital signature to the document.
3. Add Your Signature to the Document
To add your digital signature to your document, start by tapping the body of your email. After doing so, tap the cursor, and select "Insert Photo or Video Attachment." Scroll through the options, and look for the document button: find the PDF document you want to sign.
Once you've identified the PDF document, tap it, and tap the left arrow button. Then, tap the "Markup" button, and press the plus symbol to add your digital signature to the document.
You can decide whether you want to type your signature or draw it. You can also add additional information if the document requires it.
Use an Electronic Signature Software
Another great way to sign documents online is to use what's known as "electronic signature software." This application allows you to easily sign digital documents, streamlining your signage workflow.
An electronic signature tool is a great option if you're dealing with very large amounts of documents frequently. This might be a better option for larger businesses and organizations because of all the extra features.
Signing a document from your iPhone with Signaturely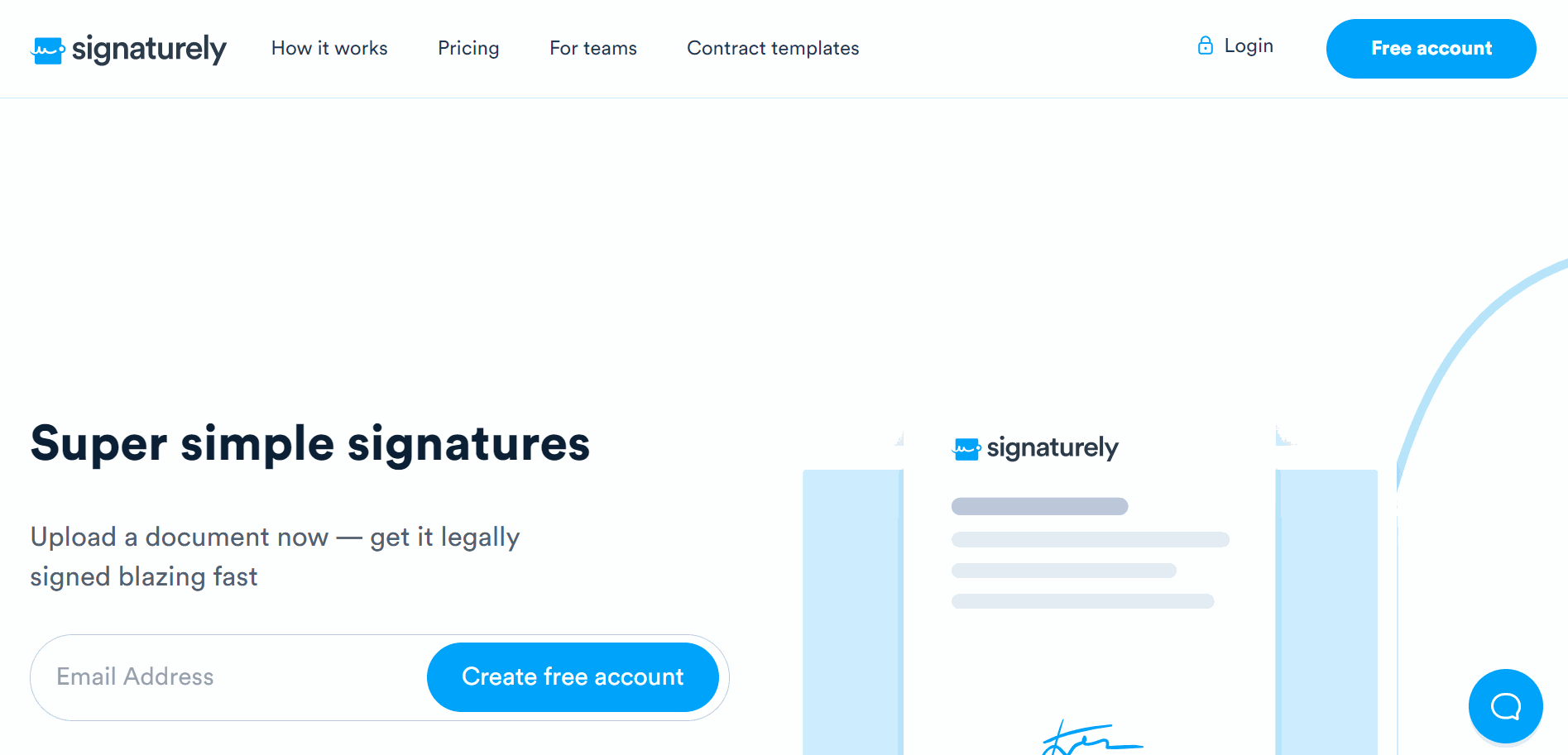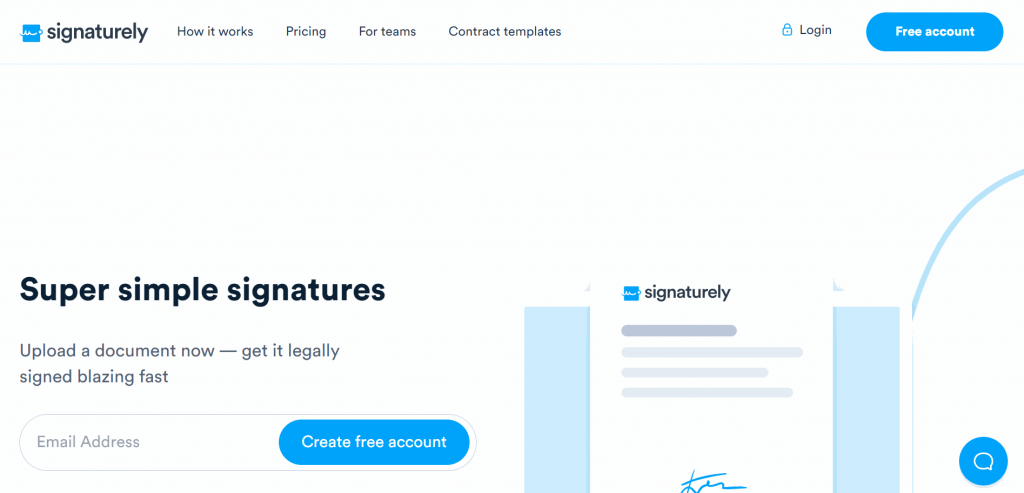 Signaturely is a digital signature tool that's free and easy to use. Its simple interface makes signing documents online effortless, regardless of your device. It also doesn't matter what format your document is in. Signaturely helps you sign them all, including:
PDF documents
Word documents
Scanned documents
This is an app suited to teams with considerably larger digital signage workflows. It can help you streamline, optimize, and increase efficiency, resulting in a more productive organization. Your team will spend less time faxing and more time working.
To give you a better understanding of how Signaturely works, here's a step-by-step tutorial.
1. Log in to Your Signaturely Account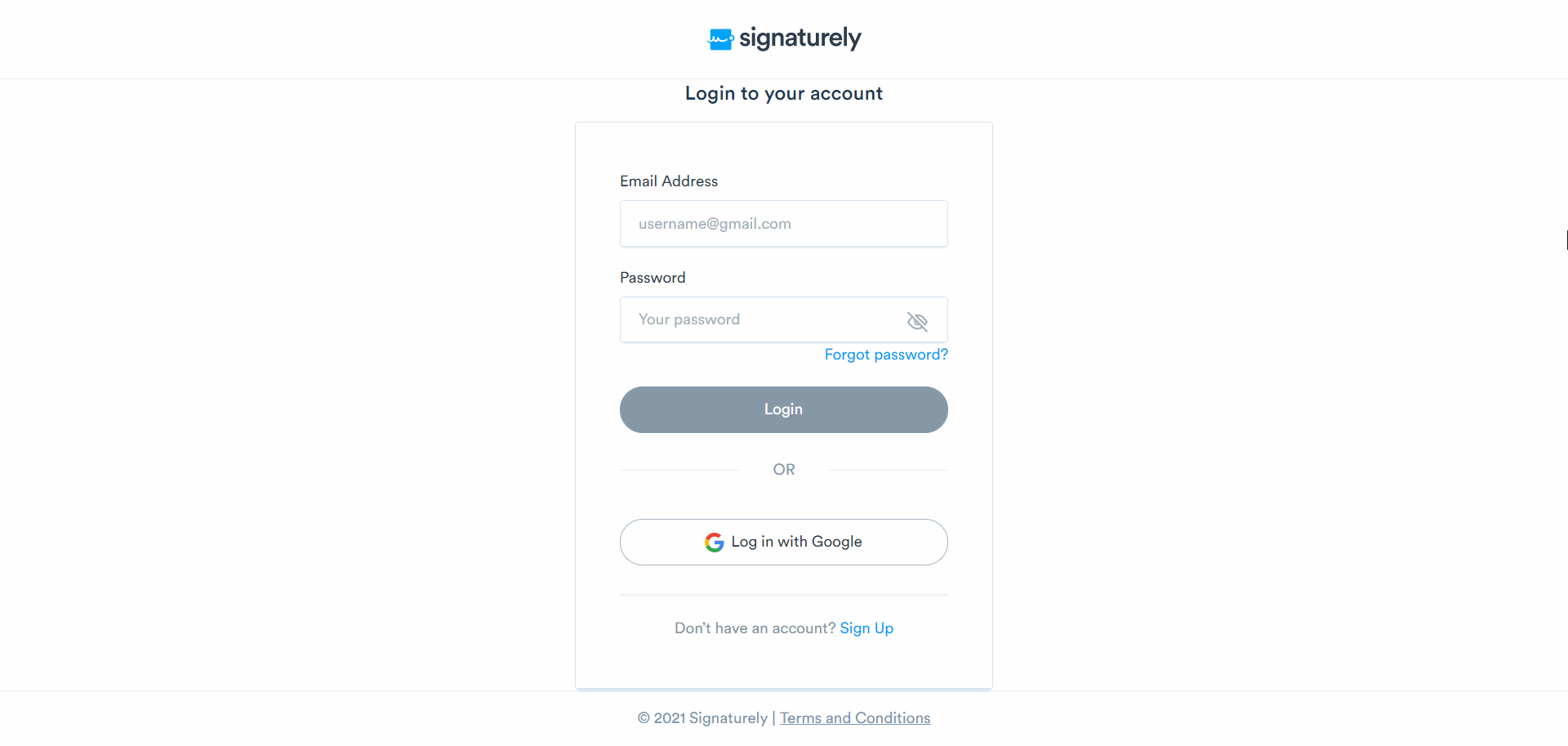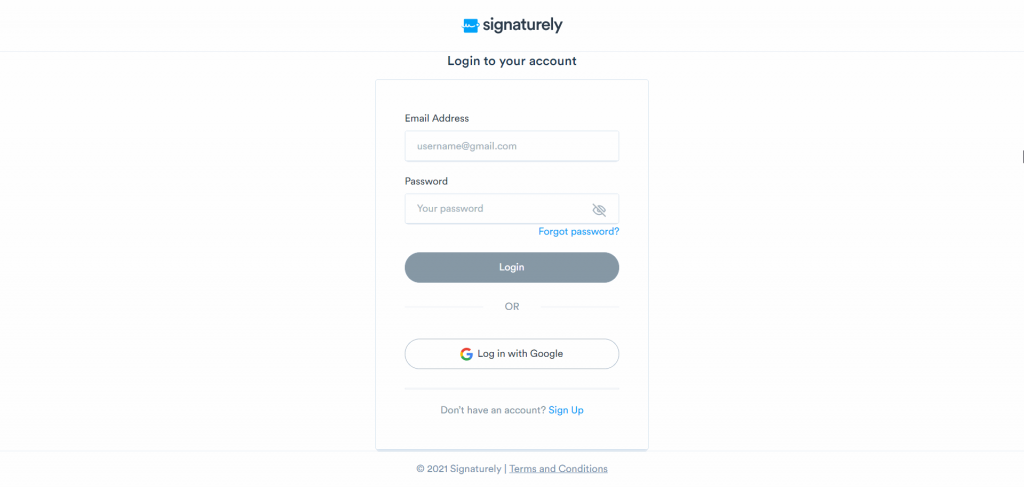 Begin by signing into your account on the Signaturely website. If you haven't already got an account, register for one — it's free.
2. Choose Who Needs to Sign Your Document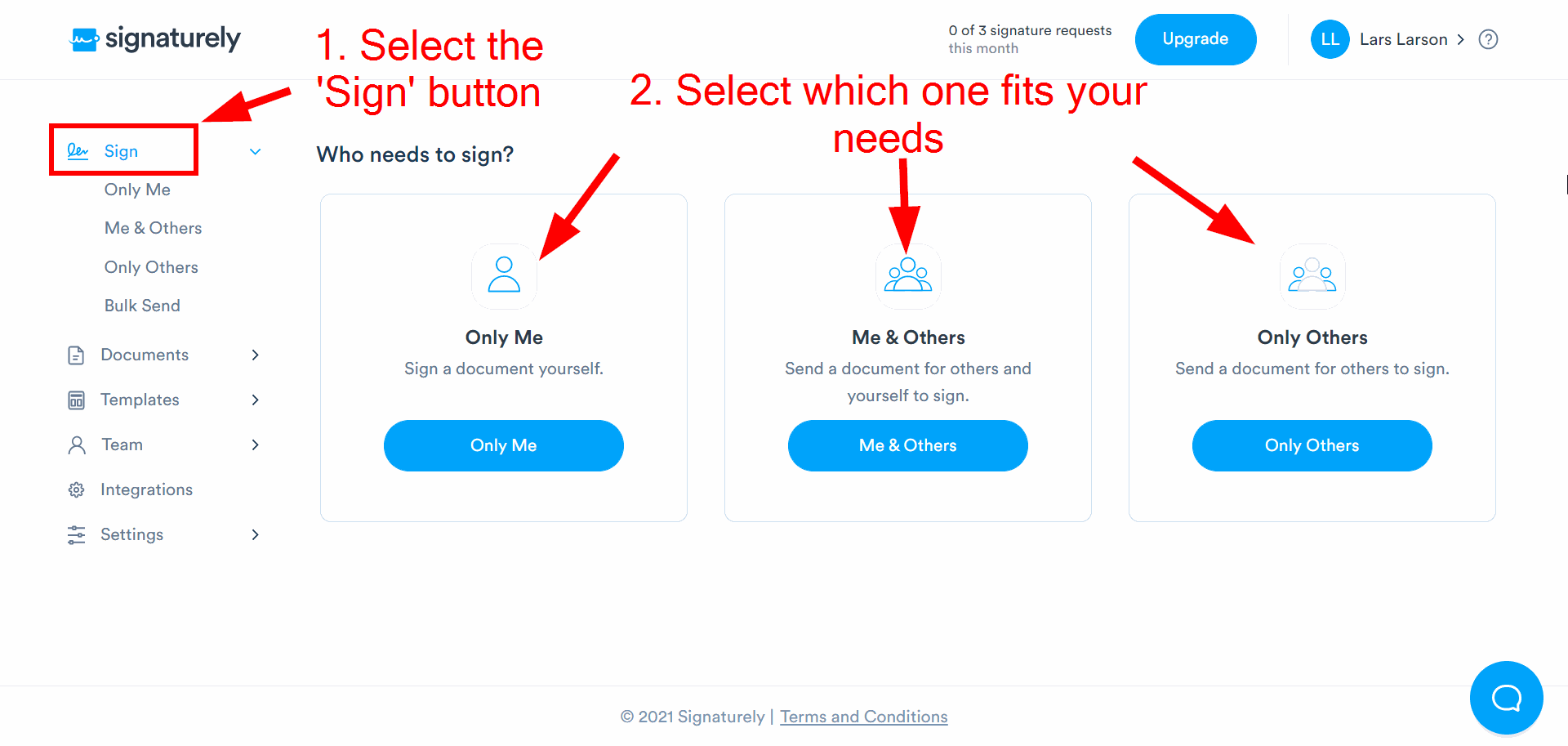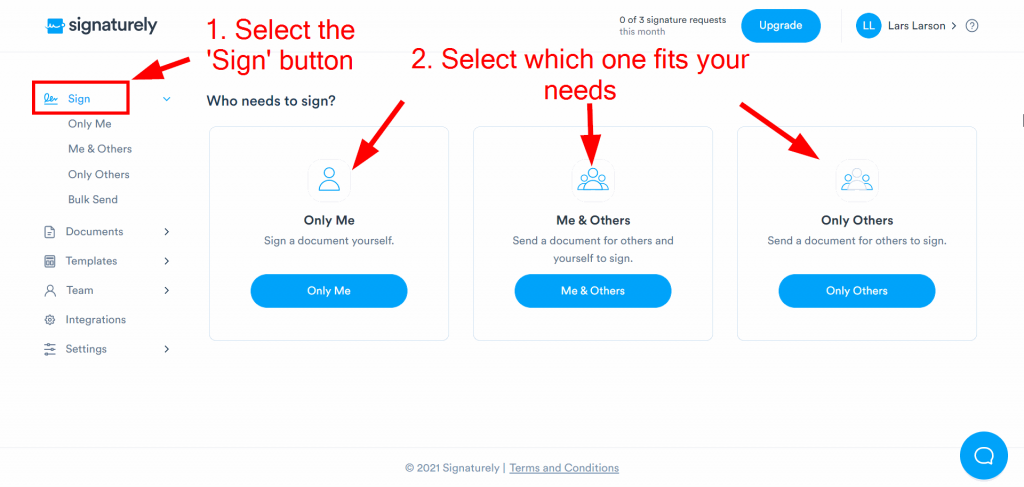 After you've signed into your account, select "Sign" on the sidebar to the left. After doing that, a page with three options will appear:
Only Me
Me & Others
Only Others
If you're the only person that needs to sign the document, select "Only Me."
If the document requires both your signature and others, select "Me & Others."
Lastly, if you only need others to sign, select "Only Others."
3. Prepare Your Document for Signing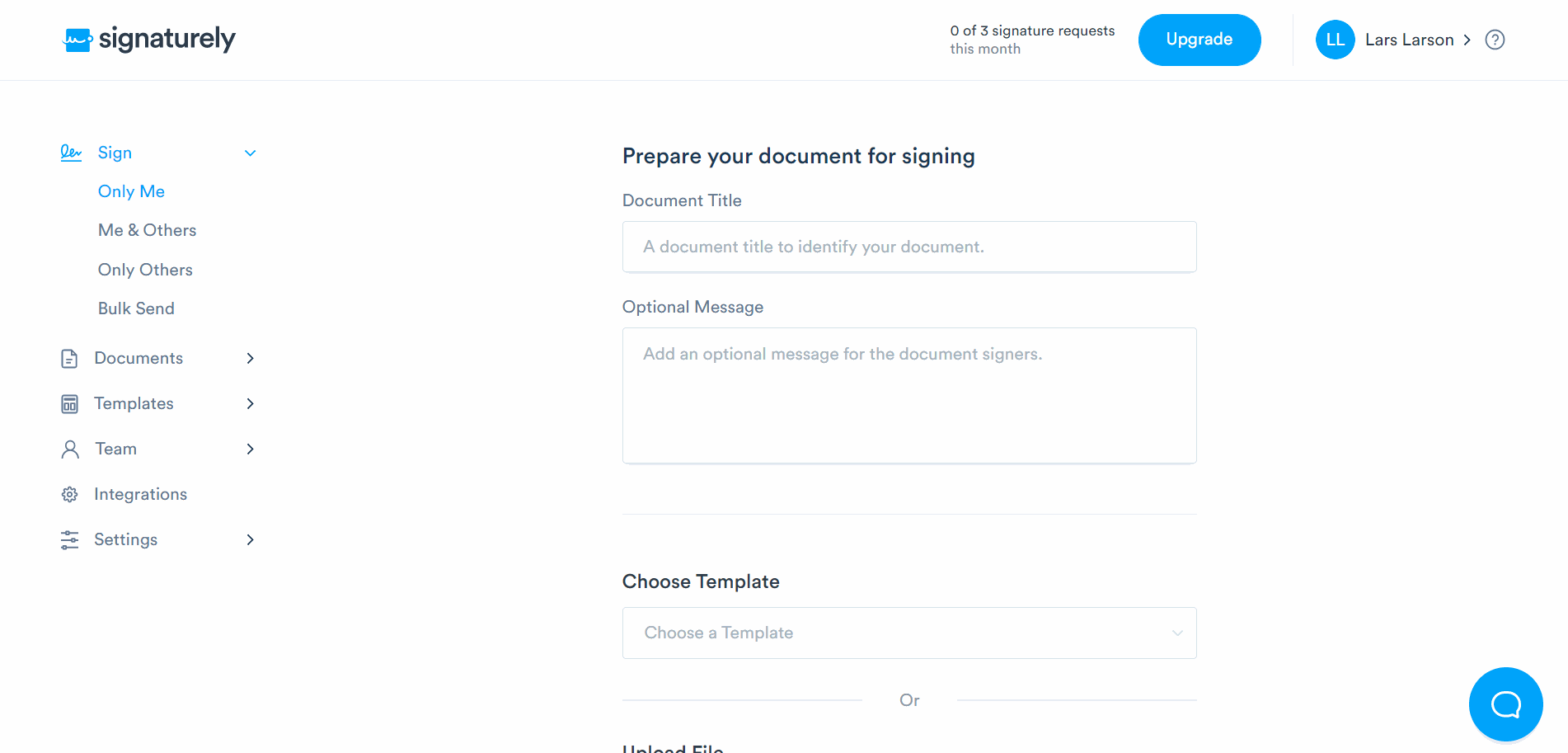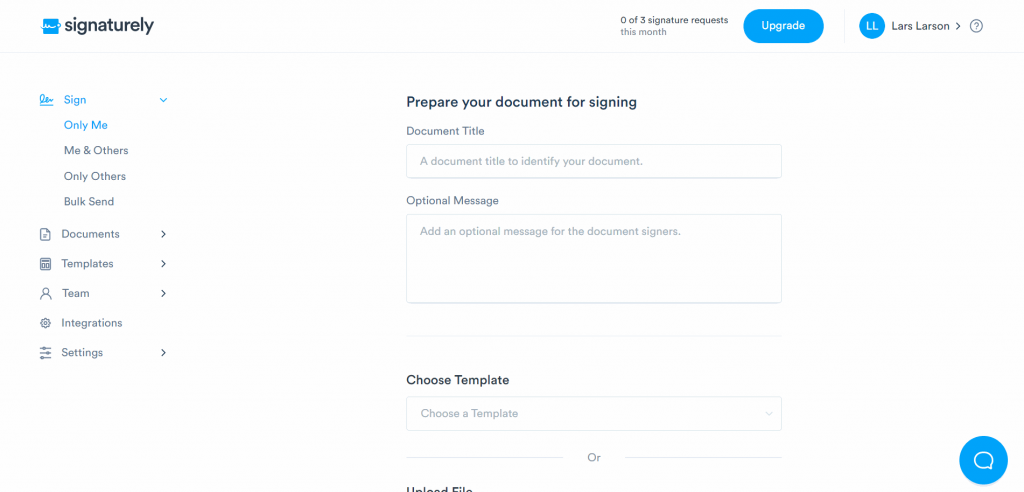 After selecting the appropriate option in step two, you'll be sent to a preparation page. This is where you'll attach the document you need to have signed. Start by pressing "Upload File" and find your document, then choose "Fill Out & Sign."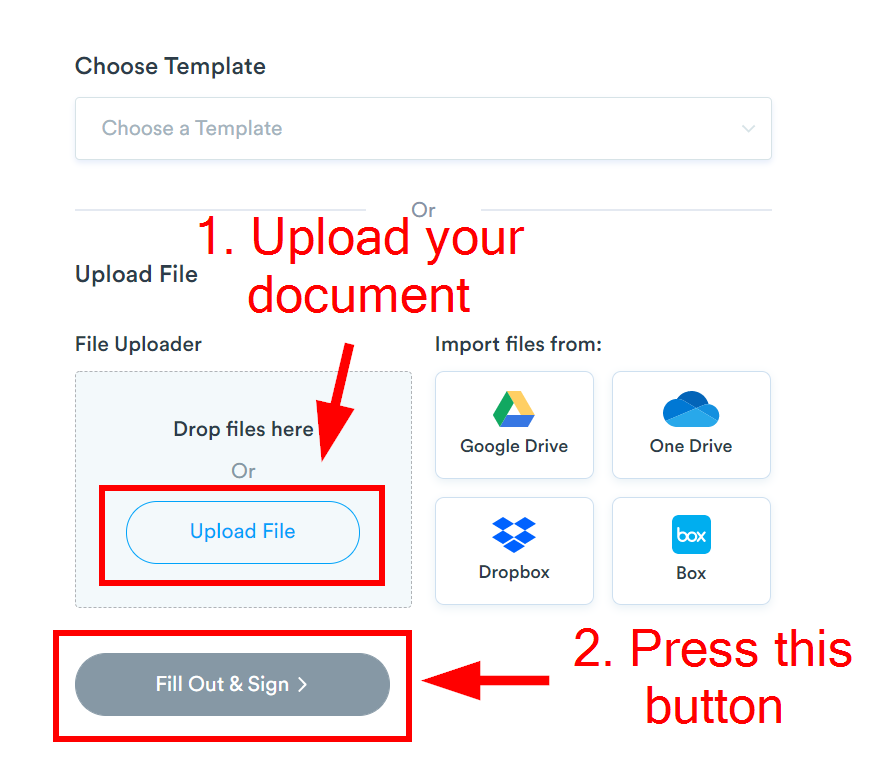 This will send you to a new page with an editor feature. You'll be able to add your signature and other necessary pieces of information to the document.
Once complete, hit the "Send" button.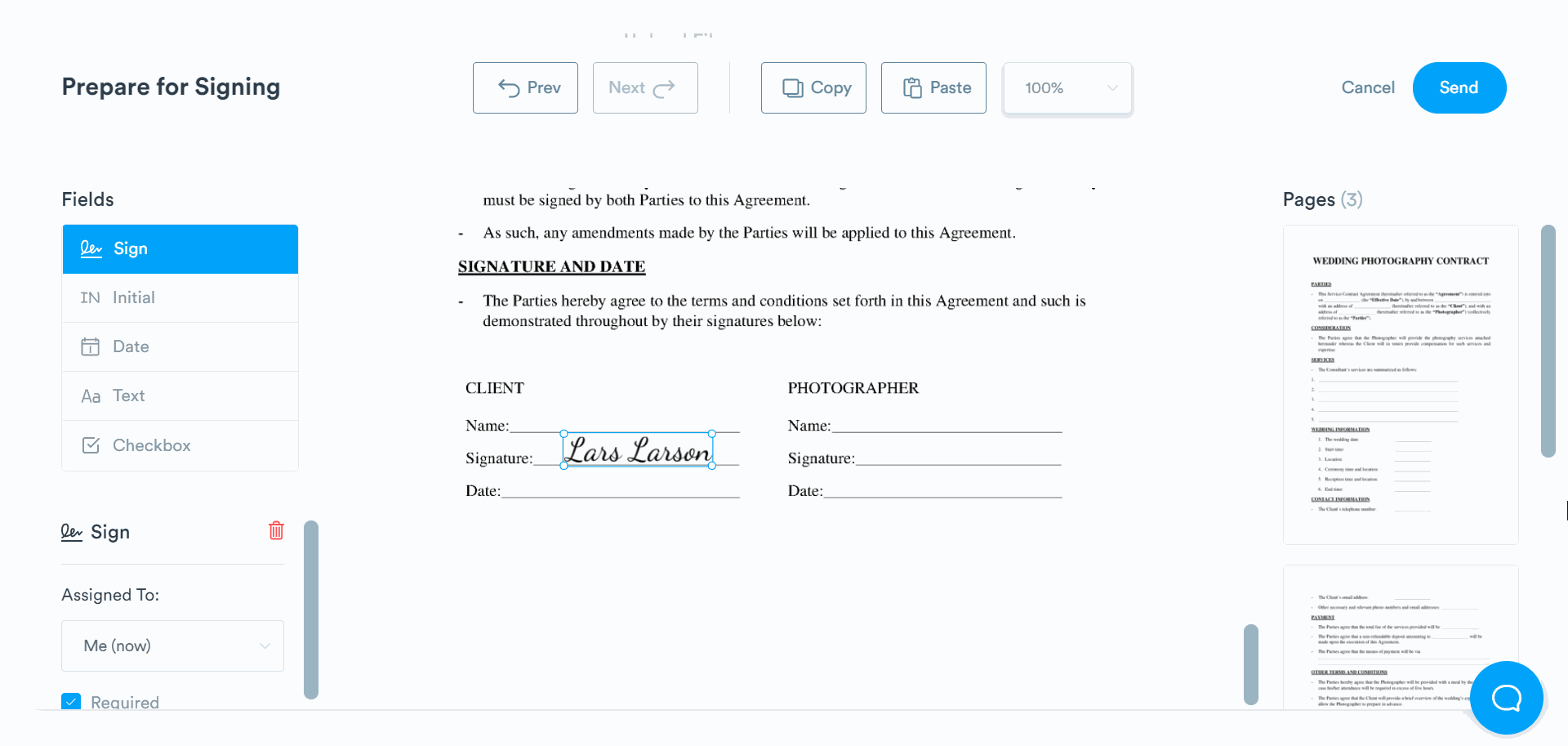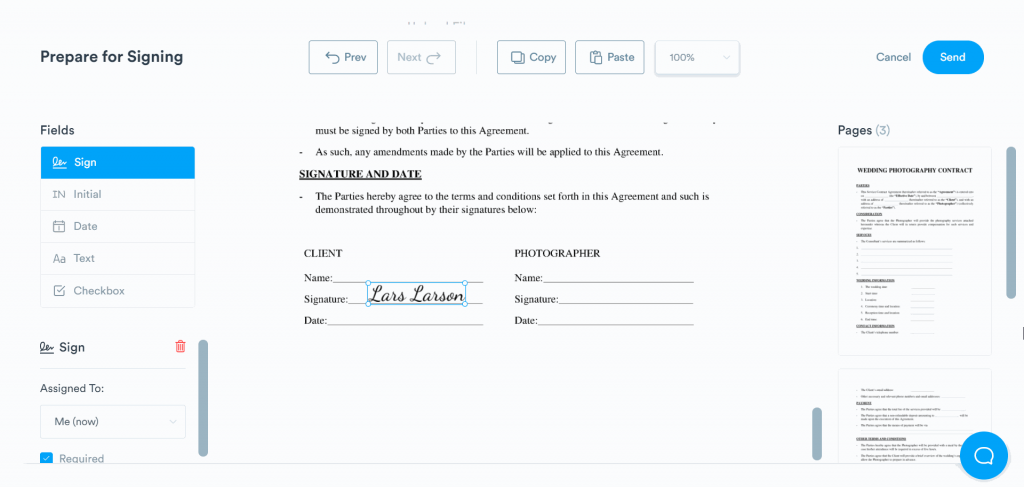 Your document will now appear in your Signaturely account inbox, where you can download it.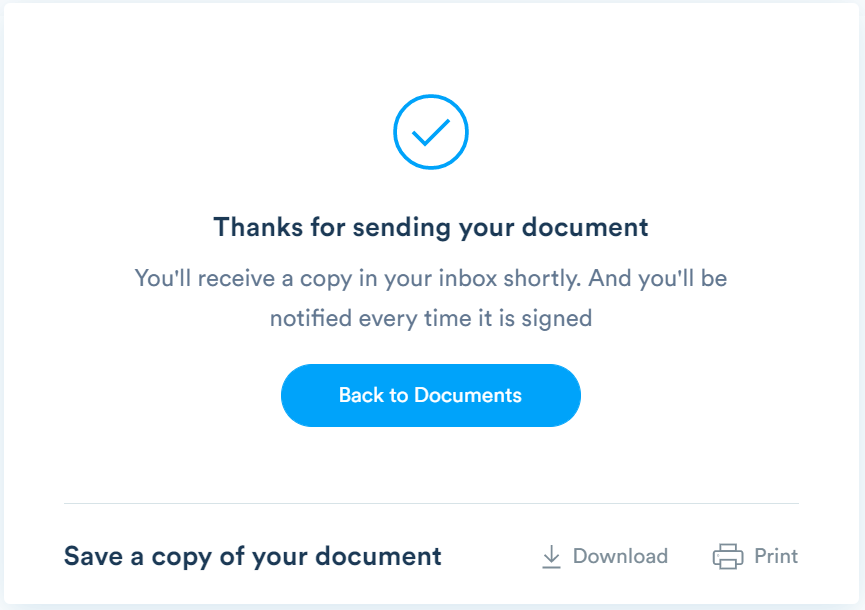 Signaturely is an easy, free way to sign documents from the convenience of your iPhone. All you need to do is use an internet browser to visit the Signaturely website.
How to Sign a Word Document on an iPhone
Because you're using an iPhone, signing a Microsoft Word document can be tricky. You cannot use the Markup feature here, so your best option would be an electronic signature tool. Here's how to sign a Word document on iPhone.
1. Select an Electronic Signature Tool
There are many great electronic signature tools available to you. These will help you sign your Microsoft Word documents from your iPhone. Here are the top choices:
Signaturely
EverSign
DocHub
2. Add Your Signature to Your Word Document
Once you've chosen the right electronic signature solution, use it to add your digital signature to your Word document.
Here's how it looks with Signaturely: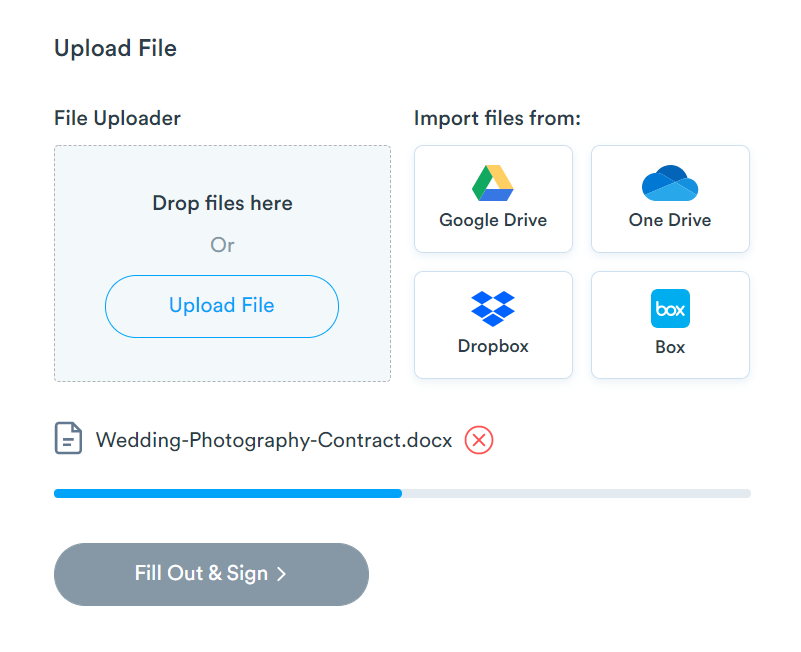 You can upload the .docx file and add your signature.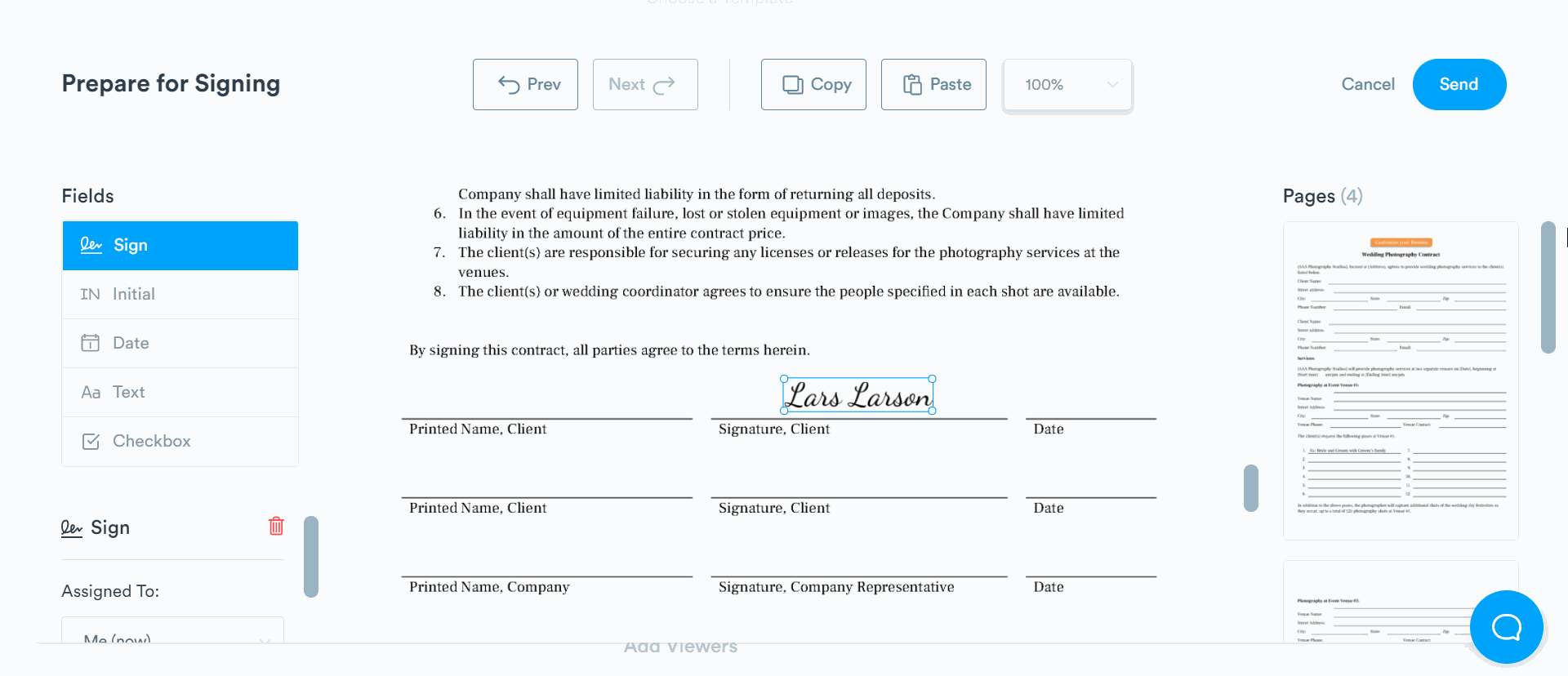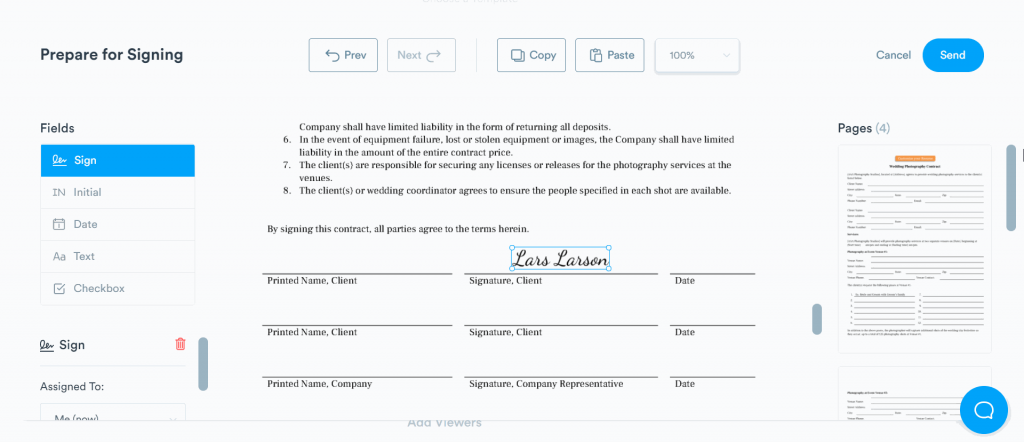 Pretty easy, right?
How to Sign a PDF Document on iPhone
When signing documents online, most will typically be in PDF format. Given this, you must know how to sign them as effortlessly as possible. You don't even need to leave your iPhone to do it. Here's how to sign a PDF on iPhone in short words.
1. Open Your PDF Document
Begin by finding and opening the PDF file of the document you want to sign on your iPhone. This can be done in several apps, including Files, iBooks, and Messages. If you intend to send the signed document in an email, you can use the Mail app.
2. Use the Markup Feature
Once you've successfully identified and opened your PDF file, use the Markup feature. Press the + symbol in the bottom right-hand corner, and add your signature. You can do it with a preexisting, saved signature or create a new one.
Congratulations, your PDF document on your iPhone should now have your signature.
How to Sign a Scanned Document on an iPhone
Did you know that your iPhone can scan documents? It's a feature that makes it easy to create a high-quality digital copy of a physical paper document. Not only that, but you can easily sign this document after scanning it. We'll explain how, from scan to email to signature.
1. Scan Your Document
The first step is to use the scan feature of your iPhone — it's located within the "Notes" app. Start by creating a new note, press the camera button, and then press the scan documents icon.
Once you've done this, position your physical copy of the document within your iPhone's camera. It should scan the document for you if you're in auto mode. If not, press the shutter button, and adjust the cropping boundaries. This should save a scanned image of your document.
2. Sign Your Document
Your scanned document should now appear as a note in your Notes app. Find it, press the share button, and select the markup icon. You'll then need to tap the add button, then follow through by tapping the signature button.
You'll be able to either create a new signature or add an existing one on your iPhone. Position it where you need to on the document, and then press done.
Conclusion
Congratulations! You should now be able to sign any document using your iPhone. We outlined various strategies you could use, including:
The use of electronic signature software, such as Signaturely
The use of Apple Markup 
We also covered how to sign PDF, Microsoft Word, and scanned documents, providing step-by-step guidelines.
Tired of spending too much time signing documents? Register a free Signaturely account today.