E-signature software is becoming an increasingly popular choice for businesses looking to speed up and simplify the signing process. With so many options available, how can you decide which eSignature software is best for your business? This article will compare HelloSign vs. SignNow, two of the most popular e-signature software providers, to help you decide the best fit for your needs.
Get to Know HelloSign and SignNow
E-signatures have become increasingly popular in recent years, as they offer a convenient way to sign documents without needing paper. HelloSign and SignNow are two of the most popular e-signature platforms, and each provides a unique set of capabilities that can complement your business processes. 
HelloSign Overview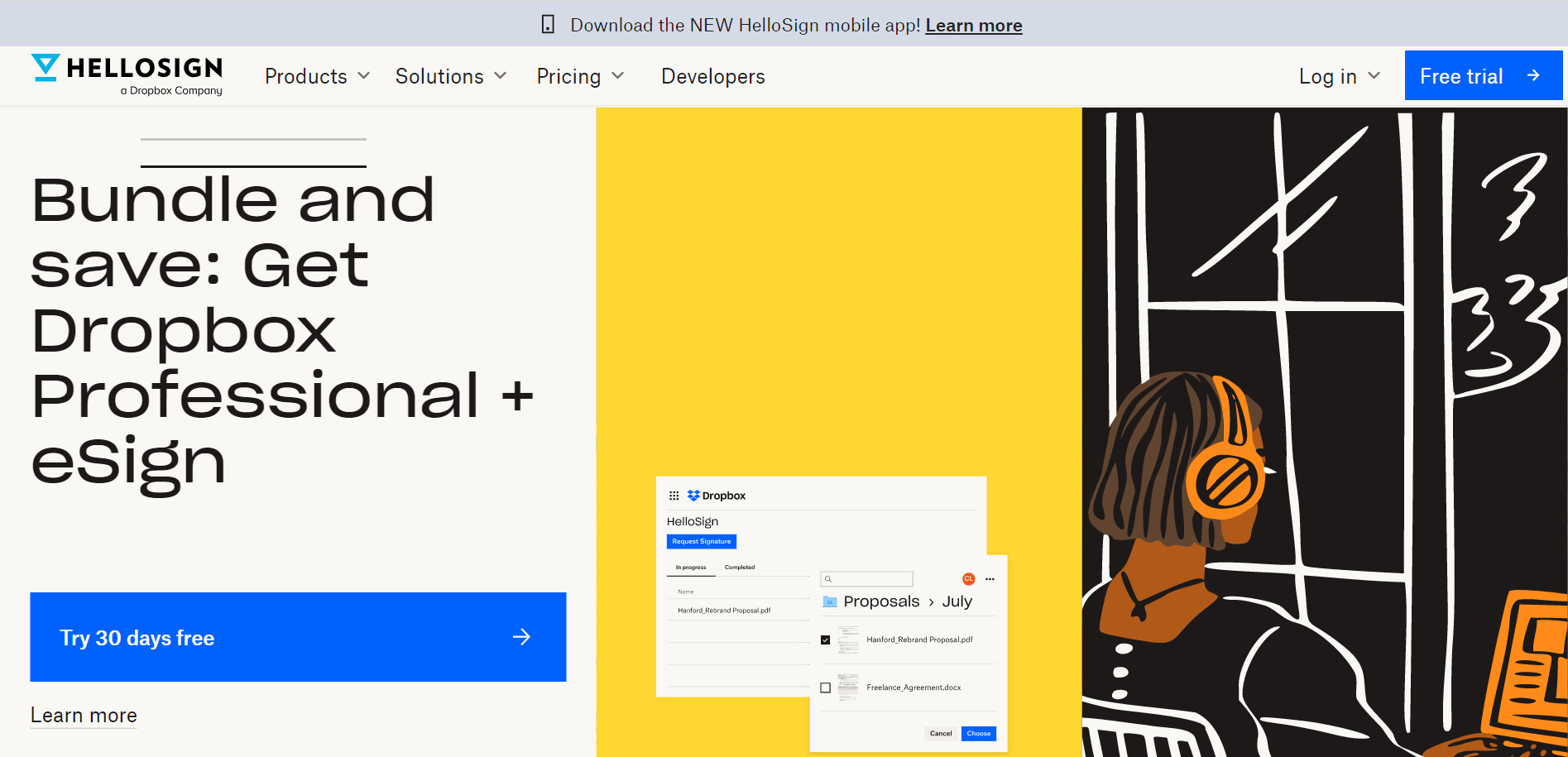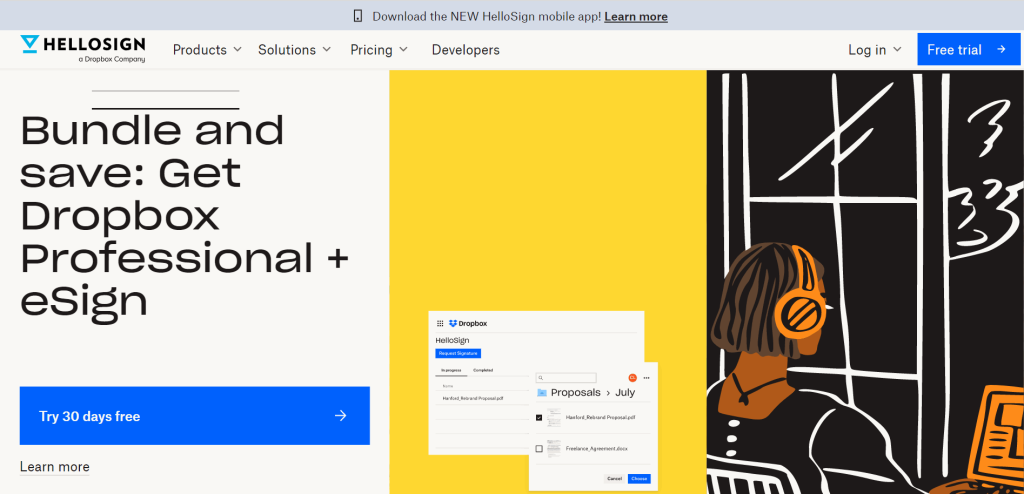 HelloSign is a secure electronic signature platform that Dropbox recently acquired. HelloSign's platform, used by businesses of all sizes,  obtains legally binding signatures from clients and customers. HelloSign offers integrations with popular business applications such as Slack, Hubspot, and Salesforce. HelloSign's features include creating and managing electronic signature workflows, customizable signing experiences, and real-time document status tracking. With HelloSign, businesses can streamline their PDF document and contract signing process and improve security and compliance.
SignNow Overview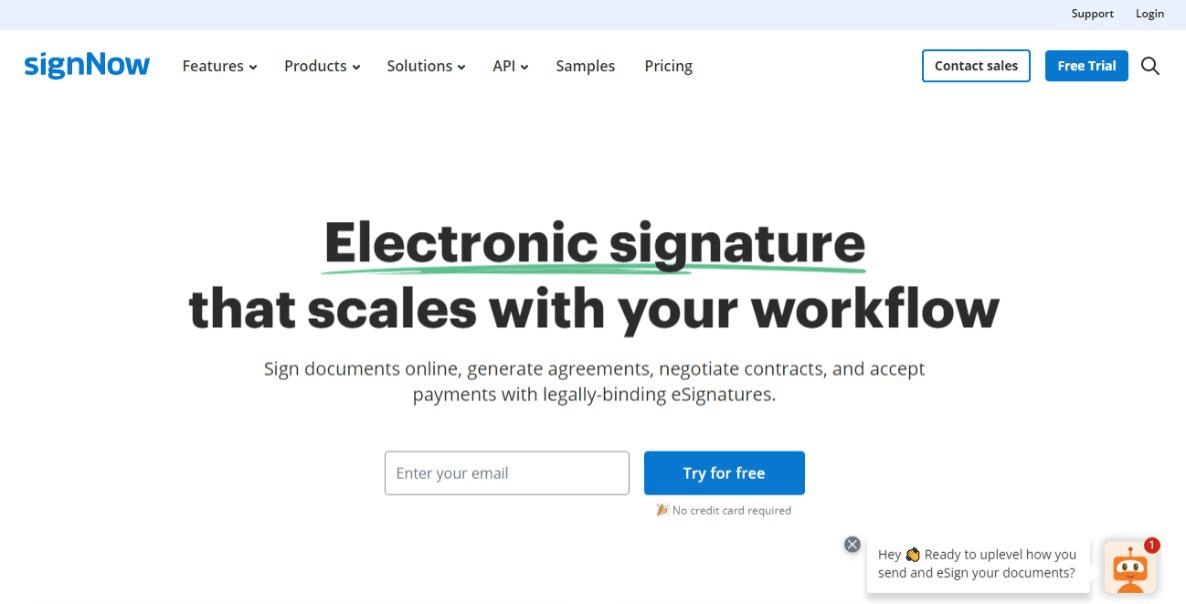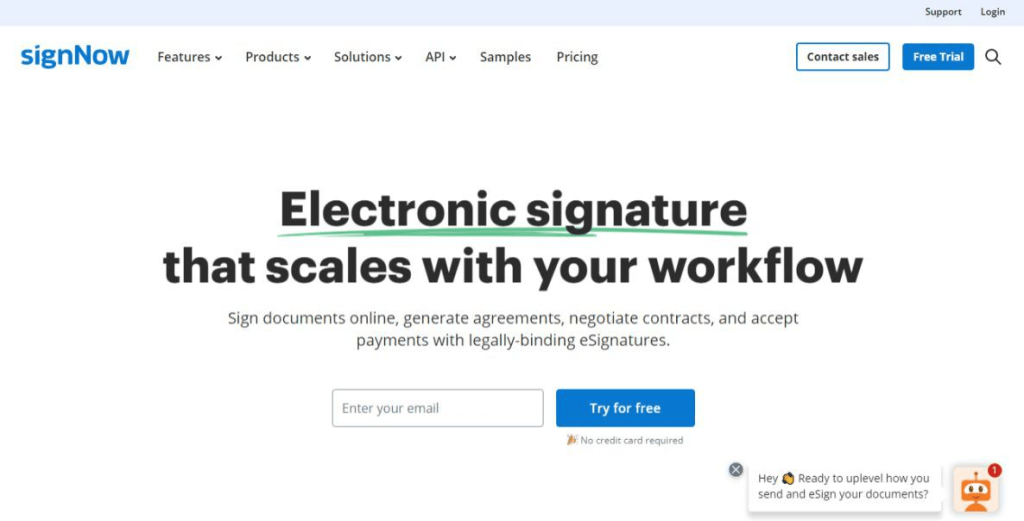 SignNow is an easy-to-use e-signature platform that helps create signatures from anywhere. With SignNow, you can easily add your signature to any document and share it with those who need to sign. SignNow also offers a conditional workflow feature that helps automate your processes. With this feature, you can specify certain conditions that must be met before a document can be signed, which helps to ensure that all the necessary signatures are collected before a document is finalized. Overall, SignNow is an excellent tool for streamlining your document signing process.
HelloSign vs. SignNow: Complete Comparison Guide
This review will take an in-depth look at two of the market's most popular electronic signature software solutions. We'll evaluate the tools based on usability, security, and pricing plans to help you make the most impactful decision for your digital signature tool stack. 
1. Key Features
By taking the time to understand the key features of each platform, you can be sure to select the e-signature solution that's right for your business.
HelloSign Features
One of the most popular HelloSign features is its tamper-proof documents, which ensures your contracts and NDAs are protected from fraud, alongside a robust audit trail. The platform also offers native integration with Dropbox, so you can easily access your documents from anywhere. In addition, HelloSign offers in-person signing, so you can meet with your signatories in person to complete the process. These are just a few features that give HelloSign an edge over SignNow.
SignNow Features
SignNow offers several features that set it apart from  HelloSign and the competition. For example, with SignNow, you can easily set up an editor role, allowing you to manage who can edit and sign your documents. Additionally, SignNow provides several demo templates you can use to get started with creating your documents. SignNow also makes it easy to merge PDF documents into one, making it easier to track all your paperwork. SignNow and HelloSign are built for a wide range of users, from individuals to large companies. However, SignNow provides more robust CRM and contract management capabilities than HelloSign. 
2. Integrations and API
To get the most out of your digital signature software investment, it's important to understand the platform's integrations and how they can fit into your workflows. By taking the time to assess the capabilities of each integration, you can ensure that the software you purchase will be able to meet all of your needs.
HelloSign Integrations
HelloSign integrates with several third-party platforms to streamline your workflows. HelloSign integrations include:
Salesforce
Sharepoint
Oracle
SignNow Integrations
SignNow offers a similar set of integrations as HelloSign, appealing to a broad user base, including enterprises. SignNow integrations include:
Microsoft Teams
Salesforce
Google Drive
3. Usability
When you're considering investing in e-signature software like HelloSign or SignNow, it's important to keep ease-of-use top of mind. Not every platform is created equal, and user-friendliness should be a key differentiator in your decision-making process. After all, if a platform is difficult to use, you'll likely be frustrated and wasting time trying to figure things out.
HelloSign Ease of Use
HelloSign and SignNow are both widely used digital signature platforms with user-friendly interfaces. According to reviews, both platforms are relatively straightforward, with intuitive design elements that simplify creating, managing, and signing documents. The level of customization options in HelloSign's platform edges out SignNow's. 
SignNow Ease of Use
One of the key reasons for SignNow's popularity is its ease of use. SignNow offers a user-friendly interface that makes it quick and easy to create signature requests. Furthermore, SignNow's integration with Zapier automates many manual steps in managing signatures, making it easier to use.
4. Security & Compliance
E-signature software like HelloSign and SignNow offers a convenient way to get documents signed quickly and easily. Before purchasing e-signature software, it's important to understand platform security; otherwise, you could put your business at risk.
HelloSign Security
HelloSign takes security and compliance seriously. The platform complies with SOC 1 Type II and SOC 2 Type I and is ISO 27001 certified. HelloSign has two levels of document encryption: each document is encrypted using a unique key (a document encryption key or DEK).
SignNow Security
To ensure a high level of security, SignNow has implemented several industry-leading measures, including GDPR compliance and 21 CFR Part 11. The platform's robust security infrastructure includes physical, technical, and administrative safeguards.
5. Use Cases
Before making a purchase, you must understand how each platform will be used and what results you can expect. Otherwise, you risk buying a tool that doesn't meet your needs or providing a disappointing customer experience.
HelloSign Use Cases
HelloSign allows you to send documents through your CRM, which helps sales teams stay organized in their sales pipeline. The platform includes Salesforce and Hubspot, two of the most popular CRMs on the market. This integration makes it easy for sales teams to start with HelloSign and take advantage of its powerful features. HelloSign makes it easy to track documents and keep them organized, which is essential for sales teams to close deals faster and stay organized throughout the sales process.
SignNow Use Cases
Financial institutions are under constant pressure to improve GDPR compliance and streamline bookkeeping processes. SignNow's easy-to-use and fast eSignature solution can help banks and wealth management firms adhere to compliance standards while saving time and money. With SignNow, transactions can be done electronically, which cuts down on paper waste and helps to speed up transactions. 
6. Plans & Pricing
With e-signature software, it's important to understand pricing before purchasing. Depending on the software, you may be charged a monthly subscription fee, a one-time fee, or a per-user fee. In addition, there may be additional charges for features such as document storage or integration with other business software.
HelloSign Plans
HelloSign has four plans: Essentials, Dropbox + eSign, Standard, and Premium. Its Essentials plan starts at $15 per month (paid annually) and includes limited features like integrations, signer fields with data validation, and multiple signers and language support.
SignNow Plans
Like HelloSign, SignNow does not have a free plan, but it does offer a free trial. Its Business plan starts at $8 per user per month and includes unlimited templates and cloud storage integration. SignNow is a more affordable option than HelloSign— at least in the most basic paid plan. 
7. Customer Reviews
When choosing e-signature software for your business, it's important to take the time to read customer reviews. The reviews will give you a sense of what actual users like and don't like about the various options on the market beyond what is advertised.
HelloSign Reviews
According to users, HelloSign offers several advantages, including an easy-to-use interface and valuable reusable templates. However, HelloSign is also relatively expensive compared to other e-signature solutions on the market, and customers have complained about the limited availability of customer support.
SignNow Reviews
Users appreciate SignNow's simple interface that walks them through the online signing process step-by-step. While performance issues and limited customer support have been noted, customers find these problems infrequent and not reflective of the product. Overall, users are satisfied with the product and find it an efficient way to manage their electronic signatures.
HelloSign vs. SignNow: Which Should You Choose?
If you're looking for a comprehensive e-signature solution, HelloSign and SignNow are both excellent options. They offer many features, including templates, signature requests, and integrations with popular productivity apps. When evaluating which tool is best for your team, it all comes down to your use case. 
HelloSign: Best For Tech Teams
Used by tech companies like Twitter, Instacart, and Lyft, HelloSign offers a versatile and robust feature set that can support the complex demands of a software business. From sales to legal operations, HelloSign is a valuable tool for teams looking for transparent pricing, dedicated API support, and a self-service sign-up process— making it easy to scale.
SignNow: Best For Teams in Finance and Education
With over 13,000 educational institutions and nearly 17,000 financial institutions using SignNow, the platform provides value in managing operations across various businesses. In education, SignNow helps reduce administrative costs. For financial institutions, SignNow has resulted in higher GDPR compliance, a critical foundation of operations. These successful use cases are largely due to SignNow's easy-to-use platform and enhanced document tracking.
Signaturely: The Best Alternative
Any business owner knows that much time can be spent on paperwork, reducing time spent on valuable work. Signaturely offers an easy-to-use platform that helps save businesses time and money by automating contract processes. There are a few key reasons Signaturely outperforms competitors like HelloSign and SignNow. 
One of the best things about Signaturely is that it's effortless. Not to mention, the affordable price point makes it a great option for businesses on a budget. For $30/month, Signaturely offers unlimited templates, whereas HelloSign's Dropbox + eSign plan caps it at 5. In addition, HelloSign and SignNow only include free trials of their paid plans, whereas Signaturely offers a robust free plan.
When it comes to electronic signatures, security is always a top concern. With Signaturely, you can rest assured that your data is safe and secure. The platform uses 256-bit encryption and employs industry-standard security practices– so you can focus on running your business without worrying about data safety.
HelloSign vs. SignNow: FAQs
There are a few keys frequently asked questions when comparing HelloSign and SignNow. 
Are HelloSign signatures legally binding?
HelloSign is a leading eSignature provider that provides legal signatures in the United States and many other countries.
Is SignNow better than DocuSign?
SignNow and DocuSign have their pros and cons. SignNow allows you to access many of the same advanced features as DocuSign at a lower price. At the same time, DocuSign provides more robust features that might be a better fit for enterprise users. 
What You Need to Remember About SignNow vs. HelloSign
HelloSign and SignNow are two of the most popular e-signature platforms on the market, and they both offer a wide variety of features and benefits. Still, there are some key differences between them that you should be aware of before deciding which platform to use and evaluating other tools that may be a better fit.