Do you want to work with a business asking you to sign an NDA? Maybe you're a team member, and the company wants to protect sensitive information. Perhaps you're discussing a possible merger, and a start-up wants to keep its trade secrets from competitors.
Whatever the situation is, signing an NDA is a serious decision that should not be taken lightly. Here's everything you need to know about NDAs and how to sign one.
2. What is an NDA?
NDA stands for a nondisclosure agreement. It is a legal document protecting any information exchanged between two parties from being released to the public. Trade secrets, confidential information, or any knowledge acquired must be kept private.
Sometimes the term NDA refers to any confidentiality agreement. 
In its simplest form, an NDA acknowledges the confidentiality between parties and acts as a formal statement that they will protect information from outsiders.
There are two types of nondisclosure agreements: mutual and non-mutual. Employees often sign a non-mutual agreement to protect the interests and sensitive information of the company. The team member is the only one who signs this agreement.
Two companies may mutually sign an NDA, protecting all sensitive information from being shared.
An NDA must follow certain requirements to be considered a true nondisclosure agreement. It must include the following:
The names of all parties involved
A definition of all confidential information
A list of exclusions from confidentiality
A statement of how the information may be used appropriately
How long is confidentiality required
Any other provisions
3. Why Do You Need to Sign an NDA?
Suppose you're working with a company or start-up that wants to share sensitive information while protecting its trade secrets from competitors. In that case, they probably want you to sign a nondisclosure agreement.
You might need to sign an NDA as a team member with access to confidential information. You might need to sign a confidentiality agreement to discuss the sale or license of a product or technology. Confidentiality agreements might be in place so you can receive services from a company with sensitive information access.
There are many situations when you'll need to sign an NDA. Make sure you know all the details before signing.
4. What Do I Need to Know Before Signing an NDA?
You're signing a legal document when you sign an NDA, and you should not go about it lightly.
Before promising to keep the information confidential, make sure you know what you're getting into. The cost of breaching confidentiality can be expensive and may include prison time.
Here are seven things to keep in mind before signing any nondisclosure agreements.
What type of NDA are you signing?
Not all NDAs are the same. You can see an example of the most basic agreement here. But you might be asked to sign a team member document, financial, or sale NDA.
What are the terms of the NDA?
Detailed NDAs will and should outline who will pay legal fees in case of a lawsuit, which state law it is under, and whether or not there are alternatives to a court trial. Hopefully, you will never be in a situation where these terms will be necessary, but it's best to ensure you're protected before signing the dotted line.
What is the scope?
Confidentiality is not forever. NDAs must outline when they expire. This could be a statement that says a team member must not work for a competitor company for two years. The document should also outline what information is protected and for how long. You should not sign an NDA that does not list an expiry date.
What is considered a breach?
Most assume we'd protect secretive information by not chatting about it with competitors. That seems easy enough. But you could breach your NDA by forgetting to lock up sensitive information, losing it when you're out, or encouraging others to breach the agreement.
Ensure the document clearly outlines what is considered a breach of confidentiality before signing.
Look for clear language.
Legal documents need to use concrete terminology. It is a huge red flag if you notice vague language or poorly defined terms. These details could be held against you. Sometimes companies purposefully use abstract language. In court, this could mean you become culpable for multiple offenses that weren't initially clear in the agreement.
Remember, you can negotiate.
You don't need to sign the first nondisclosure agreement a company sends you. Ensure you read all the fine print, know your rights, ask questions, and request revisions if something seems wrong with the document.
Once you sign the agreement, you won't have the luxury of negotiating.
Don't sign something that doesn't seem right.
You can always seek legal advice before signing an NDA. If your intuition senses this is bad, you should re-think signing the agreement.
5. How to Sign an NDA: These Tools Will Help You
Once you've reviewed the business document, it's time to sign. Luckily, plenty of ways to sign an NDA today make it simple and fast.
Here are some of the top document signing software on the market today. These websites allow you to upload your nondisclosure agreement, add emails, and send the document in just a few steps. Some are easier to use than others, and some are more affordable, while others can make signing an NDA completely free!
These programs collect legally binding eSignatures, so make sure you know what you're signing before typing your name. Some software lets you choose your font or draw your signature, making it uniquely yours.
To learn more about different document signing companies, read our article here.
Signaturely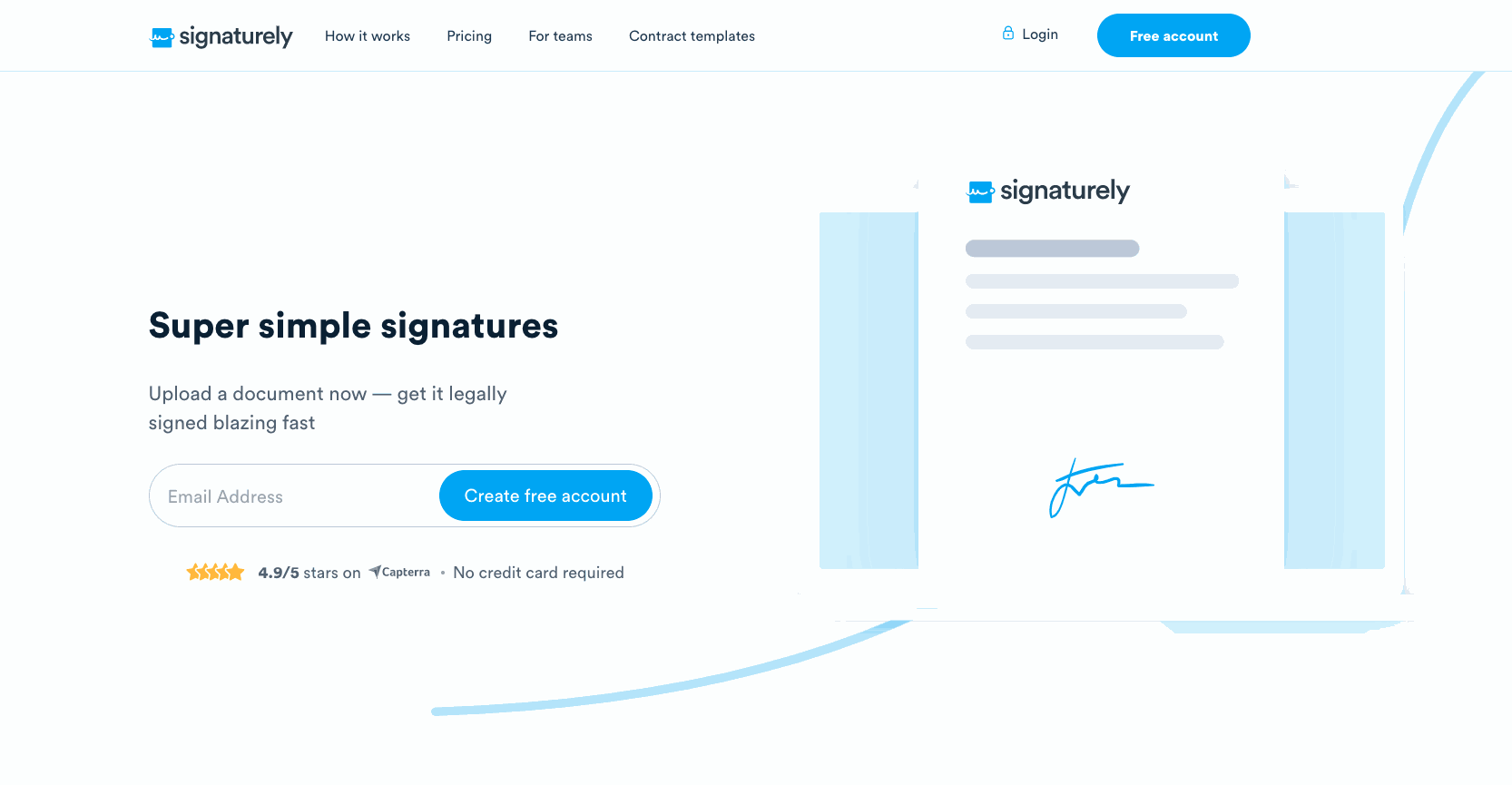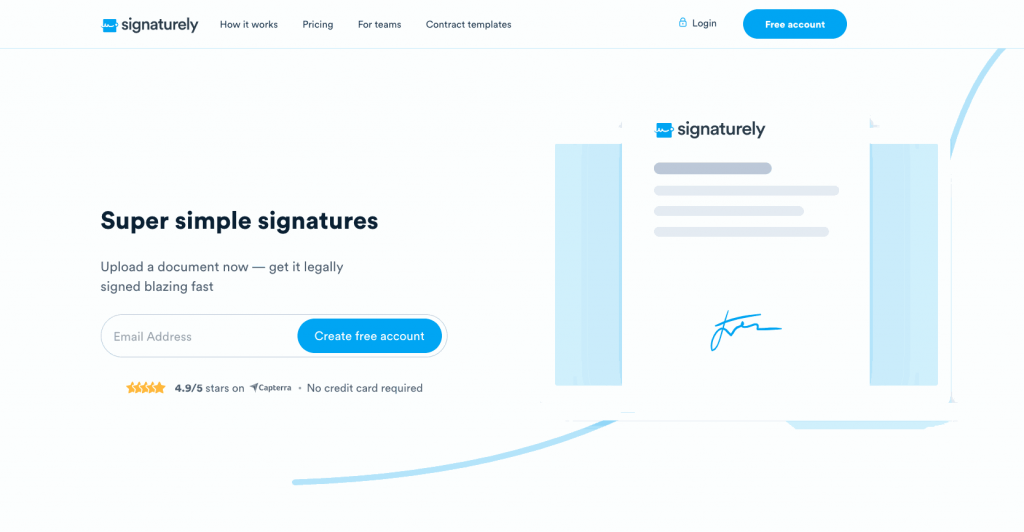 You can easily create and upload all your business documents, including NDAs, with Signaturely and get the necessary signatures.
Create or upload your document, then use the editor to add signature fields. Before you send your document, you can include a message.
Signaturely will send a notification to your signers informing them that their signature is required. The tool will take users through every step of the signing process, and they can open the link on any device.
Signaturely also provides free NDA templates and business contracts for you to use.
Pros:
Editable documents
Easy team collaboration features
Free and affordable versions
Cons:
No mobile apps yet (in development)
DocuSign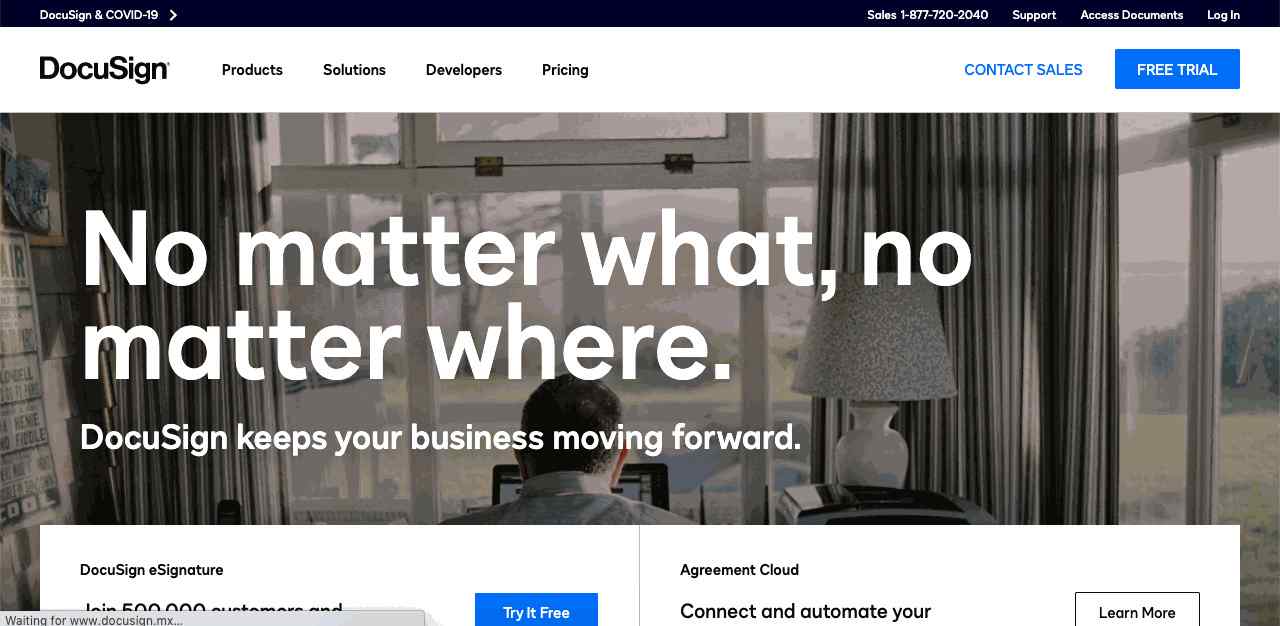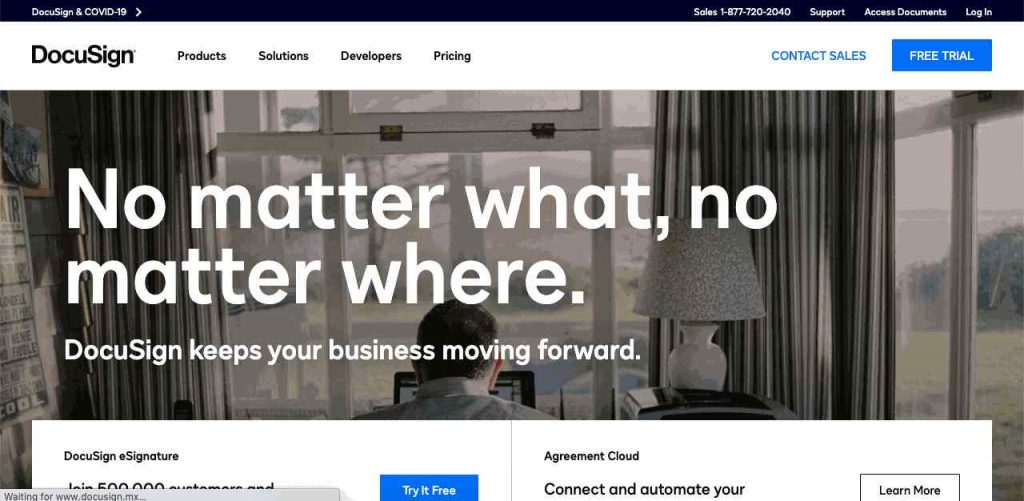 DocuSign offers many options for businesses wanting to sign NDAs and other documents. It has many options but is on the expensive side.
DocuSign isn't difficult to use for signing NDAs, but it doesn't offer a free version.
First, you'll upload your document, add the emails and names of the people who need to sign it, drag and drop fields that need to be filled out, and click send. The other parties will receive an email with a link to sign the nondisclosure agreement.
Pros:
Admin control over all users and signatures
Can create signature groups for specific tasks
Cons:
Difficult to set up
Slow customer support
Adobe Sign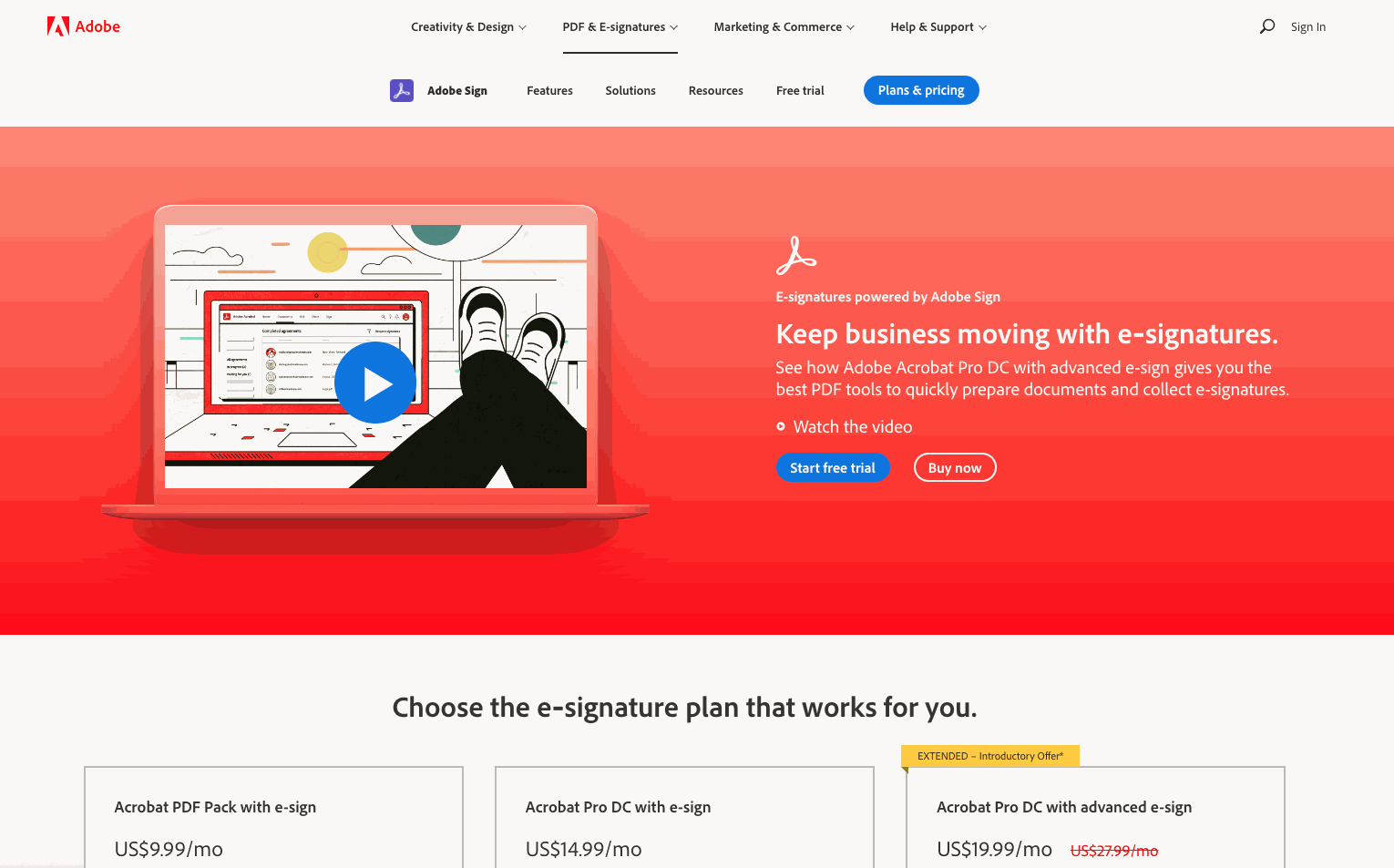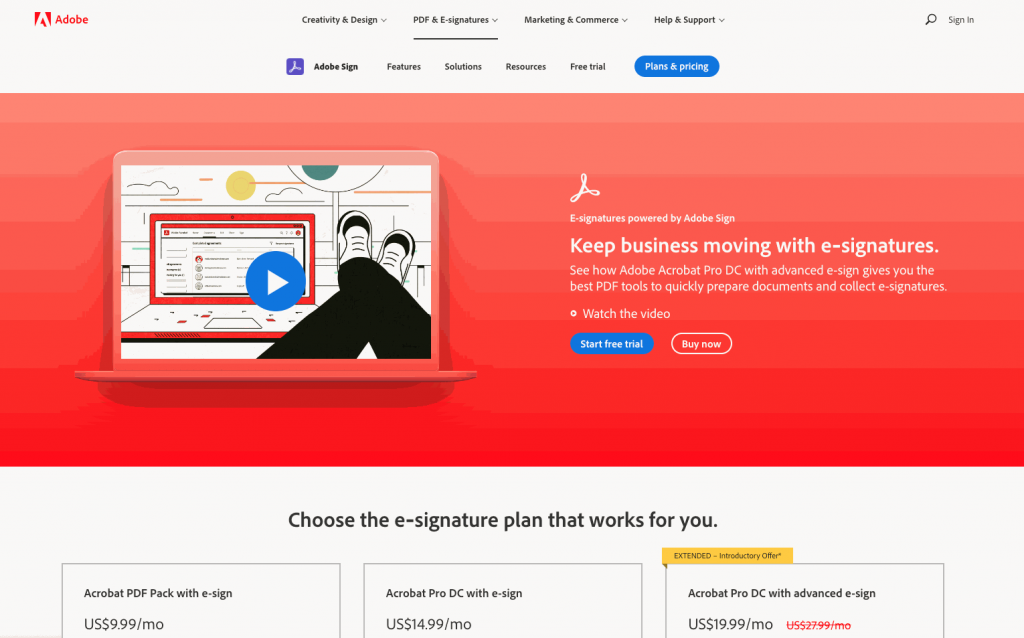 Adobe Sign is a powerful tool for signing NDAs but expensive. It also doesn't offer a free plan.
You can upload almost any NDA file to Adobe Sign, click the request signature button, and type in the other parties' email addresses. They'll receive an email and be able to sign the NDA without paying for a subscription to Adobe Sign.
Pros:
Easy for customers to sign
Ability to clone fields
Integrates with other Adobe products
Cons:
Difficult to sign in
No good mobile version
Customer support is slow
SignWell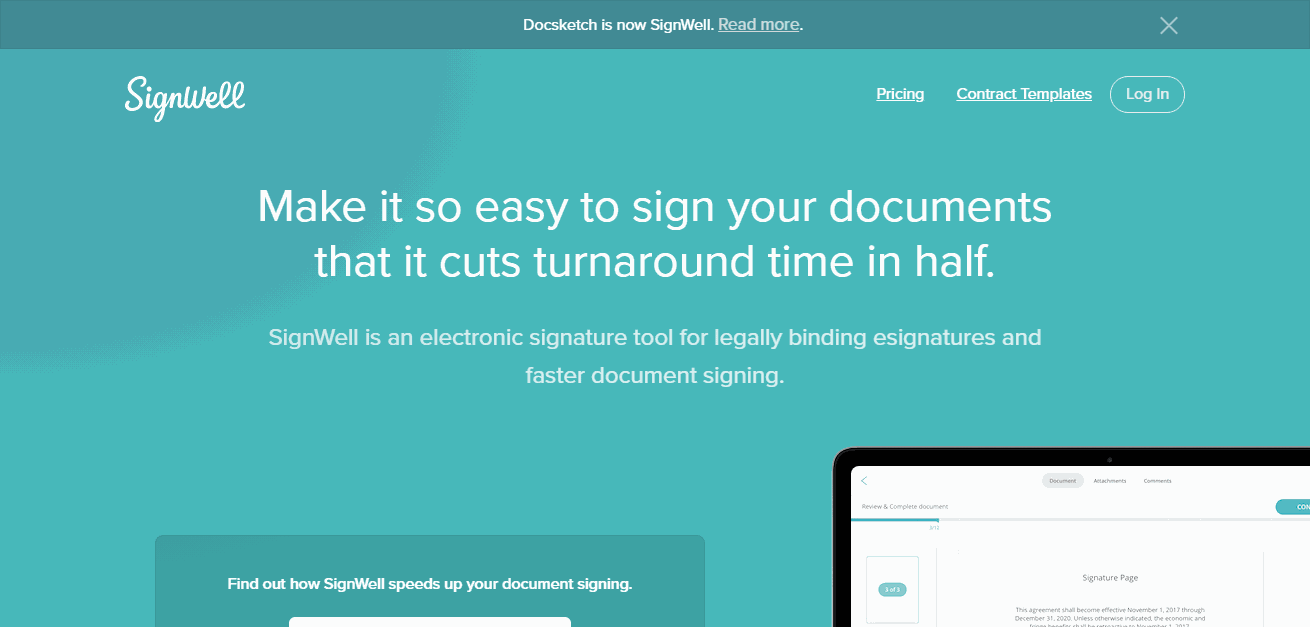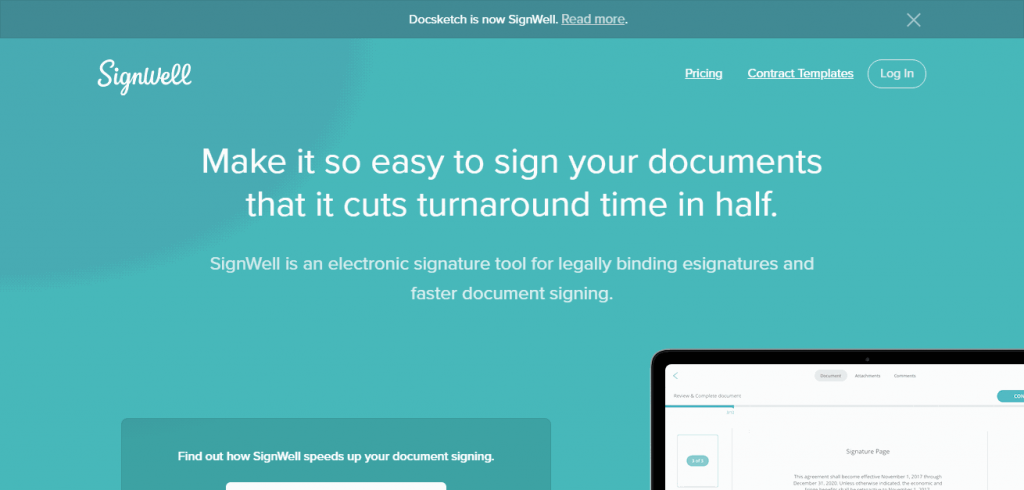 SignWell is a basic document signing service that can work for signing nondisclosure agreements. SignWell lets you upload files, drag and drop fields, and draw or type a signature. It doesn't require any software downloads or printing.
Pros:
Cons:
It can only be used to collect signatures
No advanced signing options are available
No built-in editor
HelloSign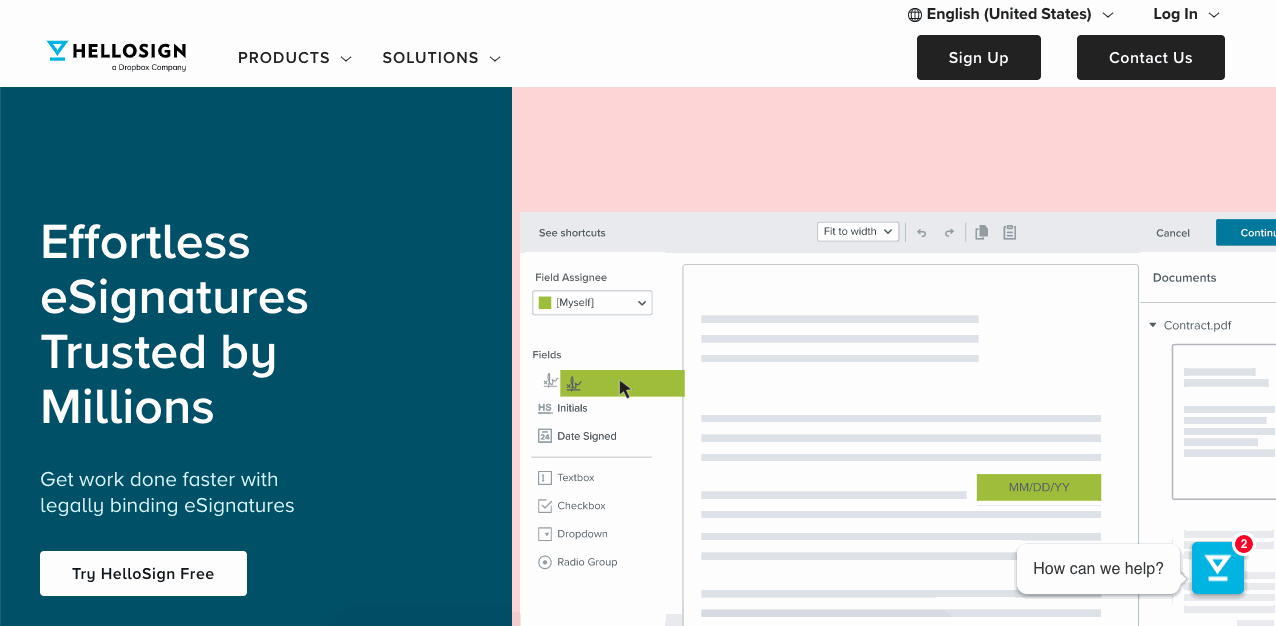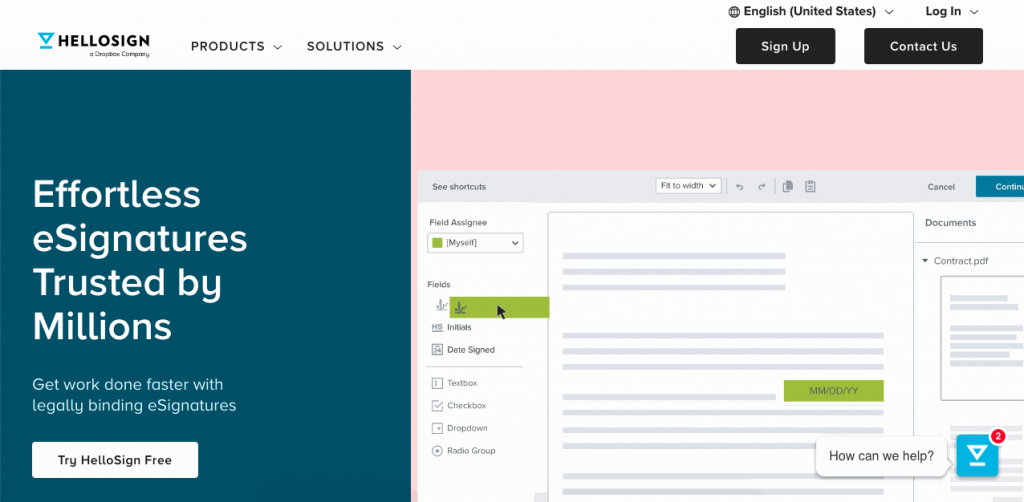 HelloSign is a simple document signing service that works for basic NDA signatures. Start by choosing who will sign the NDA. Then upload your document to HelloSign, enter the email address of the signers, and add a signature box. Once you've done this, you can send the document for signing.
Pros:
Multiple templates
Multiple signatures
Simple UI
Cons:
Expensive for large teams
It does not integrate well with 3rd party apps
Is There a Way to Sign an NDA Online for Free?
Yes, there is a way to sign an NDA without spending a dime. Signaturely has a free NDA template you can send to the other parties, so you don't have to create the agreement from scratch. 
But there's more. Signaturely also has an entirely free plan for you and up to three parties to sign. That means you can create and sign an NDA for free with Signaturely.
You'll have to pay a small monthly fee for three or more parties.
For two or less, you can get those confidentiality agreements electronically signed in no time at no cost.
Signaturely's free version also integrates with cloud services like Google Drive and Dropbox. Don't forget to protect your NDA when you send it over. To learn how to send confidential documents online, read our article here safely.
Should You Sign an NDA Before an Interview (and What to Know About It)
The average interview doesn't require you to sign an NDA before. But for certain types of jobs, they are not uncommon. You should expect to sign an NDA before an interview when a prospective employer needs to divulge sensitive IP or proprietary information to you so that you can learn as much as possible about the position.
Don't be rushed into signing an NDA, even before an interview. Make sure the scope and terms are clearly defined and read the fine print. It might outline sensitive information you wouldn't normally consider confidential, like interview questions.
Frequently Asked Questions about Signing an NDA
Although we cannot provide legal advice, we can help you sign an NDA as easily as possible. Here are our answers to some frequently asked questions.
How can you sign an NDA online?
It's not difficult to sign an NDA anymore. With multiple signing software available on the market, you need to upload your NDA (or use a FREE template), and eSignature companies will send your NDA to the other party for you. Typically, the process is simple for all parties involved and should go something like this.
You can even have two or more parties sign the document electronically. These signatures are legally binding.
What should you consider when signing an NDA?
Before signing an NDA, read the entire document thoroughly, looking for concrete terminology, defined scope, and the names of all parties involved. Remember that you can negotiate the terms, ask for legal advice, and decide that signing an NDA is not in your best interest before you promise to protect the company's confidentiality.
What is an NDA?
An NDA is a nondisclosure agreement used to protect sensitive company information. There are different types of confidentiality agreements depending on the situation, so make sure you know the ins and outs of the document before signing it.
Conclusion
Signing an NDA is a serious legal decision that should not be taken lightly. Make sure you know what to look for before promising to protect any confidential information. Once you've done that, it's not hard to sign the document. Multiple electronic document companies make signing a confidentiality agreement cheap and easy.