Small businesses are increasingly turning to eSignature software to streamline their operations. After all, why waste time and money on printing, scanning, and mailing documents when you can sign them electronically? But with so many electronic signature tools for small businesses, it can be tough to know which one is right for you. This article covers the top solutions available and key considerations to help you choose the best electronic signature for small business contracts and agreements.
7 Electronic Signature Solutions for Small Businesses
You'll need the right electronic signature tool to manage business documents online and complete digital transactions. The number of choices can be daunting, so we've compiled a list of seven solutions that meet the needs of almost every small business.
Signaturely: Best Electronic Signature Tool for Small Business Administration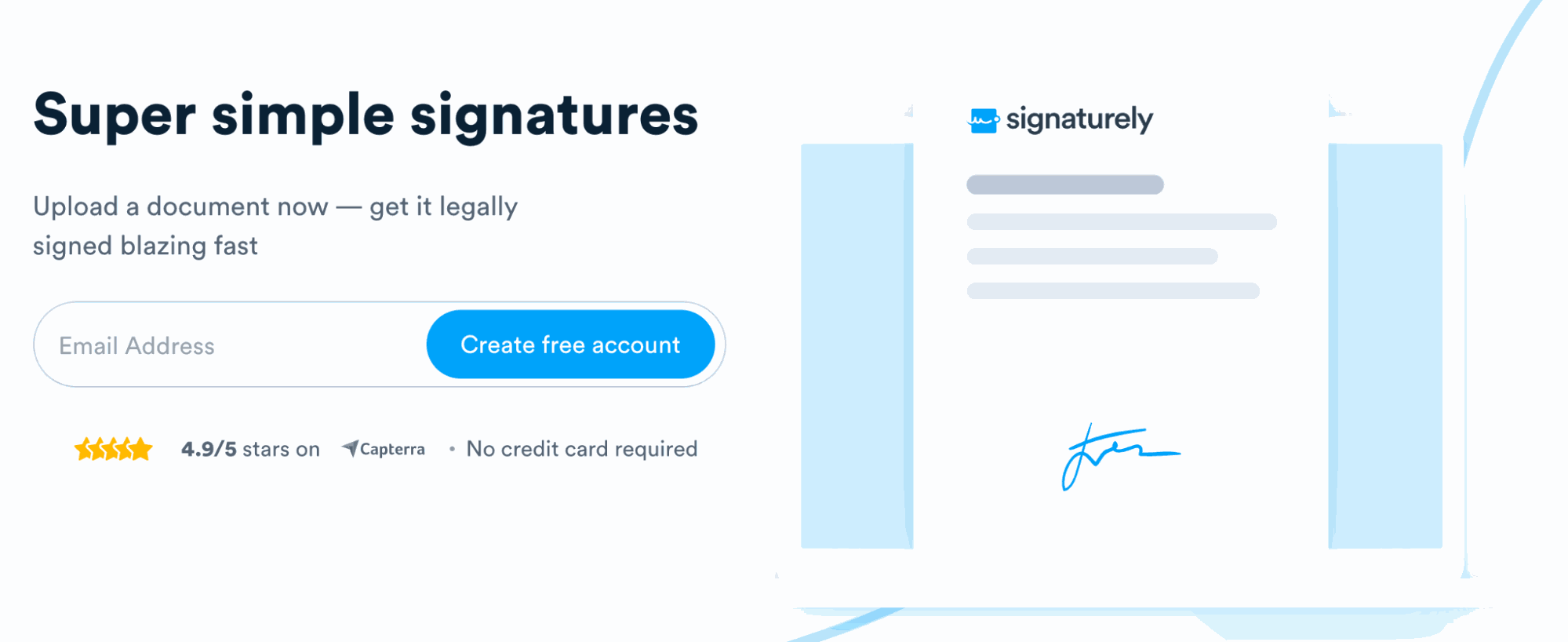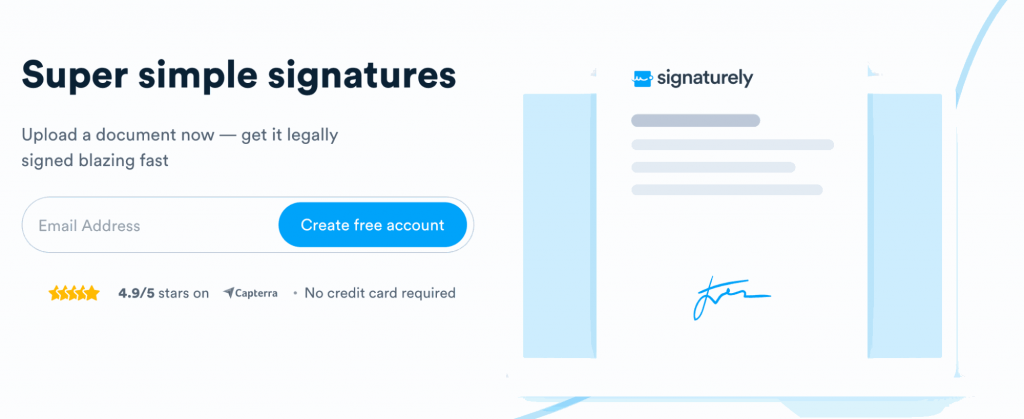 When it comes to electronic signature software, Signaturely is in a league of its own. One key feature that sets Signaturely apart is its custom branding. With Signaturely, you can create and maintain a professional brand identity that instills confidence in your clients and partners.
In addition, the platform makes it easy to manage your workflows by keeping track of who has signed which documents. That way, you can always be sure that your team and clients are on the same page. Signaturely also integrates seamlessly with your favorite tools, making it easy to sync your business documents with Dropbox, Google Drive, and more. With unlimited signature requests, you can streamline your digital workflow and work efficiently without worrying about additional costs.
Signaturely offers three plans, including a robust free tier with three signature requests per month and access to integrations. Its Business plan starts at $30 per user per month (billed annually) and includes unlimited signature requests and templates.
Pros
Robust feature set for an affordable price
Easy to use and intuitive
Best-in-class customer service
Great collaboration tools
Cons
Minor issues with the field editor
Zoho Sign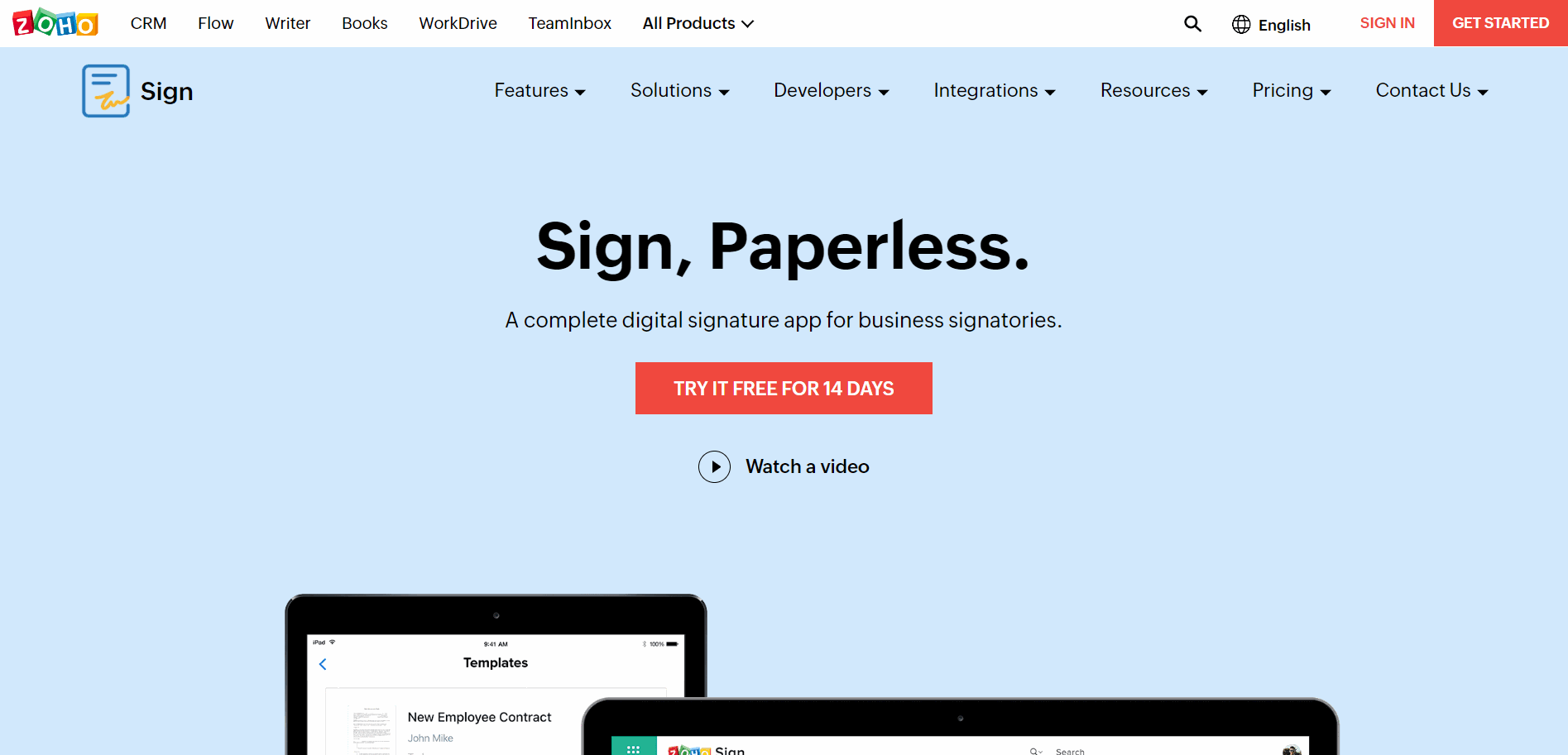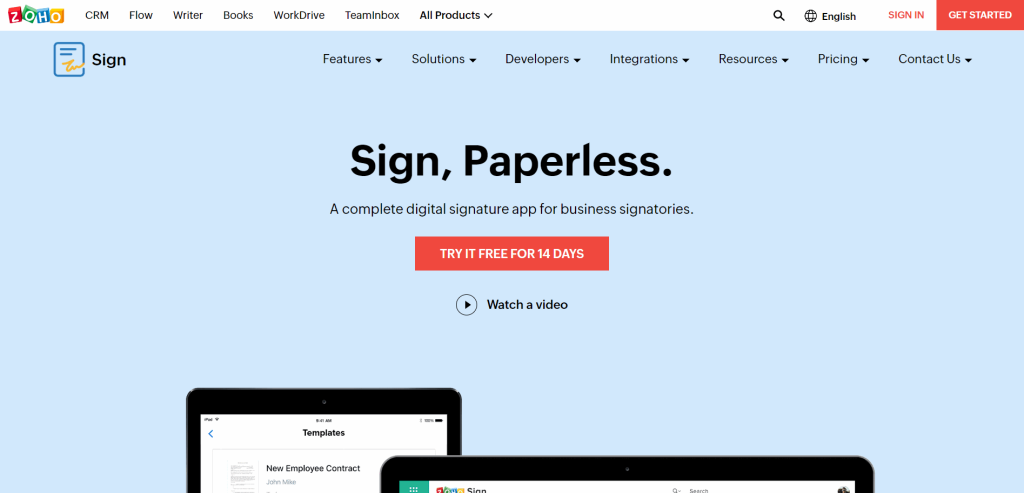 Zoho Sign is an electronic signature software that helps users sign digital documents and send them to others to be signed. The platform also allows users to track the status of their documents and see who has and has not signed them. Zoho Sign offers several additional features, including recipient authentication and document management.
You can customize templates, sign in bulk, and send eSignature requests to scale your operations without the extra hassle. The Zoho Sign platform also integrates with Zoho apps and other tools such as Google and Microsoft applications. The platform's integration versatility and robust feature set make it a practical option for growing teams.
Pros
Advanced integrations with other Zoho tools
Easy workflow setup
Many options for signing
Cons
Difficulties with ease of use
Some issues with CRM integrations
pdfFiller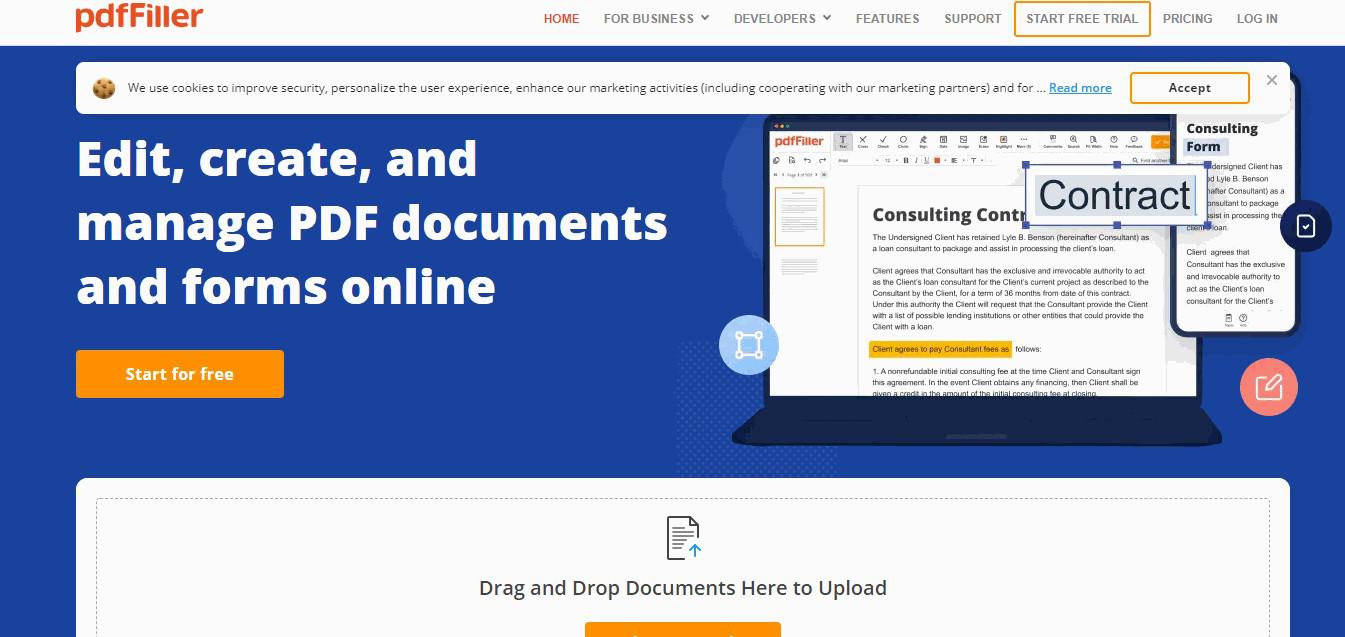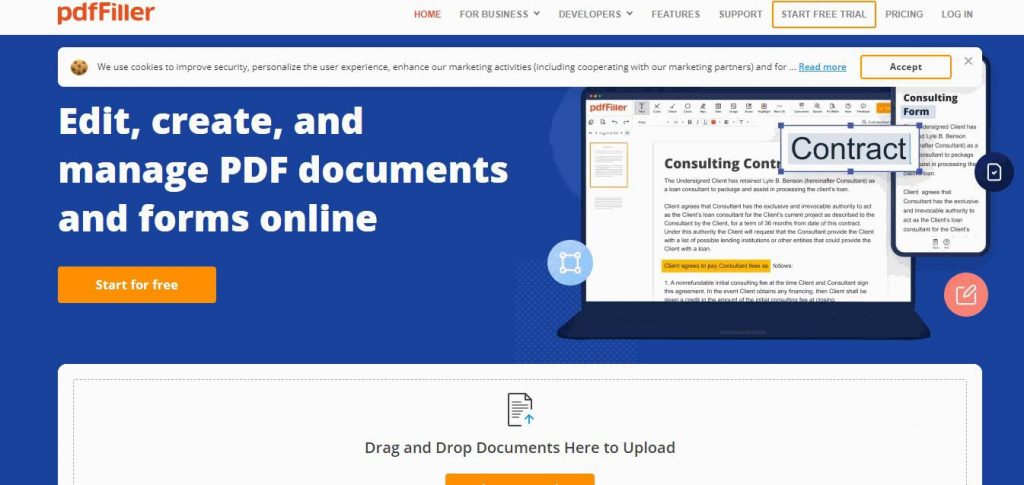 pdfFiller is an online PDF manager that helps you convert, edit and save your PDFs and forms. You can also collaborate to work on documents online with others. The platform covers everything from emailing PDFs to notarizing your documents online. In addition, pdfFiller connects to your payment system so that you can easily collect payments after documents are signed. This software is a powerful tool that can help you manage your PDFs and forms effectively.
pdfFiller plans start at $10 per month (billed annually). This includes a basic document editor, converting PDFs to word documents, and 24-hour customer support. Premium plans include reusable templates, data export, and real-time customer support chat starting at $15 per month. All plans come with a 30-day free trial.
Pros
Easy to use and sign documents
Password-protected documents
Accessible pricing
Cons
Some performance issues
It does not support multiple languages
Limitations with formatting
DocuSign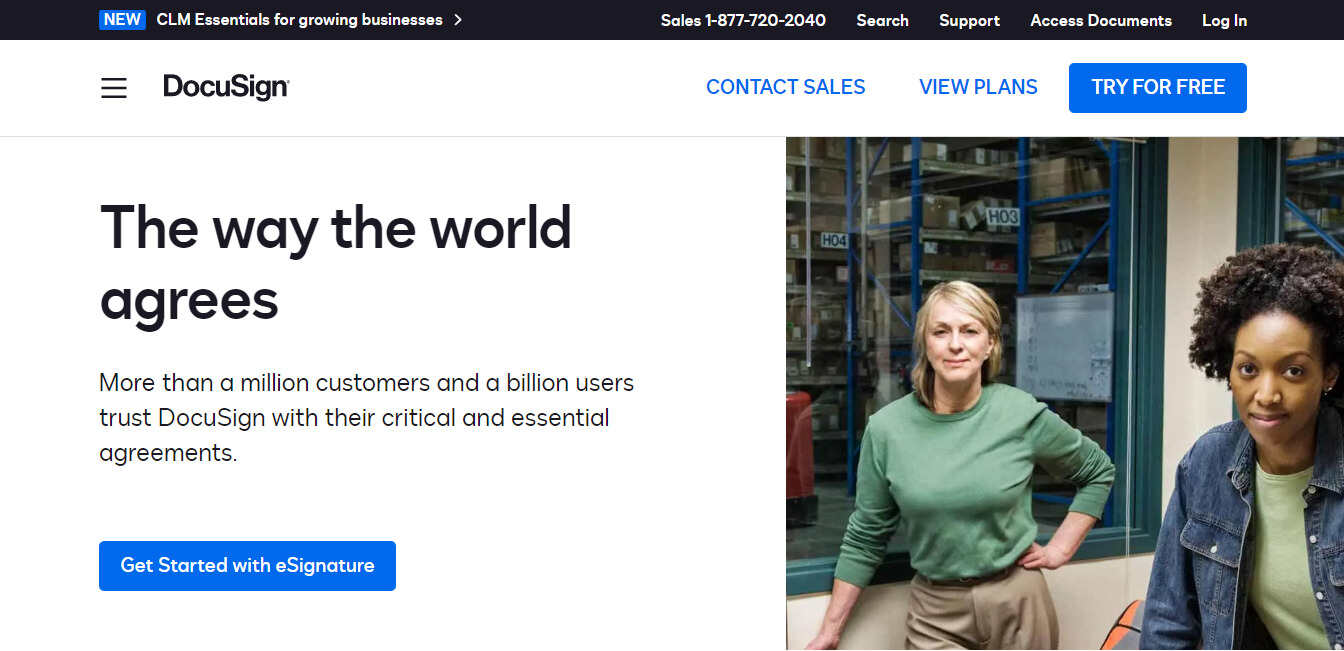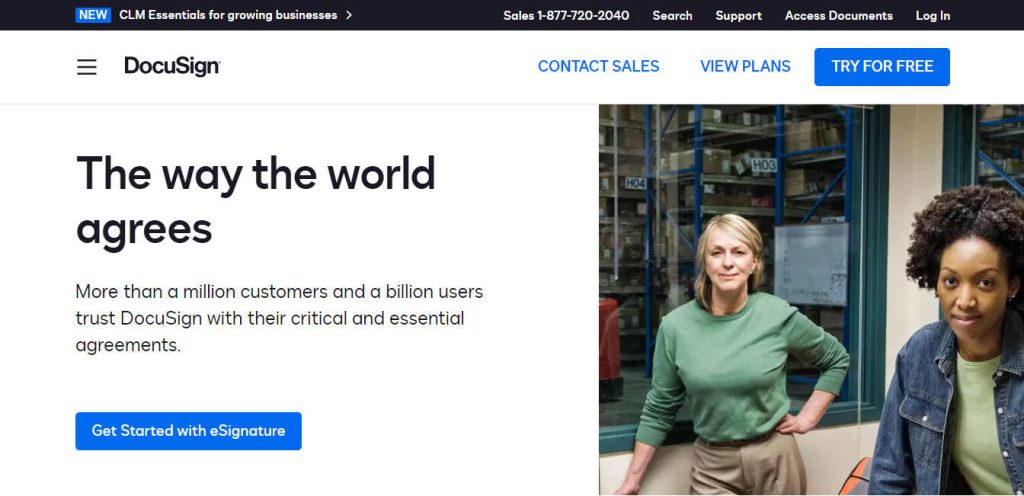 DocuSign's robust and straightforward features make it easy for users to learn and adopt the program into their daily workflows. The platform's usability allows any team member to be on board with minimal assistance. DocuSign allows you to build seamless processes so your team can scale without passing bulky paperwork back and forth.
DocuSign offers a personal plan for just $10/month when billed annually or $15/month when billed monthly. This plan includes signing unlimited documents and setting up reminders about signatures. It's ideal for individuals who don't need any frills when signing documents. However, if you're part of a growing team, you might want to consider one of DocuSign's Pro plans. These start at $40 per user per month when billed annually or $65 when billed monthly. The Pro plan includes features such as shared documents, SMS authentication, and bulk sending, which are all powerful tools for a growing business. Bonus: Here are the best DocuSign competitors available.
Pros
Comprehensive eSignature solution
Robust set of integrations
Relatively easy to use
Cons
More expensive
Issues with API
Minor improvements on UI
SignNow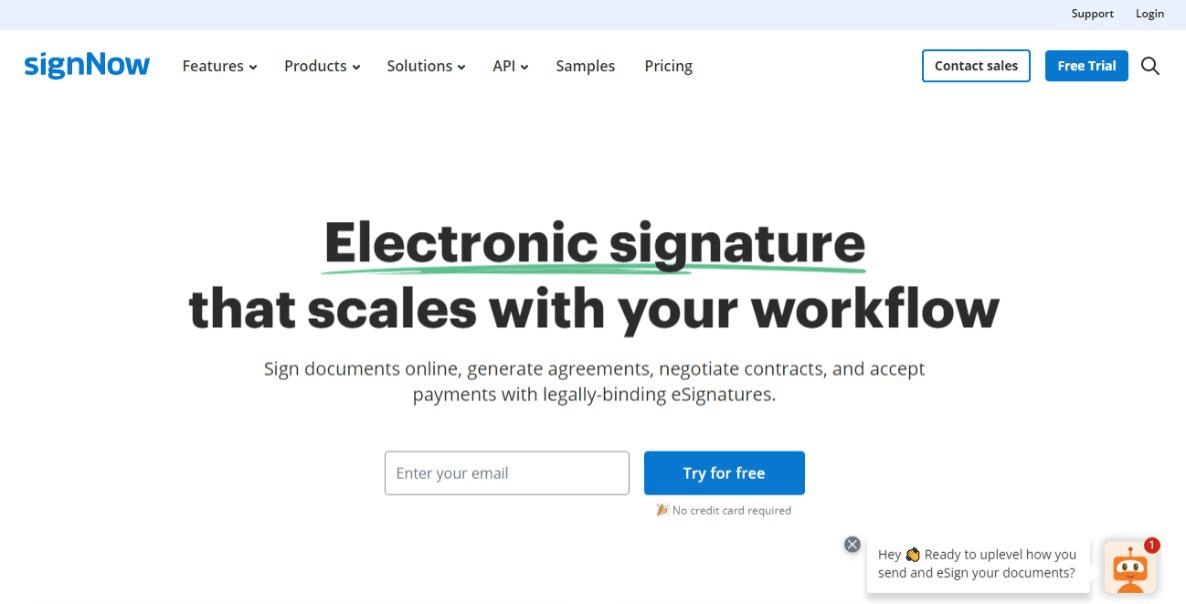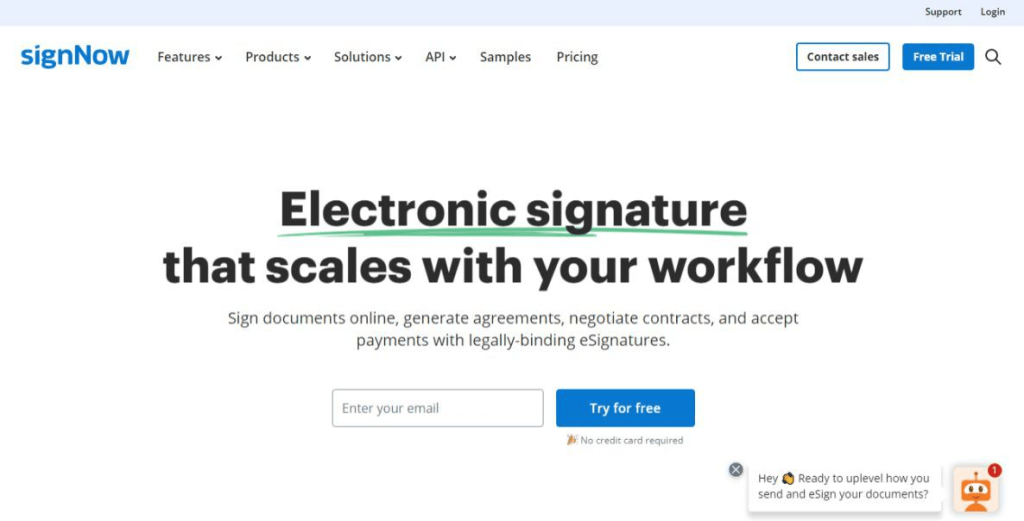 SignNow is a versatile electronic signature solution that can be tailored to meet the needs of any business. One of the platform's key features is the ability to access unlimited reusable templates. This means you can create custom documents, such as contracts and legal agreements, without starting from scratch each time. In addition, SignNow allows you to customize your company's branding, ensuring that your documents always reflect your brand identity. Another useful feature of SignNow is the ability to send documents in bulk. This can save time when sending multiple documents to clients or colleagues. Moreover, the SignNow mobile app makes it easy to sign and send documents on the go, and its secure data storage ensures that your documents are always safe and accessible.
SignNow offers four pricing plans, from Business to airSlate Business Cloud, which is the platform's all-in-one solution. Business plans start at $8 per user per month (billed annually) and include basic fillable fields, unlimited templates, and mobile app access.
Pros
Accessible for non-technical backgrounds
Relatively affordable
Reusable templates
Cons
Limitations with customer support
Minor issues with performance
Some confusing aspects of UI
PandaDoc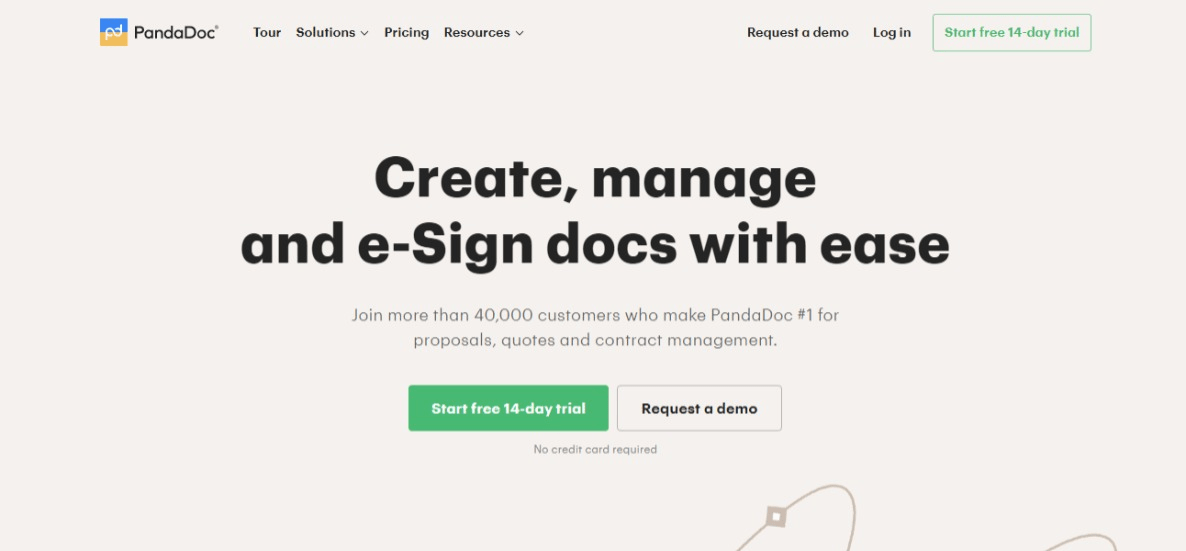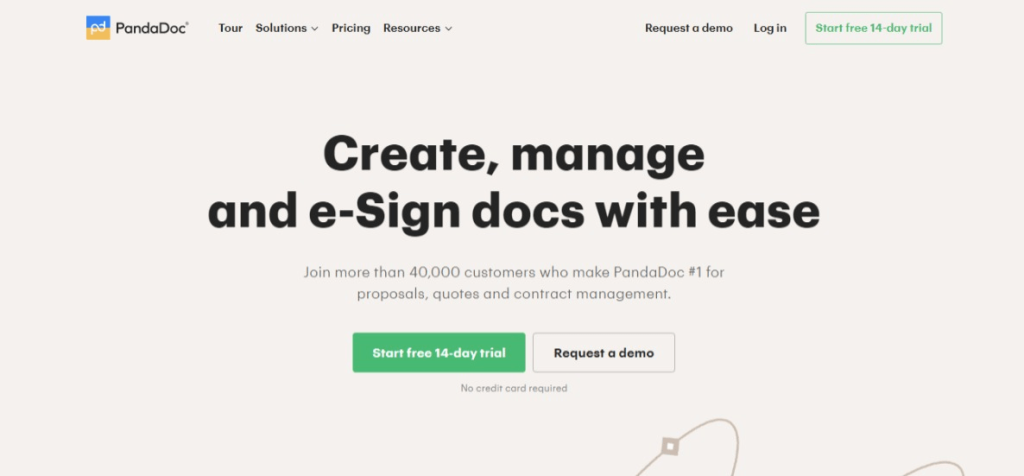 PandaDoc is a powerful document management tool with a variety of features to help streamline your workflow. With PandaDoc, you can access unlimited signatures and document uploads, making it easy to keep track of your paperwork. You can also collect payments with signatures, ensuring that your transactions are streamlined and well-organized. For added convenience, you can access a seamless mobile app to manage your documents.
PandaDoc's free tier includes various features, such as unlimited document uploads and payment access. Its Essentials plan starts at $19 per user per month (billed annually), which enables 24/7 support, an analytics dashboard, and more. PandaDoc's Business plan starts at $49 per user per month (billed annually) and includes CRM integrations. PandaDoc has many competitors, in case you're looking for more information.
Pros
User-friendly
Robust free tier
Helpful customer support
Cons
Some issues with design and usability
Challenging to train users on the platform
Limited access to integrations in lower pricing plans
HelloSign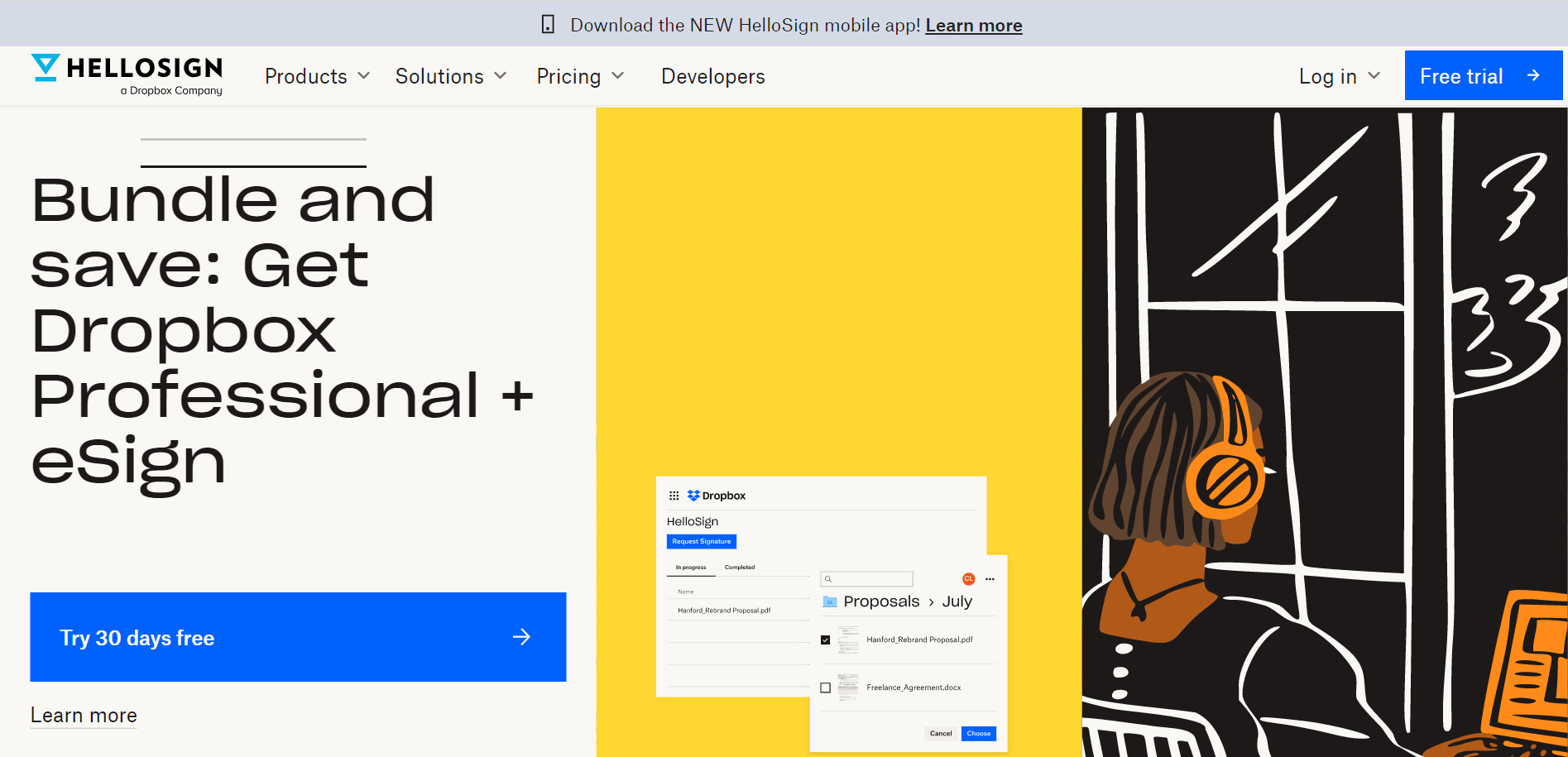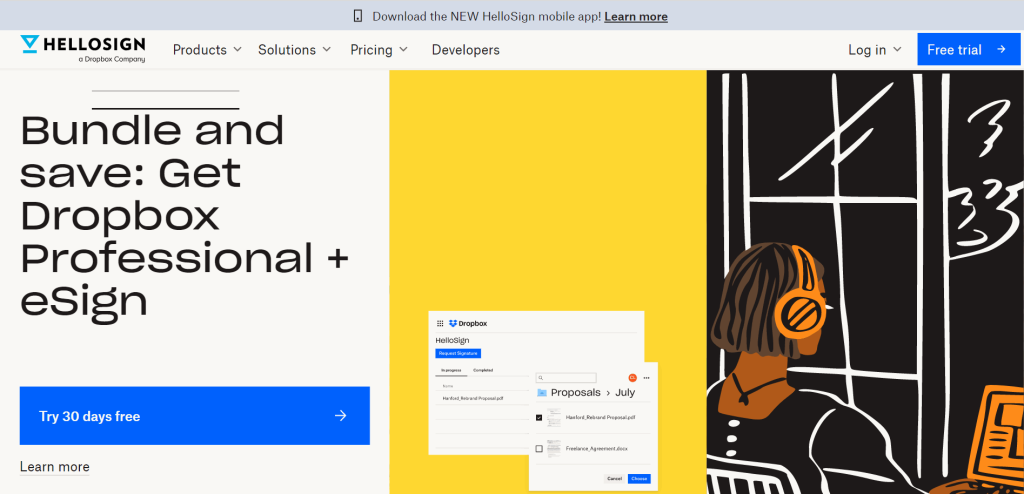 HelloSign, a DropBox product, is a powerful tool for creating and sending secure digital documents. With HelloSign, you'll have unlimited signing and can send and enable tamper-proof documents with a digital seal. You can add essential integrations like Google Drive, Word, and Dropbox. HelloSign offers advanced security with 256-bit encryption and SOC II compliance.
Pricing for HelloSign starts with its Essentials plan at $15 per user per month (billed annually). Its DropBox + eSign tier starts at $24.99 per user per month (billed annually) and includes Dropbox's features. Here are some HelloSign alternatives to consider.
Pros
Useful templates
Positive user experience
It doesn't require account creation to sign documents
Cons
Some performance issues with forms
Some confusing navigation elements
Limited access to technical support
Benefits of Using Electronic Signatures for Small Business
By automating processes and keeping documents organized, eSignature software gives you more time to focus on what's important—running your business. Here are some ways electronic signatures can benefit your small business.
Save Precious Time
One of the most significant benefits of using electronic signatures is that they can save you a lot of time. Rather than printing out documents, signing them, and scanning them back onto your computer, you can sign them electronically. This saves you the time and hassle of keeping track of physical documents. If you need to send a document out for a signature, you can do so quickly and easily without waiting for the signed document to be returned by mail. Saved time translates to saved dollars.
Automate Processes
Electronic signatures can help you automate processes. For example, if you're sending out contracts regularly, you can set up a process to automatically send the contract to the client once they've agreed to the terms. This saves time and ensures everyone has the document's latest version. Automating processes with eSignatures can help your team boost their productivity.
Keep Documents Organized
Another way digital signatures can benefit your small business is by keeping your documents organized in one central location. This is especially helpful if you have employees who are working remotely or if you need to access documents while out of the office. With eSigning software, you can access your documents from any device with an internet connection. This means you'll always have the latest version at your fingertips—no more printing or digging through old files!
Increase Productivity
eSignatures also have the potential to increase productivity for your small business. By automating processes and keeping documents organized, eSignature software eliminates potential bottlenecks and allows operations to run smoothly. This increases efficiency and allows you to get more work done in less time. In addition, accessing signed documents from anywhere means that employees can work remotely without having to wait for physical documents.
How to Choose the Best eSignature Software for Your Small Business
With so many electronic signature tools and contract management software on the market, it's hard to know where to start. There are a few key factors you'll want to consider when choosing the right software for your small business:
Mobility Features
If you're running a small business, chances are you don't have a lot of extra time on your hands. That's why choosing electronic signature software with mobility features is important. You should be able to sign documents from anywhere using your mobile phone or tablet. That way, you can take care of business while on the go.
Legality & Compliance
Another key consideration is legality and compliance. Ensure the software complies with all relevant industry regulations, and make certain that it creates legally binding signatures. You could get hit with hefty fines if you choose a software solution that doesn't meet all the requirements. Furthermore, compliance can vary from country to country, so if you do business internationally, check that the software you're considering is compliant in all relevant jurisdictions.
Ease of Use
Ease of use is essential when adopting a new tool. Some software solutions can be complex and difficult to use, leading to frustration and wasted time. If you don't have someone on staff who is tech-savvy enough to navigate a complex interface, opt for a simpler solution instead. The last thing you want is for signing documents to become a headache—it should be a simple solution to improve the way you do business.
Plans & Pricing
Finally, compare plans and pricing before making your final decision. Some companies offer free trials to test the software before making a purchase. Most platforms have various tiers with additional features and price points, so evaluate your needs and budget before making your choice.
What You Need to Remember About Electronic Signatures for Small Business
When looking for the best electronic signature software for your small business, it's important to consider all the benefits of using this technology. With so many options on the market, it can be difficult to decide which tool best suits your needs. Take the size and scope of your company into account, and consider which features are most important to you. Doing so will help you decide which electronic signature software is best for your business.