In this article, we'll pit HelloSign vs. DocuSign. We'll analyze both platforms to answer a simple question: Which one is better?
We'll evaluate them based on things like their:
Features
Price
Security
Customer reviews
By the end of the article, you'll know exactly which platform is right for you.
Let's get started!
Introducing HelloSign and DocuSign
Here's a general view of both platforms:
HelloSign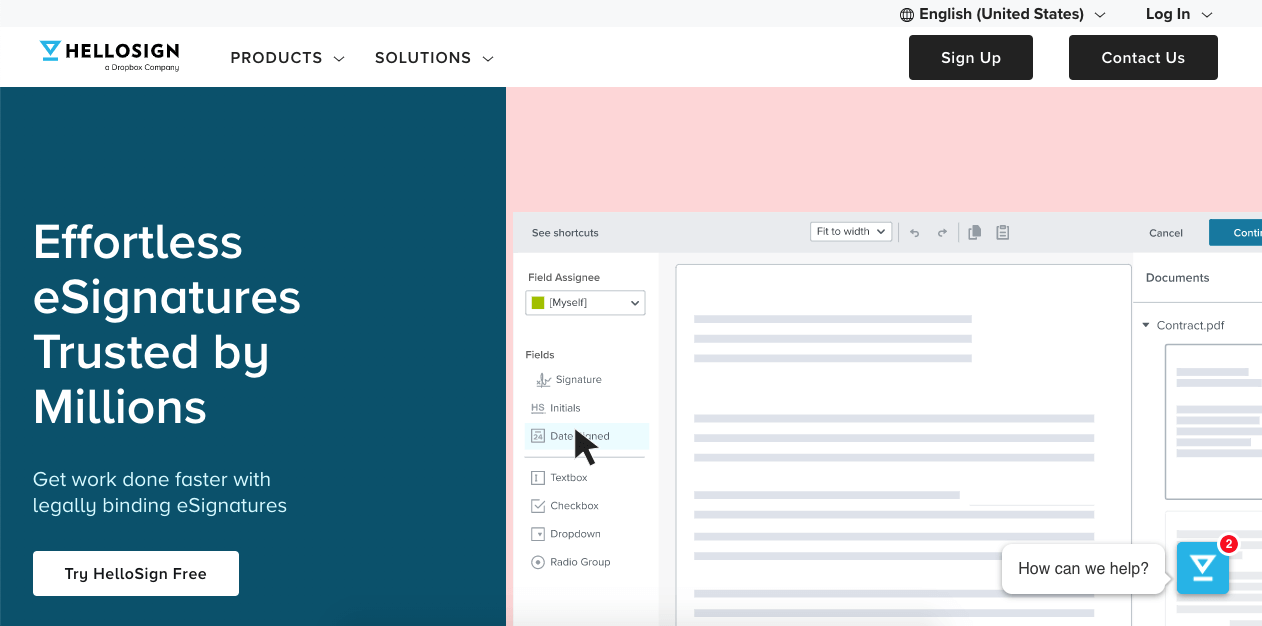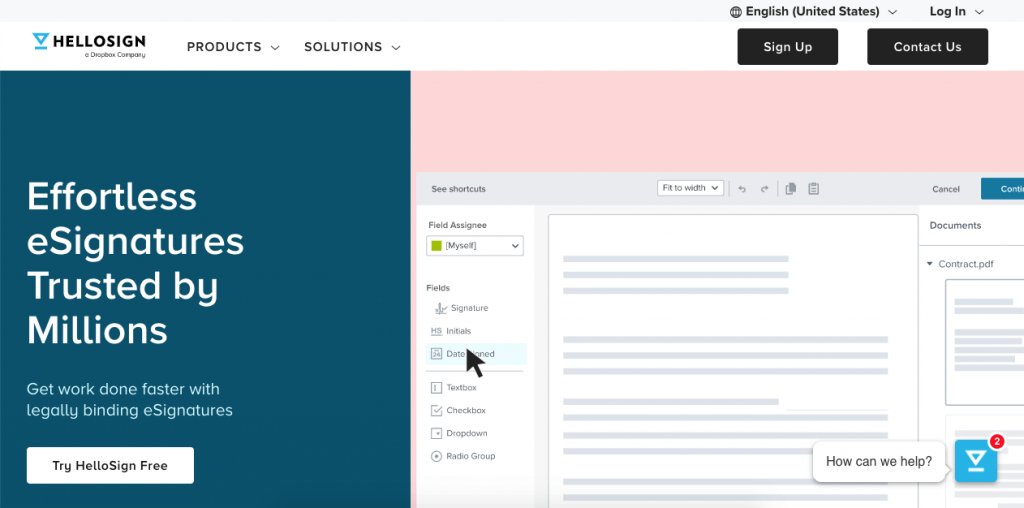 Owned by Dropbox, HelloSign is a very reliable and interesting electronic signature platform. With a straightforward signing process, HelloSign is incredibly easy to use.
The platform is quite sturdy, too, with multiple integrations, legally binding signatures, custom branding capabilities, and many more features. This makes it appealing to both private users and large companies.
Users can use HelloSign to sign documents from any device: laptops, tablets like iPads, and smartphones; all as easy as setting up a signature and tapping or clicking to sign.
HelloSign also offers a free version for casual users, offering much of its functionality for no extra charge.
Pros and Cons of HelloSign
Pros:
Easy to use
Powerful free version
Great for beginners
Customizable templates (in paid versions)
High-security capabilities
Tons of integrations, including Google Docs, Salesforce, Dropbox, Zapier, HubSpot, Slack, and many others.
API integration is available with the more expensive plans.
Cons:
Its simplicity may sacrifice functionality
It can become quite expensive for professional users
No advanced fields or features
No free in-person signatures
Limited amount of templates
DocuSign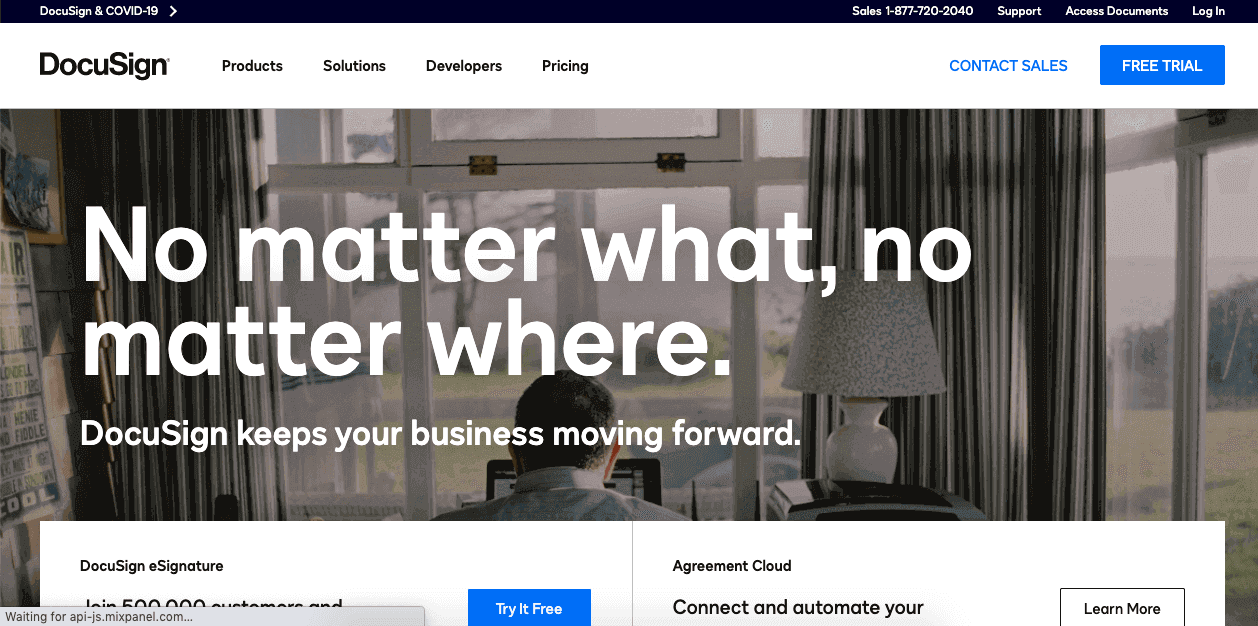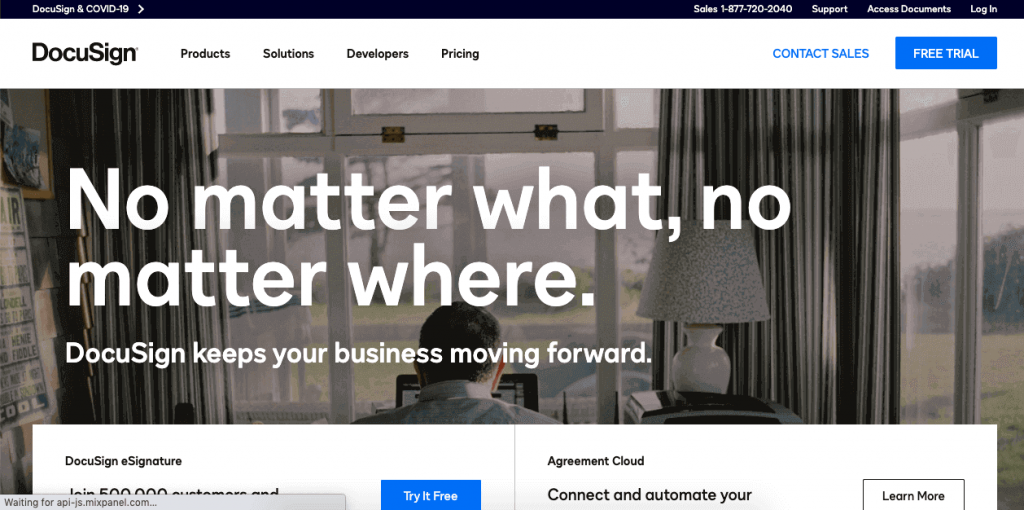 DocuSign has been around since 2003, making it a veteran and pioneer platform with powerful and advanced capabilities.
With millions of users, DocuSign is a great platform for creating, editing, signing and customizing contracts and other documents online.
Although not as easy to use as HelloSign, its advanced options give a huge edge to DocuSign for anyone looking for something more than just a simple e-signature platform.
Pros and Cons of DocuSign
Pros:
A powerful app for iOS, Android, and Windows 10 mobile and tablet devices
High level of customization
Highly specialized templates in the more expensive plans
Backed by huge clients like LinkedIn, Salesforce, and T-Mobile
Integrations with Salesforce and Sharepoint
API integrations available
Community-based support
Cons:
Expensive platform
Specialized features are only available with the most expensive plans
Harder to use than HelloSign
Email, phone, and chat support only available with the most expensive plans
Greater learning curve
HelloSign vs. DocuSign – Head-to-Head Comparison
So, how do they fare when compared side by side?
Let's find out:
1. Ease of Use (+ How to Sign a Document?)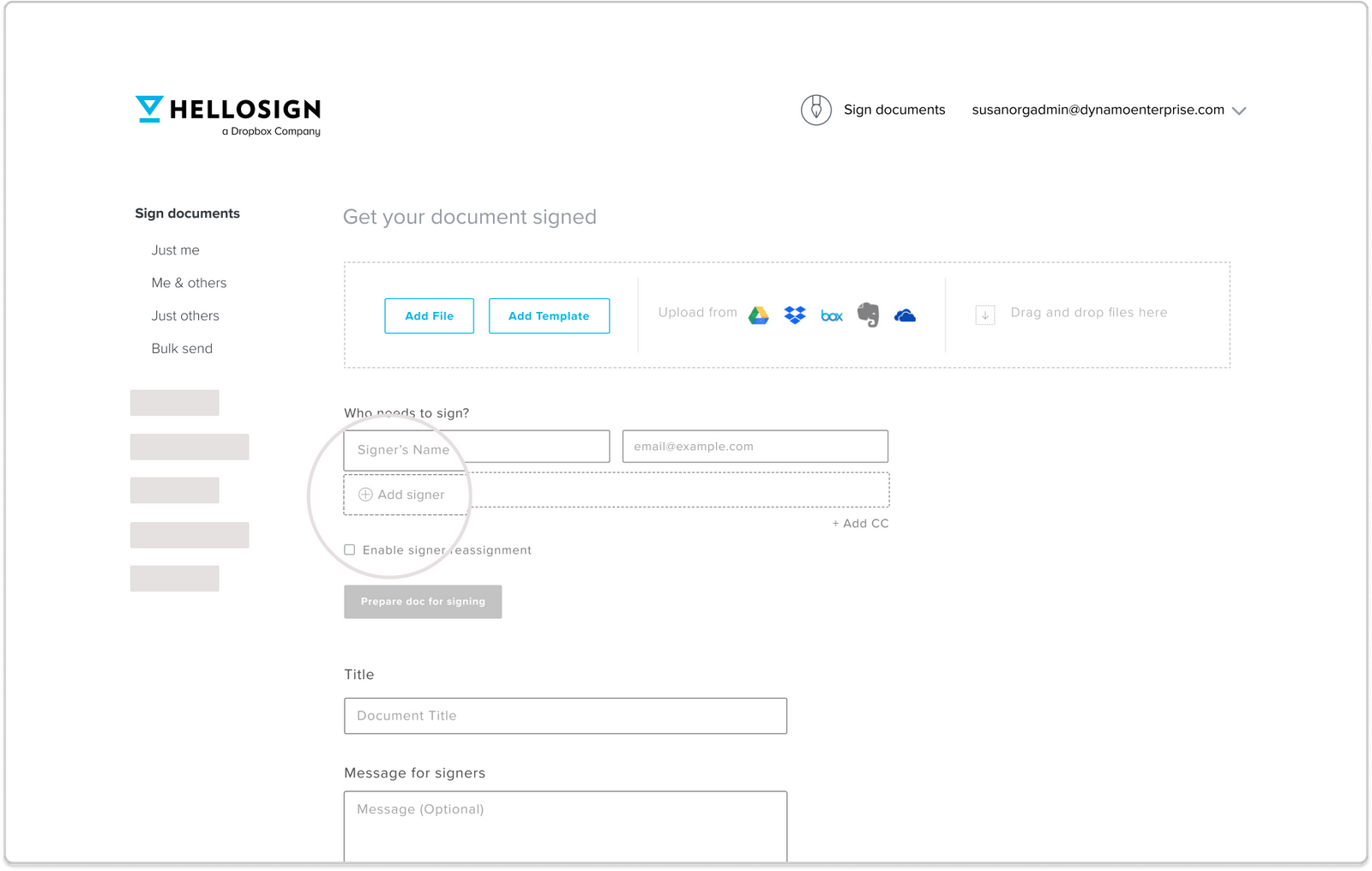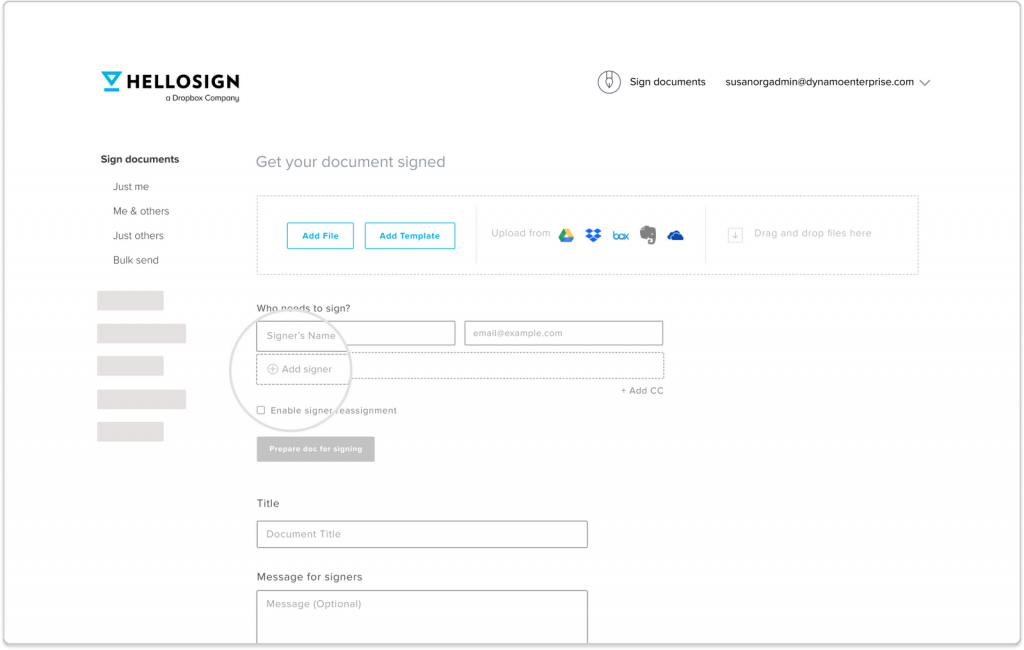 DocuSign and HelloSign have easy signing capabilities, but crafting the documents isn't as easy as signing them.
The first thing DocuSign asks you to do is to upload a document. Next, the platform invites you to add the signers and edit the article to place your signature spaces in a PDF document. Once you've added the signers and signature spaces, you can draft a quick message and press "Send" to finish off.
DocuSign will then send the documents for an electronic signature to the signers via email, along with your message, and guide them through the signing process.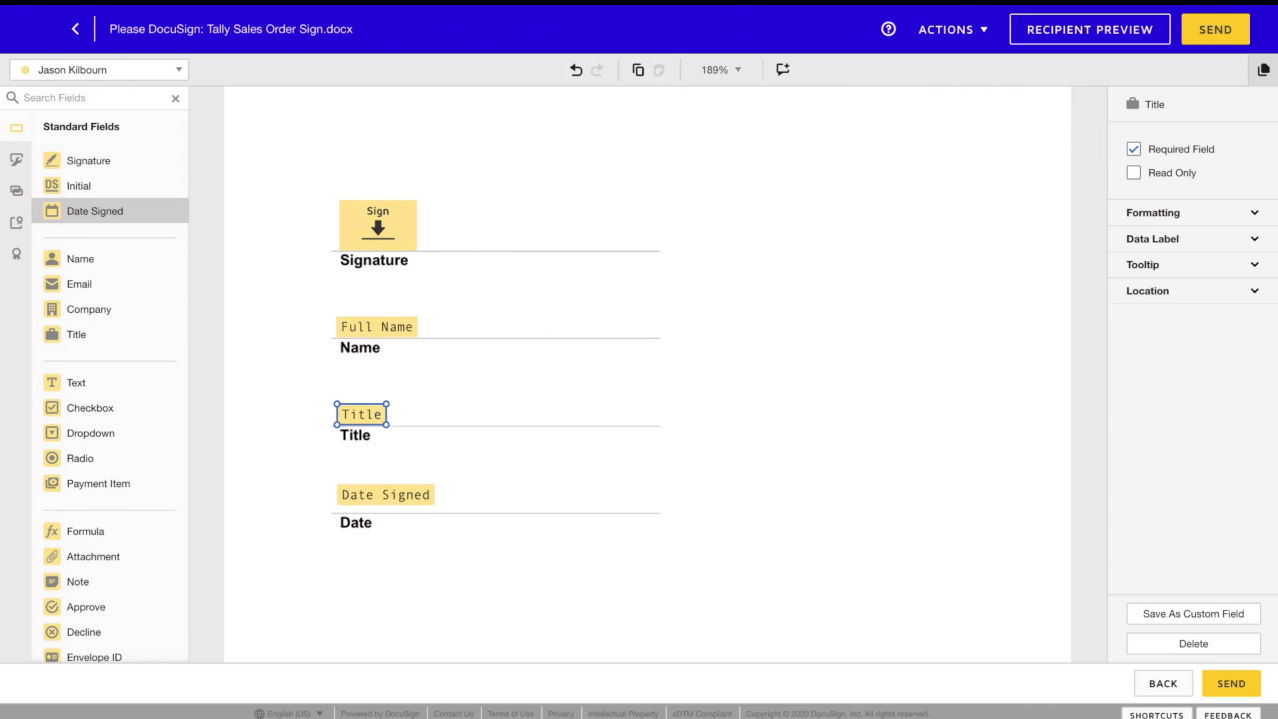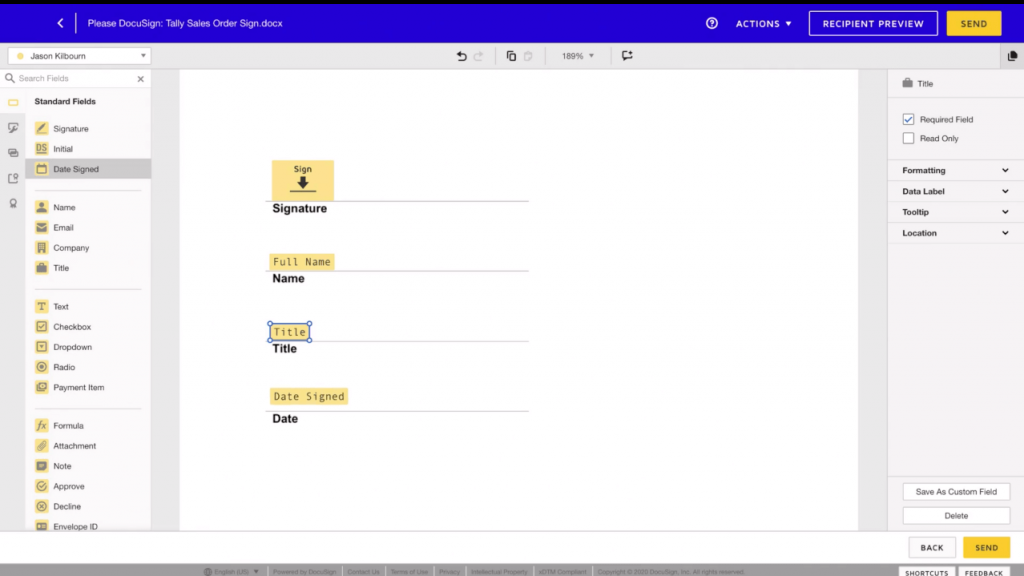 HelloSign has a similar process. It first asks who will need to sign a document to determine if you will be involved in the process. If your signature is required, HelloSign will use your signature and profile information to load up your signature as soon as you're done.
HelloSign will then direct you to upload your document and guide you through adding the signature boxes. You can also determine the signing order and send the signature request directly from that window.
As you can see, while DocuSign makes you go through four or five windows, HelloSign streamlines the process. It guides you through only two screens, signs for you, and sends your document as quickly as possible.
The drag-and-drop editor is also easier to use.
Winner: HelloSign
2. Features
Both HelloSign and DocuSign have unique features that make each better for different people. HelloSign usually focuses its features on simplifying the process, while DocuSign's features aim to lower costs and give control to users and organizations.
Both platforms have features like:
Auto reminders
Company branding
Document analytics and management
Audit trail and authentication
Multi-party signature
Signatures on mobile
Progress tracking
The main differences arise mainly from the different paid plans each platform offers.
HelloSign's plans have great features, like:
On the other hand, DocuSign does not offer any free plan and packs more features into any paid plan than you will find in HelloSign's basic one, like unlimited document upload and bulk-sending options.
With DocuSign, you'll also have access to features like:
Unlimited templates
Payment collection
Comments
Signer attachments
Advanced fields
Key integrations, however, are locked behind custom advanced solutions, so you'll need to talk to a salesperson to tailor a solution that fits your business needs.
Although HelloSign offers almost as many features as DocuSign, DocuSign's features can be more robust, particularly through its integrations and business-related features.
Winner: DocuSign
3. Customer Reviews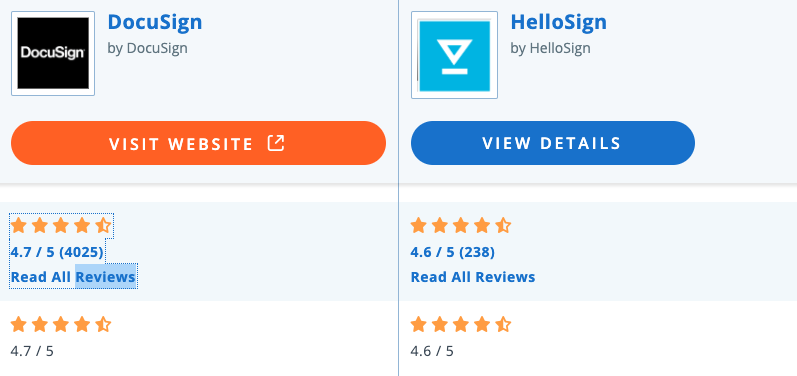 Studying the reviews for both DocuSign and HelloSign, we find that users love both platforms for different reasons.
HelloSign users praise its simplicity, with reviews mentioning "how easy it is to sign tax forms and contracts" and the "intuitive and friendly UI." The negative reviews complain about the lack of customer service, a hard-to-use search function, and high costs for large companies.
DocuSign users focus more on its features. Users love the highly customizable options for documents and their high functionality, even with the cheaper plans. However, they mostly complain about the UI is difficult to master fully and the lack of a free option.
Winner: Draw.
4. Use Cases/Case Studies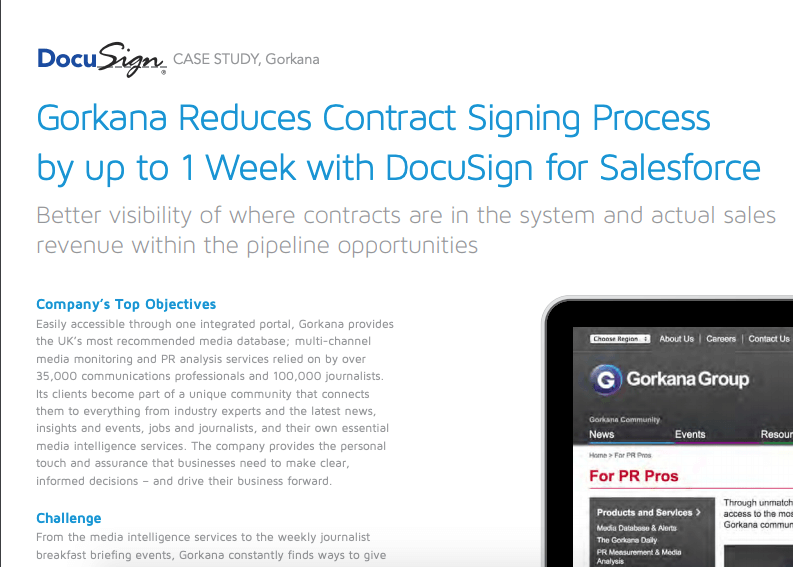 Several case studies for HelloSign and DocuSign show how they've helped companies streamline their processes and solve their problems.
For example, HelloSign helped Breezy and JobAdder, both HR-focused companies, simplify and quicken their hiring processes through online signatures. We were able to find at least 38 case studies related to companies' experiences with HelloSign.
On the other hand, DocuSign has well over 200 case studies from companies worldwide. Companies focused on sectors from communication to quality management have published detailed case studies on how DocuSign has helped their businesses move more quickly and grow faster.
Winner: DocuSign
5. Integrations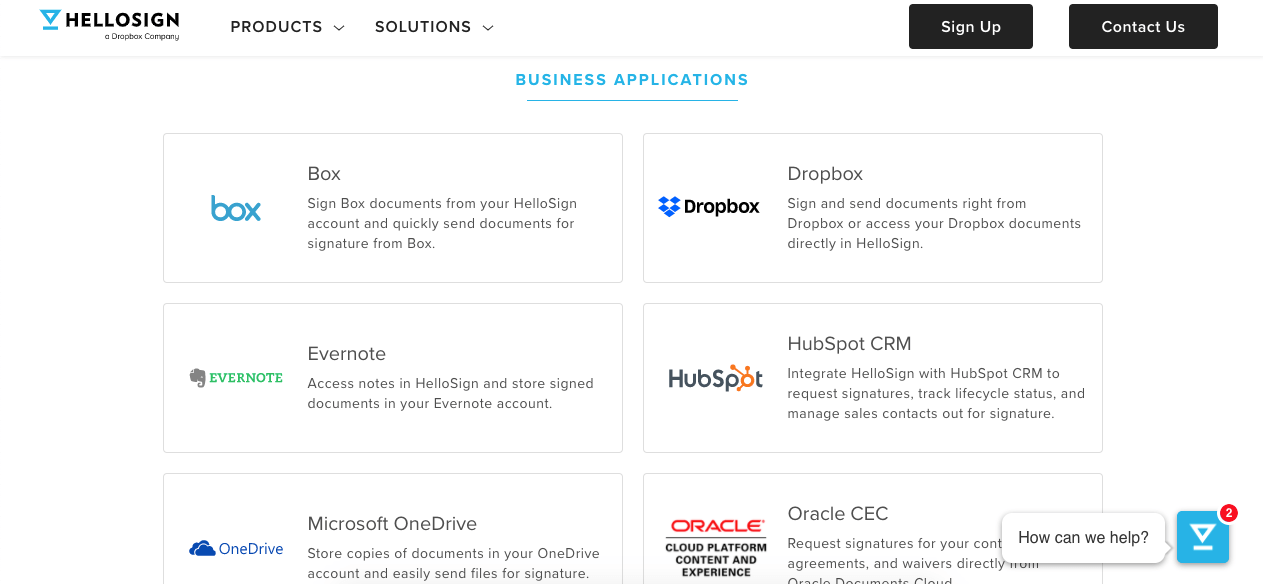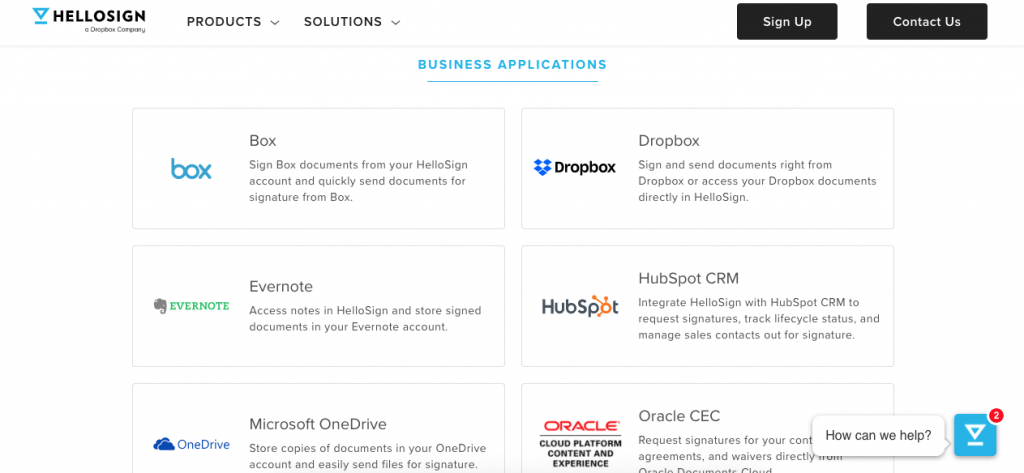 HelloSign offers integrations with online storage solutions like Google Docs, OneDrive, Box, Evernote, and, of course, Dropbox, to name but a few. You can create a limited number of templates, depending on your plan.
DocuSign, however, offers a wide array of powerful integrations. Although some may be locked behind personalized plans, DocuSign offers more integrations than HelloSign offers.
Winner: DocuSign
6. Customer Support
Although you always hope never to need it, good customer support is vital with any purchase. However, neither HelloSign nor DocuSign excels at customer service.
HelloSign users can email customer support or fill in a web form. There's no live support option and no estimated timeline on when your issue will be solved.
DocuSign users aren't any better off. Although the platform does offer live support and faster response options, these are locked behind additional fees.
We believe good customer service should be given to everyone, not just those who can afford to pay more.
Winner: Draw
7. Pricing
HelloSign offers a free plan where you can edit, send, and sign up to three documents per month. You can't save any templates.


Its Pro plan costs $13 per month or $15 paid monthly. You get unlimited document signing with this plan.
Its Business plan costs $40 per month when paid upfront or $50 per month paid monthly. With it, you get multiple senders and additional templates to be saved on top of what the other plans offer.
Finally, you can select premium features through the Enterprise plan tailored to your needs. All plans have a limit on how many templates you can save.
DocuSign does not have a free option. The Personal plan costs $10 per month and lets you sign up to five documents monthly, with limited customization.

The Standard option costs $25 per month per user, and you get additional branding, reminders, and notifications, and other useful features.
Suppose you pay $40 per user per month for the Business Pro plan. In that case, you get all the previously listed benefits, plus unlimited document signing and sending and some advanced signing and signer features.
Finally, DocuSign offers an Advanced solution with pricing and features tailored to your needs.
Although DocuSign does offer slightly more per plan than its HelloSign counterparts, it is also more expensive, and you cannot use it for free.
Winner: HelloSign
8. Security
Both HelloSign and DocuSign comply with security and privacy standards, including ESIGN, UETA, and HIPAA. They have both received great reviews on their security and have similar features.
However, HelloSign features "bank-level" security and is more transparent than DocuSign about what it does to keep customer information safe.
Winner: HelloSign
9. Custom Branding
Both DocuSign and HelloSign allow companies to add custom stamps to their documents.
With DocuSign, companies can customize many visual elements in the documents, such as buttons, banners, and color schemes. They can also add their company logo, although the DocuSign logo will be somehow visible.
HelloSign, however, takes branding to another level. Even though users may not be able to control the document as much visually, they can upload the company branding, add a company tagline and change email signatures, and add a custom URL for a landing page.
More importantly, HelloSign is the only platform that offers white labeling. That way, companies can easily remove any HelloSign logo from their content.
Winner: HelloSign
HelloSign vs. DocuSign – Which Tool Should YOU Choose?
As we can see, HelloSign and DocuSign are pretty evenly matched. The final winner, however, will depend on who you are and what you want to get out of the platform.
HelloSign for Casual Users and Small Businesses
HelloSign is a great option for anyone who needs electronically signed documents but doesn't need them signed daily. Its limited capability on saved templates and integrations will undoubtedly not matter for users who need a few documents signed here and there and don't want to pay.
HelloSign will also be great for small businesses needing e-signatures on hiring contracts, project approvals, and NDAs (get our non-disclosure agreement template here). Without a doubt, DocuSign offers a better experience for larger companies and organizations.
DocuSign for Medium and Large-Sized Companies
If your company needs multiple documents signed regularly, and you don't mind paying more, DocuSign will give you the most for your budget. With powerful optional integrations, DocuSign can seamlessly integrate within the CRMs you're already using to help you streamline the process.
DocuSign's unlimited template capabilities will also be of great use to companies that need to save multiple documents from signing and allow unlimited variations on the same template without having to change all the minute details each time.
Signaturely as an Alternative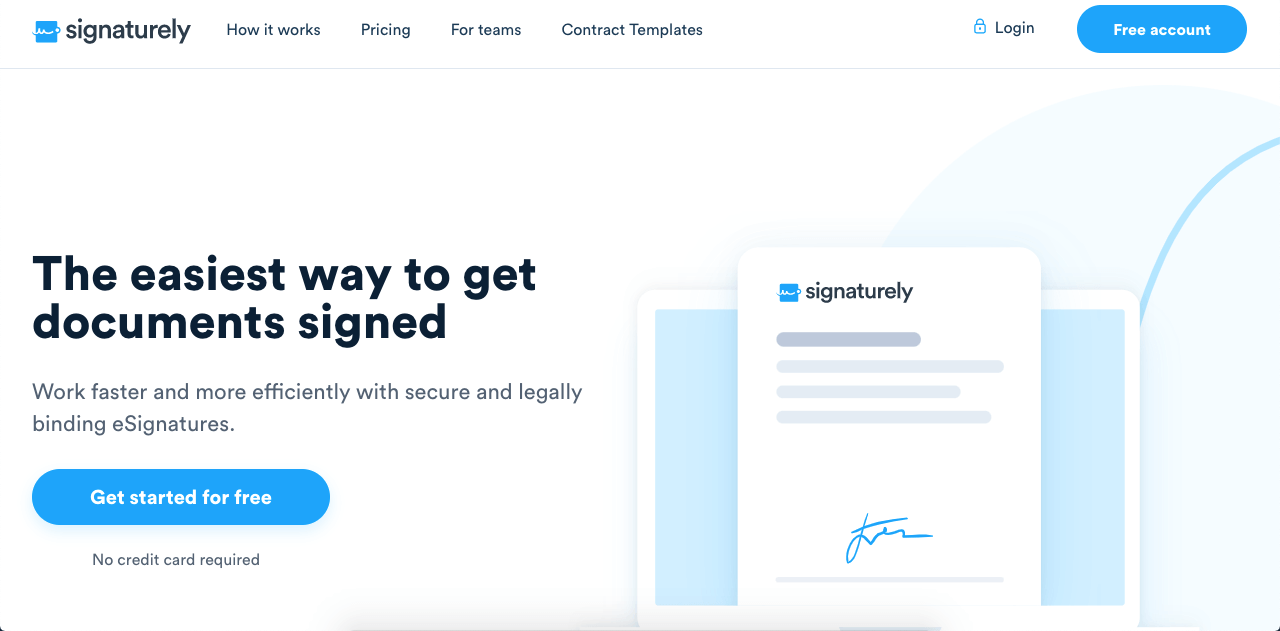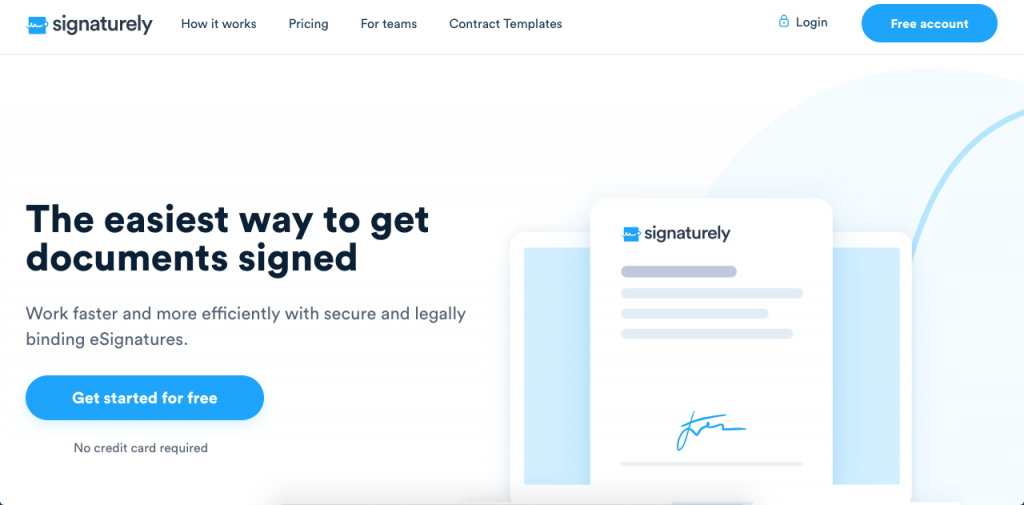 If you're looking for an option that's simpler than HelloSign, while remaining cheaper and more powerful than DocuSign, there's no better choice than Signaturely.
Unlike DocuSign, you can create a free account and start using it immediately. Your free account will integrate with Google Drive, Dropbox, OneDrive, and Box, giving you access to notifications and reminders. The free account allows you to send up to three signature requests per month. We are one of the top DocuSign alternatives.
Need more signature requests? For just $10 per month, Signaturely gives you unlimited signature requests, so you can send as many documents as needed.
And, unlike HelloSign, and at a lower price than DocuSign, Signaturely also gives you unlimited signature requests and templates for just $15 per month. With this plan, you'll also get features for team management and custom template branding.
Creating online documents with Signaturely is very easy. All you need to do is first select whether or not you need to sign the document. Then you can name your document, import or create it using the editor, and select the signers and the display message to be sent along with the document.
You can also assign a signer order and review your document right before sending it to ensure your signature has been added correctly and that there are no issues with the document.
Once you send it, Signaturely will guide your signers throughout the signature process, allowing them to create their e-signature if they don't have one. Therefore we also consider ourselves a solid HelloSign alternative.
Sign up for free to start using Signaturely today.
HelloSign vs. DocuSign: Conclusion
HelloSign is a great tool for casual users and small businesses that won't notice its limitations and will appreciate its intuitive UI.
DocuSign is better suited for large companies that require multiple documents and signatures and don't mind paying more in exchange for powerful integrations and detailed customization options.
And if you're looking for a more intuitive tool than HelloSign, and cheaper than DocuSign, you can't go wrong with Signaturely.