Not everyone knows there are multiple ways to insert a signature in Excel. You can do it directly on the platform and keep your signature visible or invisible. Multiple ways make it easier for anyone to insert a digital signature in Excel.
By the end of this article, you'll know multiple ways to sign, request, and add electronic signatures in Excel and have a couple of alternatives lined up.
Let's get started.
4 Easy Ways to Insert a Signature in Microsoft Excel
Here are 4 easy ways to insert a digital signature in Microsoft Excel:
Using an Electronic Signature Software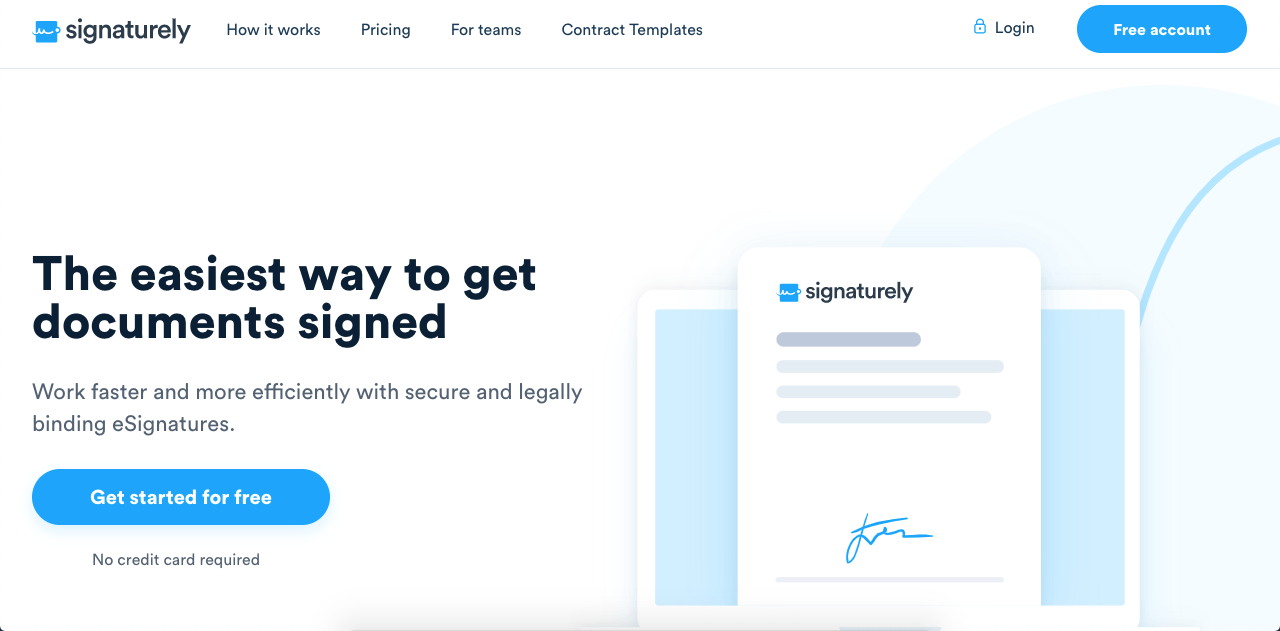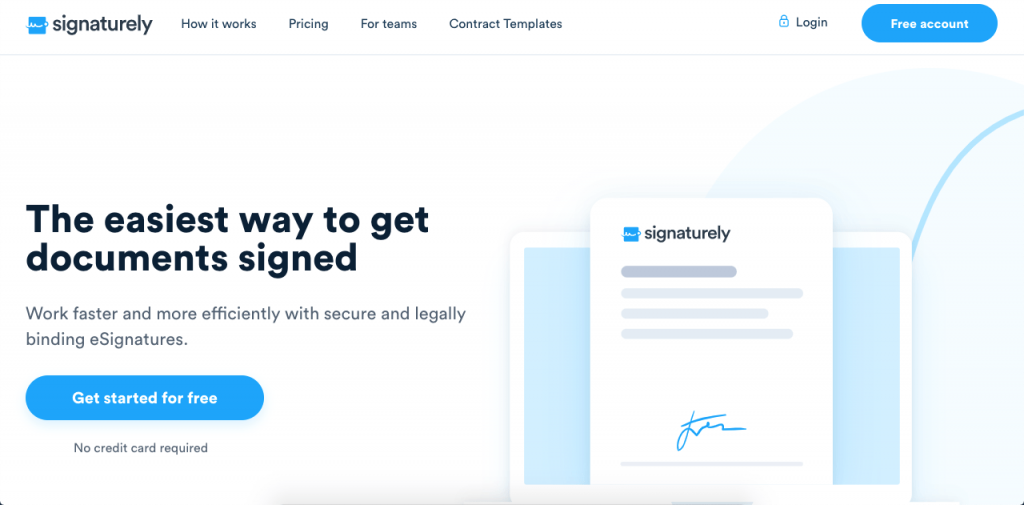 The easiest and safest way to insert a signature in Excel (and everywhere else) is by using an electronic signature app like Signaturely.
Signaturely is a simple and effective digital signature software that allows you to create and upload Excel documents, Word documents, PDFs, and more to easily and legally sign documents online.
Here's how to get started:
Open your Signaturely account.
Click on "Sign," and select the person or people who need to sign the document.

Fill in the document title and information, scroll down, and click on "Upload File."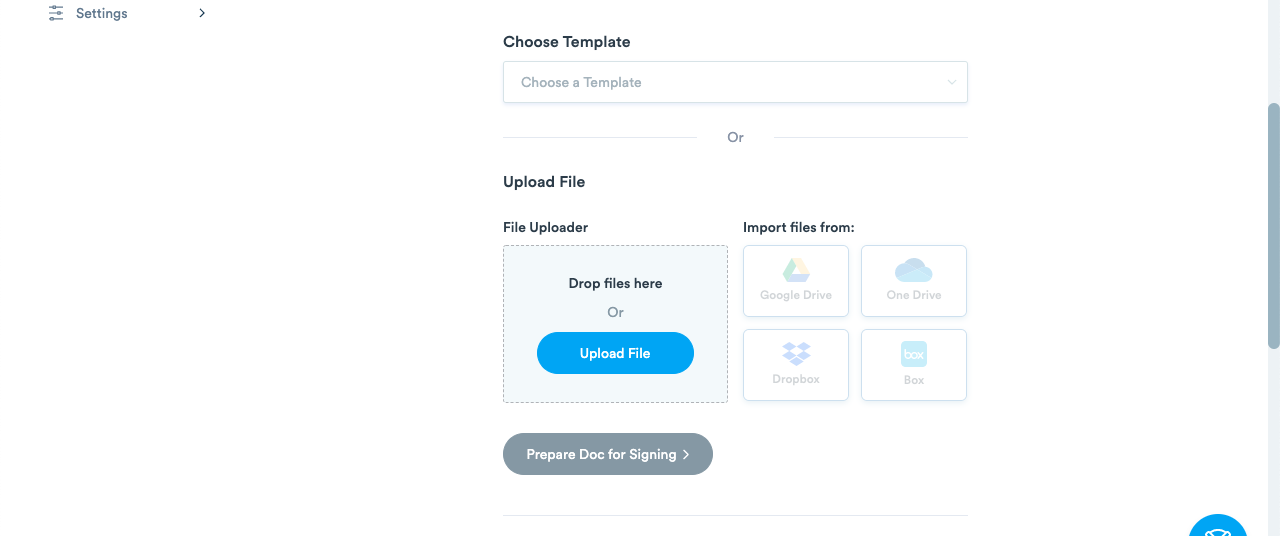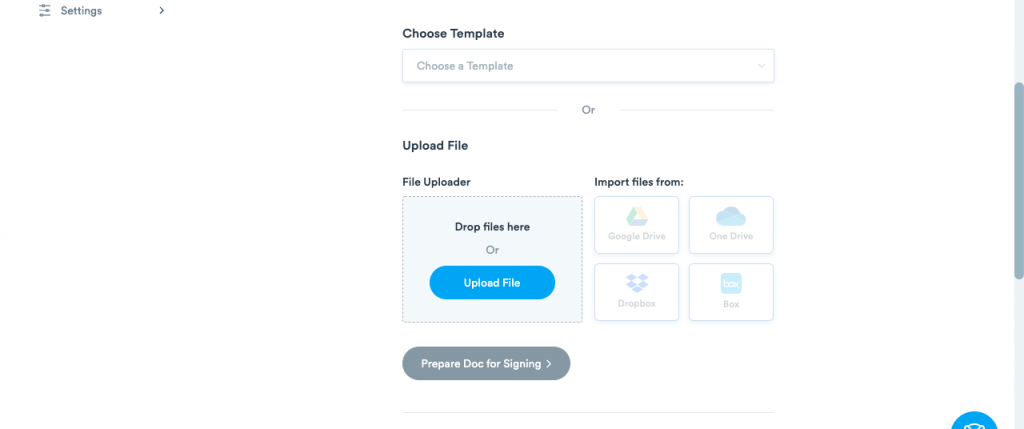 Select your Excel file and upload it.
Add your signers.
Send your document.
It's that easy.
You can use Signaturely for free with its forever-free account. With Signaturely, you can send up to three digital signature requests per month and easily import all your Excel, PDF, and Word documents to be signed online. This will transform your document into a powerful digital certificate.
The platform allows you to insert a signing date, create an e-Signature, and save your signed document online. You also get access to the audit log and history to manage your signature requests, sending notifications and reminders to your signees.
Need more than three monthly signatures? For just $10 per month, you'll get an unlimited number of signature requests. Need free, unlimited templates? Increase your monthly payment from $10 to $15 for a business account, and you'll also receive unlimited templates, team management tools, and custom branding.
No one else offers as much for the same price as Signaturely. Sign up for free to start using Signaturely today to insert a digital signature in Excel and everywhere else.
Pros:
Simple
Convenient
Generous free plan
More advanced features than Excel
Safer than Excel
Guides your signees step by step
Allows you to handle and supervise multiple documents
Forever-free plan and very affordable paid plans
It makes electronic signatures easy
Cons:
No mobile app available (currently in development)
HelloSign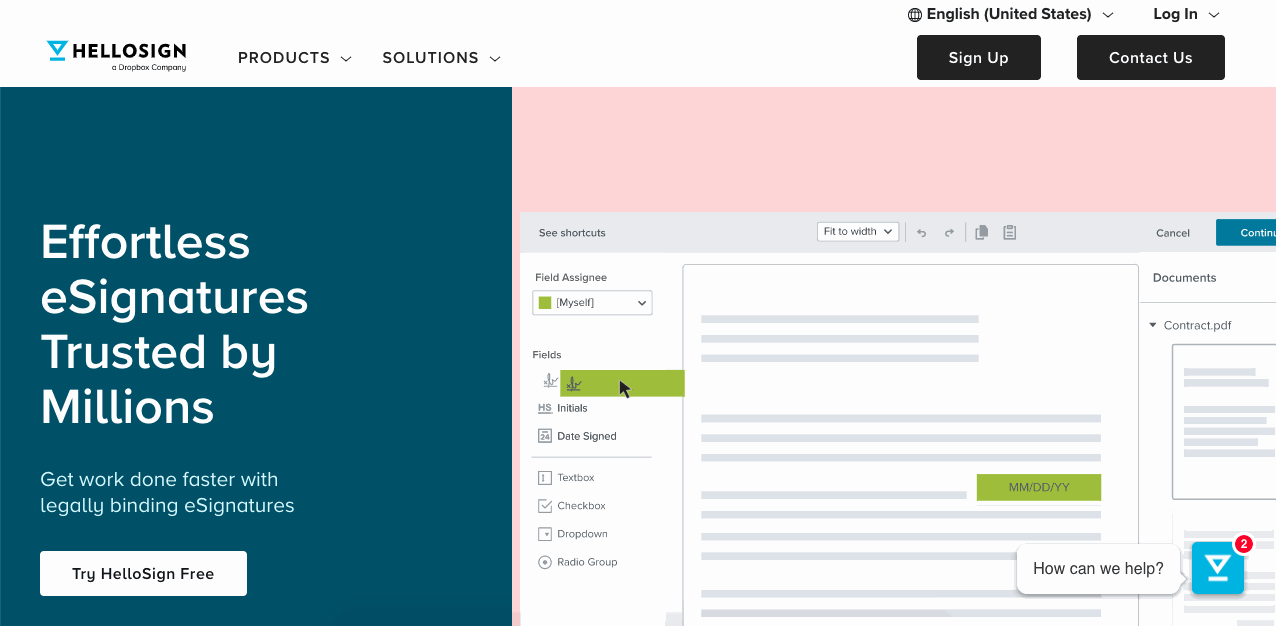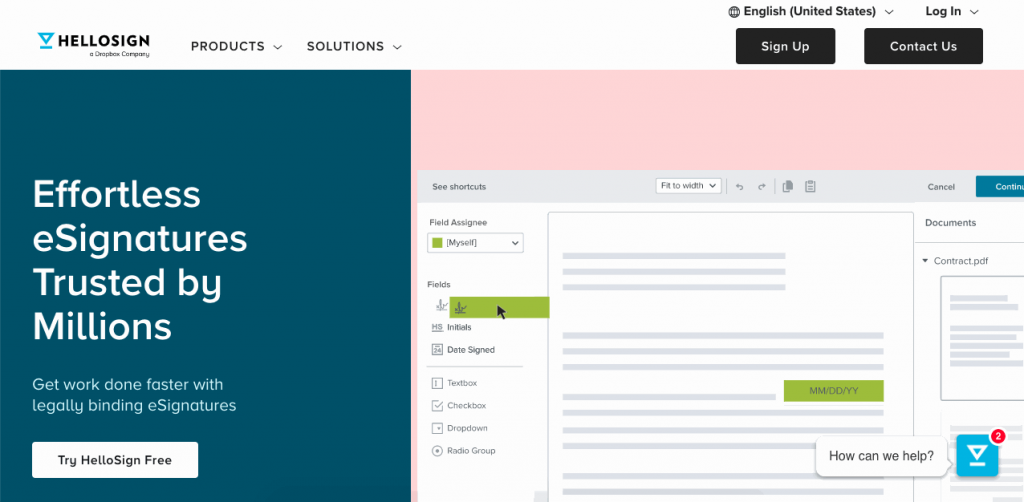 HelloSign is an electronic signature platform that's easy enough for most users.
The platform also offers bank-level security, protecting your documents through SSL encryption and secure server infrastructure hosted at a state-of-the-art Tier III, SSAE-16, and ISO 27001 certified data center. That's much higher security than Excel can offer you.
Users can also integrate HelloSign with multiple cloud-based servers and Zapier.
Although its pricing plans for professionals can be high, HelloSign doesn't offer unlimited templates in any price tier, making your process documentation more difficult if you must sign multiple documents.
Pros:
Easy to use
Good security
Limited free account
Cons:
Expensive paid tiers
Limited capabilities for the price
Signaturely is one of the best HelloSign alternatives in the market today.
Adobe Sign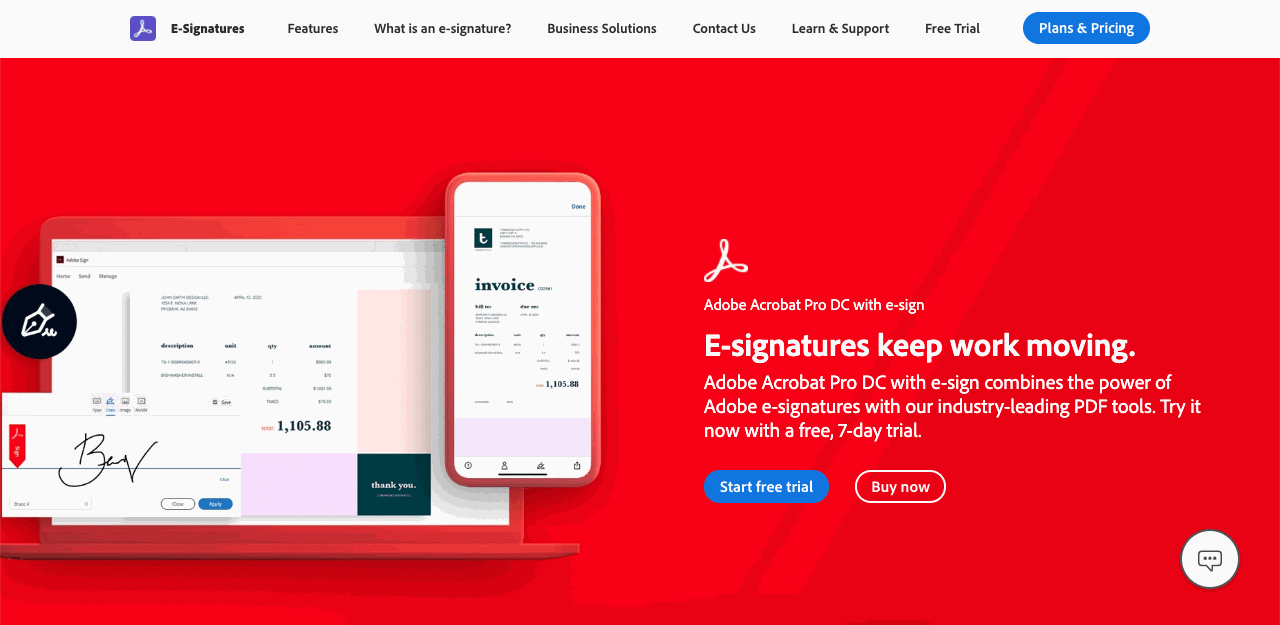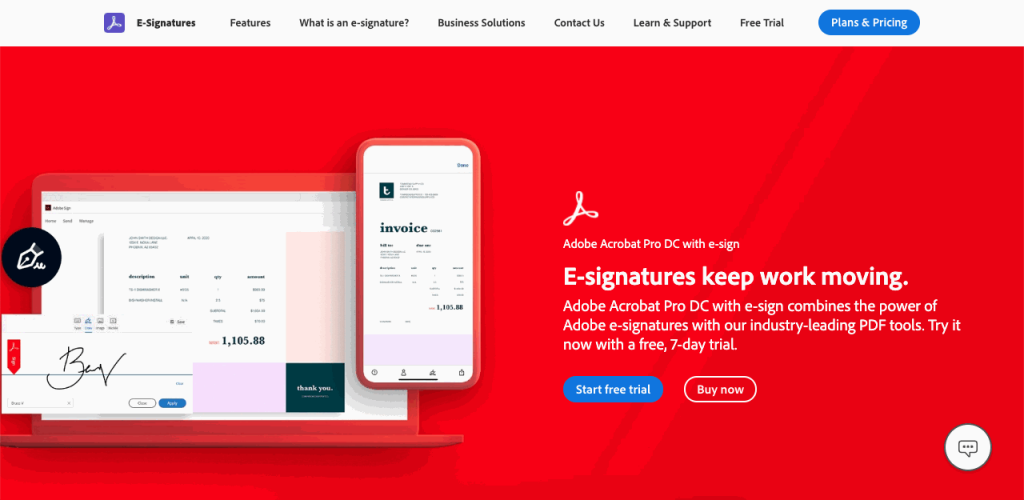 Formerly known as EchoSign, Adobe Sign is part of the Adobe family. You can insert a signature line with Adobe Sign and collect digital signatures in multiple documents, including Excel.
Adobe Sign integrates with multiple business-related apps and provides a streamlined user experience. Backed by Adobe, Adobe Sign has a multi-million dollar company backing it, and its security features, UI, and integrations are above average.
However, individual users can begin using the platform only by paying $9.99 per month, which is more than most casual users may want to pay. You can also consider other Adobe Sign alternatives.
Pros:
Well-designed UI
Streamlined experience
High compatibility with other tools
Cons:
Fairly expensive when compared to similar tools
Lacks advanced features
You can only add comments on a PDF
Check out our AdobeSign vs. DocuSign comparison.
Excel's Digital Signature Line Feature
You can also insert a digital signature in Excel through the program itself. Here's how:
Step 1: Navigate to Microsoft Office Signature Line
Select the cell where you wish to insert a signature and click on the Insert tab. Then, go to Text, click on Signature Line, and select Microsoft Office Signature Line.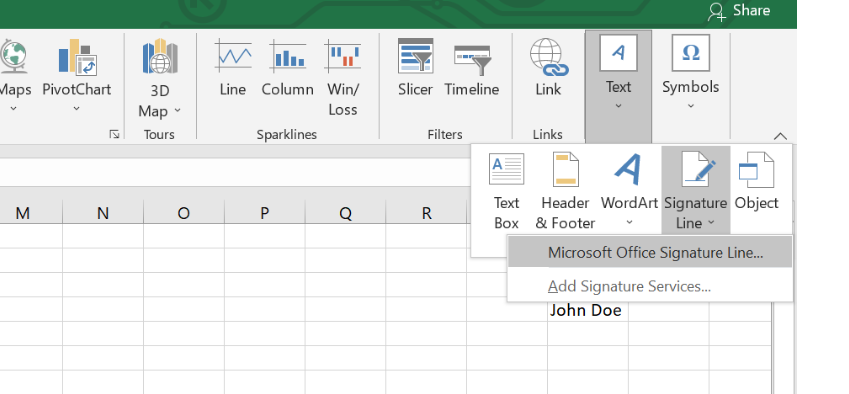 Step 2: Set up your signature
Here, you can enter the info related to your online signatures, such as the signer's name and suggested signer's title, their email address. You can provide instructions for them if necessary.
All of these selections are optional, but the more information you provide, the easier it'll be for your signers to understand the process.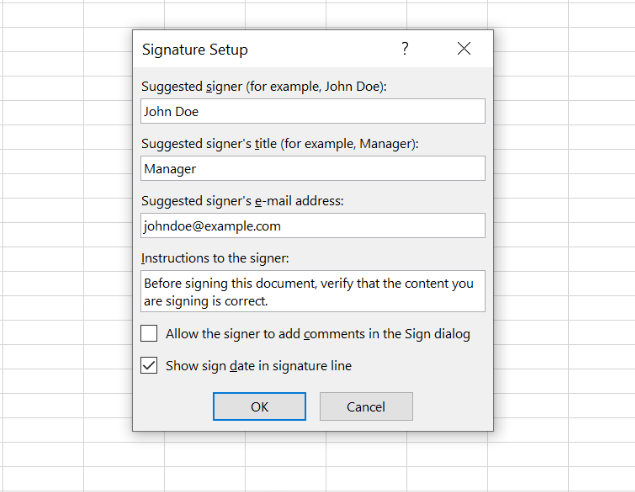 Step 3: Send your signature
Now that you've set up your digital signature, you can click "OK" to add your visible signature box. Once you do that, you can save the document and send it to your signer(s).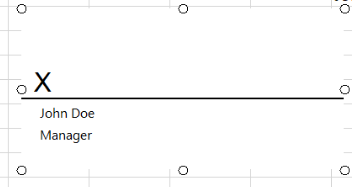 Excel's Invisible Signature Feature
Due to online signature capabilities, you don't always need to leave a signature visible on your document. Word docs, Excel spreadsheets, and PowerPoint presentations allow you to use an invisible digital signature and insert it into your Excel workbooks.
To do this, open your Excel document. Then, under the File tab, look for Info, Protect Workbook, and click on Add a Digital Signature. Then, simply complete the fields and click on Sign.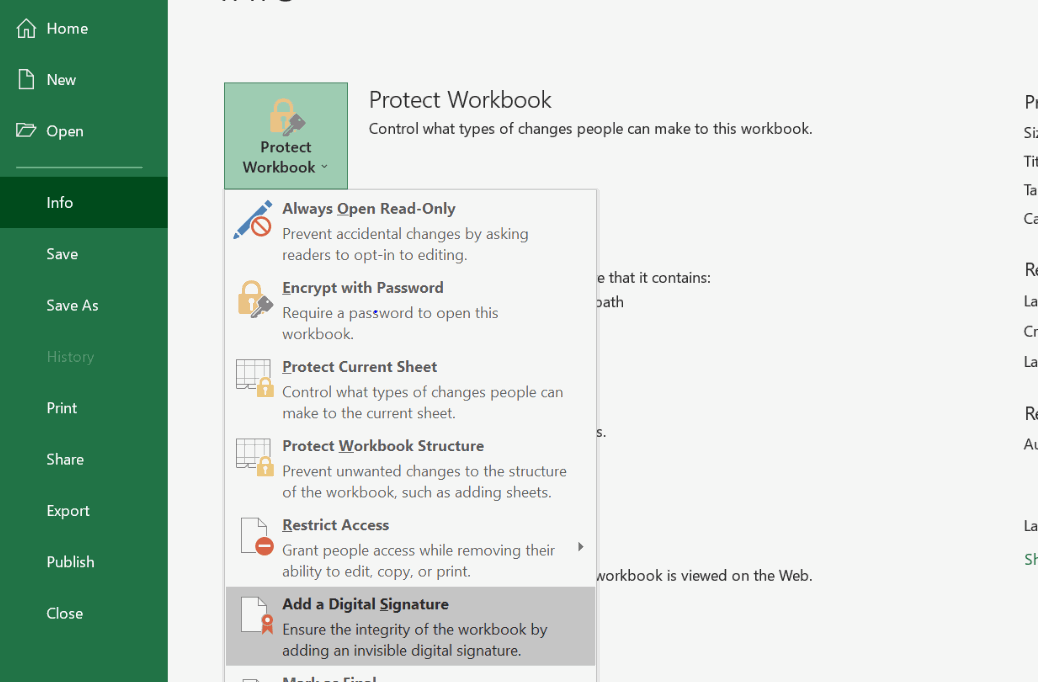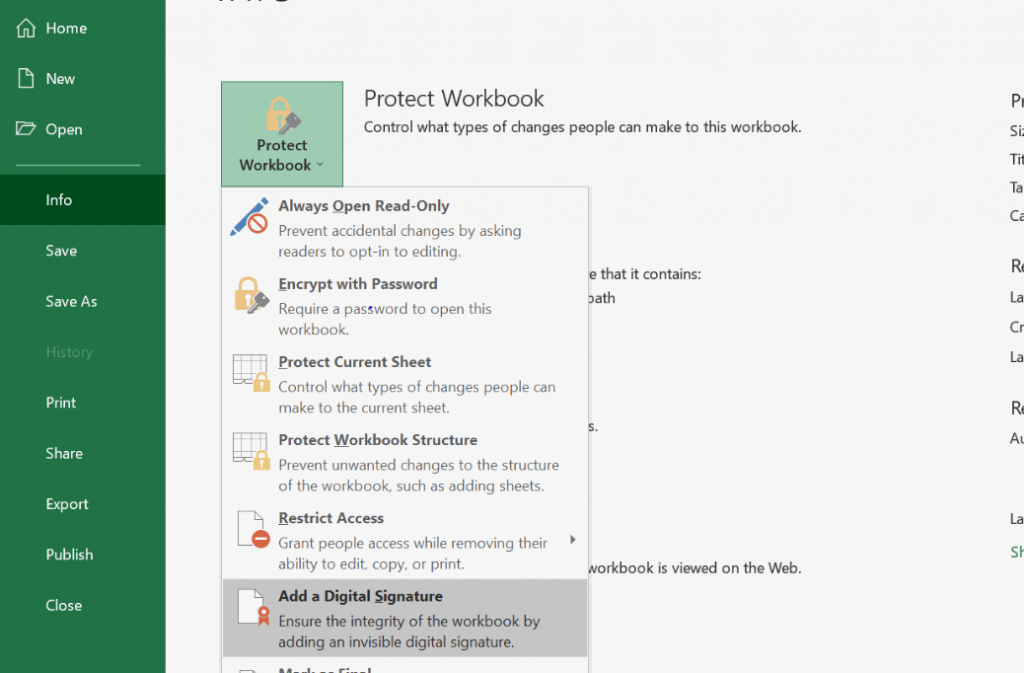 Once the document has been signed, you'll be able to see any signatures under a new tab called Signatures at the bottom of your page.
Adding Signature as an Image
You can also use a signature as an image. You basically have two options: create a signature, or upload a scanned signature.
If you want to create your signature from scratch, you can use Signaturely's online signature generator for free.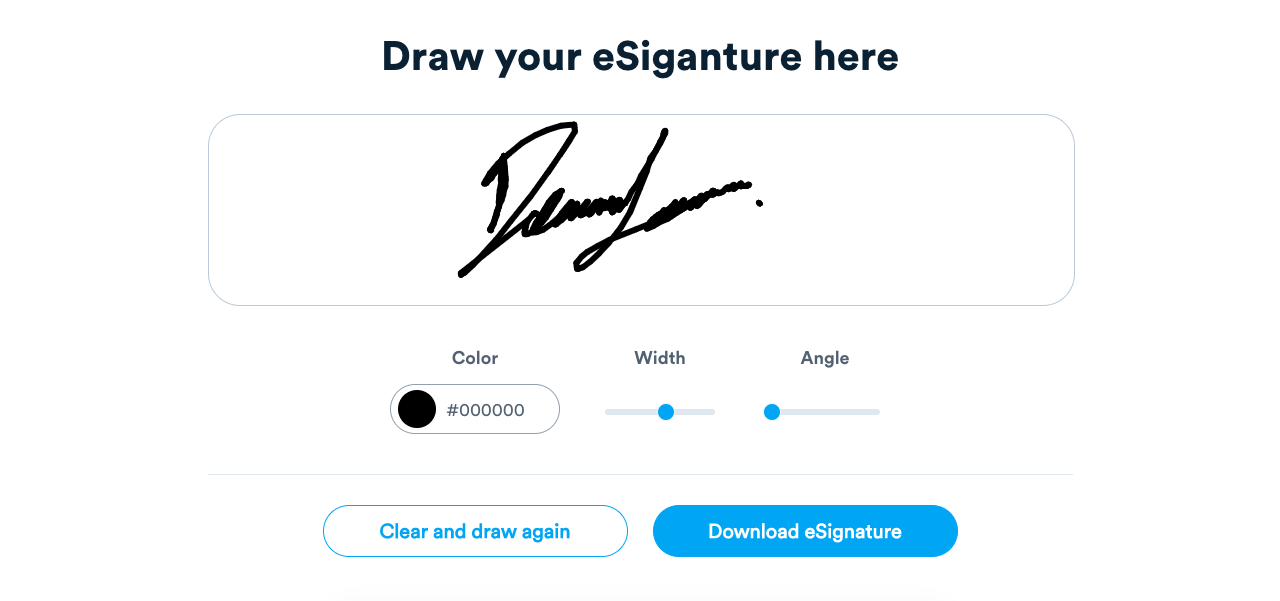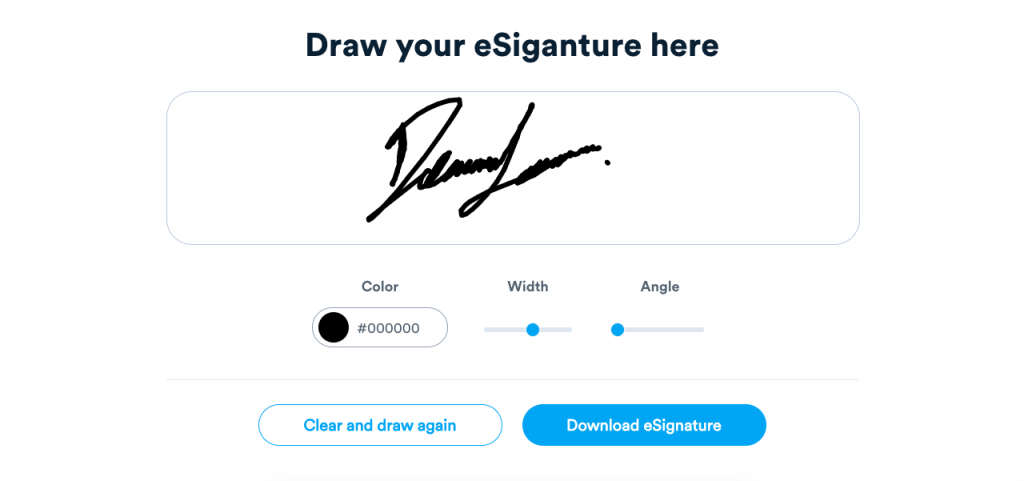 You can easily draw or type your signature with your mouse, stylus, or trackpad. You can also create a text signature if you only want to type it. Modify the details, color, and angle to make it unique.
Once you're done, download it, and it will be ready to use.
You can also use your ink signature as an online signature. Just draw your handwritten signature on a blank piece of paper, scan it, and save it as an image file.
If you want to optimize your image further, you can use software like Photoshop to eliminate the background and make it transparent using Quick Selection or Magic Wand options. You can also increase the contrast to make it look more solid. 
When you're done, save it as a PNG file to have a solid digital signature with transparent background ready to use in any Excel document.
When you have your signature image file ready, open your Excel document. Then, under the Insert tab, look for Pictures, and select Pictures From File. Here, you can look up your signature image file and upload it, cropping the extra blank areas if needed.
How to Request an Electronic Signature in an Excel Document
Here are a couple of ways to request an electronic signature in an Excel document:
1. Sending an email
Once you've added the signature box to your Excel document, you can simply attach it to an email. However, you'll need to pay close attention to your wording to ensure the recipient gets the right message.
Use the best subheading to capture your recipient's attention. You'll want to ensure the subheading uses the right context to make it relevant to your recipient.
In the message, briefly outline what recipients will find in your Excel file and the effect that signing it will have. It's always a good idea to remind the signer of what they're signing and what that signature commits them to.
Finally, explain how to sign the document step by step. Tell them what to do when they open the spreadsheet, where they need to click, and how to know when it's complete. You can also explain how to create an online signature if they don't have one yet.
Pro tip:
When sending an email and writing a message, always add your recipient's email address last to prevent sending it prematurely by mistake.
2. Using an online signature solution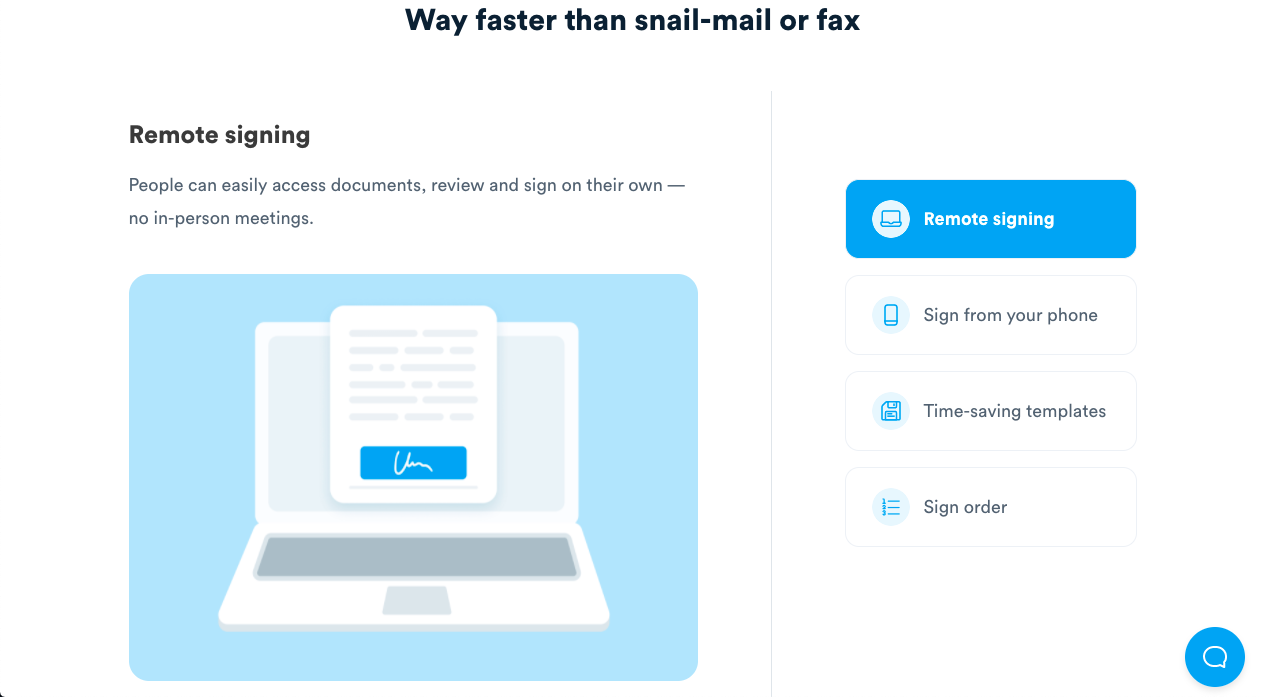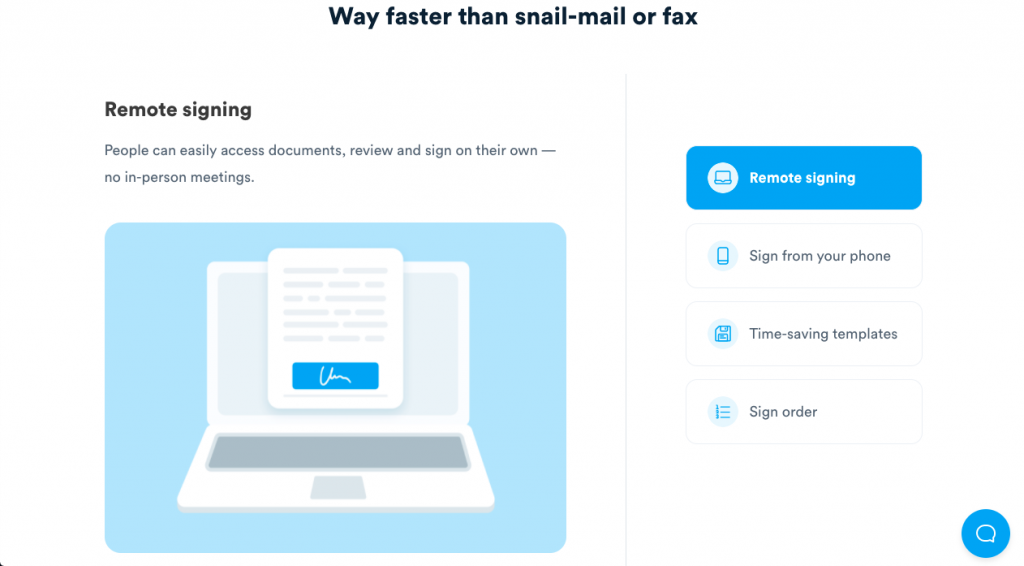 The easiest way to request electronic signatures in an Excel file is by using an online signature tool like Signaturely.
All you need to do is upload the Excel file to your Signaturely account and fill in your recipient's information. You can also add a message to be sent with the signature request.
When you're done, simply save it and send your signature request. Your signers will receive a signature request looking like this: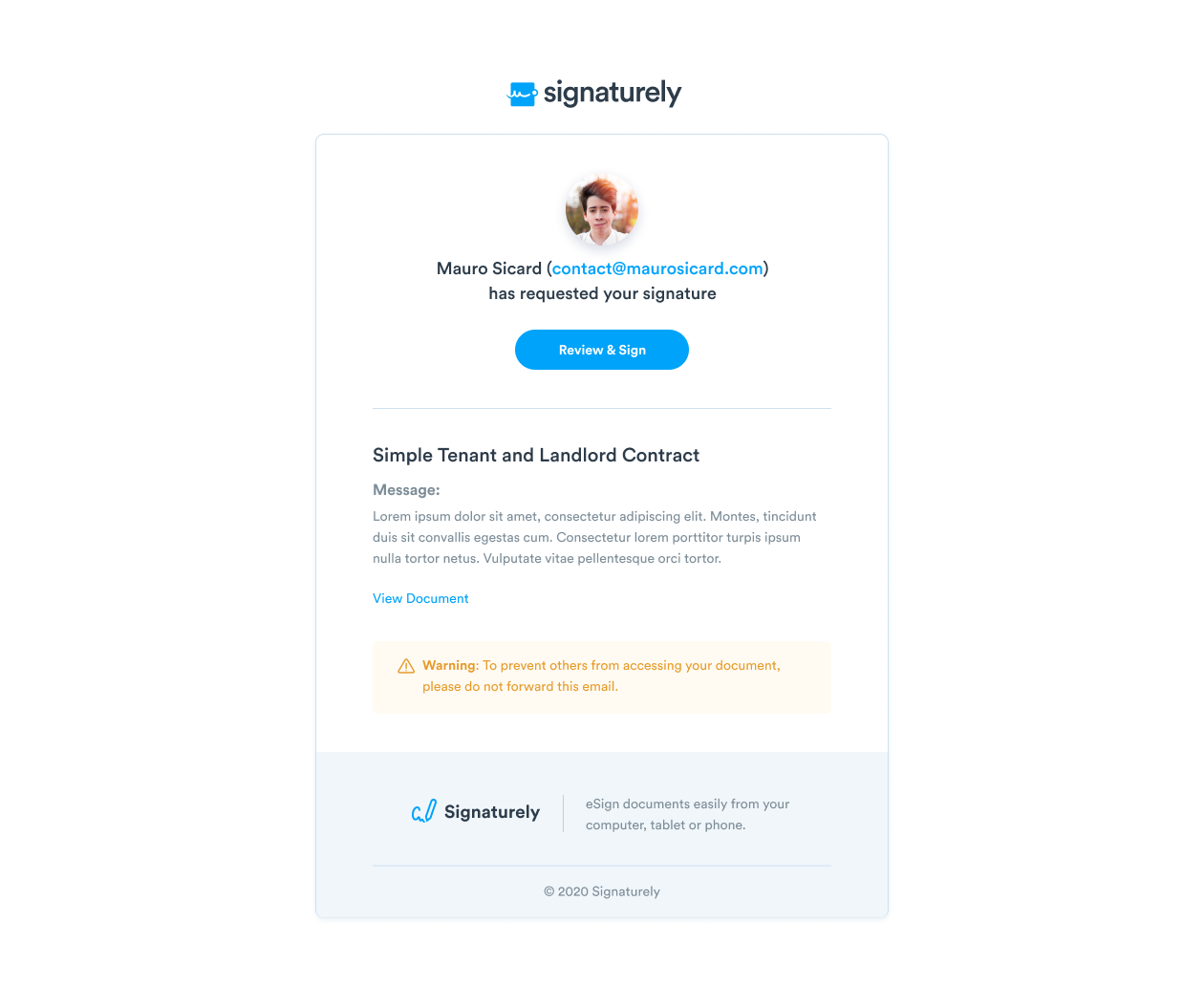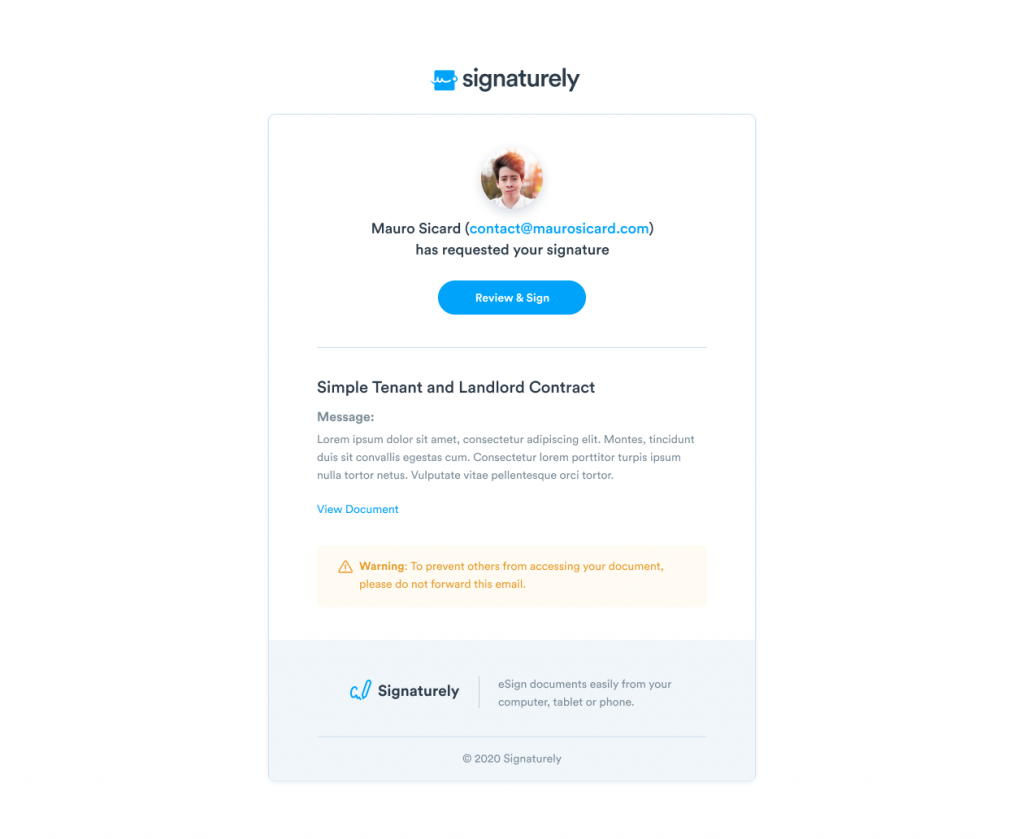 Once they click on "Review & Sign," Signaturely will guide your signers through the process of creating their signature and signing the contract.
Since you're leaving the signing process to Signaturely, you don't need to worry about guiding your signers through the process, wondering if they have the same version of Microsoft Office you have or if they've opened the document or not.
Signaturely guides your signers step by step, telling them how to create their online signature and fully sign your Excel file.
You can even automate the order in which the file needs to be signed by using a signature line list. Choose the order in which you'd like the document to be signed, and Signaturely will forward it to you.
Signaturely makes it easier and faster for you and your signees to insert a signature in any Excel document, regardless of where they are or what software they use.
How to Remove an Electronic Signature in Excel
Have a signature line that needs to be removed? Here's how to remove a digital signature in Excel:
Start by opening your Excel document. Then, under the File tab, look for Info, and click on View Signatures. This will show you all the visible and invisible digital signatures currently on your document.
From there, locate the signature you want to remove, double-click on the arrow next to the signature, and click on Remove Signature. A warning dialog box will ask you for confirmation, so click Yes.
You've successfully removed the signature from your Excel file.
FAQ: Signing Excel Documents
Here are the answers to commonly asked questions about adding digital signatures to your files.
Can you electronically sign an Excel document?
Yes, you can. Excel allows you to add digital signature lines in-app so you and your signers can digitally sign your Excel document and add invisible digital signatures to Excel files.
How do I insert a signature in Excel 2013?
You can easily add a digital signature by uploading it to an e-Signature platform like Signaturely. Create a free account and upload your Excel spreadsheet. Then, add your signature fields with the editor and send your file. 
How do I create a signature in Excel for Mac?
The easiest way to create a digital signature in Excel for Mac is by going to the Comment menu, clicking on Signature, and clicking the plus sign to add a signature line to your document.
Conclusion
Inserting a digital signature in Excel doesn't have to be hard. If you want only to use Excel, you can easily do it with a Microsoft Office signature line.
However, if you want more control over your signing process and better attention to your signees, a signature solution can help. It will allow you to add a digital signature to virtually any document from your computer or your cloud service. 
Sign up for Signaturely, and start uploading your Excel files to be signed for free.