Contracts are binding agreements that establish relationships, delineate roles and expectations, and protect all parties involved. Creating and signing a contract can be long, cumbersome, and expensive – especially for nonprofit organizations with tight budgets. That's where electronic signatures come in. Today, we will analyze the benefits and which are the best electronic signature software for lawyers.
Benefits of Electronic Signatures for Lawyers
An electronic signature is a legally binding method of signing a document electronically. In other words, it's a digital replacement for a physical signature. There are plenty of reasons why lawyers serving nonprofits should start using them to adapt to a more demanding digital world.
Key reasons for adopting electronic signature solutions for your growing operations include:
Convenient for Firms and Clients
Gone are the days when lawyers and their clients had to be in the same place at the same time to sign a contract. With electronic signatures, you can sign from anywhere –  in your office, at home, or on the go. Moreover, electronic signatures are compatible with any device, so you can sign contracts on your laptop, tablet, or smartphone. Since they're digital, you can receive digital signatures much more quicker than traditional methods. These benefits make electronic signatures a no-brainer for legal teams with too many documents to track. 
Track Contract Lifecycle
From start to finish, it's important to track your contracts and understand where they are in their lifecycle at any given time. Are they still being drafted? Have they been sent out for signature? Have they been signed and returned? Are they awaiting payment? Electronic signatures make it easy to track contracts and see who needs to do what and when. They provide the visibility required to conduct a successful contract process.
Streamline Firm Processes
If you're still using paper contracts, your firm's contract management process is inefficient and prone to errors. Electronic signatures can help streamline your processes by keeping contracts organized and secure in one central location. They're easy to share with other firm members who need to review them. Not to mention, dozens of useful integrations work with electronic signatures – like e-filing systems and project management tools. These integrations in electronic signature solutions can streamline your process and make your product adoption faster.
Protect Sensitive Client Data
In addition to being more convenient and efficient, an electronic signature offers an extra layer of security for firms and their clients. When you send a client a contract via email, there's always the risk that their email account could be hacked and sensitive information could be compromised. However, when you use electronic signature tools, your client's data is automatically encrypted before it's ever sent over the internet. So even if their email account is hacked, their data will remain safe.
Save Money (and the Environment)
Not only does switching to using an electronic signature save you time, but it also saves you money. Printing, scanning, and mailing documents is costly. Your firm's money could be better spent on other things— such as growing your book of business or onboarding new employees. Since electronic signatures eliminate the need for paper, they're also more environmentally friendly. If you're looking for ways to reduce your firm's carbon footprint, switching to creating a digital signature is a great start.
The legality of Electronic Signature for Lawyers
The ESIGN Act authorizes electronic signatures instead of traditional signatures on legal documents. Lawyers can now electronically sign legal documents, such as contracts and NDAs, without having to sign them physically. The use of an electronic signature is not limited to lawyers; any individual or business can use them as long as the document meets the requirements of the ESIGN Act. There are a few exceptions to the Act, such as court orders and wills, but overall it provides a legal framework for using electronic signatures in legal documents.
When to Avoid Electronic Signatures
In general, lawyers and clients can use electronic signatures for most documents. However, there are a few exceptions, including:
Documents that need to be notarized
Contracts that need to be witnessed
Wills and testamentary trusts
Some courts do not accept electronically signed documents
As such, it's essential to check the rules of your state's court before using an electronic signature.
Best Electronic Signature Software for Lawyers
In today's competitive market, electronic signatures are becoming increasingly commonplace. Many industries are switching from traditional, paper-based business methods to digital ones to save time and money. The legal industry is no different. Electronic signatures can be particularly helpful for lawyers, who often need to collect signatures from clients or other parties involved in a case.
We've put together the best electronic signature solutions available today.
Signaturely
Signaturely is a cloud-based electronic signature platform that offers users a flexible and convenient way to collect signatures. With Signaturely, users can create unlimited legally binding documents and send them out for digital signature with just a few clicks. Signaturely also offers a wide range of integrations, meaning it can be used with various other electronic signature tools that law firms often use. Perhaps best of all, Signaturely offers a free plan for users who must sign fewer than five documents per month.
Overall, Signaturely makes the complex process of signing documents simple. The seamless collaboration with your team allows for a quick and efficient signing process, while the best-in-class legal validation guarantees that all signatures are backed legally.
Contract processes can be time-consuming and energy-intensive if you work in a legal team. In addition to providing an easy way to collaborate on documents, you can create long documents from scratch, track versions, and customize your branding with Signaturely. As a result, you can save time and effort in the contract lifecycle, which can amount to more than $20 in savings per document. 
DocuSign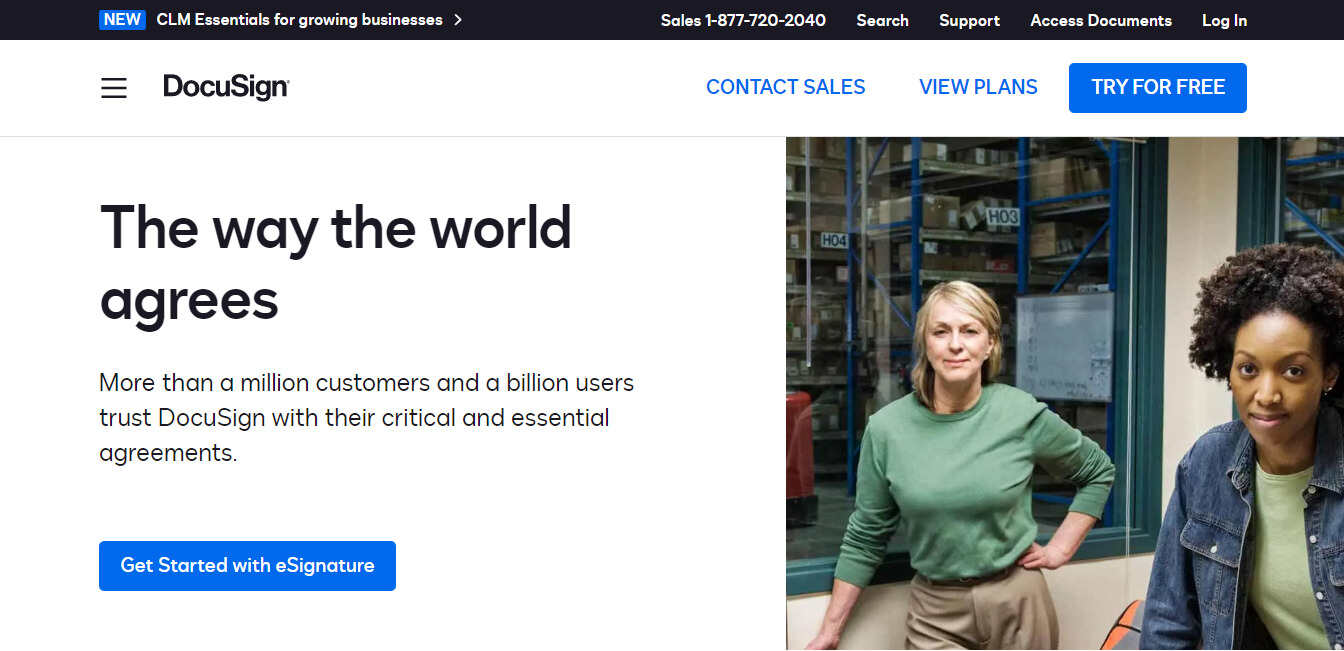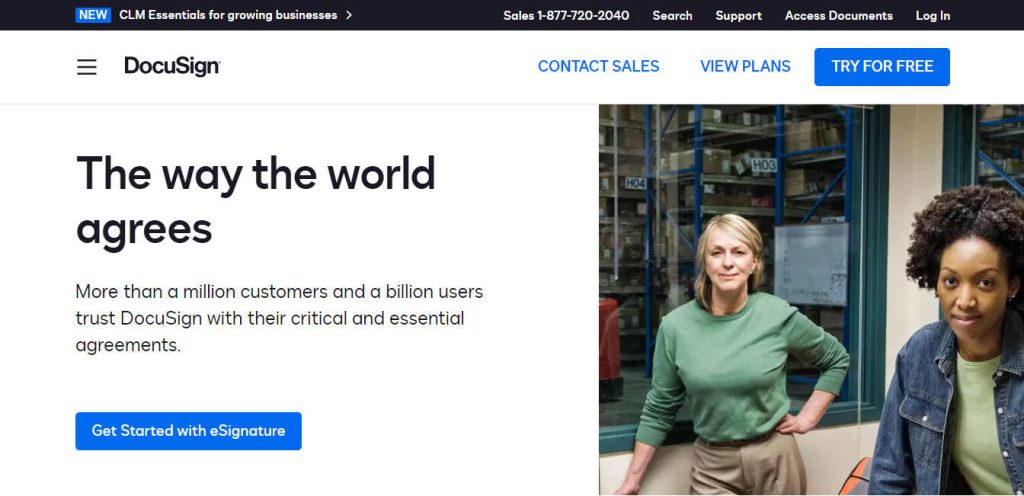 DocuSign is a popular document-signing software used by law firms of all sizes. With DocuSign, you can upload and sign documents electronically, track document status in real time, set up custom workflows, and create templates for frequently used documents. 
In addition, DocuSign integrates with over 400 apps across CRM and Cloud Storage, making it practical to get started if you're already using other software platforms in your law firm. DocuSign offers several pricing tiers, which provide alternatives in pricing for individual users and business teams. One challenge with DocuSign is that its usability may not be as robust as other electronic signature platforms. This can hinder user adoption and realized outcomes while using the tool. Therefore, there are a ton of DocuSign competitors today.
HelloSign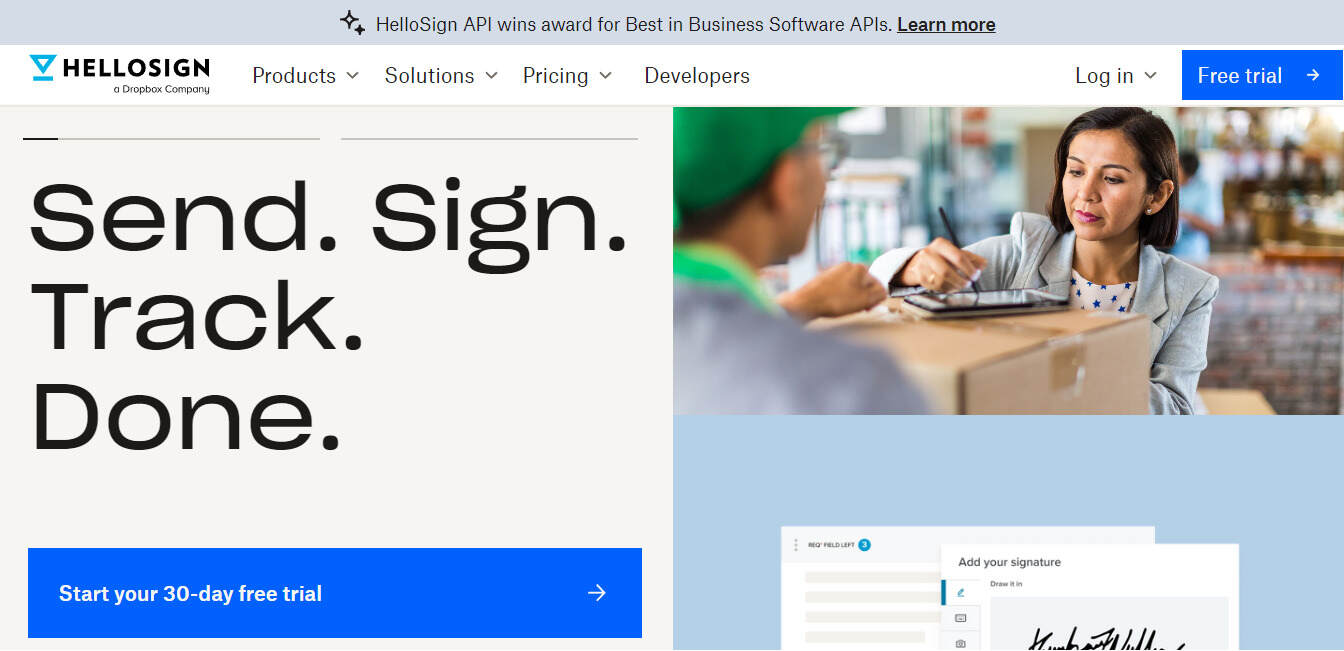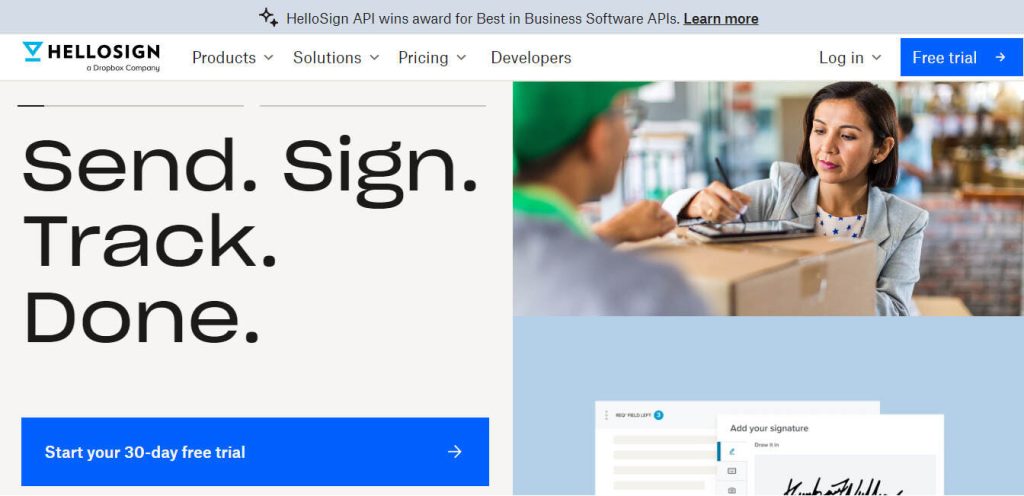 HelloSign is a fantastic choice for lawyers and law firms who need an easy way to sign documents electronically. It's user-friendly and offers a variety of features, such as templates and integration with Google Docs. Plus, HelloSign is free for personal use and has many competitors too.
One challenge with using HelloSign is its developing customer service. Learning a new product isn't always easy, and a high-performing customer service team can enhance the learning curve of adopting a product. Without this crucial support, it falls behind in helping users achieve their e-signature goals. Here's our HelloSign vs. DocuSign comparison.
How to Pick the Best Electronic Signature Software for Lawyers
Choosing the best e-signature software for your law firm doesn't have to be complicated. You should consider three key factors: security and compliance, API integration, and ease of use. Let's break each of these factors down so you can make an informed decision about which electronic signature software is right for your firm.
Security & Compliance
Security and compliance are essential when choosing electronic signature software for your legal firm. After all, you must ensure that your electronic signature solution will protect your client's sensitive information and meet all relevant legal requirements. Fortunately, many high-quality electronic signature software options offer strong security and compliance features.
Many of these electronic signature products use encryption to protect signed documents and allow you to set up role-based access controls to limit who can view or sign certain documents. In addition, many electronic signature software platforms are designed to meet specific compliance requirements, such as those set by the HIPAA privacy rule. By researching and choosing a product that offers both strong security and compliance features, you can be sure that you're using digital signatures to protect your clients and meet all relevant legal requirements.
API Integration
If you're already using other software at your law firm, you'll want to ensure that the electronic signature solution you choose can integrate with those solutions via API. This will save you time and hassle in the long run by automating tasks that would otherwise have to be done manually. For example, if you're using a document management system, automatically generating documents with embedded e-signatures can save you a lot of time and effort. 
Ease of Use
You'll want to ensure that the e-signature software you choose is easy for you and your clients. After all, there's no point in selecting a complicated and user-unfriendly software solution that no one wants to use it. Look for an electronic signature solution with a clean interface and intuitive features. Be sure to test out the software before making a final decision; even the most user-friendly solution won't do you good if it's not usable in practice. This could be achieved through a free trial or a small-scale launch before rolling it out to the larger team.  
What You Need to Remember About Electronic Signature Software for Lawyers
There are many advantages to using electronic signatures in your law practice—including convenience, improved security, and streamlined processes. If you're not already using e-signatures in your firm, now is the time to start. Choosing the right electronic signature and contract management software is essential for any law firm that wants to save time and increase efficiency. When choosing a platform, it's important to consider your firm's size and needs so that you can streamline your legal operations.