In this article, we'll compare DotLoop vs. DocuSign. We'll analyze both platforms to answer a simple question: Which is the better electronic signature platform?
We'll evaluate both based on the following:
Features
Price
Security
Usability
Customer reviews
Through these comparisons, you'll get to see both platforms' pros and cons and compare how they differ from each other. By the end of the article, you'll know which platform is right for you.
Let's get started!
DotLoop vs. DocuSign: Overview
Here's what DotLoop and Docusign look like:
What Is DotLoop?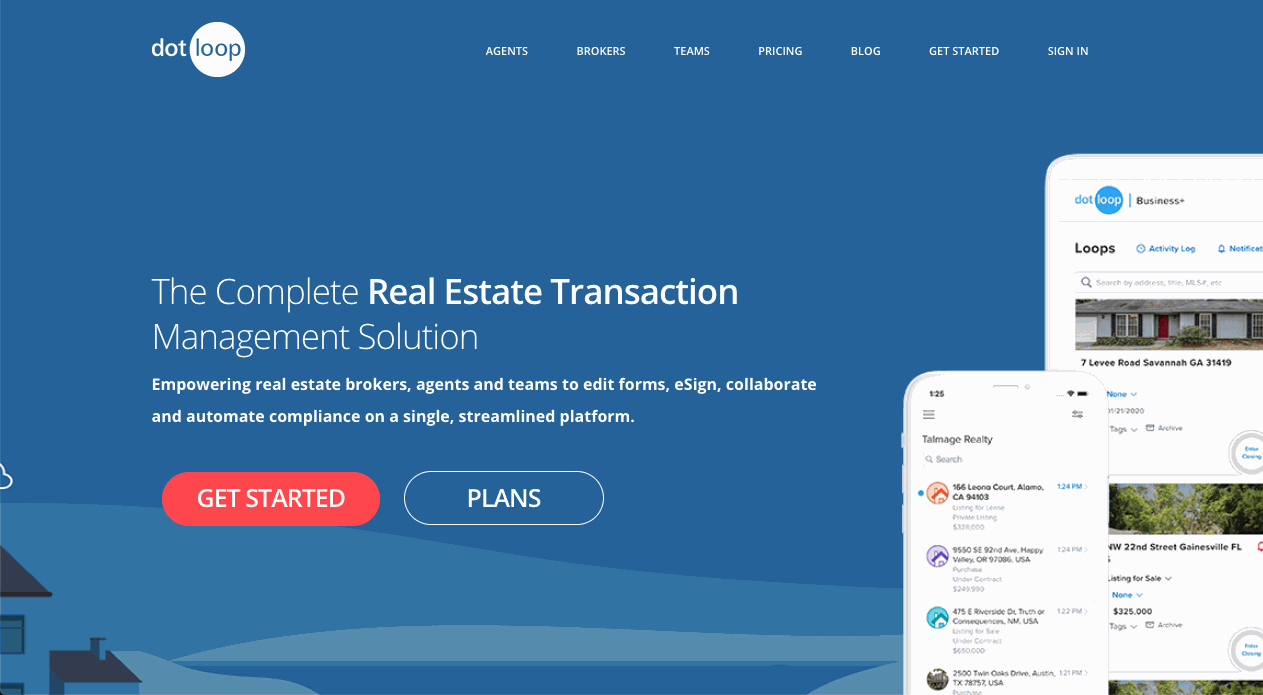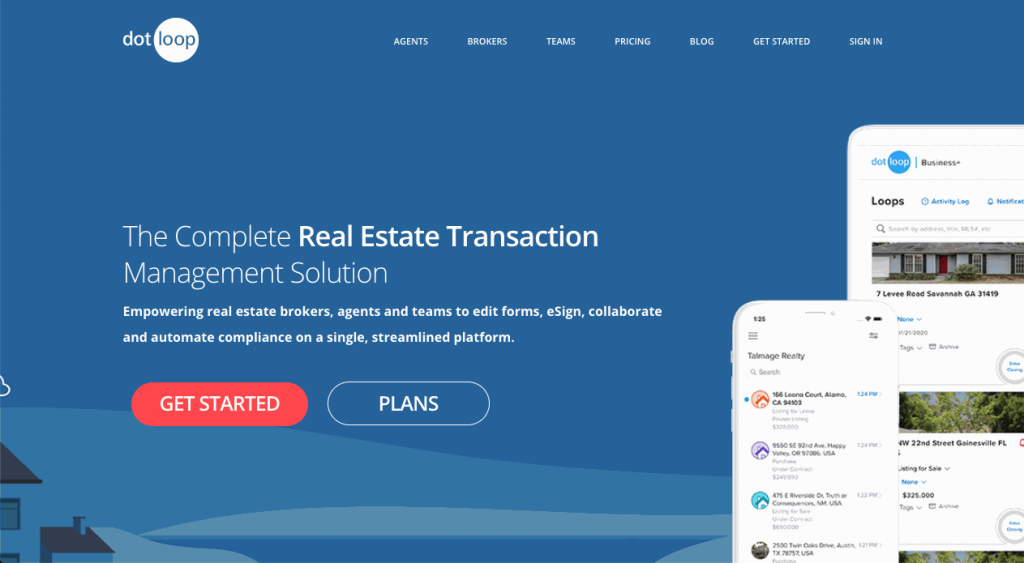 Made specifically with the real estate industry in mind, DotLoop is a platform focused on empowering clients to manage their documents and capture signatures.
The platform's process is fairly simple. The UI is built around the concept of "closing the loop." It starts with agents creating a listing. After that, the user can access a workspace to focus on closing the sale.
After creating an account, agents can upload their documents, add the right signature fields, and prepare them to send documents to the right prospect. Once it's mailed, the platform lets the buyers know how to interact with the document and how to sign it.
This focus on real estate professionals allows DotLoop to collect and receive electronically signed documents and helps them engage and improve their sales process. And since they target a specific niche, they can charge a bit more than the average solution.
The platform costs $29 per month for agents, with other pricing tiers available upon request.
Pros:
Easy to use
Great for real estate agents
Great for sales
Good UI
Cons:
Not great for other advanced needs
No free plan is available
Pricier than the industry's average
What Is DocuSign?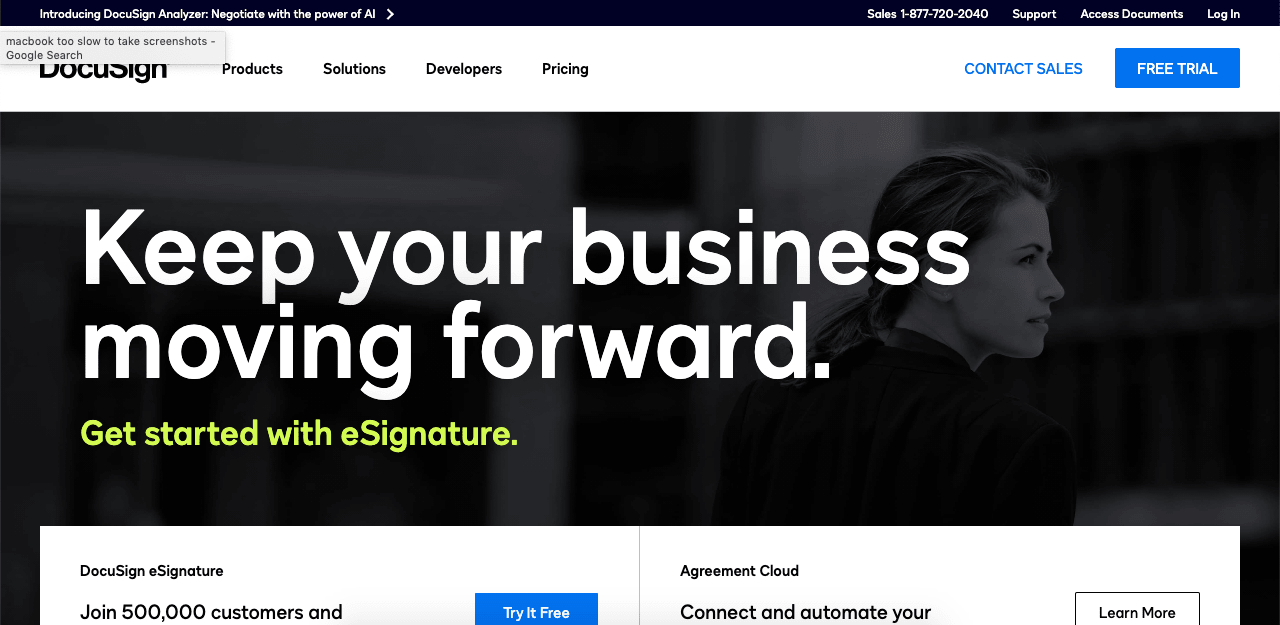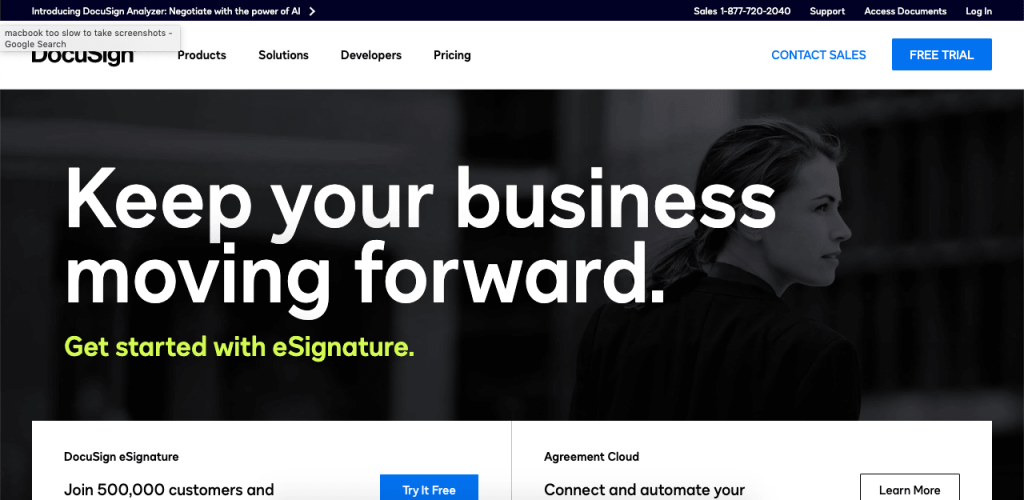 Similar to platforms like Adobe Sign (Adobe Sign vs. DocuSign), HelloSign (HelloSign vs. DocuSign), and SignNow (SignNow vs. DocuSign), DocuSign is a very popular electronic signature platform with a large user base and thousands of positive reviews.
With clients like SalesForce and TMobile, DocuSign remains a great option for larger companies, thanks to its powerful analytics and advanced features, like geolocation capture and real-time status reporting.
DocuSign also integrates with a wide variety of tools, such as Google Drive, Dropbox, Salesforce, and many other major partners, and it can be accessed from any device.
Pros:
Very advanced features are available
Impressive security systems
Access to a lot of extra tools and analytics
Cons:
Not as easy to use
Advanced features can be costly
DotLoop vs. DocuSign: What's better?
Here's DotLoop and DocuSign and how they fare against each other:
Ease of Setup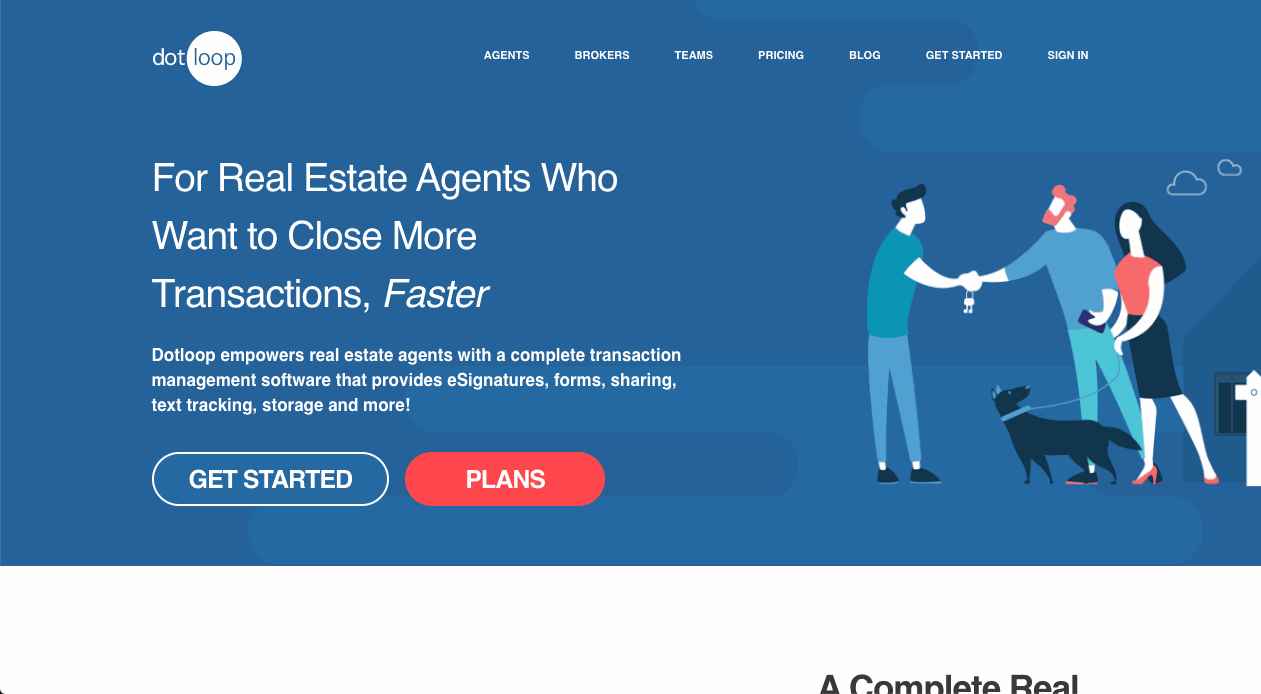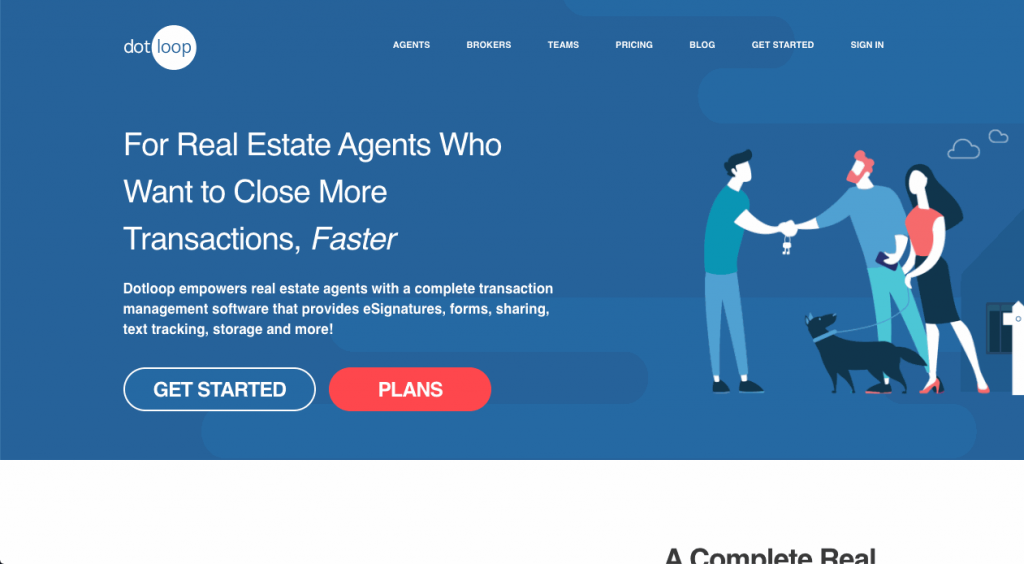 DocuSign makes it very easy to get started. Since the platform was made exclusively to help users sign contracts online, that's what it offers as soon as you sign up.
Once you have uploaded your first document, you can easily get it ready to be signed online. Then you can save it or send it immediately. From start to finish, you can complete your first task in mere minutes after signing in for the first time. That being said, with so many options and features, a new user may get overwhelmed with the platform at first.
With DotLoop, it's not that easy.
Since DotLoop is built on creating a workspace for selling, not just signing documents, setting it up will likely take longer than a simple signing platform. This includes changing your settings, setting up an account to your needs, and uploading and managing documents.
Since the platform is more comprehensive, it also has a slightly higher learning curve than DocuSign.
Winner: DocuSign
DotLoop vs. DocuSign: Ease of Use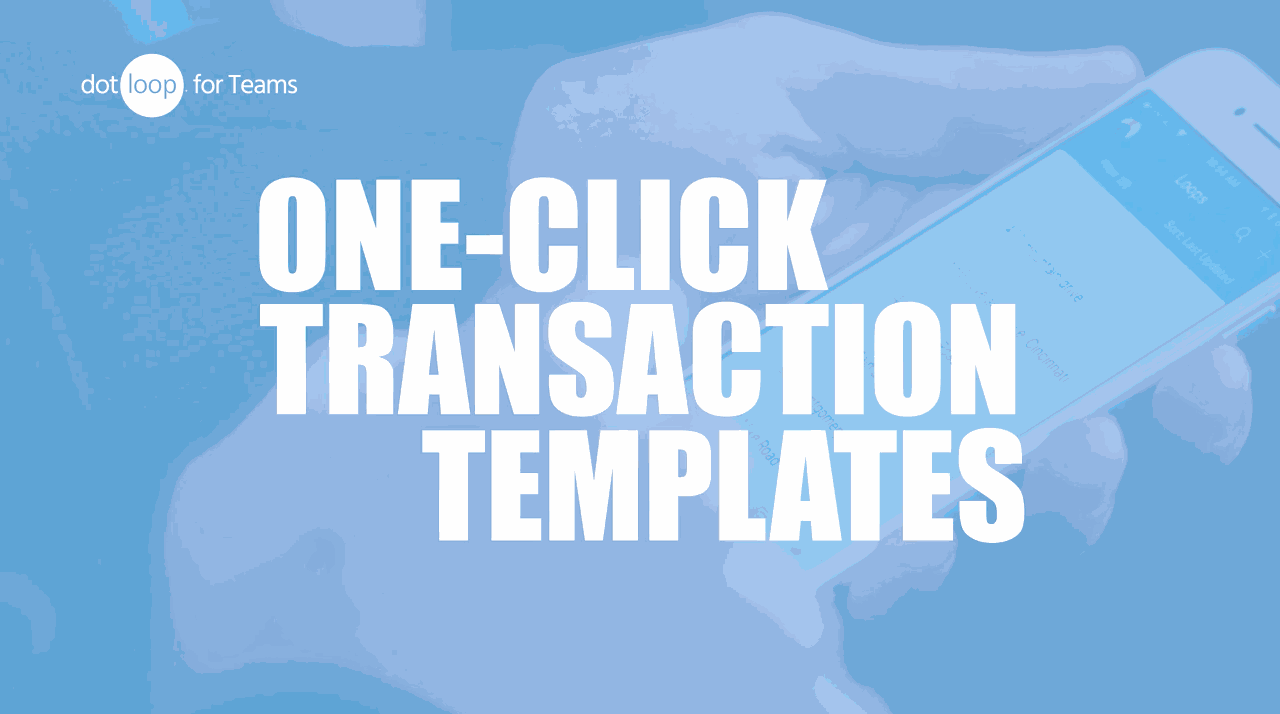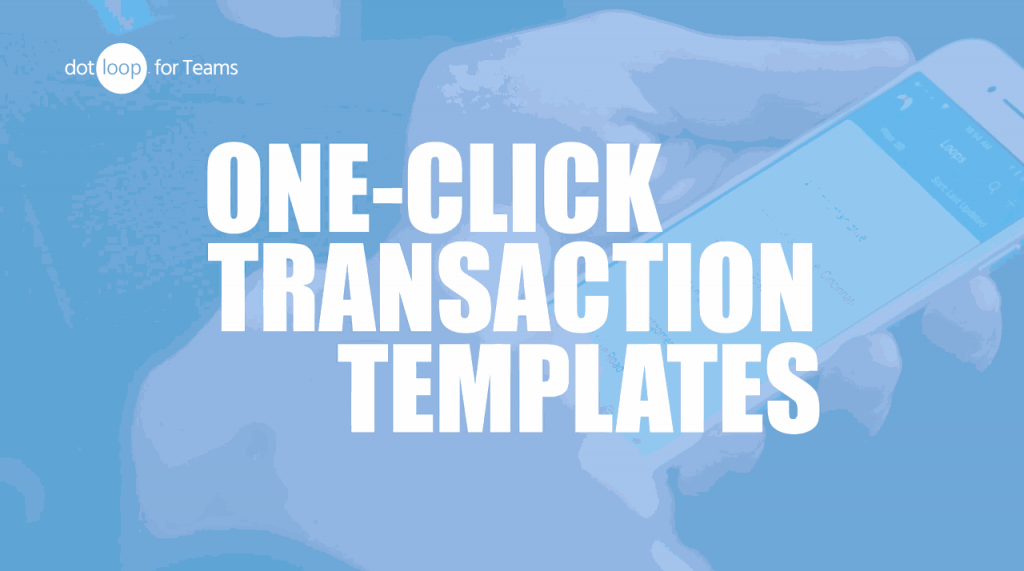 The signing process is very similar for DotLoop and DocuSign, although some differences exist.
DocuSign places the signing process along with the rest of the document preparation process. The agent uploads or creates a document, prepares it to be electronically signed, and emails the document to capture electronic signatures.
However, DotLoop uses a slightly different process.
Since DotLoop is designed with listings in mind, agents must create a new listing first. The platform then asks the agent for the required information, such as names and addresses, to use later when creating a document.
This allows for a faster signing process if the agent is already creating a listing since they won't need to record any information twice. However, it's not very useful for users who are not creating new listings.
From the signees' perspective, both platforms are fairly easy to use. Both platforms email the signees, let them know how to sign a document, and allow them to comment or suggest changes.
Winner: Tie (depending on users' needs)
Integrations and API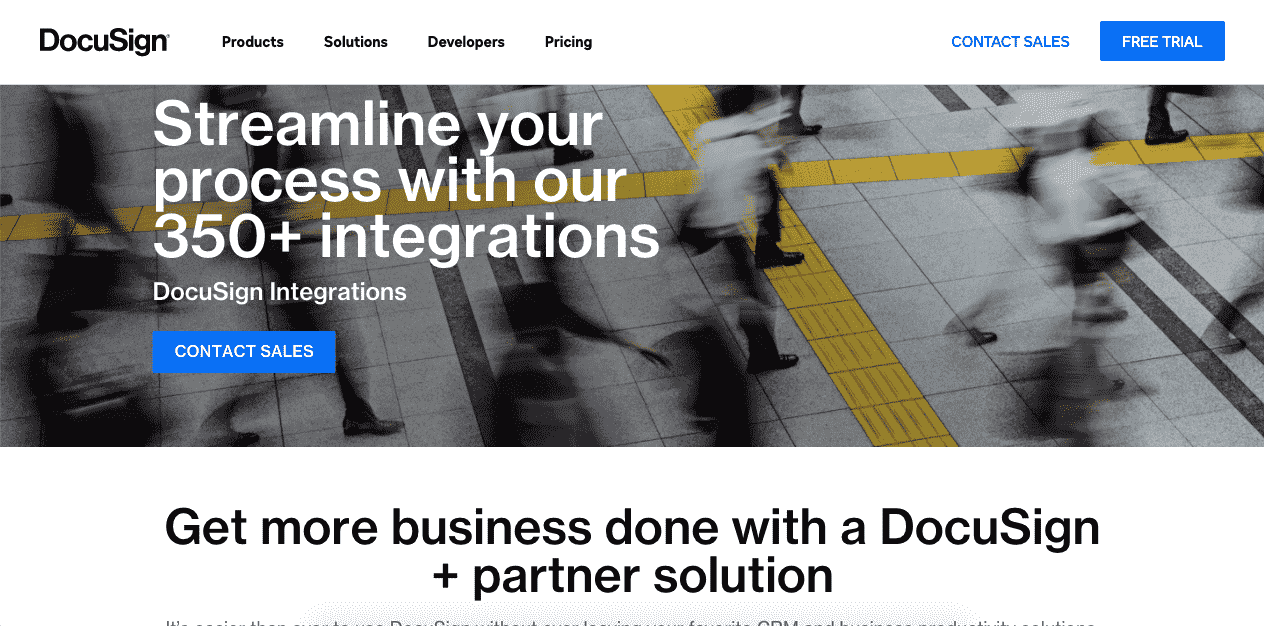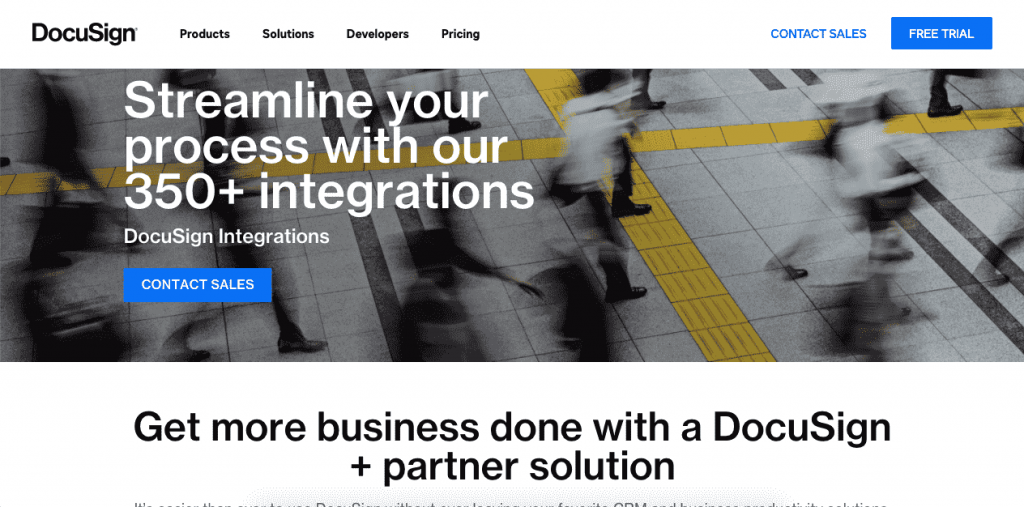 DocuSign is the way to go if you're interested in the platform's number of integrations. DocuSign offers a staggering number of integrations with nearly any digital tool a company commonly uses. That stands out when you look at the compatibility with Google and Evernote platforms. And you can integrate even more platforms with its API.
However, more isn't always better.
Or, at least, that's what DotLoop's process seems to suggest. Instead of focusing on offering as many integrations as possible, DotLoop focuses on properly integrating with the platforms real estate companies use.
You can quickly integrate the platform with tools like Zillow, the accounting software Quickbooks, and BrokerSumo. And although DocuSign's integrations mainly focus on adding a simple signing option to other tools, DotLoop's integrations fully flesh out the platform, allowing users to do more than sign documents.
Winner: Tie
Customer Support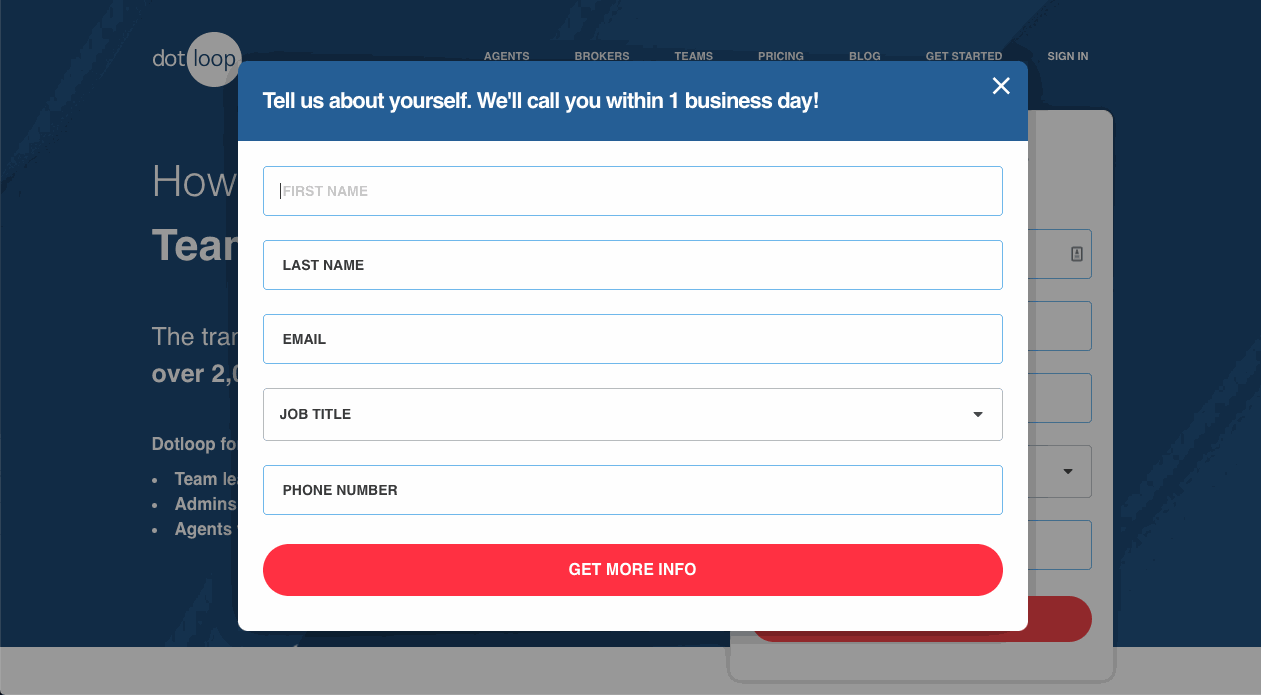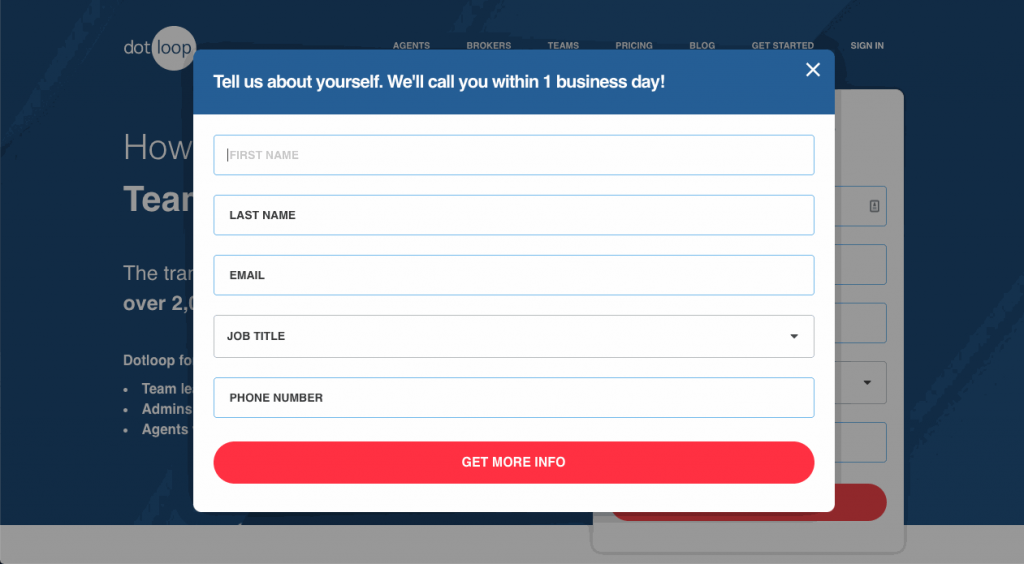 Customer support is one of the aspects where both tools differ completely.
DotLoop has a fairly capable knowledge base that covers very basic topics and allows users to learn more about the platform. You can also chat with an agent in real-time, signing in with your user ID to give the agent enough context as soon as they're assigned to you.
They provide an active Facebook group for users to join and collaborate in. And if you're in the United States or Canada, you can also use the toll-free phone number during office hours. On top of that, the platform also offers "VIP Phone, Email, and Chat Support," which is 24/7 live agent support.
DocuSign also provides users with a knowledge base and a ticketing system, but you can't contact customer service yourself with any of its tiers. Instead, DocuSign lets you pay an extra fee to get advanced customer support options, such as live support and account managers.
While DocuSign offers better customer service options at an extra cost, we believe excellent customer service should be provided for every customer, not just those who can afford to pay a premium.
Winner: DotLoop
DotLoop vs. DocuSign: Pricing & Scalability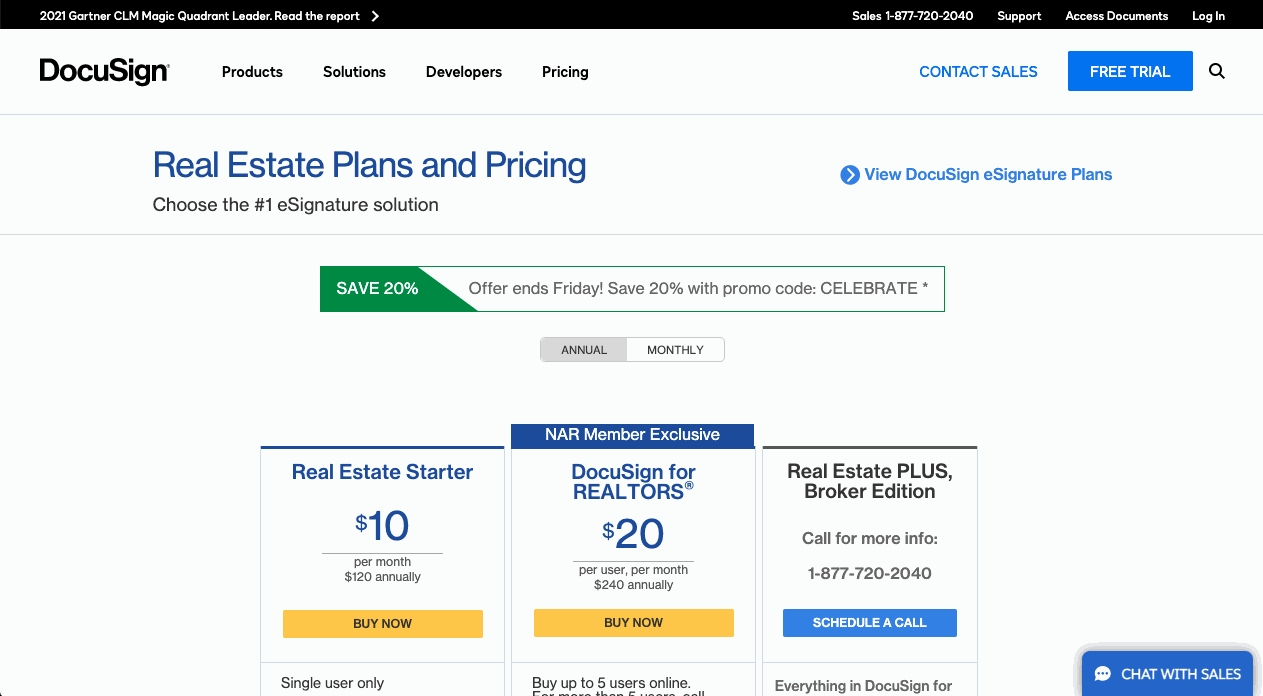 DotLoop's pricing is based on user roles. For individual agents, DotLoop offers DotLoop Premium at $29 per month. This includes unlimited transactions, backups, 24/7 phone and email support, custom document templates, and a few more options.
The platform offers pricing based on users' needs for teams or brokers. Users can choose among more advanced options, like custom branding, multi-office compliance, and a dedicated success manager.
However, since this is a highly specialized platform, its services come at a premium, with DotLoop's pricing being well above the industry average.
DocuSign's real estate solution comes with a cheaper price tag.
The Real Estate Starter plan begins at $10 per month, offering a license for one user, reusable templates, and solid integrations. However, it limits the agents to sending only five documents per month for an electronic signature.
For users needing more advanced options, there's DocuSign for Realtors. This tier starts at $20 per month and includes features such as user comments, in-person signature options, attachment options, and customized workflows.
Finally, brokers with larger needs may contact the company for custom pricing on a Real Estate PLUS Broker custom tier.
DocuSign's pricing is more in line with industry standards and allows for more flexibility and slower scalability, going from $10 to $20 to custom pricing instead of starting at $26.
Neither platform offers you a "forever-free" option, so you'll have to pay to use any platform at any tier.
Winner: DocuSign
Unique Features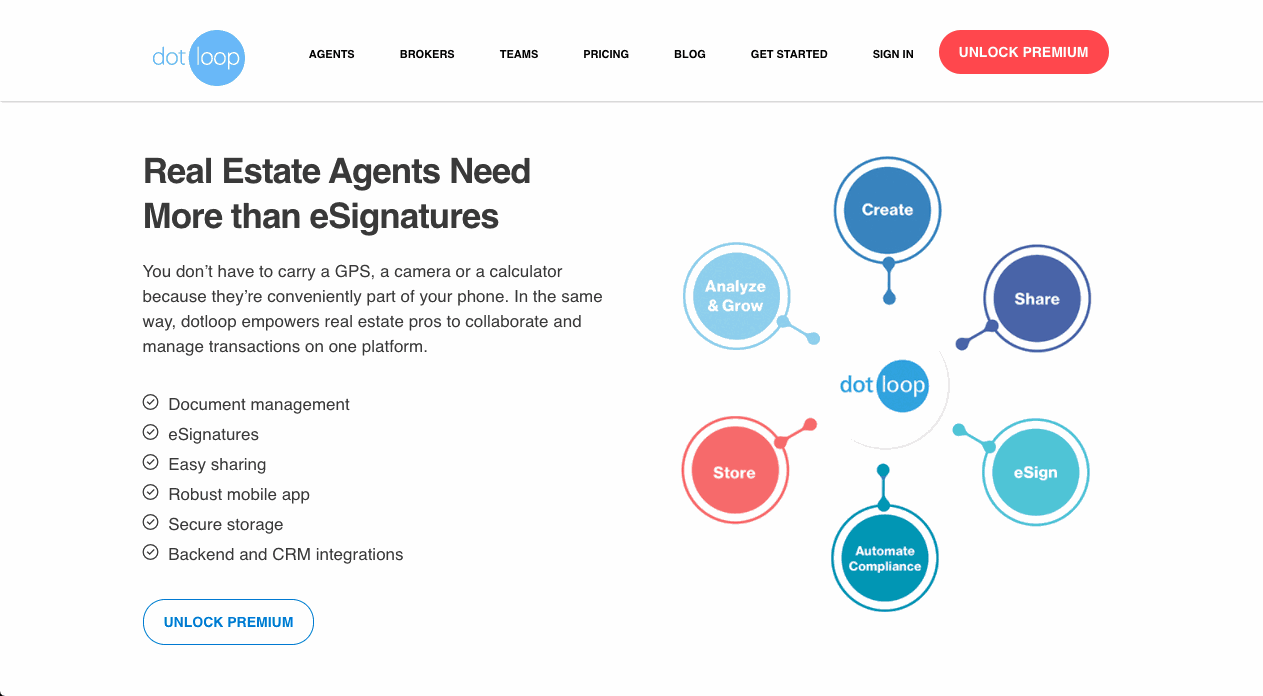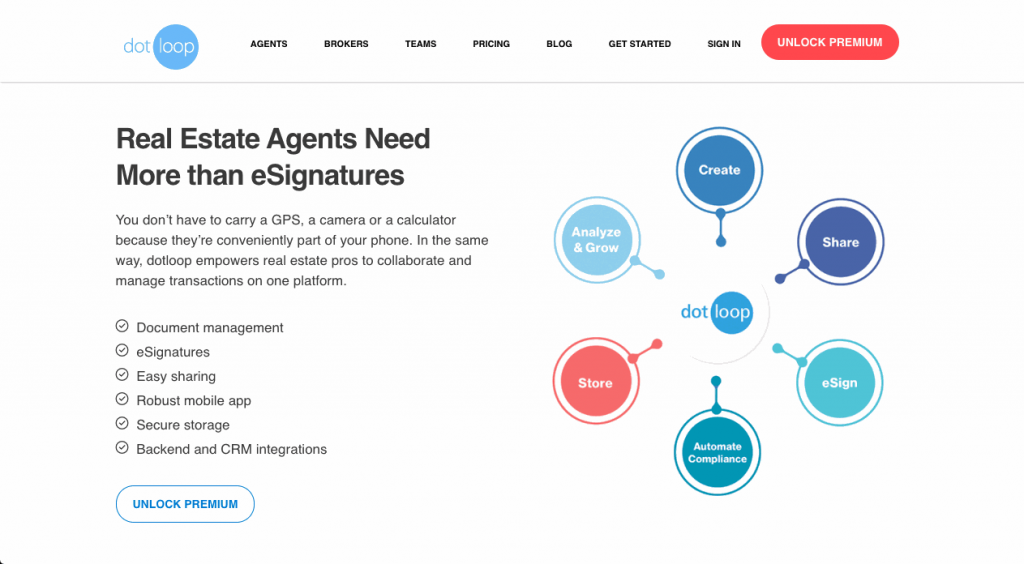 Instead of operating as just an online signing platform, DotLoop differentiates from DocuSign by providing users with a digital workspace to connect with their clients.
DotLoop gives users multiple features to allow them to complete their real estate transactions. On top of providing users with the ability to collect electronic signatures, DotLoop can become a part of every step of a real estate transaction. The platform also allows users to share information with others and for people outside the platform to add and edit documents.
DocuSign's real estate document solution also has unique features to help agents and team members along the way. Agents can create flows that allow them to maintain regulatory compliance. DocuSign also offers eNotary services to digitize the entire process and authorize in-person witnesses to sign electronic documents.
DocuSign gives its users access to more advanced and technical features than DotLoop.
Although both platforms offer unique features, DocuSign's unique features are mainly used to expand the signing capabilities, whereas DotLoop's unique features fulfill an agent's needs along the way.
Winner: DotLoop for agents, DocuSign for everyone else
User Reviews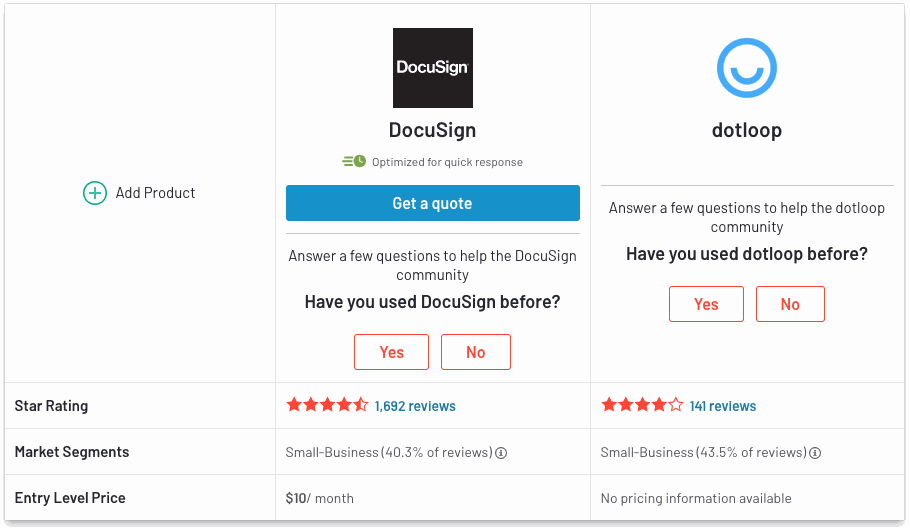 DocuSign and DotLoop are very popular options, showing many positive user reviews from many clients worldwide.
DotLoop works with companies like Coldwell Banker, Re/MAX, and Century 21. In G2, the platform has a four-star average rating based on over 140 user reviews.
Users report that they like the platform due to its advanced real estate features, like linking to other professionals they work with. They also like the simple and intuitive UI and its ability to create and handle all the digital paperwork they need.
The negative user reviews are mostly about how cumbersome the process can be while oversimplifying other functions.
On the other hand, DocuSign for Real Estate is also highly rated on G2, with a rating of 4.5 stars.
Users report that they like how easy it is to use once they get the hang of it. They praise how easy it is to look for and retrieve documents and speak highly about the VIP customer service experience.
Some complaints about government identities not accepting DocuSign signatures due to the platform not having the level of compliance they hoped. Users also complain about the quality and speed of regular customer service.
Although only by a small margin, DocuSign has a slight edge over DotLoop regarding user reviews, both in number and quality.
Winner: DocuSign
Security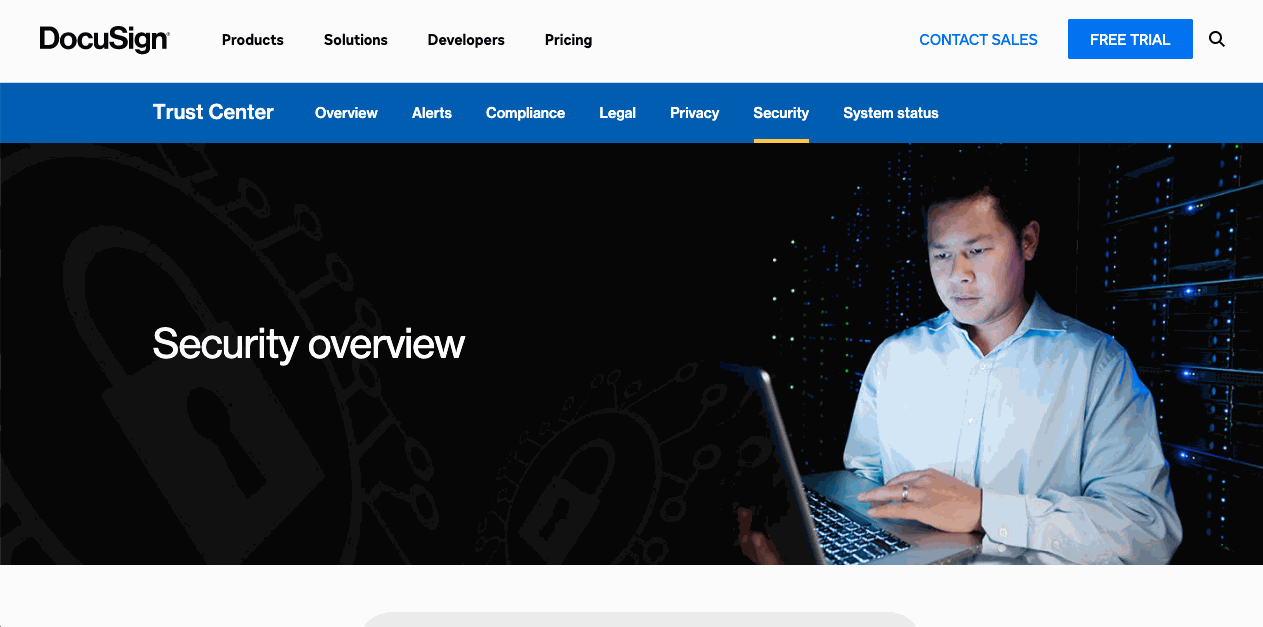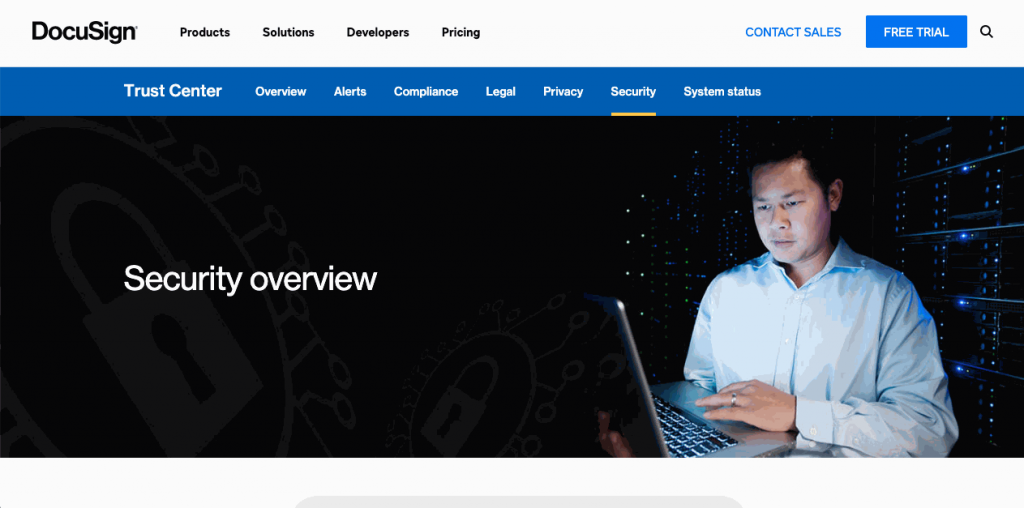 DotLoop has the average security that users may expect from these platforms. DotLoop users own all data they put into the platform, and the platform claims never to use that information for any purpose nor disclose it to anyone.
Although it talks little about what kind of security processes it uses, DotLoop assures customers that they've "put physical, electronic, and managerial procedures in place to help safeguard and secure the information we collect online." 
That doesn't fully answer our question, but we know there are no reported DotLoop security breaches, so users have no reason not to trust the platform's capabilities.
DocuSign, however, takes security to another level.
Powered by some of the most secure certification standards and encryption tech available, DocuSign boasts ISO 27001 and SSAE 16 certifications.
All information from DocuSign is stored under the highest levels of encryption, with the platform being the only Digital Transaction Management (DTM) company in compliance with the ESIGN Act.
DocuSign offers multiple forms of signer authentication, better intent confirmation, tamper seals to protect your documents, and secure and continuous access to all your documents.
If security is your number one priority, DocuSign offers you the highest security you can find in any online signature solution.
Winner: DocuSign
DocuSign vs. DotLoop — What's the better choice for your business?
Both DotLoop and DocuSign can be very helpful for the right users. So, which one is better for you?
DotLoop: Best for agents looking for a full real estate industry solution
Real estate agents will appreciate DotLoop's capabilities, which allow them to spend less time handling and signing documents or using multiple platforms for one purpose.
The platform's focus on real estate businesses makes it very competitive for the right realtors willing to pay a premium for a comprehensive platform.
DocuSign: Best for agents looking for a simple signature solution
DocuSign may make more sense for users with their document and workflow platforms. Although not as capable in real estate as DotLoop, the platform is certainly cheaper and simpler.
Once users get the hang of the platform's advanced features, DocuSign can easily adapt seamlessly to any real estate agent's tools and workflows while remaining simple and affordable enough for most pockets.
Signaturely: Better than DotLoop and DocuSign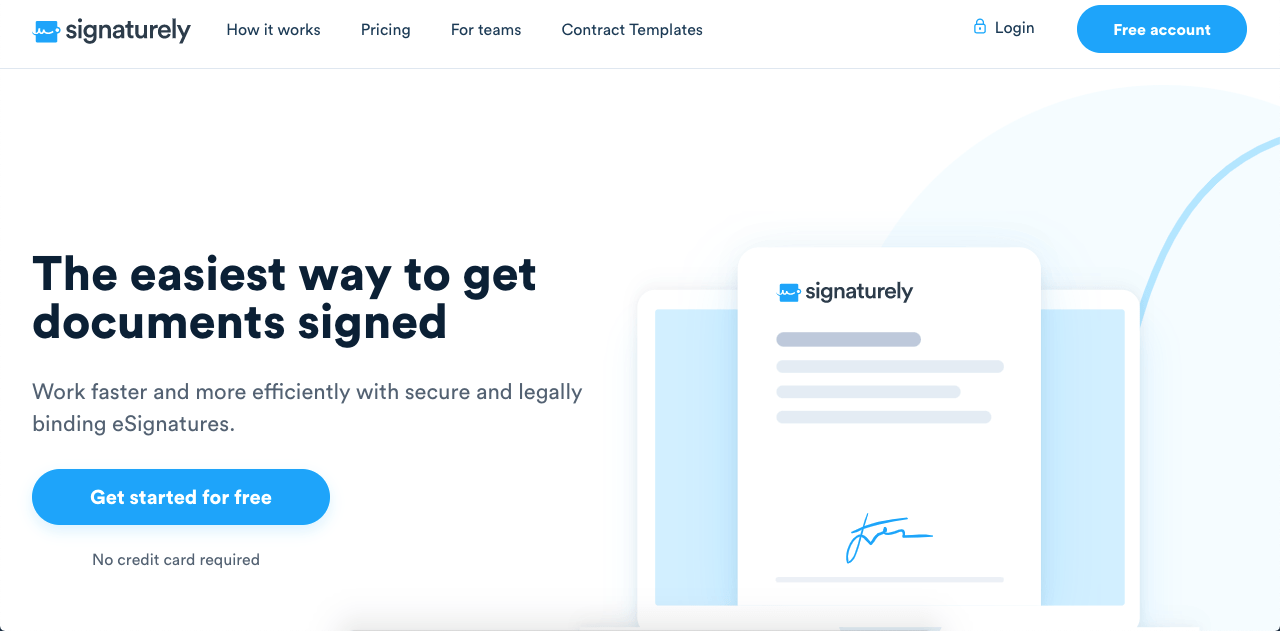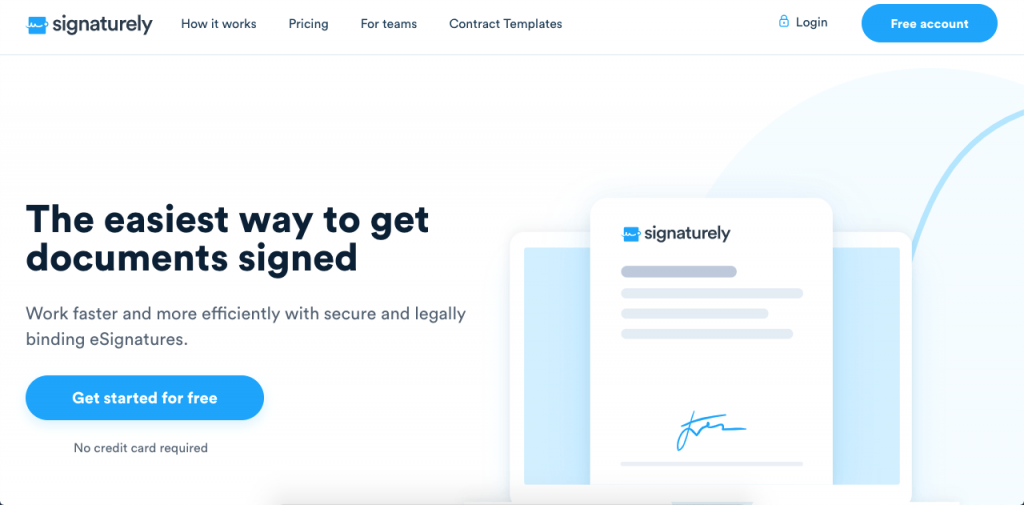 If you're looking for an option far cheaper than DotLoop and easier to use than DocuSign, Signaturely is the right option.
Unlike either DocuSign or DotLoop, Signaturely allows you to create a free account to get started immediately, which will remain free forever.
Your free account will seamlessly integrate with Google Drive, Dropbox, OneDrive, and Box, so you can upload the necessary documents and start signing immediately. You'll also have free access to notifications and reminders to expedite your signing process without breaking the bank.
You can send up to three signature requests per month with a free account. This makes it perfect for the part-time realtor or occasional user who needs a couple of documents signed monthly.
Need more signature requests? Paying DocuSign $10 per month will limit you to only 5 signature requests. Signaturely gives you unlimited signature requests for the same price, so you can send as many documents as you need, making it a great DocuSign alternative.
Need unlimited templates? At just $15 per month per user, it is far cheaper than both DotLoop and DocuSign, and you won't have to worry about deleting templates as you go. This plan will also receive advanced business features like team management and custom template branding.
Multiple users find Signaturely affordable and accessible while remaining powerful enough to get all the necessary signatures.
Creating online documents with Signaturely is very easy. Start by choosing whether or not you need to sign the document. After this, you can name your document, import or create it using the editor, and select the signers and the display message to be sent along with it.
You can also assign a signer order and review your document right before sending it to ensure your signature has been added correctly and that there are no issues with the document.
Once you send it, Signaturely will guide your signers throughout the signature process and allow them to create their eSignature if they don't have one.
It's that easy.
Sign up for free to start using Signaturely today.
Conclusion
DotLoop is a great all-in-one platform for professional realtors who can afford to pay a premium for more functionality. DocuSign is better suited for casual agents needing a simple, online signing platform with added security capabilities.
And if you're looking for a tool that's cheaper, simpler, and easier to use, you can't go wrong with Signaturely. Get started for free today.