Free Social Media Marketing Proposal Template
Navigating the dynamic world of social media marketing can often feel like a high-stakes puzzle. However, with the right tools at your disposal, like a well-crafted social media marketing proposal, you can paint a clear picture of your capabilities, solutions, and the value you bring to potential clients.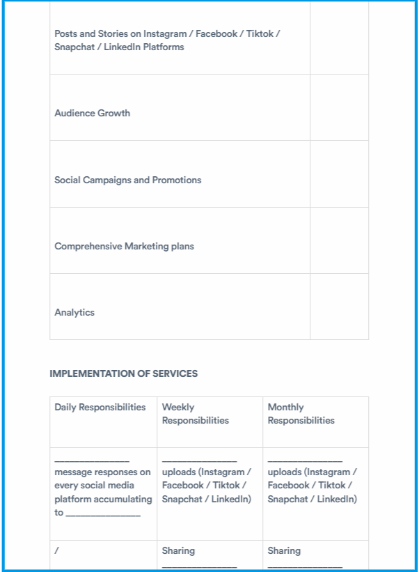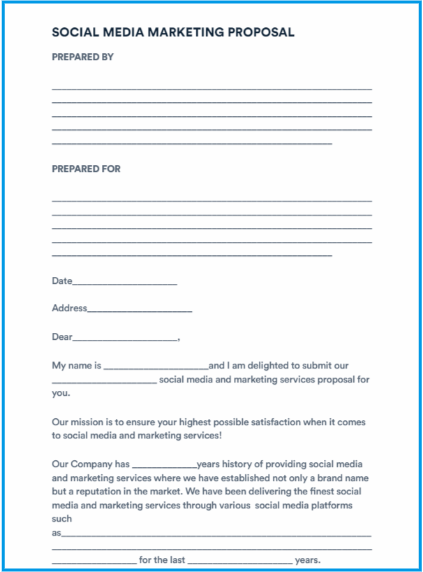 What is a Social Media Marketing Proposal
A social media marketing proposal is a document used by marketing agencies or social media marketers to outline how they can help a potential client improve their social media presence. This proposal often includes an understanding of the client's social media goals, proposed strategies to achieve these goals, an audit of the current social media status, and a breakdown of the services offered.
This document iss a roadmap for what marketing agency clients can expect, providing transparency and building trust. It's your sales pitch to the client, showcasing your understanding of their needs, your expertise in social media marketing, and how you intend to drive results that align with their business goals.
When to Use a Social Media Proposal Template
There are several occasions when a social media proposal template becomes essential. A well-structured proposal can give you a competitive edge if you're a marketing agency or an independent social media marketer reaching out to a potential client. It helps you articulate your understanding of the client's needs, your planned approach, and how you will deliver specific outcomes.
Use cases could include when you're pitching to take over a brand's social media accounts, proposing a new social media campaign, or suggesting improvements to an existing social media strategy. Tailoring your proposal to the specific client and their unique needs is critical.
In terms of timing, it's usually best to send a social media proposal after you've had an initial meeting or conversation with the client. This allows you to include specifics about their business goals, target audience, and current social media brand, making the proposal more personalized and impactful.
Keep in mind that your proposal is a reflection of your professionalism and attention to detail. So, ensure it's error-free, clear, and compelling. You can also use tools like Signaturely to streamline the proposal creation and signing process with an easy-to-use platform.
DISCLAIMER: We are not lawyers or a law firm and we do not provide legal, business or tax advice. We recommend you consult a lawyer or other appropriate professional before using any templates or agreements from this website.
What to Do Before Creating a Social Media Proposal
Creating social media proposals is vital in running a successful marketing campaign, but it can be daunting for any marketer. A comprehensive social media proposal is more than just piecing together thoughts and plans; it requires careful research, goal-setting, and strategy creation to deliver the most effective solution on execution. To ensure that your next social media proposal succeeds and meets all your goals, following these critical steps before compiling the document will save you time while amplifying its effectiveness.
Deeply Understand the Client's Goals
To create a winning social media management proposal, start with a deep dive into your potential client's social media goals. Are they looking to increase brand awareness, drive more website traffic, or foster better customer engagement? Perhaps they want to promote new products or services? Understanding their objectives enables you to align your proposed solutions with their aspirations, creating a sense of cohesion and relevance.

To grasp these objectives, you can conduct initial meetings with the client, review their online presence, or use a questionnaire to gather insights. It's essential to remember that these goals should be specific, measurable, and achievable. This clarity and ambition will help you create an actionable and compelling proposal.
Research their Target Audience
Next, understanding your client's target audience is paramount. By analyzing the audience demographics, behaviors, preferences, and online habits, you can tailor your social media strategies to engage this audience effectively. Social media platforms provide analytics tools that yield valuable insights into the audience's behavior.
Successful social media marketing is about creating meaningful connections between the brand and its audience. The better you understand the target audience, the more precise and impactful your proposed strategies will be.
Analyze Competitor Strategy
Evaluating the competition is vital in aligning your client with market trends. What are they doing right on social media? Where are they falling short? Identifying these strengths and weaknesses can reveal opportunities for your client to differentiate themselves and outshine their competition.
Look at the competitor's engagement metrics, content strategies, posting frequency, and response to followers' interactions. This competitive analysis will provide valuable insights and underscore your thoroughness and strategic thinking to the potential client.
In addition, preparation is critical to crafting a persuasive social media proposal. By deeply understanding your client's goals, researching their target audience, and analyzing the competitor's strategies, you set the stage for a proposal that resonates with your client's needs and showcases your expertise. And when it's time to put pen to paper, or rather, hands to keyboard, consider using tools like Signaturely to create a professional and easy-to-sign proposal. The devil is in the details, and these details could make the difference between a rejected and a winning social media proposal.
Key Elements of a Social Media Marketing Proposal
A solid social media proposal should function as a roadmap, guiding the client through your planned social strategies while showcasing your understanding of their needs and goals. The proposal should include key elements, each serving a unique purpose and collectively forming a comprehensive plan. Below are essential aspects of a robust social media marketing proposal.
Introduction & Background
The introduction sets the stage for your proposal and should briefly outline your understanding of the client's business, industry, and challenges. Showcasing your knowledge of their background builds credibility and helps establish a connection with the client. Remember that the introduction is the client's first impression of your proposal, so make it engaging and insightful.
This section outlines the client's challenges in their social media marketing efforts. Be specific about the problems, whether it's low engagement, inconsistent branding, or ineffective content. Demonstrating your understanding of these challenges and their impact on the client's social media goals is crucial. This problem overview shows that you're not just offering a generic solution but one tailored to their unique circumstances.
Having established the challenges, it's time to present your solutions. Here, you outline the strategies you plan to implement to address the client's problems. This could include creating a consistent posting schedule, using analytics for content optimization, or leveraging influencer partnerships for increased reach. Each proposed solution should directly correspond to a problem previously outlined, demonstrating a thoughtful and systematic approach.
The scope of work breaks down your proposed solution into actionable steps. It provides a detailed plan, including the social media platforms you'll focus on, the types of content you'll create, and any additional services like social media audits or paid advertising campaigns. Providing a detailed scope of work gives the client a clear idea of what to expect from your services.
The timeline section provides a schedule for implementing the strategies outlined in the scope of work and includes critical milestones, deadlines, and any project phases. The timeline keeps everyone on the same page and shows the client you're organized and prepared to deliver results promptly.
Outlining the deliverables is a crucial next step after defining the scope of work and timeline. This section outlines the tangible results that you will deliver to the client. These could be the number of weekly social media posts, monthly performance reports, or a revamped social media presence across various platforms. The deliverables must be realistic and align with the client's goals, helping them visualize the value they'll get from your social media services.
Clear communication about fees and payment terms is critical to avoid misunderstandings later. It's best to be transparent about your pricing model – whether you charge a flat fee, by the hour, or based on performance. Break down the costs for each service to give the client a clear understanding of where their investment is going. Also, specify your payment terms, including due dates, late fee policies, and preferred payment methods. This protects your interests and respects the client's right to clear and upfront information.
The terms and conditions section may not be the most exciting part of a proposal, but it's foundational. This part outlines the mutual obligations, responsibilities, and understandings between you and the client. It should cover details like the duration of the contract, termination conditions, confidentiality clauses, and liability limitations. The terms and conditions ensure both parties have the same expectations and provide a reference point should disagreements arise.
Signatures are the final and perhaps most important part of your proposal. They signify the official agreement between both parties. While physical signatures have traditionally been the norm, digital signatures are now widely accepted and even preferred due to their convenience and security.
For this, consider using Signaturely, an intuitive and secure e-signature solution. It helps streamline the signing process, ensuring your proposal is signed swiftly and securely, saving you and your potential client time and effort.
Download our free example
Social Media Proposal Template
We've got your back here at Signaturely, and we're ready to help make stress-free proposals a reality. Forget the confusing paperwork and overwhelming legal jargon – get easy, breezy proposal templates for your customers in minutes with our free template.
Click that download button now and get those wheels spinning!
Tips for Writing a Winning Social Media Proposal
Crafting a proposal that wins you the client, requires a blend of creativity, deep understanding, and attention to detail. Here are five tips to help you create a standout social media marketing proposal:
Understand the Client's Goals: The first step towards a winning proposal is a deep understanding of the client's business and social media goals. Whether they want to expand their audience, increase engagement, or improve their social media campaigns, your proposal should reflect their unique needs.

 

Showcase Your Expertise: Demonstrate your understanding of social media trends and how they can benefit the client. Use data, case studies, and testimonials to show you've got the chops to deliver the promised results.

 

Provide a Detailed Plan: Offer a clear strategy that details the social media channels you'll utilize, the content types you'll produce, and how you'll engage with the audience. A plan shows you're organized and lets the client visualize your approach.

 

Be Transparent About Pricing: Clients appreciate transparency, especially when it comes to pricing. Break down your fees so they understand precisely what they're paying for. This price breakdown builds trust and can eliminate potential disputes down the line.

 

Use a Professional

Proposal Template

: A polished presentation can make a difference. Using a robust proposal template

saves time

and ensures you don't miss any critical elements. And don't forget the last step – getting the proposal signed with an e-signature solution like Signaturely to speed up the process and maintain professionalism.
FAQs About Social Media Marketing Proposals
Below are a few of the most frequently asked questions about social media marketing proposals.
How do you start a social media marketing proposal?
Start with a detailed understanding of the client's needs and goals. Then, introduce your agency and its strengths, followed by a comprehensive strategy tailored to the client. Remember to include all key sections such as problem overview, proposed solution, the scope of work, timeline, deliverables, fees, terms & conditions, and signatures.
What is a social media plan?
A social media plan is a detailed strategy outlining how a business or brand will use social media platforms to achieve its marketing goals. The plan may include content strategies, engagement tactics, and performance metrics.
How do you write a content marketing proposal?
Like a social media proposal, a content marketing proposal starts with understanding the client's needs, then proposing a strategy to create and distribute valuable, relevant content to attract and engage a clearly defined audience. The proposal would include content types, distribution channels, timeline, deliverables, fees, and terms & conditions.
What You Need to Remember About Social Media Proposals
Starting a social media marketing proposal can seem daunting, but with the right tools and strategies, it becomes a journey of exciting possibilities. Remember, the heart of a compelling proposition lies in understanding your client's goals and presenting a tailored, transparent plan.
While the content is king, the presentation is the castle. Polish your proposal with a professional template and seal the deal quickly with an e-signature solution like Signaturely. This is more than a proposal; it's your first step towards a fruitful partnership and the beginning of a social media success story.
Social Media Marketing Proposal
SOCIAL MEDIA MARKETING PROPOSAL
PREPARED BY
________________________________________________________________________________________________________________________________________________________________________________________________________________________________________________________________________________________________________________________
PREPARED FOR
________________________________________________________________________________________________________________________________________________________________________________________________________________________________________________________________________________________________________________________
Date_____________________

Address_____________________
Dear_____________________,
My name is _____________________and I am delighted to submit our _____________________ social media and marketing services proposal for you.
Our mission is to ensure your highest possible satisfaction when it comes to social media and marketing services!
Our Company has _____________years history of providing social media and marketing services where we have established not only a brand name but a reputation in the market. We have been delivering the finest social media and marketing services through various social media platforms such as_______________________________________________________________________________________________________________________________________________ for the last _____________________ years.
We ensure the utmost satisfaction of our clients by analyzing social media trends and implementing strategies based on comprehensive research. With us, you ensure a confident service!
Please do not hesitate to contact us should you have any inquiries on about services or the quote and terms of payment.
Contacts us on
_____________________
_____________________
_____________________
We look forward to serving you!
Sincerely yours,
Team

Our Social Media Marketing Services
Service

Description

 

Posts and Stories on Instagram / Facebook / Tiktok / Snapchat / LinkedIn Platforms

 

 

Audience Growth

 

 

Social Campaigns and Promotions

 

 

Comprehensive Marketing plans

 

 

Analytics

 

IMPLEMENTATION OF SERVICES
Daily Responsibilities

Weekly Responsibilities 

Monthly Responsibilities 

_______________ message responses on every social media platform accumulating to _______________

_______________ uploads (Instagram / Facebook / Tiktok / Snapchat / LinkedIn)

_______________ uploads (Instagram / Facebook / Tiktok / Snapchat / LinkedIn)

/

Sharing _______________ posts/stories on (Instagram / Facebook / Tiktok / Snapchat / LinkedIn)

Sharing _______________ posts/stories on (Instagram / Facebook / Tiktok / Snapchat / LinkedIn)

 

/

 

/

 

1 Marketing Report

 

 

 
 

 

 
 

 

 
 

 

 
Payment Terms
 

Amount in Percent

Description

 

%

Down payment

 

%

Payment upon Completion of the services
Thank you and Sincerely yours,
_______________________________
COMPANY

_______________________________

CLIENT

______________________________

DATE

_______________________________

DATE

_______________________________
Related Proposals and Templates
Download Our Free Social Media Marketing Proposal Template Today
Don't waste any more time trying to craft the perfect social media marketing proposal. Our free social media marketing proposal template is ready and ready to download in one quick, convenient click—no more complicated documents for you or your clients to fill out. Just download, customize, and off you go!
Don't wait – get your free social media marketing proposal template today and get geared up for business growth.