Free Service Proposal Template
As service providers, it is vital to have a high-quality service proposal template ready and available when responding to proposal requests.
Crafting a quality proposal takes time, thorough research, and well-thought-out document formatting. Having a practical framework in place can help save hours of work while still providing potential customers with the information they need as they make their selections. 
This comprehensive free service proposal template lets you tailor it to your specific audience. With this helpful resource at hand, crafting compelling service proposals becomes easier!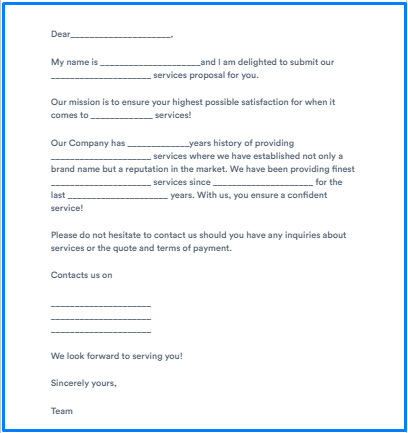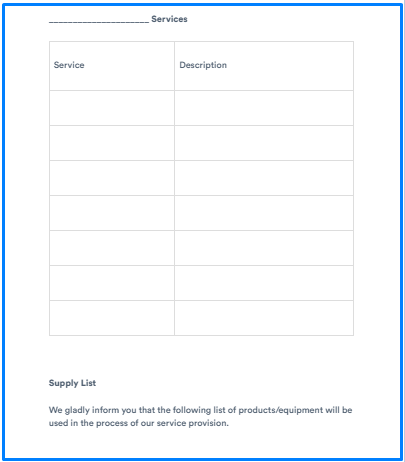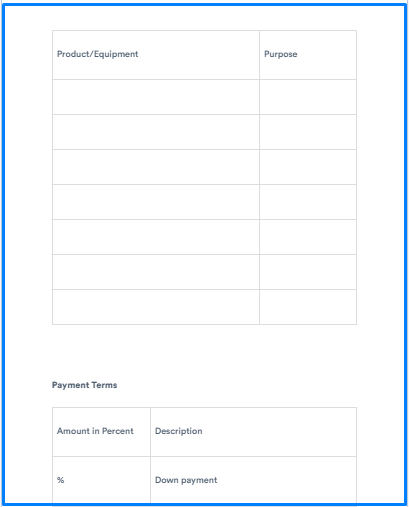 What is a Service Proposal?
A service proposal is a comprehensive document that outlines your company's services, the project's objectives, and a proposed plan to achieve those objectives. It is essentially a roadmap detailing how your business can provide value to a potential client.
In a service proposal, you describe your understanding of the client's needs, present your proposed solution, and explain how your services will lead to the desired outcome. It outlines the scope of the project, the timeline, deliverables, cost structure, and terms and conditions.
This document is a crucial part of the business proposal template-building process, as it helps potential clients understand why they should choose you over competitors. It can be solicited – when a client specifically requests it – or unsolicited when you proactively approach a prospective client.
The goal of a service proposal template is not just to secure a business deal but to establish trust, demonstrate competence, and build a solid foundation for a long-term relationship.
When to Use a Service Proposal Template
A service proposal template is used in various scenarios. Let's say you've been approached by a prospective client seeking your services. Rather than starting from scratch, a service proposal template can be a lifesaver, allowing you to efficiently outline your solutions while ensuring you don't miss any critical elements.
Perhaps you aim to expand your business and approach new potential clients proactively. In such cases, an unsolicited service proposal can be a powerful tool. Using a template ensures that your bid is structured, professional, and persuasive.
Also, if your company frequently bids for projects, creating each proposal from the ground up can be time-consuming. A service business proposal template simplifies the process, allowing you to focus on customizing the content to suit each unique client and project.
In essence, a service proposal template is your go-to tool whenever you need to articulate your services, convey value, and persuade prospective clients that you're the best fit for their needs. It's not just about saving time; it's about enhancing your business proposals' quality, consistency, and professionalism.
DISCLAIMER: We are not lawyers or a law firm and we do not provide legal, business or tax advice. We recommend you consult a lawyer or other appropriate professional before using any templates or agreements from this website.
What to Include in a Proposal for Services
Crafting a comprehensive and compelling service proposal is no small feat, but it doesn't have to be daunting. A service proposal template can ensure you're covering all bases and presenting your offer effectively. Below is a breakdown of the essential elements of a service proposal and how to approach each section.
Introduction & Background
Your service proposal template has an introduction and background section that serves as the initial handshake with your prospective client. This section is where you make your first impression, which can significantly impact the client's perception of your company. So, it's imperative to start strong.
After introducing your company, delve into the story of your business. Share your journey from inception to where you stand now. Highlight milestones, accolades, or notable projects demonstrating your growth and success. Discuss your mission, values, and culture to give a flavor of your company's personality.
Next, introduce your team. Mention key personnel who would be involved in the project, including their qualifications, experience, and achievements. Showcasing your team humanizes your business and displays the depth of talent you bring to the table. 
For example, "At XYZ Solutions, our strength lies in our exceptional team. Our project manager, John Doe, is a certified PMP with over a decade of experience managing complex IT projects. He will lead a skilled team of professionals who share his dedication to quality and client satisfaction."
 Remember to highlight your core competencies. What do you do exceptionally well? What unique skills or capabilities set you apart from others in your industry? Be specific and use evidence to back up your claims. This could be testimonials, case studies, or quantifiable results you've achieved for previous clients.
The executive summary is your elevator pitch – a concise and powerful summary that encapsulates the essence of your business proposal. To make this section compelling, focus on the client. Identify their key pain points and how your business proposal addresses them.
Make sure to outline the benefits that the client can expect. However, rather than simply listing features of your service, try to translate them into tangible outcomes. For instance, instead of saying, "We offer 24/7 customer support," you could say, "Our 24/7 customer support means you'll never face a technical glitch alone, ensuring uninterrupted operation of your services."
This section sets the tone for the entire business proposal, so inject some enthusiasm and confidence into your writing. Show your excitement for the project and belief in your solution's potential to make a real difference for the client.
Understanding your client's needs and objectives is fundamental to crafting a successful business proposal. This section is your chance to show that you've listened to the client, researched their industry, and fully grasped their situation.
Start by clearly defining the opportunity or problem at hand. Use the client's own language where possible to show alignment with their perspective. Then, outline the objectives of your proposed service. These objectives should be achievable and measurable so you can show your impact on your client's business. 
Don't shy away from addressing the challenges that might arise during the project. Showing that you've considered potential hurdles and have plans to overcome them demonstrates your proactive approach and commitment to ensuring a successful outcome.
This section is all about building trust and alignment with the client. It sends the message: "We understand what you're going through, and we have a plan to achieve your goals." This can be a powerful motivator for the client to choose your business proposal over others.
Developing a proposal template is akin to creating a roadmap for success. It's not just about the destination (the answer) but also the journey (how you'll get there). This is your chance to shine, to show your understanding of the client's problem and your capability to solve it. Your proposed solution should reflect your expertise and experience in the industry.
Detail the methodologies and strategies you plan to use and explain why they suit the client's needs. Include case studies or examples of similar projects you've successfully executed to bolster your claims if possible.
Remember, the solution is not a one-size-fits-all proposition. Each client is unique; therefore, each service proposal should be too. Tailor your approach to match the client's industry, business size, and specific circumstances. This personalized touch on your proposal template distinguishes a good business proposal from a great one.
When it comes to deliverables, clarity is king. No one likes surprises in business, especially when it involves time, money, and resources. Be exhaustive in listing what the client can expect to receive from your services. For instance, if you're offering digital marketing services, your deliverables might include a comprehensive marketing strategy, monthly SEO reports, a certain number of blog posts, social media management, and more.
Clearly defined deliverables in your proposal template set the right expectations and provide a benchmark against which the client can measure your performance. This transparency can significantly enhance trust and satisfaction in your business relationships.
Give an estimated timeline for the project, including the start date, milestones, and completion date. Your project timeline is a testament to your organizational skills and commitment to efficiency. Be realistic in setting the timeline; overpromising and under-delivering can damage your reputation.
Consider all variables, like the scope of the project, your team's capacity, and the client's deadlines. A detailed timeline reassures the client that you can manage the project effectively and deliver on time. Use a Gantt chart or a similar tool to visually represent the timeline, making it easier for the client to understand.
While cost discussions can be tricky, they are necessary for the service proposal. Your pricing structure should be fair and competitive, reflecting the value of your services. Ensure you explain what each fee covers and clarify any terms that might be confusing to the client.
List these separately if your contractor service proposal template includes optional services or potential future costs. This level of transparency can help the client make informed decisions and understand that there won't be any hidden charges.
This section is where you protect your business and the client by outlining the rules governing your consulting agreement. It's worth investing time in crafting comprehensive terms and conditions. Consider seeking legal advice to ensure you're fully covered.
Common areas to address include the scope of the work, the responsibilities of each party, intellectual property rights, cancellation policies, and conflict resolution methods. While this section may not be as exciting as others, it is crucial in preventing disputes and misunderstandings down the line.
Finally, the signatures at the end of the service proposal seal the deal. It's the point where the business proposal transitions from a simple document to a potential contractual agreement. Signaturely helps by providing a secure, legally recognized method for e-signatures. With Signaturely, you can ensure that your proposal is professional and ready for immediate action.
Remember, a service proposal is more than a document; it's a powerful tool for convincing prospective clients that your services are the solution they've been searching for. With these guidelines and a convenient service proposal template, you're well on your way to crafting business proposals that win clients and grow your business.
Download our free example
Service Proposal Template
We've got your back here at Signaturely, and we're ready to help make stress-free proposals a reality. Forget the confusing paperwork and overwhelming legal jargon – get easy, breezy proposal templates for your customers in minutes with our free template.
Click that download button now and get those wheels spinning!
5 Tips for How to Write an Effective Service Proposal
Crafting an effective service proposal can seem intimidating, but with the right approach and a sprinkle of strategy, you can create a proposal that stands out and wins clients. Here are five tips to guide you in crafting a persuasive business proposal template. 
Understand Your Client's Needs

: The first step in creating an effective business proposal is understanding your prospective client's needs and expectations. Take the time to research their industry, their business, and their specific challenge. The more you know about their situation, the better you can tailor your service proposal to meet their requirements. This shows your client that you've done your homework and you're genuinely invested in helping them succeed.

 

Be Clear and Concise

: Avoid jargon and unnecessary fluff in your service proposal. Keep your language clear, concise, and easy to understand. Remember, your prospective client might review multiple unsolicited  submissions, so you want yours to be easy to read and understand. Ensure your business proposal gets straight to the point and clearly outlines the benefits of choosing your services.

 

Highlight Your Unique Value Proposition (UVP)

: What sets your business apart from your competitors? Maybe it's your innovative approach, experienced team, or proven track record. Whatever it is, make sure it's highlighted in your service proposal. Your UVP is your trump card – it makes you unique and gives prospective clients a compelling reason to choose you.

 

Use a Professional Template

: A service proposal template can make the whole process much easier and quicker. A template ensures you don't miss critical sections and maintains a professional appearance. Just remember to

customize the template

to fit your business and your prospective client's needs.

 

Leverage Digital Tools

: Embrace technology to make your consulting or marketing proposal process more efficient and professional. This includes using project management tools, CRM software, and digital signature solutions. This is where Signaturely shines. It allows you to add a digital signature box to your business proposal template, making it easy for both parties to sign the document. It's paperless, efficient, and legally binding, adding a layer of professionalism to your business proposal.
FAQs About Service Proposal Templates
Building a persuasive business proposal template is no small task, and many questions can arise during the process. To help you navigate this critical task, we've compiled answers to some of the most frequently asked questions about using a service proposal template.
What is the basic format for a service proposal?
The basic format for a service proposal includes an introduction, an executive summary, a description of the opportunity and objectives, a business plan, clear deliverables, a project timeline, costs and fees, terms and conditions, and a space for signatures. Each section serves a unique purpose, providing a comprehensive overview of your proposed services. A service proposal template can make this process easier, ensuring you don't miss any crucial sections.
How long should a service proposal be?
The length of a service proposal can vary depending on the project's complexity and the prospective client's needs. However, keeping your proposal concise and to the point is essential.
What is the objective of a service proposal?
A service proposal aims to convince prospective clients that your services are the best solution for their needs. This involves thoroughly understanding their challenge, proposing a suitable solution, and making a compelling case for why your business is the best choice. In essence, the objective is to win the client's business.
Is a proposal for services a contract?
A service proposal is not a contract, but it can form the basis of one. It's essentially an offer that outlines what you propose to do for the client, the terms under which you'll do it, and the costs involved. If the client accepts your proposal, it may be formalized into a legally binding contract.
What You Need to Remember About Proposal For Services Template
In an increasingly competitive market, a well-crafted service proposal is essential for standing out and winning business.
A service proposal template streamlines the creation process, ensuring consistency, professionalism, and thoroughness. Critical elements, such as introduction, project proposal template, and clear deliverables, contribute to comprehensively presenting your services.
Leveraging digital tools such as Signaturely further enhances the process by providing a scalable, efficient, and legally compliant signature solution.
Ultimately, the goal is to convey value, establish trust, and demonstrate your company's unique capabilities to prospective clients.
Service Proposal Template
PREPARED BY
________________________________________________________________________________________________________________________________________________________________________________________________________________________________________________________________________________________________________________________
PREPARED FOR
________________________________________________________________________________________________________________________________________________________________________________________________________________________________________________________________________________________________________________________
Date_____________________

Address_____________________
Dear_____________________,
My name is _____________________and I am delighted to submit our _____________________ services proposal for you.
Our mission is to ensure your highest possible satisfaction for when it comes to _____________ services!
Our Company has _____________years history of providing _____________________ services where we have established not only a brand name but a reputation in the market. We have been providing finest _____________________ services since _____________________ for the last _____________________ years. With us, you ensure a confident service! 
Please do not hesitate to contact us should you have any inquiries about services or the quote and terms of payment. 
Contacts us on 
_____________________
_____________________
_____________________
We look forward to serving you! 
Sincerely yours,
Team
_____________________ Services
Supply List
We gladly inform you that the following list of products/equipment will be used in the process of our service provision. 
Payment Terms
| | |
| --- | --- |
| Amount in Percent | Description |
| % | Down payment |
| % | Payment upon Completion of the services |
Thank you and Sincerely yours,
_______________________________
COMPANY

_______________________________

CLIENT

______________________________

DATE

_______________________________

DATE

_______________________________
Related Proposals and Templates
Download Our Free Service Proposal Template Today
Don't waste any more time trying to craft the perfect service proposal. Our free service proposal template is ready and ready to download in one quick, convenient click—no more complicated documents for you or your clients to fill out. Just download, customize, and off you go!
Don't wait – get your free service proposal template today and get geared up for business growth.