Free Cleaning Proposal Template
Learn how to write an effective cleaning proposal that stands out and boosts your chances of winning more contracts.
This comprehensive guide takes you through the process step-by-step with this free cleaning proposal template – everything you need for a successful pitch.
Whether offering janitorial services or window cleaning, learn the fundamentals of building a robust cleaning service proposal.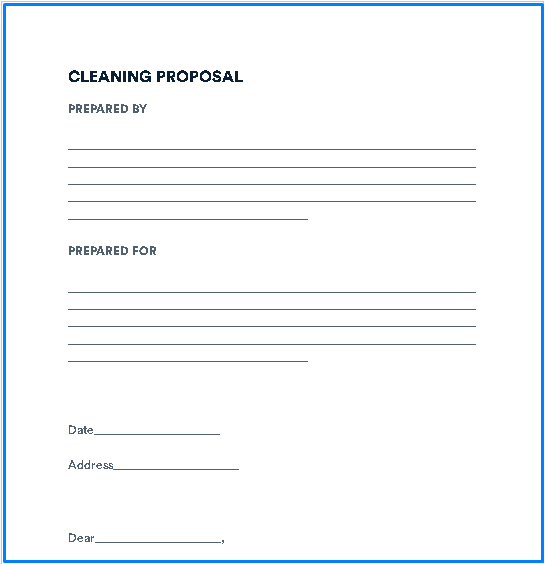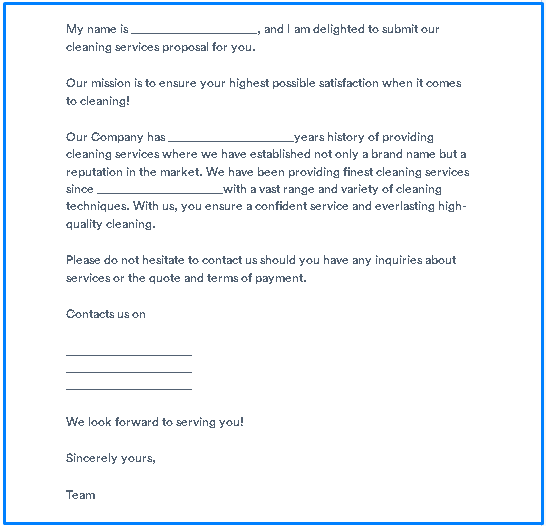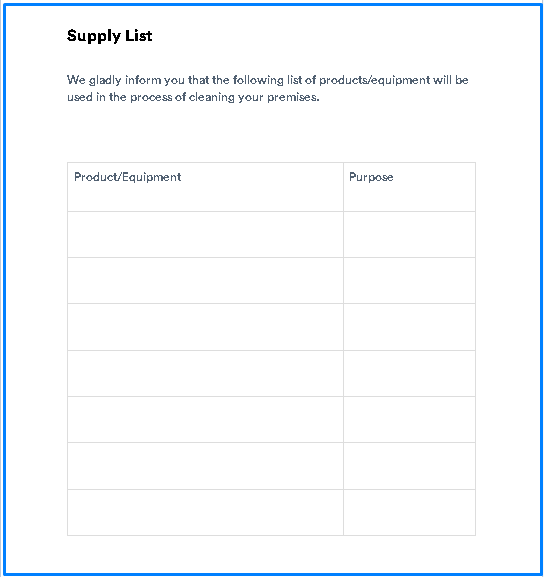 What is a Cleaning Proposal?
A cleaning proposal is a professional document outlining a cleaning company's or individual's services to a potential client. This proposal formally presents the cleaning services, including the scope of work, methods, and pricing, allowing the client to evaluate and compare different providers.
By utilizing a cleaning proposal, cleaning businesses can effectively showcase their expertise, professionalism, and commitment to quality while clients can make informed decisions about which provider best suits their needs.
The primary benefits of using a cleaning proposal are increased transparency, better communication, and higher chances of securing new clients. A well-crafted bid helps cleaning companies highlight their unique selling points, demonstrate their understanding of the client's requirements, and build trust by showcasing their previous accomplishments.
It also allows clients to compare proposals from multiple providers, ensuring they select the most suitable candidate for their cleaning needs.
DISCLAIMER: We are not lawyers or a law firm and we do not provide legal, business or tax advice. We recommend you consult a lawyer or other appropriate professional before using any templates or agreements from this website.
When to Use a Cleaning Proposal Template
A cleaning proposal template is a valuable tool for established cleaning businesses and individuals looking to enter the cleaning industry. It can be used in various scenarios, including:
Office Cleaning: When

pitching services

to commercial clients, a cleaning proposal template can help showcase the company's expertise in maintaining a clean and healthy

work environment

. The proposal can highlight services tailored to the client's needs, such as carpet cleaning, window washing, or sanitation.

 

Residential Cleaning: For individuals or companies offering residential cleaning services, a cleaning proposal template can outline the scope of services provided, such as deep cleaning, regular maintenance, or specialized services like upholstery cleaning.

 

Educational Institutions: A cleaning proposal template can be used when submitting bids for cleaning contracts at schools, colleges, or universities. The proposal can emphasize the company's experience in maintaining a clean and safe learning environment for students and staff.

 

Medical Facilities: Cleaning proposals must emphasize the importance of adhering to strict hygiene standards and infection control protocols. A cleaning proposal template can help businesses highlight their specialized services and experience in maintaining cleanliness in healthcare settings.

 

Event Cleaning: When bidding for event cleaning

contracts

, a cleaning proposal template can outline the company's approach to maintaining cleanliness before, during, and after the event, including waste management and recycling services.
What to Include in a Cleaning Proposal
A well-structured cleaning proposal is vital for winning clients and showcasing your company's professionalism and expertise. Here are the essential elements to include in a cleaning proposal:
The cover page serves as the first impression of your cleaning proposal. It should contain your company logo, business name, contact information, and the title "Cleaning Proposal" or a similar phrase. A clean, visually appealing design will help convey a sense of professionalism and it will  go a long way in establishing your unified brand. Use consistent fonts, colors, and formatting throughout the proposal to maintain a cohesive appearance.
The executive summary is a brief overview of your cleaning proposal. It should briefly describe your company's background, services offered, and the unique value proposition that sets you apart from competitors. Keep the executive summary concise and engaging to capture the client's interest; otherwise, you risk losing your client in a sea of details right from the jump. Be sure to tailor the executive summary to the specific needs of your potential client, showing that you have taken the time to research their requirements and understand their concerns.
Personal/Team Introduction
In this section, introduce yourself or your team members, highlighting relevant experience, certifications, and expertise in the cleaning industry. If your team has specialized skills or training, mention them here. Including brief testimonials from satisfied clients can also help to build trust and credibility. This portion of the document can go a long way in establishing credibility and trust with your potential client. To further humanize your proposal, consider adding a professional photograph of yourself or your team to give the client a sense of the individuals behind your business.
Clearly outline your offerings, such as office cleaning services, residential cleaning, carpet cleaning, or janitorial services. Bespecific  and tailor your proposal to the potential client's needs.
For example, if you are pitching to an office, focus on your experience in maintaining clean, organized workspaces and your ability to work around their schedule. Consider including a bulleted list of services to make it easy for clients to see precisely what they will receive. Remember to emphasize any unique or specialized services that set you apart from your competition.
Explain your approach to cleaning, including the methods and equipment you use, any eco-friendly or sustainable practices you adhere to, and the safety precautions you take. Providing a general timeline for cleaning tasks, such as frequency of visits, estimated duration, and completion dates for larger projects, will help to demonstrate your organization and commitment to efficiency.
Additionally, it may be helpful to outline any specific procedures you follow to ensure quality control, such as routine inspections or feedback systems. This information will give the client a better understanding of how you operate and instill confidence in your ability to provide reliable, high-quality service.
Clearly present your pricing structure, including hourly rates, flat fees, or package deals. Be transparent about additional fees, such as specialized services or equipment usage. If possible, provide a detailed cost breakdown for the specific client, considering their unique needs and requirements. Offering customizable packages or flexible pricing options can demonstrate your client-focused approach. Also, consider including any discounts, promotions, or incentives for long-term contracts or referrals, as these can help to encourage clients to choose your services over competitors.
To finalize the proposal, include a section for both parties to sign and date the document, indicating their agreement to the terms outlined. Using an e-signature solution like Signaturely can streamline this process, allowing for secure, legally binding signatures that are easily accessible by both parties. Incorporating digital signatures demonstrates your commitment to modern, efficient business practices, which can further instill confidence in your potential clients.
By incorporating these essential elements in your cleaning proposal, you can create a professional, persuasive document that effectively communicates your company's value, expertise, and commitment to quality, increasing your chances of winning new business and growing your revenue.
Download our free example
Cleaning Proposal Template
We've got your back here at Signaturely, and we're ready to help make stress-free proposals a reality. Forget the confusing paperwork and overwhelming legal jargon – get easy, breezy proposal templates for your customers in minutes with our free template.
Click that download button now and get those wheels spinning!
5 Tips for Writing a Cleaning Proposal
An effective cleaning proposal is essential for securing new clients and growing your business. Here are five tips to help you create a winning cleaning proposal:
Understand your client's needs: Before starting your proposal, research the client and their specific requirements. Tailor your proposal to address their unique needs and concerns, demonstrating your ability to provide customized solutions. By showing that you understand their challenges, you can position your services as the best solution to their cleaning needs.

 

Be clear and concise: Use straightforward language and avoid industry jargon when writing your proposal. Make sure each section is well-organized and easy to understand. This will help your potential client quickly grasp the benefits of your services and make an informed decision. Remember that less is often more when it comes to the language and content of your proposal.

 

Highlight your experience and expertise: Showcase your knowledge and skills in the cleaning industry by mentioning relevant certifications, training, or experience. Include brief testimonials from satisfied clients or case studies demonstrating your ability to deliver high-quality cleaning services. This will help build trust and credibility with potential clients.

 

Offer transparent pricing: Provide clear, detailed pricing information in your proposal, including hourly rates, flat fees, or package deals. Be upfront about additional costs, such as specialized services or equipment usage. This transparency will help you build trust with your potential clients and avoid any misunderstandings down the line.

 

Use technology to streamline the process: Leverage e-signature solutions like Signaturely to make the cleaning services proposal process more efficient and professional.  Signaturely allows you to create, send, and track your cleaning proposals with ease and ensures that your documents are securely signed, stored, and accessible by both parties.

Incorporating Signaturely into your cleaning proposal process not only makes it more efficient but also adds a layer of

professionalism

to your documents.

With Signaturely, you can easily create and customize cleaning proposal templates, request signatures, and track the status of your proposals in real time. Using e-signature technology, you can save time, reduce errors, and present a polished, professional image to new clients.
FAQs About Cleaning Proposal Templates
Below are a few of the most frequently asked questions about using a cleaning proposal template.
How do I ask for a cleaning contract?
You should first identify potential clients and their specific needs to ask for a cleaning contract. Research the client's business or property and tailor your cleaning proposal to address their unique requirements. Contact prospective clients via email, phone, or in person, and professionally present your cleaning services proposal, highlighting how your services can solve their problems.
How do you write a cleaning proposal?
To write a cleaning proposal, follow these steps:
Begin with a cover page with your company name, logo, and contact information. Use a cleaning proposal template to mold your outline. 

Write an executive summary outlining the key benefits of your cleaning services– from janitorial services to commercial cleaning. 

Include a personal/team introduction to showcase your experience and expertise.

List the services offered and explain how they meet the client's needs.

Describe your approach and timeline for completing the cleaning tasks.

Provide transparent pricing and package options.

Include a signature section for both parties to sign and make the proposal legally binding.
What is a good introduction to cleaning services?
A good introduction to cleaning services should briefly present your company and its unique selling points. Highlight your experience, expertise, and commitment to providing high-quality, reliable cleaning services.

When offering office cleaning services, be sure to emphasize how your services can address the specific needs of the potential client and improve their property's cleanliness and overall appearance.
How do I advertise myself as a cleaner?
To effectively advertise yourself as a cleaner, exploring various strategies is essential. Start by creating a professional website that showcases your services, experience, and client testimonials.

Harness the power of social media platforms to connect with potential clients and share updates about your services. Networking with local businesses and attending industry events can help build relationships and increase visibility. Using online directories and review sites can also boost your online presence.

Moreover, implementing targeted advertising campaigns, such as Google Ads or social media ads, can assist in reaching your target audience and attracting potential customers.
How do you quote a cleaning contract?
To quote a cleaning contract, first assess the client's needs, property size, and the scope of work involved. Consider labor, equipment, and cleaning supplies required to complete the cleaning job. Calculate the total cost, considering your overhead and desired profit margin. Finally, present your quote clearly and transparently within your cleaning proposal, breaking down the prices for each service and any additional fees.
What You Need to Remember About Cleaning Proposal Templates
Quality cleaning proposals can be the make-or-break factor in expanding your business. Make sure to craft your cleaning proposal template with care and personalize it according to the needs of each client while also showcasing what sets you apart from competitors.

With Signaturely's document creation capabilities, you'll have a professional proposal ready for submission whenever you need it most. Whether it's an office cleaning proposal or commercial cleaning services you're offering, a robust cleaning proposal template can go a long way in securing new clients.
Cleaning Proposal Template
PREPARED BY
________________________________________________________________________________________________________________________________________________________________________________________________________________________________________________________________________________________________________________________
PREPARED FOR
________________________________________________________________________________________________________________________________________________________________________________________________________________________________________________________________________________________________________________________
Date_____________________

Address_____________________
Dear_____________________,
My name is _____________________, and I am delighted to submit our cleaning services proposal for you.
Our mission is to ensure your highest possible satisfaction when it comes to cleaning!
Our Company has _____________________years history of providing cleaning services where we have established not only a brand name but a reputation in the market. We have been providing finest cleaning services since _____________________with a vast range and variety of cleaning techniques. With us, you ensure a confident service and everlasting high-quality cleaning. 
Please do not hesitate to contact us should you have any inquiries about services or the quote and terms of payment. 
Contacts us on 
_____________________
_____________________
_____________________
We look forward to serving you! 
Sincerely yours,
Team

| | |
| --- | --- |
| Cleaning Service  | Description |
| |   |
| |   |
| |   |
| |   |
| |   |
| |   |
| |   |
We gladly inform you that the following list of products/equipment will be used in the process of cleaning your premises. 
| | |
| --- | --- |
| Amount in Percent | Description |
| % | Down payment |
| % | Payment upon Completion of the services |
Thank you and Sincerely yours,
_______________________________
COMPANY

_______________________________

CLIENT

______________________________

DATE

_______________________________

DATE

_______________________________
Related Proposals and Templates
Download Our Free Cleaning Proposal Template Today
Don't waste any more time trying to craft the perfect cleaning  proposal. Our free cleaning  proposal template is ready and ready to download in one quick, convenient click—no more complicated documents for you or your clients to fill out. Just download, customize, and off you go!
Don't wait – get your free cleaning proposal template today and get geared up for business growth.