Free Marketing Proposal Template That Works
Entering the world of marketing proposals can be a complex endeavor. Luckily, you can craft a successful bid with a suitable template to land you new clients. This guide aims to help you unlock the secrets of practical marketing proposals, all streamlined with an easy-to-use free marketing proposal template.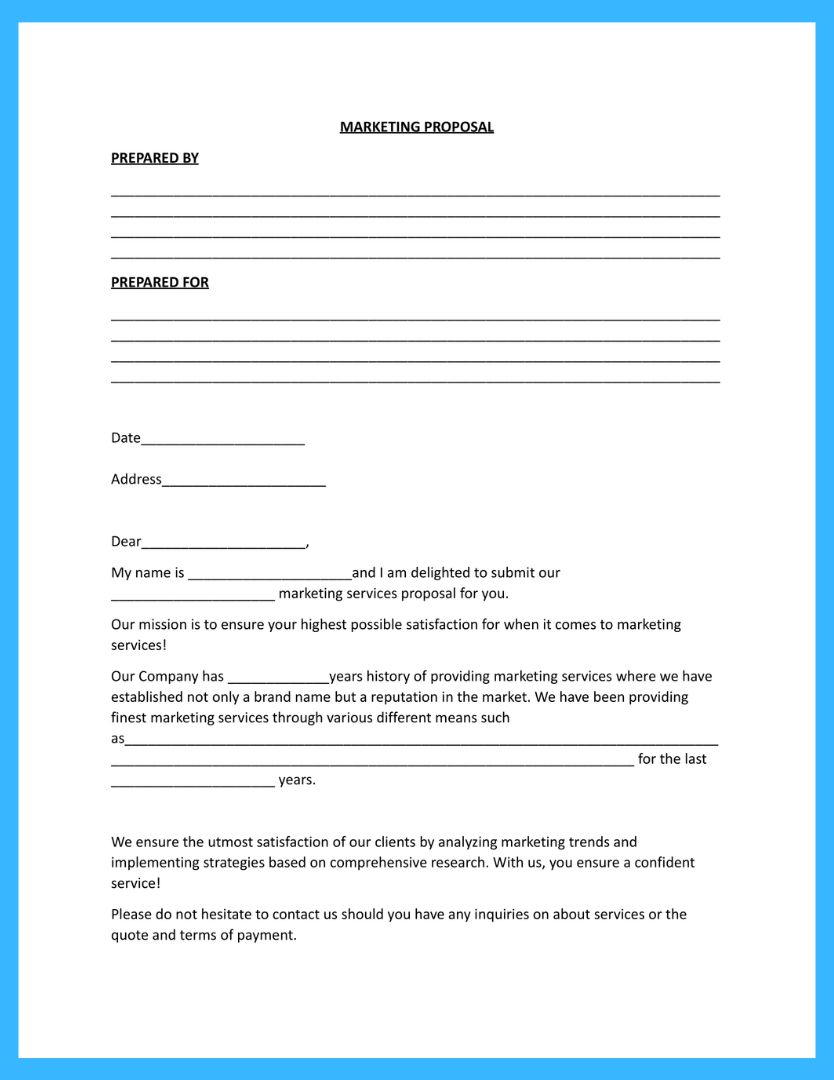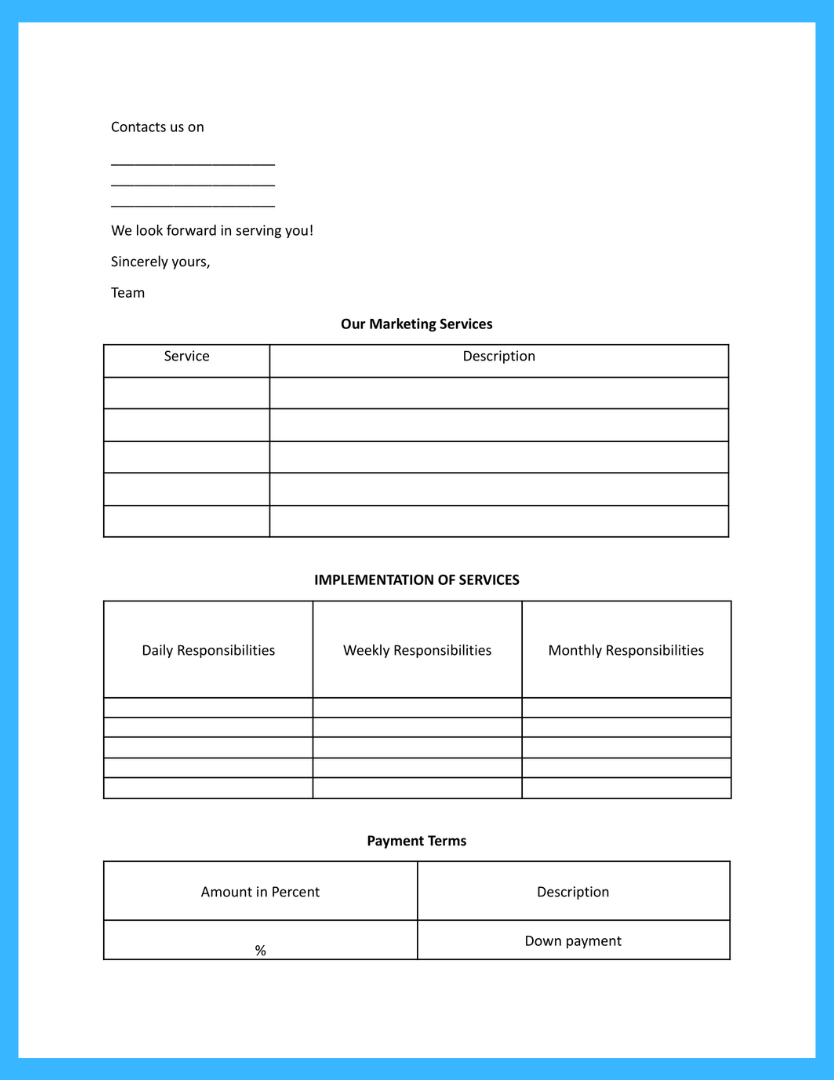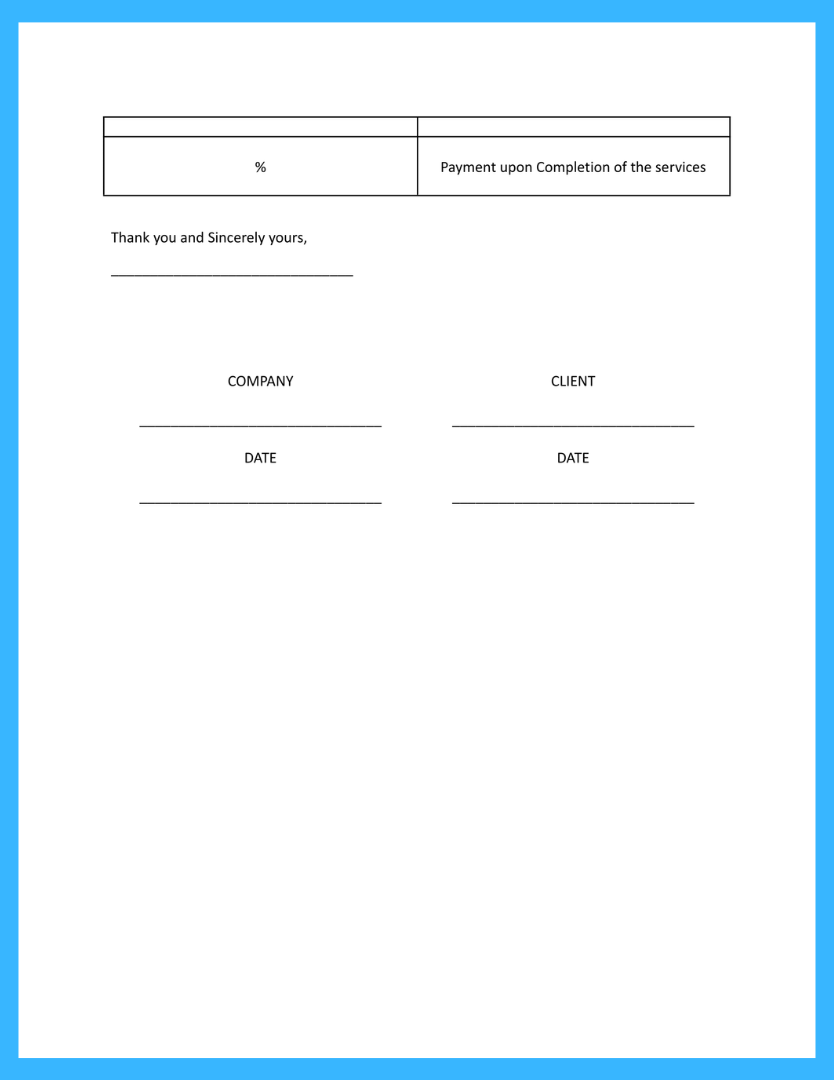 What is a Marketing Proposal?
A marketing proposal is a strategic document that lays the foundation for a marketing project or campaign. It outlines critical elements like the marketing strategy, target audience, project scope, and potential costs. This comprehensive document serves as a roadmap, guiding you and your clients toward a common goal.
Who writes a marketing proposal, and who receives it? Typically, marketing agencies or individuals with marketing expertise create this proposal. It's then presented to potential clients, who may be businesses or entrepreneurs seeking professional assistance with their marketing efforts.
The marketing proposal is more than just a sales pitch; it's an in-depth analysis of the client's problem and a proposed solution tailored to their specific needs. It's a tool to demonstrate understanding, showcase marketing prowess, and outline how the marketing plan will help achieve the client's objectives.
This all-encompassing document becomes a bridge between marketing firms and their potential clients, allowing for clear communication, transparent expectations, and the establishment of trust. Whether you're looking to win over new clients or propose a new marketing initiative within your business, the marketing proposal is essential in conveying your ideas effectively.
DISCLAIMER: We are not lawyers or a law firm and we do not provide legal, business or tax advice. We recommend you consult a lawyer or other appropriate professional before using any templates or agreements from this website.
When to Use a Marketing Proposal Template
The perfect timing for using a marketing proposal template isn't just a vague notion—it's a critical decision point in your relationship with potential clients. So, when should you write and send one? The key stages are detailed below.
Identifying a Potential Client's Needs: When you recognize a potential client's problem that your marketing services can solve, it's time to draft a proposal. The template can guide you in addressing specific issues with tailored solutions.

 

Pitching a New Marketing Campaign: If you propose a new campaign to an existing client or within your own business, using a marketing proposal template ensures you cover all key points.

 

Responding to a Request for Proposal (RFP): An RFP is an invitation from a potential client for marketing agencies to submit proposals. Here, marketing proposal templates can save time and ensure alignment with client expectations.

 

Targeting Qualified Leads: When you've identified a lead that fits well with your expertise and

services

, using a marketing proposal template helps you draft an impressive proposal quickly.

 

After Initial Meetings: If you've already met with a potential client and discussed their needs, a well-crafted proposal using a marketing proposal template can reinforce your understanding and proposed solutions.
A marketing proposal template isn't just a mere convenience; ensuring you present a coherent, targeted, and winning proposal at the right stage is essential. It bridges the gap between your marketing expertise and the client's problem, enabling you to move forward with clarity and confidence.
What to Include in a Marketing Proposal
Writing marketing proposals is like crafting a story; it must captivate your audience and provide a compelling reason to take action. Understanding what to include in this essential business document is the key to building a connection with your potential client and showcasing how your marketing expertise aligns with their needs. Let's take an in-depth look at the critical components.
The cover page is more than a simple title page; the handshake invites your client into the proposal. This page should exude professionalism and attention to detail.
Your Logo: Symbolizes your brand's identity.

Proposal Title: Create an engaging title focused on the client's business or problem.

Contact Information: Include both your and the client's contact details.

Date and Proposal Validity: Grounds the proposal in time, adding urgency to the decision-making process.
Your executive summary is the soul of your proposal. It offers a sneak peek into what's in store, outlining the main problem and the proposed solution.
Problem Understanding: Show empathy and insight into the client's challenge by conducting market research. 

Overview of Solution: Provide a glimpse into your strategic marketing plan without revealing all.

Why Choose You? Highlight what sets you apart and makes you the best fit.
Think of this section as your elevator pitch. It should grab attention and spark curiosity to read on.
Defining the marketing project goals is like setting the compass for the journey ahead. This section aligns both you and the client on what success will look like.
Main Problem Statement: Clearly articulate the client's problem.

Proposed Solutions: Break down solutions into clear, measurable goals.

Alignment with Business Objectives: Connect your goals with the client's objectives.

Timeline & Milestones: Provide a visual roadmap.
Your project goals section is a promise, a commitment to deliver. It's where your marketing services become a tailored solution to the customer's business needs.
The journey of writing proposals is an opportunity to demonstrate your expertise and creativity. By focusing on these critical elements, you build a bridge between your marketing agency and the client's unique challenges. Remember that tools like Signaturely's payment agreement template can further streamline your proposal process, adding a layer of professionalism that impresses clients.
In the strategy breakdown section, present a concise roadmap for your client's journey to success. Include an understanding of the target audience, the marketing channels (such as social media, email marketing, or Google AdWords), the content strategy that defines your story, and the Key Performance Indicators (KPIs) that will measure success. You instill confidence and align expectations by crafting a comprehensive yet digestible strategy breakdown, laying the groundwork for a transparent and successful marketing strategy.
The implementation section is the heart of your marketing proposal, translating strategy into actionable plans. Define the project timeline with clear milestones and deadlines. Explain the marketing expertise required and identify the team members or marketing agency. Highlight the tools and technologies needed to execute the plan and acknowledge potential roadblocks or challenges. Your client needs to see the big picture and the finer details, so make them believe in your ability to deliver.
Money matters, and so does clear communication about it. The fees and payment terms section clarifies the initial payment or upfront cost required to start the project. Break down the services and align them with the prices, creating an easy-to-understand structure. Outline a payment schedule that sets clear expectations for when payments are due. Be transparent about additional costs or potential unexpected expenses. Professional tools like Signaturely's budget proposal template can further streamline this process. By clarifying the financial aspects, you build trust and remove any potential stumbling blocks, paving the way for a smooth collaboration.
The terms and conditions section is a vital part of any marketing proposal. It safeguards you and your client by outlining the working relationship's rules and guidelines . It's essential to include aspects such as project scope, confidentiality agreements, marketing firm's responsibilities, client commitments, and potential legal considerations. Since the marketing world is ever-changing with current trends, this section allows flexibility to adapt while maintaining a clear path. Consider it as the backbone that supports the whole marketing proposal. It enhances trust, removes ambiguities, and forms a solid foundation for a smooth collaboration when well-drafted.
Signatures, though a small part, hold significant value in a marketing proposal. It's the formal acknowledgment from both parties to embark on a partnership, bound by the proposal's terms. With today's digital workflows, traditional ink signatures are often replaced by e-signatures, which are faster, secure, and equally binding.
Platforms like Signaturely offer a seamless solution for obtaining electronic signatures, ensuring that all your agreements are legally compliant. Incorporating e-signatures in your marketing proposal streamlines the finalization process and conveys a message of modernity and efficiency to your new client. By integrating Signaturely into your strategy, you showcase innovation and ease of doing business and pave the way for a fruitful relationship.
Download our free example
Marketing Proposal Template
We've got your back here at Signaturely, and we're ready to help make stress-free contracts a reality. Forget the confusing paperwork and overwhelming legal jargon – get easy, breezy contract templates in minutes with our free template.
Click that download button now and get those wheels spinning!
Types of Marketing Proposals
In the multifaceted marketing world, various marketing proposals are crafted to suit different purposes and clients. Each type, while retaining the essence of a proposal, is tailored to a specific need or goal.
Content Marketing Proposal: This centers around strategies for creating and distributing valuable content to attract a defined audience. It blends words and creativity to spark interest and customer engagement.

 

Inbound Marketing Proposal Template: Tailored to drawing potential customers to products and services via content marketing, social media, SEO, and branding; it's about creating connections and solving problems.

 

Digital Marketing Proposal: This proposal focuses on leveraging

online platforms

as it embraces the digital age It involves strategies for engaging with clients through the web, email marketing, and social networks.

 

SEO Marketing Proposal: This specialized proposal aims to enhance the client's online presence. It outlines methods to increase search engine ranking, drawing more traffic to the client's website.

 

Social Media Marketing Proposal: Tailored to promote brands on platforms like Facebook, Instagram, and Twitter, this proposal outlines methods to reach and engage the target audience through social media.

Business to Business (B2B) Marketing Proposal: Aimed at businesses marketing to other companies, this proposal is strategic and often involves complex projects and long-term engagements.
Understanding these various types provides a better comprehension of marketing itself and helps craft the proper proposal for the specific needs of potential clients. Selecting the appropriate proposal demonstrates a keen sense of the client's problem and paves the way for a successful marketing strategy.
How to Use a Marketing Proposal Template
The marketing proposal is essential to connecting your brilliant ideas with potential clients. Below are a few best practices for using a marketing proposal template. 
Imagine having a well-structured outline with essential sections that need nothing but your unique input. Using a marketing proposal template isn't just about filling in the blanks; it's about infusing your unique marketing background into a proven structure.

 

Choose the Right

Template

: Select a template that aligns with your marketing project. Whether it's content marketing, SEO, or a comprehensive digital marketing campaign, there's a template for that.

 

Customize It: Don't shy away from making it your own. Add your logo, tweak the color scheme, and replace generic text with your key points and unique proposals.

 

Add Your Signature Touch: With platforms like Signaturely, adding electronic signatures is a breeze. It not only saves time but gives that professional sheen to your proposal.

 

Review and Send: Before hitting send, have another look. Maybe have a colleague glance over it too. Sometimes, fresh eyes catch something missed.

 

Follow Up: Remember this part! A gentle reminder can turn a proposal into a project.
With a marketing proposal template, you're not starting from zero. You have experience, structure, and wisdom wrapped into one handy package. It's like having a marketing expert whispering in your ear, guiding you to the following winning proposal. 
Tips for a Winning Marketing Proposal
Crafting a winning marketing proposal is an art that marries both understanding and finesse.

First and foremost, it's vital to understand the client's problem deeply. Dive into their unique issues, discover what keeps them up at night, and shape your strategic plan to address these pain points. Clarity is key. Avoid jargon and unnecessary complexity. Highlighting key issues and making your proposal digestible shows respect for your client's time and fosters better understanding.
Your marketing proposal is also a chance to showcase your expertise. Share relevant examples of previous successes, which adds credibility and provides a tangible taste of what you can achieve. It's also crucial to include a clear call to action, outlining the next step in simple terms and making it as easy as possible for your client to say yes.
Finally, remember that professional touch. Using an electronic signature service like Signaturely adds polish and underscores your attention to detail, leaving a lasting impression.
Your marketing proposal is not merely a document; it's a conversation with your potential client. It's about building trust, demonstrating empathy, and proving that you are the solution to their problem. Craft it carefully, and you'll be on your way to securing a new client.
FAQs About Marketing Proposals
Below are some of the most frequently asked questions about marketing proposals.
How do you write a marketing proposal?
Writing a marketing proposal involves understanding the client's market, needs, and pain points. The proposal should outline a clear strategy, specific marketing services, and a timeline and budget. Be sure to include an executive summary, project goals, a detailed marketing plan, and a thoughtful business proposal that aligns with the client's objectives.
How long should a marketing proposal be?
A good marketing proposal should be concise yet comprehensive. While there's no strict rule on how many pages it should be, focus on clarity and depth. Typically, a proposal may range from a few pages for more straightforward projects to more extensive documentation for complex projects.
What is the structure of a digital marketing proposal?
The structure of a digital marketing proposal often includes a cover page, executive summary, problem statement, proposed solutions, marketing strategy, project timeline, investment section, terms & conditions, and signatures. Utilizing services like Signaturely ensures a streamlined signing process.
What are the parts of a marketing proposal?
The critical elements of a marketing proposal are the introduction, an understanding of the client's problem, a detailed outline of the proposed solution, including a campaign breakdown, payment terms, a marketing budget, and finally, a call to action.
How do you end a marketing proposal?
A marketing proposal's end is crucial in sealing the deal. Summarize the key points, reiterate the benefits, propose the next steps, and provide a clear and compelling call to action. Create a personalized cover letter and offer a customizable proposal to match the client's specific needs.
This section is a gateway to a better understanding of marketing proposals. Thoughtfully tailoring them resonates with potential clients and positions you as a marketing expert. Leveraging tools like Signaturely adds that extra touch of professionalism, enhancing both your proposal's appeal and the client's confidence in your proposal.
What You Need to Remember About a Marketing Proposal Template
In the bustling marketing landscape, crafting an impeccable marketing proposal is both an art and a science. It encapsulates a clear understanding of the client's business, outlines a strategic marketing plan, and showcases your expertise. Every element must be tailored to impress and persuade, from the cover page to the final signatures (streamlined with tools like Signaturely).

Remember, a winning proposal isn't just a transactional document but a strategic partnership's initial handshake. Explore Signaturely's free marketing proposal template and take a significant stride toward turning potential clients into thriving business collaborations.
Marketing Proposal Template
PREPARED BY
________________________________________________________________________________________________________________________________________________________________________________________________________________________________________________________________________________________________________________________
PREPARED FOR
________________________________________________________________________________________________________________________________________________________________________________________________________________________________________________________________________________________________________________________
Date_____________________

Address_____________________
Dear_____________________,
My name is _____________________and I am delighted to submit our _____________________ marketing services proposal for you.
Our mission is to ensure your highest possible satisfaction for when it comes to marketing services!
Our Company has _____________years history of providing marketing services where we have established not only a brand name but a reputation in the market. We have been providing finest marketing services through various different means such as_______________________________________________________________________________________________________________________________________________ for the last _____________________ years. 
We ensure the utmost satisfaction of our clients by analyzing marketing trends and implementing strategies based on comprehensive research. With us, you ensure a confident service! 
Please do not hesitate to contact us should you have any inquiries on about services or the quote and terms of payment. 
Contacts us on 
_____________________
_____________________
_____________________
We look forward in serving you! 
Sincerely yours,
Team
Our Marketing Services
IMPLEMENTATION OF SERVICES
| | | |
| --- | --- | --- |
| Daily Responsibilities | Weekly Responsibilities  | Monthly Responsibilities  |
|   |   |   |
|   |   |   |
|   |   |   |
|   |   |   |
|   |   |   |
Payment Terms
| | |
| --- | --- |
| Amount in Percent | Description |
| % | Down payment |
| % | Payment upon Completion of the services |
Thank you and Sincerely yours,
_______________________________



COMPANY

_______________________________




CLIENT


_______________________________




DATE

_______________________________




DATE

_______________________________
Related Proposals and Templates
Download Our Free Marketing Proposal Template Today
Don't waste any more time trying to craft the perfect marketing proposal template. Our marketing proposal template is ready and ready to download in one quick, convenient click—no more complicated documents for you or your clients to fill out.
Just download, customize, and off you go!