Free Investment Proposal Template to Win More Clients
An effective investment proposal is critical to seeking financial backing to ignite a new venture or inject life into an existing one.
This detailed guide and our free investment proposal template can serve as your roadmap to crafting an attention-grabbing pitch that potential investors find irresistible.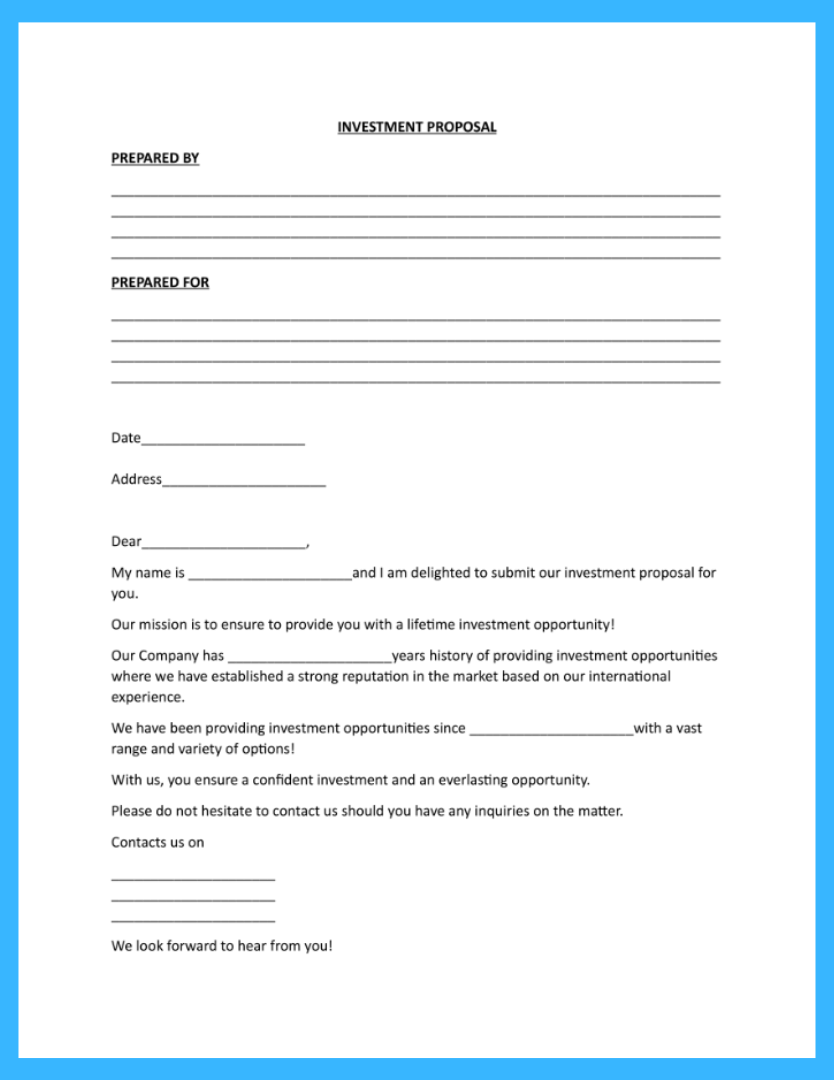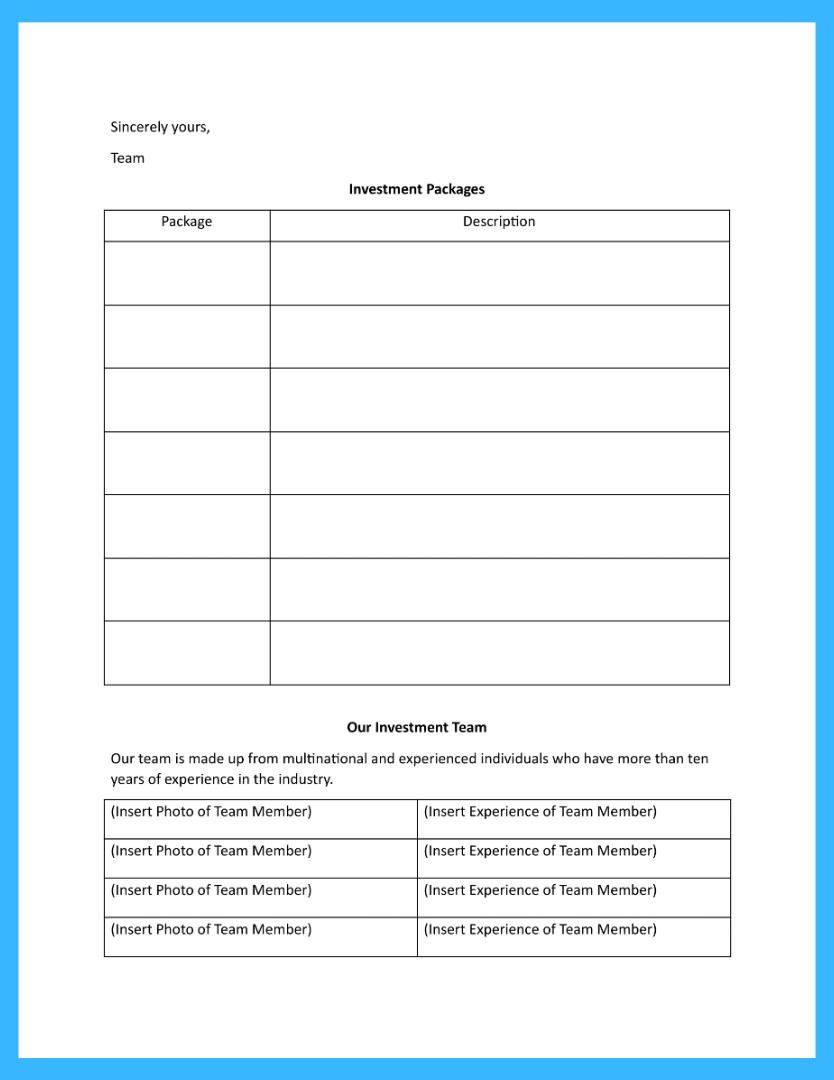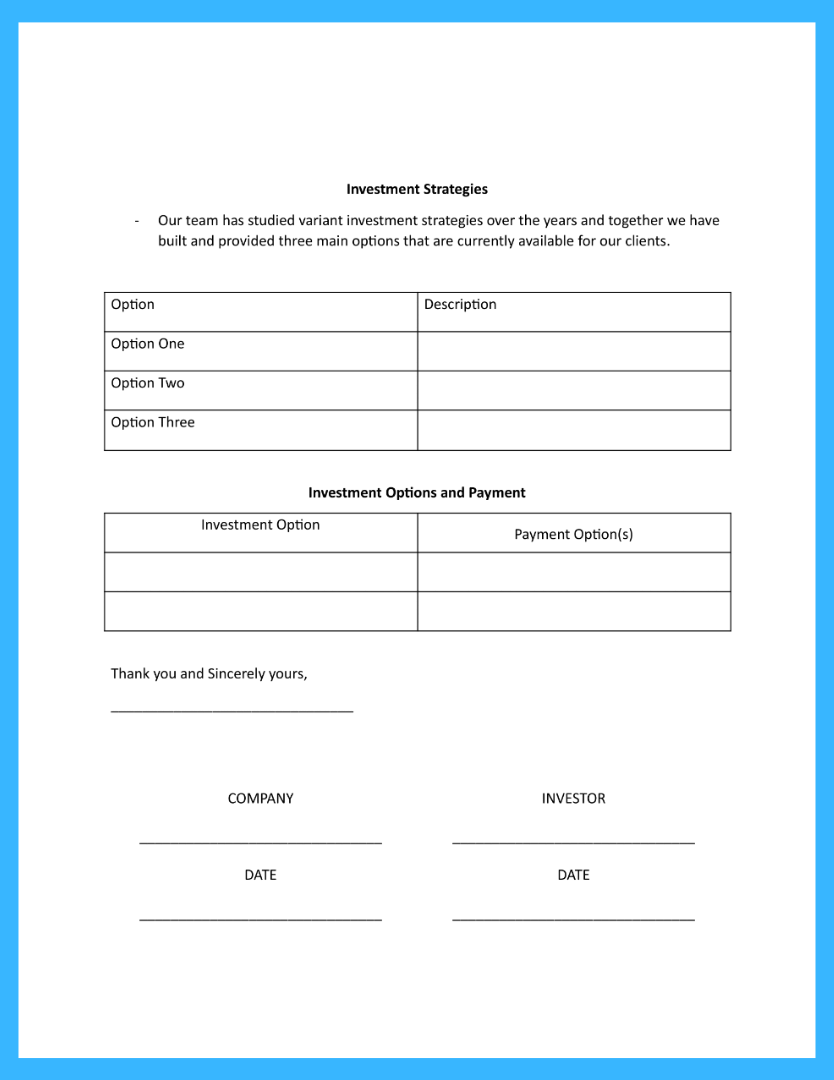 What is an Investment Proposal?
At its core, an investment proposal is a meticulously crafted document created with one goal in mind – to convince potential investors that your business or project is a viable and profitable investment opportunity. It's a persuasive tool utilized by startups, entrepreneurs, and existing businesses when they need financial support to kick-start or expand their operations.
The investment proposal is written by those seeking investment – from the inspired entrepreneur with a groundbreaking business idea to the established business looking to scale. Conversely, it's presented to potential investors, individuals, or financial institutions with the capital to provide the financial backing these businesses need.
An investment proposal template isn't just a bland list of facts and figures. It's a story that paints a vivid picture of your business's past, present, and future. It demonstrates your understanding of the market, showcases your unique value proposition, outlines the financial projections, and details the returns investors can expect. In essence, a successful investment proposal instills confidence in potential investors about the viability of your business idea.
When to Use an Investment Proposal Template
While there's no universally perfect moment to use an investment proposal, specific scenarios naturally lend themselves to creating this business document. 
When starting a new business and securing funding, an investment proposal is a must. It's also vital when planning to expand current operations, introduce a new product, or explore new markets, and you need financial backing to do so.
If you're courting prospective investors or attending meetings with financial institutions, a well-crafted investment proposal template can also serve as your comprehensive reference document and effective sales tool.
An investment proposal template can be a lifesaver. It provides a tried-and-tested structure, ensuring that you include all the necessary information in an organized manner, thus helping you build a professional proposal to attract investors to your cause.
DISCLAIMER: We are not lawyers or a law firm and we do not provide legal, business or tax advice. We recommend you consult a lawyer or other appropriate professional before using any templates or agreements from this website.
What to Include in an Investment Proposal
The content of an investment proposal template is as crucial as the pitch itself. The proposal must tell a compelling story while presenting concrete details that boost your credibility. Here are some of the key elements to include in your investment proposal:
First impressions matter; therefore your investment proposal template should start with a comprehensive company overview. This section should include your business's name, location, type of legal entity, and the nature of your business. Give a brief history of your company, outlining significant milestones, achievements, or challenges overcome. Mention any patents, proprietary technology, or competitive advantages that set you apart from the competition.
Also, introduce your team. Investors often place significant emphasis on the quality of the management team, as a strong team can often lead a company to success, even if the original business idea changes along the way. Highlight key team members, their roles, experience, and how they contribute to the company's success. This part could be make or break.
Now that your potential investor knows about your company, it's time to present the specific project for which you seek investment. Be as detailed and transparent as possible. Discuss the problem your project or product aims to solve and how it does so uniquely. Explain the project's current stage, be it an idea, in development, or a market-ready product.
It's also critical to outline your sales methods and revenue model. How do you plan to make money? Whether through direct sales, a subscription model, licensing fees, or something else, provide a clear picture of your business's cash flow prospects.
Market research is the heart of your business proposal. It shows that you understand your industry, target market, and competitors. You'll want to include details like the size of your target market, your ideal customer's demographic and psychographic profile, and how much market share you aim to capture.
An analysis of your competitors is also essential. Who are they, what are their strengths and weaknesses, and how do you differentiate from them? This research helps instill confidence in your target audience that you understand your business landscape and have a solid strategy to stand out.
In this section, you'll share your current business performance or traction. This could include sales figures, growth metrics, significant clients, or notable milestones. If you have testimonials from satisfied customers or industry recognitions, this is a great place to include them.
For startups without much trading history, it could be evidence of market testing, a working prototype, or user engagement from beta testing. Showing traction is vital because it proves to potential investors that there's a market for your product or service and that your business has the potential to scale.
In the financing requirements section, outline the specifics of your funding request. Begin by stating how much capital you need, followed by a detailed account of how you intend to use it. Whether it's for research and development, marketing, hiring new staff, or improving infrastructure, be clear and specific.
Break down the costs and justify each one with a brief explanation. These details help prospective investors understand why the funds are necessary and how their investment will be used.
Don't forget to include your financial projections for the next three to five years, detailing your expected revenue, profit margins, and cash flow. These projections should be realistic yet optimistic, backed by solid market research and sound business strategies.
You might wonder, "Why should I discuss the end when I'm just at the beginning?" The answer is simple. Your prospects will want to know how to recoup their investment and earn a return.
In this section, explain your exit strategy, whether it involves selling the company, going public through an IPO, or perhaps seeking acquisition by a larger entity. Detail the conditions and timeline that could trigger these exit opportunities.
Remember, investors are looking for a return on their investment. An exit strategy gives them a clear understanding of how that might happen and instills confidence in your strategic planning.
Finally, all parties involved should sign the investment proposal. A signed business proposal indicates that all parties agree with the terms and conditions outlined.
In our digital age, getting a signature doesn't necessarily mean a face-to-face meeting or sending documents through snail mail. Online signature solutions, like Signaturely, offer a convenient and secure method for getting proposals signed quickly and efficiently. This saves time, decreases the chance of document loss, and speeds up the negotiation and agreement process.
Download our free example
Investment Proposal Template
We've got your back here at Signaturely, and we're ready to help make stress-free proposals a reality. Forget the confusing paperwork and overwhelming legal jargon – get easy, breezy proposal templates for your customers in minutes with our free template.
Click that download button now and get those wheels spinning!
How Do You Write an Investment Proposal?
Crafting an investment proposal template might seem like an overwhelming task, but with the right approach, it's manageable. Identify your audience and tailor your message to address their interests and concerns. Using an investment proposal template is an efficient way to get started, ensuring you cover all the necessary elements.
Customization is key here. While a template provides a great starting point, remember to tweak and modify it to reflect your specific project and business needs. Reflect on your company's personality and values in your writing style, and include the details mentioned above. 
Tips for Using an Investment Proposal Template
Below are handy tips that can help you leverage an investment proposal template effectively:
Adapt the Template: Even the best investment

proposal templates

may need adjustments to match your needs. Adjust headings, subheadings, and content to fit your project and likely investors.

 

Be Specific and Concrete: To ensure effective communication, it's important to maintain a

professional tone

to make your investment proposal easily comprehensible. Use clear and concise language, avoid using technical jargon, and support your arguments with specific examples.

 

Use Persuasive Language: Remember, you're not just sharing information; you're trying to persuade investors that your business is worth their financial support. Emphasize the advantages and opportunities that accompany investing in your venture.

 

Proofread and Edit: Any proposal, investment or otherwise, should be error-free. Proofread your proposal for spelling, grammar, and clarity before sending it. An error-free proposal reflects your attention to detail and professionalism.

 

Use Digital Signatures with Signaturely: Speed up the

agreement

process with an e-signature solution. Digital signatures are legal, secure, and easy to use. With Signaturely, you can secure the necessary signatures from all parties involved, accelerating the negotiation and

agreement process

, no matter where they are.
Using these tips can help you create a compelling investment proposal that not only presents your business in the best light but also catches the eye of high-impact investors, increasing the chances of securing the much-needed funding for your venture.
FAQs About Investment Proposal Templates
Below are some common questions about investment proposal templates.
What is the difference between a business plan and an investment proposal?
While both are essential documents for any business, they serve distinct purposes. A business plan outlines your business's overall operation, goals, and strategies. In contrast, an investment proposal is a persuasive document presented to potential investors, detailing why they should invest in your business and how they'll benefit from it.
What is a defined investment proposal?
A defined investment proposal outlines a clear value proposition, illustrating the project's details, the required investment, projected returns, exit strategies, and more. It's tailored to meet the interests and needs of investors.
What makes a good investment proposal?
An effective investment proposal template is comprehensive, clear, and persuasive. It includes a compelling executive summary, your company background, project details, market research, financial projections, and an exit strategy. It instills confidence in potential investors about the viability and possible success of the investment.
What is a proposal for investors?
An investment proposal is a document presented to potential investors that provides detailed information about a business opportunity aiming to secure financial support.
What You Need to Remember About an Investor Proposal Template
An investor proposal template is a valuable tool to streamline the proposal creation process. It serves as a structured guideline, but it's crucial to customize it to reflect your unique business needs and value proposition.

Remember, clarity, specificity, and persuasion are key in investment proposals. Moreover, an innovative tool like Signaturely can propel your investment strategy forward.
Investment Proposal Template
PREPARED BY
________________________________________________________________________________________________________________________________________________________________________________________________________________________________________________________________________________________________________________________
PREPARED FOR
________________________________________________________________________________________________________________________________________________________________________________________________________________________________________________________________________________________________________________________
Date_____________________

Address_____________________
Dear_____________________,
My name is _____________________and I am delighted to submit our investment proposal for you.
Our mission is to ensure to provide you with a lifetime investment opportunity! 
Our Company has _____________________years history of providing investment opportunities where we have established a strong reputation in the market based on our international experience. 
We have been providing investment opportunities since _____________________with a vast range and variety of options!
With us, you ensure a confident investment and an everlasting opportunity. 
Please do not hesitate to contact us should you have any inquiries on the matter. 
Contacts us on 
_____________________
_____________________
_____________________
We look forward to hear from you! 
Sincerely yours,
Team
Investment Packages
Our Investment Team
Our team is made up from multinational and experienced individuals who have more than ten years of experience in the industry. 
| | |
| --- | --- |
| (Insert Photo of Team Member) | (Insert Experience of Team Member) |
| (Insert Photo of Team Member) | (Insert Experience of Team Member) |
| (Insert Photo of Team Member) | (Insert Experience of Team Member) |
| (Insert Photo of Team Member) | (Insert Experience of Team Member) |
Investment Strategies
Our team has studied variant investment strategies over the years and together we have built and provided three main options that are currently available for our clients. 
| | |
| --- | --- |
| Option  | Description  |
| Option One |   |
| Option Two |   |
| Option Three |   |
Investment Options and Payment
| | |
| --- | --- |
| Investment Option | Payment Option(s) |
| |   |
| |   |
Thank you and Sincerely yours,
_______________________________

COMPANY

_______________________________

INVESTOR

_______________________________




DATE




_______________________________




DATE




_______________________________
Related Proposals and Templates
Download Our Free Investment Proposal Template Today
Don't waste any more time trying to craft the perfect investment proposal. Our free investment proposal template is ready and ready to download in one quick, convenient click—no more complicated documents for you or your clients to fill out. Just download, customize, and off you go!
Don't wait – get your free investment proposal template today and get geared up for business growth.