Free Grant Proposal Template
Crafting a successful grant proposal is a challenging feat. However, with a suitable template and expert recommendations, you can dramatically increase your chances of securing project funding. 

This article will equip you with all the essentials to create memorable proposals that stand out from other applicants. Plus, learn how Signaturely's professional e-signature solution helps add more credibility, ensuring positive outcomes to your grant writing.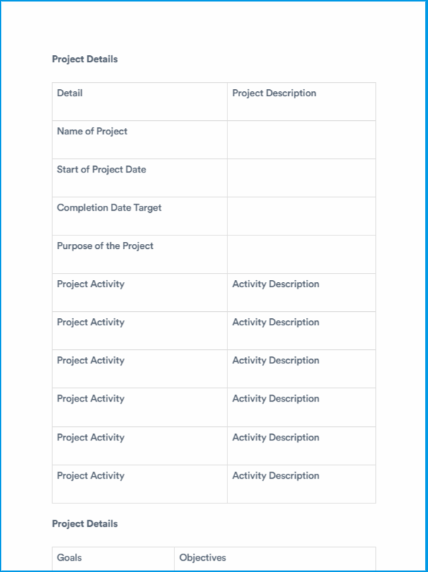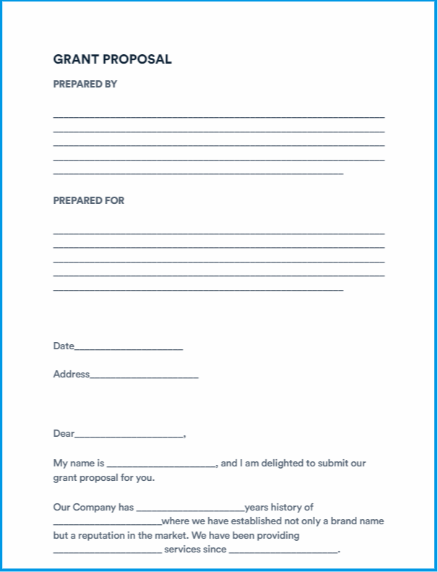 What is a Grant Proposal?
A grant proposal is a comprehensive, well-structured agreement that presents a clear, persuasive case for obtaining funding from a grantor, which can be a government agency, private foundation, or corporation. The primary purpose of a grant proposal is to convince the potential funder that your project or proposed program is worthy of their financial support. It demonstrates that your organization has the expertise, resources, and commitment needed to execute the proposed initiative.
Grant proposals usually have several sections detailing the project or program's objectives, methodology, expected outcomes, and budget requirements. A well-crafted grant proposal showcases your organization's ability to positively impact your target community or field while providing a compelling narrative demonstrating your understanding of the funder's goals and priorities. Moreover, a successful grant proposal illustrates the project's feasibility and highlights its potential to create a lasting, positive change.
DISCLAIMER: We are not lawyers or a law firm and we do not provide legal, business or tax advice. We recommend you consult a lawyer or other appropriate professional before using any templates or agreements from this website.
When to Use a Grant Proposal Template
A grant proposal template can be invaluable in streamlining the grant application process and ensuring that your proposal is complete, well-organized, and professional. You may want to consider using a grant proposal template document in the following scenarios:
Applying for government grants: When seeking funds from federal, state, or local government agencies, a grant proposal template can help you navigate the often complex application requirements and present your case in a clear, concise manner.

 

Seeking funding from private foundations: Many private foundations require a formal grant proposal as part of their application process. A

payment agreement template

can guide the necessary sections and formatting, ensuring your submission aligns with the foundation's expectations.

 

Corporate grants: Companies often support projects or programs that align with their corporate social responsibility goals. A grant proposal template can help you tailor your proposal to match the company's funding priorities and requirements.

 

Nonprofit grants: Nonprofit organizations frequently rely on donations to fund their programs and initiatives. A proposal template can help you create a persuasive proposition demonstrating your organization's ability to manage funds responsibly and deliver results.
Using a grant proposal template saves time and effort while ensuring your proposal is consistent, thorough, and compelling. With a solid foundation, you can refine your proposal to effectively communicate your project's vision, impact, and potential for success.
What to Include in a Grant Proposal
A well-prepared grant application is crucial for securing funding for your project or program. To create a compelling and professional proposal, including all the necessary components is essential. Here is a breakdown of the key sections that should be included in your grant proposal, along with an explanation of their purpose and what they should contain.
The cover letter is a brief introduction that highlights the main points of your entire proposal and serves as a first impression to the grantor. It should be concise, engaging, and convey the purpose of your project or program. Make sure to:
If possible, address the letter to a specific individual at the funding organization (such as an Executive Director)

Provide an overview of your organization and its mission

Briefly explain the project or program and its objectives

State the amount of funding requested

Include your contact information and express your willingness to provide additional information
The executive summary is a concise overview of your entire grant proposal. It should provide a snapshot of your project or program, including its objectives, expected outcomes, and funding requirements. Key elements to include are:
A brief introduction to your organization and its mission

A clear statement of the problem or need your project aims to address

A description of your project's goals and objectives

An outline of your methods and strategies section

A summary of your project's evaluation plan

The total amount of funding requested
The statement of need is a crucial part of your grant application, as it demonstrates the urgency and importance of your project. This section should:
Explain the problem or need your project aims to address

Provide relevant data, research, or statistics to support your claims

Discuss the target population and geographic area affected

Describe the consequences of not addressing the problem or need

Explain how your project will positively impact and fill a gap in existing

services

or resources
In this section, you should outline your project's specific goals and objectives. Goals are broad, overarching statements of your project's desired outcomes; while objectives are measurable, there are concrete steps you will take to achieve them. Outlining these elements of your proposal intentionally can reiterate your ability to be successful against established criteria. 
When writing your grant proposal, this section should include the following components: 
Clearly state your project's primary goal(s)

List specific, measurable, achievable, relevant, and time-bound (SMART) objectives

Explain the rationale behind each objective and its alignment with the overall goal

Outline key success indicators that can signal your progress against objectives
This section details your methods and strategies to achieve your project's objectives. It should demonstrate your organization's capacity to implement the project effectively and provide a clear roadmap for success. Include the following:
A detailed description of the project's activities and processes.

An explanation of the chosen methods and their rationale.

A timeline for project implementation, including milestones and deadlines.

Information about the staff and resources required to execute the project.
A project evaluation plan is vital to demonstrate your commitment to measuring the success and impact of your project. This section should outline the following:
The evaluation methods and tools you will use to measure progress and outcomes

The criteria for success and indicators you will track

How you will collect, analyze, and report data

How you will use the evaluation results to improve your project and inform future initiatives
The budget breakdown is a detailed, itemized list of all project expenses. It shows the grantor how their funds will be used responsibly and efficiently. Be sure to include the following:
A comprehensive list of all direct and indirect costs, such as personnel, materials, equipment, travel, and administrative expenses

The total amount requested from the grantor and any matching funds or in-kind contributions from your organization or other sources

A narrative explanation of the budget, highlighting critical expenses and justifying their necessity for the project's success
Personal or Organization Information
In this section, provide information about your organization that demonstrates its credibility, expertise, and capacity to execute the proposed project. Include:
A brief history of your organization and its mission

Details about your organization's previous accomplishments and successes, particularly in projects similar to the proposed one

Information about crucial personnel involved in the project, including their qualifications, experience, and roles

Any partnerships or collaborations with other organizations that will contribute to the project's success
In the signature section, you formally submit your grant proposal, indicating that all information provided is accurate and that your organization is committed to the project. A secure and professional method for signing your proposal is essential, such as Signaturely's e-signature solution. An e-signature provides a legally binding signature and streamlines the submission process, ensuring your bid is received promptly and securely.
Download our free example
Grant Proposal Template
We've got your back here at Signaturely, and we're ready to help make stress-free proposals a reality. Forget the confusing paperwork and overwhelming legal jargon – get easy, breezy proposal templates for your grantors in minutes with our free template.
Click that download button now and get those wheels spinning!
What Makes a Winning Grant Proposal? 5 Tips to Remember
The grant writing process involves careful planning, research, and attention to detail. An effective grant proposal goes beyond the basics to deliver a memorable ask. To help you craft a proposal that stands out and secures funding, here are five essential tips to remember:
Understand the funder's priorities: Before starting your grant application, it's important to research the funding organization's goals, values, and priorities. Align your project with their interests and demonstrate how your initiative addresses their objectives. You increase the likelihood of receiving grant funding by showing that your project fits its mission.

 

Craft a compelling narrative: A winning grant proposal tells a story that captivates the reader and generates an emotional response. Use clear, concise language and provide real-life examples to illustrate the problem your project aims to solve, the potential impact of your work, and the lives that will benefit from the grant funding. A well-told story will make your proposal memorable and persuasive. An effective proposal outlines how you'll raise awareness on a particular issue or conduct scientific research on an important initiative. Building a cohesive project narrative can help enhance buy-in for your program's mission.

 

Establish specific and measurable goals: Your grant writing team should outline specific, measurable, achievable, relevant, and time-bound (SMART) goals. Detail the steps to accomplish each goal and describe the methods and tools you'll use to track progress and measure success. A well-structured plan with measurable outcomes will instill confidence in your ability to deliver results.

 

Highlight your organization's expertise and capacity: Show that your organization can effectively manage the project by providing information about your team's experience, expertise, and ability to execute the proposed project. Include details about your organization's accomplishments, key personnel, and relevant partnerships or collaborations. This information will help demonstrate your organization's ability to bring the project to fruition.
Revise and proofread: A polished, error-free proposal showcases professionalism and communicates respect for the funder's time.
Carefully proofread your submission for grammar, punctuation, and spelling errors. Ensure that all sections are clear, concise, and logically organized. Ask a colleague or expert in your field to review your proposal and provide feedback if possible.
FAQs About Grant Proposal Templates
Grant proposals can be complex and time-consuming, but grant writing templates can help enhance the process. Here are some frequently asked questions about grant proposal templates to help you better understand their role and usage.
What format does a typical grant proposal take?
A typical grant proposal follows a structured format, including specific sections such as a cover letter, executive summary, statement of need, goals and objectives, methods and strategies, project evaluation, budget breakdown, personal or organization information, and signature. The exact format may vary depending on the funder's requirements, so reviewing their guidelines before submitting your proposal is essential.
How long is a typical grant proposal?
The length of a grant proposal can vary significantly based on the project's complexity and the funder's requirements. Generally, grant proposals can range from a few pages to over fifty. Keeping your proposal concise and focused is crucial throughout the grant writing process, providing enough detail to answer the funder's questions without overwhelming them with unnecessary information.
What not to include in a grant proposal?
Avoid including irrelevant or unrelated information in your grant proposal, such as excessive jargon, overly technical language, or communication not directly addressing the funder's requirements or the project's goals. Stick to the necessary grant details and focus on presenting a clear, compelling case for your project.
When using a grant proposal template, remember to customize it to fit your specific needs and the requirements of the funder. Templates can provide a helpful starting point, but you'll need to tailor the content to your project and the funder's expectations. Be careful not to include templated content in your grant propo
What You Need to Remember About a Grant Proposal Template
When using a grant proposal template, it's essential to remember that it's merely a starting point. To create a winning proposal, you must tailor the content to your specific project and the funder's requirements. Stay focused on your project's objectives, and present a compelling case demonstrating why your project deserves grant funds. Additionally, don't forget to leverage tools like Signaturely to add a professional touch to your proposal, making it easy to sign and submit electronically. With these key takeaways in mind, you'll be well-equipped to create a winning grant proposal that captures your funder's attention and secures the resources you need to bring your project to life.
PREPARED BY
________________________________________________________________________________________________________________________________________________________________________________________________________________________________________________________________________________________________________________________
PREPARED FOR
________________________________________________________________________________________________________________________________________________________________________________________________________________________________________________________________________________________________________________________
Date_____________________

Address_____________________
Dear_____________________,
My name is _____________________, and I am delighted to submit our grant proposal for you.
Our Company has _____________________years history of _____________________where we have established not only a brand name but a reputation in the market. We have been providing _____________________ services since _____________________. 
Our main clients are leaders in the fields of _____________________, _____________________ and _____________________.
Our Company has a team that is constructed based on a variety of members, such as _____________________, _____________________, and _____________________.
With us, you ensure a confident and ever-lasting service.
Please do not hesitate to contact us should you have any inquiries on the matter. 
Contacts us on 
_____________________
_____________________
_____________________
Sincerely yours,
Team
Project Details 
| | |
| --- | --- |
| Detail | Project Description |
| Name of Project |   |
| Start of Project Date |   |
| Completion Date Target |   |
| Purpose of the Project |   |
| Project Activity  | Activity Description |
| Project Activity | Activity Description |
| Project Activity  | Activity Description |
| Project Activity  | Activity Description |
| Project Activity  | Activity Description |
| Project Activity  | Activity Description |
Project Details
Budget Allocation
 

Description

Payment Needed

 
 
 
 
 
 
 
 
 
 

Budget Total:

 
Thank you and Sincerely yours,
_______________________________
PREPARER

_______________________________

APPROVER

______________________________

DATE

_______________________________

DATE

_______________________________
Related Proposals and Templates
Download Our Free Grant Proposal Template Today
Don't waste any more time trying to craft the perfect grant proposal. Our free grant proposal template is ready and ready to download in one quick, convenient click—no more complicated documents for you or your grantors to fill out. Just download, customize, and off you go!
Don't wait – get your free grant proposal template today and get geared up for business growth.