Car Rental Agreement Template
Using an effective car rental agreement template can help ensure that all parties have clear expectations for the usage of the vehicle and establish fair ground rules.
With a comprehensive legal document, your customers and staff will know what is expected from them and understand their rights when using one of your vehicles.
Keep reading to learn more about why having a robust car rental agreement form is essential to protect you and your clients!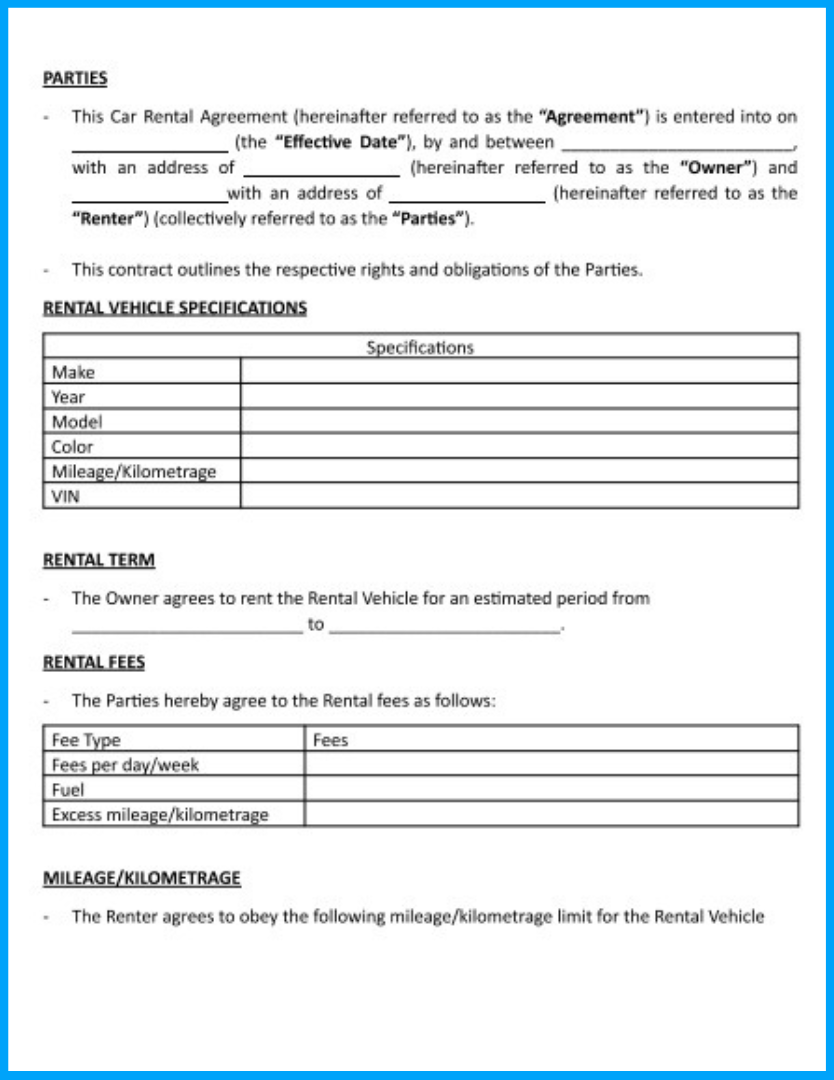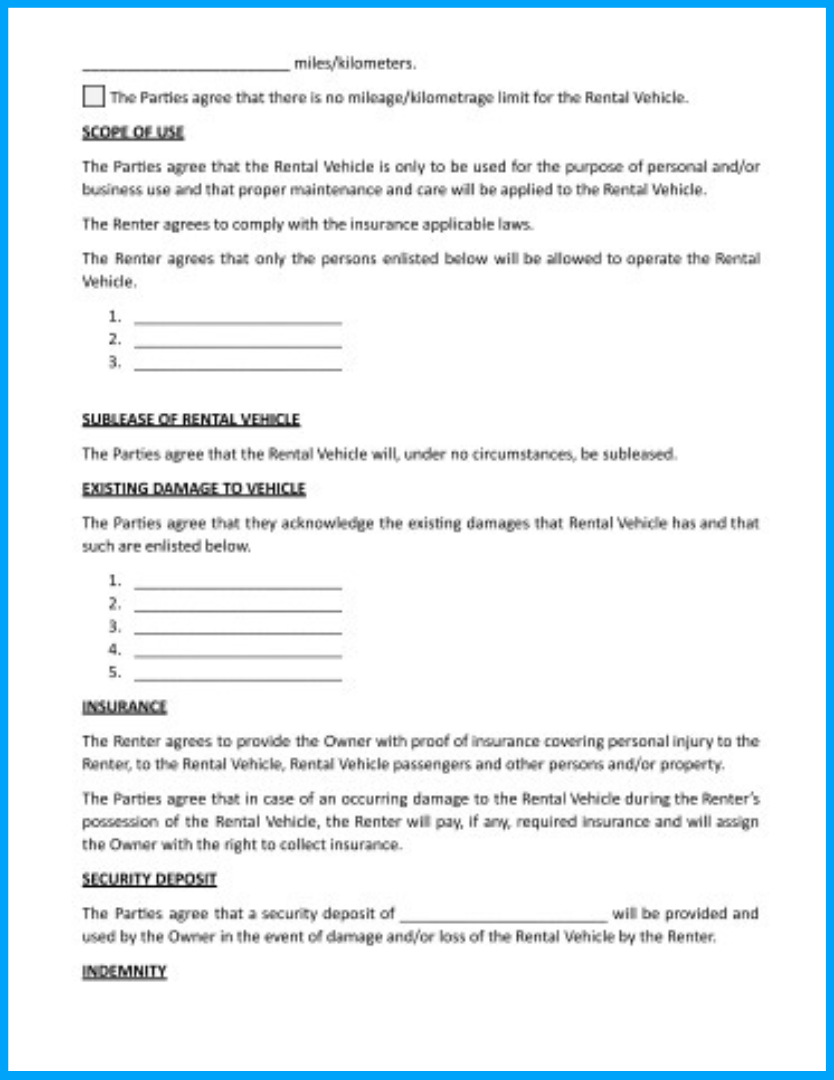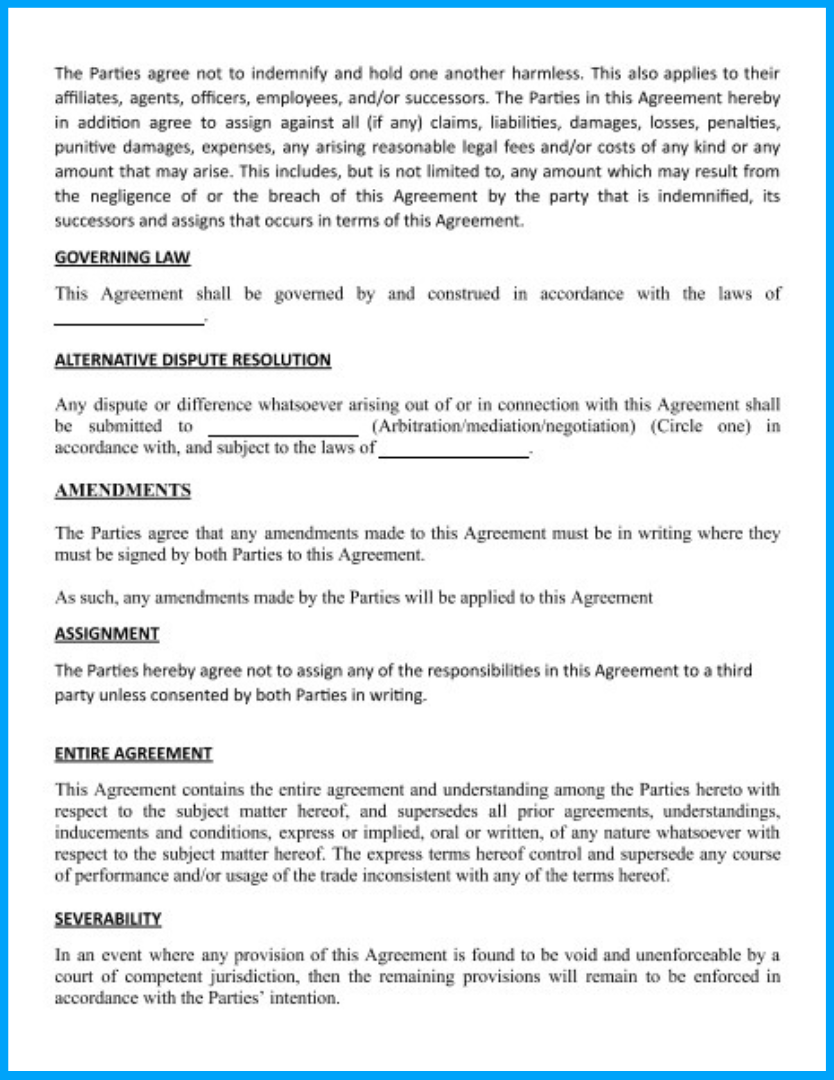 Free Car Rental Agreement Template to Help You Set Terms Clearly
Finding the right vehicle rental agreement template can be challenging, especially when dealing with new regulations or looking to be up-to-date with your customers' needs. This car rental agreement can go a long way in enabling you to speed up your contract management process.
Get our Car Rental Agreement template
Car Rental Services at a glance
Car rental services have become increasingly popular in recent years, offering travelers a flexible and affordable way to get around without relying on public transportation or ridesharing.
Here are a few facts about the car rental service industry today:
These trends illustrate the growing demand for car rental services, which means a more urgent need for process automation. Car rental companies provide a variety of vehicles for rent, such as small cars, family sedans, luxury cars, and SUVs. 
The cost associated with renting a car can be made more economical by taking advantage of loyalty programs or discounts offered by some companies. Prices vary depending on the type of car, company policies, and other factors such as the duration of the rental period and insurance options. 
Before renting any vehicle, industry experts recommend researching various organizations to compare rates and ensure customers get the best service possible.
DISCLAIMER: We are not lawyers or a law firm and we do not provide legal, business or tax advice. We recommend you consult a lawyer or other appropriate professional before using any templates or agreements from this website.
Download our free example
Rental Vehicle Agreement Form
We've got your back here at Signaturely, and we're ready to help make stress-free car rentals a reality. Forget the confusing paperwork and overwhelming legal jargon – get easy, breezy rental agreements for your customers in minutes with our free template.
Click that download button now and get those wheels spinning!
What is a Car Rental Agreement, and Why is it So Important?
When customers rent a car, they should expect the process to be straightforward. After all, a rental agreement should be just that—a simple contract between you and your customers that both parties are happy with.
What is a car rental agreement, and why is it crucial for your operations as a car rental service? Let's take a look.
Overview of Car Rental Agreements
A car rental agreement is essentially a contract between you and the car rental business. It explains the rights and responsibilities of both parties involved in renting a vehicle. The agreement will include details such as what type of vehicle you are renting, how long you will have the car, when it needs to be returned, any additional fees or charges that may apply, and more. It also outlines restrictions on who can drive the vehicle (e.g., only authorized drivers over 21 years old).
Why Strong Car Rental Agreements are Crucial
A car rental agreement is essential for any business operating in this industry because it helps protect both parties from potential disputes or misunderstandings that may arise during the rental period.
It ensures that both parties fully understand their respective roles in the transaction and reduces the chances of an unexpected dispute arising later.
A strong car rental agreement will help protect your business and customers from potential legal action should something go wrong during their time with a rented vehicle.
In addition, having a clear and comprehensive car rental agreement in place helps ensure transparency between you and your customers. This agreement provides communication and clarity about what services are included with their purchase, ensuring everyone knows what they can expect from each other before agreeing.
Having this clarity ensures everyone knows exactly what they're signing up for before taking part in any transaction – something essential for keeping customers satisfied with their experience when renting cars with your service.
Best Practices for a Car Rental Agreement
Car rental agreements are an integral part of the car rental process. These documents give you and your customers a clear understanding of the terms and conditions of the car rental arrangement and the specifications of the rentalvehicle. Let's discuss some best practices for crafting a car rental agreement.
1. Cleary Define Rental Terms
The fundamental aspect of any car rental agreement is that it clearly defines the terms and conditions of the rental. This agreement includes information such as when and where the rental will take place, when the car should be returned, and who is responsible for any damage or repairs during the rental period. Providing this information upfront to customers will ensure that there is no confusion later on and that both parties know exactly what to expect from the rental period.
2. Include Individual Car Specifications
Another critical element to include in your car rental agreement is individual car specifications which should include details such as make, model, year, color, and mileage at pick-up/drop-off. By providing this information in writing in your agreement, you can avoid any potential disputes down the road regarding which vehicle was rented out. In addition, including photographs can be beneficial in documenting how clean or damaged a car was at check-in/check-out times.
3. Lay Out the Scope of Use
Your agreement should also outline any limitations or restrictions on how customers may use their rented vehicle while they have it. For example, if you do not want customers taking your vehicles outside city limits or driving more than a certain number of miles per day, week, or month, those restrictions need to be specified within your agreement so that customers are aware before signing it. On top of that, if your goal is to limit types of activities (such as off-road driving), those restrictions should also be included in writing for legal protection purposes.
4. Include Information about Mileage and Additional Fees
Mileage and additional fees can seem like minor considerations. This agreement section should include details such as how much mileage the rental covers, what happens if you go over that limit, and when additional fees are incurred (such as refueling costs). For example, if a customer goes over the allotted mileage in the agreement, you may be charged per mile or hourly. In addition, if a customer does not refuel their vehicle before returning it, you may have to pay additional fees for fuel-related costs for the rental car.
4. Don't Forget About Insurance and Security
This area of your agreement should clearly explain details regarding insurance policy coverage (i.e., liability coverage), security deposits (if applicable), and what happens if the rental car needs repairs or is damaged during its use by the renter. It should also specify who will cover these costs; will insurance cover it, or must it be paid out-of-pocket by either party? Moreover, this section should include details such as how long repairs will take to complete andwho is responsible for paying repair bills. As a result of insurance and security measures, you can protect your most valuable asset: your fleet of cars.
Download Our Free Car
Rental Agreement Template
Ready to take your rental vehicle business up a gear? We've got just the thing: our free car rental agreement form. With this sleek, easy-to-follow document, you can ensure your car hire customers get in and out of the racetrack of renting vehicles confidently and efficiently.
Download it now – before you get caught up in outdated rental agreement practices.
Frequently Asked Questions
Leasing and renting a car each offer unique benefits to those in need of a vehicle for a period of time. When a renter agrees to enter a lease agreement, the person has access to the car for over two to four years, after which options such as returning the vehicle, trading it in for another car, or purchasing it outright can be considered. In comparison, renting a car is less of an investment and more like short-term borrowing. Although there are mileage restrictions, the person renting the vehicle will usually only be responsible for payment until the rental contract ends, which could be just days or weeks.
The agency may charge late and daily rental fees if a rental vehicle is not returned by the agreed-upon time and date. Depending on the situation, the agency might also report the incident to credit agencies and involve law enforcement. Ultimately, failing to return a rental vehicle on time could result in significant extra costs or legal attorney fees, depending on how severe the violation is and how long it lasts.
This Car Rental Agreement (hereinafter referred to as the

"Agreement"

) is entered into on

________________

(the

"Effective Date"

), by and between ________________________, with an address of

________________

(hereinafter referred to as the

"Owner"

) and

________________

with an address of

________________

(hereinafter referred to as the

"Renter"

) (collectively referred to as the

"Parties"

). 
This contract outlines the respective rights and obligations of the Parties. 
RENTAL VEHICLE SPECIFICATIONS
Specifications

Make

 

Year

 

Model

 

Color

 

Mileage/Kilometrage

 

VIN 

 
The Owner agrees to rent the Rental Vehicle for an estimated period from ________________________ to ________________________.
The Parties hereby agree to the Rental fees as follows:
| | |
| --- | --- |
| Fee Type | Fees |
| Fees per day/week | |
| Fuel | |
| Excess mileage/kilometrage | |
The Renter agrees to obey the following mileage/kilometrage limit for the Rental Vehicle
________________________ miles/kilometers. 
⬜ The Parties agree that there is no mileage/kilometrage limit for the Rental Vehicle.
The Parties agree that the Rental Vehicle is only to be used for the purpose of personal and/or business use and that proper maintenance and care will be applied to the Rental Vehicle.
The Renter agrees to comply with the insurance applicable laws. 
The Renter agrees that only the persons enlisted below will be allowed to operate the Rental Vehicle.
_________________________________________________

_________________________________________________

_________________________________________________
SUBLEASE OF RENTAL VEHICLE
The Parties agree that the Rental Vehicle will, under no circumstances, be subleased.
EXISTING DAMAGE TO VEHICLE
The Parties agree that they acknowledge the existing damages that Rental Vehicle has and that such are enlisted below.
_________________________________________ 

_________________________________________

_________________________________________

_________________________________________

_________________________________________
The Renter agrees to provide the Owner with proof of insurance covering personal injury to the Renter, to the Rental Vehicle, Rental Vehicle passengers and other persons and/or property.  The Parties agree that in case of an occurring damage to the Rental Vehicle during the Renter's possession of the Rental Vehicle, the Renter will pay, if any, required insurance and will assign the Owner with the right to collect insurance.
The Parties agree that a security deposit of ________________________ will be provided and used by the Owner in the event of damage and/or loss of the Rental Vehicle by the Renter.
The Parties agree not to indemnify and hold one another harmless. This also applies to their affiliates, agents, officers, employees, and/or successors.
The Parties in this Agreement hereby in addition agree to assign against all (if any) claims, liabilities, damages, losses, penalties, punitive damages, expenses, any arising reasonable legal fees and/or costs of any kind or any amount that may arise.
This includes, but is not limited to, any amount which may result from the negligence of or the breach of this Agreement by the party that is indemnified, its successors and assigns that occurs in terms of this Agreement.
This Agreement
shall be governed by and construed in accordance with the laws of ________________.
ALTERNATIVE DISPUTE RESOLUTION
Any dispute or difference whatsoever arising out of or in connection with this Agreement shall be submitted to __________________ (Arbitration/mediation/negotiation) (Circle one) in accordance with, and subject to the laws of ________________.
The Parties agree that any amendments made to this Agreement must be in writing where they must be signed by both Parties to this Agreement. As such, any amendments made by the Parties will be applied to this Agreement
The Parties hereby agree not to assign any of the responsibilities in this Agreement to a third party unless consented by both Parties in writing. 
This Agreement contains the entire agreement and understanding among the Parties hereto with respect to the subject matter hereof, and supersedes all prior agreements, understandings, inducements and conditions, express or implied, oral or written, of any nature whatsoever with respect to the subject matter hereof. The express terms hereof control and supersede any course of performance and/or usage of the trade inconsistent with any of the terms hereof.
In an event where any provision of this Agreement is found to be void and unenforceable by a court of competent jurisdiction, then the remaining provisions will remain to be enforced in accordance with the Parties' intention.
The Parties hereby agree to the terms and conditions set forth in this Agreement and such is demonstrated throughout their signatures below:
OWNER

_______________________________

RENTER

______________________________

DATE

_______________________________

DATE

_______________________________
Related Proposals and Templates
Download Our Free Car
Rental Agreement Template Today
Don't waste any more time trying to craft the perfect agreement for your car hire business. Our free car rental agreement form is ready and ready to download in one quick, convenient click—no more complicated documents for you or your customers to fill out. Just download, customize, and off you go!
Don't wait – get your free agreement template today and get geared up for business growth.