Going paperless is about more than just the environment. Using the right paperless apps will bring you all the benefits of a paperless business and make the transition to a paperless business as smooth as possible.
In this article, you'll find out why you should go paperless, how to go paperless, and the best paperless applications your business can use.
Let's get started.
What Does Going Paperless Mean?
Going paperless allows you to leverage technology in new and more efficient ways. Exchanging printed paper for digital documents isn't new, but as technology progresses, going digital will become essential to the marketplace.
Going paperless not only saves trees, but digital documents are cheaper, more reliable, and generate practically zero waste. It's also safer, as you protect your data and files from physical damage, such as by fire and water. You can save millions of documents online, where they occupy zero physical space and where they can stay safe from alterations or deterioration practically forever.
To put it simply: going paperless is the way of the future. The question isn't if your business should go paperless. The question is which paperless tools your business should be using today.
The 10 Best Paperless Apps Your Business Needs TODAY
Here are the 10 best paperless office software solutions your business should be using:
Electronic Signature Software
Electronic signature software gives users the ability to gather signatures on documents shared electronically, eliminating the need for physical documents to record signatures.
Here are the best ones:
Signaturely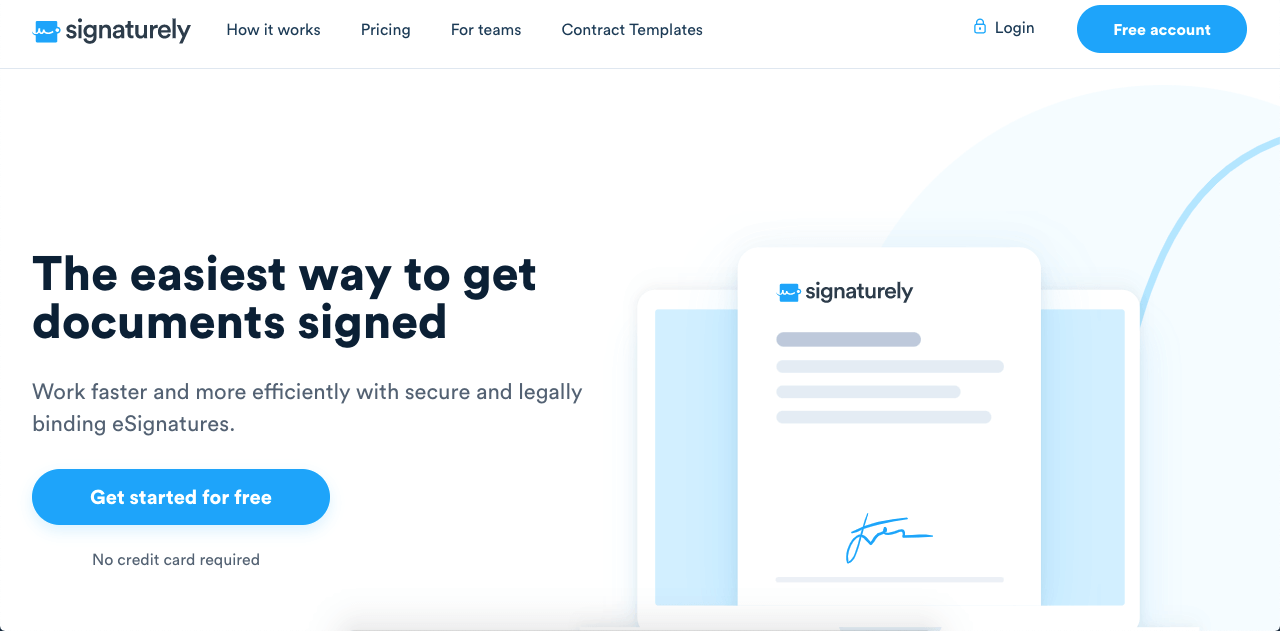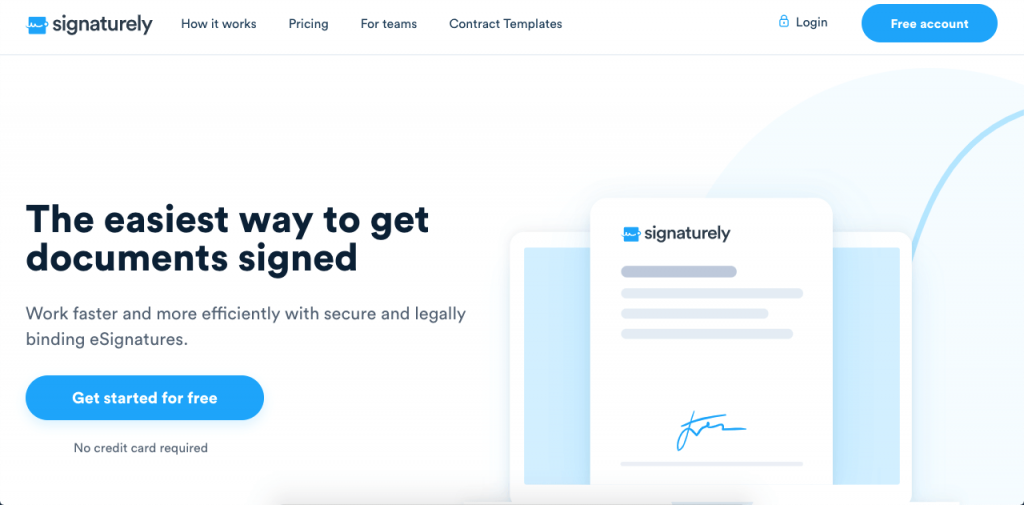 Signaturely is a simple and effective way to get online signatures with legal validity, regardless of where your signees are or which devices they're using.
With Signaturely, you can create a free account to immediately get signatures online. Upload your documents from Google Drive, Dropbox, and OneDrive, set them up with signature fields, and send them to your signees.
Pricing
The free plan allows you to send up to three signature requests per month for free. It gives you access to the audit log and history, and it can send you notifications and reminders.
Need more signatures per month? For just $10 per month, you'll get an unlimited number of signature requests. Looking for free templates? Instead of $10, pay $15 per month for a business account to get an unlimited number of templates as well, plus team management and custom branding.
Features
With unlimited signature requests and templates, you'll never have to worry about which documents you should delete and which you should keep. And you don't need to pay more as your business grows.
Creating online contracts and documents with Signaturely is extraordinarily easy.
Start by deciding if the document needs your signature. Then, name your document as you import or create it with our built-in editor. When your document is ready, select the signees and, if needed, the order they need to sign and the message to send along with the document. Finally, review that everything is okay and send it away.
When your signees get the document, Signaturely will guide them through the signature process, allowing them to create or upload their electronic signature.
Sign up for free to start using Signaturely today.
Pros:
Affordable: Signaturely is priced below industry standard, and its pricing is simple and straightforward.
User friendly: Signaturely can help your signees draw, type, or upload their online signature and guide them through the rest of the process.
Team collaboration: Your whole team can edit and review your documents to ensure quality.
Cloud-based integrations: So you can easily upload your documents from any online server.
Faster service: Optimizing your documents for online signatures is as easy as uploading, adding signature fields, and sending them.
Cons:
No mobile app: Mobile app is still under development.
DocuSign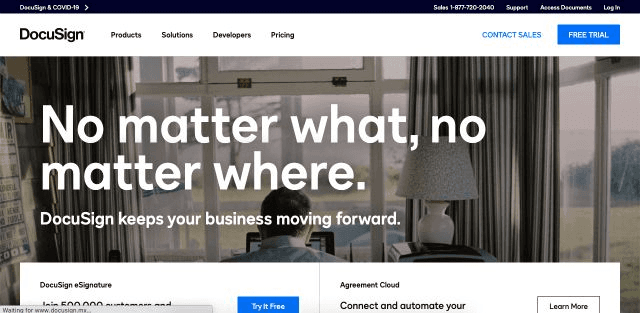 DocuSign is a veteran online signature platform. It has advanced features, such as advanced signature fields and powerful CRM integrations.
Although not as intuitive as other options, DocuSign is perfect for users who are already familiar with online signatures and willing to pay for advanced capabilities.
Pros:
Great integrations: The platform seamlessly integrates with multiple CRMs.
High level of customization: Customize your documents and workflow through advanced options and API integrations.
Great reputation: The company has an enviable client list, including clients such as LinkedIn, Salesforce, and T-Mobile.
Cons:
No free plan: You need to pay to use the app, which isn't great for sporadic users.
Expensive: The platform isn't just priced above the industry standard; most advanced features are locked behind expensive plans.
Price: $10 for a single user, $25 per user per month for a Standard plan with personalized branding, and $40 for the Business Pro plan with advanced options. As a bonus, here are some of the best DocuSign alternatives.
HelloSign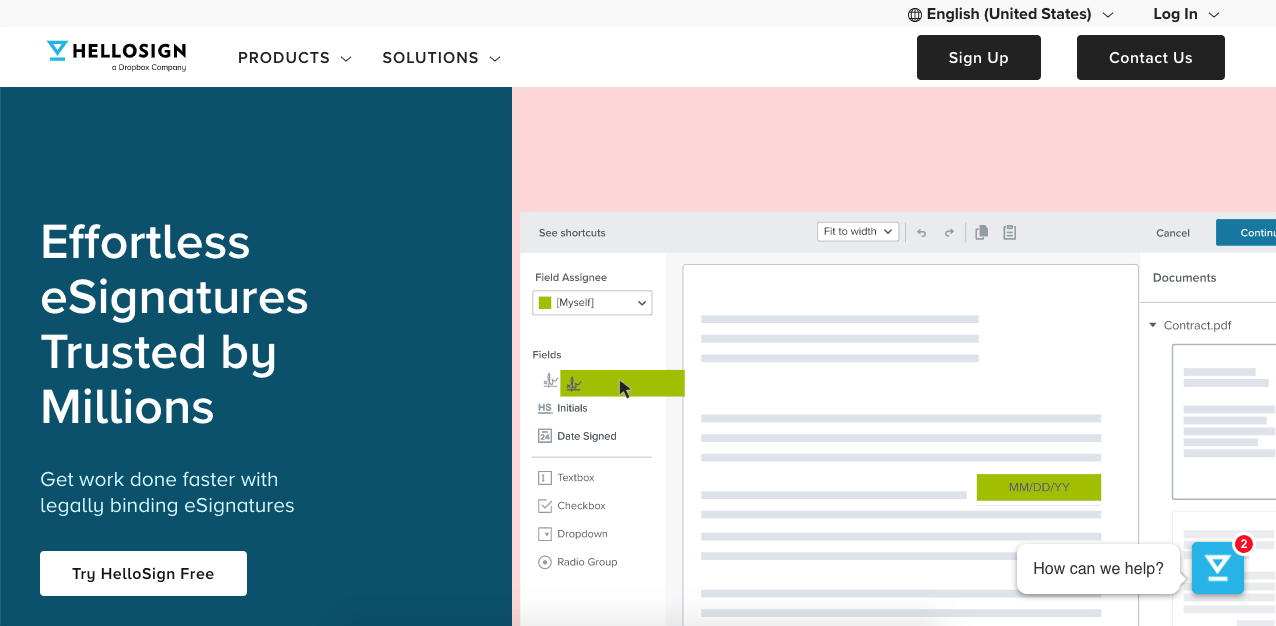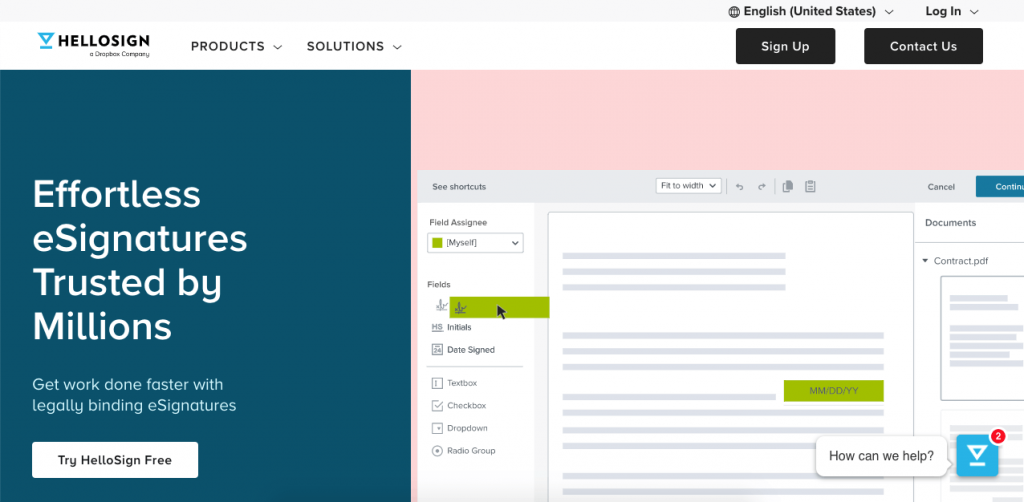 HelloSign is an eSignature platform that focuses on simplifying the online signature process. It's great for small businesses and even sporadic users who can get a decent amount of functionality out of its free plan.
Pros:
High-security capabilities: HelloSign offers "Bank-level security," which protects your documents by SSL encryption and a secure server infrastructure hosted at a state-of-the-art Tier III, SSAE-16, and ISO 27001 certified data center.
Good integrations: You can integrate your account with multiple cloud-based servers and Zapier.
Cons:
Expensive: Companies may end up paying too much per user.
Limiting: You'll always have limited templates available, regardless of your plan.
Price: Free document software account for three documents per month with one user; from $13/month for the Pro plan with unlimited documents.
To-Do List Apps
New to-do list apps seem to come out every day. That's because people don't always carry a pen and paper with them wherever they go. So, why not have your list accessible anytime, anywhere?
Todoist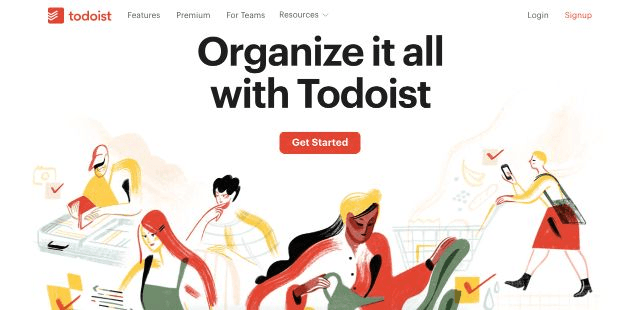 Todoist focuses on finding the balance between power and simplicity.
It allows you to take note of everything you need to, and it's smart enough to divide the due date from the task. If, for example, you type, "repair the car on Tuesday," Todoist will save the task "repair the car" as a to-do item on Tuesday.
You won't be alone in finding this task practical, as it has over 10 million users, including clients such as Amazon, WeWork, Facebook, and Disney.
Pros:
Smart and simple: Whether you're a beginner or a techie, you'll find the app practical and easy to use.
Great free version: The free version packs a lot of functionality for private users.
Great reviews: Todoist not only has amazing reviews in app stores, but it has a devoted community of users around the world.
Cons:
No task hierarchy: You can't give one task a higher priority than others.
Auto-deletes completed tasks: Once you mark a task as "completed," it disappears and cannot be retrieved.
Price: Free option; the Premium version starts at $3 per month.
TickTick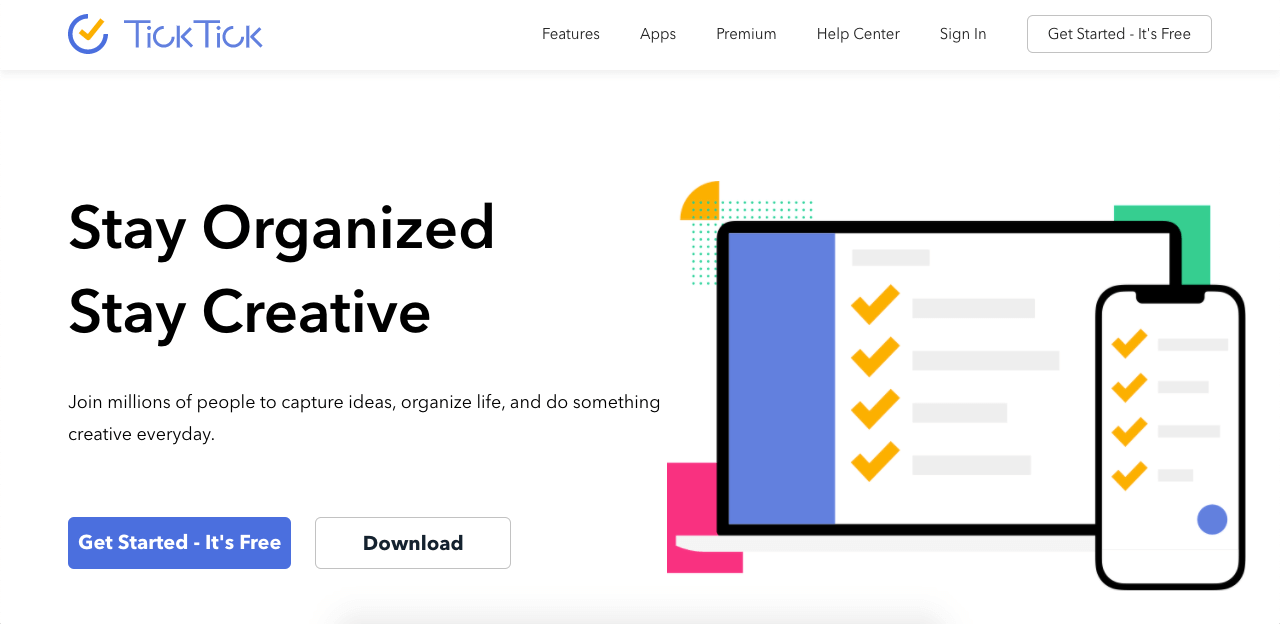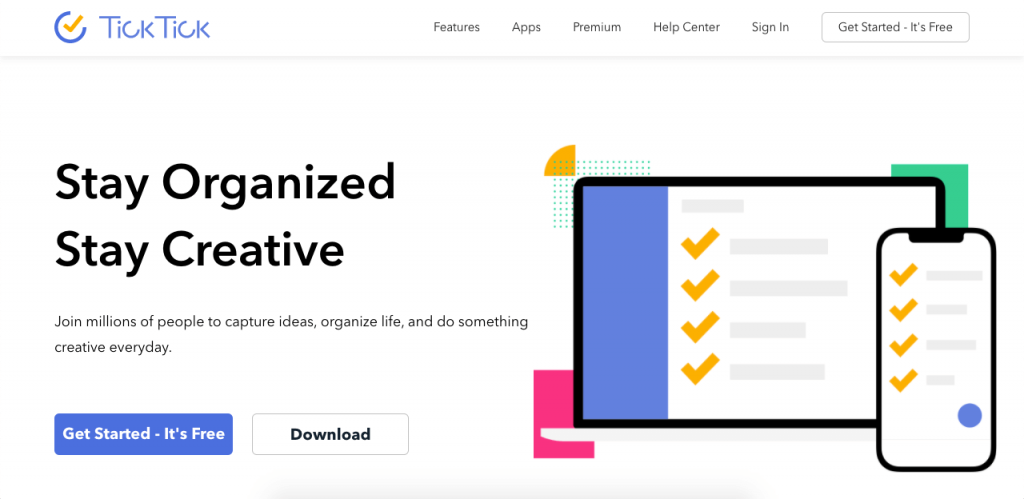 Rivaling older and more popular options is TickTick, a newer to-do list app with a lot of features.
TickTick is a smart app equipped with natural language processing to save your tasks the way you intend them to be saved, not the way you write them. You can easily organize your tasks, pin them, and get reminders.
TickTick adapts to your devices, offering you widgets for your phones and special features, depending on which operating system you're using.
Pros:
Great functionality: Get the most out of a to-do app with calendar view, integration with Google calendar, easy organizing, and seamless transitions from mobile to computer.
Teamwork capabilities: Set up and collaborate with relevant people, such as coworkers working on a project or family members organizing a get-together.
Fully-functioning free version: Most users will be able to use the free version for every task they need.
Cons:
Lack of support: There's no support for Microsoft Outlook and other popular platforms.
Lacking notifications: All tasks for one day and time show up as one notification.
Price: Free version is available; the Premium version starts at $2.40 per month.
Microsoft To Do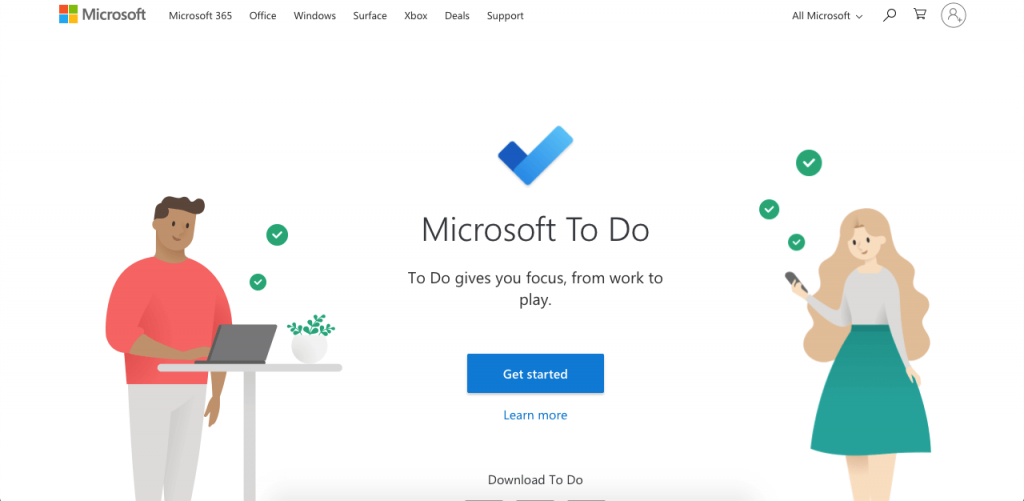 Formerly known as Wunderlist, Microsoft To Do is a clean, friendly, and highly flexible to-do app.
With superb integration with the rest of Microsoft's software, Microsoft To Do is one of the few to-do apps that seamlessly syncs with Outlook and Cortana. The app is completely free, so you won't need to pay extra for more functionality.
Pros:
Microsoft native integrations: The obvious choice for any Microsoft ecosystem user.
Mobile-friendly: Apps available for Microsoft, Android, and iOS.
Smart daily planner: You'll always know what task is next.
Cons:
Not many features: Although the to-do notes are great, there just aren't a lot of features under the surface.
Price: Free
File Storage Software
Did you know that each 2-drawer file cabinet holds an average of 10,000 documents in 9 square feet of floor space?
Compared to the unlimited amount of documents and zero floor space used in digital storage software, it's not hard to see which option is more efficient.
Dropbox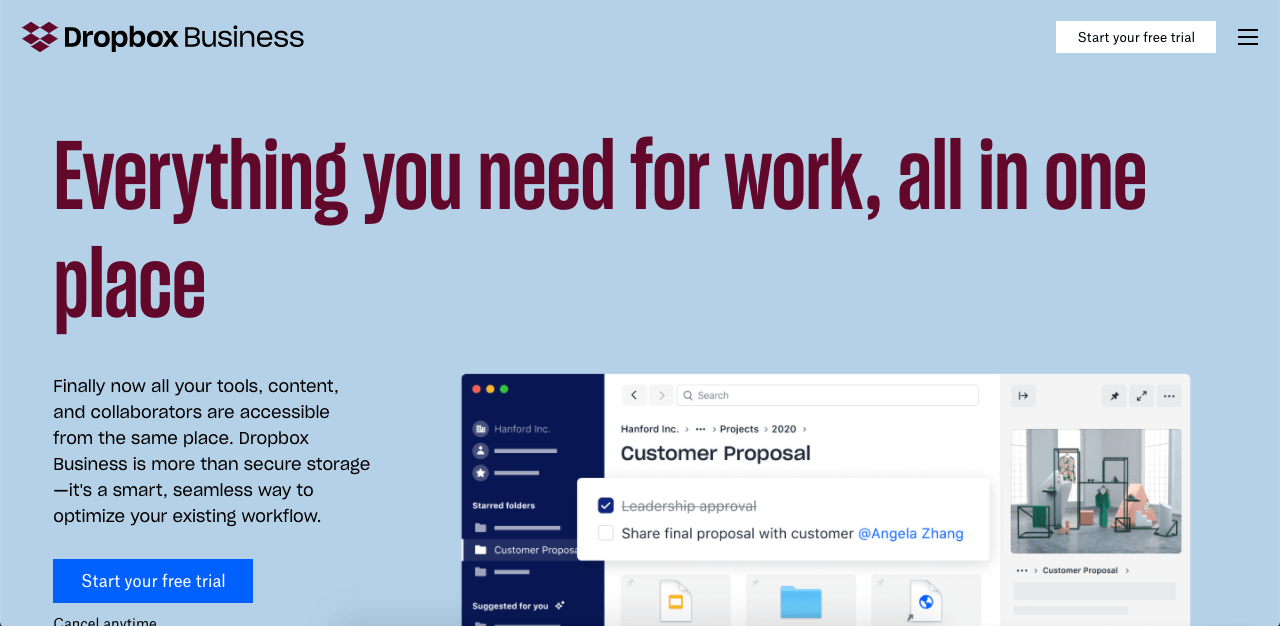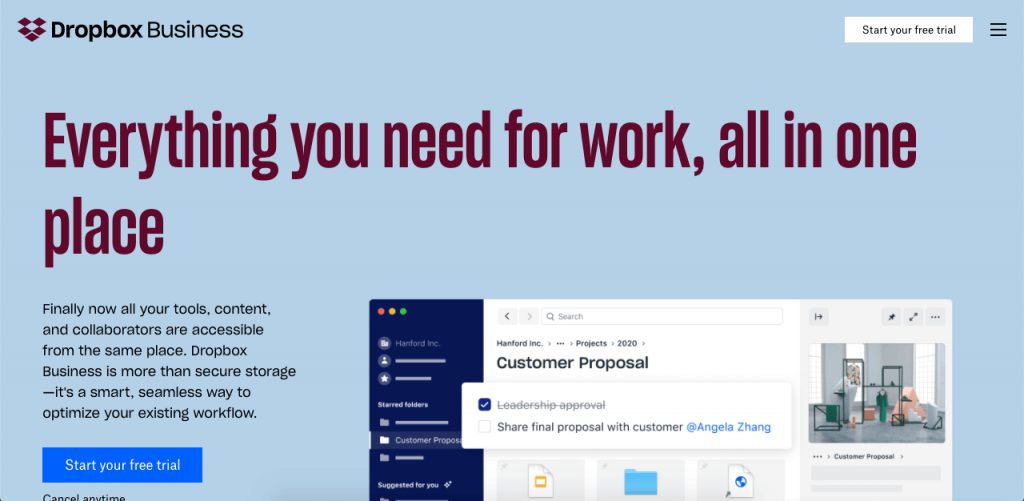 One of the earliest cloud-based software options, Dropbox is a veteran online storage solution.
Although the free version only has 2GB of storage, Dropbox is so well known, that practically all the tools that you could need for online file storage integrations support it.
Dropbox also offers automatic backups, a very friendly UX, and native support for obscure platforms, such as Kindle Fire and Blackberry.
Pros:
Well-known: You probably have an account already.
Seamless integrations: Most online platforms will integrate with Dropbox from the get-go.
Offline working capabilities: You can edit and modify files on Dropbox without the Internet, and changes will be saved when you're online again.
Cons:
Lacks security: Dropbox has famously been hacked several times, leaking private information to the public.
Lacks search function: It's hard to search through files with the search function, so you may often search manually.
Expensive: It can be too expensive for small companies needing a lot of online storage.
Price: Personal plans start at $9.99 per month for 2TB; business accounts start at $12.50 per month for 3TB.
Google Drive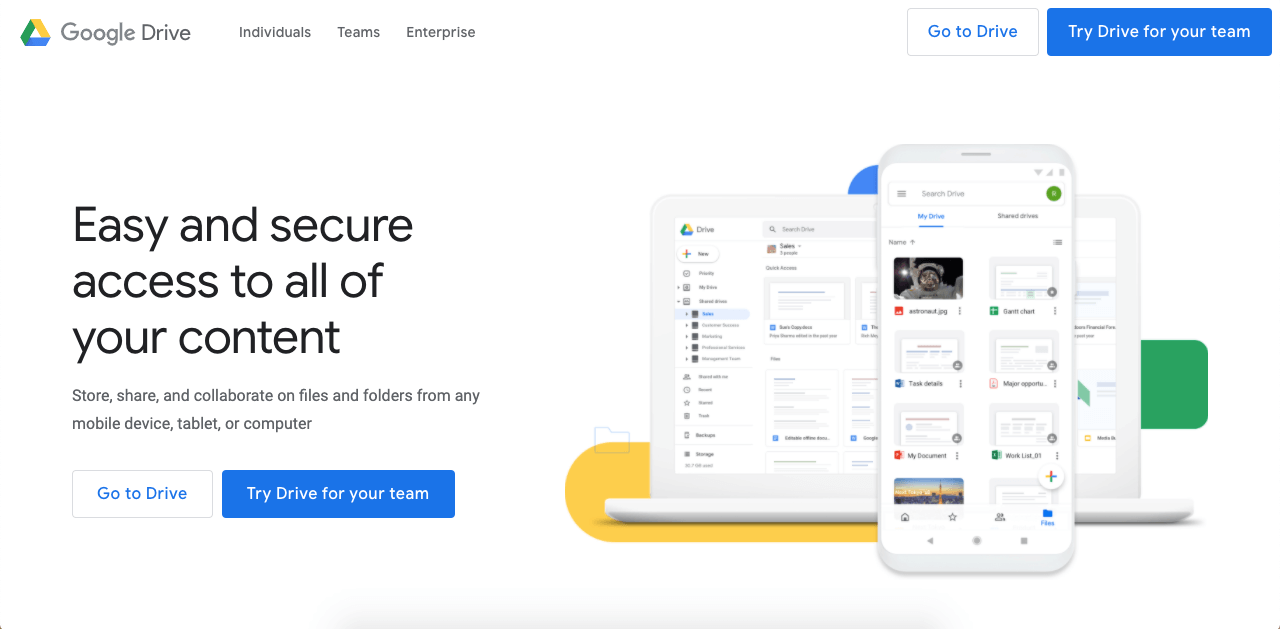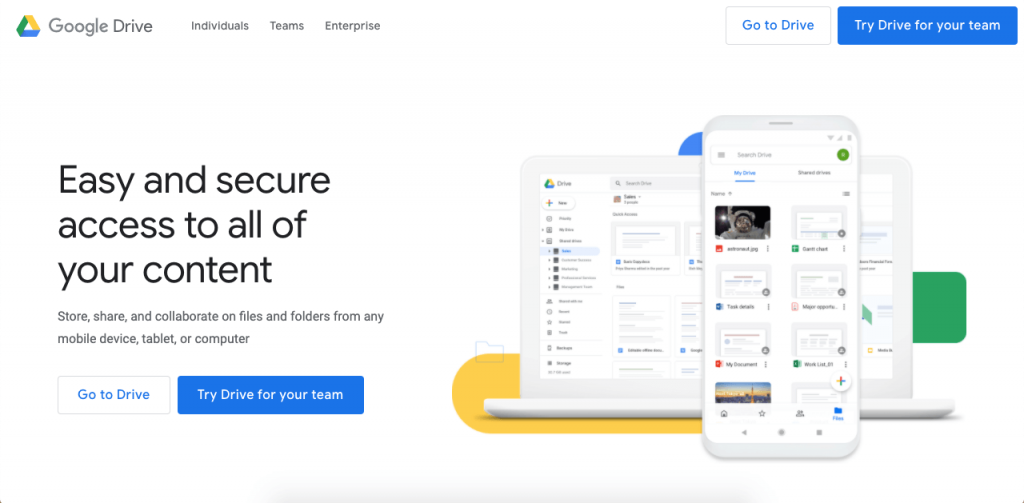 Google Drive has moved beyond storage to become a full online office suite.
Now every Google account gets 15GB of free storage and free access to an excellent office suite that will never lose your documents.
The solution is so effective and convenient that individuals and companies alike are adopting it in massive numbers.
Pros:
Free: With Google Drive you get free access to a highly functional office suite and great storage capabilities.
Mobile support: Many Android phones have pre-installed Google Drive apps, with millions of frequent users.
Easy to use: Backed by Google, the UX is very friendly and intuitive.
Cons:
Limited to Gmail: You must have a Gmail account to access the tools and online storage.
Not very secure: Google collects the information you put online for targeted ads, and the files you upload are so easy to share that potential data leaks are always an issue.
Lacks password protection: Google doesn't allow for password-protected shared files.
Price: Free 15GB storage for Gmail users; 100GB storage starts at $1.99 per month.
Box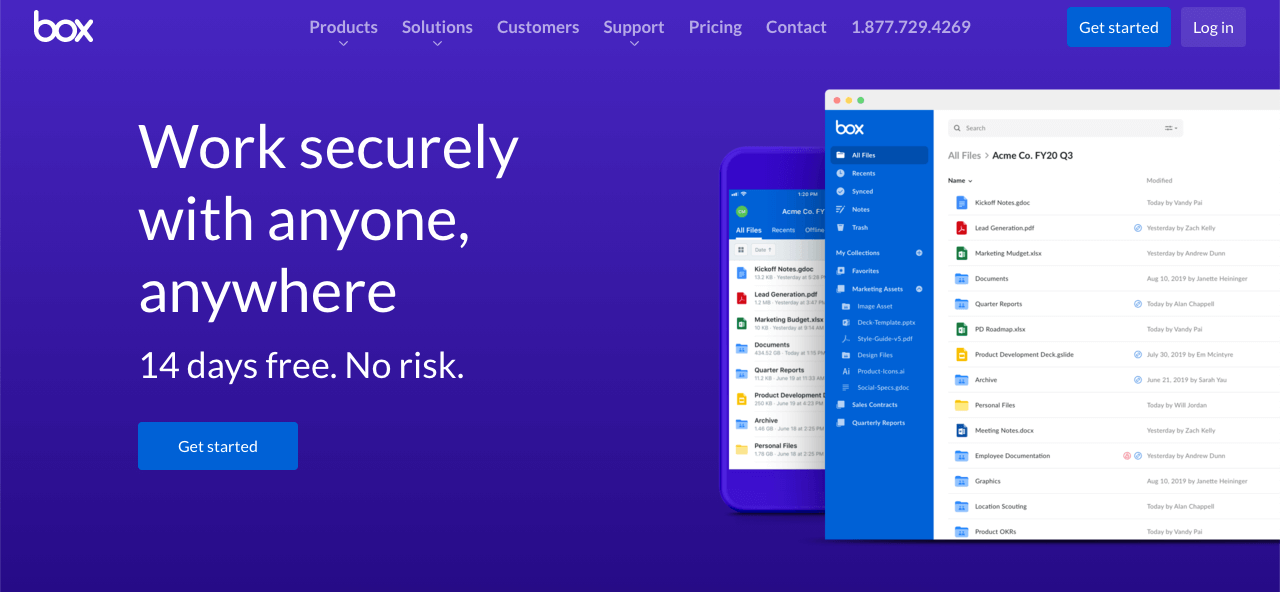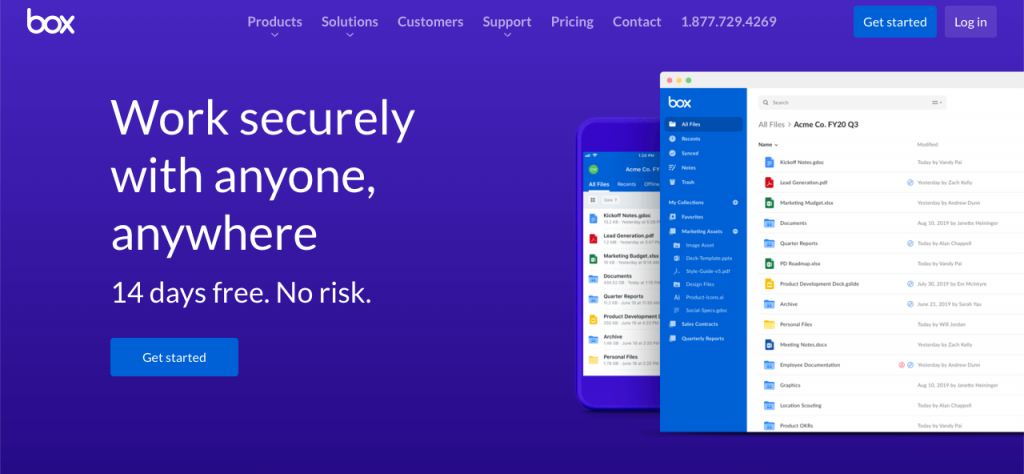 Rivaling Google Drive, Box is a document workflow and cloud storage platform. It offers attractive features for sharing files and helping teams with their workflow.
Box integrates with thousands of apps, from Google Suite to Slack, and offers seamless collaboration through multiple devices.
Pros:
Unlimited storage: All business accounts offer unlimited storage and custom branding.
Great features and integrations: The platform has so many business features and powerful integrations that it makes it easy for any business to go paperless.
Highly secure: Box offers 2FA, file locking, auto expiration dates, access stats, secure sharing, and many more features to keep your files secure.
Cons:
Lacks search feature: The search feature is not very functional, which can make it harder to browse through files.
Higher learning curve: Users report finding the customer experience less intuitive than other alternatives.
Price: Free account with up to 10GB of storage; Personal accounts start at $10 per month for 100GB of storage; Business accounts start at $15 per month with unlimited storage.
Project Management Software
Project management software is a platform with the tools and techniques required to successfully deliver your projects. 
It helps managers control their costs and make deadlines. It helps people deliver the projects they commit to. It even helps them track whether or not they've been paid on time and in the right amount.
Smartsheet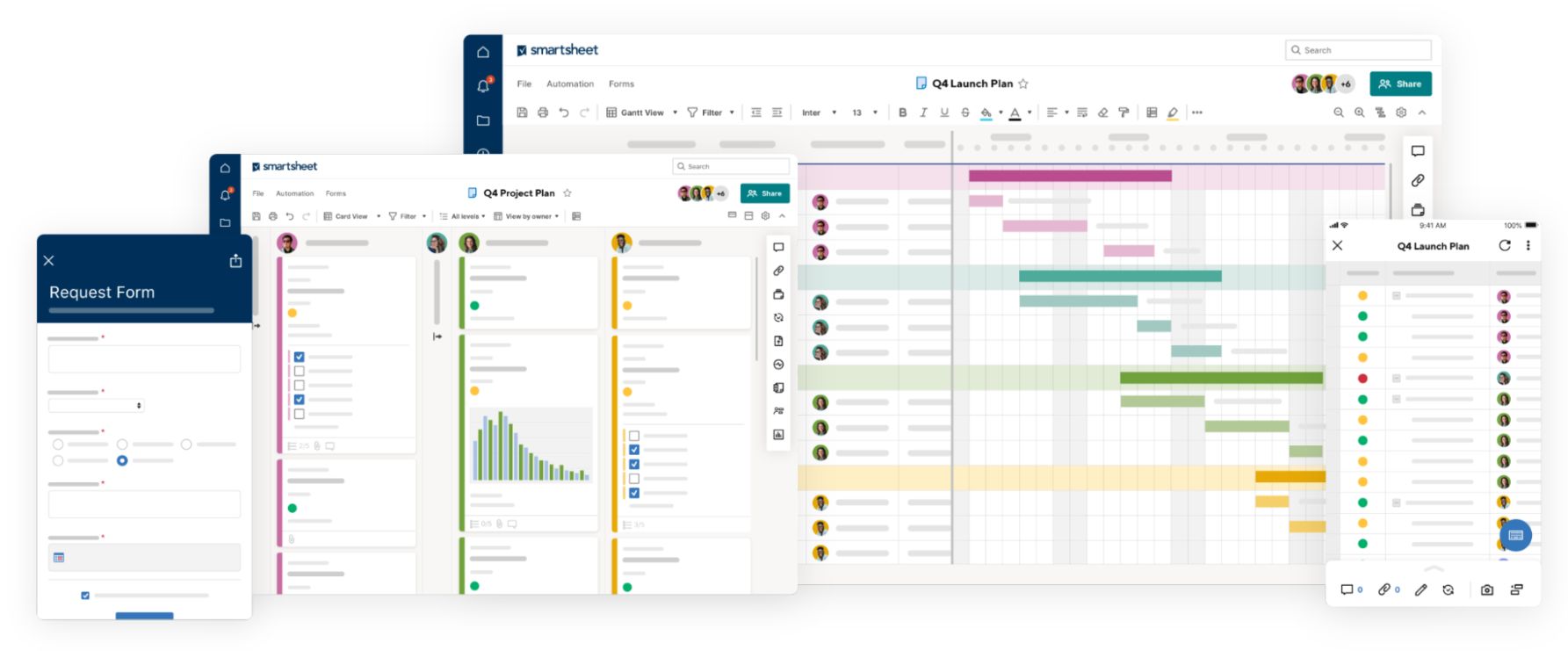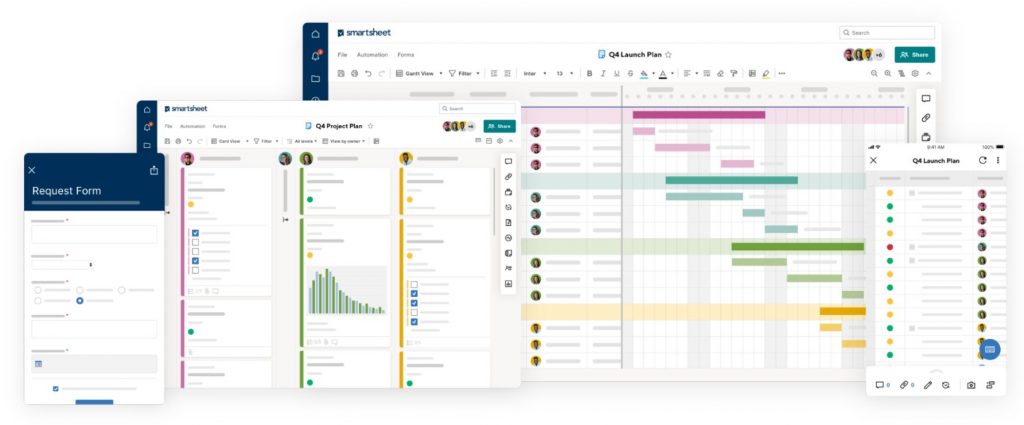 Smartsheet is a collaborative work management platform that enables businesses and teams to improve collaboration efforts, scale work processes, and boost visibility across projects — all on a flexible, no-code platform that boasts top-notch security and permission controls that IT teams expect.
Pros
Familiar and easy-to-use interface: With its familiar spreadsheet-like interface, people can start using the app from the start with little to no training or onboarding needed.
Flexible views: Design your projects and processes to fit your work with flexible views, like Grid, Kanban, Gantt, and Calendar View.
Automation features: Implement simple and powerful workflows in minutes, making repetitive, mundane tasks a thing of the past and enabling your team to focus on the work that matters.
Powerful integrations: Get work done in context while using your most loved cloud-based tools, without having to waste time switching between apps.
Cons
Harder-to-learn advanced capabilities: The ramp-up time for more advanced capabilities of Smartsheet can be a little longer than for more basic features.
Price
Start with a 30-day free trial, then pricing starts at $7/user/month for Pro Plan, $25/user/month for Business Plan, and customized pricing for Enterprise Plans.
Asana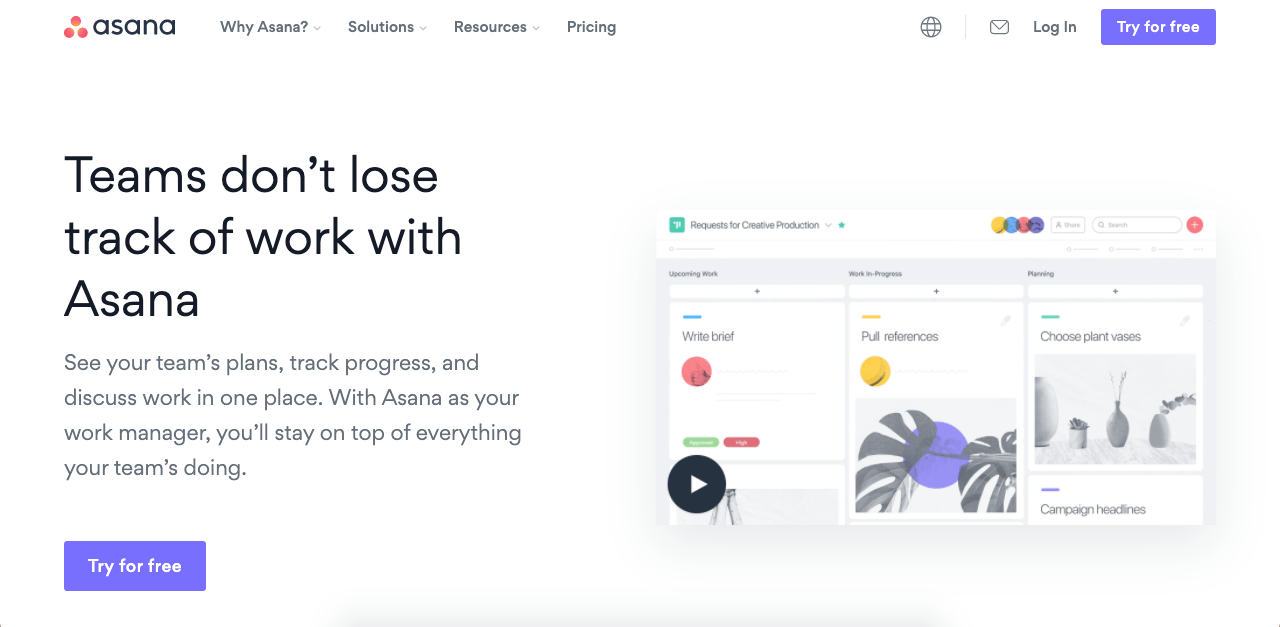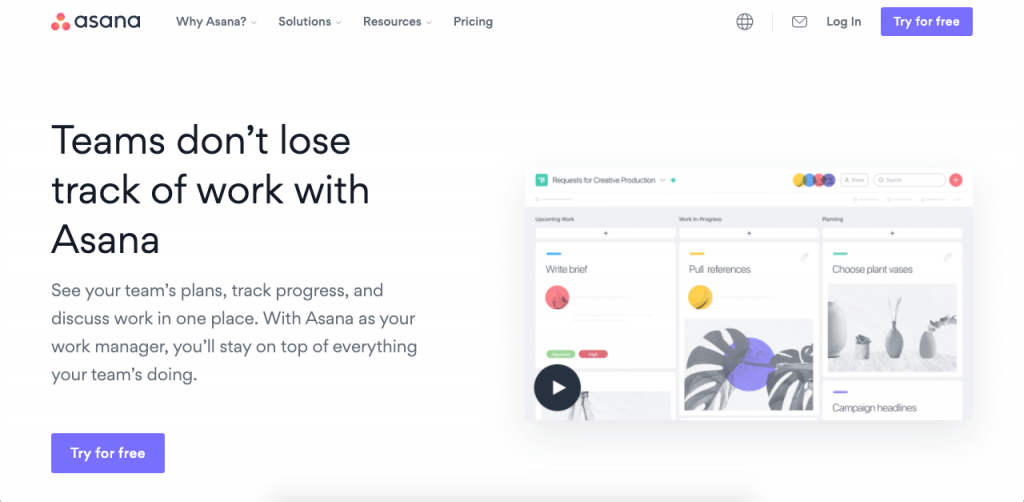 Asana is a very versatile and popular task management software. It helps you manage your teams and projects, assign tasks and project visibility to specific teammates, and keep track of everything with multiple views.
Asana can also be used to replace all email and online chat communication. It lets you send announcements to the right people instead of printing memos. You can even get signatures for the documents.
Pros:
Powerful capabilities: From project and team management to detailed communication with relevant contexts, Asana can cover many of your office needs.
Multiple views: Asana helps you, your teammates, and your clients visualize your progress.
Great integrations: It integrates with multiple tools to share information and automate tasks.
Cons:
Not too friendly for new users: With all its capabilities, Asana will have a higher learning curve to fully understand how to use it.
Too many features and options: Asana may be too big and bulky for small teams or individual users.
Price: Free plan with unlimited tasks, projects and file storage; Premium plan starts at $10.99 per user per month with advanced options and unlimited free guests; Business plan starts at $24.99 per user per month with advanced integrations and customizations.
Trello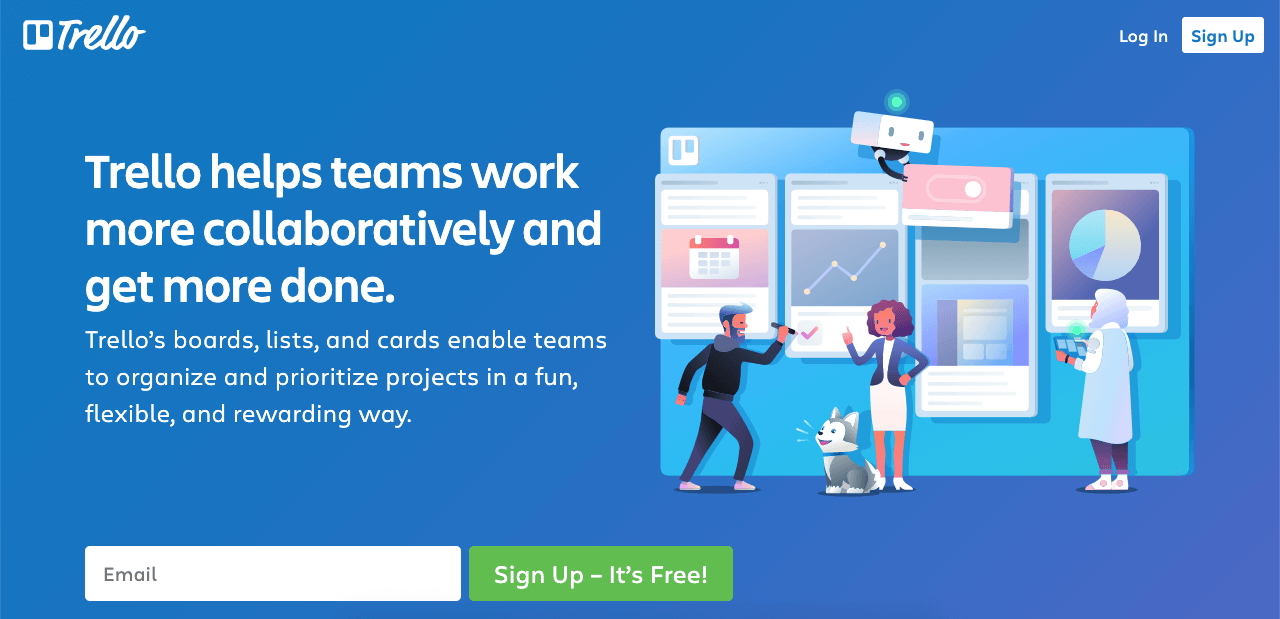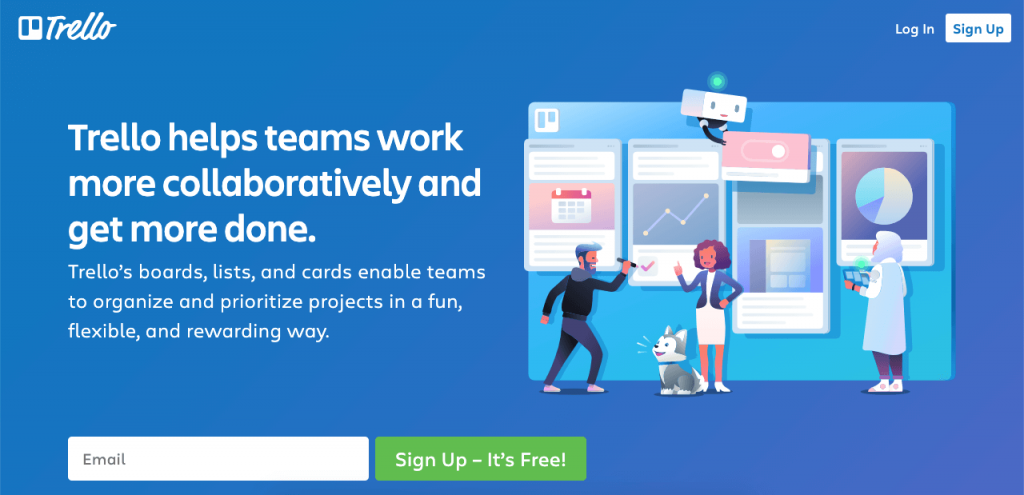 Trello is a simplified way of keeping your tasks and projects organized and on track.
Through cards, boards, and lists, Trello is a very intuitive and visual way to streamline your communication and your projects' development.
Its generous free version with up to 10 team boards and automation capabilities is perfect for small teams and businesses.
Pros:
Simple: The platform is so simple and intuitive that it's almost self-explanatory and very friendly to new users.
Easy to add team members: Type in their email, and they'll get a profile with all of their tasks.
Mobile friendly: The Trello app has over 10 million downloads on Google Play and it's fully functional.
Cons:
Limited communication: You can only communicate by adding notes on cards and tagging the right person.
Not great for large projects: With the lack of a Gantt chart and its simplified nature, it may be too simple to handle large projects with multiple tasks and users.
Not available offline: You need to be online to access the platform.
Price: Generous free plan with up to 10 team boards; Business plan starts at $9.99 per user per month with unlimited team boards, advanced checklists and unlimited powerups; Enterprise plan starts at $17.50 with advanced features and security capabilities.
monday.com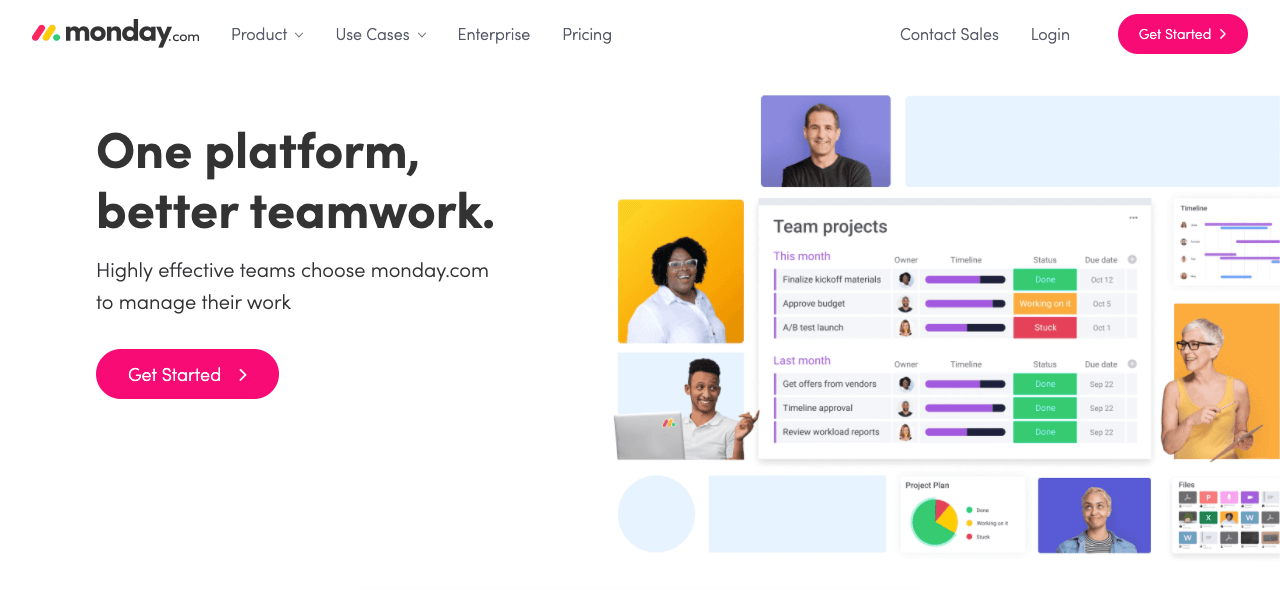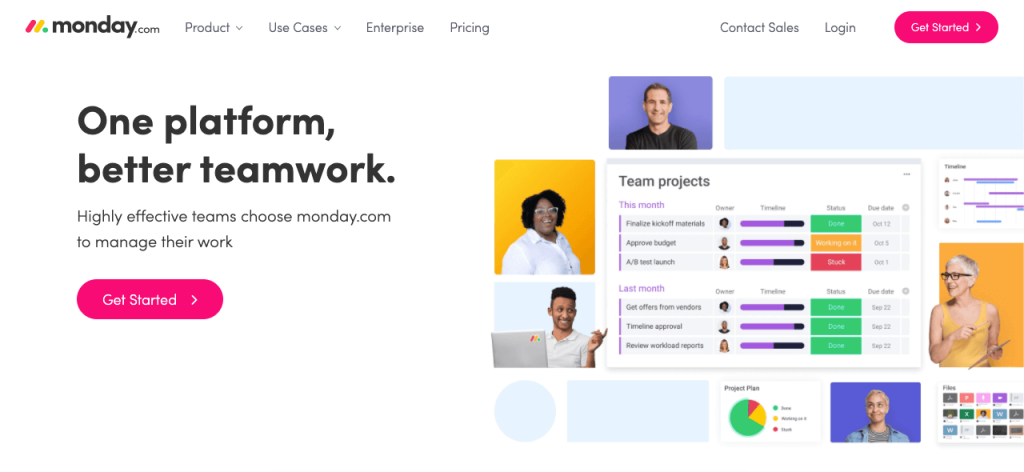 Formerly known as dapulse, monday.com is an online collaboration tool that specializes in visibility and transparency.
Its very friendly user interface and powerful capabilities has earned itself some serious clients, such as Hulu, Coca-Cola, Universal, and Adobe.
Pros:
Highly customizable: Its customization capabilities make it very versatile.
Powerful integrations: From Slack and Dropbox to multiple CRMs, the platform will likely integrate with your favorite tools.
Great communication features: It's easy to communicate and even share views with other teams to put the communication in context.
Cons:
Too many features: The platform's capabilities are so many that it will likely take more than the 14 days offered in its free trial to learn how to use it fully.
Limited mobile app: Although there are mobile apps available, they may not update well and they aren't fully functional.
Price: Pricing starts at $39 per month for up to five users and essential features.
Scanning Software
Scanning software is used with optical and document scanners or with other imaging equipment to digitize, create, edit, and evaluate images.
Document scanners scan two-dimensional (2D) objects and convert them into digital images to save in your paperless filing system.
Scanbot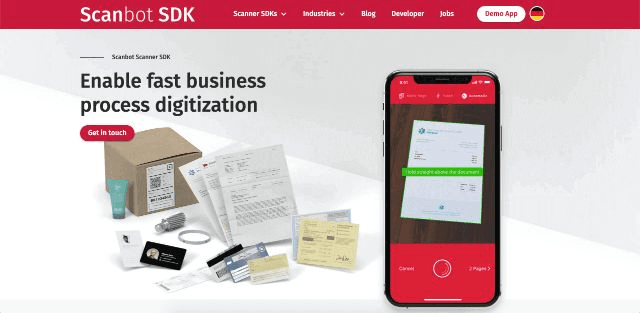 Scanbot is a highly functional document scanner. With it, you can quickly scan documents, store them online, and even fax them. Its high functionality allows you to go paperless at home or your business by quickly digitizing the printed documents you already have.
The software allows you to quickly edit, crop, and enhance document color to ensure it is accurate and looks great.
Pros:
Wide range of features: Allows you to scan multiple documents and get them looking as true to life as possible.
User friendly: The software is very intuitive and easy to use.
Affordable: The platform is quite inexpensive and versatile.
Cons:
No distinction between documents: The platform doesn't offer any distinction between the type of document you're scanning.
Price: Flat rate available upon request.
Adobe Scan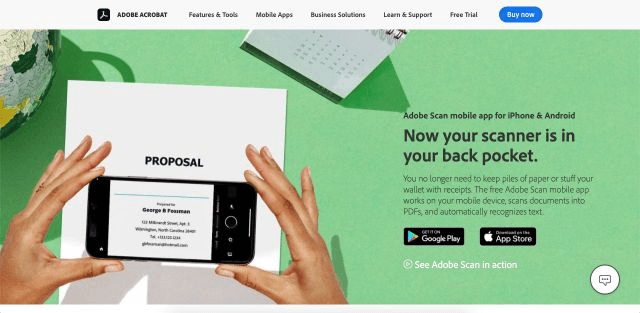 Powered by Adobe, Adobe Scan is a great app available for Android and iOS to get documents scanned and saved through your smartphone.
Scan and clean up your files through its AI-powered Adobe Sensei. You can easily digitize multiple types of documents.
Pros:
Highly functional: The app can recognize text and multiple documents, and it can use the data to get a high-quality scan.
Good for images: Adobe Scan can scan both images and documents.
Cons:
Account required: You need an Adobe account to set it up.
Editing locked behind paid subscription: You'll need to sign up to Adobe Document Cloud, which is a paid subscription, to edit your scans.
Price: Free platform, but requires a $9.99 subscription to edit.
Genius Scan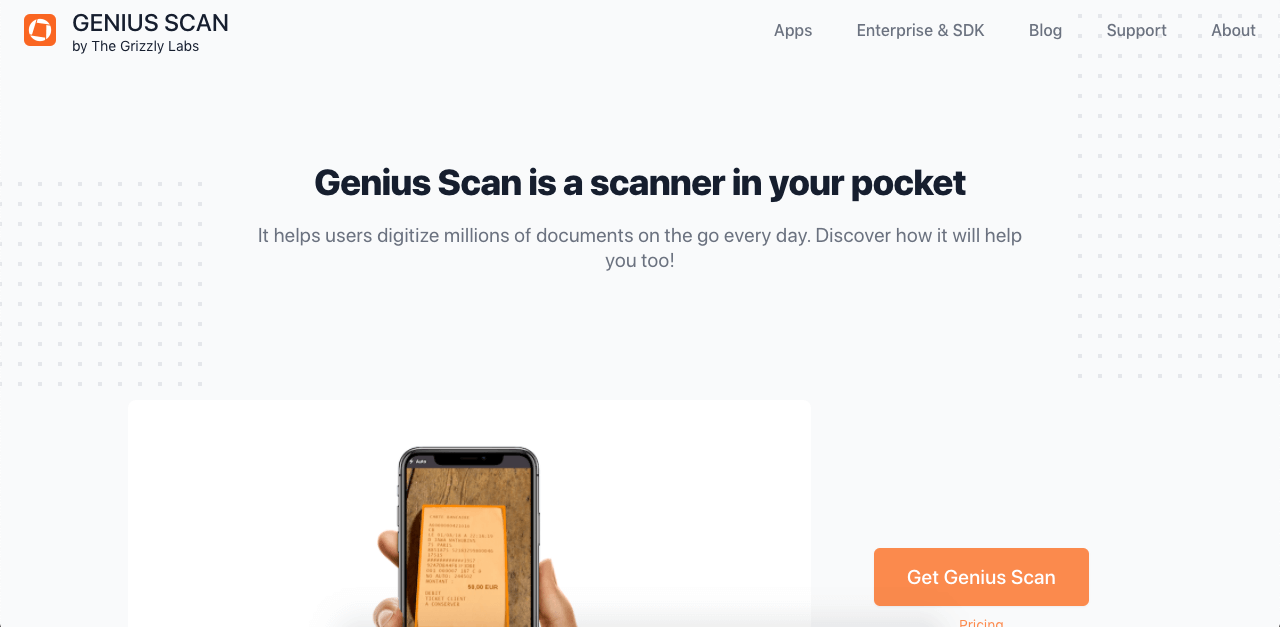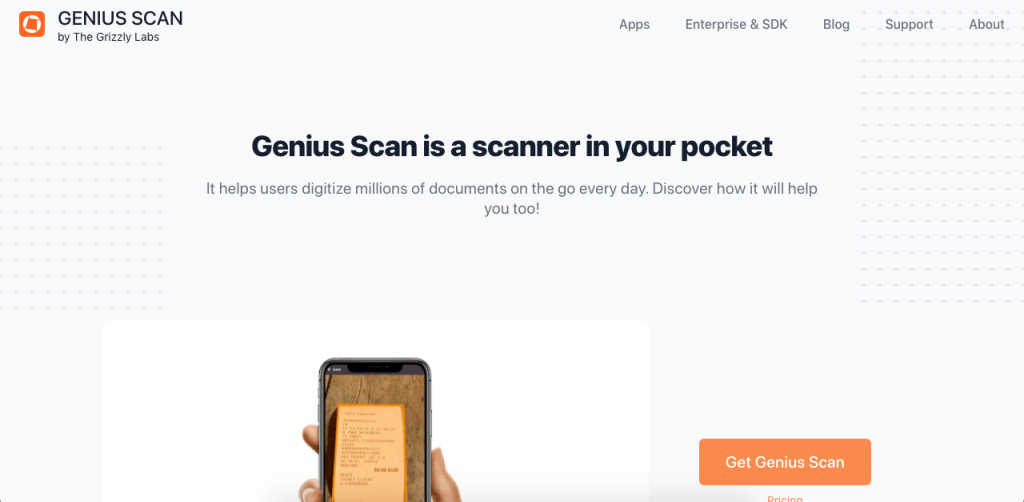 Genius Scan allows you to scan, convert, export, and share documents directly from your smartphone. It's a great receipt-scanning software that allows for high-quality digital images.
With a friendly UI and great capabilities, it's no wonder it's one of the most downloaded scanner apps for Android and iOS.
Pros:
Great capture capabilities: The app is great when detecting and color correcting black and white and full color documents.
Affordable: The app is free and the premium version isn't expensive.
Cons:
No OCR: The app doesn't recognize optical characters.
Price: Free version available; premium version starts at $2.99 per month.
Document Collaboration Software
Document and file collaborations are tools or systems designed to help multiple people work together on a single document or file to achieve a single final version.
Google Docs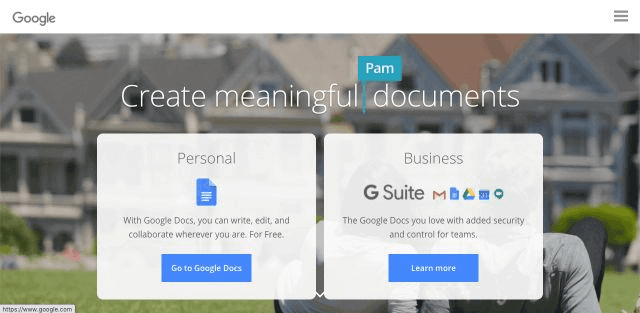 As part of the Google Drive suite we previously mentioned, Google Docs is a highly functional word-processing platform.
With Google Docs, you can easily share your word documents with your teams, work on them offline, and even export them to multiple popular formats such as DOCX and PDF.
Pros:
Autosave: All documents are autosaved and the editing history is fully accessible to restore previous versions.
Team collaboration: You can add comments and suggest edits directly on the documents.
Free: Accessible through a Gmail account.
Cons:
Lack of advanced features: The platform isn't always as intuitive or feature-full as other word-processing software options.
No offline access: Internet access is required to open and edit documents.
Price: Free
Paperflite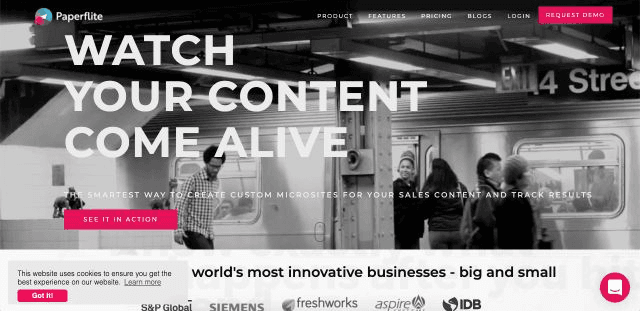 Paperflite is a document management and team collaboration platform that caters to marketing and sales teams.
With Paperflite, you can easily create and share documents, keep track of them after you send them to other users, and monitor the data through powerful analytics.
Pros:
Great integrations: The platform integrates with multiple CRMs, automation platforms, and analytics tools.
Detailed analytics: Paperflite offers superb data collection and presentation capabilities.
Personalized landing pages: You can create landing pages for your customers detailing what they need to know.
Cons:
Not as user-friendly: Users will need to fully understand how to use the platform.
No free version: There aren't any free options to use the platform other than the free trial.
Price: Starting at $30 per month per user.
Zoho Docs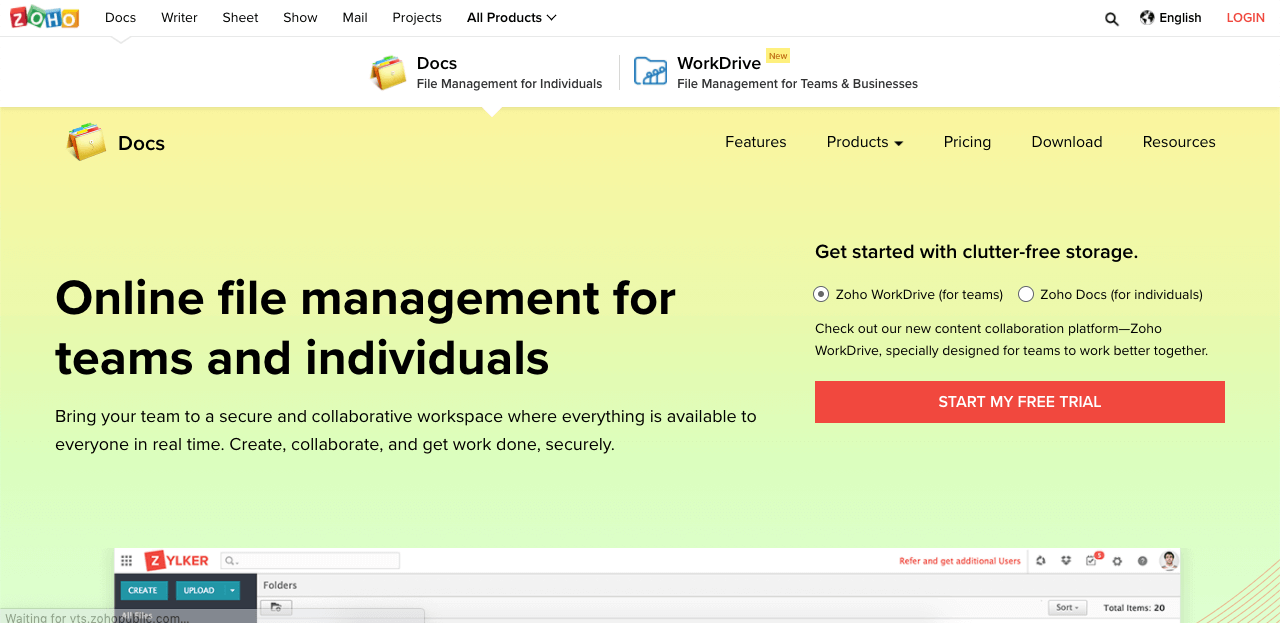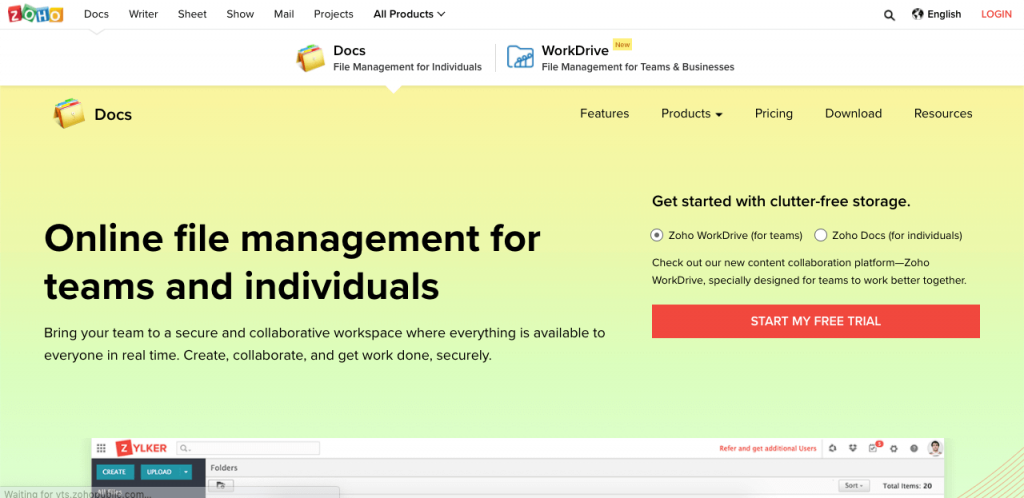 A part of Zoho's platform, Zoho Docs allows you to create and share documents online.
Zoho Docs offers a virtual drive, great mobile apps, multiple uploading formats, and secure file transfer. It's a great option for anyone already using or planning to use the Zoho platform.
Pros:
Highly secure: Files are protected through automatically expired links and a 256-bit encryption algorithm while at rest. Files are encrypted with Perfect Forward Secrecy while in transit.
Great editing tools: Zoho Docs offers a complete setup of document editing features.
Easy to use: It is as simple as any other word processing software.
Cons:
Higher loading times: Apps usually take a bit longer than other options to load up fully.
Expensive: Monthly fees can quickly add up.
Conclusion
Going paperless can save you time, space, and money. Start looking for apps that aren't just useful now but will remain useful for a long time and can grow with your business.
The faster you go paperless, the quicker you'll start saving!