In this article, we'll pit RightSignature vs. DocuSign. We'll analyze both platforms to answer a simple question: Which is better?
We'll evaluate both based on:
Features
Price
Security
Usability
Customer reviews
By the end of the article, you'll know exactly which platform is right for you.
Let's get started!
Introducing RightSignature vs. DocuSign
Here's what you need to know about both platforms:
What Is RightSignature?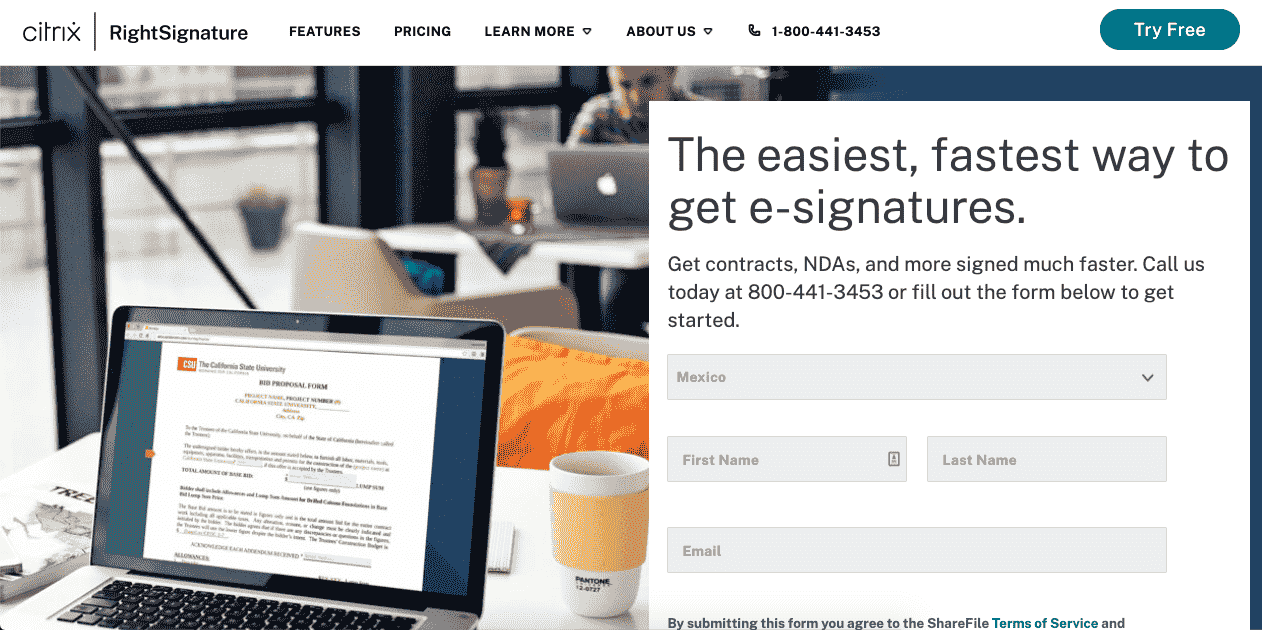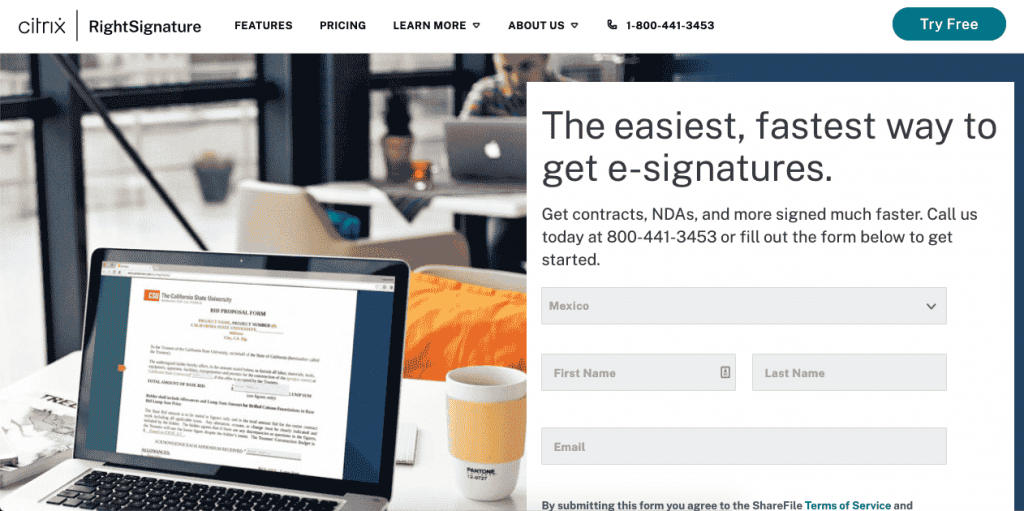 Bought by Citrix in 2014, RightSignature was founded in 2009 and gained a good amount of clients in its first decade, making it one of the key players in the eSignature business.
The platform is designed to be as easy as possible. It was designed to help businesses sign documents online quickly. That's why the platform tends to prioritize simplicity over advanced features, to keep the platform as simple as possible.
However, RightSignature does provide some great features at surprisingly affordable prices, making it very competitive.
Pros:
Very easy to use
Multi-device support
Fairly affordable
Cons:
Unclear security measures
Limited features
What Is DocuSign?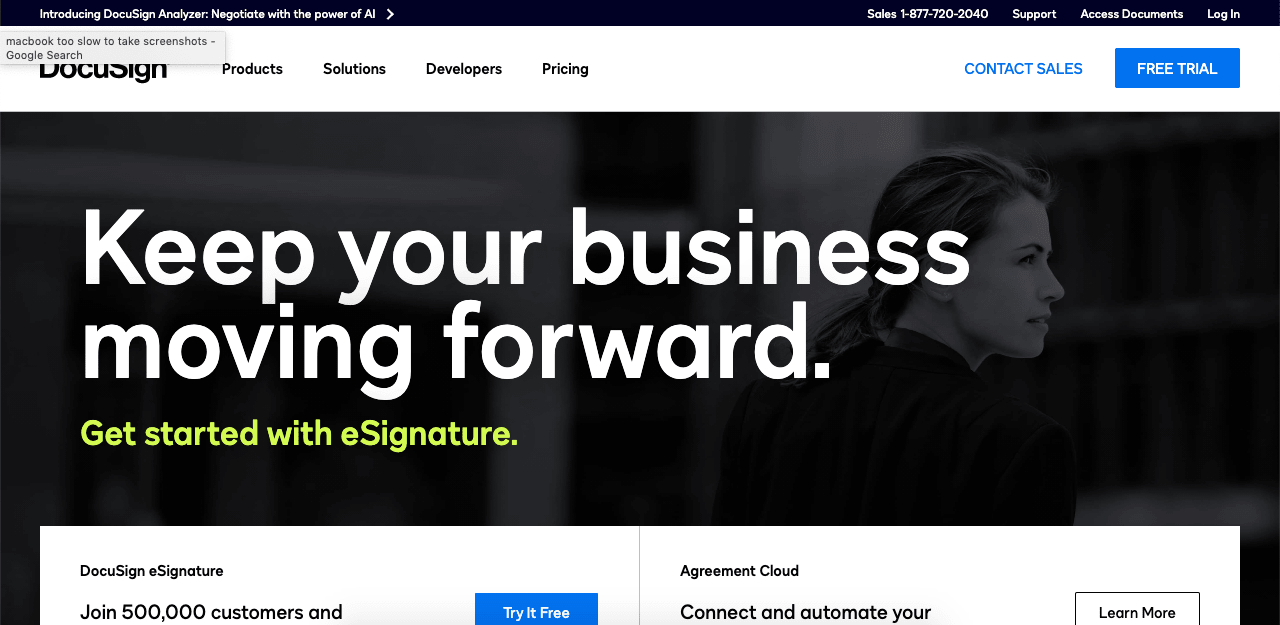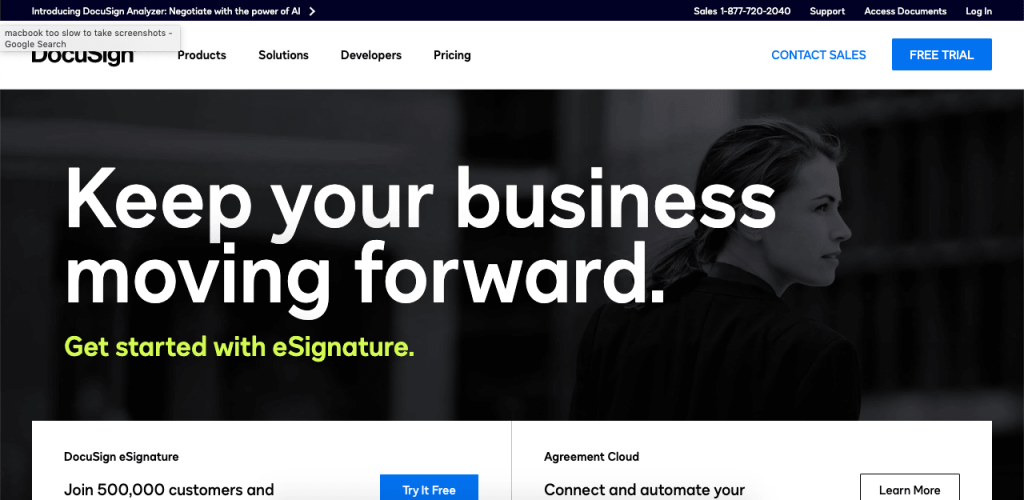 DocuSign is a very popular online signature platform with a large user base and thousands of positive reviews due partly to its capabilities.
With clients like SalesForce and TMobile, DocuSign remains a great option for larger companies thanks to its powerful analytics and advanced features, like geolocation capture and real-time status reporting.
DocuSign also integrates with a wide variety of tools, such as Google Drive, Dropbox, Salesforce, and many other major partners, and it can be accessed from any device.
Pros:
Very advanced features are available
Impressive security systems
Access to a lot of extra tools and analytics
Cons:
Not as easy to use
Advanced features can be costly
Signaturely is an affordable DocuSign alternative.
RightSignature vs. DocuSign – Head-to-Head Comparison
Here's how RightSignature and DocuSign look when compared to each other:
1. Ease of use (+ How can you sign a document?)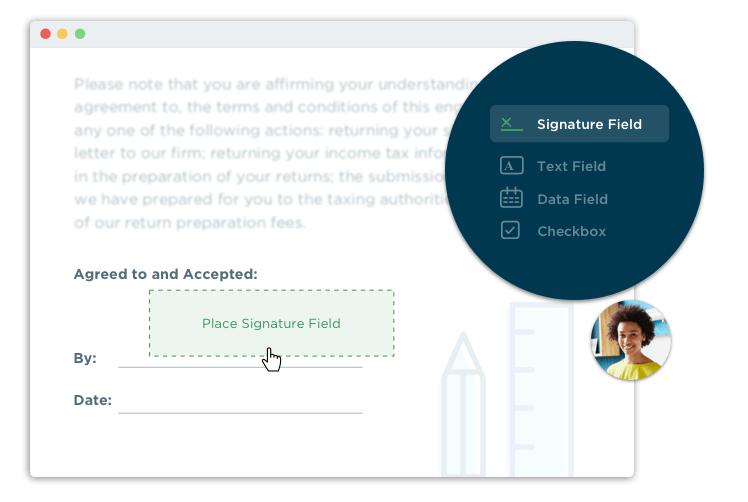 Source: RightSignature
On both platforms, the actual signing process is very easy. Recipients receive an email and are guided through the process until the document is fully signed. It's worth noting that DocuSign's emails tend to end up in the spam folder, making them harder for your recipient to see. You'll also need to manually turn off DocuSign's automatic promotion, where the platform sends emails to your signees asking if they'd like to join.
When you use RightSignature, you don't have these problems. Plus, the platform is easy to use, letting you drag and drop your documents, set them up, and send them in a matter of minutes.
RightSignature also offers signees the option to print the document, sign it, and send it via fax if that is your preference.
With DocuSign, setting up a document isn't as easy. You get access to more advanced options, but the user can get overwhelmed with the platform, especially if they haven't used an online signature solution before.
Winner: RightSignature
2. Features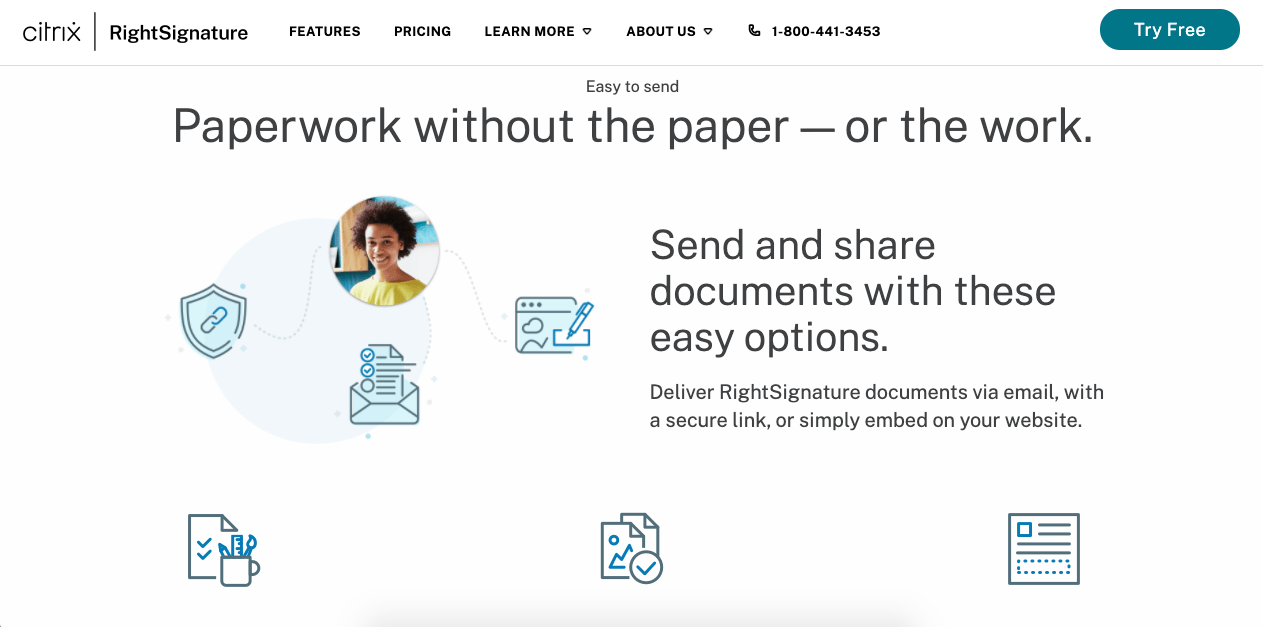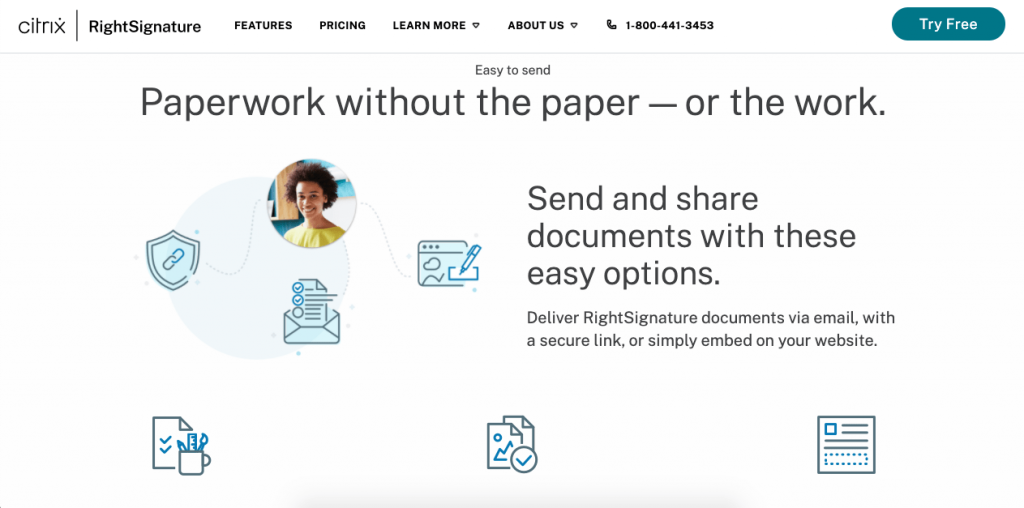 Features are one of the most important things to consider when choosing an online signature solution.
Both platforms offer features like:
Integrated Security
Custom Signatures
Multi-platform support
Document Tagging
Integrations and API
Secure Backup
With RightSignature, you also get:
An in-app document editor
Team collaboration and revisions
Automatic form-filling
With DocuSign, you get features like:
Host fillable forms
Multi-language support
Document merging
Advanced security capabilities
Advanced signing capabilities
Payment collection
Although both platforms offer unique features, DocuSign's unique features are more advanced and useful than those offered by RightSignature.
Winner: DocuSign
3. Customer Reviews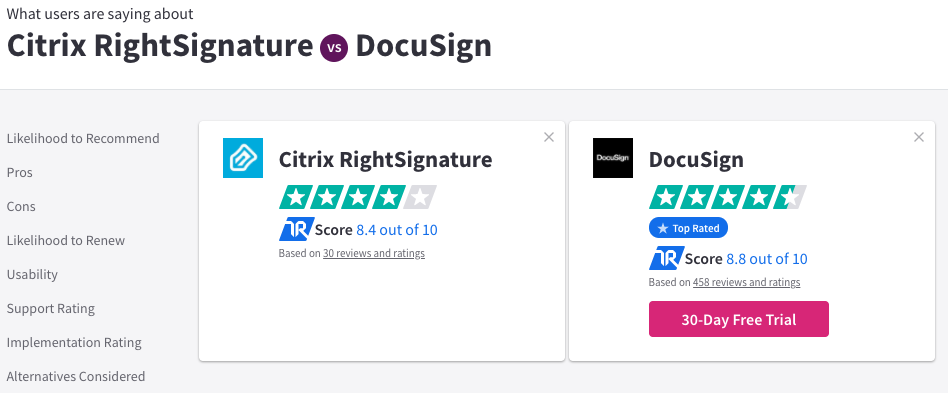 Source: TrustRadius
DocuSign and RightSignature are very popular options, showing many positive reviews from a large variety of clients worldwide.
Although their scores are fairly similar, DocuSign has ten times the amount of reviews that RightSignature has, so they're far more thorough, and it would be easier for you to find reviews from like-minded users.
Users often complain about issues with signature box customizations and temporary backups with RightSignature.
DocuSign gets complaints about their limited number of signature options in their lower pricing tiers.
The G2 software comparison site ranks RightSignature and DocuSign at 4.5 out of 5 stars. 78% of Gartner users recommend RightSignature, while 88% recommend DocuSign.
We can clearly see that DocuSign has a slight edge over RightSignature regarding user reviews, both in number and quality.
Winner: DocuSign
4. Use Cases/Case Studies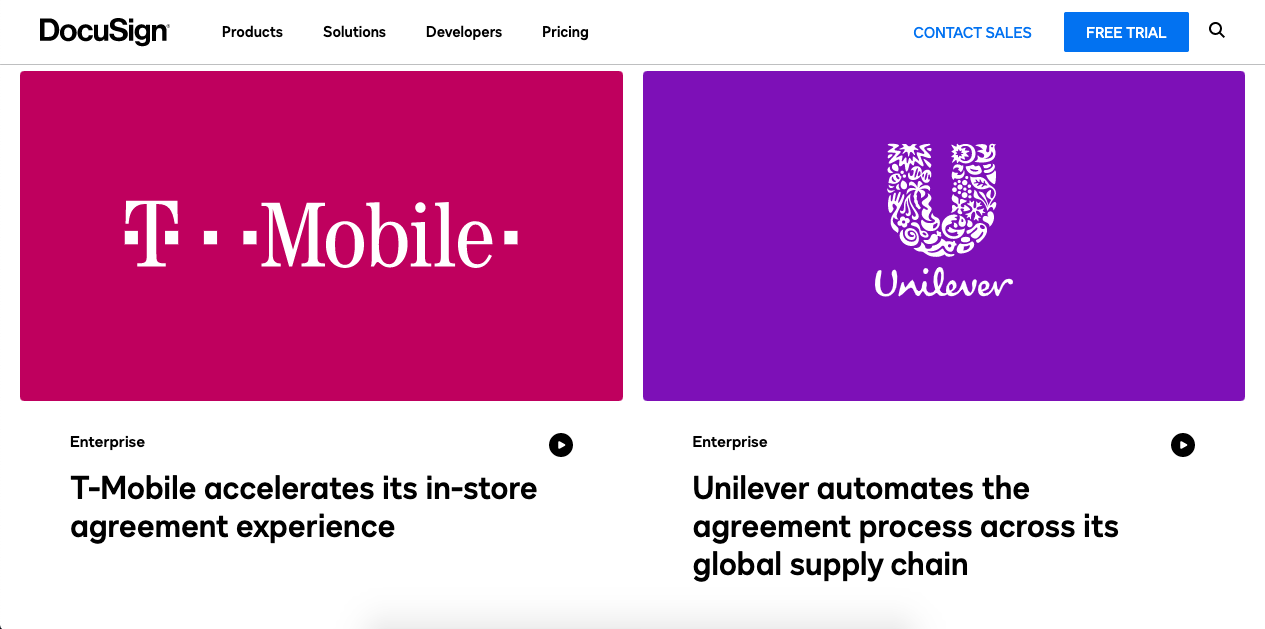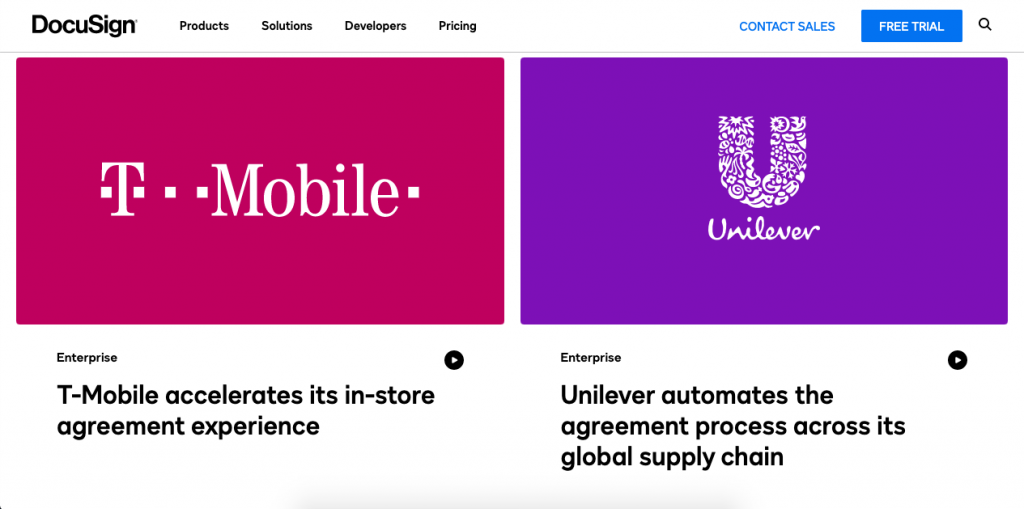 As both options are very popular, both RightSignature and DocuSign have many use cases and case studies from successful customers.
You can find a few RightSignature case studies, including one about how the platform helped a company expedite its signing process and keep them on schedule.
However, with DocuSign being the more popular option, it's no surprise to see how many case studies it has. The platform has over 200 case studies from companies worldwide, with clients from communications to quality management publishing how DocuSign has helped their businesses move more quickly and grow faster.
Winner: DocuSign
5. Integrations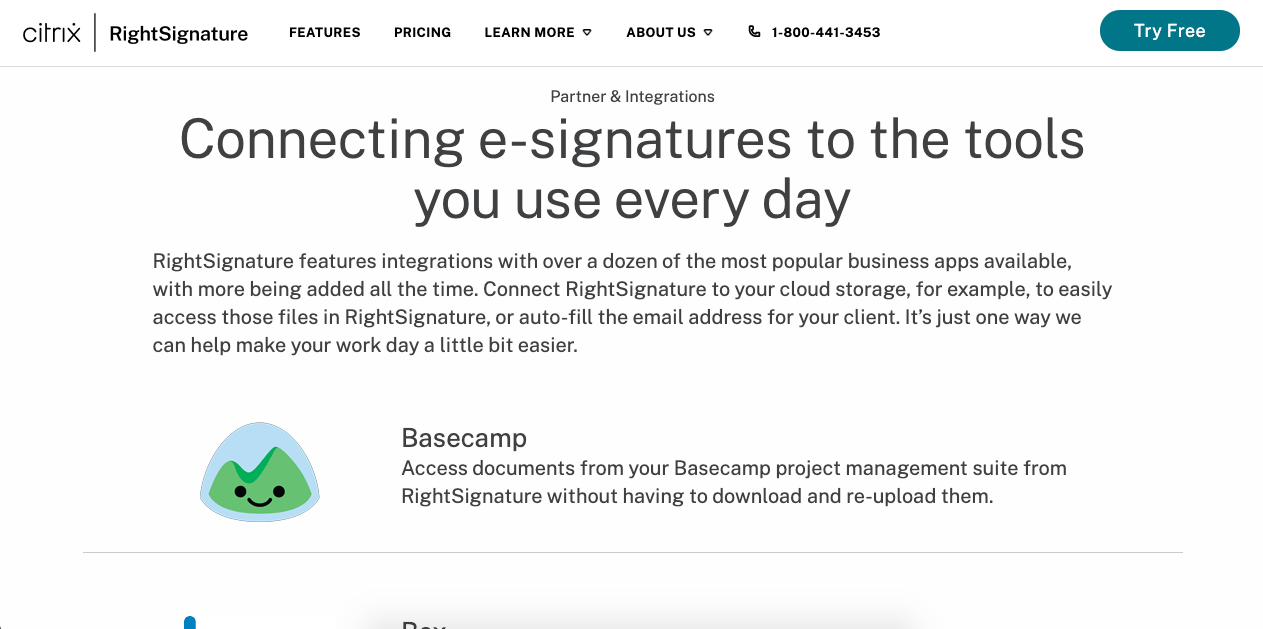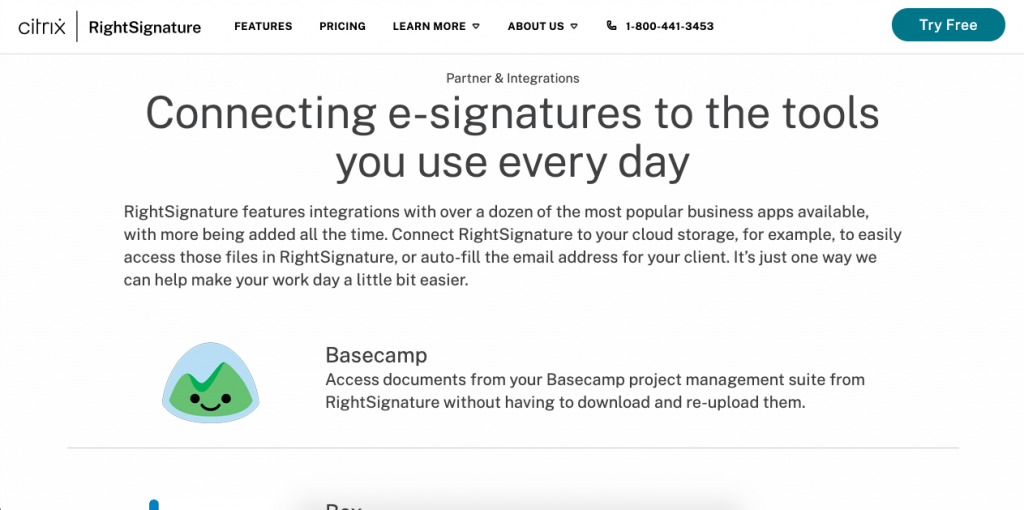 Since both platforms are aimed toward businesses, both have good integrations with many other platforms.
Both platforms also support many of the same tools, like multiple CRMs and cloud storage services. However, DocuSign's integrations are more plentiful, allowing you to integrate to practically any other platform through either native integrations or its API.
That being said, integrations with DocuSign (and the API itself) are locked behind extra costs. You can integrate it with many tools, but it will cost you, with prices varying depending on the options you choose.
RightSignature, however, can be integrated right out of the box, with its Standard plan integrating tools like Salesforce, Sharefile, Freshbooks, Microsoft OneDrive, Dropbox, Stripe, and many more.
On the one hand, DocuSign has more integrations, but on the other, RightSignature won't charge you anything extra for its integrations, making it perfect if you use the right platforms.
Winner: Tie
6. Customer support
Customer support is one of the aspects where the tools are completely different between the platforms.
RightSignature allows you to quickly contact customer support through a toll-free number or ask a question with its ticketing system. The platform also gives you a great knowledge base to find answers yourself, making it easy to find what you're looking for and contact customer support if you can't.
With DocuSign, it isn't that easy. DocuSign also provides users with a knowledge base and a ticketing system, but you can't contact customer service yourself with any of its tiers. Instead, DocuSign lets you pay an extra fee to get advanced customer support options, like live support and account managers.
While DocuSign does offer better customer service options at an extra cost, we believe excellent customer service should be provided for every customer, not just those who can afford to pay a premium.
Winner: RightSignature
7. Pricing
Pricing can be deceiving, especially with DocuSign, which has these three tiers:
Personal – $10 per user per month, or $120 when paid annually
Standard – $25 per user per month, or $300 when paid annually
Business Pro – $40 per user per month, or $480 when paid annually
RightSignature also offers three different tiers:
Personal – $15 per month for one user, or $144 when paid annually
Business – $75 per month for three users, or $720 when paid annually
Additional Plans – Starting at $123 per month, or $1,188 when paid annually
At first, DocuSign may look like the most affordable option, but upon closer inspection, we can see that this is not necessarily the case.
RightSignature does not charge per user, opting only for a fixed amount per month. This makes DocuSign exponentially more expensive because the more users you have, the more you'll have to pay. Multiple users are more expensive in DocuSign than in RightSignature at similar tiers.
Plus, many useful features, like advanced integrations, API, advanced customer support, advanced branding, and more, are locked behind extra monthly charges in DocuSign, whereas RightSignature's pricing is fixed, with no extra add-ons to pay for.
Neither platform offers you a "forever-free" option, so you'll have to pay to use any platform at any tier.
Winner: RightSignature
8. Security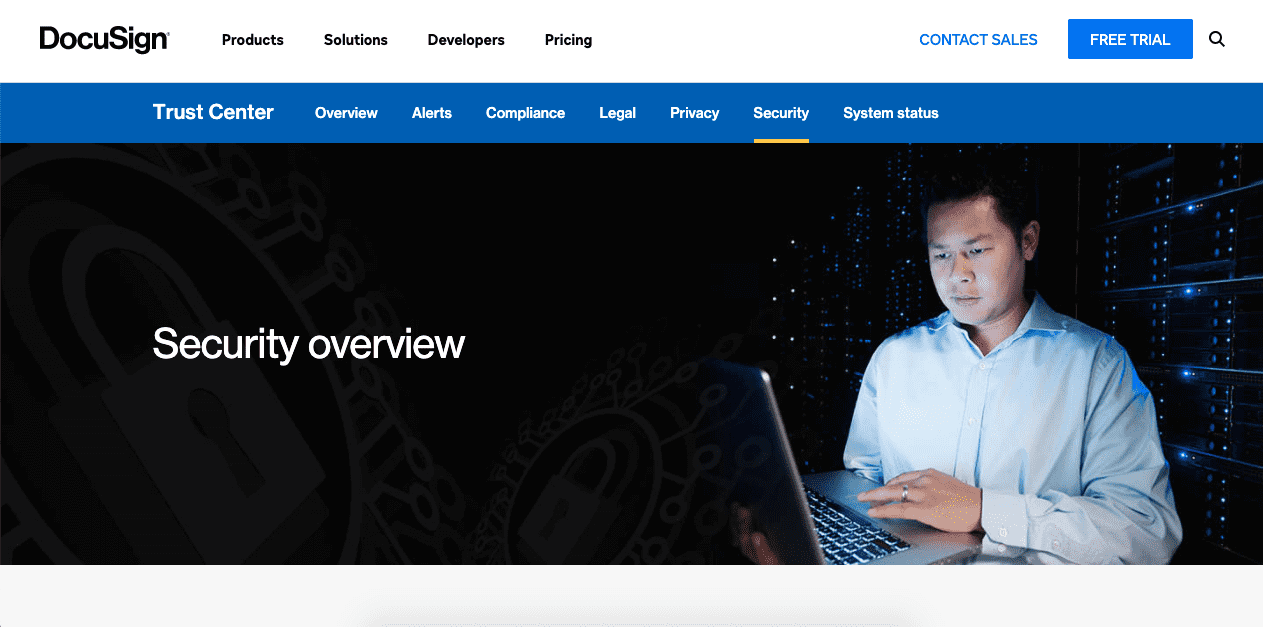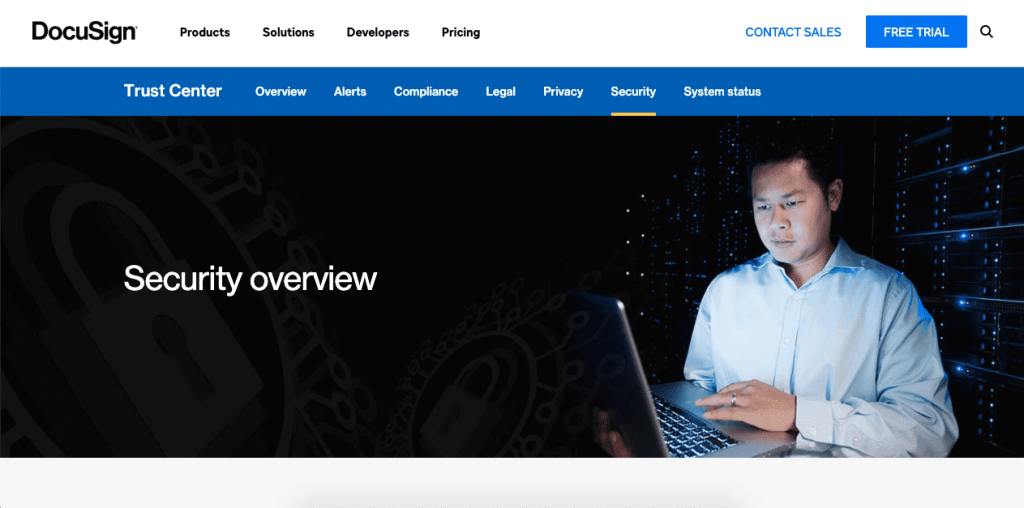 RightSignature has fairly standard security features. It uses 256-bit EV SSL encryption, powered by DigiCert and backed by Amazon Web Services infrastructure. All data is temporarily stored in Amazon's S3 data centers, automatically copied to multiple locations for redundancy, and deleted after a certain time.
This means that your documents are temporarily stored as safely as Amazon can provide, making it impossible to lose them even if a server goes down.
This level of security is far more than most businesses would require, especially if their contracts are temporary and they only need backups within a specific window of the document being created.
DocuSign, however, takes security to a different level.
Powered by some of the most secure certification standards and encryption tech available, DocuSign boasts of ISO 27001 and SSAE 16 certifications.
All information from DocuSign is stored under the highest levels of encryption, with the platform being the only Digital Transaction Management (DTM) company in compliance with the ESIGN Act.
DocuSign offers multiple forms of signer authentication, better intent confirmation, tamper seals to protect your documents, and secure and continuous access to all your documents.
If security is your number one priority, DocuSign offers you the highest security you can find in any online signature solution.
Winner: DocuSign
9. Custom branding
Branding is incredibly important when sending a document since many businesses do not want to promote a different business to their signees. That's why both DocuSign and RightSignature have custom branding options, albeit at different price points.
DocuSign offers basic branding customization options right out of the box, allowing you to add and change your logo and customize your document with your color palette. Your documents will always look the same, but the ribbon at the header can be easily customized with built-in tools.
Its customization options are basic by design, with more advanced options available to anyone willing to pay for extra add-ons.
RightSignature gives you similar options. You can change the header and footer ribbons and add your company logo to your documents. However, RightSignature also allows you to customize how your emails are sent, changing your name and customizing your greeting and signature as you wish.
As long as you don't need very advanced branding, RightSignature will offer you more customization for a fraction of the price.
Winner: RightSignature
RightSignature vs. DocuSign – What tool should YOU choose?
Different platforms are better for different users. Here's how to choose which tool is best for you:
RightSignature for Freelancers and Small Businesses
If you're a freelancer with many customers and projects or a business looking for NDAs and employee contracts, RightSignature has everything you need.
The personal level gives you all the documents you need, access to integrations, and the ability to draw online signatures by hand to make documents as easy to sign as possible.
Even its advanced plan with three users is quite competitive, giving you shared templates, team statistics, branding options, attachment requests, and more.
The feature options may be limited in both of these plans, but they'll be more than enough, even for startups looking for a simple online signing solution that works with the tools they are already using.
DocuSign: Best for Medium to Large Companies
If you are in charge of a larger company and need to sign more documents with more customization options, and if you are willing to pay for extra add-ons and features, DocuSign will give you the most value.
Providing you with access to hundreds of native integrations, DocuSign will integrate with all the tools you use and will give you great analytics to keep track of everything, finding ways to speed up your process.
DocuSign also offers payment collection options, advanced signature fields, bulk send, advanced branding capabilities, and far superior security, with options to integrate any add-on you need to increase your performance.
You can easily scale it up as you go, getting the features you need and customizing your plan to get as much value as possible from your online signing platform.
If your company signs a lot of documents on a daily basis and you need an option that can scale up your process, DocuSign is definitely the better option for you.
Signaturely: Better than RightSignature and DocuSign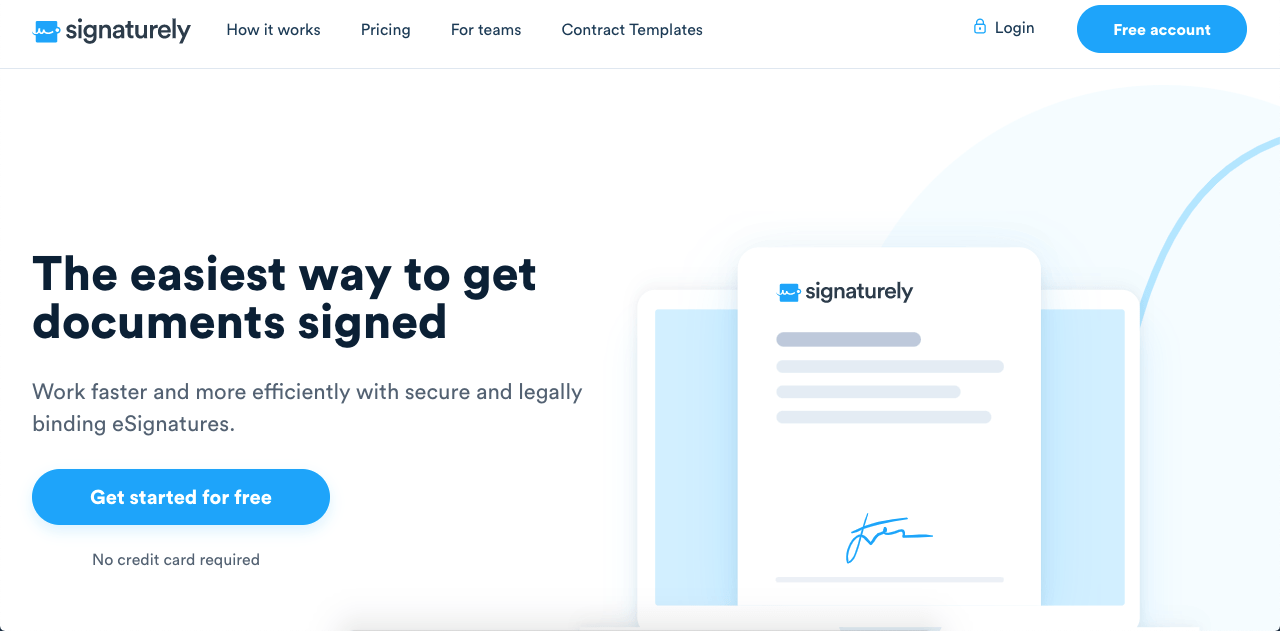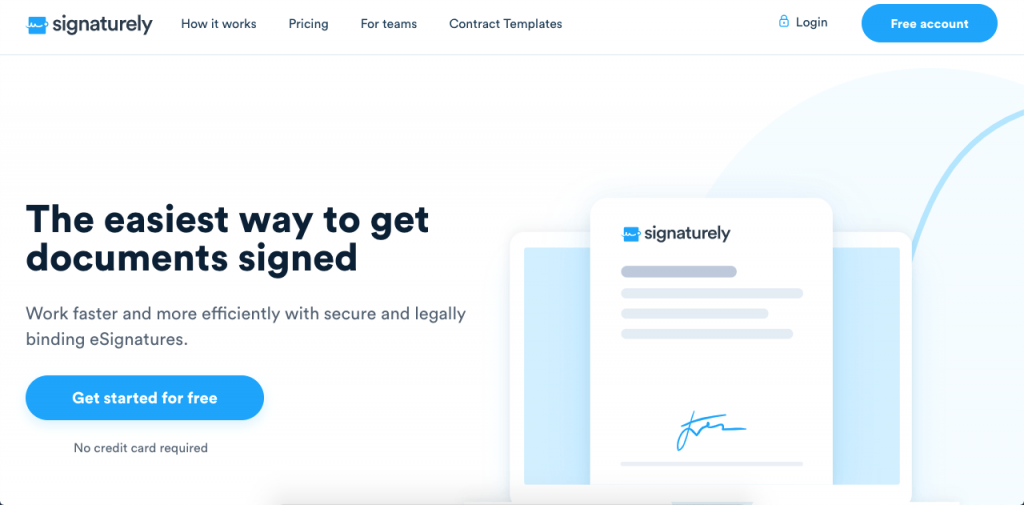 If you're looking for an option that's easier to use than RightSignature but cheaper than DocuSign, Signaturely is the right option for you.
Unlike DocuSign or RightSignature, with Signaturely, you can create a free account to get started immediately and use it for free—forever. We also have an online Signature generator where you can type or draw your Signature and start signing immediately.
Your free account will seamlessly integrate with Google Drive, Dropbox, OneDrive, and Box, so you can upload the necessary documents and start signing immediately. You'll also have free access to notifications and reminders to expedite your signing process without breaking the bank.
With a free account, you can send up to three signature requests per month, making it perfect for the freelancer or occasional user who needs a couple of documents signed monthly.
Need more signature requests? For just $10 per month per user, Signaturely gives you unlimited signature requests, so you can send as many documents as you need, making it a great DocuSign alternative.
Need unlimited templates? At just $15 per month per user, it is far cheaper than both RightSignature and DocuSign, and you won't have to worry about deleting templates as you go. This plan will also receive advanced business features like team management and custom template branding.
This makes it the cheapest version, allowing you to get custom branding even if you are a small business or a freelancer.
Creating online documents with Signaturely is very easy. Start by choosing whether or not you need to sign the document. After this, you can name your document, import or create it using the editor, and select the signers and the display message to be sent along with it.
You can also assign a signer order and review your document right before sending it to ensure your signature has been added correctly and that there are no issues with the document.
Once you send it, Signaturely will guide your signers throughout the signature process and allow them to create their eSignature, if they don't have one.
It's that easy.
Sign up for free to start using Signaturely today.
RightSignature vs. DocuSign: Conclusion
RightSignature is a great online signature tool for freelancers and smaller companies that need a simple eSignature tool to get started as quickly as possible.
DocuSign is better suited for large companies that need multiple documents signed regularly and more powerful integrations and analytics.
And if you're looking for a more functional tool than RightSignature and more affordable than DocuSign, you can't go wrong with Signaturely.
Get started for free today.