Is your business considering switching to a digital document workflow and isn't sure about the legality of digital signatures? You've probably got several questions concerning what is and isn't considered legal.
You must ensure you follow the correct procedures and protocol when it comes to digital document signing.
In this article, we'll cover everything you need to know about legal signatures, including:
What a legal signature is
Legal signature use cases
Requirements of a legally binding signature
Benefits of legally binding signatures
Types of legal signatures
Frequently asked questions
Let's get into it.
What constitutes a legal signature?
Put simply, a legal signature is a notation that signifies an individual's acceptance of the terms and conditions a contract outlines. It's a mark that's placed on a document, making it legally binding — held accountable in the court of law.
An acceptable, legally binding signature can be as simple as the individual putting a mark on the document. The law doesn't dictate what the signature looks like concerning its shape. Most people's signatures are messy and inconsistent, appearing like scribble. 
As long as they express the notation for a person's consent, it's considered legally binding. In many cases, people will write out their names clearly, and legibly.
It's also worth mentioning that a contract can be legally binding even if there's no actual contract and legal signature. If there's sufficient evidence an oral agreement exists, its terms and conditions can be legally enforced.
Legal Signature Use Cases
There are many different circumstances when a legal signature provides significant value. All important business documents will need to have legally binding signatures. Here are some great examples:
Non-disclosure Agreements (NDAs)
As a business, you're always trying to stay one step ahead of your competitors; NDAs can help you with this. Non-disclosure agreements ensure anyone who comes into contact with your organization is legally obligated to keep sensitive information private.
Legally binding signatures ensure that former employees, contractors, or consultants are issued NDAs, guaranteeing your trade secrets remain secret.
Vendor/Supplier Contracts
An organization is only as good as its supply chain; vendor/supplier contracts provide safety and security in this relationship. The document outlines what you're buying, how much you're purchasing, how frequently you'll receive it, and what it will cost.
A legal signature gives you peace of mind, knowing that the law protects your agreement.
Employee Onboarding
Like all businesses, you have a constantly changing workforce: people are leaving and joining. The better you can onboard new team members, the more value they'll provide.
All the paperwork associated with hiring a new employee will use legal signatures. These legally binding documents will set the terms and conditions of their employment.
Requirements to make signatures legally binding
The law governing the legality of electronic signatures in The U.S. is the ESIGN Act, which was passed in 2000. It was brought in to address the digitizing of business and document processes. The law gave eSignatures the same legal status as written signatures.
This means electronic signatures may be used as evidence in court. They can also establish other laws that require a signature or signatures. Documents that are electronically signed are protected and legally required to be enforced in court.
Because of the uniqueness and nature of electronic signatures, the ESIGN Act has various requirements. These are concerns that "wet" hand-drawn signatures don't have to address.
For an electronic signature to be legally binding, it must meet several requirements; these include:
Intent to sign: An electronic signature is only legally binding if it's created with intent and all document clauses are transparent to them.
Opt-out clause: An opt-out clause must be available to clients who prefer signing a paper contract over a digital one. Ensure you have physical documents ready for these instances. Most electronic signature tools, like Signaturely, will provide this.
Implied/expressed consent to sign: A clause must state a client's intention to sign electronically. This is usually accomplished by checking a box or with a verification process before signing.
Signature attribution: A signature audit trail must exist that attributes a timestamp, IP address, and email address with every signature. Without these unique signifiers, a signature isn't legally binding.
Signature protection: For an electronic signature to be a legal signature, it must be attached to a document and encrypted. It must also only be sent to the contract parties.
Record retention: All electronically signed documents must be able to be reproduced when required. A high-quality electronic signature tool like Signaturely keeps records of documents and allows users to download documents themselves.
How to make electronic signatures legal with Signaturely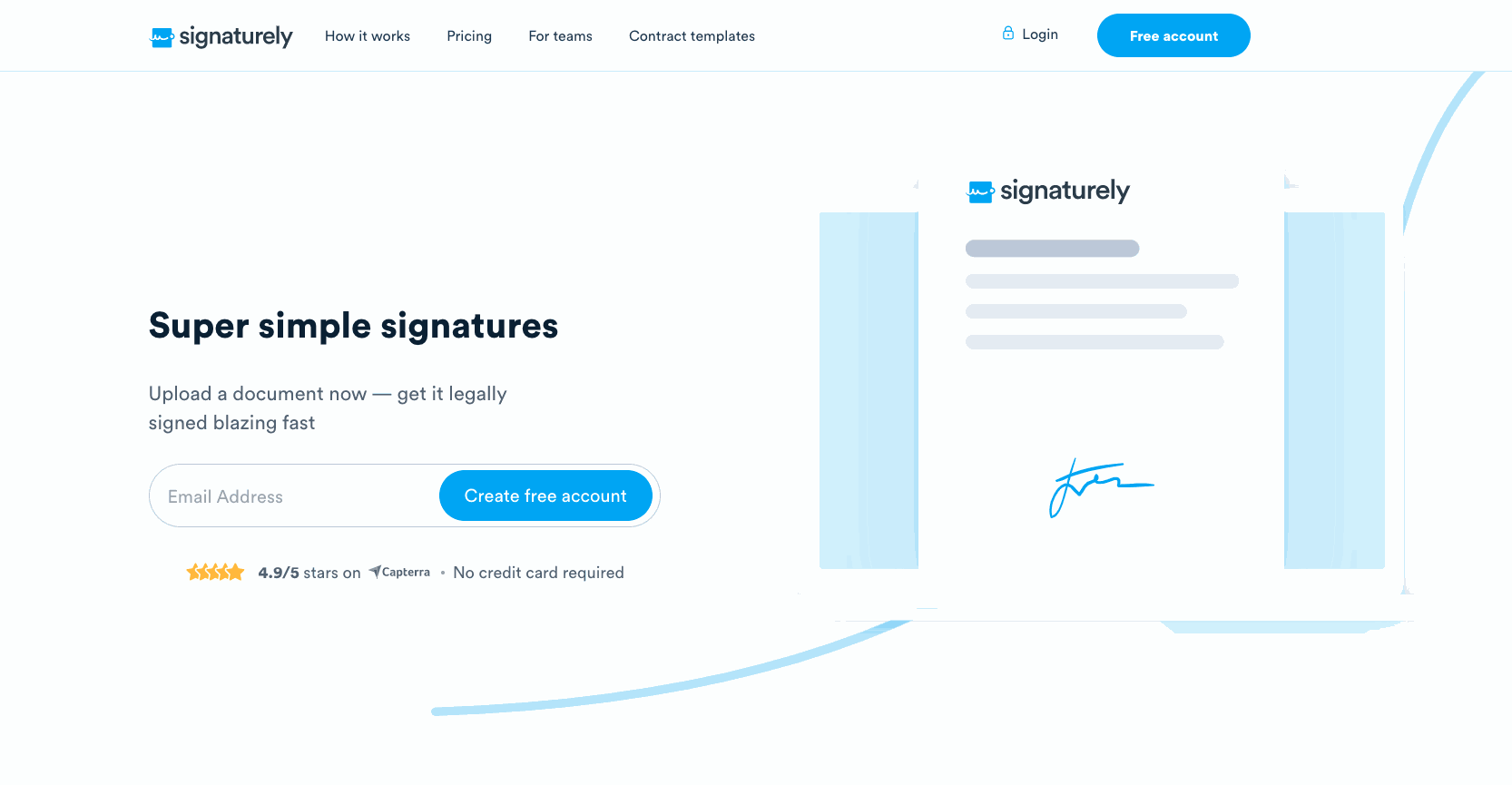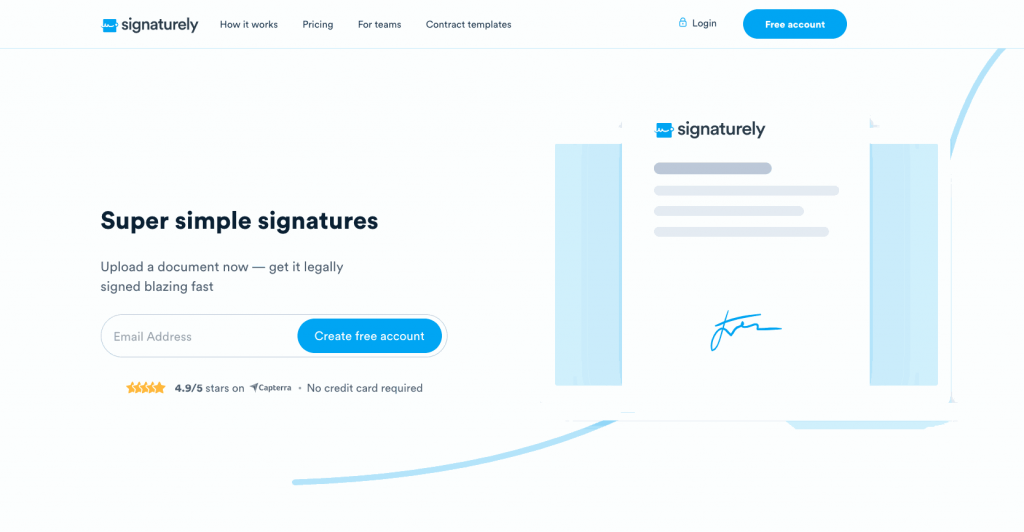 Signaturely is an electronic signature tool allowing you to sign documents online. With it, you can create your own legally binding digital signature, typed or drawn. It's a web-based app, so it doesn't matter what device or operating system you use.
To make electronic signatures legal with Signaturely, follow these steps:
Sign in to your Signaturely account.
Start by heading over to the Signaturely website and log in to your Signaturely account. If you don't have one, you can create one for free.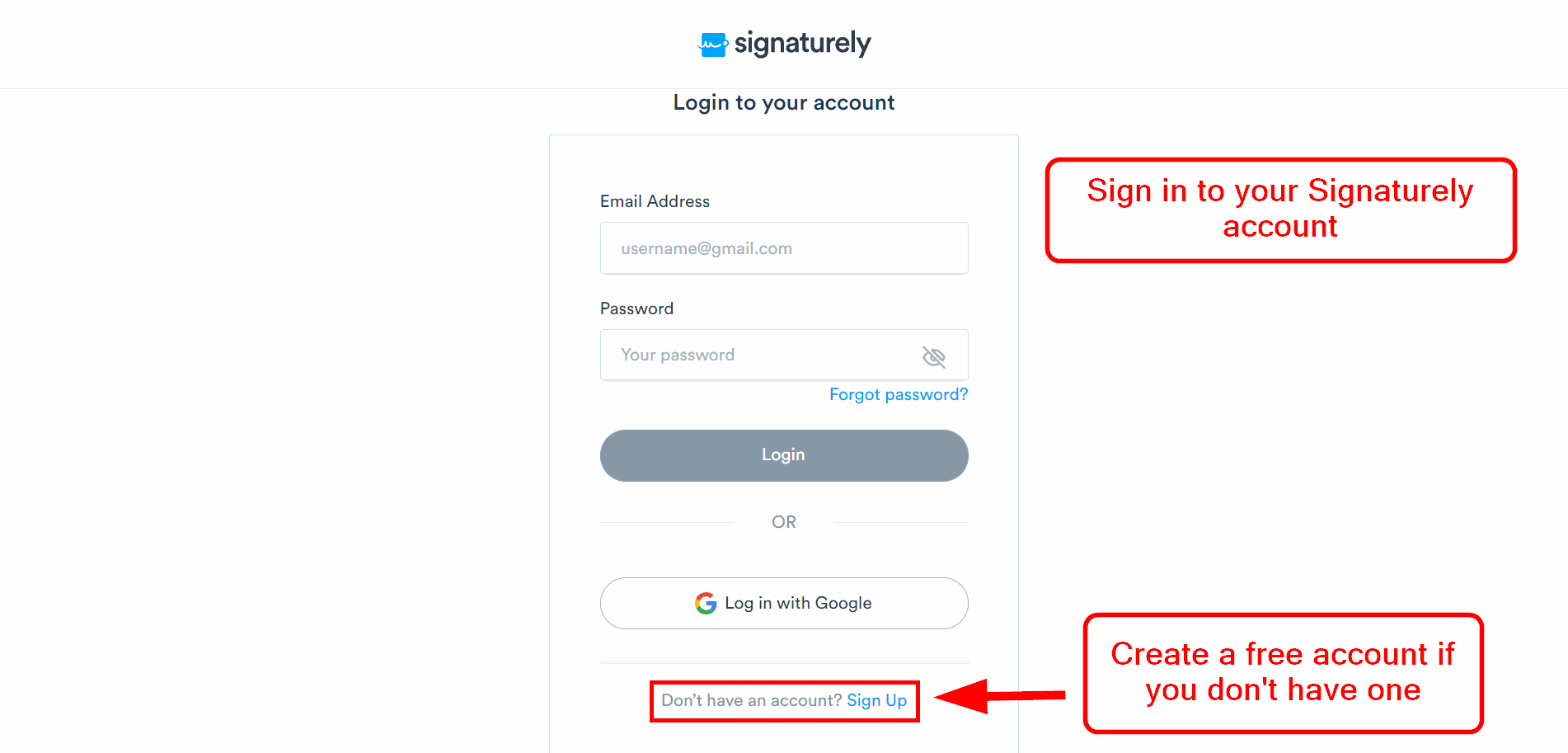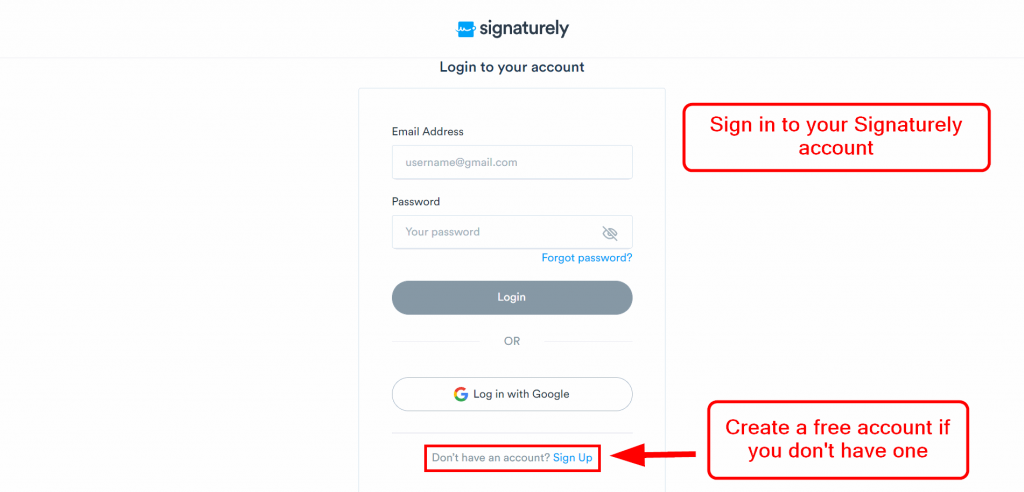 Next, you'll want to upload your document. To do this, start by selecting "Sign" on the sidebar to the left. Then, select the correct "Who needs to sign?" option; there are three to choose from:
Only Me: If your document only requires your signature.
Me & Others: if your document requires your signature, as well as others.
Only Others: if your document requires the signatures of others but not yours.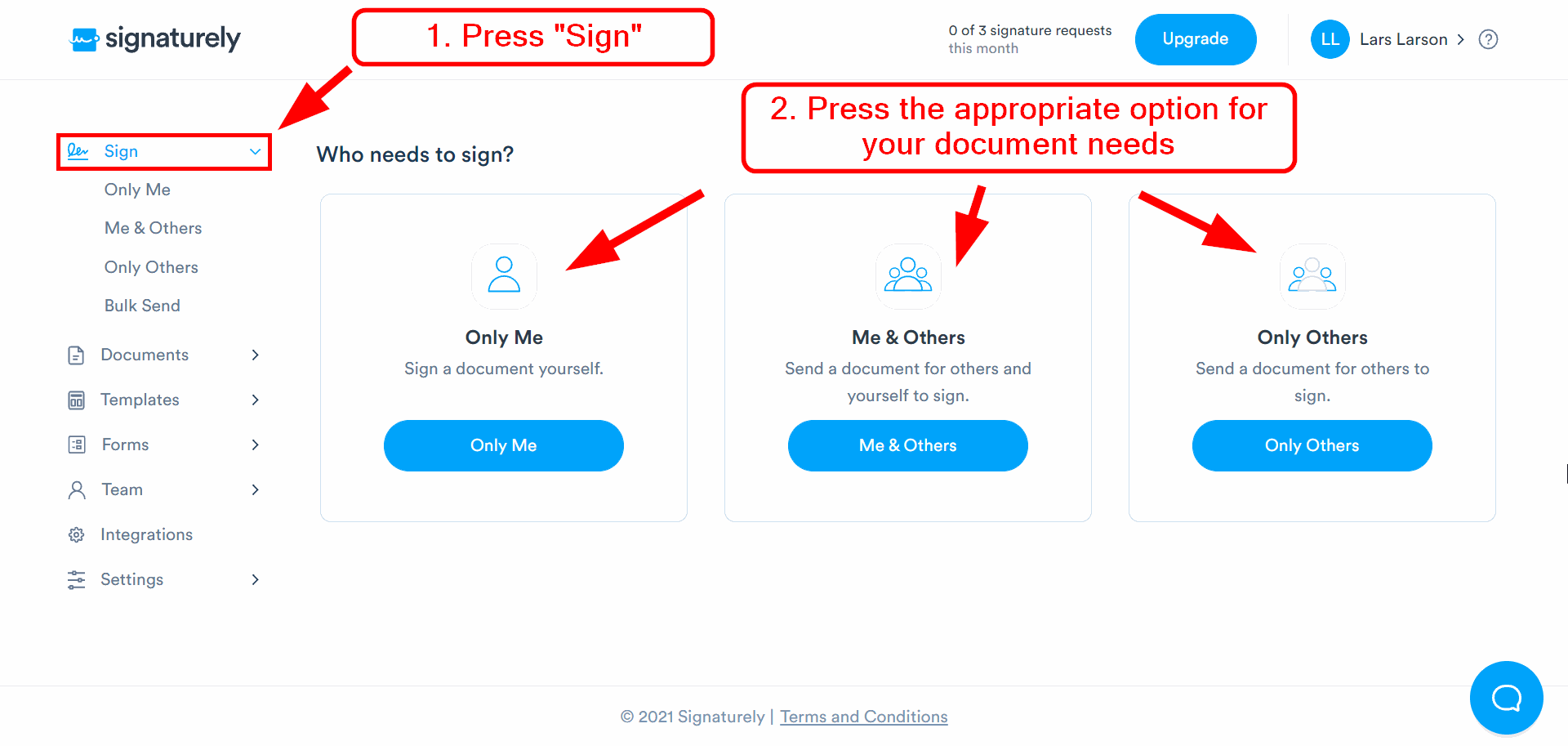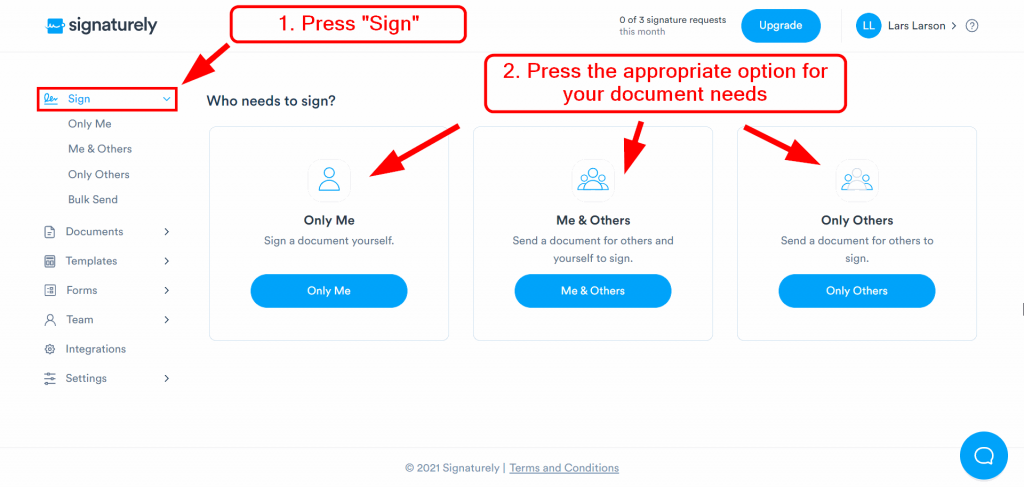 After doing so, you'll be sent to a document preparation page; scroll down and attach your document.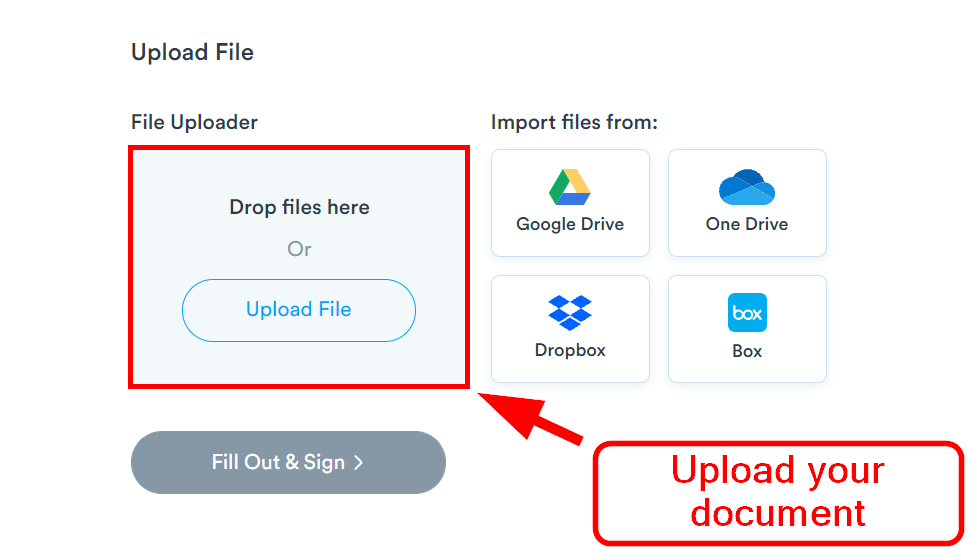 Don't forget to add the names and email addresses of individuals who need to sign the document.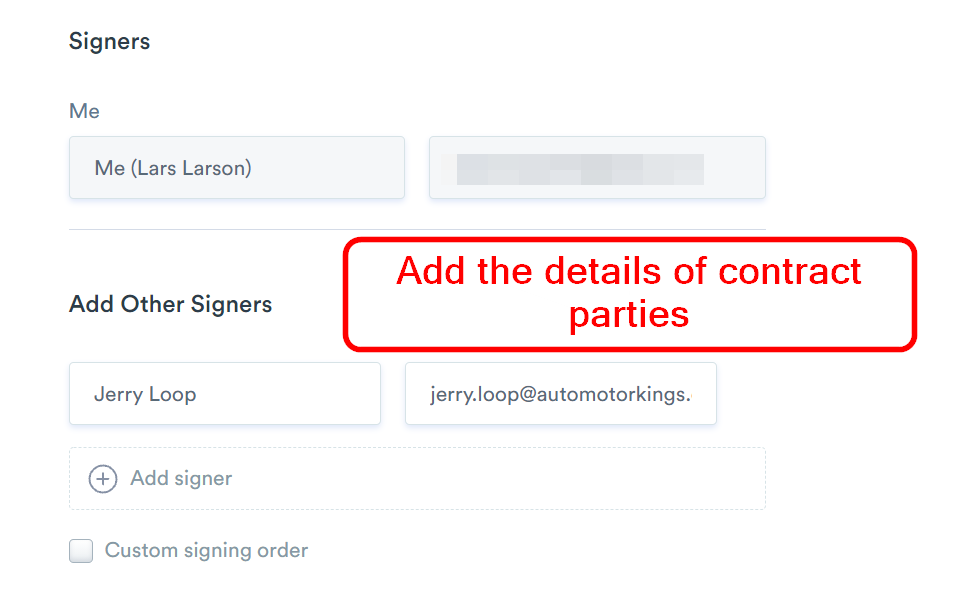 Once that's complete, select the "Fill Out & Sign" button at the bottom of the page.
You'll then be sent to an editor where you can add signatures, text, and other things. This is where you can add a legal signature to your document.
After you've added all the necessary information to your document, press "Send" to complete your document.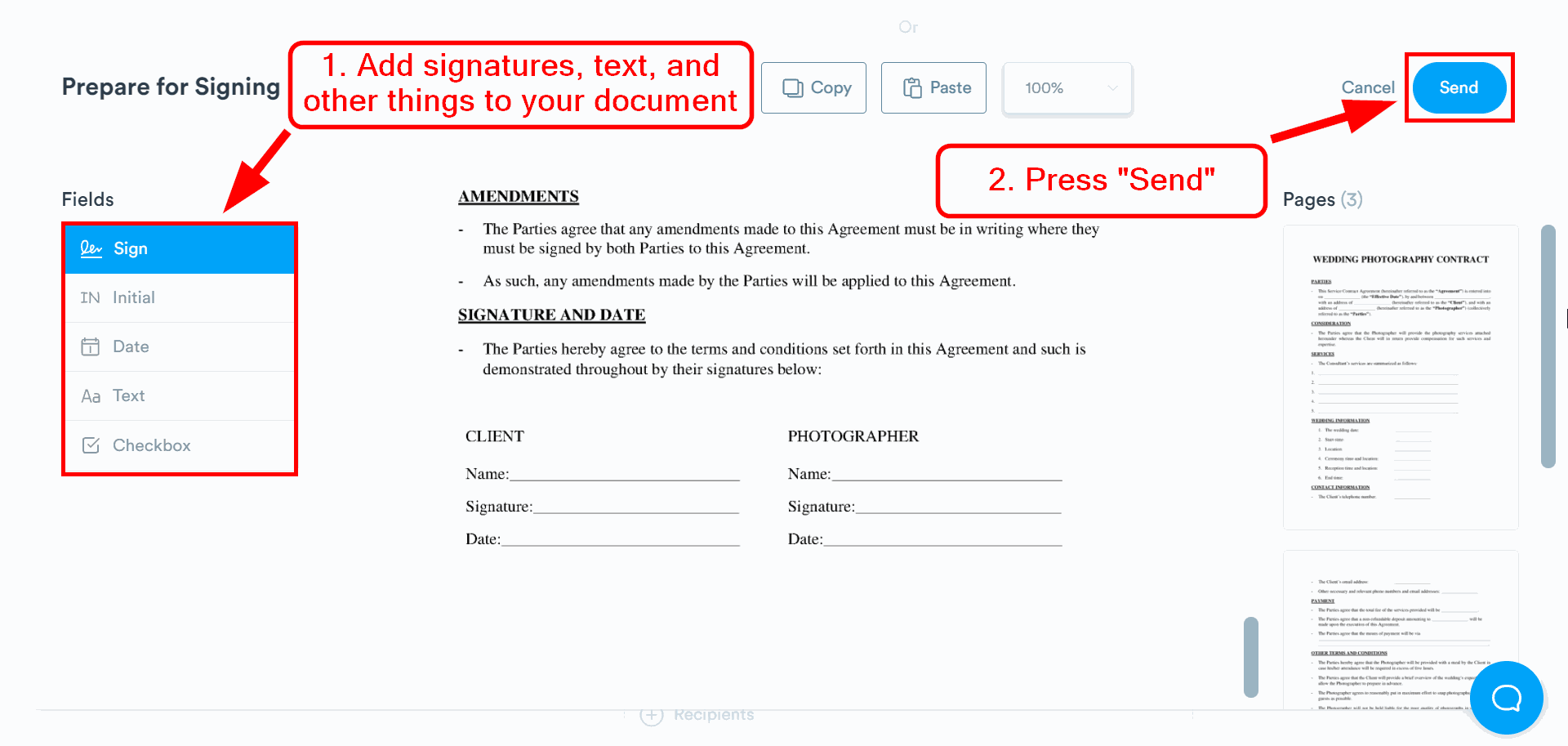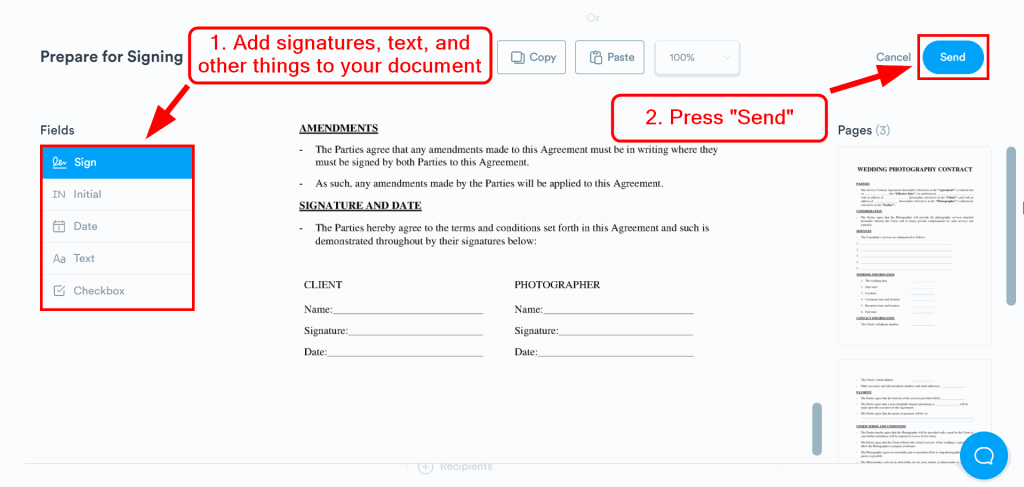 You have now signed a document electronically and legally. As you can see, Signaturely makes it an easy, effortless process.
Advantages of using Signaturely to make signatures legally binding
Web-based: It doesn't matter what device or operating system you use; Signaturely only requires internet access.
Free: Signaturely has a free plan that enables you the ability to digitally sign documents. You also can request three signatures per month from other contract parties.
Affordable: If you require more than the free plan, Signaturely has two affordable premium options available. These are feature-rich and competitive in pricing compared to other digital signature software.
Easy to use: Signaturely's easy-to-use interface makes it easy to master the digital signature software.
Great security features: Signaturely uses robust firewalls, Amazon data center hosting, and 256-bit encryption.
Robust audit log: One of Signaturely's best features is a robust audit log. With it, you can keep track of document processing history.
Pricing
Signaturely offers three different pricing plans:
The free plan
The personal plan
The business plan
The free plan is limited in features and functionality: you're only allowed three monthly signature requests. You don't get templates, team management, or custom business branding features.
The personal plan costs $20 USD per month or $16 per month if you commit for a full year. With this option, you get unlimited signature requests and one template to use. However, you don't get team management and custom business branding features.
The business plan costs $30 USD per month or $24 per month if you commit for 12 months. This is the most expensive plan Signaturely offers, so you get all the functionality and features the tool offers.
Benefits of legally binding signatures
The modern digital landscape has allowed businesses to improve the efficiency of several essential workflows. Organizations have replaced pens, paper, and fax machines with digital signatures, PDFs, and emails.
But why, exactly, has this shift occurred? What are the benefits of legally binding electronic signatures?
Improved employee productivity: Electronic signatures shorten and streamline your document workflow, leading to more productive employees.
Increased operational efficiency: A more productive workforce allows your organization to operate more efficiently, spending less time signing documents.
Decreased operational costs: By digitizing your document workflow, you'll save money; you won't need paper, pens, fax machines, or postage supplies and expenses.
Decreased human errors: Advanced digital signature authentication ensures your contract parties are verified and you avoid human errors.
Greater accessibility: Documents can be signed and processed anywhere and with any device or operating system.
Legal protection: Electronic signatures are protected by the law, just like handwritten "wet" signatures.
Types of legal signatures
Legal signatures come in several different types; we'll list them below:
Fax/Scanned Signatures
Fax/scanned signatures are images of physical signatures found on documents that are intended to be physically signed. If there are multiple contract parties, every time one of them physically signs, they'll scan and send the signed document to the next party.
Electronic Signatures
Electronic signatures are made digitally, typically with a computer or smartphone. Thanks to the ESIGN Act, electronic signatures are considered legal, just like physical ones.
Digital Signatures
Digital signatures are electronic signatures that have added security measures, such as tamper evidence and independent verification.
Physical Signatures
Physical signatures are ones that you sign yourself, in person, usually with a pen. When a physical signature takes place, a form of verification usually happens. This may be somebody witnessing your signature and providing their signature to the document as well.
For more important documents, a state-certified notarization might be required. Examples include official government documents, like birth certificates or mortgage agreements. These sorts of documents can only be physically signed; other legal signatures aren't suitable.
FAQ about legal signatures
How to make a signature legally binding?
A signature can be made legally binding by using an eSignature tool like Signaturely. With it, you can create a typed or drawn digital signature that can be added to documents.
Can I make a signature legally binding for free?
Yes, you can make a signature legally binding for free. An eSignature tool like Signaturely will allow you to sign documents digitally.
Are electronic signatures legally binding?
Yes, eSignatures are legally binding, thanks to the ESIGN Act that was passed in 2000.
Are typed signatures legally binding?
Yes, typed signatures are legally binding. eSignatures can come in several forms, such as being typed or drawn with a cursor or touchpad. 
Can a contract signature be considered legal if not in cursive?
Yes, a contract signature is legal, even if it isn't cursive. The law doesn't dictate whether or not a signature is legal based on its shape.  
Do I need electronic signature software to make a signature legal?
No, you don't need eSignature software to make a signature legal, but it's the easiest way to do so.
Legal Signatures Conclusions
As the business landscape has become increasingly digitized, signing and processing documents online has become standard. This shift from pen, paper, and fax machines to PDFs and emails has raised many questions surrounding legality.
We hope the information outlined in this article has provided you with the answers you seek. To recap, we covered the following:
What constitutes a legal signature
Legal signature use cases
Requirements to make signatures legally binding
Benefits of legally binding signatures
Types of legal signatures
Are you looking for an easy way to create 100% legally binding electronic signatures? Try Signaturely for free today.