Free Vendor Contract Template
If you're a business owner looking to save time on vendor sourcing, it's crucial to have a clear set of standards and expectations for your vendors.
An effective way to streamline this process is by using a vendor contract template as an agreement between you and your service provider. This ensures that each party knows their obligations when they enter the agreement. With a well-drafted contract in place, misunderstandings and disputes can be easily avoided in the future. 
Whether you're looking for wedding services, catering, or event planning, having a customizable solution can significantly impact your vendor workflow.
To help simplify the process for busy business owners, Signaturely offers a free vendor contract template that covers all the essential terms needed to form a legally binding agreement with your vendors.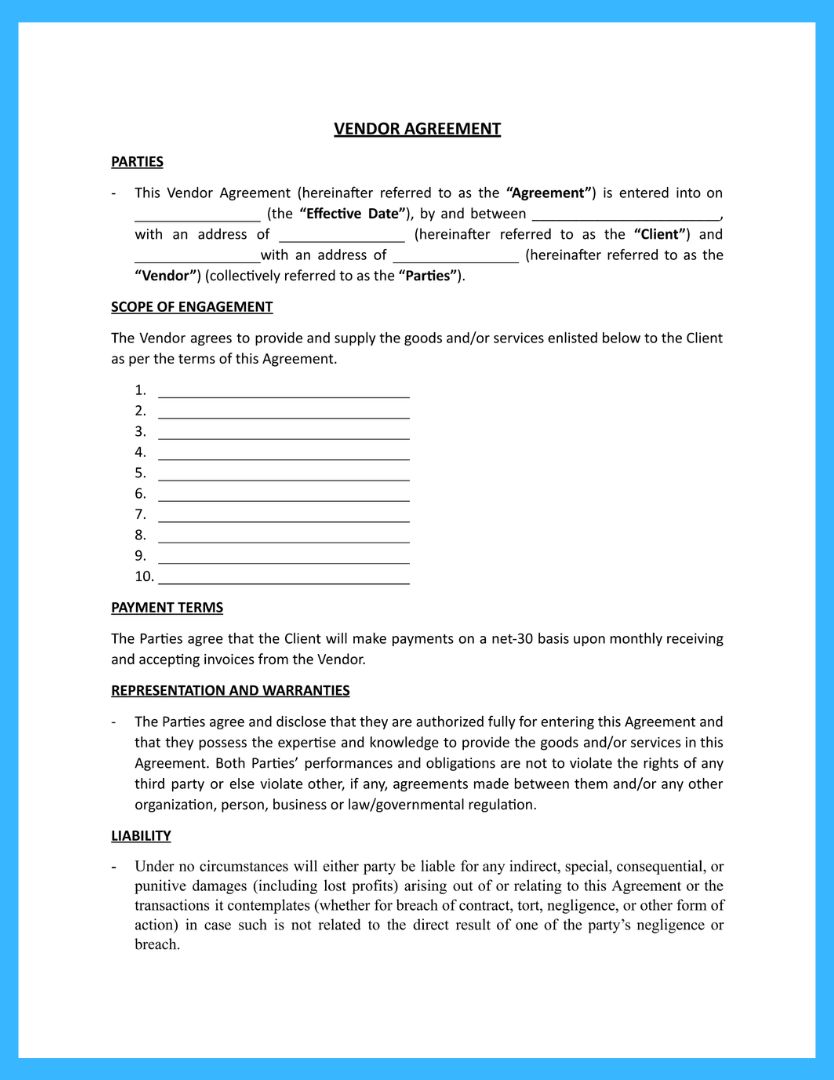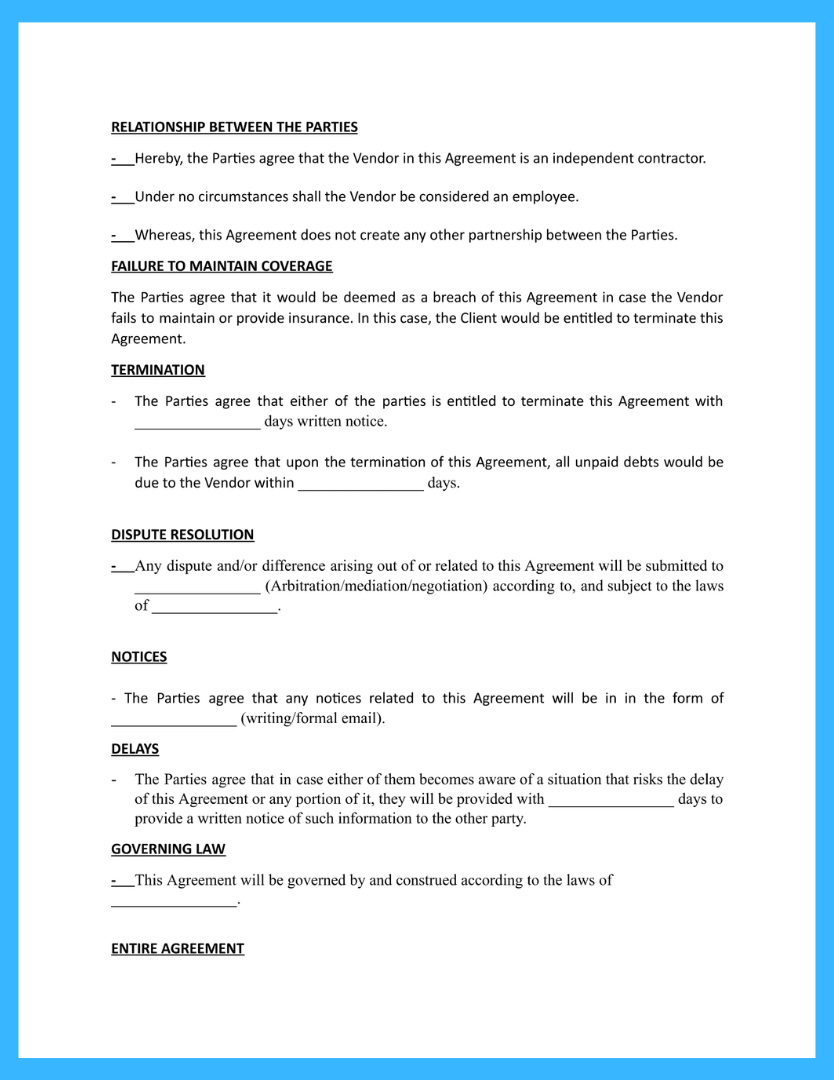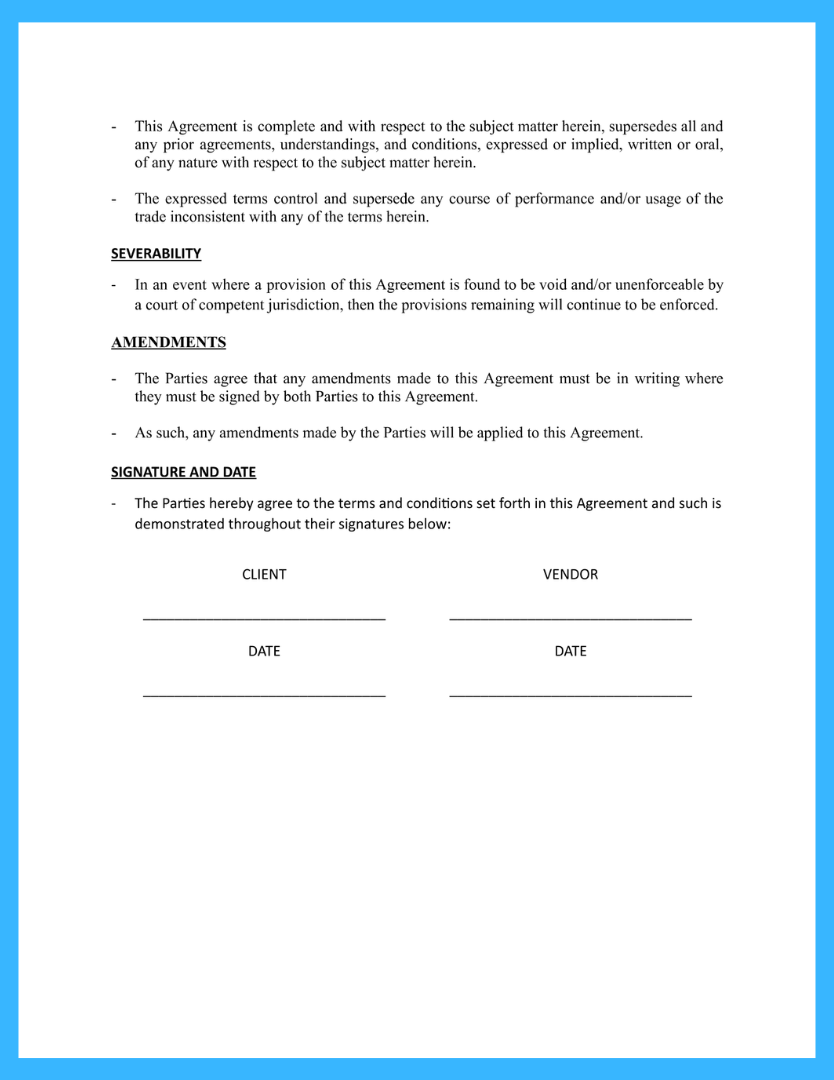 What is a Vendor Agreement?
A vendor agreement is a formal agreement delineating the relationship between a buyer and a vendor. This legal document, in essence, establishes the terms of the business deal, outlining the services or goods to be provided, the cost, the timeline, and other terms of engagement.
This contract serves as a cornerstone for clarity, ensuring both parties fully understand their roles, responsibilities, and expectations. It minimizes the risk of miscommunication, disputes, and potential litigation. The role of a vendor agreement goes beyond just legality – it nurtures a symbiotic relationship, creating a harmonious business environment where both buyer and vendor can thrive.
When to Use a Vendor Agreement Template
Whether for a one-time project or a long-term engagement, a vendor agreement template is your best ally.
Using a vendor agreement template saves time, ensures consistency, and reduces potential  legal loopholes. It provides a solid foundation for customizing your agreements, ensuring all essential clauses are included.
Without a vendor agreement, you may find yourself embroiled in costly disputes, ambiguities in service provision, or unexpected charges. Imagine encountering product delivery issues or payment disagreements – situations like these could be avoided with a comprehensive vendor agreement. Embracing a vendor agreement template is a proactive step towards solidifying your business relationships while protecting your interests.
DISCLAIMER: We are not lawyers or a law firm and we do not provide legal, business or tax advice. We recommend you consult a lawyer or other appropriate professional before using any templates or agreements from this website.
What Should a Vendor Contract Include?
A business owner must have legal protection when entering vendor relationships. It's important to have everything formally laid out in a contract in order to avoid any misunderstandings or disputes down the road. When creating a vendor agreement, certain key elements should be included so that both parties understand their respective rights and responsibilities while working together. 
Below are the vital components for ensuring your vendor agreement covers all its bases and offers robust protection for your business.
Basic Information
To set the stage for the rest of the contract, start by including the fundamental details. This involves the legal names of both parties, contact details, and official business addresses. If there's a designated representative for either party, their information should also be outlined. Also, keep in mind the effective date of the contract. This basic information forms the backbone of the vendor agreement, creating a reference point for all subsequent terms and conditions.
Example:
"This vendor agreement" ("Agreement") is made and entered into this  day of, 20, (the "Effective Date") by and between ABC Corporation, a State corporation with its principal place of business located at Address ("Buyer"), and XYZ LLC, a State limited liability company with its principal place of business located at Address, ("Vendor")."
Timeline
The duration of the contract is one of the cornerstones of any vendor agreement. It tells us when the agreement starts and when it ends, which is crucial for determining the schedule of service delivery and payments. Ensure that the start and end dates are clearly specified. Also, discuss the conditions under which the contract can be extended.
Example:
"This Agreement shall commence on the Effective Date and continue for a period of 12 months unless earlier terminated in accordance with the provisions hereof or mutually extended by the Parties in writing."
Goods or Services Provided
This is the heart of your vendor agreement – a comprehensive description of the goods or services to be provided. This segment must be as clear and detailed as possible to avoid misunderstandings. State the specifics of the products or services, the quality standards, and any deliverables. When describing services, including the expected outcomes or goals could be beneficial.
Example:
"The Vendor shall provide the Buyer with 200 units of Product XYZ, complying with the quality standards stipulated in Exhibit A attached to this Agreement. The Vendor shall ensure that the Products are adequately packaged, free from defects, and suitable for their intended use."
Cost Breakdown
Transparency in the cost breakdown can go a long way in fostering a trusting relationship between you and your vendor. Provide a detailed outline of the prices for the goods or services and any additional costs such as taxes, shipping, or attorney fees. Include information about the currency in which the payments will be made and any discounts or pricing incentives, if applicable. The more precise you are with your costs, the lesser the chance of disputes arising due to financial matters.
Example:
"The Buyer agrees to pay the Vendor a total price of $10,000 for the Products, excluding taxes and shipping fees. The cost per unit is $50, and a 10% discount applies to orders over 500 units. Payment shall be made in US dollars."
Delivery
One of the most critical aspects to outline clearly in any vendor agreement is the terms of delivery. This section should cover specifics like where the goods or services will be delivered, who will bear the shipping costs, and the expected delivery dates or deadlines. Include details on any special delivery requirements, if applicable.
Example:
"Vendor shall deliver the Products to Buyer's premises located at the address on or before the 15th of each month. All shipping costs shall be borne by the Vendor unless otherwise agreed in writing."
Payment Terms
Your vendor agreement should also clarify the payment terms and include when payment is due, any grace periods, the method of payment, and what happens in case of late payments. It's also good practice to outline what happens if the goods or services are not as described or if there is a dispute about the invoice.
Example:
"Payment shall be due within 30 days from the invoice date. Buyer shall make payment via bank transfer to Vendor's designated account. In the event of a dispute, Buyer shall notify Vendor within seven days of receipt of the invoice."
Amendment & Termination
In life, as in business, things change. That's why your vendor agreement should include provisions for amending the agreement and terms for termination. Explain under what circumstances the contract can be amended (usually, this requires mutual consent), and set out the process for doing so. Also, detail the circumstances under which either party may terminate the agreement.
Example:
"This Agreement may be amended only by mutual written consent of the parties. Either party may terminate this Agreement by providing 30 days written notice, or immediately in the case of a material breach."
Terms & Conditions
The terms and conditions section of a vendor agreement can encompass a variety of points. such as confidentiality, non-compete clauses, and governing applicable laws. This section forms the 'fine print' of your agreement and serves to protect both parties.
Example:
"All information exchanged under this Agreement shall be deemed confidential. Neither party shall disclose such information without prior written consent from the other party. This Agreement shall be governed by the applicable laws of the state of [state]."
Signatures
The contract is not enforceable until both parties have signed it. In the current digital era, more and more businesses are using e-signature solutions like Signaturely to streamline this process— unlocking access to legally binding signatures at scale. 
Example:
"This Agreement is not effective until signed by both parties. By signing below, the parties acknowledge that they have read and understand the terms of this Agreement."
Have the representative names, titles, and a line for the date and signature of each party. You can use Signaturely to securely sign and store your vendor agreements, making contract management a breeze.
Tips for How to Write a Vendor Contract
Crafting an effective vendor agreement doesn't have to be a daunting task. Here are five tips to keep in mind:
Cover all the basics: Ensure your contract includes all necessary sections, from basic information to delivery, payment terms, amendment and termination clauses, terms and conditions, and signatures. Each component plays a crucial role in outlining the obligations and expectations of both parties.


Emphasize clear and concise language: Use simple, straightforward language to prevent misunderstandings throughout the entire agreement. Avoid legal jargon where possible, or if you must use it,  explain these terms in plain English. Remember, a vendor agreement's ultimate goal is to provide clarity, not confusion.


Think through contingencies: What happens if the goods aren't delivered on time? If there's a payment dispute? Outlining solutions to potential problems beforehand can save a lot of headaches down the line.


Seek legal counsel: If you're unsure about any part of your vendor agreement, don't hesitate to seek legal advice. An experienced attorney can help ensure your contract is legally sound and protect your interests.



Embrace technology: Consider using e-signature platforms like Signaturely for a quicker, more efficient signing process. E-signatures are legally binding and can be an efficient way to streamline your contract management.
Download our free example
Vendor Agreement Template
We've got your back here at Signaturely, and we're ready to help make stress-free contracts a reality. Forget the confusing paperwork and overwhelming legal jargon – get easy, breezy contract templates for your clients in minutes with our free template.
Click that download button now and get those wheels spinning!
FAQs About Vendor Agreement Templates
Below are some of the most frequently asked questions about vendor agreement templates.
What is a standard vendor agreement?
A standard vendor agreement is a legal document outlining the terms and conditions of a business relationship between a vendor and a buyer. It covers the goods or services provided, delivery timelines, payment terms, and conditions for amendments and termination.
What is a legal contract between a vendor and a customer?
A legal contract between a vendor and a customer is a binding document stipulating their business arrangement terms. This includes specifics about the product or service provided, cost, delivery details, and provisions for dispute resolution.
What is the difference between a vendor agreement and a service agreement?
While a vendor agreement is a contract between a vendor and buyer for the provision of products or services, a service agreement is a specific type of vendor agreement that exclusively covers the provision of services. Service agreements often include additional terms relating to performance standards, metrics, and service levels.
How do I make a vendor contract?
Building a vendor agreement involves outlining the terms and conditions of your business arrangement with your vendor, including specifics about the goods or services, costs, timelines, and more. It's essential to cover all necessary components and seek legal advice if necessary.
What documents are required for a vendor?
The documents required for a vendor depend on the specifics of the business relationship. They can include vendor contracts or agreements, tax documents, insurance certificates, and business licenses, among others. Always make sure to keep these documents organized and neat manner for easy reference.
What You Need to Remember About Vendor Contract Templates
Navigating the world of vendor contracts may seem like a labyrinth at first glance, but armed with the right knowledge and tools, it becomes a path to business success. As you move forward, remember that your vendor agreement is more than just a legal safeguard—it's a testament to your commitment to fair and fruitful partnerships. Use Signaturely to ensure seamless and secure e-signing and contract management. This can pave the way to a promising vendor collaboration.
PARTIES
This Vendor Agreement (hereinafter referred to as the

"Agreement"

) is entered into on

________________

(the

"Effective Date"

), by and between ________________________, with an address of

________________

(hereinafter referred to as the

"Client"

) and

________________

with an address of

________________

(hereinafter referred to as the

"Vendor"

) (collectively referred to as the

"Parties"

).
SCOPE OF ENGAGEMENT
The Vendor agrees to provide and supply the goods and/or services enlisted below to the Client as per the terms of this Agreement.
________________________________

________________________________

________________________________

________________________________

________________________________

________________________________

________________________________

________________________________

________________________________

________________________________
PAYMENT TERMS
The Parties agree that the Client will make payments on a net-30 basis upon monthly receiving and accepting invoices from the Vendor.  
REPRESENTATION AND WARRANTIES
The Parties agree and disclose that they are authorized fully for entering this Agreement and that they possess the expertise and knowledge to provide the goods and/or services in this Agreement. Both Parties' performances and obligations are not to violate the rights of any third party or else violate other, if any, agreements made between them and/or any other organization, person, business or law/governmental regulation. 
LIABILITY
Under no circumstances will either party be liable for any indirect, special, consequential, or punitive damages (including lost profits) arising out of or relating to this Agreement or the transactions it contemplates (whether for breach of contract, tort, negligence, or other form of action) in case such is not related to the direct result of one of the party's negligence or breach.
RELATIONSHIP BETWEEN THE PARTIES
Hereby, the Parties agree that the Vendor in this Agreement is an independent contractor.



Under no circumstances shall the Vendor be considered an employee.



Whereas, this Agreement does not create any other partnership between the Parties.
FAILURE TO MAINTAIN COVERAGE
The Parties agree that it would be deemed as a breach of this Agreement in case the Vendor fails to maintain or provide insurance. In this case, the Client would be entitled to terminate this Agreement.
TERMINATION
The Parties agree that either of the parties is entitled to terminate this Agreement with

________________ days written notice.

 

The Parties agree that upon the termination of this Agreement, all unpaid debts would be due to the Vendor within

________________ days.
DISPUTE RESOLUTION
Any dispute and/or difference arising out of or related to this Agreement will be submitted to ________________ (Arbitration/mediation/negotiation) according to, and subject to the laws of _____________.



NOTICES

– The Parties agree that any notices related to this Agreement will be in in the form of ________________ (writing/formal email).
DELAYS
The Parties agree that in case either of them becomes aware of a situation that risks the delay of this Agreement or any portion of it, they will be provided with ________________ days to provide a written notice of such information to the other party. 
GOVERNING LAW
This Agreement

will be governed by and construed according to the laws of _________

________________.
ENTIRE AGREEMENT
This Agreement

is complete and with respect to the subject matter herein, supersedes all and any prior agreements, understandings, and conditions, expressed or implied, written or oral, of any nature with respect to the subject matter herein.

 

The expressed terms control and supersede any course of performance and/or usage of the trade inconsistent with any of the terms herein.
SEVERABILITY
In an event where a provision of this Agreement is found to be void and/or unenforceable by a court of competent jurisdiction, then the provisions remaining will continue to be enforced.
AMENDMENTS
The Parties agree that any amendments made to this Agreement must be in writing where they must be signed by both Parties to this Agreement.

 

As such, any amendments made by the Parties will be applied to this Agreement.
SIGNATURE AND DATE

The Parties hereby agree to the terms and conditions set forth in this Agreement and such is demonstrated throughout their signatures below:
CLIENT

_______________________________

VENDOR

______________________________

DATE

_______________________________

DATE

_______________________________
Related Proposals and Templates
Download Our Free Vendor Contract Template Today
Don't waste any more time trying to craft the perfect vendor contract. Our free vendor contract template is ready and ready to download in one quick, convenient click—no more complicated documents for you or your clients to fill out. Just download, customize, and off you go!
Don't wait – get your free vendor contract template today and get geared up for business growth.