In this article, you're going to learn how to create a digital signature using multiple software options, such as :
Online signature software
Graphic design software
Document software
PDF software
We'll also answer the most commonly asked questions about online signatures.
Let's get started.
What Is a Digital Signature and Why Is It Important?
Digital signatures are just like regular signatures: an online proof of both identity and intent.
Unlike regular ink signatures, which tie your identity to a unique sign, online signatures represent your electronic identity. And, since the data from online signatures tend to be richer than a simple scribble, electronic signatures can be even more reliable than ink signatures. Reliability is highly sought after within the healthcare space, especially for those practices going paperless.
Digital online signatures are validated through a framework of encryption and cybersecurity called Public Key Infrastructure (PKI). The PKI helps ascertain the identity of whoever is signing, which device they're using, and other relevant data to provide legal validity worldwide.
Once signed, the online document cannot be altered, forged, or modified in any way without breaking the encryption. This guarantees everyone's safety since the document will remain available and unalterable forever.
Signing documents online isn't just about security. It's also far more convenient than physically signing documents.
Physical signatures require you to be in the same spot as your signees or, at the very least, will involve you having to print, sign, and scan papers. Online signatures allow you to sign documents wherever you are and by using any device.
This is why many companies and users are exploring online signature options as an alternative to physical signatures. They are more secure, more reliable, and more convenient.
How to Create a Digital Signature
There are several ways you can create a valid digital signature for both online and offline use.
Digital Signature Software
Here we will outline the best software options you can use to create your digital signature:
Signaturely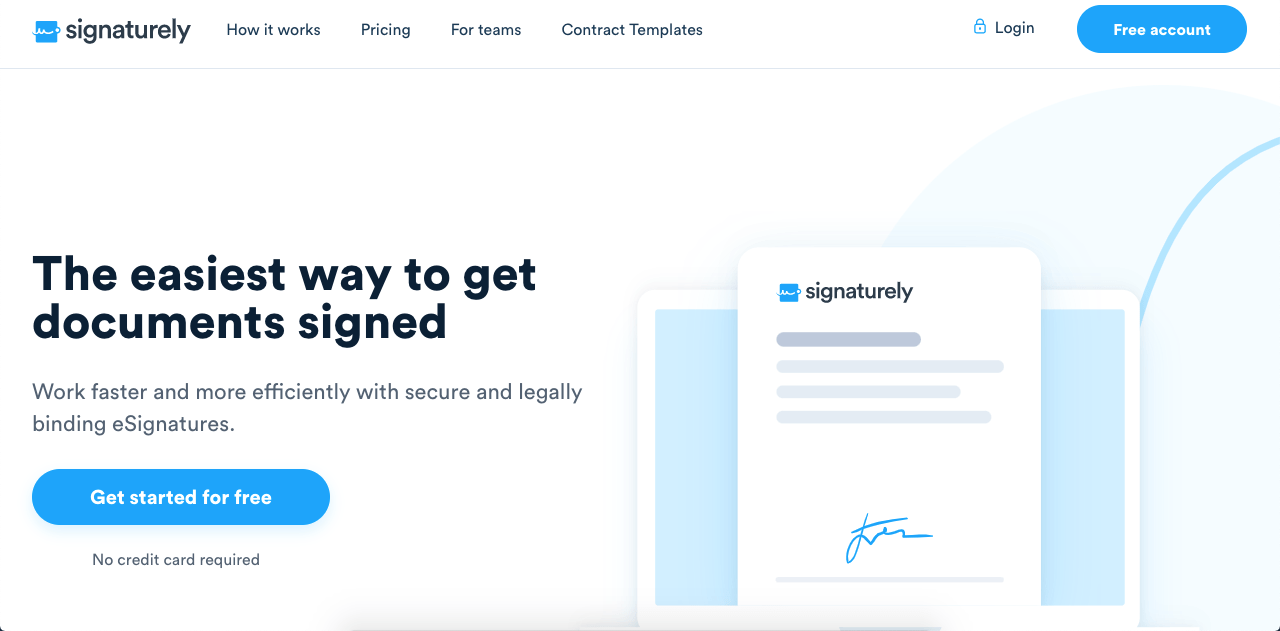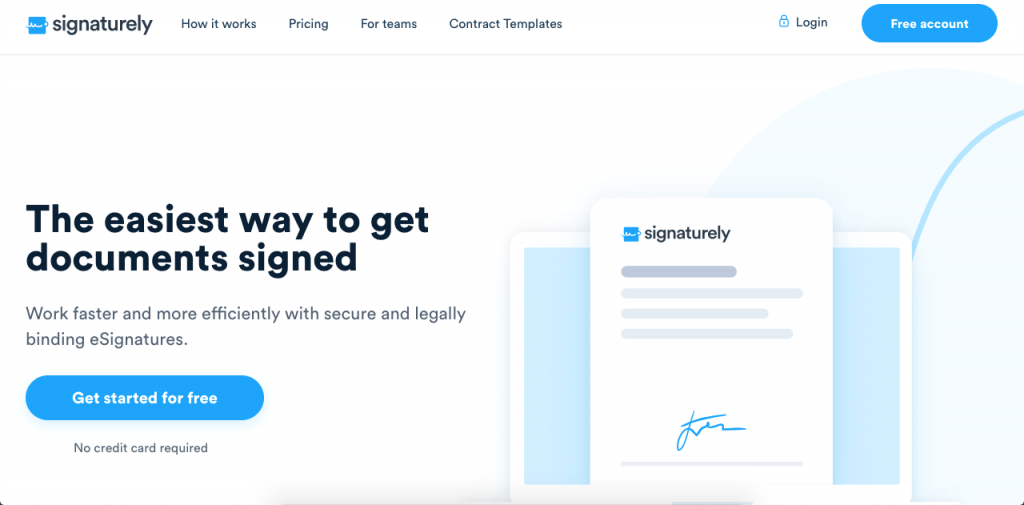 Signaturely is a simple and effective digital signature software that allows you to create online signatures and online documents with legal validity.
Signaturely allows you to create e-signatures for free, without any registration. Here's how:
Signaturely's online signature maker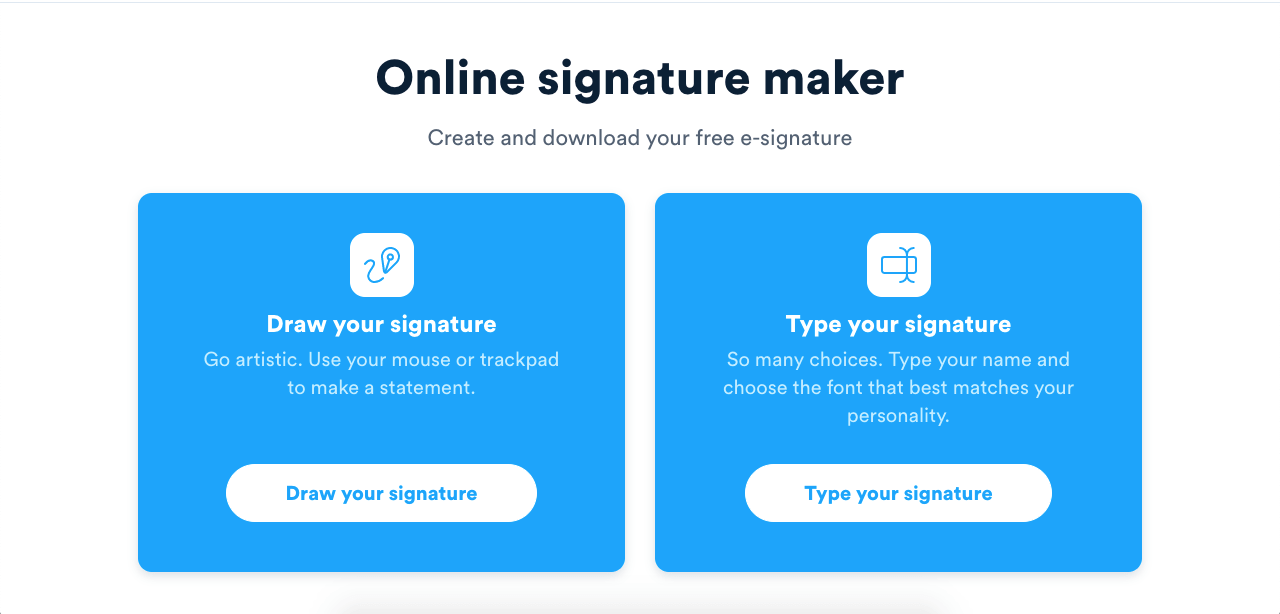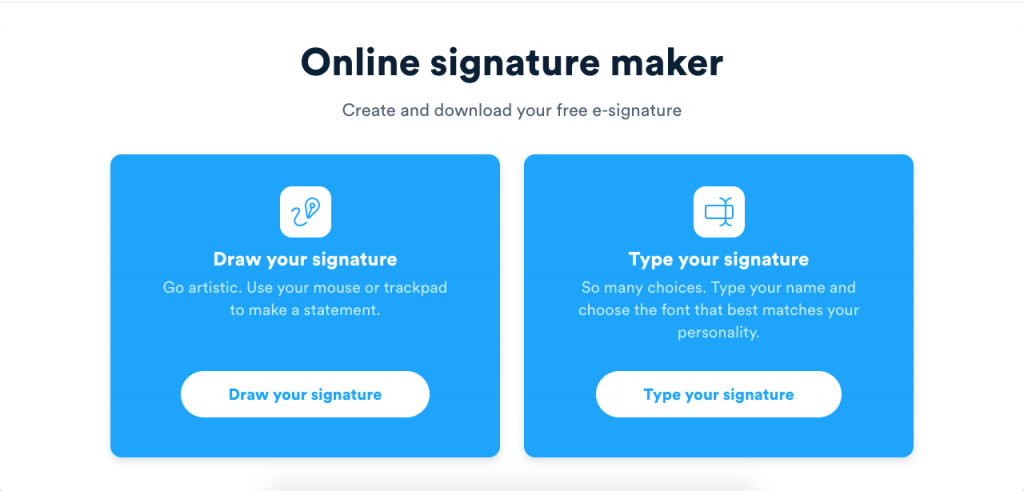 With Signaturely's online signature generator, you can create your online signature in seconds using one of two different options.
Draw your signature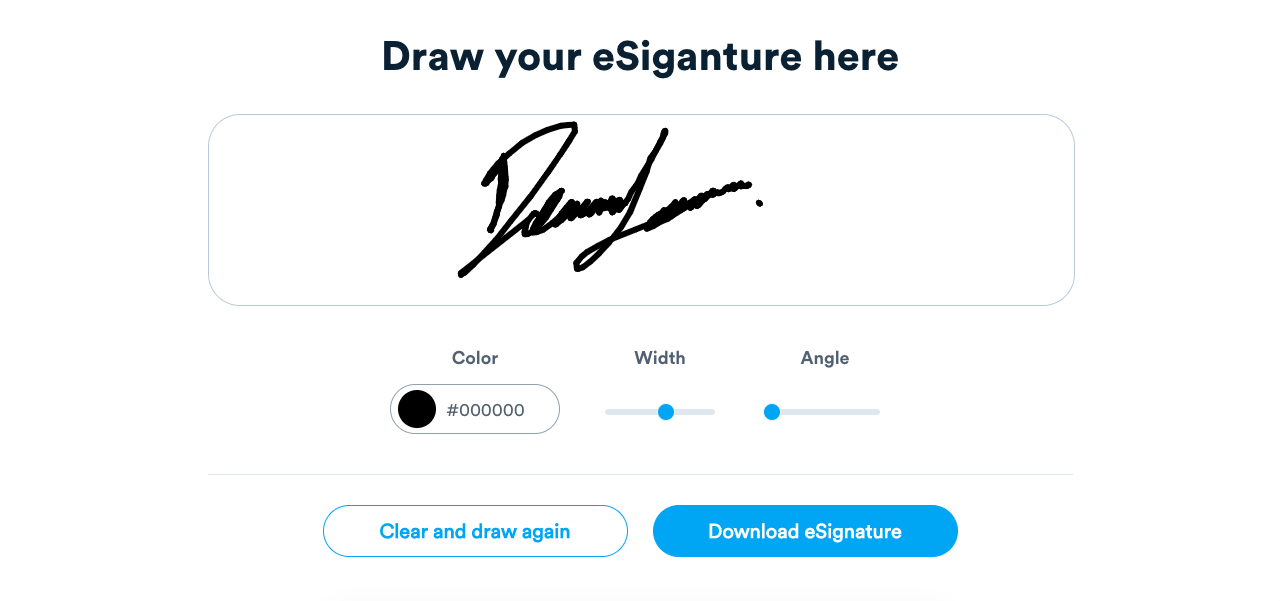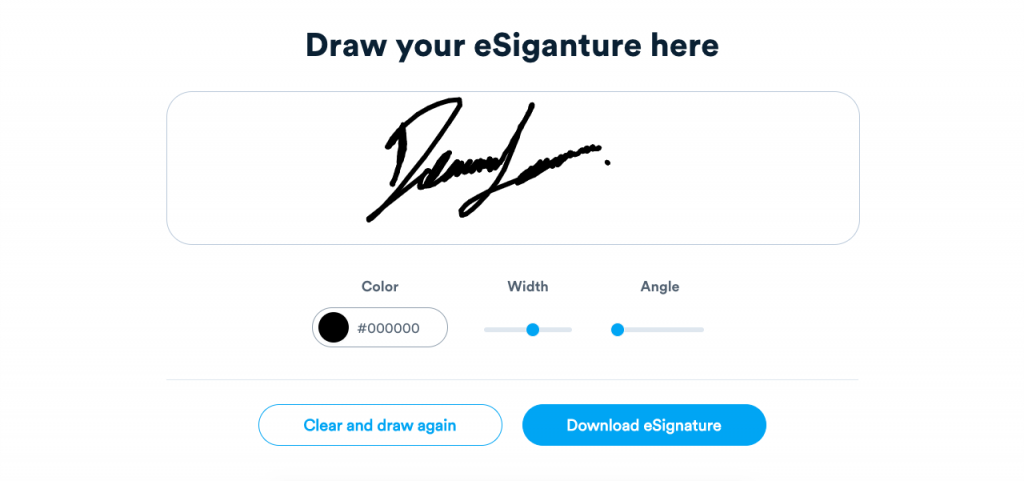 Draw and easily download your signature using your mouse, stylus, or trackpad. Modify the thickness, color, and angle to make it completely unique.
Once you're done, download it, and it'll be ready to use.
Type your signature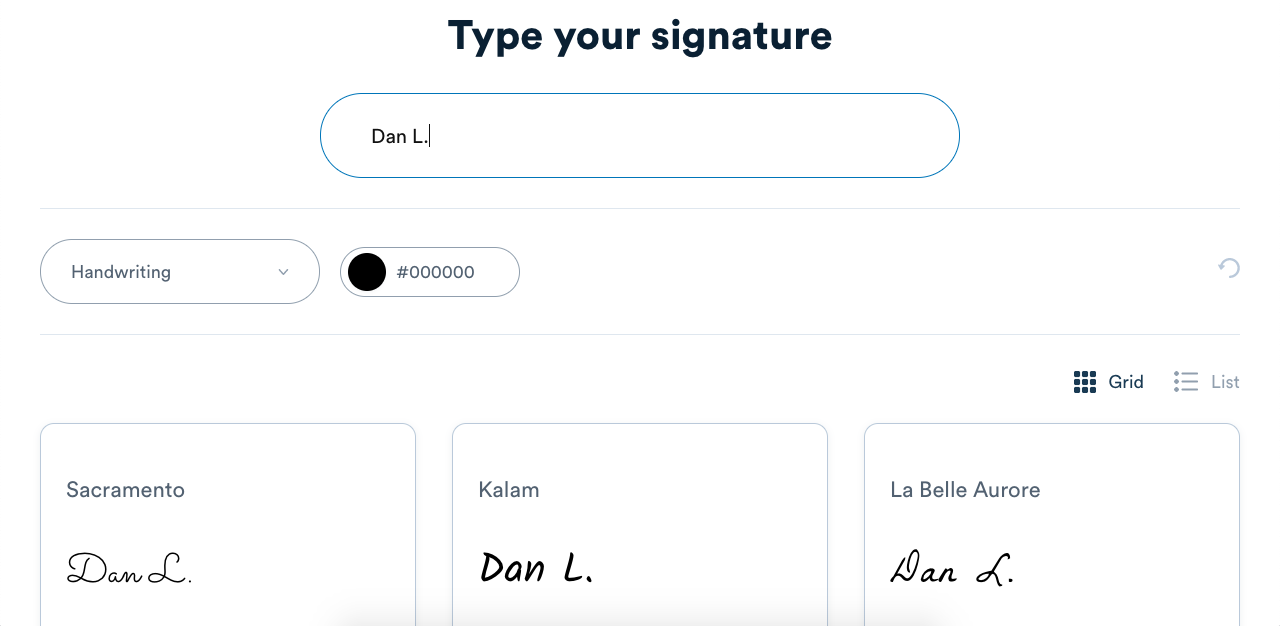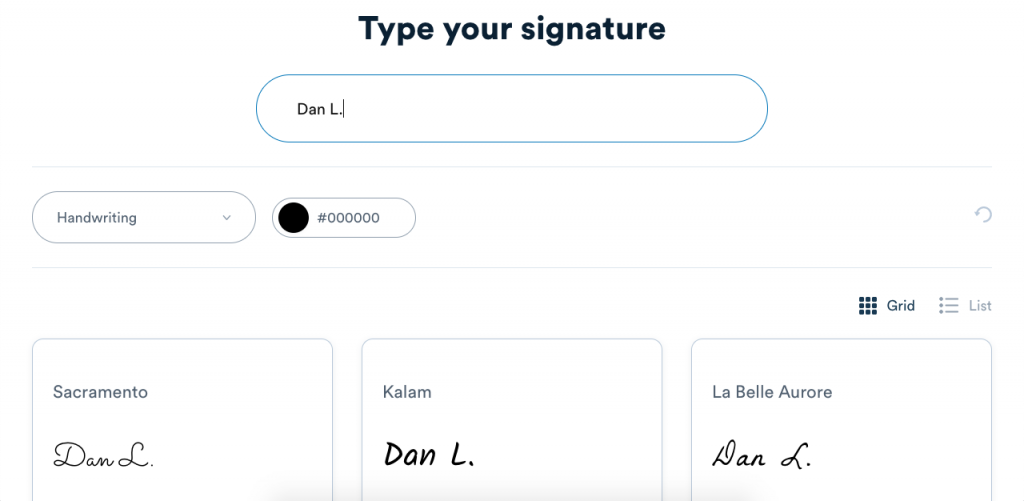 Start by typing your name or initials. Then select from among 35+ fonts and modify the color to make it unique to you.
When you find the perfect font and color, download your signature for free, and it'll be ready to use.
More than just making online signatures
Signaturely allows you to create a free account to get you started immediately. With it, you can send up to three signature requests per month and easily import and digitize your documents to be signed online.
With the free plan, you can also access the audit log and history and send notifications and reminders to your signees.
If you require more than three signatures for just $10 per month, you'll receive an unlimited number of signature requests. Are you looking for free templates? Increase your monthly payment from $10 to $15 for a business account, and you'll also receive an unlimited number of templates, team management tools, and custom branding.
No one else offers as much for the same price as Signaturely. Sign up for free to start using Signaturely today.
Pros:
Simple
Convenient
Generous free plan
Cons:
No mobile app available (currently in development)
PDF Software
Here's how to sign a PDF and create and manage your online PDF signatures:
Acrobat Reader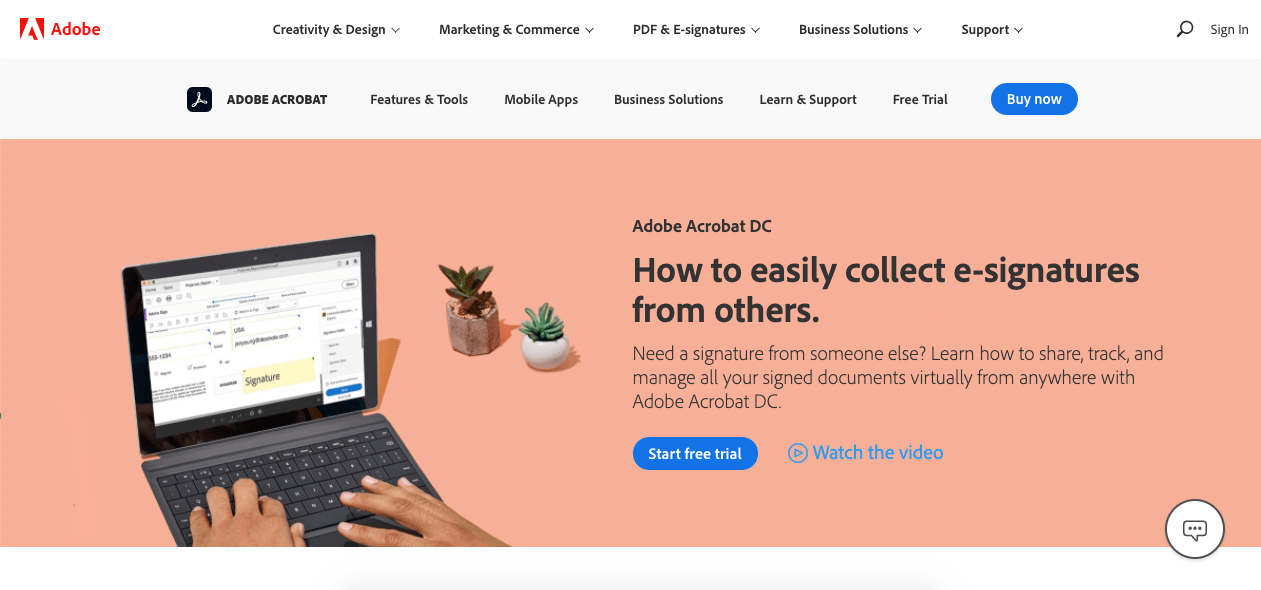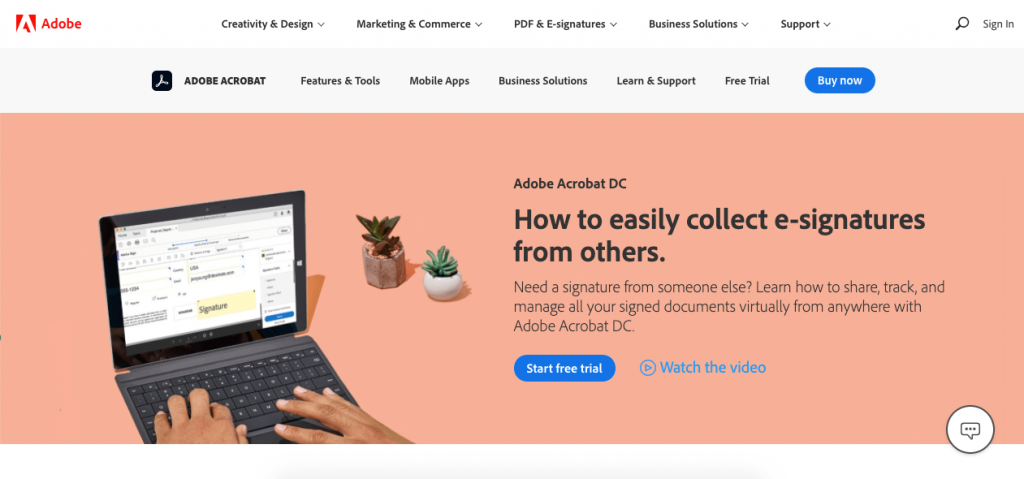 Adobe Acrobat allows you to manage your online documents and create online signed documents with Adobe Acrobat DC. You can then send and sign those documents with Adobe Sign.
Adobe Sign is actually considered to be the benchmark for professional document and eSignature apps.
Adobe Sign can help you create your signature while you're signing documents by using a signature generator. This allows you to create your signature by drawing, typing, or uploading it.
Once you have created your signature, simply click or tap Sign to place it on the document.
Adobe is the leading PDF platform, so all its tools, although somewhat expensive, are extremely fast and user-friendly.
Pros:
Very functional
Well-known and trusted
Easy to use
Mobile support available
Cons:
Lacks customer support
Expensive business plans
Check our detailed DocuSign vs. Adobe Sign article.
Foxit Reader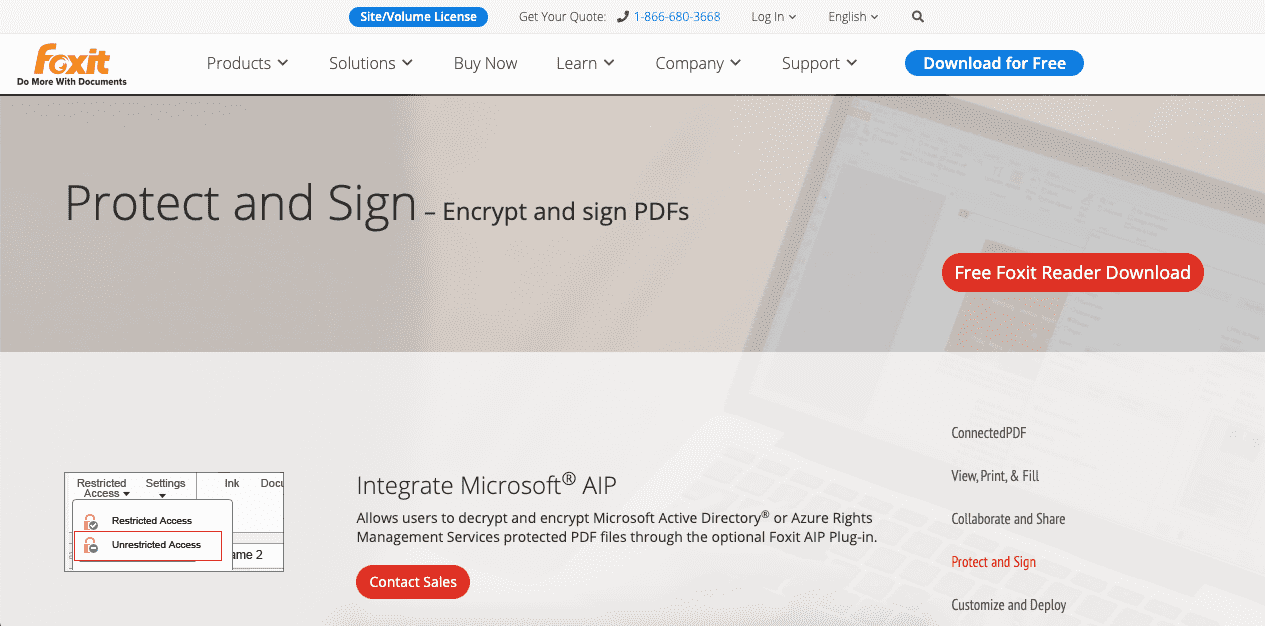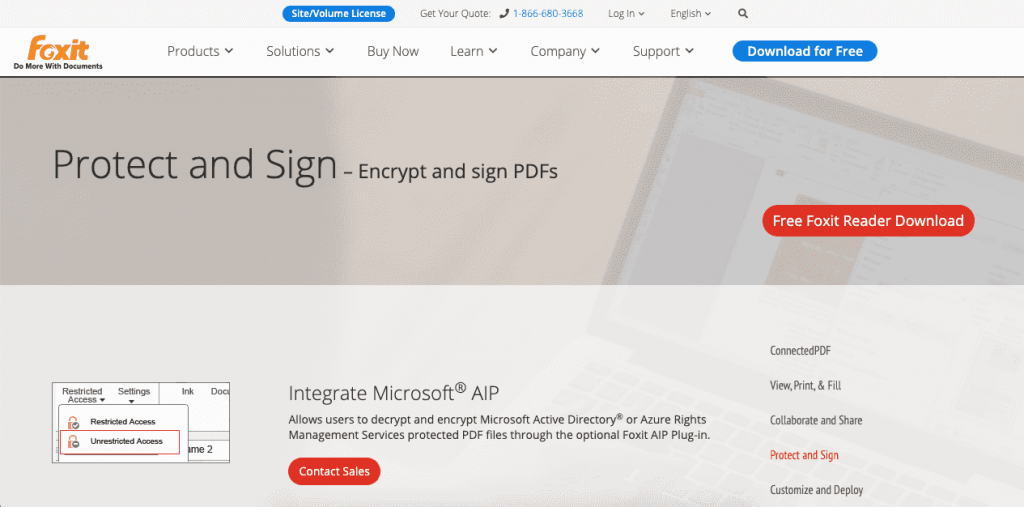 Foxit Reader is another option for signing and encrypting PDFs. This feature-rich platform allows you to control and manage all your PDFs with advanced and secure options.
Creating a signature with Foxit Reader is easy. Just open the PDF with Foxit, then look for Sign and Certify under the Protect tab to place a digital signature box. A window will pop up to allow you to upload a signature and add the reason for the signature, along with any other necessary information.
Once you're done, simply save the document or lock it so no further modifications can be made.
Pros:
Access to a complete PDF reader
Light and fast software
Cheaper than other alternatives
Cons:
It may encounter issues reading some PDFs
Higher learning curve than other options
Document Software
Here's how to sign documents using word-processing software:
Microsoft Word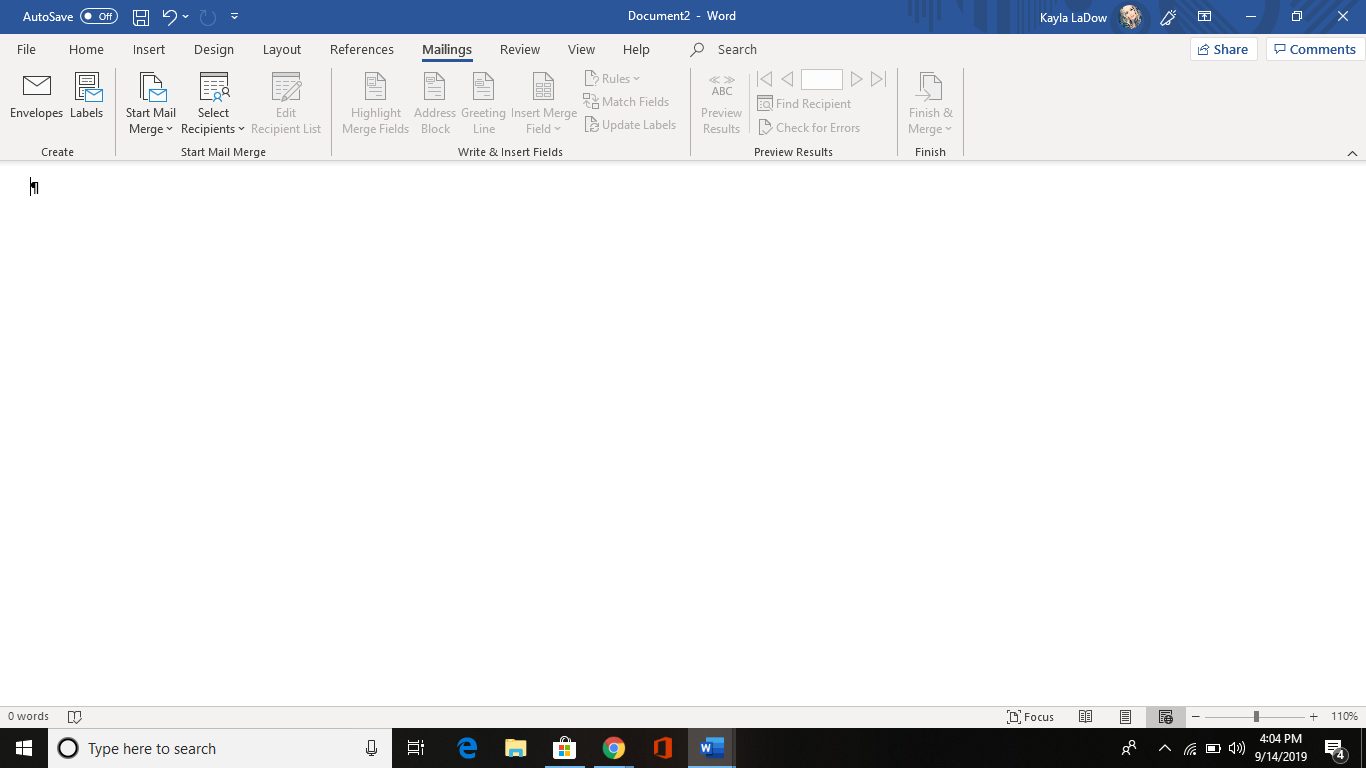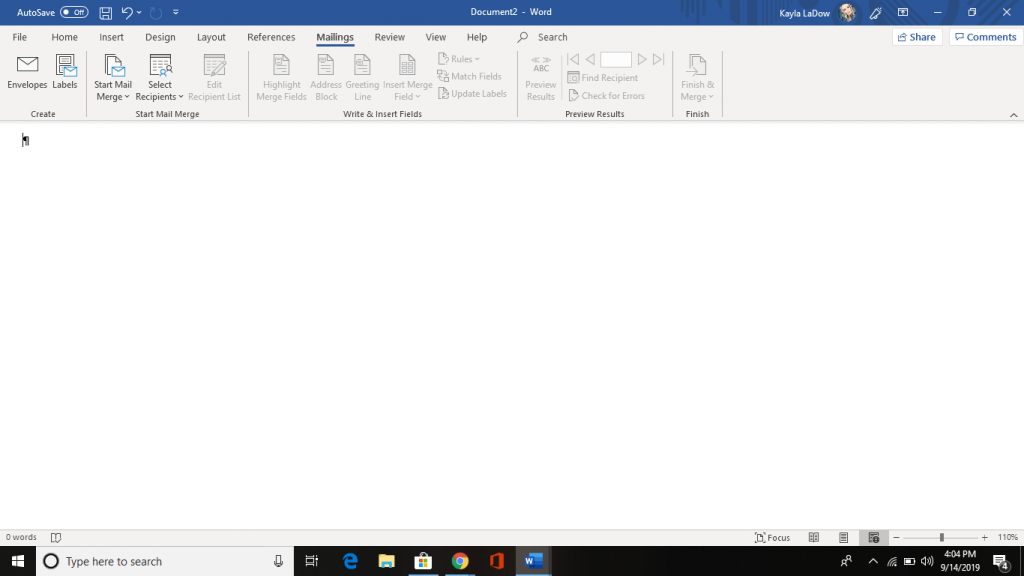 Microsoft Word allows you to create documents and digitally sign them as well.
Once you open the document requiring a signature, a yellow alert bar will notify the signee that their signature is being requested.
All your signee needs to do is to click the yellow alert bar and select View Signatures to create or upload their signature. When the signature is ready, they just need to click on Sign.
Pros:
Simple to use if you already have Microsoft Office
Very intuitive
Well-known software
Cons:
It doesn't allow for any advanced options
It doesn't have a digital signature creator
Google Docs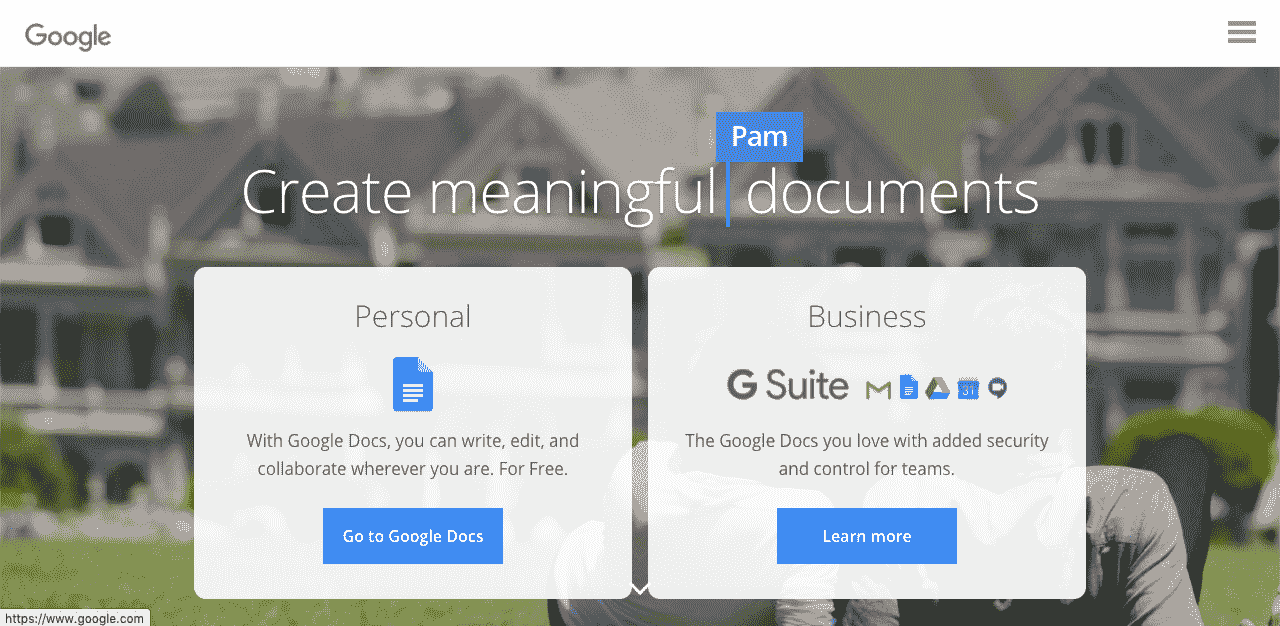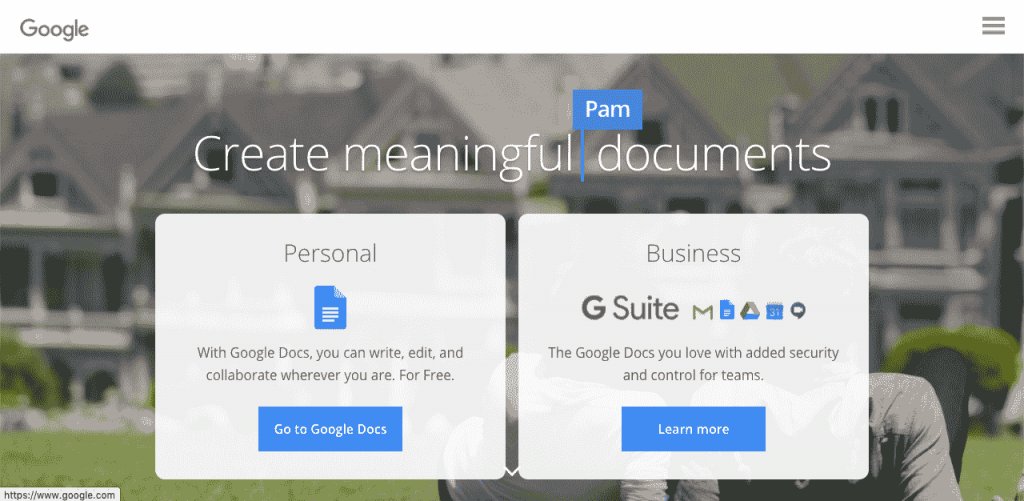 Google Docs is a great way to create and export your documents to popular formats like DOCX and PDF.
You'll need to use an add-on to create a digital signature with full validity. Google Docs contains add-ons such as DocuSign, ScripTouch Sign and Save, Dotted: Signature Creator, HelloSign, BitSign, PandaDoc, and many others to sign your documents online.
Pros:
Highly popular
Free
Perfect for teams
Great variety of add-ons
Cons:
No integrated signature maker
The level of customization will depend on the add-on.
Graphic Design Software
Here are a couple of options to help you create an image that will work as a digital signature:
Photoshop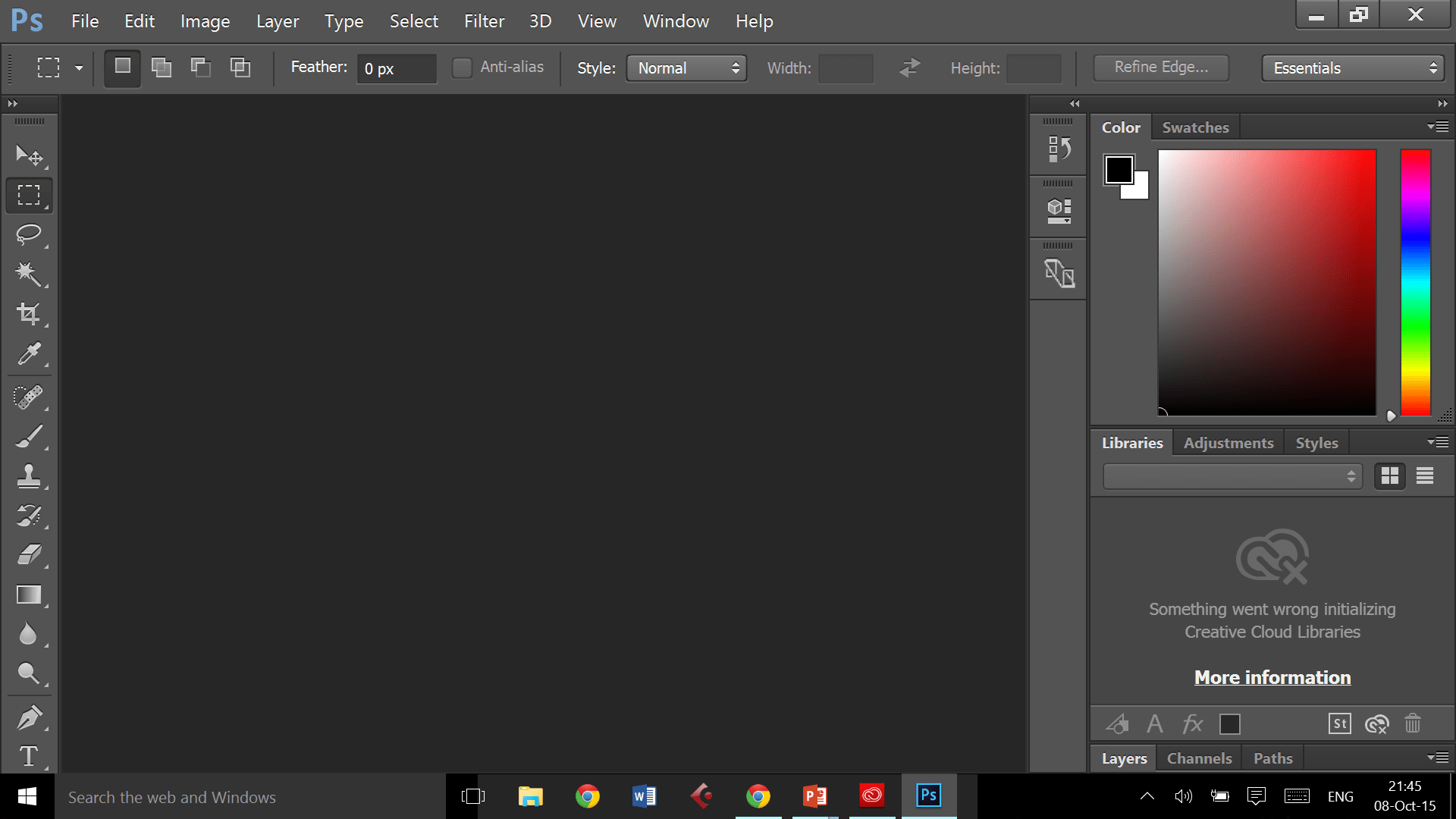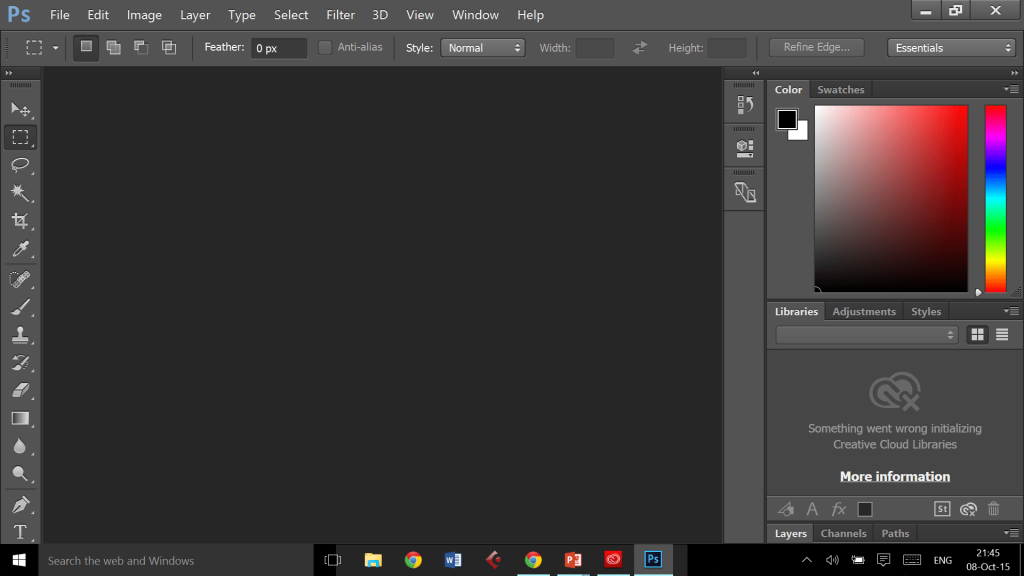 Photoshop is a high-quality graphic design software that will allow you to create a fully transparent, high-definition digital signature easily.
You can choose from a couple of different options to create yours. If you want to create it from scratch, open a new canvas with a transparent background. Then use your mouse or stylus to draw your signature. You can experiment with different brushes and colors. Once you're satisfied with how your signature looks, save your file as a PNG to keep the background transparent.
If you already have your signature on paper, start by scanning or taking a photo of it and uploading it to Photoshop. You can then select and remove the background with the Quick Selection or Magic Wand option. Boost the contrast to make it look solid. When you're done, save it as a PNG to have a digital signature with a transparent background.
Pros:
Perfect results every time
Allows for a lot of customization
Can transform your ink signature into digital
Cons:
Time-consuming
Expensive software
Paint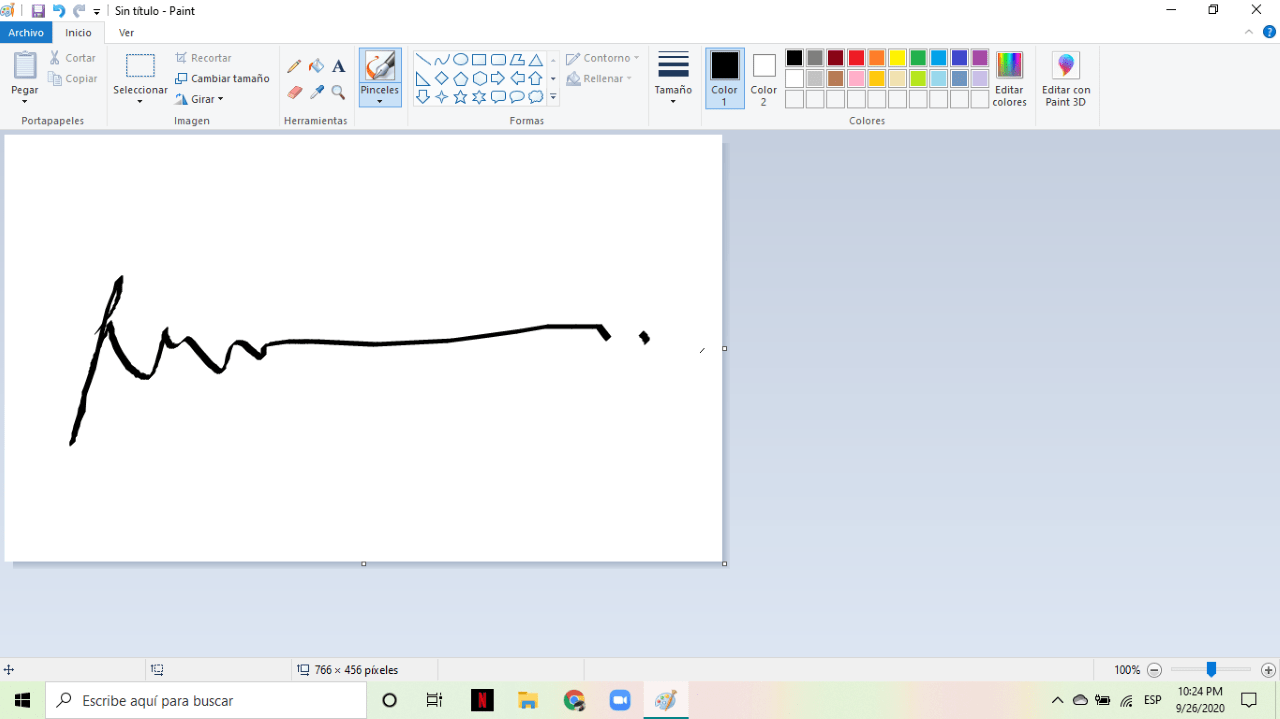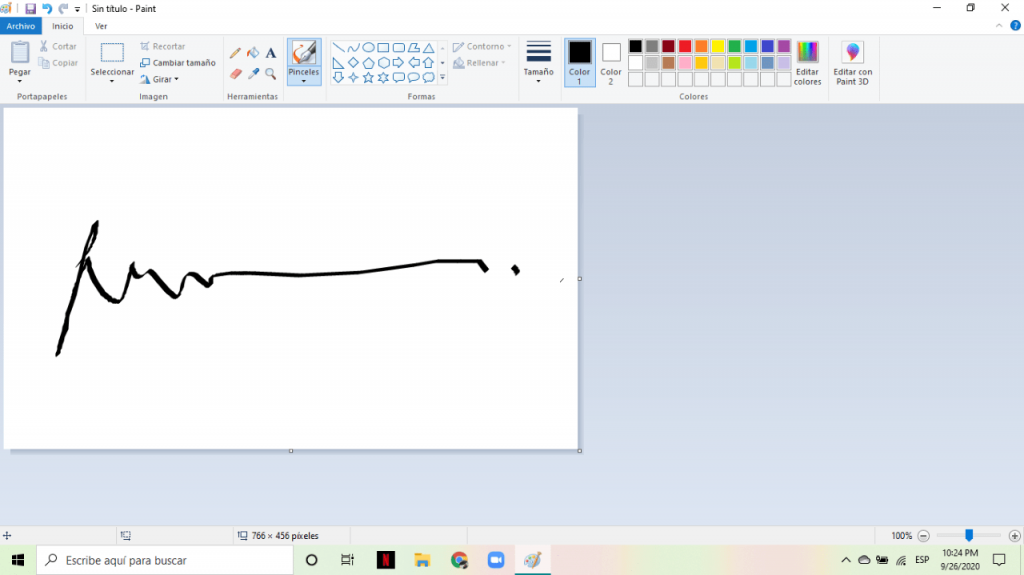 Finally, if you want a quick and easy way to draw your signature, you can use Microsoft Paint.
To create your signature, simply open the program and make a large enough canvas to design your signature comfortably. Select a brush option and try drawing on the canvas. Experiment with different brushes and colors until you're happy with one. When you're done, simply save the image for later use.
You can also type your signature in Paint and save that to use as a digital signature. You can use your favorite font or select and download a free one at 1001freefonts.
Your final image will not have a transparent background, so make sure to trim it as close to your signature as possible.
Pros:
Free
Simple to use
Quick option
Cons:
It doesn't allow for a lot of customization
It can be tricky to get a good-looking signature
No transparent background option
Frequently Asked Questions
Here are the answers to questions you may have about digital signatures:
1. Is a digital signature safe?
Yes, electronic signatures are safe. This post discusses what makes an e-signature more secure than a wet signature, how e-signatures work, and the features used to help keep them safe.
2. How do I digitally sign a DSC document?
Digital Signature Certificates, or DSCs, are the digital equivalent of physical or paper certificates, like your passport, license, or membership card. These are issued by a Certified Authority.
Signing a DSC document will depend on the Certified Authority that issued it. They will usually require you to sign in to your account or provide proof of identity before accepting the Terms & Conditions. You'll then be able to access the document and input your digital certificate password to authenticate the certificate.
You'll usually receive a One Time Password (OTP), sent to your mobile phone that you can use to sign the DSC document.
Once you input the password, you can review and confirm your signature.
3. Is using a digital signature free?
It depends. It's usually free to the signer, but the platform used to create and validate a document signed online may be paid for by the document creator.
4. How do I convert my signature to a digital signature?
You can convert your signature to a digital signature by scanning and cleaning your ink signature or by digitally drawing it and saving it as an image file.
5. How do I create a digital signature in PDF?
It will depend on the PDF reader. In Adobe Acrobat Reader, you can create and sign documents through the Fill & Sign options under the Tools pane on the right. After clicking on Sign, you can type, draw, or upload a signature. Once this is completed, simply click on Apply to select it.
6. How can I insert a signature in Word?
If you're creating the document to be signed, simply place the cursor where you want to insert a signature. Click on the Insert tab and select Signature Line. Fill in the requirements, and a signature line will appear in your document.
Conclusion
Having a digital signature is extremely important in the digital age. Digital signatures can save you a lot of time and money, so creating the perfect signature will benefit you greatly.
Get started by going to our online signature maker, and start creating documents with your free Signaturely account today.