Upload a document now — get it legally signed blazing fast
Are you struggling to sign
documents seamlessly?
When signing by hand slows you down
Print out the document, sign by hand, rescan and email
it back. What a nightmare.
When other apps make you facepalm
Get a signature and move on, that's all you want.
We won't make it difficult — promise.
Do any of these sound like you?
Get it signed with Signaturely
The app for people that want
to keep it simple
Upload a file or save time with a template, then
add your required fields.
Signers get an email, click on a link and see
your document, on any device.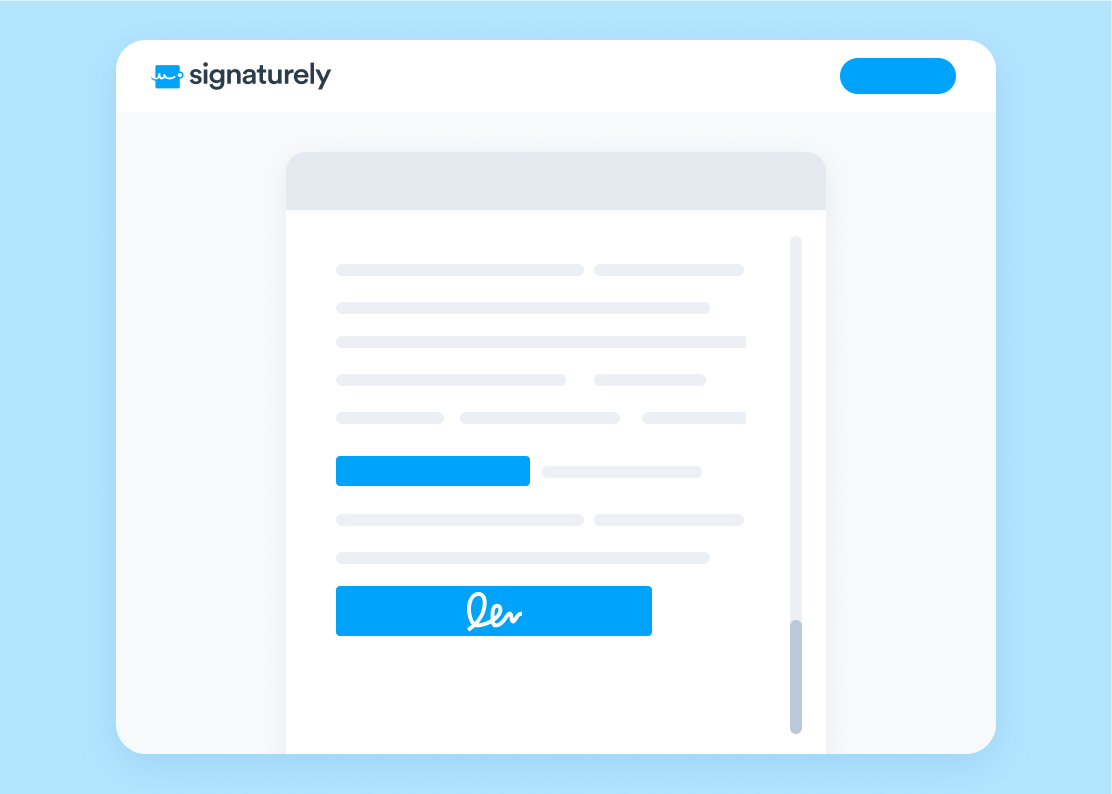 We guide signers to complete all required fields and quickly add their signature.
As legally binding as signing
documents by hand — stupidly faster
Make signing paperwork easier for clients and employees.
They'll love you for it.
Features that actually save
you time and clicks
Sign your own documents and send them to one or multiple signers. Always get your paperwork signed on time, by all parties.
Create templates for your documents once and use them again and again. Share templates with others in your team for extra hours saved.
Signatures, initials, dates, textboxes and checkboxes. Any data collected via Signaturely is legally binding.
You always know which documents are signed. And if someone hasn't signed yet, they'll get an automatic reminder.
Digitally store all paperwork in one place that you can go back to in minutes. Stop legal, financial or HR nightmares before they happen.
Save time, save trees and save on paper goods. Reduce your carbon footprint and hit your company's green goals
What our clients say about us

Signaturely is absolutely fantastic!! The part that I really found incredibly valuable as a business owner was the contract templates! I have to google that stuff, copy and paste, and design the forms.

Overall, platform is easy to use and figure out for a first time user. My signer said that the platform was good, easy to use and understand.

Signaturely is hands down the easiest e-signatures software to use. I like the ability to import files from various integration partners and adding my team members is a great feature for a product at this price point.
Works with the tools you don't
want to stop using
Because why change what's already working for you?
eSignatures have the same legal standing as handwritten ones
Over 60 international laws* ensure the validity and legal effect of eSignatures
ESIGN Act Sec 106 (US federal law), GPEA Sec 1710 (US federal law), UETA Sec 2 (US state law), eIDAS regulation (European Union), Electronic Transactions Act 1999 (Australia), s.7 Electronic Communications Act 2000 (UK), Law of the People's Republic of China on Electronic Signature (China), PIPEDA (Canadian federal law), among others.
Ditch paper, go Signaturely
Improved audit efficiency
eSignature speed vs paper signatures
Average savings per document
Start your free 7-day trial and get your documents signed right now!
800,000+ use Signaturely for easy electronic signatures!